With all the banks competing for your wallet with benefits and huge points bonuses, picking the right travel credit cards can be daunting. For families hoping to offset their travel costs, there's even more to consider.
Just as with solo travelers, not all credit cards and points programs are created equally for family travel – and there's no one-size-fits-all answer. But we think the Capital One Venture X Rewards Credit Card has firmly cemented itself as one of the absolute best credit cards for traveling families.
From lounge access to a reasonable annual fee of only $395 and even the ability to add free additional users to your account, Capital One seems to have rolled the card out with families in mind. To top it off, the card's welcome offer of 75,000 Venture Miles after spending $4,000 in the first three months of card membership gets you a minimum of $750 in value towards any travel expense.
Read on for everything you need to know about why we think the Venture X, and the Venture Miles points program are a great option for families.
Read more: Earn 75,000 Venture Miles on the Capital One Venture X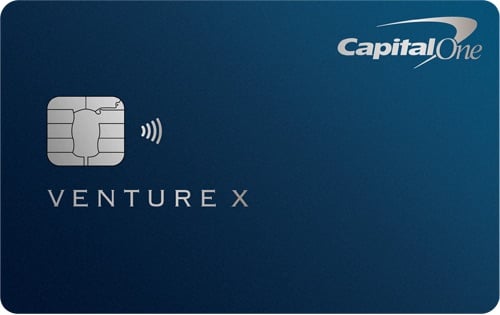 Click Here to learn more about the Capital One Venture X Rewards Credit Card
Free Authorized Users
Adding authorized users to your credit card accounts can be an easy way to share benefits with friends and family. But when it comes to premium travel rewards credit cards, you generally have to pay to add another family member to your card account.
And it can cost a lot. You need only look at the Venture X card's two biggest competitors – the Chase Sapphire Reserve and the Platinum Card® from American Express – to see that.
The Chase Sapphire Reserve® clocks in with an annual fee of $550 each year. But if you want to add a family member as an authorized user to your account, you'll pay another $75 per card member. Even if you add just one family member, a spouse, or significant other, for example, the card will cost you $625 each year.
It's even steeper with the Platinum Card® from American Express. To start, it carries an annual fee of $695 (see rates & fees). But adding an authorized user costs $175. While you can add up to three authorized users for that same $175 cost, that still pushes your out-of-pocket costs for annual fees up to $870 each year. Yikes.
One of the most head-turning perks of the Venture X Card is how it handles these fees. Not only is the card's annual fee lower at only $395 each year, but the bank also allows you to add up to four authorized users to your card account … at no additional cost. That's a benefit that's typically only available on travel cards with few benefits and lower annual fees.
Related reading: Incredible: Adding Capital One Venture X Authorized Users for Free
Lounge Access for All
Here's why free authorized users matter: You can share some great benefits. And one of the best benefits of holding the Capital One Venture X Card is for airport lounge access.
To start with, you'll get access to the brand-new Capital One Lounge in Dallas (DFW) for yourself and up to two guests on each visit. If you ask us, we think it's the nicest airport lounge in the U.S. Capital One will open additional lounges in Denver (DEN) and Washington D.C. – Dulles (IAD) sometime next year along with new dining spaces called Capital One Landings soon, though access policies for those outlets remains unclear.
On top of its own spaces, Capital One Venture X cardholders also get a complimentary Priority Pass membership which grants access to over 1,400 lounges across the globe. With Priority Pass, you will also have the ability to bring an unlimited number of guests with you on each visit.
From our experience, Priority Pass lounges can vary pretty wildly in terms of what you are going to get. Some are great, like the El Dorado Lounge in Bogota, Colombia (BOG), and some are not so great. But at the end of the day, any lounge is likely better than sitting at the gate. Finally, you can also access Plaza Premium Lounges, which are typically quite nice.
Read More: Capital One Lounges: Where to Find Them and How to Get In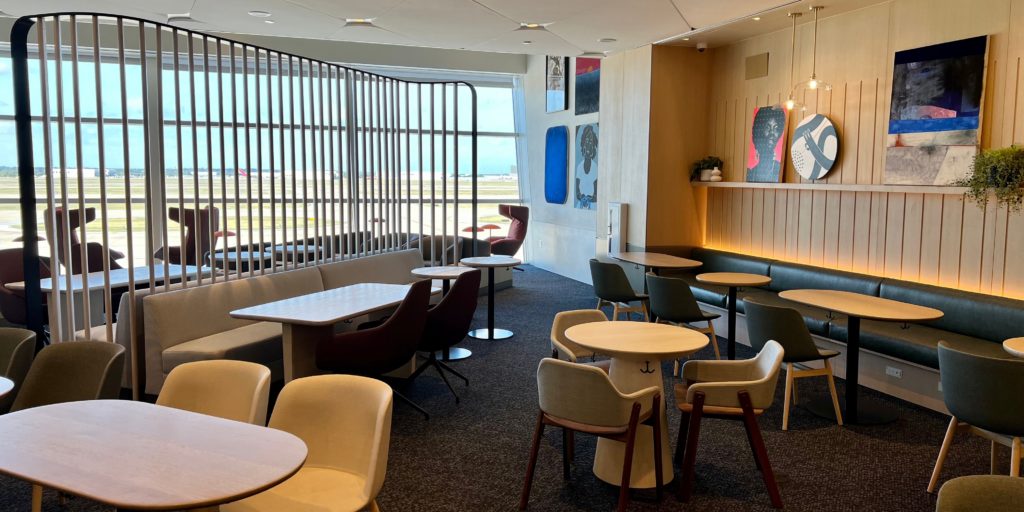 But here's where it gets interesting. With Capital One and Venture X, even though authorized users are free, they also get their own lounge membership with the ability to bring up to two guests with them on each and every visit, and unlimited guests for Priority Pass lounges. That's unheard of.
Here's an example. I recently picked up the Venture X Card and added my wife as an authorized user. That means both of us have the ability to bring up to two guests in with us each and every time we visit a lounge. So if we are traveling with our two daughters, we would all be able to get complimentary access to a lounge … and still be able to bring in two more free guests.
Chase provides the same type of access for Priority Pass lounges, but again, authorized users will cost $75 additional each year. And while Amex allows Platinum Card authorized users to have their own lounge membership, they will start restricting guest access at their flagship Centurion Lounges starting next year when guests will cost $50 each, and kids 12 and under will cost $30 to enter. That's not a very family-friendly policy.
If lounge access is important for your family, there isn't a better or cheaper way to get it right now.
Easily Combine Venture Miles with Family Members
Behind all the buzz of the new Venture X's launch last November is a sneaky-good feature: Capital One gives you the almost-unparalleled ability to combine Capital One miles between accounts. That's true if you're looking to pool your miles between an old Venture Card and a new Venture X account. But you can also combine Venture miles between friends and family, too.
In fact, you can transfer miles to almost anyone: There's no requirement that the person you are sharing miles with lives at your address or is related in any way. And there's no cap on how many miles can be transferred, either.
Here are the basics:
You can transfer Capital One miles to other members as long as they have a credit card that earns Venture Miles or Spark Miles
There is no requirement that the person you are transferring miles to lives at the same address or is related to you in any way.
There is no cap on the number of miles that can be shared with other Capital One Venture or Spark Miles cardholders.
There are no expiration dates or other major restrictions on miles that are transferred to other cardholders.
To make these transfers, you just need to call the number on the back of your Capital One Card. There isn't a way to do this in your online account currently. You'll just need the name and card number of the person's account you are transferring to.
How Does This Policy Stack Up Against Other Banks?
It doesn't get any better than this.
When it comes to transferable points currencies like Chase Ultimate Rewards, American Express Membership Rewards, Citi ThankYou Points, and Capital One Venture Miles, Capital One has the most generous policy about combining points with other cardmembers and it isn't particularly close.
American Express doesn't allow you to combine Membership Rewards points with other members in any fashion, though you can transfer Amex points to an authorized user's frequent flyer or hotel loyalty account.
Chase allows you to transfer Ultimate Rewards points to other members of your household, so long as they share the same billing address on their Chase account. 
Citi allows you to transfer ThankYou points to any other person who also holds a card that earns ThankYou points. But there's a catch: Once the points are transferred from one ThankYou account to another, they will expire in 90 days – and there is nothing you can do to extend the expiration date. That means it's only a good idea to transfer when you're about to use those points for a redemption.
Read more: Can You Transfer Credit Card Points to Another Person's Account? 
So if different members of your family (or a group of friends) have a balance of Venture Miles, they can easily be combined into one account to make redeeming them easier.
Read more: How to Combine Capital One Miles Between Cards, Cardmembers
Flexible Points with Easy Redemptions
All the benefits in the world won't mean much if using those points takes a nuclear physics degree. Staying on top of the ever-changing world of travel rewards credit cards, points, and miles and the best ways to redeem them can be a full-time job. It is literally mine, and I know firsthand how much there is to know and consider.
Thankfully, Capital One stands out here: There are tons of options to redeem your points. But no option is more family-friendly and easier to use than them to cover almost any travel expense.
It works like this: Make any travel purchase directly with an airline, hotel, or whatever else that will code as travel on your card statement. Wait for that charge to post to your account, and then log in and use your Capital One Venture Miles to erase it. When using your miles this way, they will always be worth one cent each. That means you can remove a $500 charge using 50,000 miles.
Capital One also allows you to transfer miles to partner airlines and hotels, and use their own travel portal – Capital One Travel, so you've got other options. Transferring Venture Miles to other airlines is a great way to squeeze even more value out of these miles.
But you've always got the fallback of purchasing travel and covering those expenses with your miles, so Capital One wins with simplicity. Having two young children myself, I know that simplicity generally saves time, and that is something I can appreciate.
Related Reading: The Best Ways to Use Capital One Venture Miles
Full Benefits of the Capital One Venture X Rewards Credit Card
Earn 75,000 Capital One Venture Miles after spending $4,000 on the card in your first three months of card membership.
Annual $300 travel credit to use for Capital One Travel bookings on flights, hotels, or car rentals
Complimentary access to the Capital One Lounges, plus two free guests on each and every visit.
A Priority Pass membership, which will get you and two guests into 1,200-plus other airport lounges around the globe
Up to a $100 credit for either TSA PreCheck® or Global Entry once every four years. Membership in both programs is good for five years.
Get 10,000 bonus Venture miles each year after renewing your card, starting in year 2
Earn 10x miles on hotels and rental cars and 5x miles on flights booked via the Capital One Travel portal
Earn 2x miles on all other spending
Complimentary Hertz President's Circle status
Primary Rental Car Coverage
Lost Luggage Reimbursement
Trip Delay Coverage, Trip Cancellation, and Interruption Coverage
Add up to Four Authorized Card Users at no additional cost. Each user gets their own lounge membership.
$395 annual fee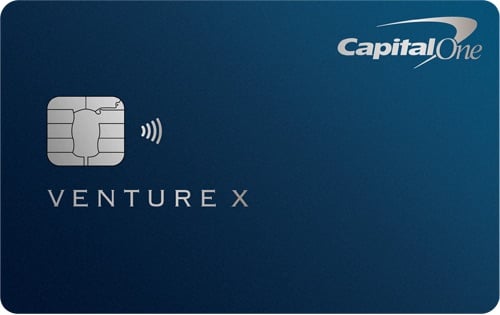 Click Here to learn more about the Capital One Venture X Rewards Credit Card
Bottom Line
Capital One seems to have designed the Venture X Card, and the Venture Miles program overall, with families in mind. In our opinion, no card comes close to providing more value for frequent traveling families at a better price point.