If you've got a bunch of airline miles, you generally can't combine them with a friend or family member – at least not without paying a hefty fee that makes those transfers nearly worthless. But Chase Ultimate Rewards points are different.
Chase allows you to combine Ultimate Rewards points with a member of the same household. It's what makes Chase points so great for families looking to pile up points for their travels. And it can be helpful for getting the points you need if you're just a few thousand short of an award booking.
So if you and a family member, spouse, or partner are trying to combine points from cards like the Chase Sapphire Preferred® Card or the Chase Sapphire Reserve®, or even one of the no-annual-fee Chase Freedom cards, here's what you need to know.
Related Reading: Can I Transfer Airline Miles to Someone Else?
Chase's Rules on Transferring Points to Another Member
It's Chase's world, and we're just living in it. That means you have to play by the bank's rules.
In this case, Chase makes the rules crystal clear for transferring to other Chase account holders. Here's a snippet, with our emphasis added.
You can move your points, but only to another Chase card with Ultimate Rewards belonging to you, or one member of your household. If we suspect that you've engaged in fraudulent activity related to your credit card account or Ultimate Rewards, or that you've misused Ultimate Rewards in any way (for example by buying or selling points, moving or transferring points with or to an ineligible third party or account, or repeatedly opening or otherwise maintaining credit card accounts for the sole purpose of generating rewards) we may temporarily prohibit you from earning points or using points you've already earned. If we believe you've engaged in any of these acts, we'll close your credit card account and you'll lose all your points.
Translation: You can add one, and only one, household member to your account for the purpose of combining points. And that means you have to share the same billing address. But whether that person is a relative, spouse, partner, or roommate, it works. Just don't try to outwit Chase with this, as the consequences clearly aren't worth the risk.
If you've got a Chase business card like the Chase Ink Business Unlimited® Credit Card, the Chase Ink Business Cash® Credit Card, or even the Chase Ink Business Preferred® Credit Card, you can freely transfer points to co-owners and account holders of the business. Or if you have those cards yourself, you can easily combine points earned from both Chase personal and business cards into one pool making them easier to redeem.
Other banks handle it somewhat differently. In the case of American Express, you can't transfer Membership Rewards points directly to other cardholders. However, you can transfer Amex points to the frequent flyer accounts of your authorized users. Chase also offers the same option.
But with the exception of Capital One, no other bank makes it as easy to combine points with another card member.
Related Reading: How to Combine Chase Personal & Business Accounts Online
How to Combine Points with a Household Member
If you're ready to combine points within your household, you've come to the right place. The process is similar to that of combining points between your own Chase cards that earn Ultimate Rewards points.
But if you haven't combined Chase points with another card member previously, you'll need to call Chase to make your first transfer. Simply call the number on the back of your Chase card and let the agent know that you would like to transfer all or some of your points to another member of your household. You'll need to provide the full credit card number of the person you are transferring points to, as well as the last name that is printed on their Chase credit card.
The process takes just a few minutes, and once they have your household member set up, you'll have the option to transfer points online in the future without having to call Chase.
Once that option is available online, you can simply head to Chase.com and log in to your account, then head to the Ultimate Rewards portal. From there, you may need to click "See All" before you find the "Combine Points" option, which is what you want.
After clicking "Combine Points," you'll see a dashboard with the option to transfer points between your own Chase accounts. But since I called Chase and transferred points to my wife's Sapphire Preferred account previously, that option also shows up as an option for me as well.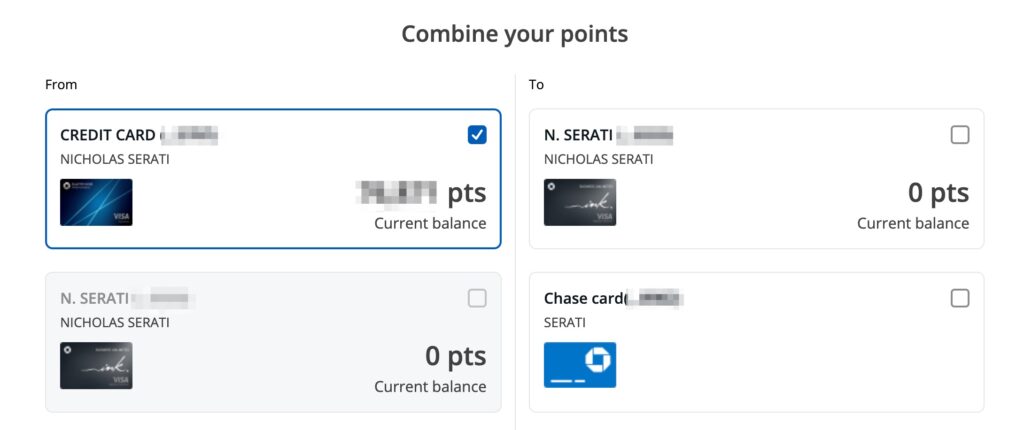 So long as you share the same billing address with the person you are attempting to combine points with, there should be no hiccups or issues, and the points should transfer into the other person's account immediately. Additionally, unlike when you transfer Chase points to airline accounts, there's no need to transfer in 1,000-point quantities. You can transfer any amount of points available in your account.
This process doesn't work quite the same in reverse, though. For instance, if my wife wants to transfer her Chase points into my account, she'll still have to call and set it up on her end. She won't see the option to do so online simply because I already combined points with her.
One additional thing to note: If you have multiple Chase credit cards that earn transferrable Ultimate Rewards points, you can designate different household members for each card to complete a transfer. That likely isn't necessary, but it is an option.
Another Option to Send Chase Points to Others
Much like other banks American Express, Capital One, and Citi, you can also transfer Chase points directly to an authorized user's frequent flyer account.
Of course, that could come with a cost. If you've got the Chase Sapphire Preferred® Card, it's free to add an authorized user. With the Chase Sapphire Reserve®, however, it's another $75 per year on top of the card's $550 annual fee.
And beware: Becoming an authorized user counts towards Chase's dreaded 5/24 restriction, which could make it harder to get approved for Chase cards in the future.
But once you've added an authorized user, it's simple to transfer points directly to that person's airline and hotel accounts. Just beware: These transfers are a one-way street. Once you send them from Chase into an airline or hotel account, you can't get them back into your Chase account. They will live with the airline or hotel program until they're redeemed.
Here are the options for transferring Chase points to airline and hotel accounts.
| Program | Type | Transfer Ratio | Transfer Time |
| --- | --- | --- | --- |
| Aer Lingus | Airline | 1:1 | Instant |
| Air Canada Aeroplan | Airline | 1:1 | Instant |
| Air France/KLM | Airline | 1:1 | Instant |
| British Airways | Airline | 1:1 | Instant |
| Emirates | Airline | 1:1 | Instant |
| Iberia Plus | Airline | 1:1 | Instant |
| JetBlue | Airline | 1:1 | Instant |
| Singapore Air | Airline | 1:1 | 12-24 hours |
| Southwest Airlines | Airline | 1:1 | Instant |
| United Airlines | Airline | 1:1 | Instant |
| Virgin Atlantic | Airline | 1:1 | Instant |
| World of Hyatt | Hotel | 1:1 | Instant |
| IHG | Hotel | 1:1 | 1 day |
| Marriott Rewards | Hotel | 1:1 | 2 days |
Of course, this option really only works if you're looking to consolidate points within a specific airline account. If you'd rather use your Chase points to book a flight deal directly, you're better off adding a household member and transferring points into another Ultimate Rewards account.
Bottom Line
It's fairly easy to combine Chase points with another cardholder – at least as long as you're part of the same household. If you haven't done it previously, you'll first need to call Chase to set up the transfer.
After you have created that path, you'll have the option to complete transfers online after that and combine points to use for future travel.