For all their faults, we're big fans of Delta SkyMiles. There are some great ways to use these miles. 
But that doesn't mean its easy to use them well. Between unpredictable award pricing and sky-high rates to fly business class, it's quite the opposite. And when you're trying to use SkyMiles to book flights on partner airlines, it can get even trickier.
Booking partner airlines is a great way to use your SkyMiles, as the rates you pay for a partner award are more stable than Delta's ever-changing rates for its own flights. But we've noticed a troubling pattern when searching for award tickets on Delta.com on airlines like Air France, KLM, Korean Air, and others.
Delta often doesn't properly display available award seats on nonstop flights – in economy or business class – if they're on a partner carrier. Only after specifically filtering for nonstop flights will some of these award tickets show up.
It's unclear whether this is an purposeful move or an IT glitch. But either way, it's bad for SkyMiles members. Intentional or not, Delta is guiding your searches toward more expensive award redemptions on Delta flights – and hiding better (and often cheaper) tickets that aren't on Delta.
Breaking Down the Issue
We've run across this scenario time and time again in recent research, including some outstanding availability to fly from the U.S. to Europe in KLM or Air France business class next summer. The problem is that many of the dates with business class seats available didn't show up in initial searches.
For example, here are the initial results when searching for a one-way business class ticket on the new nonstop flight from Austin (AUS) to Amsterdam (AMS). At first glance, the best options are one-stop flights on Delta – and that's where most flyers will end their search.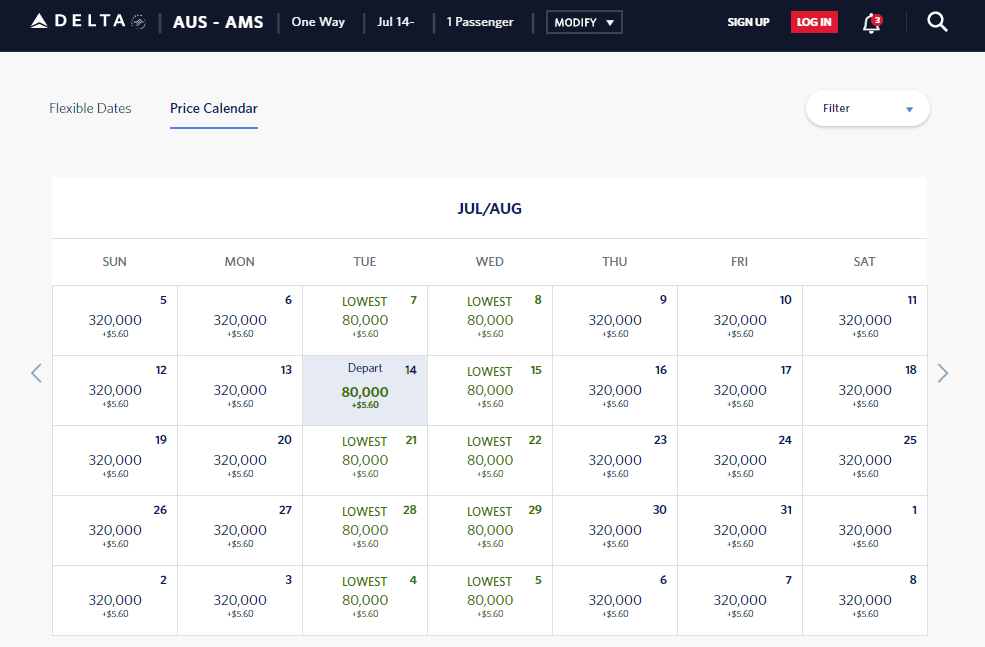 By clicking through on any of these dates, the rate displayed is the best rate you'll find … even when there is a better deal to be had by taking one extra step.
But if you filter to display only nonstop flights (Filter -> Show Only -> Nonstop), suddenly there are much better options available for the exact same time period: Nonstop flights on KLM for 75,000 SkyMiles – fewer than Delta originally displayed.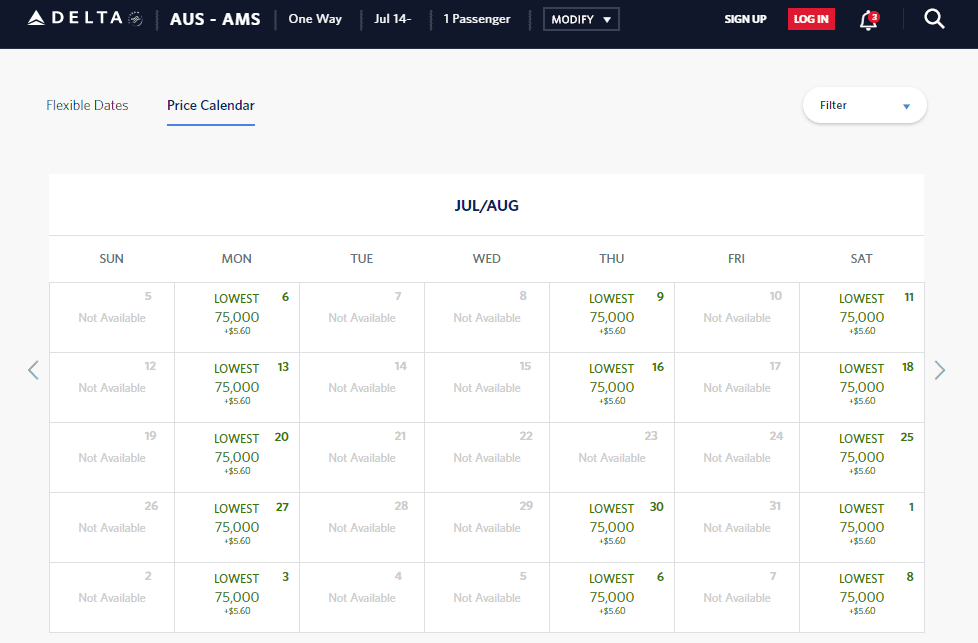 It's the same story flying economy with some of these partner airlines. Here's a look at the search results flying from Chicago-O'Hare (ORD) to Paris-Charles de Gaulle (CDG) this coming spring. At first glance, there's just one day with a nonstop flight – on Air France. Tough luck if you can't make that date work.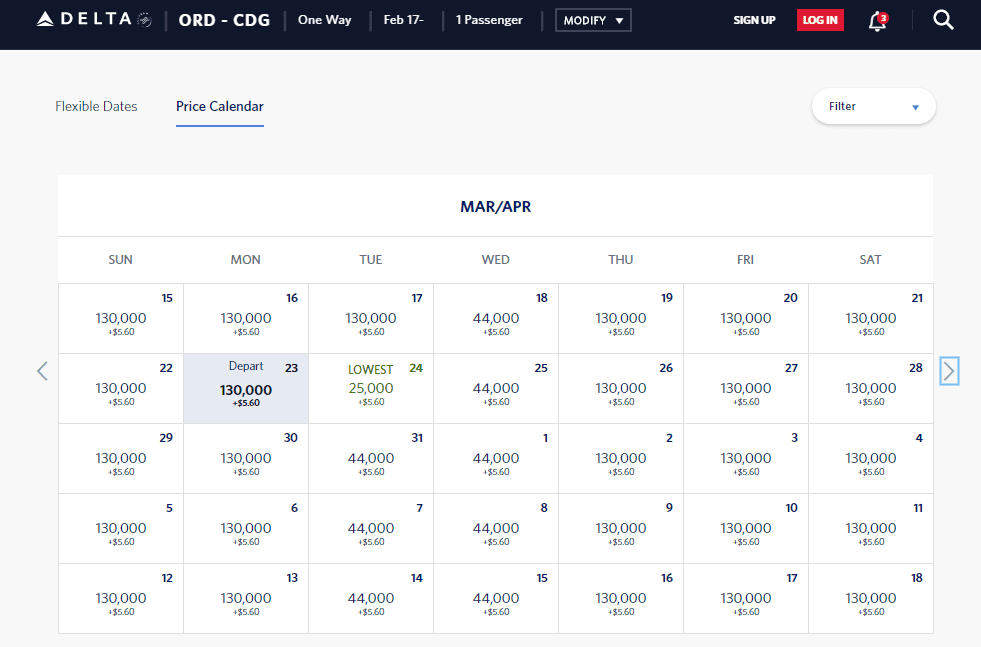 But if you filter for nonstop flights, it's much easier to book a nonstop Air France flight for 25,000 SkyMiles – including on many of the days where Delta initially said the best option was 130,000 SkyMiles for a one-stop Delta flight.
The same pattern holds true for many flights to Seoul-Incheon (ICN), where you can book partner airline Korean Air with your SkyMiles. A one-way flight in business class flight from the U.S. would cost you 85,000 SkyMiles, but it appears that finding these flights is tough. All Delta shows are some one-stop Delta flights for 120,000 SkyMiles or more.
But after filtering for nonstop flights, that changes considerably. Even on many of the same days where Delta initially suggests the lowest price is 180,000 SkyMiles, you can actually book a nonstop Korean Air flight for 85,000 SkyMiles. You'd just never know it unless if you specifically filter for nonstop flights.
There are plenty more examples. And you won't see these lower-priced, nonstop flights on dates that they're available unless if you specifically filter your search for them.
It appears to vary by airline – and even by route. For example, flights from Los Angeles (LAX) or San Francisco (SFO) to Seoul display nonstop availability immediately. Searches for routes that Virgin Atlantic flies typically do a much better job of showing you your options right off the bat, too.
And it can often be much easier to find these lower-priced partner award flights if you need a connecting flight within the U.S. So while a search from Chicago or Atlanta (ATL) to Seoul may initially hide Korean Air's nonstop flights, searching from Detroit (DTW) – where Korean Air doesn't offer a nonstop flight – pulls up plenty of options immediately.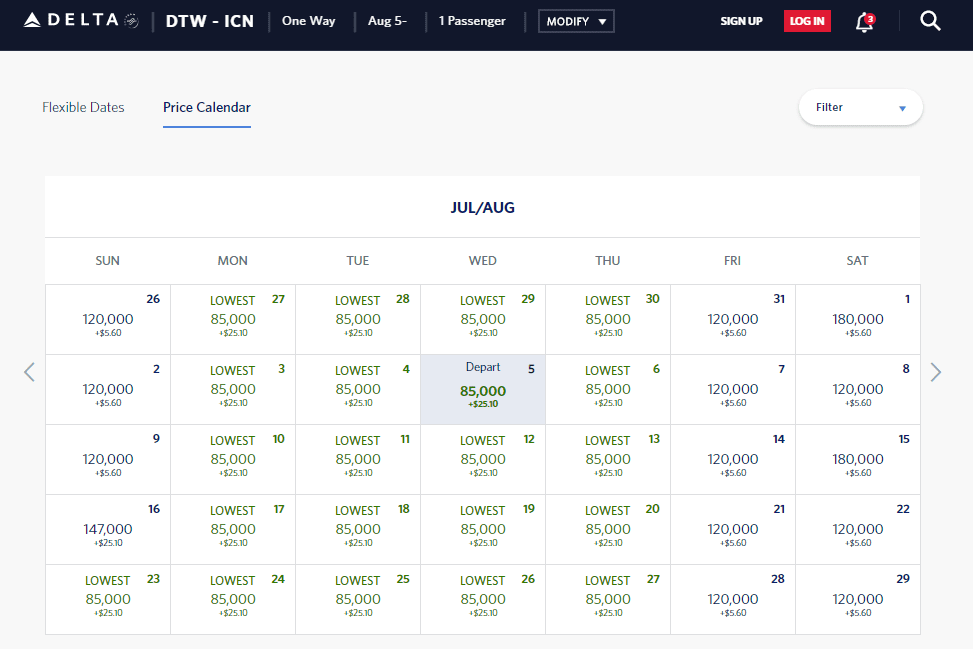 What this Means for Using Your SkyMiles
Is Delta doing this on purpose? Given the airline's track record of making it harder to use your SkyMiles well, that's not out of the question.
Some of Delta's partner airlines could be behind this as well, hoping to limit SkyMiles redemptions on their flights – though that seems less likely. And of course, it could just be a search engine glitch rather than a purposeful decision.
No matter the explanation, it's immaterial. The fact is that this just makes it harder to get the best bang for your buck with SkyMiles. Whether you're flying economy or business class, some of the shortest flights at the cheapest rates aren't initially available. As with all things SkyMiles, you have to put in the extra work to get the best deal.
And while filtering for nonstop flights is second nature to frequent flyers who know their options, that's not the case for everyone. The result is that Delta is steering its flyers toward more expensive, and often longer, Delta flights. If the best option a traveler sees is a one-stop Delta flight to Korea that costs 120,000 SkyMiles, they're more likely to take that – especially if they don't know to keep digging.
Bottom Line
Make sure you filter for nonstop flights to see all your options when using your SkyMiles. You might just find a better deal that Delta otherwise wouldn't let you see.