Cheap flights are great – it's what we're all about. But taking a cheap flight and covering the entire cost using a stash of credit card points? That's next level.
There are plenty of ways to use points and miles to book flights, from racking up Delta SkyMiles or American AAdvantage miles to transferring credit card points to another airline program. But few methods are easier than using credit card points to cover the cash cost of airfare.
Plus, it's got two extra benefits. You'll still earn airline miles on the flight you booked using points. And unlike a normal airline award ticket where you'll pay some additional taxes and fees, your flight will be completely free.
But how can you do it? And which points are best for booking flights? Take a look at our list.
Use Chase Points Through Chase Travel Portal
For earning and burning points, it's hard to beat the system Chase has in place. When it comes to booking flights using points with some added value, they're the top dog.
That's why we're big fans of both the Chase Sapphire Reserve® and the Chase Sapphire Preferred® Card. These cards earn valuable Chase Ultimate Rewards points which can greatly reduce the cost of your travels.
The trick is using the Chase Travel portal, an Expedia-powered platform that allows you to search and book flights, hotels, and other travel expenses. Generally, the flights you may see through Google Flights will be available here. But using your Chase points through the travel portal gets you even further with a bonus.
If you hold the Chase Sapphire Preferred Card, each point is worth 1.25 cents when you redeem them through the Chase Ultimate Rewards portal.
With the top-tier Chase Sapphire Reserve, each point is worth 1.5 cents when booking travel through the Chase rewards portal.
That means you can book a $500 flight using just 40,000 points from your Preferred Card. That same $500 flight would be just over 33,000 points from the Reserve. Don't have enough points – or want to save some for later? You can use what you want and pay the remainder in cash.
How to Use the Chase Travel Portal to Book Flights with Points
Here's how to use the Chase Travel Portal to make your next flight much cheaper – or better yet, free. Let's use a recent Thrifty Traveler Premium deal as an example.
Say I'm looking to take advantage of the cheap fares we found to San Juan (SJU) in Puerto Rico earlier this month. From Chicago-O'Hare (ORD), you could fly down to Puerto Rico for just $126 roundtrip!
Now, instead of booking with Delta, let's look at how you can use Chase instead.
If you hold a credit card that earns Ultimate Rewards points like the Reserve or Preferred, just log in to your online Chase account, navigate to the travel portal, and search for this same fare. Once you're logged in, select the "Travel" button on the Ultimate Rewards homepage top navigation bar, which is highlighted below in red.

From here, you can search for the exact same cheap fare you just found. Because it's powered by Expedia (at least for now), most (but not all) of the flight pricing you find through Thrifty Traveler Premium, Google Flights, or anywhere else should be bookable with Chase points.
Fortunately, those same flights to San Juan can easily be found on the Chase Travel Portal. Once we found it and chose both our departing and returning leg, Chase gave us a look at what it would cost in points and/or cash.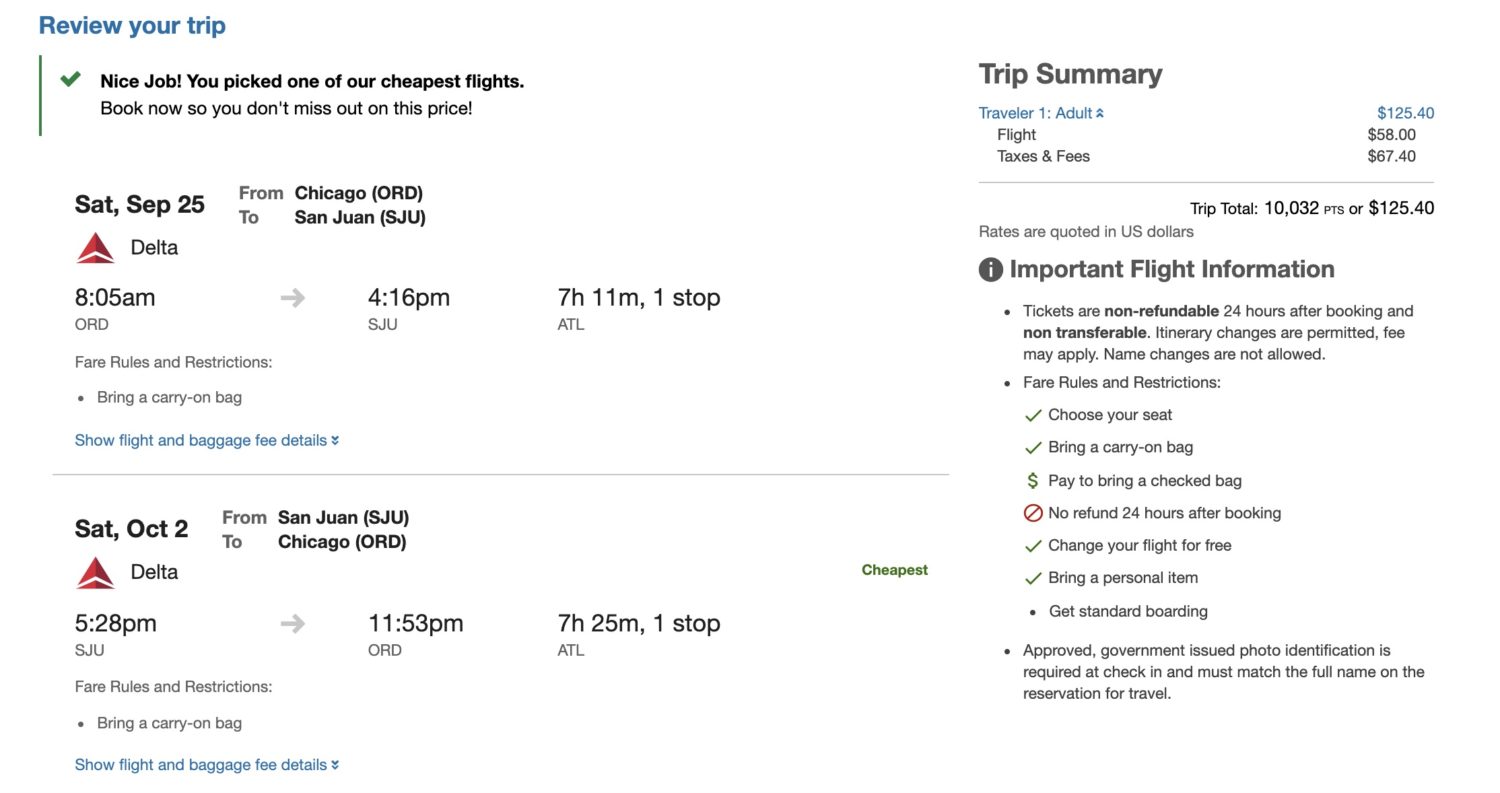 As you can see, you can book that same flight using just 10,032 Chase Ultimate Rewards from the Preferred Card. If you have the Reserve, that same flight would be just 8,360 points!
Capital One Venture and the Purchase Eraser
The Chase travel portal is simple, but this is even more straightforward. With one of the best points programs for beginners, you can earn miles, buy a flight, and then use your miles to cover that purchase afterward. Done.
Enter the Capital One Venture Rewards Credit Card and its easy-to-use Purchase Eraser tool. With Venture Miles, you can easily redeem for any travel expense: Not just flights, but hotels, Airbnbs, cruises, and much more.
While you might get more value from other points programs, there's truly no easier way to save money and book a flight for free. The card's current 75,000-mile welcome bonus after spending $4,000 within the first three months will earn you a total of 83,000 Venture Miles. That's good to easily cover $830 in flights.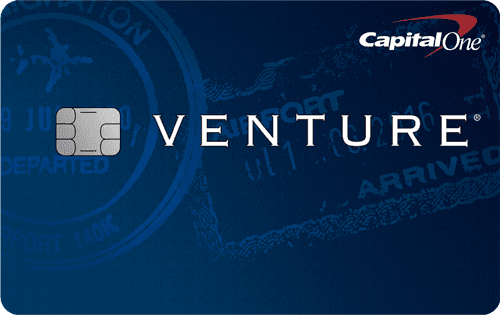 Click Here to get more information about the Capital One Venture Rewards Credit Card. 
How to Use Purchase Eraser to Book Flights with Points.
Using the Capital One Purchase Eraser is one of the easiest ways to redeem travel rewards.
Let's say you've earned that full 66,000-mile stash by earning the welcome bonus – or racked up even more by continuing to spend on your Venture card, which earns 2x miles on each and every purchase. Now it's time to use those points on some travel expenses.
So you've got the 50,000 points you earned from the sign-up bonus. Or perhaps you've continued spending on this card and racked up even more points.
It doesn't get any easier than this: Simply pay for your flight, hotel, or other travel expense with your Venture Card. You can book directly with the airline or through an online travel agency – it doesn't matter.
The next (and last) step in this process is to redeem your Venture points using the Capital One Purchase Eraser. To redeem your points, log in to your Capital One account and click the Redeem Miles/Rewards button.
Of course, it's the 21st century: You can also do it on your smartphone app.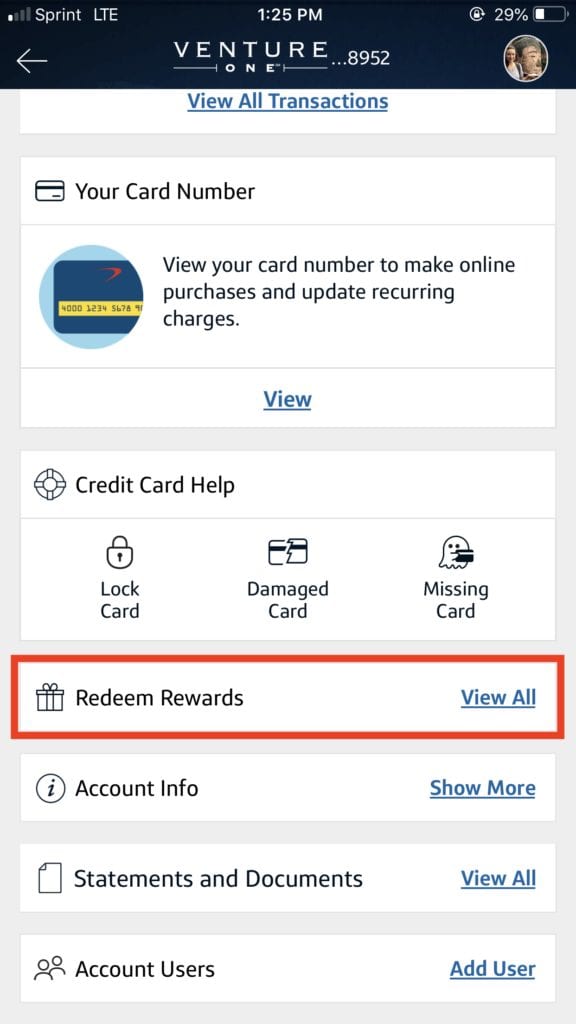 Next, select how you'd like to redeem your points. The easiest (and our favorite) way to redeem Capital One rewards is with the Purchase Eraser function.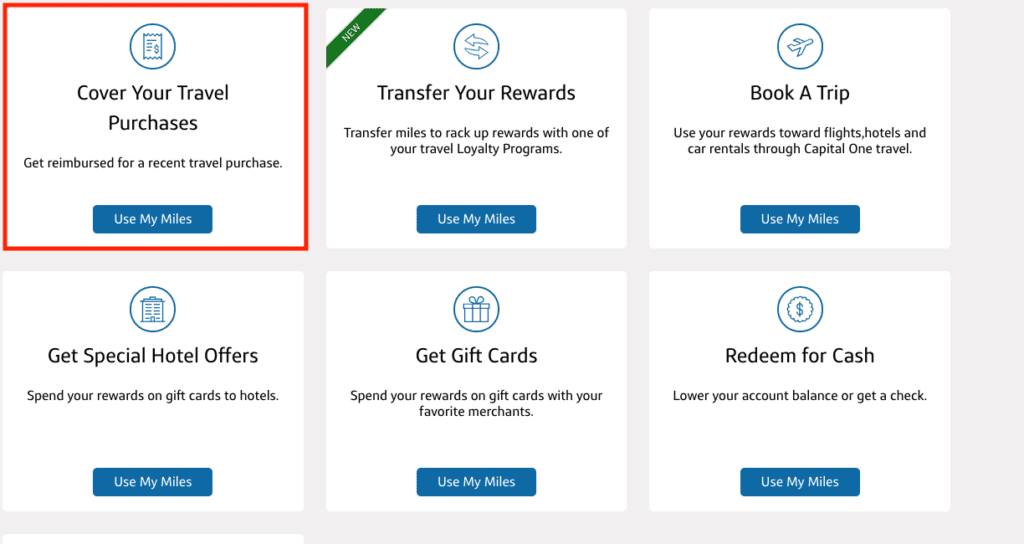 Once you've selected to cover your travel purchases, you'll be taken to a page where you can select which of your travel-related purchases you've made on your Capital One Venture card you'd like to "erase." You can even redeem to cover just part of a purchase if you don't want to spend all your points. That's a feature that few travel rewards cards offer.
Every Venture Mile is worth a flat 1 cent toward travel. That means 1,000 points will cover $10 in travel expenses. A stash of 50,000 points will erase $500 in flights or other expenses.
Just select which travel-related purchase you want to erase, and voila! Your points will be deducted, and your purchase has been erased!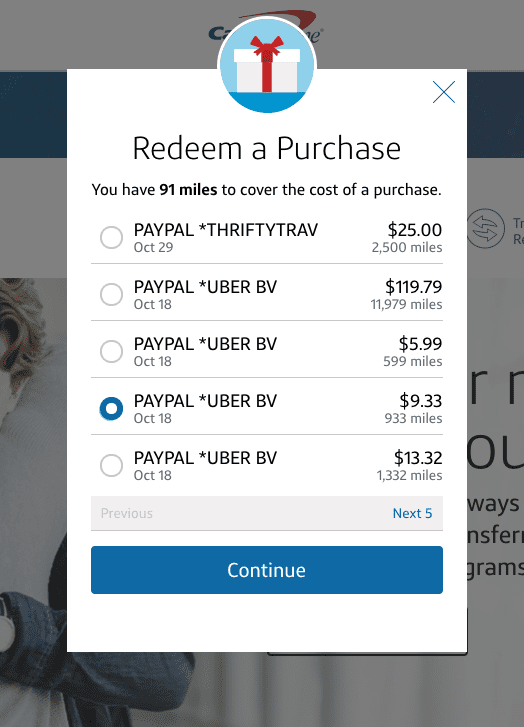 Once you hit that green "Redeem" button, you're done! No transfers or portals, just erasing a purchase you made simply and easily on your credit card.
We also love the Purchase Eraser because it is pandemic-proof travel booking. It's more important than ever to book your fares directly with the airline in case they cancel or change your flight. The Capital One Purchase Eraser allows you to make that booking with the airline and simply deletes the purchase from your statement, meaning the booking would still be with the airline, but you won't have to pay for it.
Read Next: How to Book Travel Smarter During Uncertain Times
American Express Business Platinum Rebate
Got a small business? Aiming to fly business or first class? There's no better option than the Business Platinum® Card from American Express, thanks to an underrated benefit that helps you book flights for fewer points.
The Business Platinum Card gets you a 35% rebate American Express Membership Rewards when using your points to book flights. It works on economy flights with the airline of your choice – and on all first and business class flights – when you book through the Amex Travel portal.
Click Here to learn more about the Business Platinum Card from American Express.
The American Express® Business Gold Card offers a similar benefit – albeit with just a 25% rebate.
How to Get a 35% Points Rebate
Each year you hold the Amex Business Platinum credit card, you will be able to select a qualifying airline for a few different benefits the card provides. The first is up to $200 in annual airline incidental fee credits that can be used for such things as checked bag fees, lounge access and more.
But this 35% points rebate is arguably even better. When you use the Membership Rewards Pay with Points feature to book flights with your selected airline, you will receive 35% of the Membership Rewards points used back. Further, you will receive the 35% points rebate for travel booked in a business or first-class cabin on ANY airline – not just the one airline you picked at the start of the year.
Amex allows you to earn up to 500,000 Membership Rewards points back through these rebates each year. That's difficult to max out, so you should be set.
Thrifty Tip #1: You can only choose your selected airline upon opening an account and then once per year in January. Make sure you choose this wisely.

Here's a real-world example of how this works. Let's take the following Delta flight deal from Philadelphia (PHL) to Reykjavik (KEF) for $547.91 through Delta. You could find this exact flight in the Amex Travel portal for the same price of $548 for the roundtrip fare. But instead of paying cash, the Amex travel portal allows you to use Membership Rewards points to book this travel.
When you use Amex Pay With Points, you will get 1 cent per point towards the cost of a ticket. That means you can pay for the ticket with 54,791 Membership Rewards points upfront.
That's not bad, but that's not where the story ends. In this example, you would receive a 35% rebate on the 54,791 Membership Rewards points used by booking through Amex Travel just for holding the Amex Business Platinum card.
That means you'd get 19,177 points deposited straight back to your account through a rebate after you book. Do that math, and that means you booked that same flight for just 35,614 Membership Rewards points! 
One of the best parts of this benefit is that you will still earn miles and elite qualifying credits from your flight. In this case, you earn Delta SkyMiles and both MQMS and MQDs towards Delta Medallion status.
Bottom Line
Any of these three methods are great ways to book your next flight for free. Just be sure to do your homework and decide which approach is best for booking which flights.