Look, I get it: It's hard to part with your hard-earned points and miles. Watching those balances grow and grow is fun … and cashing them in is scary.
But it's absolutely essential. And right now we're in a sweet spot that makes it easier to ditch your doubts ("Is this a good deal? Should I just pay cash instead?") and redeem your miles for maximum value.
We've been sending more award alerts than ever to our Thrifty Traveler Premium members. That includes a resurgence of dirt-cheap Delta SkyMiles flash sales as well as an unprecedented amount of award space to book lie-flat business class seats using miles to Europe, Asia, and even Australia for a trip next year.
Tempting though it may be to keep hoarding miles, remember: Points and miles are not an investment. The longer you hang onto them, the less valuable they'll get as airlines and hotel chains alike keep tweaking their systems to give travelers less bang for their buck when cashing in points.
Keep reading to see why it's time to shake off the dust and put those miles to use.
Amazing Deals to Use Your Points Are Back
This is our mantra: There's no better way to redeem your points and miles than on a trip you otherwise wouldn't take. And there are plenty of them to pick from lately.
Some airlines like Southwest and JetBlue have points programs that are tied directly to cash rates: The more expensive the flight, the more Rapid Rewards points or TrueBlue points you'll need to book it. That's true when using credit card points through platforms like the Chase travel portal or using Capital One Venture Miles to cover your travel purchases, too. Cash prices are a big factor in how many airlines determine how many miles you need, so dropping flight prices means there's a good opportunity to take a cheaper flight and make it free.
Read more: How Do Airlines Set Award Rates When Using Miles?
But we've also seen the return of some stellar award availability through other points programs – especially if you're looking to take a long-haul trip in a lie-flat seat. At Thrifty Traveler Premium, we're constantly on the lookout for great opportunities to use points and miles in addition to cheap domestic and international cash fares – and we keep finding them.
After disappearing earlier this year, Delta SkyMiles flash sales have made a massive comeback over the last few months, with some of the lowest rates we've seen in years … if ever. They run the gamut from domestic getaways to New York City or Las Vegas (LAS) under 7,000 SkyMiles roundtrip, Hawaii (OGG) as low as just 13,600 SkyMiles for this fall and winter, roundtrip flights to almost anywhere in Europe for 27,000 SkyMiles, a previous sale to New Zealand and back for just 37,000 SkyMiles, and many more.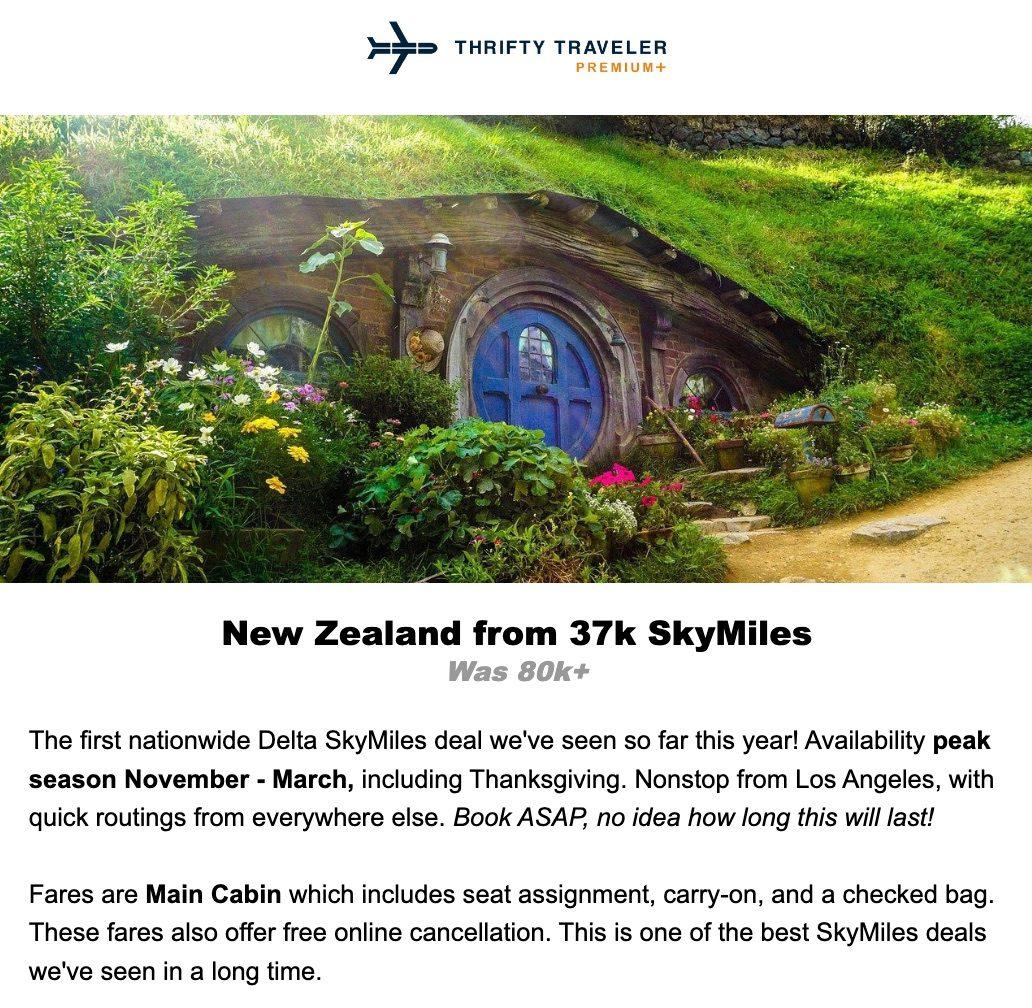 Get award alerts like this one straight to your inbox with Thrifty Traveler Premium!
If you want to score a Delta One seat across the pond, finding anything close to a deal is tough: Delta typically charges 300,000 SkyMiles or more each way …. unless you turn to Virgin Atlantic. Using points from this close Delta partner airline, you can book those exact same business class seats for just 50,000 points each way – or even less if you take advantage of a transfer bonus from banks like Chase!
Finding the award availability to make that a reality was practically impossible for the last year. But recently, the unthinkable cropped up: Wide-open award space to book these Delta One seats to Brussels (BRU), Frankfurt (FRA), and Zurich (ZRH) for next year. You can't beat this!

Learn how it's done: Read our guide on how to book these Delta One flights for just 50K each way!
That example is exhibit A in how to get the most bang for your buck using points. While there's absolutely nothing wrong with saving your points and flying economy, there's no better way than redeeming them for a business or first class award on a long-haul journey. Those tickets might cost thousands more than economy, but they don't have to break your points piggy bank.
Case in point: A nonstop flight to Italy next summer could easily cost you $1,000 or more – or $5,000-plus in business class. But we sent Thrifty Traveler Premium members an alert for an incredibly rare chance to book ITA Airways' fanciest business class seats from several U.S. cities to both Rome (FCO) and Milan (MXP). Thanks to a transfer bonus from Chase, you could do it for just 58,000 points each way!

Want award space alerts like this, plus cheap domestic and international fares? Try Thrifty Traveler Premium now!
Booking these top-dollar seats to Italy in the summer is typically hard, but one particular redemption is typically impossible: Getting to Australia or New Zealand in business class using miles. In normal times, every search to redeem your miles might come back empty.
… but these aren't normal times. In the last few months, we've found an unprecedented amount of business class award space to Australia and New Zealand for 2024, including:
Flying American or United Polaris business class to Sydney (SYD) and beyond for 70,000 miles or less
A trip to New Zealand with a stopover in Fiji in Fiji Airways business class
Ultra-rare availability to fly Air New Zealand or Qantas business class
And an even rarer chance to book Qantas First Class on their double-decker Airbus A380 to Australia using points!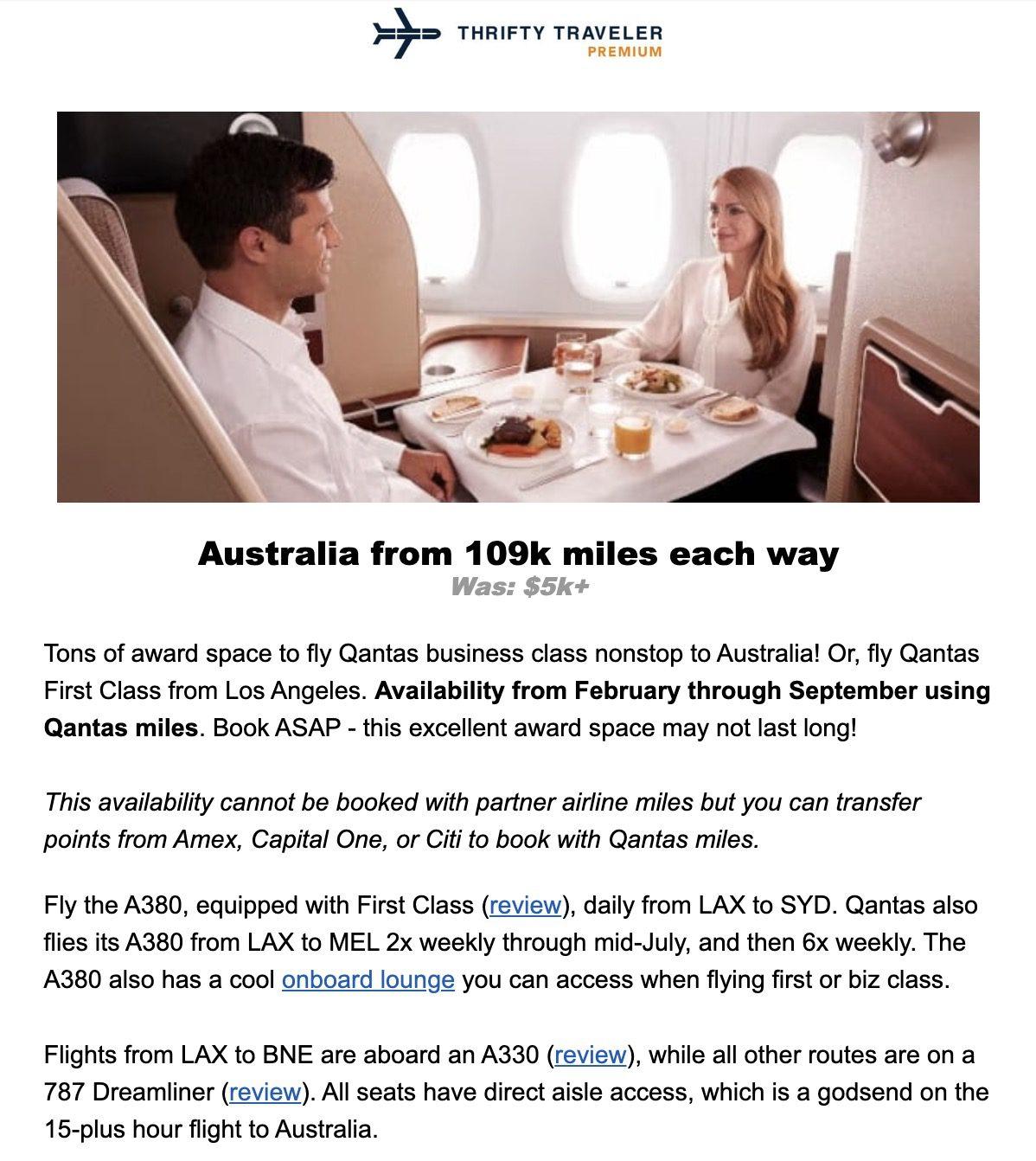 It's a sign of the times: Booking business class seats with miles is easier than ever. Don't let this window pass you by.
Your Miles Aren't Getting More Valuable
There's one more reason to seize the opportunity of booking with miles right now: Because they won't last forever. And your miles aren't getting more valuable over time.
Just the opposite.
Let me repeat: Points and miles are not an investment. They are there to be used. And as tempting as it might be to watch your mileage balances grow and grow, you're asking for trouble. Why? Because over time, airlines keep charging more miles for the same flights. It's inevitable.
Welcome to the world of airline devaluations. Over the last few years, we've seen airlines charge more and more miles, eliminate sweet spots, and raise taxes and fees. Here's a brief look:
That's just the tip of the iceberg of what we've seen in the last 12 months … and more trouble could be coming.
What does Virgin Atlantic's spot in the SkyTeam alliance mean for its incredible sweet spots? Will American finally ditch its partner award chart, eliminating the option to book Japan Airlines or Qatar Qsuites for a bargain? We don't know … but many go-to deals in the world of points and miles are too good to last.
You can bet there will be even more changes in the landscape of points and miles in the months to come – and many of them will be bad for your miles.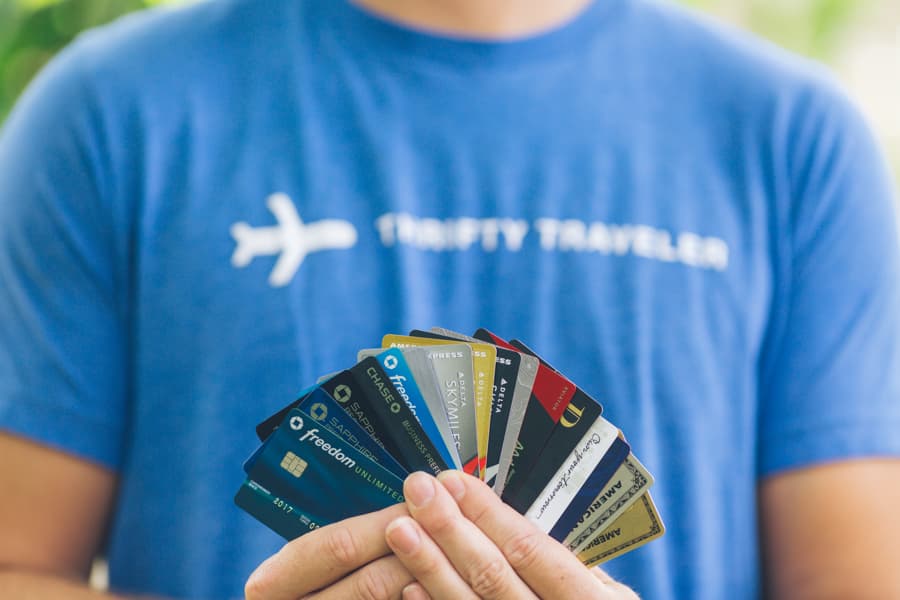 There's a simple reason why: Banks and airlines have been flooding the market with points and miles through a shocking number of huge credit card offers.
Amex has introduced record-setting welcome offers on both *amex platinum* and *amex gold* and kept them around for many months. Capital One is still offering a 75,000-mile bonus on both the *capital one venture card* and the newer *venture x* – with an incredible 90,000-mile bonus available via personal referral links. All the while, many banks have rolled out record-setting bonuses to their small business credit cards.
See our list of the best credit card offers this month!
That's great for consumers looking to stockpile points for future travel. But in the big picture, it spells trouble down the road: More and more (and more and more) miles sitting unused is bad for the airlines. In the points and miles world, it's the equivalent of inflation. And that means more airlines will eventually increase the cost of awards to offset that huge sum of miles in the market.
When will that happen? Well, it's already started. But it's not done yet.
That means the current opportunities to use your points and miles have an expiration date. And that should give you the kick in the pants you need to use your miles wisely now before it's too late.
Flexibility to Cancel and Get Your Miles Back
All the major U.S. airlines are offering free change and cancellation so long as you buy at least a main cabin ticket or higher.
And that's great. But if you book a flight this week for a trip in 2023 or early 2024 and eventually decide to cancel, you'll get a voucher to use within the next year. That's certainly better than nothing. But here's where using airline miles can shine.
Many major airlines are currently allowing free cancellation on award tickets, waiving the typical $50 to $150 redeposit fee. That means you can book a trip now and cancel it later to get your miles back free, as well as any taxes and fees you paid. For instance:
American Airlines ditched its award cancellation fees altogether. Previously, everyone except top-tier status holders had to pay the $150 redeposit fee to cancel an award ticket and get their AAdvantage miles back.
Any award ticket booked with Delta SkyMiles can be easily canceled online for free to get your miles back, too – so long as you don't buy a Delta basic economy award
Ditto with Alaska Airlines, which has gotten rid of its previous $125 redeposit fee to cancel an award ticket to get your miles back.
United lets you cancel award tickets and get your miles back free so long as you nix your trip at least 30 days before departure.
Southwest never charges a fee to cancel any flight, whether you book with Rapid Rewards points or cash.
That's just a small sample – the list of airlines waiving or eliminating fees to cancel an award ticket goes on and on. Canceling award tickets is typically quite easy: You can usually just make a call (or slide into your airline's DMs) with your flight confirmation number and ask to cancel. Delta allows you to easily cancel award tickets booked with SkyMiles online, as do both American and United.

This is no small matter. Free cancellation on award tickets means you can use your miles to speculatively book a trip and hope for the best. If it doesn't pan out, cancel and get your miles right back. This way, there's no need to worry about putting an airline voucher to use if your plans change.
Bottom Line
Before COVID-19, the mantra of every traveler using points and miles was "earn and burn." Get the miles, redeem them, wash, rinse, repeat.
It's time to bring that motto back. The deals to maximize those points are out there – and, arguably, easier to book than ever. And the longer you wait to redeem whatever points and miles you've got saved up, the less valuable those points might be once you finally get around to it.