There's no doubt travel is coming back – and coming back faster than many of us imagined. And while hope for travel later this year is bright, there's still uncertainty. That can make it even harder to part with your hard-earned points and miles.
But now is the time to put those miles to use to book your revenge trip for 2021 – or even 2022.
While airlines are offering unprecedented flexibility to change and cancel any flight you book today, those advantages can be even greater when booking with miles. A nasty New Years move from Virgin Atlantic to gut one of the best ways to book Delta flights with miles and another big Delta SkyMiles price increase just serves as the latest reminder: Hang on to your miles too long, and they'll only get less valuable.
Keep reading to see why you need to shake off the dust and break out of your points paralysis.
Flexibility to Cancel and Get Your Miles Back
All the major U.S. airlines are offering free change and cancellation on all flights booked by March 31 – and some major international carriers have, too. They've even permanently done away with pesky $200 change fees on many fares.
And that's great. But if you book a flight this week for a trip in 2021 or early 2022 and eventually decide to cancel, you'll get a voucher to use within the next year. That's certainly better than nothing. But here's where using airline miles can shine.
Many major airlines are currently allowing free cancellation on award tickets, waiving the typical $50 to $150 redeposit fee. That means you can book a trip now and cancel it later to get your miles back free, as well as any taxes and fees you paid. For instance:
American Airlines ditched its award cancellation fees altogether. Previously, everyone except top-tier status holders had to pay the $150 redeposit fee to cancel an award ticket and get their AAdvantage miles back.
Any award ticket booked with Delta SkyMiles by March 30 can be easily canceled online for free to get your miles back. It's one of the best ways to book travel right now. Unless if you've got top Delta Medallion status, that typically costs $150.
Ditto with Alaska Airlines, which is waiving its usual $125 redeposit fee to cancel an award ticket to get your miles back.
Southwest never charges a fee to cancel any flight, whether you book with Rapid Rewards points or cash.
That's just a small sample – the list of airlines waiving or eliminating fees to cancel an award ticket goes on and on. Canceling award tickets is typically quite easy: You can usually just make a call (or slide into your airline's DMs) with your flight confirmation number and ask to cancel. Delta allows you to easily cancel award tickets booked with SkyMiles online.
This is no small matter. Free cancellation on award tickets means you can use your miles to speculatively book a trip through 2021 and hope for the best. If it doesn't pan out, cancel and get your miles right back. This way, there's no need to worry about putting an airline voucher to use if your plans change.
Unprecedented Award Availability
All the miles and flexible cancellation policies in the world don't mean a thing if there are no flights to book. But perhaps the biggest silver lining of the COVID-19 pandemic on travel is the massive amounts of award space to book with miles – especially if you want to fly first or business class.
Over the last few months, we've found insane amounts of award availability and sent it to our Thrifty Traveler Premium members. This is just the tip of the iceberg.
Want award space alerts like this, plus cheap domestic and international fares? Try Thrifty Traveler Premium for just $5.99 a month!
Some of these routes and business class seats can't hard to book with miles, period – at least in normal times. But these are not normal times. People haven't been redeeming miles, and the high-spending business class travelers are staying home for the foreseeable future. That means it's truly easier than ever to lock down a fancy seat using miles – but that trend is starting to turn as travel slowly recovers.
Not interested in splurging for first or business class? That's OK, because deals using miles to fly economy are plentiful, too.
Delta SkyMiles flash sales are back with a vengeance. These are the occasional, unpredictable sales Delta offers on award tickets priced at half (or sometimes less) the norm. In the last few weeks alone, we've found flash sales to Costa Rica and Puerto Rico for just 11,000 SkyMiles apiece or less, a 10,000-SkyMile roundtrip flight to Hawaii, domestic trips starting at 8,000 SkyMiles roundtrip, and much more.
Trouble on the Horizon?
There's one more reason to seize the opportunities of booking with miles right now: Because they won't last forever. And that fact was made perfectly clear on Jan. 1, 2021.
To ring in the new year, Virgin Atlantic massively devalued their miles by destroying the sweet spot to book Delta flights. For years, booking a Delta One Suite from the U.S. to Tokyo-Haneda (HND) or Seoul-Incheon (ICN) cost just 60,000 miles each way – a fraction of what Delta itself charges.
Today, those same flights cost as much as 165,000 miles. That's a 175% increase overnight, with no warning. Delta itself followed up with a second massive devaluation when booking partner carriers like Virgin Atlantic, Air France, Korean Air, and others. A one-way business class flight to Europe or Asia now costs 120,000 SkyMiles.
And that's just the tip of the iceberg of what could be coming as American travelers are (understandably) hoarding their points and miles for a day when travel is easier. When that day finally comes, you can bet there will be even more changes in the landscape of points and miles – and many of them will be bad for your miles.
Executives at American Express have noticed that consumers with cards like the Platinum Card from American Express or the American Express Gold Card are still earning plenty of points … they're just not redeeming them for travel right now.
"They're not choosing to redeem them for online retail, which they could," Chief Financial Officer Jeff Campbell said, Bloomberg reports. "They're just stocking up the points to travel."
Seth Miller at PaxEx.aero noticed the same thing among the major U.S. airlines. Travel may still be way down, but travelers have been racking up American AAdvantage miles, Delta SkyMiles, and United MileagePlus miles at a healthy clip. They just haven't been redeeming those miles.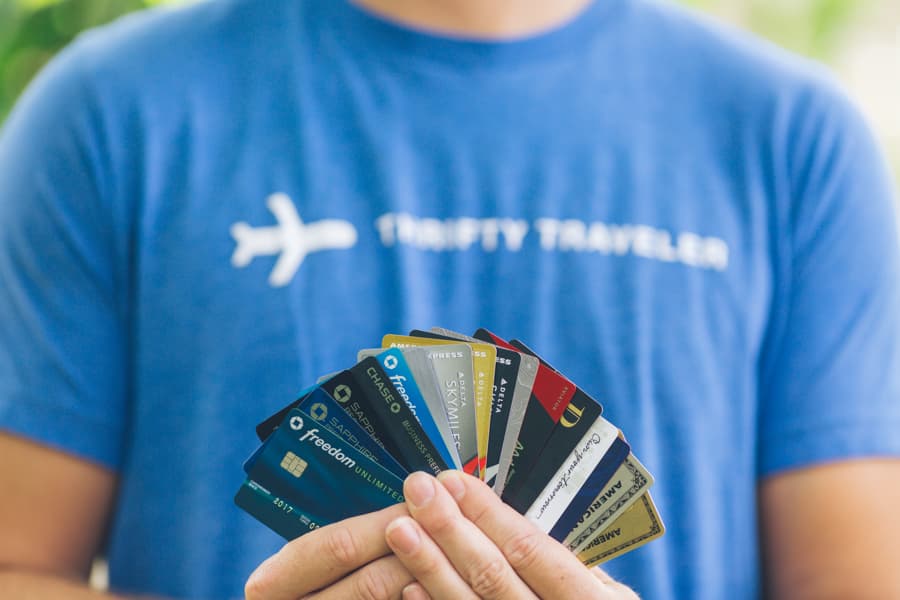 At the same time, banks and airlines have been flooding the market with points and miles through a shocking number of huge credit card offers.
Chase had its biggest-ever bonus on the Chase Sapphire Preferred Card last fall, while Amex has recently rolled out eye-popping welcome offers on both the Platinum Card from American Express and the American Express Gold Card. Delta has also launched the biggest offers we've ever seen on its suite of co-branded American Express cards, with up to 90,000 SkyMiles available.
All that over the course of just a few months!
See our list of the best credit card offers this month!
That's great for consumers looking to stockpile points for future travel. But in the big picture, it spells trouble down the road: More and more (and more and more) miles sitting unused is bad for the airlines. In the points and miles world, it's the equivalent of inflation. And that means…
Travelers who hoarded miles will rush to book travel once it's safe and predictable, causing the current glut of award availability to evaporate as airlines pull back. We're already seeing this begin as travel slowly regains its footing.
To offset that huge stash of miles in the market, airlines will eventually have to increase the cost of awards – called a devaluation. In some ways, that's already begun, too.
When will that happen? Well, it's already started. But it's not done yet. And that means the current opportunities to use your points and miles have an expiration date.
Bottom Line
Before COVID-19, the mantra of every traveler using points and miles is "earn and burn." Get the miles, redeem them, wash, rinse, repeat.
With travel so shaky for the last year, it's gotten much harder to comfortably burn those miles. But fortune favors the bold. The ability to book so much award travel risk-free – and the risk of further airline mile devaluations in the future – right now is your ticket to plan 2021 or 2022 travel on points and miles.