A year ago, airlines were still coaxing travelers back to the skies with dirt-cheap fares to … well, pretty much everywhere. But the travel times, they are a'changin'.
Travel is back in full swing, with 2 million travelers or more moving through U.S. airports almost every day. While flight prices have dropped after a brutal early summer, many flyers are still seeing sky-high prices for upcoming trips. But remember that stash of points and miles that wet unspent these last few years? Throughout the pandemic, travelers racked up record numbers of points and miles while staying at home.
We're in a sweet spot. It's time to start cashing them in.
Using any points and miles you've got saved up is the perfect way to see more for less as the world opens up and travel gets back to normal. We've been sending more award alerts than ever to our Thrifty Traveler Premium members, from dirt-cheap Delta SkyMiles flash sales to lie-flat business class seats using miles to Europe and beyond next year.
Tempting though it may be to keep hoarding miles and watch your balance grow, remember: Points and miles are not an investment. The longer you hang onto them, the less valuable they'll get as airlines and hotel chains alike keep tweaking their systems to give travelers less bang for their buck when cashing in points.
Keep reading to see why it's time to shake off the dust and put those miles to use.
Amazing Deals to Use Your Points Are Back
This is our mantra: There's no better way to redeem your points and miles than on a trip you otherwise wouldn't take. And there are plenty of them lately.
Some airlines like Southwest and JetBlue whose points programs are tied directly to cash rates: The more expensive the flight, the more Rapid Rewards points or TrueBlue points you'll need to book it. That's true when using credit card points through platforms like the Chase travel portal or using Capital One Venture Miles to cover your travel purchases. Cash prices are a big factor in how many Delta SkyMiles you'll need these days, and that's increasingly true whether you've got American AAdvantage miles or United MileagePlus miles to burn, too.
Read more: How Do Airlines Set Award Rates When Using Miles?
With cash prices coming back down, there's a good opportunity to take a cheaper flight and make it free. But we've also seen the return of some stellar award availability through other points programs – especially if you're looking to take a long-haul trip in a lie-flat seat. At Thrifty Traveler Premium, we're constantly on the look out for great opportunities to use points and miles in addition to cheap domestic and international cash fares, and we keep finding them.
Delta SkyMiles flash sales have made a resurgence over the last few months, with some of the lowest rates we've seen in years … if ever. They run the gamut from domestic getaways to Seattle (SEA) or Los Angeles (LAX) from 6,000 SkyMiles roundtrip, an incredible 50,000-mile roundtrip flight to Tahiti, Maui (OGG) as low as just 17,000 SkyMiles for this winter, roundtrip flights to almost anywhere in Europe for 32,000 SkyMiles … we could go on and on and on.
Get award alerts like this one straight to your inbox with Thrifty Traveler Premium!
If you want to score a Delta One seat across the pond, finding anything close to a deal is tough: Delta typically charges 300,000 SkyMiles or more each way. That is, unless if you turn to Virgin Atlantic. Using points from this close Delta partner airline, you can book those exact same business class seats for just 50,000 points each way – or even less if you take advantage of a transfer bonus!
For more than a year, finding the award availability to make that work was like pulling teeth. But we've seen waves of availability to book Delta One to Europe recently, including several routes to both Amsterdam (AMS) and Brussels (BRU) for next year. You can't beat this.
Learn how it's done: Read our guide on how to book these Delta One flights for just 50K each way!
That example is exhibit A in how to get the most bang for your buck using points. While there's absolutely nothing wrong with saving your points and flying econony, there's no better way than redeeming them for a business or first class award on a longhaul journey. While these tickets might cost thousands of dollars more than a seat back in economy, they don't have to break your points piggy bank – especially when you use the right mileage programs.
Case in point: A nonstop flight to Switzerland next summer could easily cost you $1,000 or more – or $5,000-plus in business class. But we sent Thrifty Traveler Premium members an alert for an incredibly rare chance to book nonstop flights for two from New York City (JFK), Chicago-O'Hare (ORD), or Boston (BOS) to Switzerland later this winter … or even next summer! Thanks to a transfer bonus using Amex Membership Rewards Points at the time at the time, you could do it for just 53,000 miles each way – or just 105,000 miles roundtrip!
Want award space alerts like this, plus cheap domestic and international fares? Try Thrifty Traveler Premium now!
In the world of points and miles, some deals are better than others. But at the very top of the list, you'll find this one: Booking a roundtrip flight in ANA First Class to Tokyo for just 110,000. That's less than what United MileagePlus charges for a one-way ticket! For as good as this deal is, it's nearly impossible to find one first class seat available with points … let alone two.But two things have changed.
Trips to Tokyo are back in the cards now that Japan is set to reopen soon. And here's the bigger news: After disappearing for months, the unicorn of all award flight deals made a comeback.
Just this week, we sent members a heads-up on a chance to book roundtrip tickets for two to Tokyo-Narita (NRT) next year! Factor in the 30% transfer bonus from Chase to Virgin Atlantic, and it was bookable for just 43,000 points each way!
Availability was limited, and it disappeared fast. But it's a sign of the times: The deals keep coming. It's time to put those points and miles to use.
Your Miles Aren't Getting More Valuable
There's one more reason to seize the opportunities of booking with miles right now: Because they won't last forever. And your miles aren't getting more valuable over time – just the opposite.
Points and miles are not an investment. They are there to be used. And as tempting as it might be to watch your mileage balances grow and grow, you're asking for trouble. Why? Because over time, airlines keep charging more miles for the same flights. It's inevitable.
Welcome to the world of airline devaluations. Over the last few years, we've seen airlines charge more and more miles, eliminate sweet spots, and raise taxes and fees. Here's a brief look:
And that's just the tip of the iceberg of what could be coming as American travelers have (understandably) hoarded their points and miles for a day when travel is easier. There are more troubling signs and questions, like what Virgin Atlantic's plan to join the SkyTeam alliance will mean for its incredible sweet spots. Or some recent warning signs about using Alaska Mileage Plan miles on partner airlines.
You can bet there will be even more changes in the landscape of points and miles in the months to come – and many of them will be bad for your miles.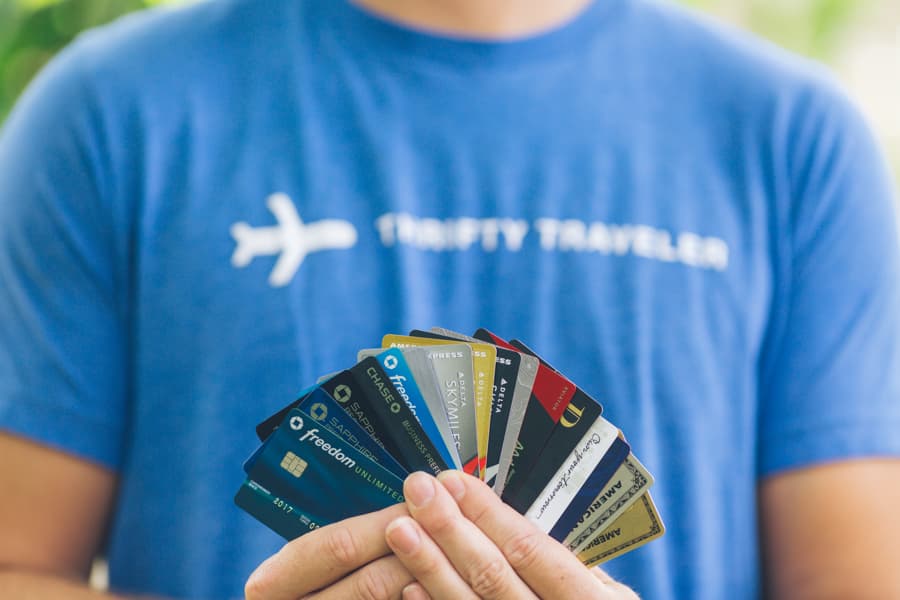 At the same time, banks and airlines have been flooding the market with points and miles through a shocking number of huge credit card offers.
Chase had its biggest-ever bonus on the Chase Sapphire Preferred® Card last year, rolling out an unprecedented 100,000-point bonus after spending $4,000 within three months before returning with the current offer. Capital One launched its Capital One Venture X Rewards Credit Card with an eye-popping 100,000-mile bonus, too – though that has dropped to 75,000 miles after spending $4,000 within three months.
Amex has introduced record-setting welcome offers on both The Platinum Card® from American Express and the American Express® Gold Card and kept them around for more than a year. For the third time this year alone, Delta just rolled back out some of the biggest offers we've ever seen on its suite of co-branded American Express cards, with up to 100,000 SkyMiles available. All that over the course of just a few months!
See our list of the best credit card offers this month!
That's great for consumers looking to stockpile points for future travel. But in the big picture, it spells trouble down the road: More and more (and more and more) miles sitting unused is bad for the airlines. In the points and miles world, it's the equivalent of inflation. And that means…
Travelers who hoarded miles will rush to book travel once it's safe and predictable, causing the current glut of award availability to evaporate as airlines pull back. We're already seeing this begin as travel slowly regains its footing.
To offset that huge stash of miles in the market, airlines will eventually have to increase the cost of awards.
When will that happen? Well, it's already started. But it's not done yet.
That means the current opportunities to use your points and miles have an expiration date. And that should give you the kick in the pants you need to use your miles wisely now before it's too late.
Flexibility to Cancel and Get Your Miles Back
All the major U.S. airlines are offering free change and cancellation so long as you buy at least a main cabin ticket or higher.
And that's great. But if you book a flight this week for a trip in 2022 or early 2023 and eventually decide to cancel, you'll get a voucher to use within the next year. That's certainly better than nothing. But here's where using airline miles can shine.
Many major airlines are currently allowing free cancellation on award tickets, waiving the typical $50 to $150 redeposit fee. That means you can book a trip now and cancel it later to get your miles back free, as well as any taxes and fees you paid. For instance:
American Airlines ditched its award cancellation fees altogether. Previously, everyone except top-tier status holders had to pay the $150 redeposit fee to cancel an award ticket and get their AAdvantage miles back.
Any award ticket booked with Delta SkyMiles can be easily canceled online for free to get your miles back, too – so long as you don't buy a Delta basic economy award
Ditto with Alaska Airlines, which is waiving its usual $125 redeposit fee to cancel an award ticket to get your miles back.
United lets you cancel award tickets and get your miles back free so long as you nix your trip at least 30 days before departure.
Southwest never charges a fee to cancel any flight, whether you book with Rapid Rewards points or cash.
That's just a small sample – the list of airlines waiving or eliminating fees to cancel an award ticket goes on and on. Canceling award tickets is typically quite easy: You can usually just make a call (or slide into your airline's DMs) with your flight confirmation number and ask to cancel. Delta allows you to easily cancel award tickets booked with SkyMiles online, as do both American and United.
This is no small matter. Free cancellation on award tickets means you can use your miles to speculatively book a trip and hope for the best. If it doesn't pan out, cancel and get your miles right back. This way, there's no need to worry about putting an airline voucher to use if your plans change.
Bottom Line
Before COVID-19, the mantra of every traveler using points and miles is "earn and burn." Get the miles, redeem them, wash, rinse, repeat.
With travel so shaky for the the last two years, travelers are understandably wary of cashing in the miles. But things are changing: It's time to put those miles to use.