Editor's Note: Welcome to our Points Principles series, a weekly post dedicated to explaining the basics behind the confusing world of frequent flyer miles and travel rewards points. Follow along as we lay out some of the building blocks to travel for nearly free. And check back to the Points Principles page to see what ground we've already covered. 
With constant ups and downs, airfare pricing can feel like a mystery. And to many, how many miles you need to book a flight seems like rocket science.
Ironically, it's often far simpler when using airline miles. In most cases, the amount of miles you'll need to book a flight has nothing to do with the cash flight. So when cash prices are high – say you're booking last-minute or trying to snag a seat in business or first class – it's a great time to use those miles.
So how does it really work? We'll break it down for you.
The Basics Behind Points and Miles
First things first: There's an important distinction we have to make. There are airline miles, and then there are bank points. And they're completely separate.
If you've got points from a bank card from Chase, American Express, Capital One, or Wells Fargo, these points do generally work like cash. When you use these points, each one covers a cent toward the cost of your plane ticket – 50,000 points will get you $500 in airfare. Chase sweetens the deal and makes the points more valuable, depending on which card you have. And some banks allow you to transfer them into specific partner airline accounts.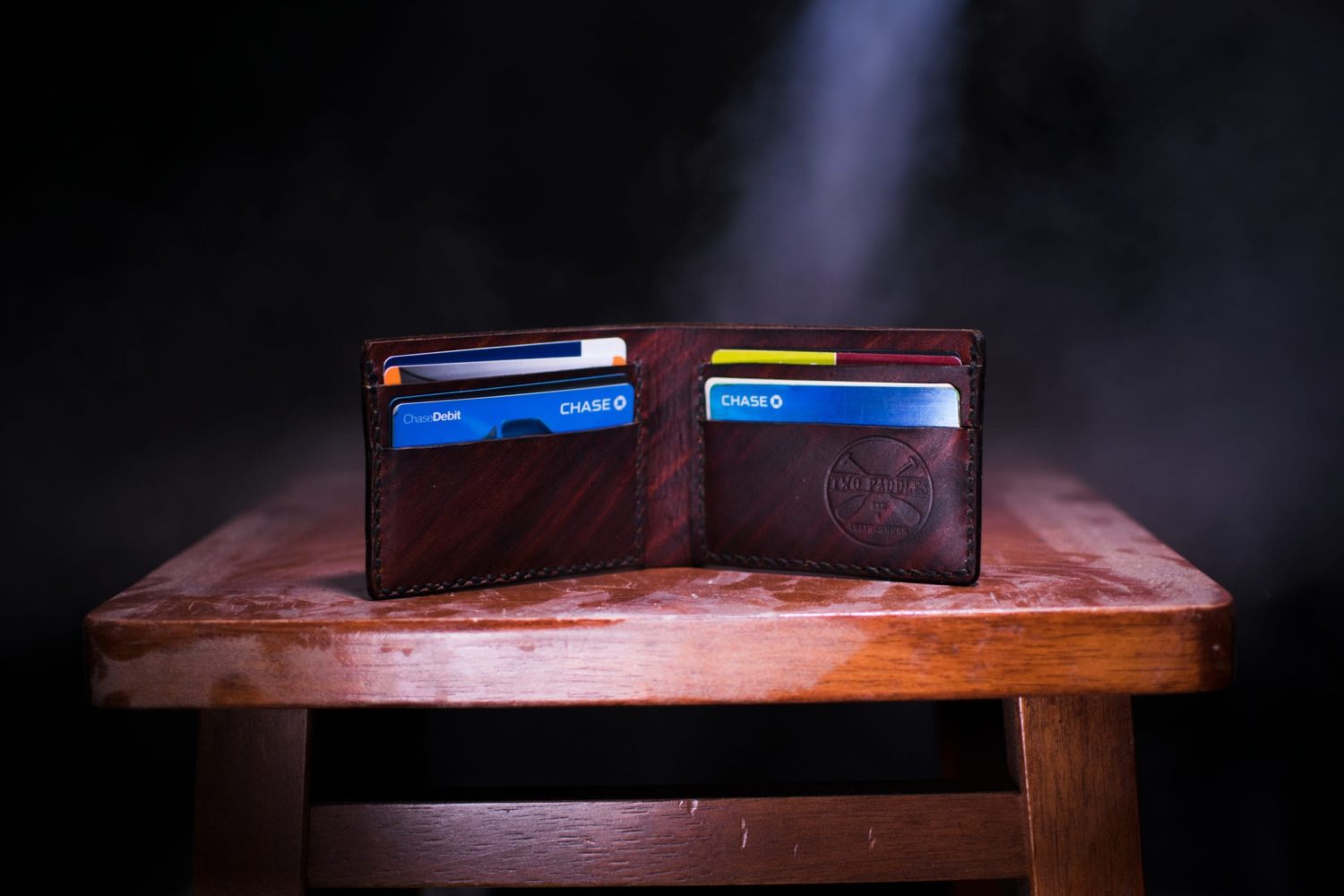 And those airline miles act much differently. These miles live in that individual airline account. They can't be transferred or combined with other airlines.
Not all airline miles are created equally because every airline sets its own rules for how many miles it charges for a given flight. One airline might charge 45,000 miles for a round trip to Hawaii, while another airline program charges 25,000 miles for the exact same flights. That's a real-life example, and it illustrates an important fact: Not all airline miles are created equally. Depending on where you live and where you want to go, some airline miles are far more valuable than others.
But how do airlines decide how much they charge for a given flight? Let's get into it.
Get a Cheat Sheet
Almost every airline has a document that spells out how many miles a given flight will cost. Airlines call them award charts. Think of it as a cheat sheet to tell how many miles it will take to get you from point A to point B.
Many airlines lay out these charts not based on cash prices or distance, but based on regional zones. And every airline handles that differently. Some chop up the U.S. into three different areas (West, Central and East), while others treat the whole country as one zone – including Hawaii and Alaska.
Regardless, this can open up a big opportunity for travelers who don't live near major international airports. Because whether you live in Peoria (PIA) or can quickly fly out of Chicago-O'Hare (ORD), the award price will often still be the same: the Central U.S. to Europe, or wherever you're headed. That connecting flight may normally tack hundreds of dollars on your flight, but it won't affect how many miles you need. It's worth noting that some airlines don't allow you to book flights with connections, or price them out on a per-segment basis.
And how many miles will you need? Well, that depends on the airline too. Just as they decide their own zones, airlines set their own pricing. Most airlines have two or three tiers for pricing: A saver-level award at the lowest price, and one or two more at higher prices. Delta is a completely different animal with a half-dozen or more tiers (we'll get into Delta later).
On top of that, some airlines also carve out special, lower pricing during the "off-peak season." Again, every airline defines this differently, and it's spelled out on the award chart. But if you want to use as few miles as possible, book a flight during that "off-peak" period.
Some airlines make it easy to work all of this out in their award chart. Here's American Airlines' award chart, for instance.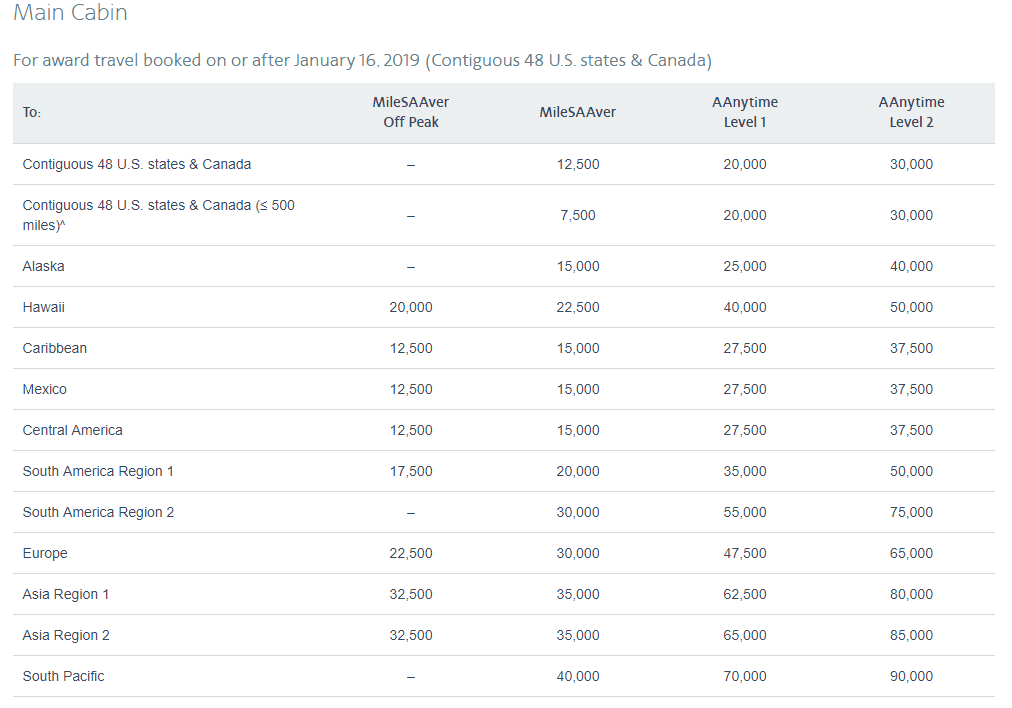 Looking at AA's award chart. you can see that an economy flight from the U.S. to Europe during the off-peak season costs 22,500 AAdvantage miles. Want to get to get to Japan or Korea, which AA considers Asia Region 1? That will be 32,500 miles each way, please. American has separate award charts for business and first class cabins, as well as different charts depending on where you're originating from.
Other airline award charts are a bit more … convoluted. Here's the award chart for Avianca LifeMiles, one of our favorite airline programs to book award flights for less. This is how I booked a once-in-a-lifetime flight in business class to Bali for our honeymoon. LifeMiles considers Chicago-O'Hare in the United States 2, Bali in South Asia. And Business class is an "I" fare, so let's zero in on the cost.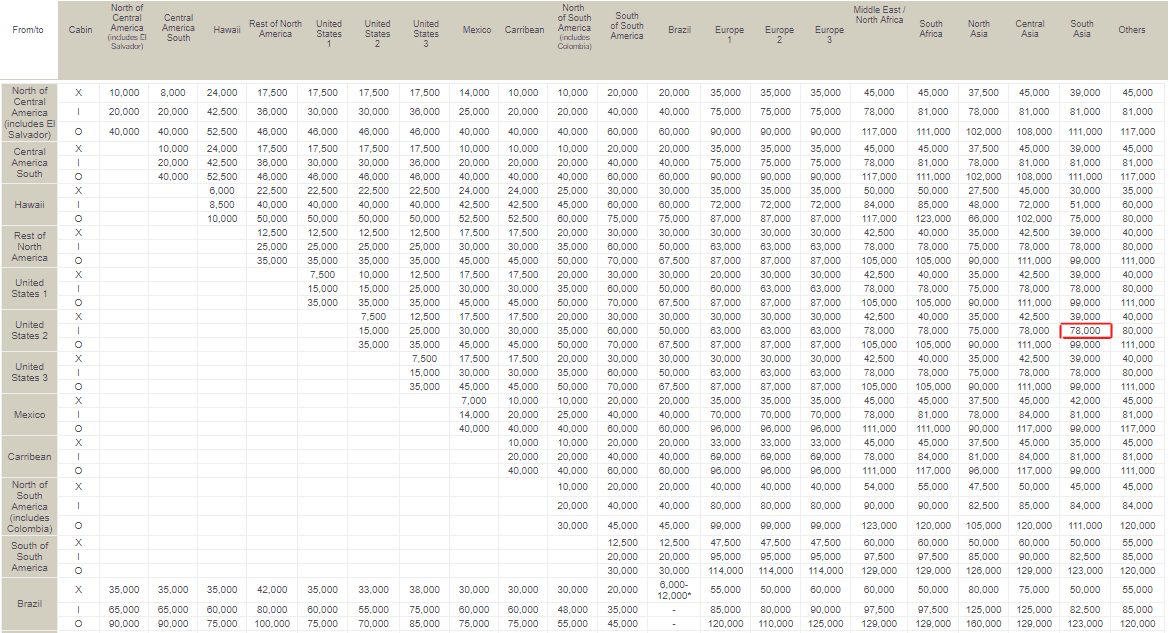 And that's exactly what we paid: 78,000 LifeMiles each way to spend 15 hours on a Hello Kitty plane.
Thrifty Tip #1: Not sure how to find the award chart for the airline whose miles you're using. Just google the name of the airline + "award chart," and you should have no trouble finding it.
Go the Distance
While most airlines set their prices based on zones, a handful of airlines still do so based on the distance of the flight. Two big airlines that still use distance-based award charts are British Airways and one of our favorites, Iberia. Take a peek at Iberia's award chart, and you'll find it's pretty straightforward:
Thrifty Tip #2: Not sure how long your flight is? Type in your origin and destination at GCmap.com, and the website will crank out an accurate number for you.
And again, these airlines have different rules. Not only does each airline have its own pricing bands based on distance, but they have different routing rules, too. For example, Iberia calculates the number of miles you need based on how many miles you fly, no matter how many connections it may require. British Airways, meanwhile, prices each and every segment separately. It just varies by airline.
The Power of Partnerships
The most important thing you need to understand about airline miles is they're not just good for flights on that airline. Delta SkyMiles aren't just good for Delta flights but can be used to book Virgin Atlantic or Air France. You can use American AAdvantage miles to book an AA flight, sure, but you can also book a flight on Japan Airlines or Qatar Airways.
Welcome to the world of airline partnerships and alliances, which make this possible. This topic is worthy of its own Points Principles installment (and trust me, one is coming). But these relationships between airlines make your miles potentially even more valuable. They can truly open up the world.
And because every airline sets its own pricing, you can find that one airline will charge substantially fewer miles than another airline for the exact same flight. This is how you can book flights to Hawaii for just 25,000 miles by using British Airways to book an American Airlines flight from Los Angeles (LAX) – when American Airlines itself charges 45,000 miles for the exact same flight. Or spend just 60,000 miles to fly to Tokyo in the flashy new Delta One suites by using Virgin Atlantic miles rather than Delta SkyMiles, which would likely cost you 280,000 SkyMiles or more.
We live to find and help you utilize these sweet spots. And there are dozens more out there.
So as you're trying to determine how many miles it may cost, note that many airlines have separate award charts when booking on partner airlines. And keep this principle in mind: The airline whose miles you're using sets the price. The airline that you'll be flying on determines whether to make that seat available. 
The Delta Difference
Whew. Got all that?
Alright, with Delta, throw it all out. Delta breaks all the rules when it comes to setting how many miles they want for a given flight. The airline dumped its award chart years ago and instead has a variable (and unpredictable) system for setting award prices. The amount of SkyMiles you need to book a flight can change on a dime, and swing wildly by tens or hundreds of thousands of miles day by day.
We've worked out some basics behind how Delta sets their award pricing. It boils down to this: Award prices fluctuate based on the cash price for the flight, how many seats are available, whether you're flying out of a Delta hub like Atlanta (ATL) or Minneapolis-St. Paul (MSP), and more. It's nearly impossible to nail down one specific factor. And while cash prices seem to be a major factor, it's not that simple.
Unfortunately, Delta isn't alone in this regard. FlyingBlue, the shared program for Air France and KLM, has followed Delta's lead and imposed a highly variable award chart, too.
Bottom Line
Airlines are constantly changing, and every airline handles their frequent flyer program differently. For every rule, there's a handful of exceptions.
Tracking the ever-changing world of frequent flyer miles can be maddening. But if you understand the foundation of how it works, you can follow along.
Unless if you're using Delta SkyMiles. Then all bets are off.