Mastering miles and points is all about finding the sweet spots in award charts that allow you to get to a destination for fewer miles. And we've got a doozy for you, offering a way to get to Europe and back for just 34,000 miles in economy – or 68,000 to fly business class. The airline and miles you'll use? Madrid (MAD)-based Iberia Airlines.
Consider that most major airlines charge at least 60,000 miles for round-trip flights to Europe in Economy – and 70,000 or so for a one-way fare in business class. This is a steal that should be on your radar.
How Iberia Airlines Awards Work
Iberia is one of the few remaining distance-based based award charts out there. And while that generally makes long-haul travel pricey, that's not the case here. The airline divvies up how it charges for award flights by the total distance you'll travel each way. If you're not sure how long your flight will be, put your two airports into GCmap.com to crunch the numbers.
They also use peak and off-peak pricing, meaning award flights are cheaper outside of the peak travel season. But Iberia's definition of "off-peak" has generally been insanely generous. It means you can fly at the lowest rates for nearly 2/3 of the year.
Only July and August are roundly considered peak season, with some occasional weeks and weekends throughout the year also blocked out for peak travel. Check out Iberia's full calendar to scope out the dates.
The end result is that Iberia consistently offers the cheapest way to get to Europe in either business or economy.
| Award Band | Miles Traveled (One Way) | Off-Peak / Peak Economy | Off-Peak / Peak Business |
| --- | --- | --- | --- |
| 1 | 0 - 650 miles | 4,500 Avios / 5,000 Avios | 9,000 Avios / 10,000 Avios |
| 2 | 651 - 1,151 miles | 7,500 Avios / 8,250 Avios | 15,000 Avios / 16,500 Avios |
| 3 | 1,151 - 2,000 miles | 10,000 Avios / 11,000 Avios | 20,000 Avios / 22,000 Avios |
| 4 | 2,001 - 3,000 miles | 11,000 Avios / 12,500 Avios | 21,250 Avios / 31,250 Avios |
| 5 | 3,001 - 4,000 miles | 17,000 Avios / 20,000 Avios | 34,000 Avios / 50,000 Avios |
| 6 | 4,001 - 5,500 miles | 21,250 Avios / 25,000 Avios | 42,500 Avios / 62,500 Avios |
| 7 | 5,501 - 6,500 miles | 25,500 Avios / 30,000 Avios | 51,000 Avios / 75,000 Avios |
| 8 | 6,501 - 7,000 miles | 29,750 Avios / 35,000 Avios | 59,500 Avios / 87,500 Avios |
| 9 | 7,000+ miles | 42,500 Avios / 50,000 Avios | 85,000 Avios / 125,000 Avios |
The distance-based chart generally means that your best deal is flying to and from the East Coast, as you can expect to pay just 17,000 Iberia Avios for a one-way economy flight during the off-peak season. For West Coast travelers, that same flight is 25,500.
However, there's great news for midwestern flyers. Although the flight from Chicago-O'Hare (ORD) to MAD should be more expensive, Iberia carves out a specific exception that treats it as an East Coast flight. So you can fly nonstop from ORD for just 17,000 miles in economy – or 34,000 miles in business class. No matter where you're flying from, this is one of the cheapest ways to get to Europe with miles and points.
Consider that flying Delta using SkyMiles would run you at least 60,000 miles for a round trip in economy – and 70,000 SkyMiles for a one-way in business class. Iberia is almost half the price flying economy – and more than half the price for a business class ticket.
The same is true with United, to whom you can transfer Chase Ultimate Rewards points to book flights to Europe for the same price as Delta.
Even using American Airlines miles – one of the best ways to get to Europe – you'd pay at least 60,000 miles round trip in economy for the exact same Iberia flight. And at 57,500 miles one way in business class, you could book a round trip for just a few more Iberia Avios.
Iberia Airlines Routes and Planes
The relatively low airport fees at MAD make Iberia a great way to travel onward into Europe – and, of course, to see Spain itself. Iberia serves more than a dozen European countries from its MAD hub. And it's cheap with miles or cash to hop on a flight from Madrid to any Spanish or Portuguese destination. A round-trip within the peninsula generally costs just 9,000 Iberia Avios.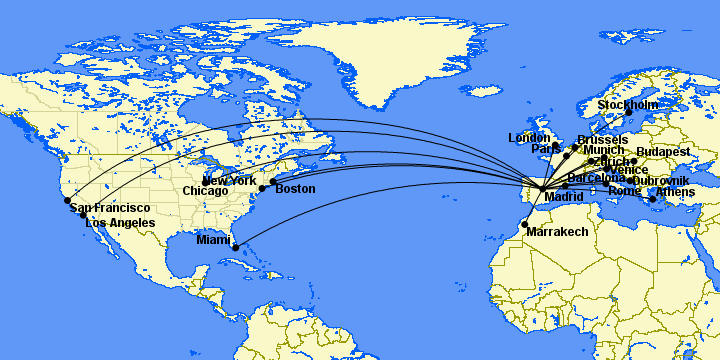 It doesn't hurt that MAD is a gorgeous airport, either.
Iberia likely won't win any awards for either its economy or business class seats, but it's a solid airline. It's a great choice to cross the Atlantic that keeps pace with other airlines flying to Europe.
Many of their flights to/from North America are on Airbus 330s, which means economy flyers can snag a 2-seat section. Business-class features lie-flat seats in a 1-2-1 configuration, which means every passenger gets aisle access.
Between a ton of options to connect onward and a comfortable ride across the Atlantic, Iberia is tough to beat. With huge savings on award tickets over its competitors, and it might be the best way to get to Europe.
How to Book with Iberia Airlines
Iberia's website is straightforward and pretty easy to use, but can be slow and is prone to errors. That means the best way to search for award flights is often through either American Airlines or British Airways. These are both partner airlines through the Oneworld alliance, so any flight available on AA or BA should be bookable directly through Iberia. In some cases, you might find some more award availability directly through Iberia.com. Once you've located your flights, head back to Iberia's site and start searching.
One thing to keep in mind is that Iberia does pass on some airport and other fees. But compared to other carriers flying out of other European hubs, these fees are very reasonable.
You can expect to pay roughly $200 in fees on a round-trip fare. Given the huge savings in miles – you'd probably pay at least double that flying in and out of London-Heathrow (LHR) –  that's more than worth it.
Iberia is owned by the same parent company as British Airways, IAG, and the two can combine or transfer miles. But not only is Iberia's award chart better overall, the airline also allows you to book itineraries with connections. British Airways charges for award flights on a per-segment basis.
How to Get Iberia Airlines Avios
One of the best parts about Iberia Avios is that they're so easy to get. You can quickly build up a stash of miles by transferring points from Chase, American Express or Starwood Preferred Guest.
A single sign-up bonus from either the Chase Sapphire Preferred or Chase Sapphire Reserve is enough for a round-trip flight to Europe. You could even add on a connection further into Europe with the miles you'd have left over.
The same is true of the American Express Platinum card, but check to see if you qualify for the 100,000-point welcome offer. You could bump up into business class by transferring just 68,000 Membership Rewards points to your Iberia account.
Transfers from Chase Ultimate Rewards are instantaneous, while points from American Express and SPG generally take 1-3 days. Keep track of which credit card points transfer to each airline with our master guide. 
Bottom Line
Whether you want to go to Spain or are planning a European vacation, Iberia Airlines should be on your radar. Booking a round-trip flight across the Atlantic for as low as 34,000 miles in economy and 68,000 miles in business class is unbeatable.
Lead photo (CC BY 2.0): Aero Icarus via Flickr