Flights looking expensive? It's a great time to turn to your points and miles to fly for free – or nearly free. And if you want to get the best bang for your buck, you can save some serious miles by booking flights on one airline … using another airline's miles.
Most of the big American carriers airlines partner with a dozen or more international airlines, opening a path to book flights on that U.S. airline using miles from a partner's frequent flyer program (or vice versa) – sometimes for far fewer points than the U.S. airline itself would charge you. See all the ink we've spilled on booking Delta flights with Virgin Atlantic points rather than SkyMiles if you don't believe us.
But if you're looking to book American Airlines, the key is often booking instead through British Airways. Unlike American's constantly changing award rates, BA prices all award tickets based on the distance you fly: The shorter the flight, the fewer miles you'll need. That makes many domestic flights, trips to Hawaii, even some short international hops to Mexico and the Caribbean a great deal.
So if cash prices are high or you just don't have American AAdvantage miles to spare, turn to BA to book these flights. And their Avios are even easier to earn: You can transfer credit card points to British Airways from most of the major banks, including cards like the *chase sapphire preferred* or the *venture x* and many more. Regular transfer bonuses of 30% or more to British Airways can save you even more points!
Read on for everything you need to know about booking American flights through British Airways.

The Basics of Booking American Flights via British Airways
British Airways and American are both members of the Oneworld alliance, and that partnership means you can book flights on British Airways using American miles – or vice versa.
But using British Airways Avios to book flights on American Airlines economy flights can have outstanding value, especially for short flights that may cost hundreds of dollars each way. There are two components to keep in mind for these kinds of partner award bookings:
The award rate, or how many miles you need to book a flight. This is set by the airline whose miles you're using – in this case, British Airways
The award availability, or if the airline is actually releasing seats to book using miles. This is determined by the airline you'd be flying on – in this case, American Airlines
The last piece is often the hardest part. American Airlines has to decide to release seats to be booked by British Airways (and other partner airlines) using miles. Sometimes, you can search for American Airlines-operated flights at BA.com and easily find what you want to book using Avios … but other times, your search may come up empty. American's own transition to dynamic pricing has made it more unpredictable for when these flights will pop up.
One tip: Try searching via AA.com for the flights you want first. In our experience, flights that American prices at 15,000 miles or less have the best chance of being bookable via British Airways, too – though it varies based on your destination. Plug what you found into BA.com and see if you can book it for even fewer miles!
It may require some trial-and-error to find the flights you want to book through British Airways. But when you do, the reasonable rates that British Airways charges for them can make it a solid option for many travelers.
What'll it cost? Well British Airways doesn't publish a public-facing award chart – the cheat sheet you use to determine how many Avios you'll need to fly from point A to point B. But we've broken down the rates based on distance ourselves: This is what you can expect to pay in Avios, depending on how far you're flying.

| Miles Flown (one way) | Economy | Business | First |
| --- | --- | --- | --- |
| 1 - 649 miles | 7,500 Avios | 15,000 Avios | 24,000 Avios |
| 650 - 1,149 miles | 9,000 Avios | 16,500 Avios | 33,000 Avios |
| 1,150 - 1,999 miles | 11,000 Avios | 22,000 Avios | 44,000 Avios |
| 2,000 - 2,999 miles | 13,000 Avios | 38,750 Avios | 51,500 Avios |
| 3,000 - 3,999 miles | 20,750 Avios | 62,000 Avios | 82,500 Avios |
| 4,000 - 5,499 miles | 25,750 Avios | 77,250 Avios | 103,000 Avios |
| 5,500 - 6,499 miles | 31,000 Avios | 92,750 Avios | 123,750 Avios |
| 6,500 - 6,999 miles | 36,250 Avios | 108,250 Avios | 144,250 Avios |
| 7,000+ miles | 51,500 Avios | 154,500 Avios | 206,000 Avios |
Not sure how many miles your route is? Plug your home airport and destination (e.g. MSP-ORD) into Great Circle Mapper and click "distance."

For flights under 650 miles like Minneapolis-St. Paul (MSP) to Chicago (ORD) or Atlanta (ATL) to Miami (MIA), British Airways charges just 7,500 Avios each way – or 15,000 Avios roundtrip. Slightly longer flights will run you 9,000 Avios each way – or 18,000 Avios roundtrip.
One thing to keep in mind: You need to focus on nonstop American flights to get the best deal. If you've got a connection, British Airways will tally up the mileage for each segment separately, leading to much higher award rates.
American publishes an award chart, but it's more of a formality: Award rates are all over the place now. Sometimes you might find even lower rates by booking these flights with your American miles. But in many cases, there's a lot of value to be had by booking instead through British Airways.
This workaround is especially great if you need to book a positioning flight to a major airport ahead of a long-haul flight. Save your cash: Transfer your points to British Airways and book these American flights with Avios instead!
If you aren't a frequent American flyer or you don't hold an American Airlines credit card, there aren't many ways to build up a big enough stash of American miles. Aside from Bilt Rewards, you can't transfer credit card points to American.
That's where British Airways really shines: If you've got a popular travel rewards card in your wallet, you've got an easy way to earn British Airways Avios by transferring credit card points. British Airways is a Chase transfer partner, Amex transfer partner, Capital One transfer partner, and a Bilt transfer partner, too.
Short Domestic Flights
The shorter the American Airlines flight, the cheaper it is when using British Airways Avios.
British Airways charges as low as just 7,500 Avios each way for flights under 650 miles – or 15,000 Avios roundtrip. Maybe cash prices for a weekend trip from Minneapolis-St. Paul (MSP) to Chicago-O'Hare (ORD) in December are looking high for such a short flight…

Of course, you can always rely on your credit card points and miles to take that flight and make it free through a travel portal. For example, you could book that same MSP to ORD flight for just under 25,000 Capital One Venture Miles by booking through the Capital One travel portal – or simply buying it directly with your Capital One card, then using miles to cover the cost.

But that cheapest deal is an American Airlines basic economy ticket, which means you can't pick your seat for free. So you could use fewer miles and get a better, main cabin economy ticket by transferring those same Capital One miles to British Airways to book these same flights for just 15,000 Avios roundtrip – plus $11.20 in taxes and fees.

Even if you have American miles, you'd still be better off saving those AAdvantage miles and booking through British Airways in this case. American is charging 22,500 AA miles for these same flights.
It gets even better if there's a transfer bonus in play. Banks like American Express and Chase frequently roll out bonuses when you transfer points from your credit card to an airline's loyalty program like BA Avios. For example, Chase recently offered 30% more Avios when transferring Chase Ultimate Rewards to British Airways, meaning you could book these same flights for as few as 12,000 points roundtrip! 
Just be aware that the flights you want might not always be available to book with British Airways Avios. Luckily, economy availability on domestic routes is generally quite solid.
Roundtrip Flights to Hawaii for 26K
American's partnership with British Airways also opens up one of the cheapest ways to get to Hawaii using points and miles.
While American Airlines frequently charges 45,000 AAdvantage miles or more for these flights, you can fly from the West Coast to Hawaii for just 26,000 Avios roundtrip.
The trick to getting these ultra-low rates is starting your search in Los Angeles (LAX) or Phoenix (PHX), both of which have nonstop American Airlines service to the islands.
American Airlines, meanwhile, charges at least 40,000 to book the exact same flights – and often much more. No joke: Same dates, same time, same exact plane for another 14,000 miles. 
You can also book nonstop Alaska Airlines flights from the West Coast to the Hawaiian islands at these rates, which opens up several more options including Seattle (SEA), Portland (PDX), San Diego (SAN), San Francisco (SFO), and more.
Short International Flights for Less, Too
You're not just limited to flying within the United States, though. Whether you're taking a quick domestic trip or heading international, all that matters is the distance you fly.
In need of a warm-weather getaway this winter? American flies plenty of nonstop routes between the U.S. and the Caribbean, especially from its hub in Miami (MIA). Let's look at this flight from Miami (MIA) to Turks & Caicos (PLS).
You could book this American flight for $299…not a bad deal.

Or, you could save that cash and book this same MIA to PLS flight for just 15,000 British Airways Avios instead!
Slightly longer flights like these between Chicago-O'Hare (ORD) and Montego Bay (MBJ) in Jamaica can get ridiculously expensive – and it's even more if you want a main cabin economy fare.

By transferring your points, you could book that route for 22,000 Britsh Airways Avios and $144.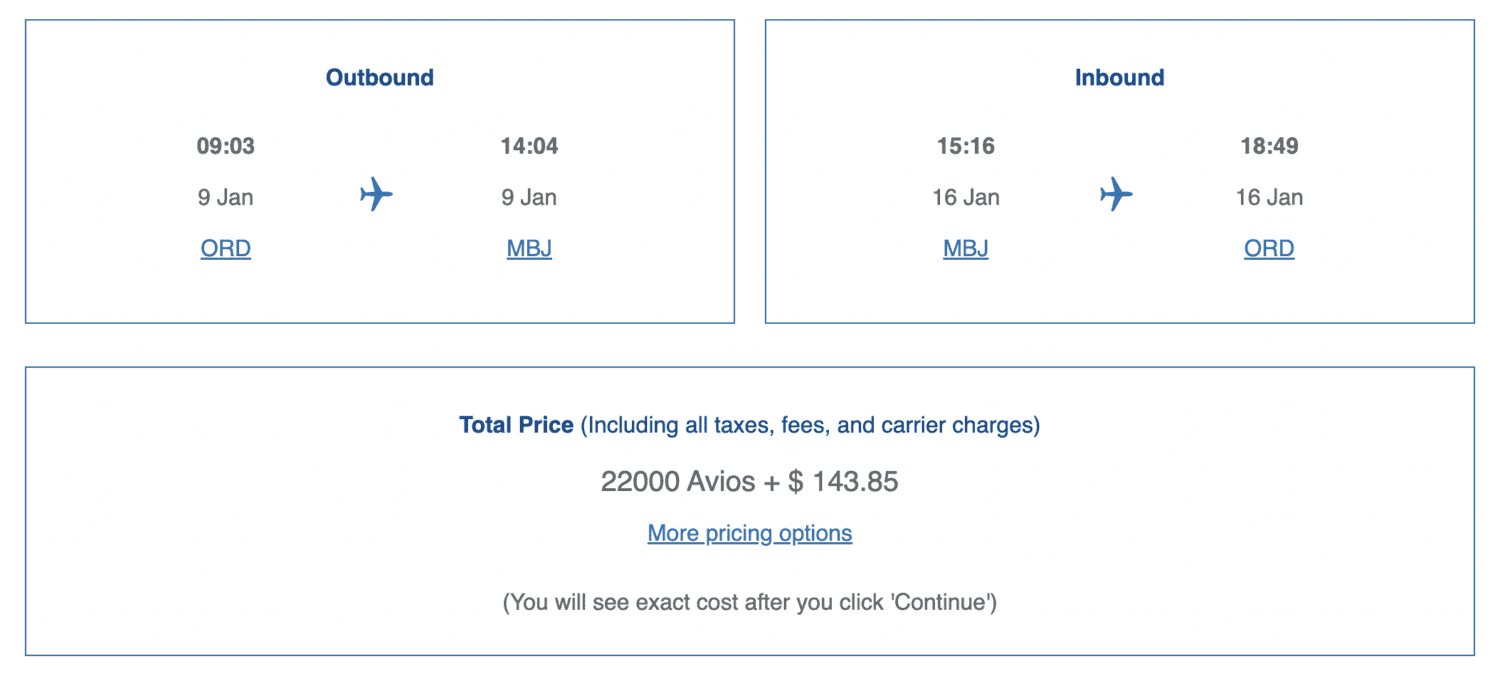 These international trips almost always incur higher taxes and fees, which can eat into the value you're getting from your points. But depending on how much American is charging, you can still come out far ahead.
Even Business & First Class Deals
Want a comfier seat? While booking economy at low rates is easiest with British Airways, you can also occasionally score seats up in first class – and sometimes even lie-flat business class seats – for a bargain.
Lately, we've found some great availability flying American first class to Mexico and Central America for our Thrifty Traveler Premium members in recent months. While none of these seats are lie-flat, anything beats sitting in coach – especially at these rates.
For just 30,000 points and $110 in taxes and fees, you could fly business class from Miami to Cancún (CUN) and start off your next vacation in style.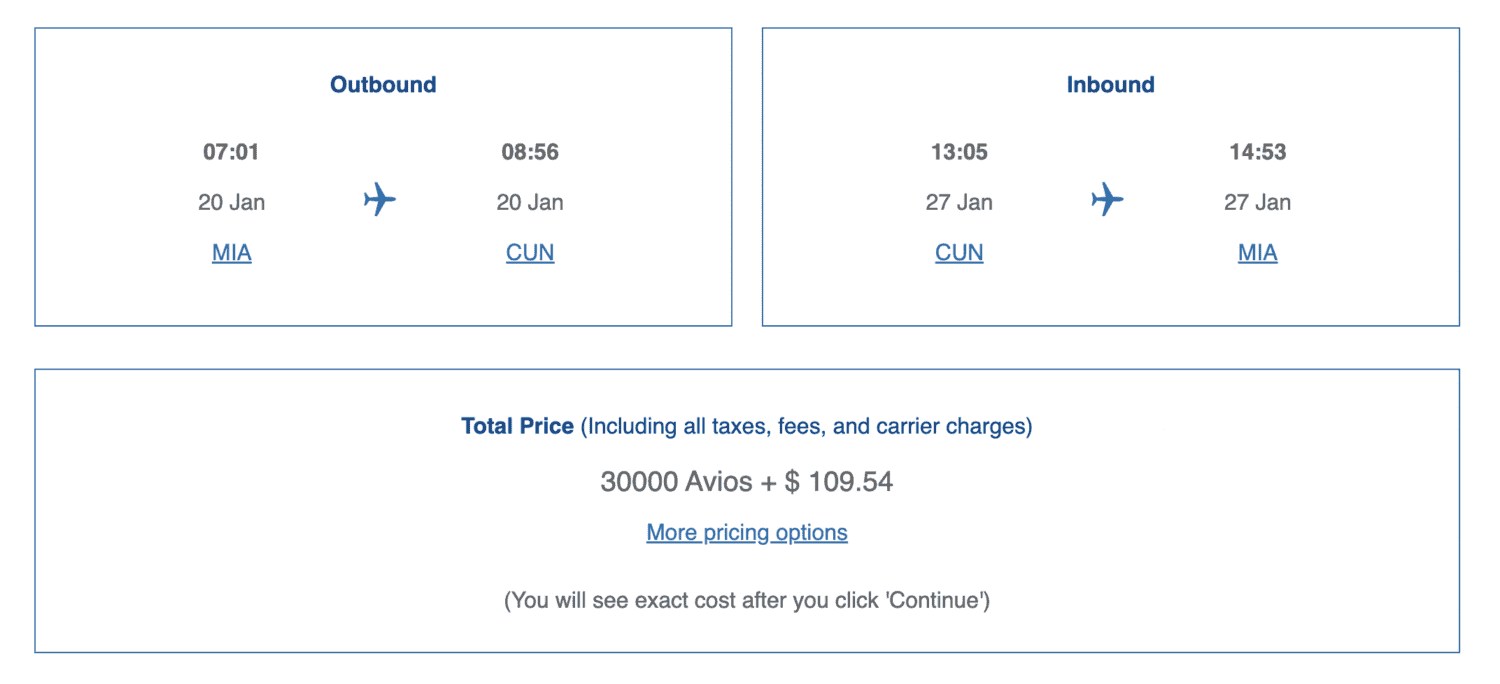 That's a steal – especially when you consider those same flights in cash would run you $867…for less than two hours of flight!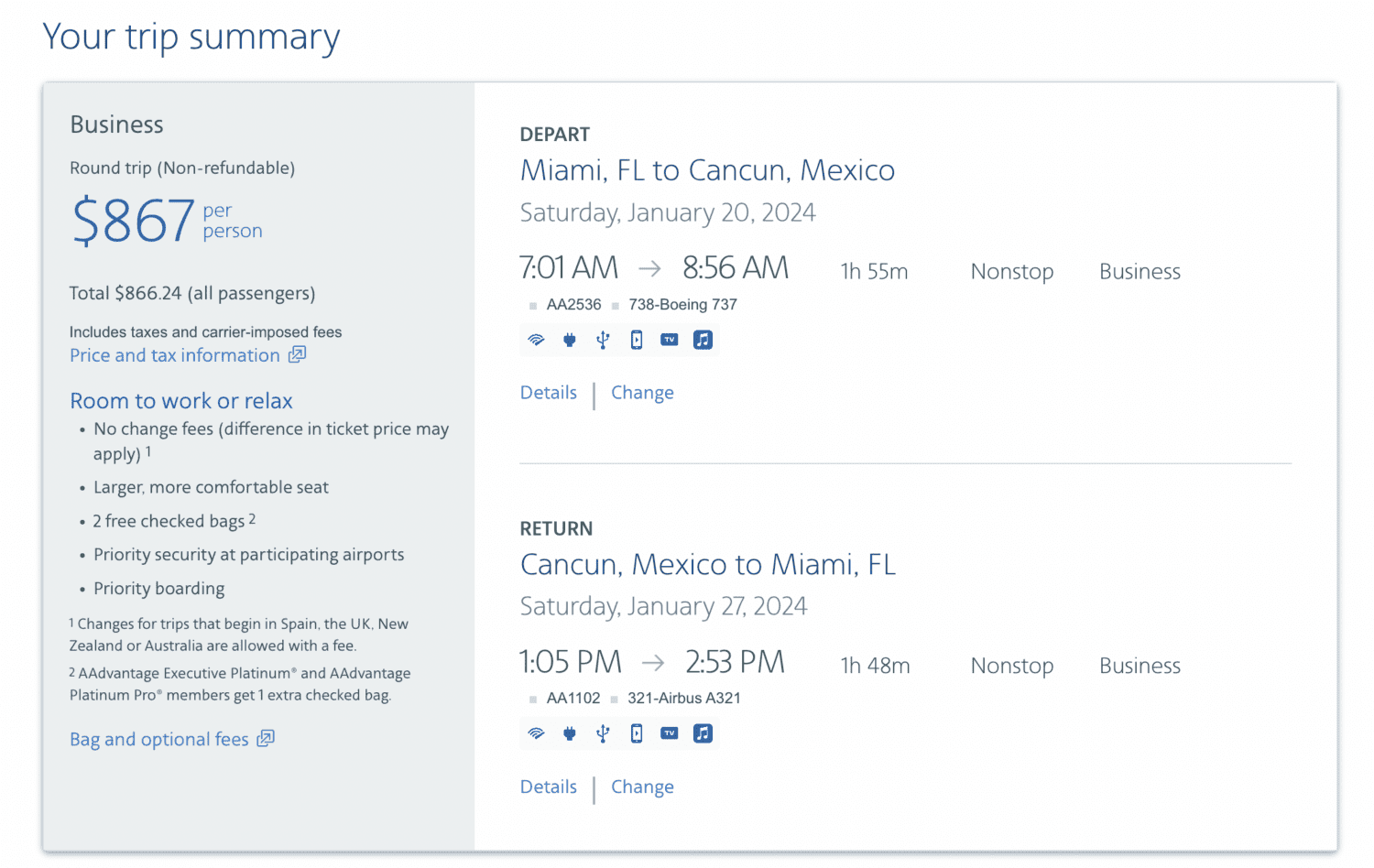 It's not just those short routes from the southern U.S., either. You can get from Chicago to Cancún on American in first class for only 44,000 British Airways Avios and $110 in taxes and fees. We've even seen lie-flat business class availability on this route in the past.
Compare that to paying over $1,000 for these same flights and it's easy to see why booking these American flights through British Airways can be a great deal.
How to Book American Flights With British Airways Avios
Capitalizing on this workaround for booking American flights is fairly simple. But first you'll need a British Airways account first to search for award flights.
Sign up for a free account, and log in. Select "Book a flight with Avios" and start searching for flights to your destination. Keep in mind that British Airways charges per segment, so you'll want to search for nonstops only or you won't find these rates.
It may take some trial and error to find dates and flights that are available to book with points. If the date you want is showing no available flights, simply try a few of the surrounding dates or another week.
Once you've found the flights you want, transfer your credit card points to British Airways and book!
However, there are a few important things to keep in mind before transferring credit card points to British Airways, or any airline partner.
Find the award space first. Most airlines only offer a select number of award seats, so you should never transfer points to an airline until you know the flights you want to book are actually available.
These transfers are a one-way street. Once you send the points to an airline partner, you cannot get them back in your Amex, Chase, Capital One, or Bilt account.
Do the math. Like all airlines, British Airways may charge some pretty hefty fees on international routes – fees that are built in to your ticket price when paying cash. That might negate any value in booking these flights with points. In some cases, you might be better off just forking over the cash for these flights and saving your points for another trip.
How to Get British Airways Avios
British Airways Avios are some of the easiest to earn. You can instantly transfer points to BA at a 1:1 ratio from most major transferrable points and miles programs.
If you're earning American Express Membership Rewards, Chase Ultimate Rewards, and Capital One Venture Miles, they can all be transferred to British Airways. And if you're earning points on rent, you can also transfer Bilt Rewards.
If you're just starting out with points and miles, we consider the *chase sapphire preferred* the best travel rewards credit card for beginners. Currently, you can earn a welcome bonus of 60,000 Chase Ultimate Rewards points after spending $4,000 in the first three months. And with 3x points per dollar spent for dining and 2x points for travel purchases, it's really easy to rack up a ton of Chase points that can be instantly transferred to BA Avios points.
The *venture x* is loaded with benefits like complimentary access to Capital One Lounges and Priority Pass lounges, a $300 annual travel credit, a credit for Global Entry or TSA PreCheck, great travel and rental car insurance protection, and more. The annual fee clocks in at $395 a year, but the benefits can easily outweigh that.
You can currently earn 75,000 Venture Miles after spending $4,000 on the card in the first three months, but be sure to see if you can get a 90,000-mile bonus via personal referral links instead. Considering you earn at least 2x for every dollar you spend on the Venture X Card, you'll earn a total of at least 83,000 Venture Miles, which can be transferred instantly to 83,000 British Airways Avios points.
The *amex gold* is currently offering a 60,000-point welcome bonus after spending $4,000 in the first six months, although you could find a far-better 90,000-point bonus. All those Membership Rewards can easily be transferred to British Airways.
Beyond the bonus, this card is easily one of the best all-around travel cards on the market thanks largely to an unbeatable 4x return on an unlimited amount of spending at restaurants and 4x points on up to $25,000 a year spent at U.S. supermarkets – and 1x points after that.
Bottom Line
Whether you don't have American Airlines miles or just don't want to pay for an expensive, short flight, booking American flights using British Airways miles is a great option.
If you have points or miles from a travel rewards card, you can easily transfer your points to British Airways and book American flights throughout the mainland U.S., over to Hawaii, or down to the Caribbean, Mexico, or Central America for less.