The sky is the limit in Barcelona.
With a seemingly endless supply of restaurants, bars, plazas, and tourist attractions, there's no wonder Barcelona is so popular. But it's easy to get paralyzed, stuck in your hotel room or Airbnb digging through Tripadvisor to plan out your day.
Let us help. Here are some of our favorite spots in this amazing city.
Sagrada Familia
Some tourist hotspots simply can't live up to the hype. But you could drown in a sea of tourists and still be enthralled with the beauty of the Sagrada Familia.
No pictures can do this majestic basilica justice. No photo can capture the overwhelming detail inside and out – the fruit bushels that cap tower spires, the carvings on doors and arches. There is simply no place on earth like this brainchild of Catalan architect Antoni Gaudí.
And while the exterior is, of course, iconic – cranes and all, as the basilica is still under construction, expected to finish in 2026 – the interior is simply another world. So if you're thinking about just admiring Sagrada Familia from the outside, think again. You have to get inside.
You could spend your life admiring the world's architecture and never see anything like the forest-like structure that holds up Sagrada Familia. Gaudi's reverence for God is matched only by his passion for architectural progress and love of nature. Weeks after spending hours looking up, I'm still in awe.
Thrifty Tip: Beat the long lines at the Sagrada Familia – and all of Gaudi's sites – and buy your tickets in advance from their website. Tickets start at about 17 euro ($19 USD), but it's worth springing for the guided audio tour at 25 euro ($28 USD).
Don't miss the museum in the lower level, which recounts the history of Sagrada Familia. And stop into the adorable little school building Gaudi built on the grounds for the children of construction workers.
Of course, Barcelona is full of other stunning works in Gaudi's portfolio like Casa Battló, Casa Milà, and Park Güell. But if your budget is tight and you have to pick just one, you can't miss Sagrada Familia.
La Xampanyeria
Looking for a place with some local and authentic charm and some dirt-cheap prices? You're looking for Con Paixano – better known as "La Xampanyeria."
This homemade cava bar is an absolute treat. Grab a glass of delicious cava for just 1.50 euros ($1.70 USD) – or splurge for a whole bottle for just 8 euro ($9 USD). This little hole-in-the-wall spot is also serving up some simple but excellent tapas, including sausage and cheese plates and incredible sandwiches. The jamón and camembert sandwich was one of the best things I ate in Barcelona.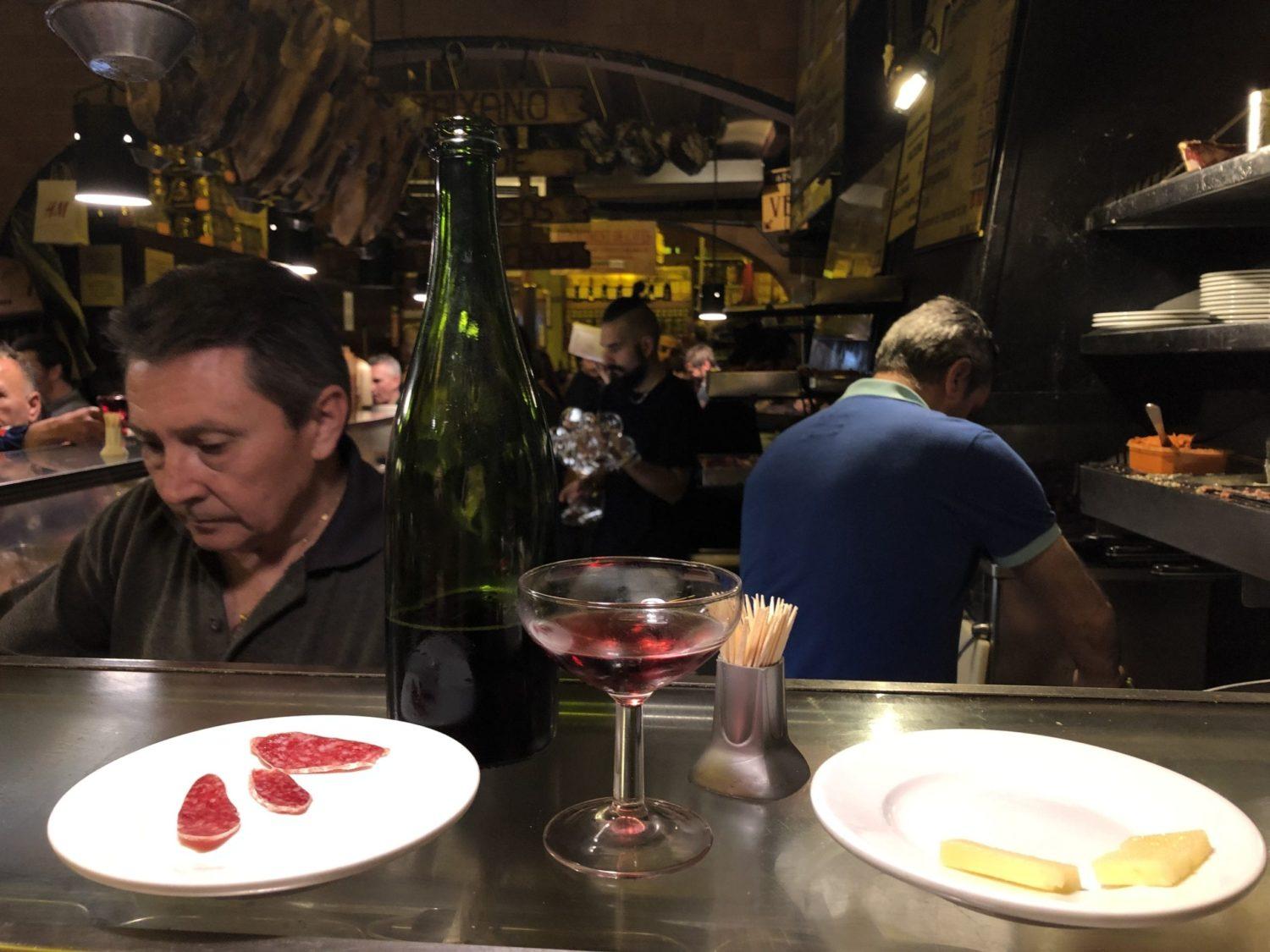 Just be warned: This is a popular spot. It's standing room only, and you'll almost certainly be rubbing shoulders with dozens of others who realize how great this spot is. Lines out the door out into the streets of the Barceloneta neighborhood are not uncommon. And once you get inside, the menus are in Catalan.
And make sure you've got some cash on you: La Xampanyeria does not accept credit cards.
Thrifty Tip: Stop paying ATM fees! If you're getting cash at home or abroad, you need the Charles Schwab debit card.
Bunkers del Carmel
You'll want to put on your tennis shoes to get to the best viewpoint you'll find of Barcelona.
The setting? Bunkers del Carmel, an abandoned anti-aircraft bunker from the Spanish Civil War with a panoramic view of this enormous city.
From here, the incomparable Sagrada Familia is diminutive. The iconic W Barcelona on the shores of Barcelona is almost an afterthought. Turn around and soak in the residential neighborhoods you may never set foot in. It's a reminder of just how big the city is … and how little of it you might see even walking through the streets and attractions for a week.
Head up to Bunkers del Carmel at sunset, but prepare for a hike up the winding paths up the hill. Your best bet is to hop on the metro and get off at one of the nearby stations: Alfons X, Guinardo, or El Carmel.
Thrifty Tip: Buy a T-10 card for 10 euro ($11.20 USD), good for 10 rides on Barcelona's excellent metro system. You can share it with your travel companion, and it's even good to get to and from the Barcelona (BCN) airport.
Cervecería Catalana
The sheer amount of restaurants, tapas spots, corner bars, and cafes in Barcelona can be overwhelming. How can you find the best spot in town for tapas when there's so much to choose from?
I'm no expert after a short stay in Barcelona, but I know good food when I eat it. And Cervecería Catalana stood out among all the tapas spots we tried.
Just a block off the busy Passeig de Gracia, Cervecería Catalana serves up some killer tapas at reasonable prices in a great – if somewhat crowded – atmosphere. Grab a caña (small draft beer) and scope out the daily menu of special tapas – you'll find something to love.
From the montaditos (small tapas on bread) to fresh seafood and patatas bravas (fried potatoes with a special, spicy sauce), everything we tried was delicious.
El Nacional
Tucked down an alley off the busy (and touristy) Passeig de Gracia, El Nacional screams classy. Just look at this.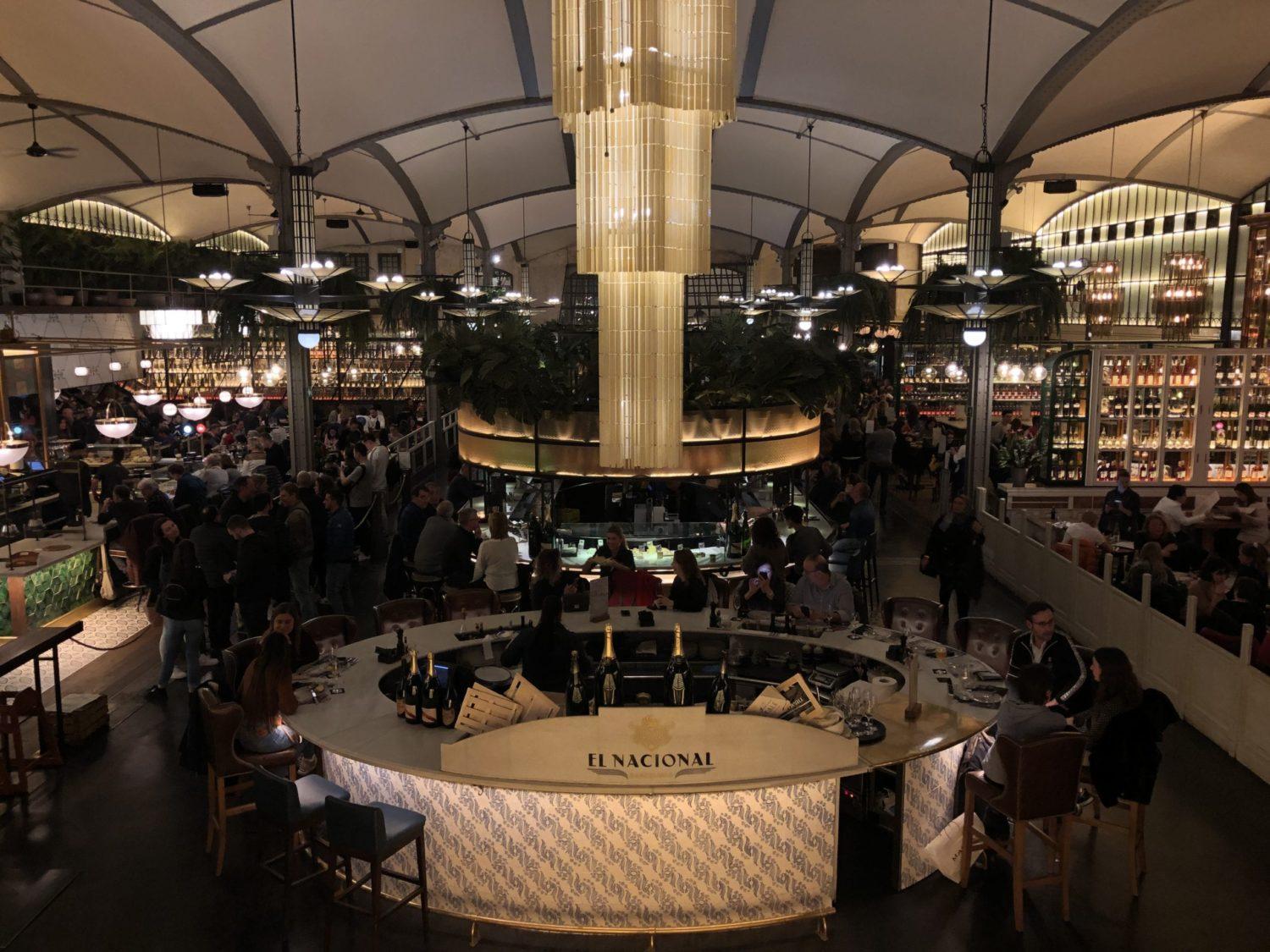 El Nacional is a gourmet food hall, with several different bars and restaurants to choose from. There's one spot for meat, La Braseria, another for fish, La Llotja, and another for tapas, La Taperia.
And then there are standalone wine, cocktail and beer bars scattered throughout its center. It's the perfect spot for a meal or even a small snack and a nightcap.
El Paradiso 
On the outside, El Paradiso a pastrami shop – and a mean pastrami shop, at that.
But pull open the "refrigerator" door on the left side of the shop, and you'll find El Paradiso – a funky but cozy speakeasy hidden off the trendy streets of Barcelona's El Born neighborhood.
Open your menu, and the first thing you'll see is … it's bioluminescent. But the fun doesn't stop there, as it's chock full of creative cocktails with a flair of showmanship.
Seriously, scope out the menu on the El Paradiso website. How about a spin on a Long Island Iced Tea that's served in an old school porcelain tea kettle? Or an Old Fashioned that's smoked, served to you on a silver platter with a glass bell to keep the smoke inside?
At 12-15 euro a pop ($13.5-$17 USD), these cocktails aren't exactly cheap. But when else are you going to sip on these crazy drinks inside a pastrami shop?
La Boqueria
Officially called "Mercat de Sant Josep de la Boqueria," just call it La Boqueria. This quintessential Barcelona food market is a sensory overload.
Whether you're hungry or not, it's worth strolling through the narrow walkways to take in the fish vendors, jamon shops, fruit sellers and tapas bars. La Boqueria is almost always buzzing, and always worth a visit.
Sidle up to Bar Pinotxo or El Quim de la Boqueria if you're hungry, two top-notch tapas bars inside the market. Otherwise, grab a fresh-squeezed just for 1 euro and walk around for a while.
Bottom Line
This list is nowhere near exhaustive. Barcelona is a massive city, filled with more places than you could hope to discover even in a month or a year. But some of these spots stood out as some of the best that this Catalan city has to offer.