You might have Delta SkyMiles floating around out there and not even know it. It's time to claim them.
How? Some travelers mistakenly wind up with two separate SkyMiles accounts, each with their own pot of SkyMiles. Maybe you're like my partner and you recently discovered that a parent made a SkyMiles account for you as a child. Maybe you opened a co-branded Delta credit card to earn a bonus but the airline assigned you a brand new SkyMiles number, as some travelers have reported on Reddit. Or maybe you only fly Delta occasionally and didn't realize you'd set up an account before creating a new one – or that you had an account with the now-defunct Northwest Airlines before Delta absorbed the airline years ago.
Whatever the reason, having two accounts isn't going to do you any good – especially if you're trying to redeem SkyMiles or you're working toward Delta Medallion status. Delta SkyMiles never expire, so it's worth consolidating those accounts so you have any and all miles you've accumulated (and account history) in one place when booking travel in the future.
Read on for how to merge two (or more) Delta SkyMiles accounts so you aren't missing out on any miles you've earned over the years.
How to Merge Delta SkyMiles Accounts
Delta makes it fairly easy to merge multiple SkyMiles accounts into one – so long as your first and last name are accurate on the accounts. First things first, you'll need to have the SkyMiles number and password for each account ready to go.
Think you might have a duplicate account? Try entering your name and email address(es) in Delta's "Forgot Login" finder – otherwise, call Delta and see if they can find accounts associated with your name and information.
Once you've found both SkyMiles numbers, navigate to the "Merge Duplicate Accounts" page on Delta's website and enter the information for the two SkyMiles accounts you would like to be merged. You'll have to designate one as your primary account – pick the SkyMiles number you're keen to keep. If you have Medallion Status, a Delta Sky Club membership, or a co-branded credit card, you're better off using the number associated with that account.
Take a Delta flight without entering your SkyMiles number? You can claim missing SkyMiles from flights up to nine months ago!
After you submit the request to combine your Delta SkyMiles accounts, Delta will send you an email confirming it was received. Once the merger has been started, Delta says it will take up to seven days for the SkyMiles from one account to be transferred to the other.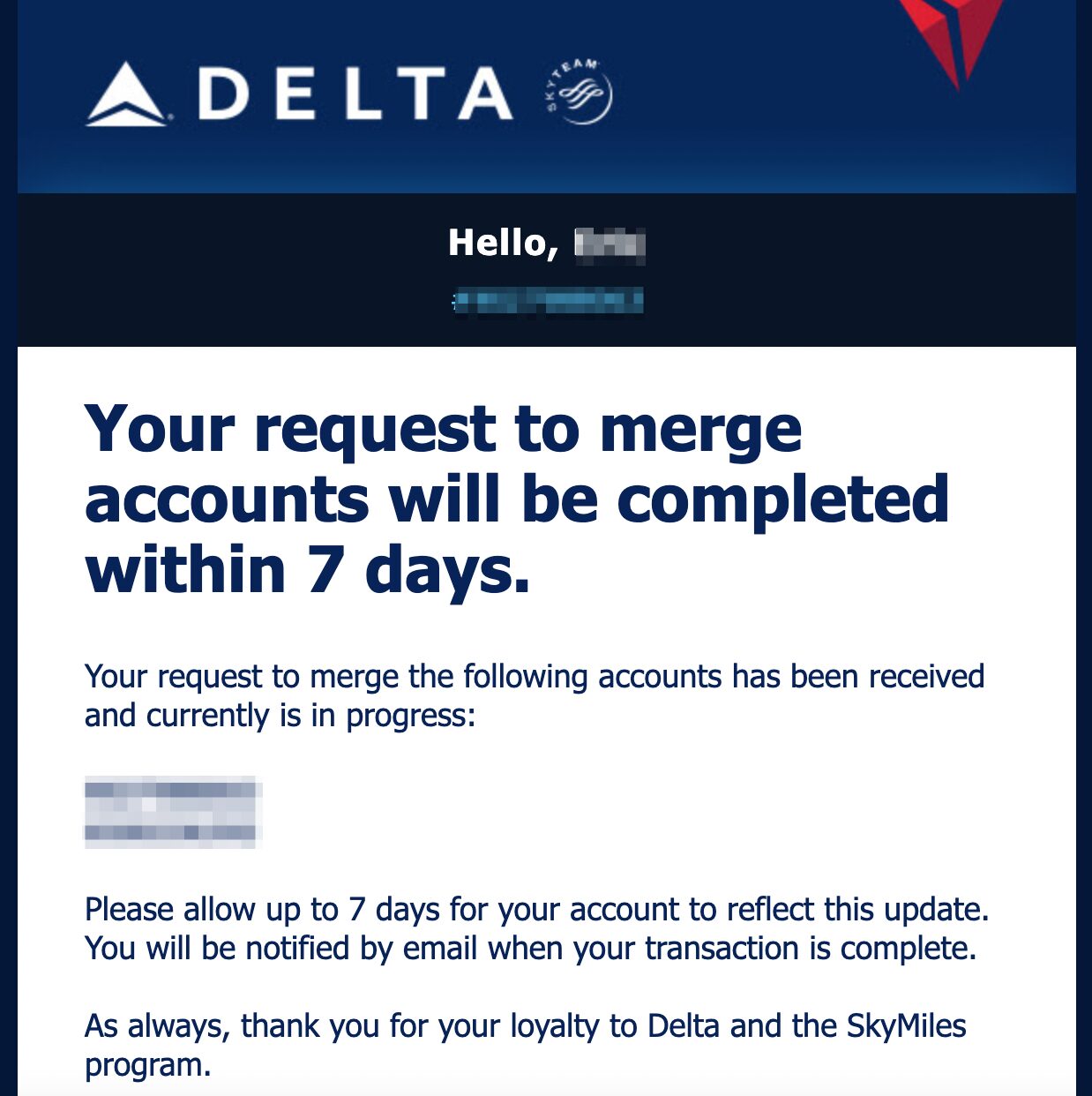 But in our experience, it can be much, much faster. All told, it took less than 24 hours for my partner for his two accounts to be combined and see the 11,000 SkyMiles added to his current account balance.
Delta will send another email confirming the two accounts have been combined and notifying you which SkyMiles number to use going forward. It could be different than the one you selected as your primary account number for several reasons, namely if you have a SkyMiles number tied to a Delta SkyMiles credit card or Medallion Status.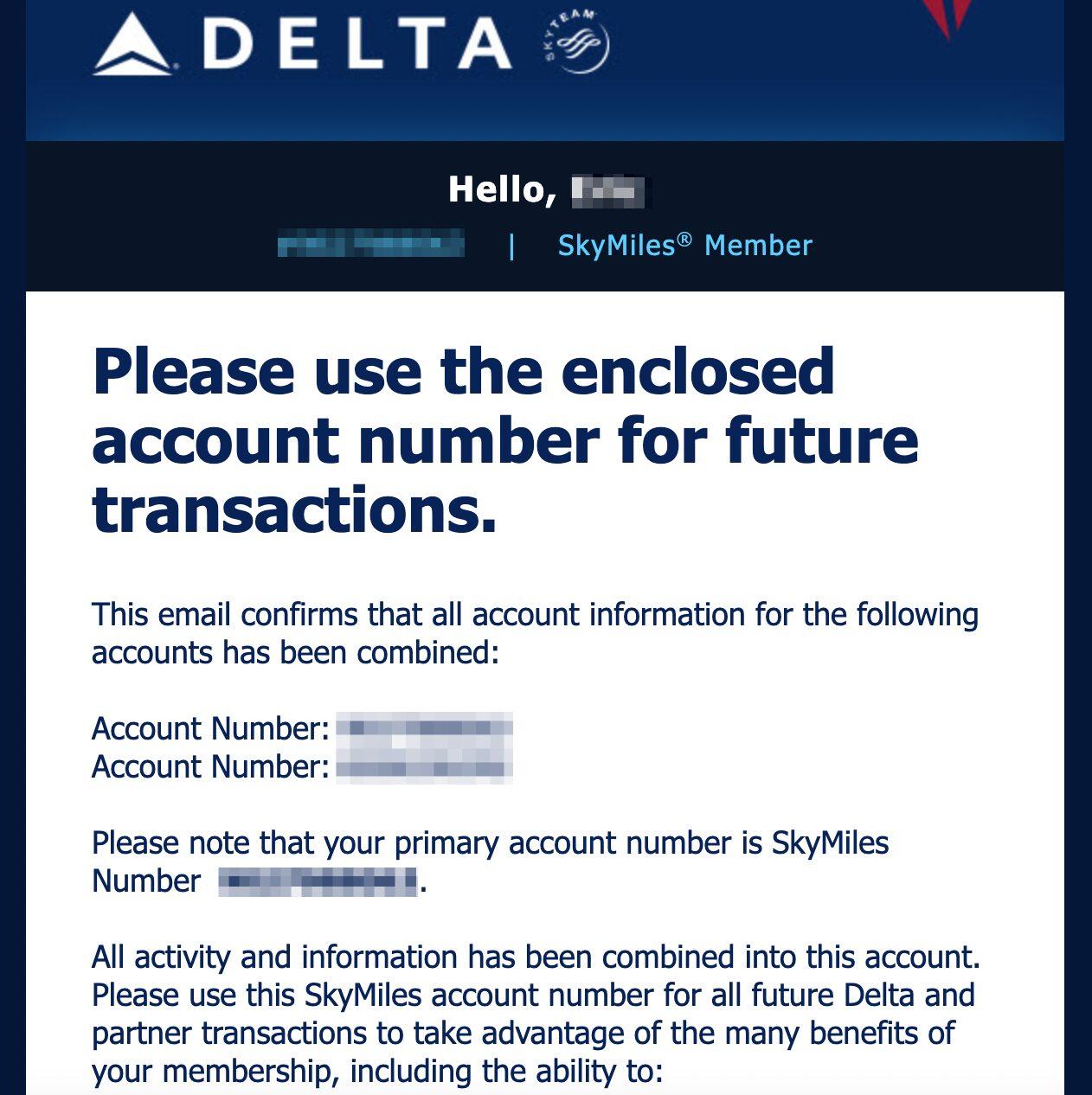 In doing this, my partner added around 11,000 SkyMiles that had been languishing in his unused Delta account to his current SkyMiles balance. If you time it right with a great Delta SkyMiles flash sale, and that could be more than enough Delta miles for a domestic trip – maybe even to fly from Minneapolis-St. Paul (MSP) down to Cancún (CUN).
Read more: The 10 Best Delta SkyMiles Deals We've Found for a Trip in 2023
What You Need to Know About Merging Delta SkyMiles Accounts
There are a few other things to keep in mind if you're merging SkyMiles accounts.
It's free to combine your SkyMiles accounts.
First and last names must match on the Delta SkyMiles accounts you want to merge. If you have a SkyMiles account underneath another legal name, you'll likely have to call Delta's help desk to merge the accounts.
Merging Delta SkyMiles accounts is an irreversible process.
Delta won't give you credit for any duplicate SkyMiles transactions in the two accounts and they won't be added to the combined mileage balance.
You can't merge accounts with a friend or family member. And while Delta allows you to transfer SkyMiles to other accounts, it charges a hefty fee.
Bottom Line
You should be diligent about keeping track of your airline accounts, but sometimes things slip through the cracks.
Don't leave Delta SkyMiles on the table. If you think you might have a duplicate SkyMiles account out there for whatever reason, merging those two accounts can put all those SkyMiles in a place where you can use them.