We're all looking toward 2022 hoping it's better than the last – and many Americans are trying to better themselves through a New Year's resolution. But why not build those resolutions around travel? This is a travel website after all.
Experts say nearly half of New Year's resolutions fail – and about a third of them are toast by the end of January. And they fail largely because they're vague, immeasurable, or impersonal goals.
But going somewhere and accomplishing something is a concrete, measurable step toward your resolutions. A trip puts something on your calendar in the future, helping you hold onto that resolution longer and motivating you in the meantime – I know nothing motivates me quite like a trip on the horizon.
So we've rounded up some of the best trips you can plan for 2022 based on some of the most popular resolutions as the New Year gets underway.
Weight Loss, Exercise & Wellness
Nearly half of Americans list weight loss, exercise, or some aspect of wellness as their New Year's resolution, according to a breakdown from Statista.
While these goals require day-to-day accountability, using travel to jumpstart your fitness or wellness journey – or as a long-term goal – could be just what you need.

Where to Go
Nothing motivates you in the gym like knowing you need the lungs to go hiking at altitude.
There's a reason why so many athletes train in Colorado: There's arguably no better place to get in shape. And with nonstop fares like these under $150 roundtrip (and some under $100) we sent to Thrifty Traveler Premium, you don't have to spend much to put your fitness goal on the map.

From Rocky Mountain National Park to the San Juan Mountains and everything in between, you cant go far without finding a great trail in Colorado.
Thrifty Tip: Sign up for AllTrails for free, which maps out and charts thousands of hiking trails all over the world. 
Sometimes, the best thing to help you get well is to slow down with a little bit of yoga, and there are tons of great yoga destinations, including Sedona, Arizona.
Just a 2-hour drive from Phoenix, Sedona is known for its yoga community and as a great spot for yoga retreats. Plus, it's easy to find a cheap flight so you can slap that mat down and get to work!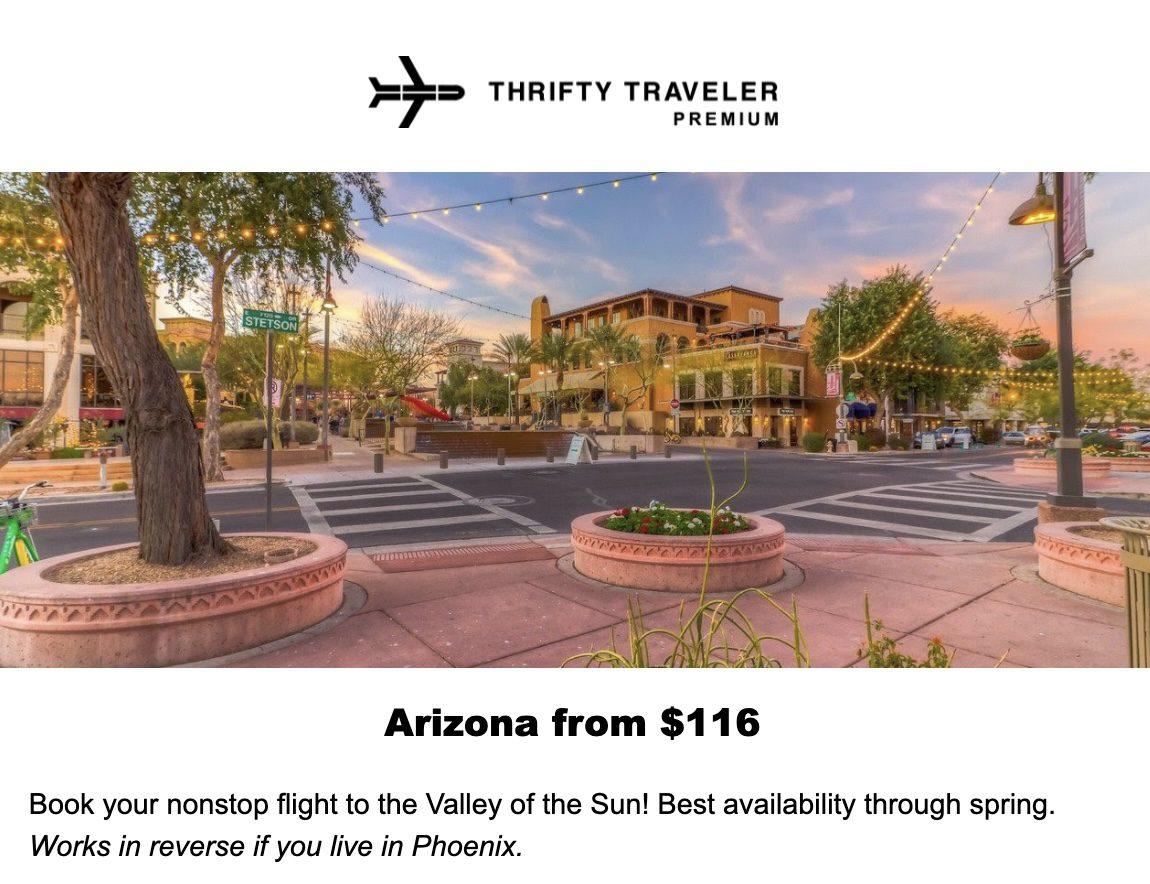 Other great yoga destinations include Hawaii, Vancouver, Greece, and Bali.
Where to Stay
Wellness retreats come in all shapes and sizes. You can find a fitness-focused stay, something specifically for yoga, a spa getaway, silence retreats, meditation retreats, and much more.
If you're looking for something with a little bit for everyone, look into Hyatt Miraval Resorts, which we love because they're bookable with World of Hyatt points for great rates.

With location in the Berkshire Mountains of Massachusetts, near Austin, Texas, and near Tuscon, Arizona, these Miraval resorts will check pretty much any wellness goal you have set. (World of Hyatt last year even offered a fantastic buy one, get one free deal on night stays at these properties.)
These resorts each have a little bit of their own flavor, but all boast tons of fitness activities, lectures from experts, spa treatments, and healthy meals every day.
Thrifty Tips
If you aren't looking to break the bank, there are still great ways to hit your fitness and wellness goals while traveling.
My best advice: Go hiking! Hiking is fantastic exercise, takes you to some of the most beautiful places at any destination, and is almost always completely free.
Need to find the right trail? Use AllTrails. It's free to sign up and gives you access to thousands of hiking trail maps all over the world. They are commented on by people using them in real-time, feature important information about trail difficulty and conditions, and you can download the maps before you go so you really get off the grid on your journey.
Unplug and Use Less Social Media
One of the New Year's resolutions I hear most is the broad, slightly vague desire to "unplug" a little bit more and spend less time on Facebook or Instagram.
Short of turning off your smartphone and walking into the wild, planning an unplugged week in a beautiful place could be the perfect way to re-evaluate your relationship to your technology.
Where to Go
Depending on your interests, you can turn almost any destination into the perfect place to unplug for a week or more. But, of course, we've got a few suggestions based on where we can help you fly for less!
Few places marry the ability to unplug with a cheap flight to get there better than Iceland. Just look at these flights for next fall.


A fare like that really makes you want to turn the phone off, huh? Over the last few months, we've sent our Thrifty Traveler Premium subscribers a bunch of great fares to Iceland, including this one.
Once you're there, the natural beauty of Iceland will take your breath away and make you forget about what everyone else in your life is doing on social media. Just resist the urge to share your own photos! Check our guide on what it's like traveling to Iceland during COVID-19.
Similarly remote – yet still in the United States – Alaska offers spectacular views and is a great place to unplug.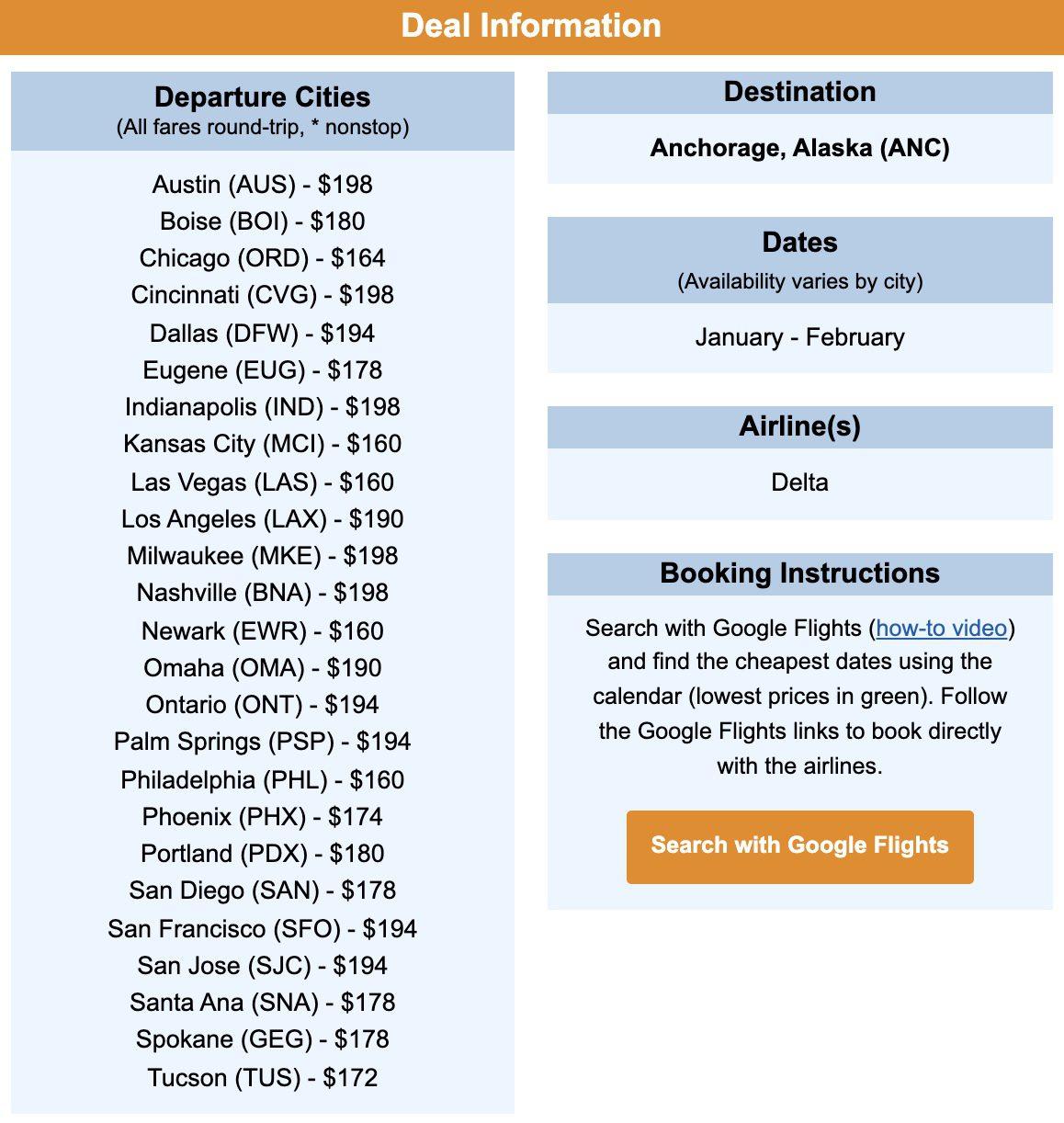 These fantastic fares could get you to Alaska with quick stops on Delta from tons of U.S. cities. Once you check in to your hotel or Airbnb, you can turn the phone off and get to know the biggest state in the country.
If you simply cannot trust yourself to put the phone away, however, let the environment do it for you. Cuba has infamously unreliable phone reception. Maybe that's exactly what you need to get your unplugging underway?

Cuba is also already open to vaccinated American travelers, so you can get your trip booked for 2022 travel.
Where to Stay
If you're really looking to get away, Airbnbs and vacation rentals are almost always more remote and private than hotels.
No matter what destination you choose, there's probably an off-the-beaten path home for your unplugged getaway. Check out our guide on how to find the best Airbnb, no matter where you're heading.
Airbnbs and VRBOs may not have the points programs like major hotel chains, but that doesn't mean you can't make them more affordable.
Lately, we've been blown away by the Capital One Venture X Rewards Credit Card, which offers (among so many other things) a one-time $200 credit to use toward Airbnb and Vrbo. But Capital One also offers one of the best ways to book Airbnbs using points.
Just charge it to your Capital One card, then use Capital One Purchase Eraser to cover the cost with points. The 100,000-mile bonus after spending $10,000 in six months on the Venture X Card is enough to book $1,000 in Airbnb stays.
Using points, miles, and credit card credits to cover the cost of your trip will really let you focus on unplugging and relaxing during your trip.

Thrifty Tips
Luckily, getting off the beaten path has always been a pretty thrifty endeavor. One of the biggest costs, however, is finding a vehicle to get there.
We have tons of resources to help you get your next rental car for less:
As a Thrifty Traveler reader, we know you're savvy about beating the airlines at their own game. But don't skimp on researching your car rentals, too!
See New Places
This one is kind of a layup for us, no? Travel is what we do!
Every year, Americans make resolutions to travel more and see new places. People are thinking differently about travel these days as the pandemic hits another wave, but that doesn't mean you should rein in your 2022 travel goals.
When you travel in 2022, try not to re-tread the same old destinations you're used to. Broaden your horizons and go after something different.
Where to Go
Trips to the Caribbean, Hawaii, and Europe are common. But a visit to Africa is a special kind of trip. And believe it or not, those long flights can be affordable.

A world away, the culture and environment of Africa is unlike anything else on earth. The latest deal we sent to Thrifty Traveler Premium subscribers had fares like these in the $600s flying to Nairobi, Kenya (NBO).
Want something a little closer to home but still new? How about Colombia? Forget about its decades-old reputation for violence: This is a charming, exotic destination with so much food and culture to soak in. And you don't even need to worry about jetlag!
This deal to the capital city of Bogota (BOG) from Delta hub airports like Atlanta (ATL), Detroit (DTW), and even Minneapolis-St. Paul (MSP), flying United blew our minds! It's the kind of South American destination that we don't think about every day, but that has so much to offer American travelers.

This deal isn't available anymore – get the next cheap fare sent straight to your inbox with Thrifty Traveler Premium!
Seeing someplace totally new doesn't have to mean flying across the ocean or to a different hemisphere. Just this month, we uncovered a fantastic deal to the Maine coast for travel all the way through November 2022. Typically $500 or more roundtrip, these fares clocked in at $200 or less!

Portland is the perfect jumping off point for a road trip up the Atlantic. Maine's New England-y, maritime culture differentiates it from other U.S. destinations. A visit to Acadia National Park is a must on this vacation, too.

Where to Stay
Wherever you go in the world, make sure to get the most value for your hotel stay. There are a few great ways to do it.
Chase Ultimate Rewards points from cards like the Chase Sapphire Preferred® Card will come in handy no matter where you're going. You can transfer those points to Chase transfer partners like World of Hyatt to book top-dollar Hyatt properties. Or you can book almost any hotel on the globe by using the Chase travel portal.
Got the  Platinum Card® from American Express? You get special hotel credits and benefits at some luxurious properties around the world. That includes a $200 annual credit for Fine Hotels and Resorts or The Hotel Collection properties, complimentary room upgrades when available, a $100-plus property credit, guaranteed late checkout, free daily breakfast for two, and more.
Thrifty Tips
When you're somewhere you've always dreamed about, why not see it through the eyes of a local? That's exactly what Airbnb Experiences is all about, and it's one of the reasons we love to use them so much.
In most cases, these aren't your typical walking tours or day trips. These unique experiences range from guided hikes to photoshoots and everything in between. Booking an Airbnb Experience is a great way to get a taste of local flavor (literally – many cities have some great cooking classes and foodie tours) in a new city. You don't need to be traveling to use Airbnb Experiences: They have some cool activities to do even in your hometown for a fun weekend or date night.
And you don't need to be staying in an Airbnb during your trip to book one! Book an experience like you would any other tour or activity, and you'll be set.
Take up a New Hobby
Starting something new can be exciting, sometimes frustrating, but almost always fulfilling. So whether you're looking to hit the fairways with your new set of golf clubs or find a new reef with a dive, use travel as a way to immerse yourself in a new activity.
Setting up a trip for sometime in 2022 is a great goal-setting tool. If you're hoping to go skiing in Montana in March, it will make you start honing your skills back home in January and February. If you're hoping to golf the magnificent tracks of Palm Beach, Florida, it might force you to get to the driving range a few times beforehand.
Where to Go
There are tons of great places to visit if you're a golfer with courses the world over, but there are some great golf destinations close to home that can help you set goals to hone your skills in 2022.
We mentioned the Palm Beach area of Florida as a great, close-to-home golf destination, but don't overlook Hilton Head Island, South Carolina, either.

Boasting 33 different courses and tons of packages to help you stay and play for less, Hilton Head Island is the perfect way to hit the links and then spend half the day at the beach, too.
Some hobbyists prefer to ski greens rather than putt on them, though. And for those hoping to learn to ski, we've got you covered with some great flight deals to ski towns, too. From Jackson Hole to Big Sky to Whistler and Lake Tahoe, we send our subscribers low, low fares to get to high, high places.

Thanks to some new nonstop routes, we have found a bunch of great fares into Steamboat Springs, Colorado in the last few months. The quaint, Western ski town in northern Colorado is a great place for beginners to learn and then grow.
Plus, with these flights clocking in under $200, it's easier and cheaper than ever to get straight to the slopes this winter.
Planning a lot of skiing this year? It might be worth a ski pass: Check our guide comparing the Ikon vs Epic pass!
From one of the highest elevation hobbies to the lowest, Premium members have also been getting sent great deals to some iconic scuba destinations.
Divers love locales like Hawaii, Key West, and Australia. But recently we found some eye-popping fares to another famous reef.

Thanks in part to this new nonstop route from Minneapolis-St. Paul (MSP) to Belize City (BZE), divers can hop down to the Belize Barrier Reef in no time.
Thrifty Tips
Hobbies come with some baggage… literally. Unless you're renting all of your gear wherever you go, you might need to check some of your skis or scuba gear when you fly.
Make sure you are fully informed on all things baggage fees before you get started. In many cases, you can find a way to get your checked bags for free! Here are our guides:
Especially when you have specialty equipment, make sure you understand your airline's rules before buying a ticket. For instance, ski bags normally count as regular baggage and not specialty baggage, so make sure you don't pay special fees for what counts as a regular bag.
Especially if you're a skier or snowboarder, you'll also want to make sure to get the most bang for your buck when you hit the slopes. Skiing can get pricey, with some resorts charging single-day lift tickets for more than $250 over Christmas and New Year's 2021.
Save Money
Go figure: Being thrifty is what we're all about. It's in our name, after all.
We thrive on helping our readers and subscribers spend less and travel more. But maybe our favorite thing to do is help them achieve those goals for nearly nothing.
Every year, millions of Americans vow to save more money as part of their New Year's resolutions. While a cheap flight can help you save on a trip, using points and miles can help you do it for next to nothing.
That's why we also send our Thrifty Traveler Premium subscribers award alerts when there's a chance to use points and miles to book flights. From Delta SkyMiles flash sales with deeply discounted award rates to rare award space to book a business or first class flight, we've sent subscribers dozens of these alerts over the last few months alone for a trip in 2022.

Where to Go
For many Americans, balances of points and miles were piling up during the brunt of the COVID-19 pandemic. We've got a bunch of great outlets to help you use those points for maximum value so you can save your cash.
Let's start in Mexico.

We loved this Delta SkyMiles flash sale to Cancun when we sent it to Thrifty Traveler Premium subscribers this month. Starting at just 11,000 SkyMiles roundtrip, you could book a winter getaway without paying the fare. Have a family of four? That's less than 50,000 SkyMiles total for a family trip to Mexico! That's how you put a dent in your savings goals.
Your SkyMiles can take you far away, too. Like this nationwide SkyMiles flash sale to Europe we found earlier this year.

Just look at that list of destination cities you can fly to using your SkyMiles starting at just 34,000 SkyMiles roundtrip from more than 100 U.S. cities. Your European vacation and saving money are not mutually exclusive! Put those points to work.
One of our other favorite redemptions this year was a points and miles deal on Delta nonstop flights to Hawaii. While they aren't Delta SkyMiles, Air France/KLM Flying Blue miles (which you can earn by transferring points from Chase, Amex, Citi, or Capital One) this deal was well within reach for a trip this year.
The savings are enormous: Often, these flights cost $900 or more. We can't think of a better way to put your points and miles to use and pocket the savings.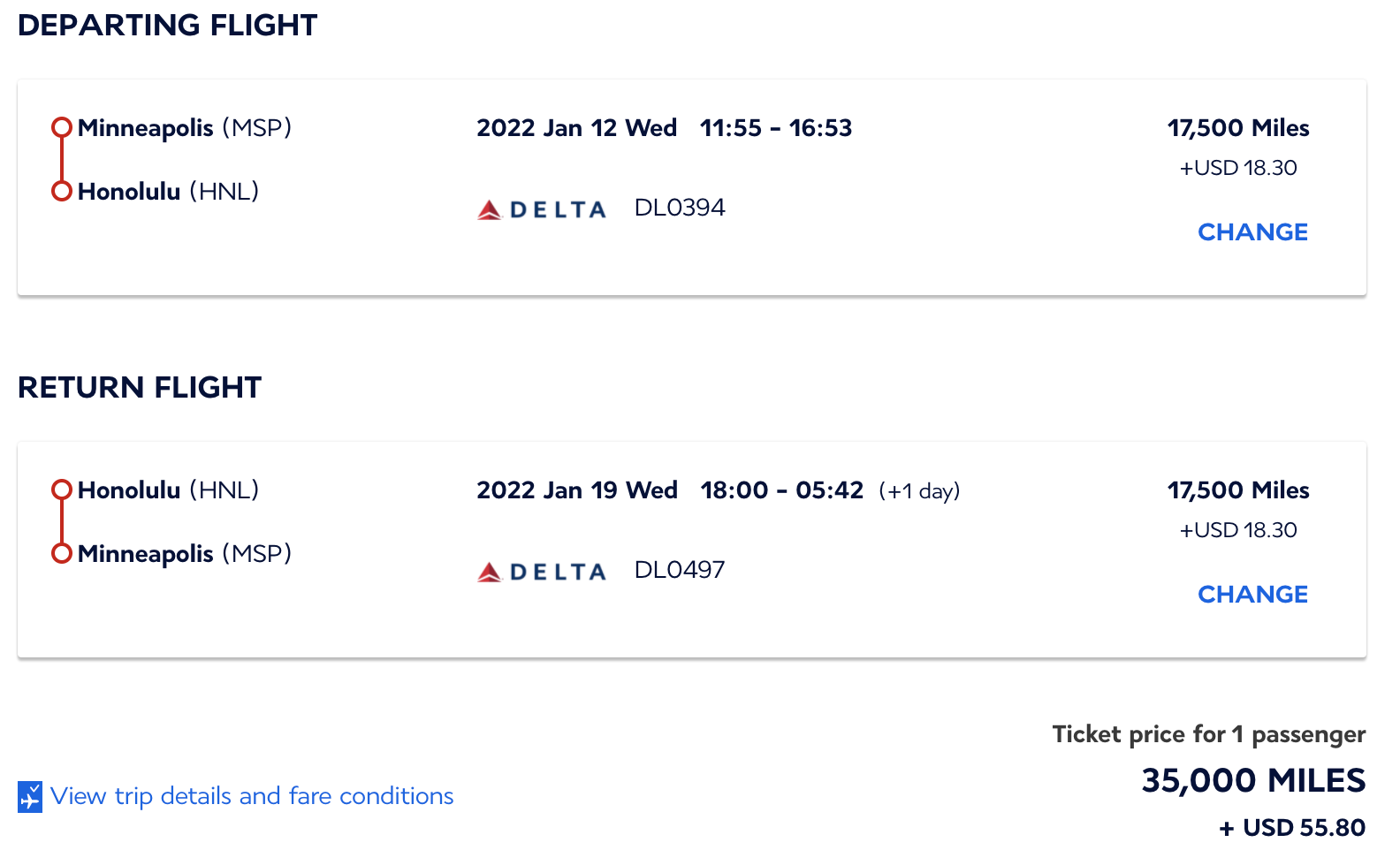 Read our full guide on how to book Delta flights to Hawaii for just 35,000 miles!
Where to Stay
Having the right hotel credit card can earn you a great sign-up bonus and also give you privileges at certain resorts that can help you achieve your money-savings goals. But don't overlook flexible points credit cards, either.
For instance, The World Of Hyatt Credit Card can earn you a 30,000-point bonus after spending $3,000 within the first three months – or more if you keep spending on the card. But you could also look at the Chase Sapphire Preferred® Card and its 60,000-point bonus after spending $4,000 within three months. Once you earn the points, you can transfer those points to World of Hyatt.
You can also transfer Chase Ultimate Rewards points to IHG and Marriott, so you can make your points work at all types of properties.
This isn't just a Chase thing, either. American Express, Citi, and Capital One also have long rosters of transfer partners. Check out our guide to all credit transfer partners to discover other ways to make your points go further to save you money.
Thrifty Tips
Credit card sign-up bonuses are one of the single best ways to save money on travel, but credit cards are serious business. You should always open credit cards responsibly and never bite off more than you can chew. But there's more to consider.
For instance, annual fees can scare away even the most avid travelers – especially if you're looking to save money in 2022. But with a smart and diligent approach, you can come out ahead even on cards with annual fees of $500 or more thanks to money-saving credits and other travel perks.
It took me time and research to understand, but I did the math for myself and have been booking free (or nearly free) travel for months now. If the credit card companies want to give you free travel to put your everyday spend you'd otherwise put on your debit card, let them!
Bottom Line
Setting goals for 2022 can – and should – include travel. What better motivator is there than your next big trip?
As you put the finishing touches on your New Year's resolutions, find ways to build them around travel. And take advantage of some of these fantastic flight deals and money-saving tips to achieve your goals for less.