Sedona is a stunning spot in Arizona that has shot to the top of many travelers' domestic travel wish list this year – and for good reason. Full of fun activities and things to do, Sedona is best known for its vistas of red rocks and awesome hiking trails, with photo-worthy formations every way you turn.
While Phoenix is blazing hot, Sedona stays refreshingly cool in the north – a welcome temperature change, especially for hikers. And there are plenty of awesome attractions and spots to grab a bite or a drink to relax after a day of exploring Sedona.
So, what do you need to know before you head to this red rock wonderland? These are our absolute favorite things to do in Sedona.
Getting to Sedona
Sedona is located two hours north of Phoenix or just 45 minutes south of Flagstaff. Your best bet for getting to Sedona for less? Fly into Phoenix (PHX) and make the drive up. While Flagstaff (FLG) may be closer, it's also typically a much more expensive flight.
We regularly find flights to Phoenix from every U.S. airport under $200 – and often under $100! Lately, we've seen flights as low as $58 roundtrip (and no, that's not on budget carriers!) for travel later this year:
Want flight deal alerts like this from your home airport? Join Thrifty Traveler Premium!
Then, grab a cheap rental car and head north to Sedona for a day – or stay for a while! Just beware: Rental cars have gotten expensive around Phoenix (and around the country). So book early, use services like Autoslash to find the best deal, and try out Turo for a cheaper rental.
Sedona Weather
Picking the best time to go to Sedona is all about timing it right with the weather – and the crowds. And one our favorite tips to find the best weather for your next trip is to use the climate section on Wikipedia.

Spring in Sedona
Spring is the busiest time for attractions in Sedona with families on spring break. On the flipside, it also has the best weather for hiking and being outdoors before the summer heat settles in.
March is still a fairly cool month in Sedona with the average highs in the mid-60s (°F) and lows getting down into the 30s. Morning hikes will be quite cold so pack accordingly. It is also one of the wetter months with 2.5 inches of rain on average. April is a little bit warmer with the average highs in the low 70s(°F) but it still gets down to the low 40s (°F) at night. May jumps up to the low 80s for average highs and drops to the high 40s at night.
Summer in Sedona
It may be cooler than Phoenix to the south, but summer in Sedona still gets hot. This means the best things to do in Sedona are early morning hikes and afternoons spent by the pool or indoors – and plenty of air-conditioned activities like shopping or wine tasting.
June brings highs in the low 90s (°F) and lows just around 60. July is the hottest month in Sedona with the average highs around 96°F – and the record high at 110°F. August starts cooling off a little bit with average highs in the low to mid-90s and lows in the 60s.
Fall in Sedona
Early fall in Sedona is still pretty hot. But by November, daytime temperatures are back to the mid-60s.
September has highs in the mid-80s (°F) and lows in the high 50s (°F). The temperature drops an average of 10 degrees in October for highs in the mid 70s (°F) and lows in the mid-50s (°F). November cools off to the mid 60s (°F) and lows in the mid 40s (°F).
Winter in Sedona
December, January, and  February are the slowest months for attractions in Sedona – and it's all about the temperature.
The highs are in the 50s (°F) with lows down into the 30s (°F). If you're heading to Phoenix for a winter getaway, it is still worth a trip up to Sedona! Just make sure you pack layers.
Thrifty Tip: Still not sure when to visit? Read our tips for finding the best weather for your trip.
Sedona Hotels & Sedona Airbnbs
There are quite a few options for hotels in Sedona – and we recommend comparing options with a tool like Google Hotels.
But there's no denying it: The Airbnbs in Sedona are crazy beautiful. And in most cases, just as cheap (if not cheaper!) than a hotel room. For example, Casa De Martin is just $101 a night for a two-person stay – and you get views like this:
This Loft Studio for two is just $119 per night – with unreal patio views!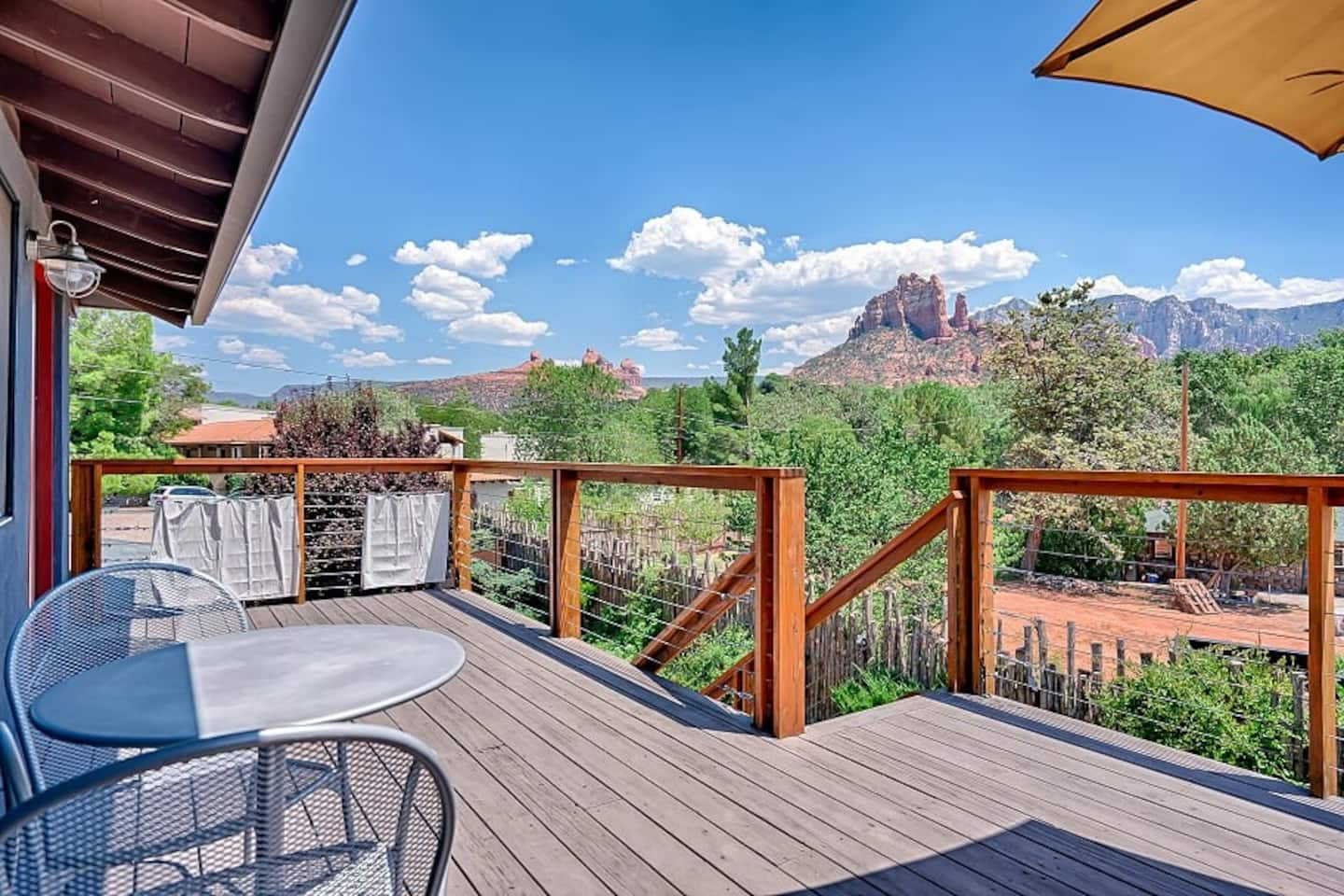 Why stay at a hotel when you can get views like this all to yourself? This is Red Canyon Retreat on Airbnb, complete with a saltwater hot tub, saltwater lounge pool, waterfall feature, outdoor shower, two-person hammock, and lawn games. This 4.99-star stay will run you just $139 per night.
You can't beat having your own space – or an entire backyard! on vacation.
Where to Eat in Sedona
There are plenty of spots to eat in Sedona, but a few stood out to us.
The Vault Uptown
The Vault Uptown is a family-friendly bar and grill with good food, beer, and cocktails. The best part of this restaurant in Sedona is the patio with a view overlooking the red rocks. Make sure to reserve a table ahead of time – especially if you want a spot outside, because it gets packed starting around 6 p.m.
The Hideaway House
Come for the stunning views, stay for the food at Hideaway House! This awesome spot in Sedona is nestled on the side of a building with patio seating on two floors. Be sure to call ahead for a reservation and ask for a table with a view.
During the cooler days, they put up an insulating barrier – but you still get exceptional views of the rock formations.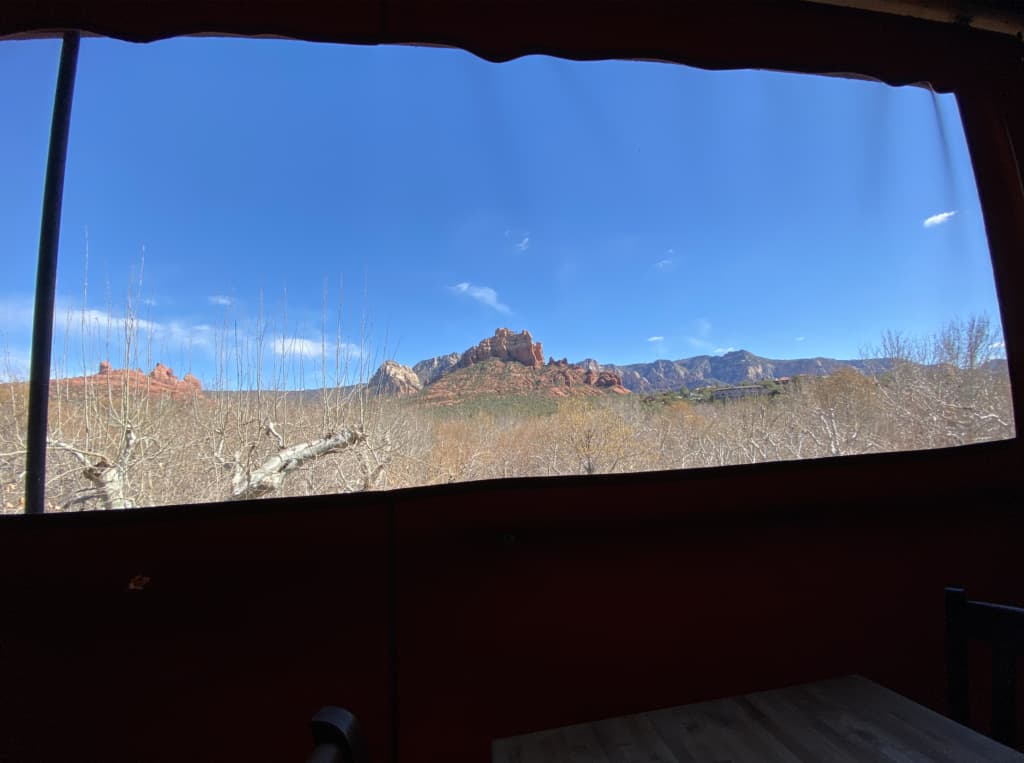 If you have dietary restrictions of any kind, this is your place. They have gluten-free sandwiches, pasta, pizza, and desserts – and tons of vegetarian options as well. Try the "Kat's Way" pizza!
There are tons of great spots throughout Sedona to grab a bite to eat. Check out Momo's Kitchen, The Hudson, Casa Sedona, and others.
Sedona Hiking Trails
This is why you come to Sedona.
Hiking is one of Sedona's most popular activities. There are dozens of hiking trails in and around Sedona for you to explore the red rock formations up close and personal. Do your research beforehand so you know how long it will take, how difficult each trail is, and get any other important info. All Trails is a great website to search for the top trails in Sedonas, with reviews of the trails from other hikers.
Make sure you have sturdy shoes, water, and some snacks along. If you're visiting during the summer months, you'll want to get started on the trails early in the morning before it gets too hot.
Parking near trailheads can also get difficult so starting out early is the best chance to find a good spot. Most lots right at the trailhead have very few spots – you may have to park on the road and walk.
Cathedral Rock Trail
Cathedral Rock is one of the most popular hikes in Sedona. It's a relatively short hike, good for all ages, and offers great views. The trail is only 1.2 miles in and out, but there are some difficult parts of the hike that are steep and require some tricky maneuvering.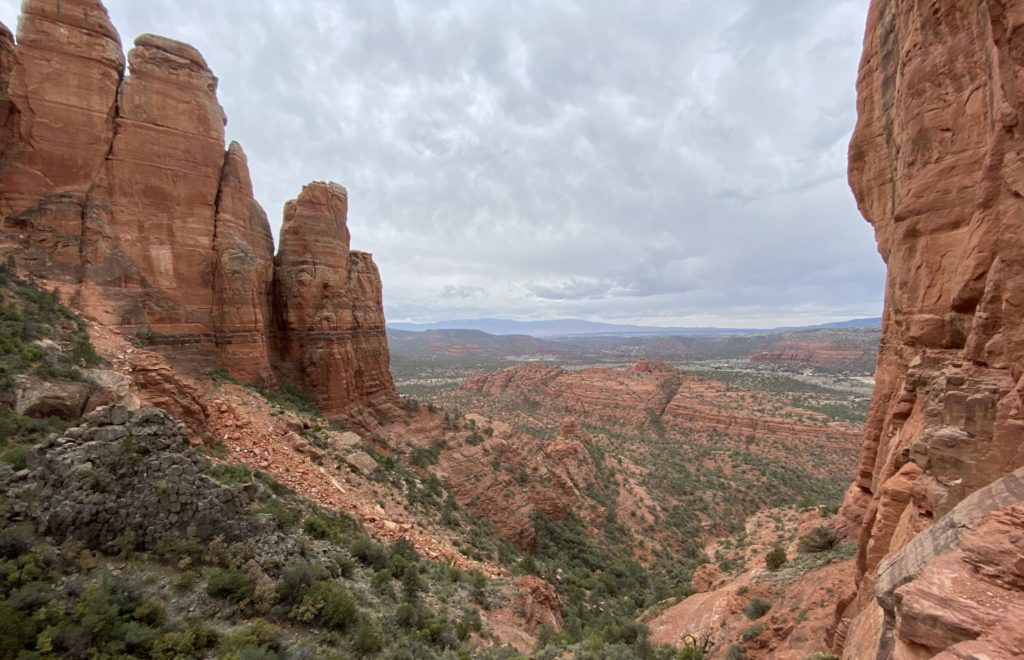 There are two small pay parking lots with about 20 spaces for this trailhead that fill up quickly. There were parking attendants guiding cars into the lots to wait for spots. Luckily, we were able to find a spot to park in about 15 minutes.
Many people were parking up the road at the Sedona Methodist Church and walking down. But with no sidewalks and a slim shoulder, it may not be a safe bet for larger groups or traveling with kids.
Bell Rock & Courthouse Butte
Looking for awesome views, back-to-back? Head to Bell Rock and you'll see Courthouse Butte, too.
This is a great option if you're looking for a quick walk or hike. It's just a short walk from the parking lot to this viewpoint. Keep hiking for more views closer to (or even on top of) these rock formations.

Devil's Bridge
This is perhaps the most iconic hiking attraction in Sedona – and you've got options to get there.
Depending on what route you take your hike can be 3.6 miles, 4 miles, or 5.8 miles – or in our case, an 8-mile hike with an accidental turn or two.
Route 1 is the easiest route but also the most boring. The walk on this route to the trailhead is on a flat dirt road shared with ATVs and jeeps. The Chuck Wagon Trail is longer but much more interesting. The hike starting at the trailhead, while only .8 miles, is mainly uphill and takes some scrambling on rocks.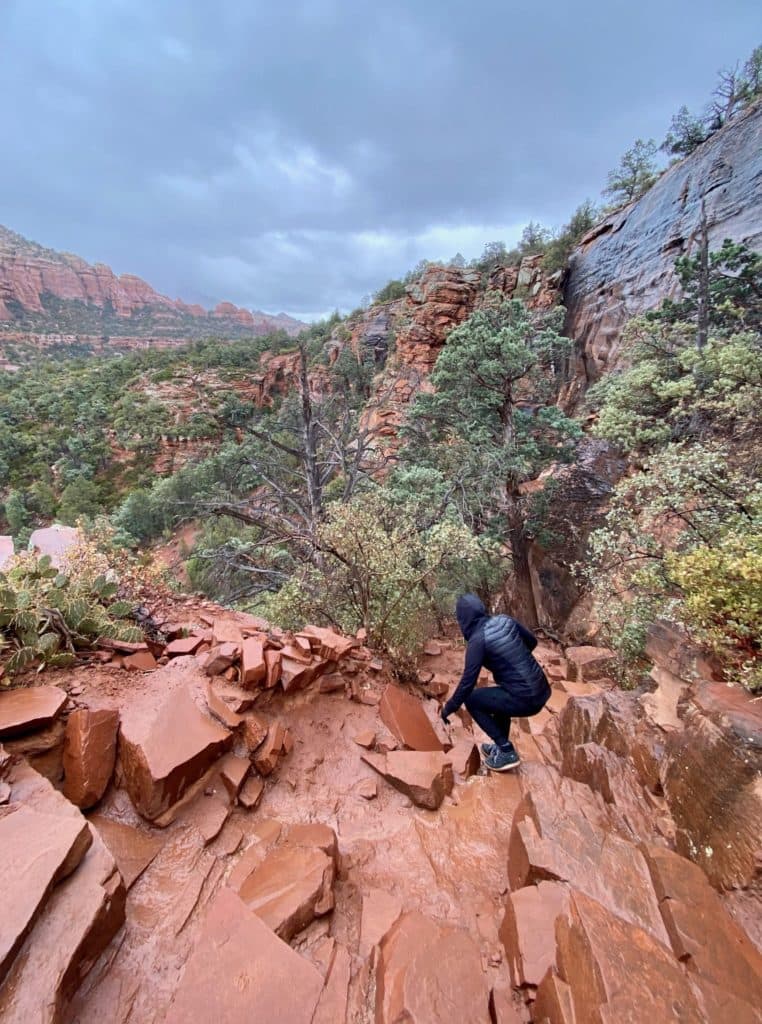 Make it to the end of the trail and you will finally reach the famous Devil's Bridge. It was raining when we climbed up which made the rocks incredibly slippery and muddy, so we didn't walk across the bridge ourselves. But this brave soul took a few steps out.

Slide Rock State Park
Don't skip Slide Rock! At the far north side of Sedona, you'll find this gem. It costs $20 per vehicle to enter, but we promise it's worth it.
Crystal clear water glides through stunning red rock formations, so clear you can see to the bottom! Hike along the water – or if you're visiting during the summer, go for a swim. Lay out a picnic, or sunbathe on the smooth rocks. You can definitely spend a few hours exploring and hanging out here!
Sedona Vortexes
You can't spend too long in Sedona without hearing about the Sedona vortexes. OK, so the correct term is "vortices" but that's rarely used. And you'll see alternative medicine and spiritual shops all around Sedona. So what is a vortex?
A vortex is a center of energy thought to promote healing and meditation. If you ask Visit Sedona, all of Sedona is a vortex – but there are certain spots where the energy is thought to be even stronger. Many people do yoga or meditate at these sites.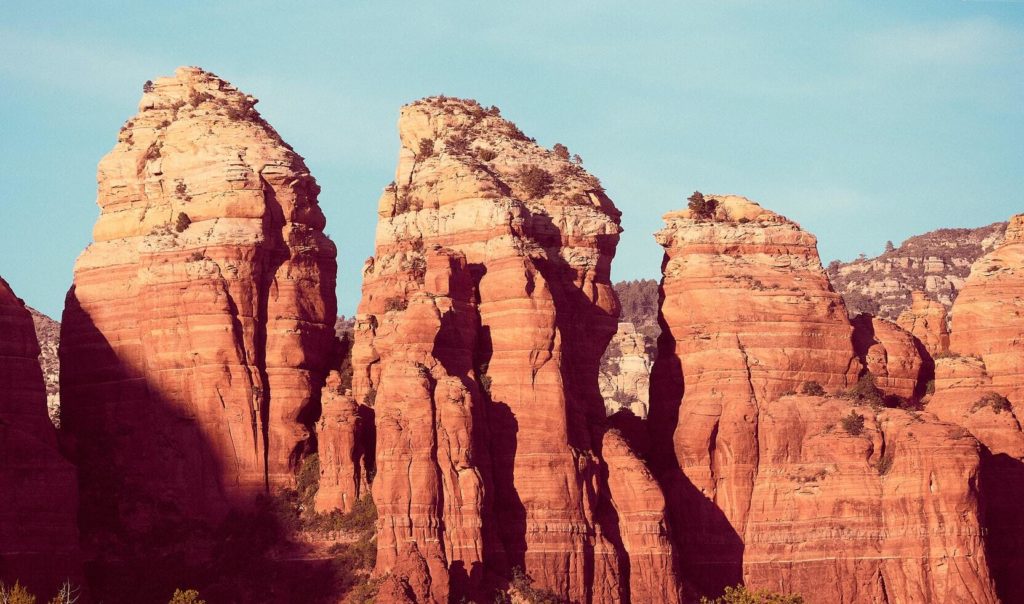 The top four Sedona vortexes are Airport Mesa, Bell Rock, Boynton Canyon, and Cathedral Rock. These hiking trails are also incredibly popular for the beautiful views.
There are guided tours but you can easily visit these spots on your own. Vortex maps are available for free at the Sedona visitors center.
Sedona ATV & Jeep Tours
One of the most popular things to do in Sedona is to rent ATVs or do a jeep tour of the area. Depending on what – and with whom – you book, you can do this for a little … or a lot.
Some of the more popular guided Jeep tours are Pink Adventure Tours and Sedona Jeep Tours. Most of the tours range from 2-3 hours and cost between $70 – $200 per person. Most companies offer several different routes based on what you'd like to see.
If you're looking for something self-guided instead, we'd recommend booking an ATV yourself. Rent a 1-, 2-, or 4-person ATV for a half-day (4 hours) or full-day (8 hours) and explore. Most ATV companies provide a few suggested itineraries with maps, but you can have some fun exploring off the map too!
And if you're looking for a little extra thrill, ATV companies can deliver. There are some wild off-roading opportunities along the paths and routes! Popular Sedona ATV rental companies include Sedona ATV and Sedona Off-Road Center. Rates start at $199 per vehicle for a half-day, going up in price depending on your ATV style.
Wine Tasting in Cottonwood, AZ
Cottonwood is a small city just under 30 minutes southwest of Sedona. And it's worth a visit.
Cottonwood has a small historic downtown, with shops, restaurants, a brewery, and about a dozen wine tasting rooms. Just at the end of the Old Town, there is an easy walking trail, called the Jail Trail, leading to the Verde River.
This is a great spot to wander for an afternoon and grab dinner. It's a quieter spot than Sedona with cheaper food and drinks. Merkin Vineyards is a great spot to try some Arizona wine and eat some homemade pasta. The Tavern Grille is a good family spot for burgers, sandwiches, craft cocktails, and beer.
Explore Jerome, AZ
Jerome is just another 15-minute drive from Cottonwood – or 45 minutes from Sedona.
This quirky town is built into the side of Cleopatra Hill and offers beautiful views of the Sedona Red Rocks and even the mountains near Flagstaff. Once known as the "wickedest town in the west" Jerome was a copper mining town. Now you can visit the mine and go on ghost tours. There are also plenty of wine tasting rooms, art galleries, and restaurants.
Take a Day Trip from Sedona to the Grand Canyon
The Southern Rim of the Grand Canyon is a little over two hours from Sedona and makes a fairly easy day trip.
But the key is to leave early: You'll want to get to the Grand Canyon entrance before 9 a.m. to avoid the hours-long wait to get in. And it's worth the early drive.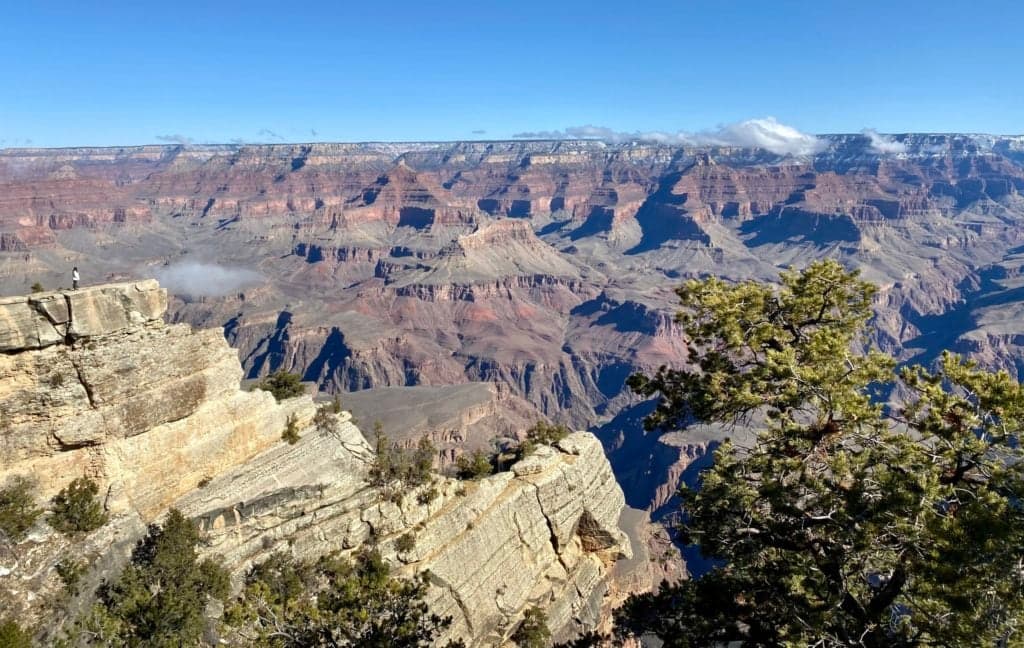 Getting into the Grand Canyon costs $30 per car. But you can also use a National Parks Pass – which you can purchase ahead of time for $80 a year – and get unlimited free visits to the Grand Canyon and other national sites all year.
Make sure to plan your day at the Grand Canyon ahead of time. There is a lot to see and do in a large space so plan your day strategically. Due to COVID-19, some of the park bus routes are closed or limited.
Thrifty Tip: To get through the entrance faster, purchase your National Parks Pass ahead of time online. It can a few weeks to be mailed to your house, so plan ahead. You can also buy an entrance pass at a few gas station stops on the way to the park.
Bottom Line
After seeing photos of Sedona, how could you not want to go? This gorgeous area nestled between Phoenix and Flagstaff has so many attractions and activities for everyone: off-roading adventures, peaceful trails, delicious restaurants, and stunning views surrounding it all.
These are our favorite things to do in Sedona – we hope you'll love them, too!