Navigating baggage fees on any airline is filled with twists, turns, and increasingly higher prices. American Airlines baggage fees are no different.
Unfortunately, the days of getting a free bag on your flight are largely over. Just as on almost any carrier, what you'll pay when checking a bag when flying with American Airlines depends on how many bags you have, how big they are and how much they weigh, and where you're flying.
U.S. airlines have turned baggage fees into a cash cow, raking in $6 billion on bag fees alone in 2019. That makes it critical to know what kind of fees you're in for – and with the right approach, you could pay no bag fees at all.
So whether you're looking to check your ski equipment, want to know how to bring your pet aboard, or are looking for the best ways to get your baggage fees waived, this guide has you covered.

Guidelines for American Airlines Carry-on Baggage
It's not a checked bag, but carry-on baggage allowances might be even more important.
Bringing a carry-on bag on your American Airlines flight is free – even with the cheapest American Airlines basic economy fare. But that's only the case if you adhere to a list of restrictions.
Personal Items and Carry-ons
With all American Airlines tickets, all travelers can bring one personal item and one carry-on item. But even then, there are rules.
Personal items, like purses or small handbags, must fit under the seat in front of you and cannot exceed 18 x 14 x 8 inches in size.
Carry-ons cannot exceed 22 x 14 x 9 inches in size, including handles and wheels. This includes both hard-sided and soft-sided baggage. Fortunately, there's no published maximum weight for carry-on bags.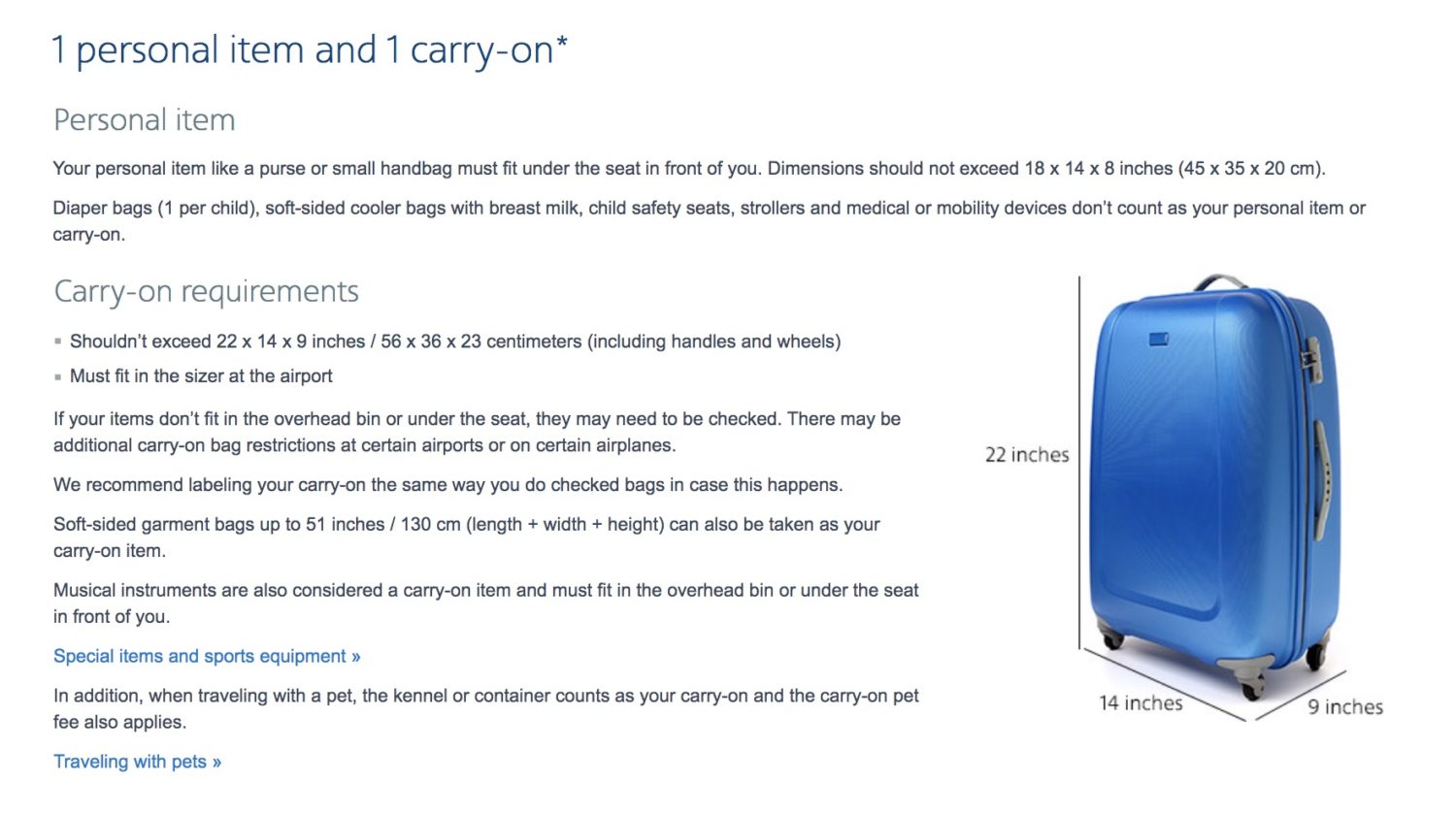 All airports with American Airlines flights have sizers available where you can test to see if your bag fits. If they are too big, the airline may require that they be checked instead.
How Many Bags Can You Carry On American Airlines Free?
You can bring one carry-on bag and one personal item to any American Airlines flight. Travelers who bring more baggage to their flight may be required to pay to check one or more of the items.
Flying with Children and Infants
Families get some special treatment when it comes to baggage. But first, some basics.
When flying with children and infants, travelers are expected to book everyone on the same reservation to make sure the child is seated with at least one adult during the flight. Families with children under 2 years old can ask to board early at the gate and are allowed one carry-on diaper bag per child.
Children under 2 children are considered lap infants and can sit on the lap of any of the travelers ticketed on the reservation. But children 2 and up need to have their own ticketed fare – and seat – to travel.
Every flyer is allowed one free checked stroller and one car seat, both of which can be checked at the gate before boarding unless it weighs more than 20 pounds.

American Airlines Carry-on Exceptions
Carry-on pets are allowed on all American flights – at least to places where pets are permitted to enter. Carry-on pets cost $125 for each flight (one-way). Pets must stay underneath the seat in front of you the entire flight.
If you are flying on some smaller, American Eagle regional planes with limited overhead bin space, American Airlines will gatecheck your bag before boarding, meaning it will be tagged and checked free of charge at the gate. After landing, you can simply grab your bag on the jetbridge as you exit the plane.
Guidelines for Checked Baggage with American Airlines
American Airlines checked baggage fees are largely based on where you are traveling and what kind of ticket you purchased. But if you've got the right credit card in your wallet or have earned elite status with AA, you're in luck…
American's Checked Bag Requirements
The standard American Airlines baggage fees apply to most travelers, so long as your checked items are not more than 62 inches (height + width + length) and are under 50 pounds. Those size requirements are pretty standard across U.S. airlines.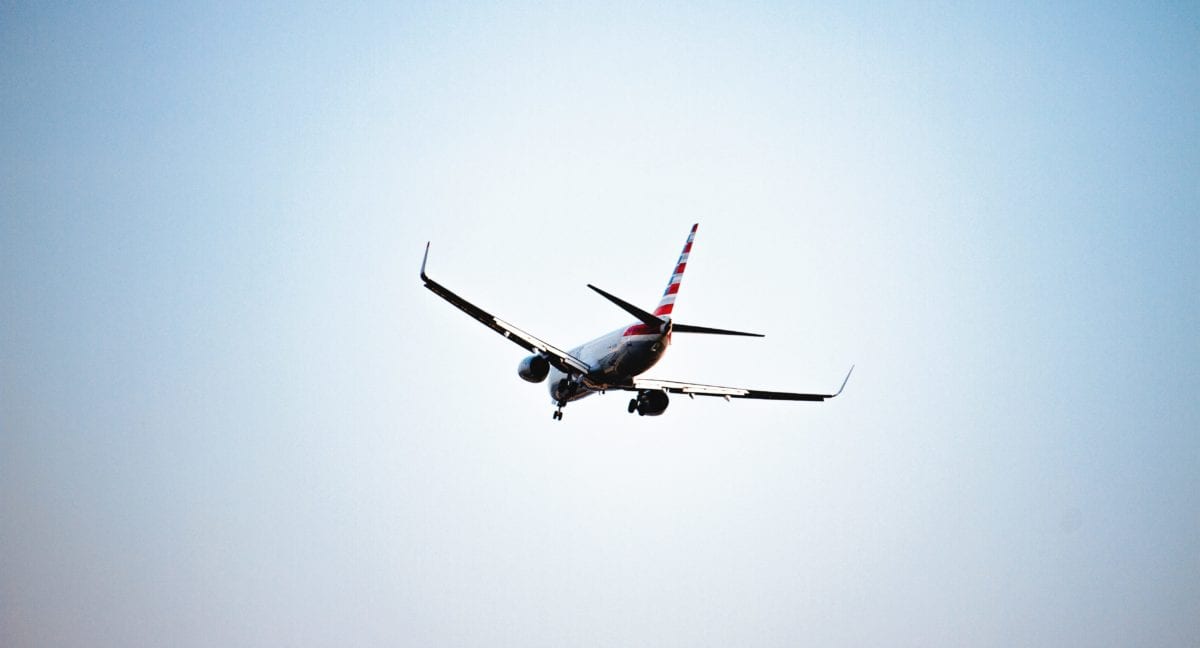 Got a bigger bag? Or one that's too heavy? You'll be on the hook for overweight or oversize baggage fees, which are even spendier than the standard baggage fees.
American Airlines Checked Bag Fees in Economy
This chart outlines how much you'll pay in American Airlines baggage fees based on where you are traveling – and what kind of ticket you purchased. These fees apply each way, so double them for a roundtrip flight.
Note that entries marked with an asterisk denote baggage fees for the cheapest American Airlines basis economy tickets, which can differ from a main cabin ticket on some routes.

| Region | First Bag | Second Bag | Additional Bags |
| --- | --- | --- | --- |
| Domestic | $30 | $40 | $150-$200 |
| Mexico | $30 | $40 | $200 |
| Haiti | Free/$30* | $65 | $200 |
| Cuba | Free/$30* | $65 | $200 |
| Caribbean | $30 | $40 | $200 |
| Central America | $30 | $65 | $200 |
| Guyana and Suriname | $30 | $40 | $200 |
| South America | Free/$45* | $65 | $200 |
| Transatlantic | Free/$75* | $100 | $200 |
| Transpacific | Free | Free | $200 |
*Basic Economy
Follow this chart, and you'll see that the first bag always costs $30 for a domestic flight. The same is true for flights to Mexico, the Caribbean, and Central America.
You'd get a first checked bag free on a transatlantic American Airlines flight to the U.K. or France – unless you bought a basic economy fare, in which case you'd pay $75. And on the ultra-long transpacific flights to Asia or Australia, you always get two bags free!
Exceptions to Baggage Fees
Flying first class or a premium cabin? First class customers receive an allowance of three free checked bags weighing up to 70 pounds. American Airlines business class customers receive two free checked bags up to the same limit. Additionally, premium economy customers flying to Alaska or Hawaii also get two free checked bags.
Got an American Airlines credit card in your wallet like the AAdvantage World Elite Mastercard from Barclays or the Citi AAdvantage Platinum Select World Elite Mastercard? You can get a first checked bag free on any domestic American Airlines flight.
Finally, frequent flyers with American who have earned AAdvantage elite status can get free bags, too. AAdvantage Gold members can get their first bag free, while AAdvantage Platinum flyers can get two free bags. But the best baggage benefits are reserved for Platinum Pro and Executive Platinum, who can check three bags free.
What's better than a cheap bag? A cheap flight! Read our guide on how to find cheap flights and our favorite tool to find them, Google Flights! 
Sports Equipment
From javelin poles to windsurfing equipment, AA has a policy for nearly everything you could ask to bring on a plane. You can find American Airlines' full list of policies here, but here are some of the most popular ones.
Bicycles
Bicycles must be in a hard case, bag, or box. Checked bicycles are considered standard baggage up to 50 pounds. If above 50 pounds, a $150 fee applies.
Fishing Equipment
A rod case and an equipment bag or tackle box count as one checked item together. Standard fees apply up to 50 pounds and a $150 fee applies if more than 50 pounds.
Golf Clubs
Golf bags can be checked for standard baggage fees up to 50 pounds. A $150 fee applies if more than 50 pounds.
Hockey & Lacrosse Equipment
One bag and one stick bag count as one checked item together, up to 50 pounds. Standard checked bag fees apply unless over 50 pounds, then a $150 fee applies.
Ski & Snowboard Equipment
One pair of skis or one snowboard and one equipment bag count as one checked bag together. Standard baggage fees apply up to 50 pounds. Overweight fees apply if more than 50 pounds.
Fees for Overweight Bags on American Airlines Flights
Whether you're flying first class, economy, or basic economy, oversized or overweight checked baggage will still cost you a little more. Make sure your luggage falls within these size and weight categories to avoid paying potentially hundreds in fees.
Oversized Baggage (62-126 inches: height + weight + length)
Baggage fees domestic:

U.S./Puerto Rico/U.S.V.I/Canada – $200

Baggage fees international:

Mexico/Caribbean/Central America – $200
South America – $150
Transatlantic – $150
Transpacific – $200
Overweight Baggage (51-70 pounds)
Baggage fees domestic:

U.S./Puerto Rico/U.S.V.I/Canada – $100

Baggage fees international:

Mexico/Caribbean/Central America – $100
South America – $100
Transatlantic – $100
Transpacific – $100
Overweight Baggage (71-100 pounds)
Baggage fees domestic:

U.S./Puerto Rico/U.S.V.I/Canada – $200

Baggage fees international:

Mexico/Caribbean/Central America – $200 (except Cuba)
South America – $200
Transatlantic – (Not accepted)
Transpacific – $450 (Not accepted to/from Australia)
How You Can Avoid American Airlines Baggage Fees
Now you know what you're up against. It's time to learn how to avoid paying these (at-times exorbitant) fees altogether.
Luckily, there are plenty of ways to get around these fees when flying with American Airlines.
Pack in a carry-on bag only
It doesn't get any simpler than this: If you don't have to check a bag, don't! Carry-on baggage fees don't exist with American Airlines, even for basic economy fares.
Other airlines, including United Airlines and JetBlue, don't allow flyers with basic economy fares to bring a carry-on bag. But you're set to bring a personal item and carry-on bag flying with American.
We recommend carrying on whenever possible – especially post COVID-19! It saves you time at check-in and at the baggage claim, it saves you stress worrying about lost luggage, and it saves you money. We promise you: It's possible to pack in just a carry-on bag for almost any trip.
Check out some of our favorite carry-on bags if you need to pick one up.
Hold AAdvantage Credit Cards
Almost every co-branded American Airlines credit card comes with at least one free checked bag on domestic flights.

Those cards offering free domestic checked bags are:
Citi® / AAdvantage® Platinum Select® World Elite Mastercard®
CitiBusiness® / AAdvantage® Platinum Select® Mastercard®
American Airlines AAdvantage® Aviator™ Silver Credit Card
American Airlines AAdvantage® Aviator™ Business Credit Card
Read more: The Best American Airlines Credit Cards
Unfortunately, this benefit only applies to domestic flights. Unlike other airlines that offer free baggage benefits to their co-branded credit cardholders, you won't always get a free bag heading to Mexico, the Caribbean, or Europe.
On the bright side, you can help out some friends and family with a free bag, too. Up to four companions booked on the same reservation can also get their first bag free. And best of all: You don't have to pay for your flight with your AA credit card to get that benefit.
Read more: Do You Have to Pay With Your Airline Card to Get Free Baggage?
Earn AA Status
Earning status with either American Airlines or the oneworld Alliance can also earn you free checked bags on American Airlines.
While more expensive and cumbersome to do for the everyday traveler, those who already travel a lot with American or its partner airlines could earn free checked bags. Here are how many bags are allotted to each status level:
1 free checked bag
AAdvantage Gold
oneworld Ruby
2 free checked bag
AAdvantage Platinum
oneworld Sapphire
3 free checked bag
AAdvantage Executive Platinum
Advantage Platinum Pro
oneworld Emerald
Bottom Line
American Airlines may not have the most confusing baggage policy, but it can still leave your head spinning if you aren't prepared before your next flight.
Generally, you can expect to pay at least $30 each way flying with American – or much more if you're heading to Europe. Bigger bags, overweight luggage, or checking multiple bags per trip could cost you a small fortune.
But by packing in just a carry-on bag, holding the right credit card, buying the right fare, or earning status, you can avoid paying American Airlines baggage fees altogether.