If you're looking to spice up an upcoming trip with some local guidance, look no further than Airbnb Experiences.
Airbnb has made it easier than ever to find tours, day trips, and unique activities and experiences led by local guides in most major cities. Even if you aren't leaving town, you can find an awesome experience in your hometown. And during the pandemic, Airbnb even brought these experiences online.
We're certain that Airbnb Experiences can become a key part of your travel planning. And the best part is that you don't need to be staying in an Airbnb to book one of these experiences.
What are Airbnb Experiences?
Launched just a few years ago, Airbnb Experiences is a separate service offered by the popular homestay company. You can use the normal Airbnb platform to search for top-rated tours, activities, day trips, and other experiences guided by a local.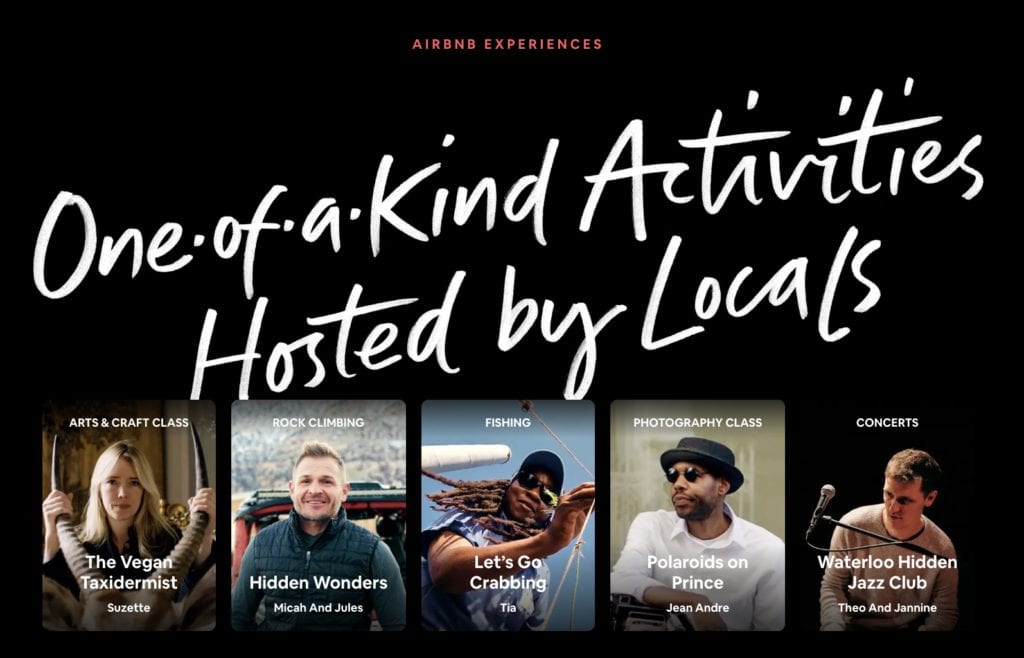 In most cases, these aren't your typical walking tours or day trips – though you can find those, too. These unique experiences range from guided hikes to photo shoots and everything in between.
Booking an Airbnb Experience is a great way to get a taste of local flavor (literally – many cities have some great cooking classes and foodie tours!) in a new city. You don't need to be traveling to use Airbnb Experiences: They have some cool activities to do even in your hometown for a fun weekend or date night.
And you don't need to be staying in an Airbnb during your trip to book one! Book an experience like you would any other tour or activity, and you'll be set.
Browse Airbnb Experiences
To check out Airbnb Experiences, go to Airbnb.com and click the "Experiences" button at the top of the homepage. Through the app, you'll find the option to search for Experiences after entering your destination.

Otherwise, head to the Airbnb Experiences homepage and browse through some of the options. Airbnb will even show you a handful of Experiences available if you've got an upcoming stay, like for my trip to Cartagena in Colombia coming up. Or you can spin through Experiences in popular cities like New York, Paris, or Los Angeles.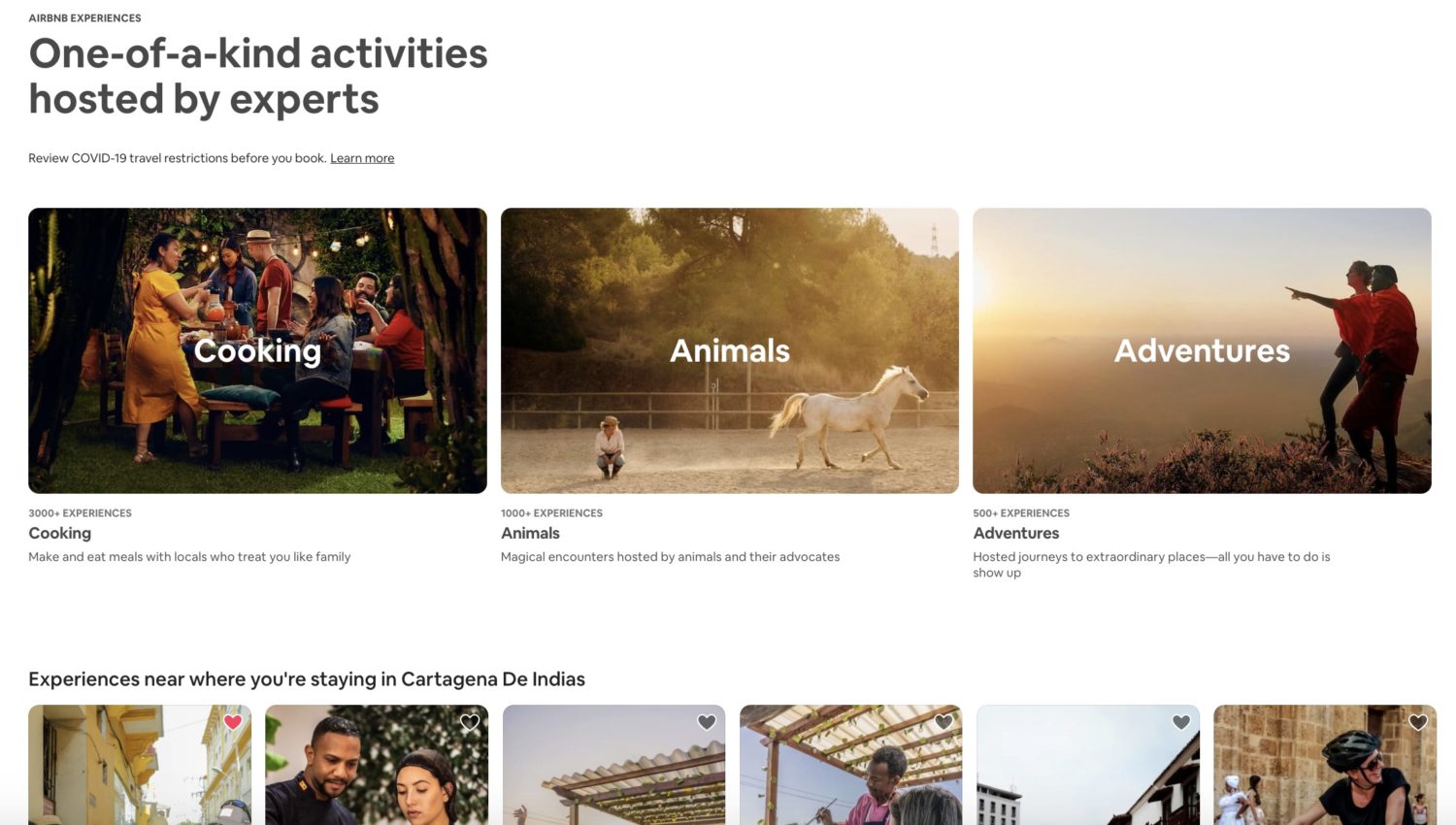 Airbnb Experiences offer unique opportunities you'd likely not find on tour websites or tourism boards. Beyond the typical walking tour, you can book anything from a personal photography session in Tokyo to a cooking class in Rome to a private concert in Milan. Fair warning: You'll likely get sucked into the Experiences rabbit hole while browsing all these awesome options.

For example, my wife and I found a pair of Airbnb Experiences for our trip to Colombia that we're incredibly excited about. There's our nearly four-hour-long food tour through the streets of Bogota, with seven stops to try authentic dishes and drinks for just $30 apiece.

And once we make it to Cartagena, we're finally going to try our hand at surfing thanks to these reasonably priced lessons through Airbnb Experiences!

Searching for Airbnb Experiences
Once you've pulled yourself out of the browsing rabbit hole, enter your destination and travel date(s) and take a look at the numerous options that await you.
Let's say you're looking for things to do in Mexico City next month. Airbnb Experiences will pull up a map that automatically sorts the results of available tours, classes, and day trips with the rating and cost of each Experience easily displayed.

You can filter based upon what kind of Experience you're looking for, whether it's a food tour, arts and culture, sports, or even something outdoors. Or just move around the map and the results will change with you. You can even narrow down to make sure your results only display options with availability for two (or more) travelers, set pricing limits, pick a specific time of day, or make sure your guide can speak your language.
Much like the Airbnb homes interface, the ability to filter and tailor your search will make planning your next trip even easier.
How to Book the Best Airbnb Experience Possible
As you start to narrow down options for your next trip, keep these tips in mind:
Take note of the details provided on the Airbnb Experience page. Make sure you know where the Experience takes place, how long it will last, and what's included for the price. You can also read about your host and what you will do during this Experience.

Then, just as you would before booking an Airbnb home, take a read through the recent reviews. Airbnb Experiences also feature guest photos, so you can get a look at what the Experience will entail.
Make sure there is enough availability for your whole party before booking: If you're traveling as a group of four, be sure to search for four people.
Before booking, make sure you've read the cancellation policy.

Bottom Line
If you're looking for an awesome tour or unique activity, Airbnb Experiences has got it covered. These Experiences are especially useful for solo travelers as it's a great way to meet new people. Airbnb is making it easier than ever to find exciting excursions and activities hosted by local guides with rave reviews from fellow travelers. Start browsing the experiences available for your next trip!