Way back in March, Iceland became the first country in Europe to reopen its borders to Americans in more than a year. Despite the additional complications around getting in and getting back, my husband Jared and I jumped at the chance to head for Iceland last week.
And we loved it. While travel to Iceland has certainly picked up, at many times it felt like we had the entire country to ourselves, giving us more space to enjoy the rugged nature and sights that make Iceland so popular. Even the notoriously packed Blue Lagoon was practically empty. Bars and restaurants are open, with few restrictions or signs of the pandemic.
With proof-of-vaccination requirements to get in, a potential COVID-19 test upon arrival, and yet another test still required to fly back to the U.S., there's no question getting to Iceland is harder than it was just a few years ago. But to us, it was more than worth it.
Thinking about a trip to Iceland? Here's everything you need to know about travel to Iceland in 2021.
Want a cheap flight to Iceland? Let Thrifty Traveler Premium help you get there!
What are the Requirements for Entry into Iceland?
You've got a few options to get into Iceland right now. And one method is much easier than others.
If you're fully vaccinated, proof of full vaccination from all three U.S.-approved vaccines (Pfizer, Moderna, or Johnson & Johnson) will get you into Iceland, along with a pre-flight covid test. Travelers can present a paper or electronic certificate as proof for entry, according to Iceland's regulations for entry. That means your standard Centers for Disease Control and Prevention (CDC) vaccination card is just fine.
If it has been at least 14 days since your final vaccine shot you no longer have to take a COVID-19 test upon arrival as of July 1. However, you do have to get a COVID-19 test within 72 hours of departure for Iceland. a negative PCR or rapid antigen test to board your flight to IcelandYou will need to present .
If you are not fully vaccinated, meaning it's been less than 14 days since your last shot, you'll also be required to be tested for COVID-19 upon arrival at no expense. You'll have to quarantine until results are in, for just a few hours or up to a day until results come back. In our experience, it took just a few hours to get these results back.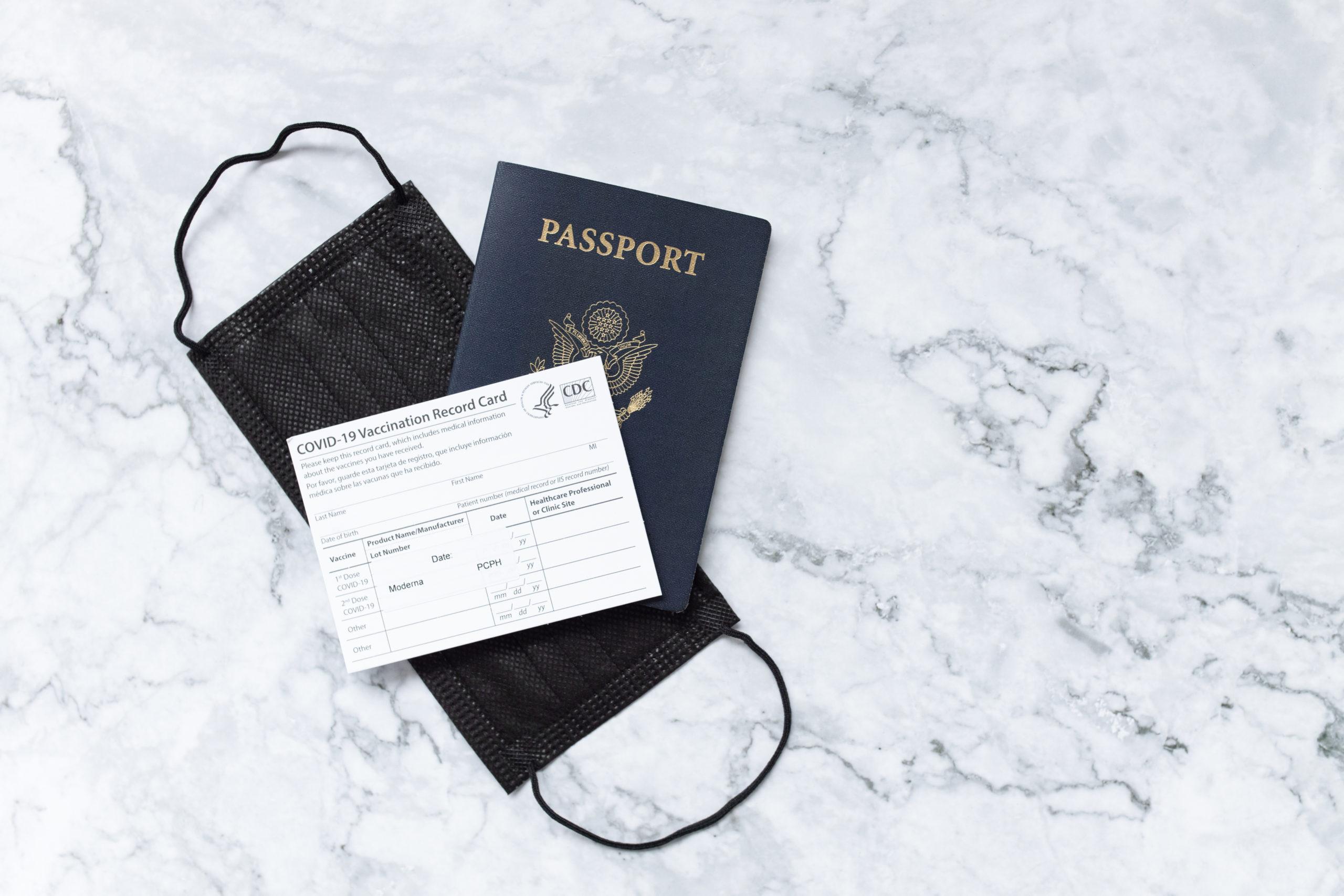 It's much harder to get into Iceland if you don't have proof of vaccination. You'll need to first take a negative COVID-19 test no more than 72 hours before arriving in Iceland, where you'll be tested a second time. Then you'll be required to quarantine for five days, get a third test, and exit quarantine if you get another negative result.
No matter which route you go, all travelers to Iceland must fill out a pre-registration form no more than 72 hours before landing in Iceland.
Read More: How to Find Cheap Flights to Iceland 
What's It Like Arriving & Getting Tested in Iceland?
With almost three months of tourism under its belt, Iceland has smoothed out the arrival process for travelers well.
After filling out the pre-registration fo0rm, you'll get a barcode that you'll need to either print or have handy on your phone. As you go through customs, they'll scan this barcode, allowing you entry into Iceland or you will be given a vial for your test. If you need to take a test, they will also confirm your phone number to text you the results.
If you are required to take a COVID-19 test upon arrival, you'll head for the testing station outside the airport. With at least a dozen people administering the tests, there was never a line. But beware: You're given both a throat and deep nasal swab, and neither feels great. But it lasts just a few seconds.
Note: Vaccinated travelers are no longer required to get tested upon arrival in Iceland.
You're free to go – but you are asked to self-quarantine until your results come in. In the meantime, you can get your rental car and head for your lodging. Results can take anywhere from just a few hours to 24 hours. In our experience, they came back within five hours. 
That left us free to explore Iceland.
What is it Like at Tourist Sites in Iceland?
Tourism is still way down in Iceland. And that means even the most popular tourist sites aren't crowded: It could be a great time to visit.
During our visit, the famous Golden Circle waterfalls and crater had just a handful of people. You won't need to fight for a parking spot or for the best photo spots.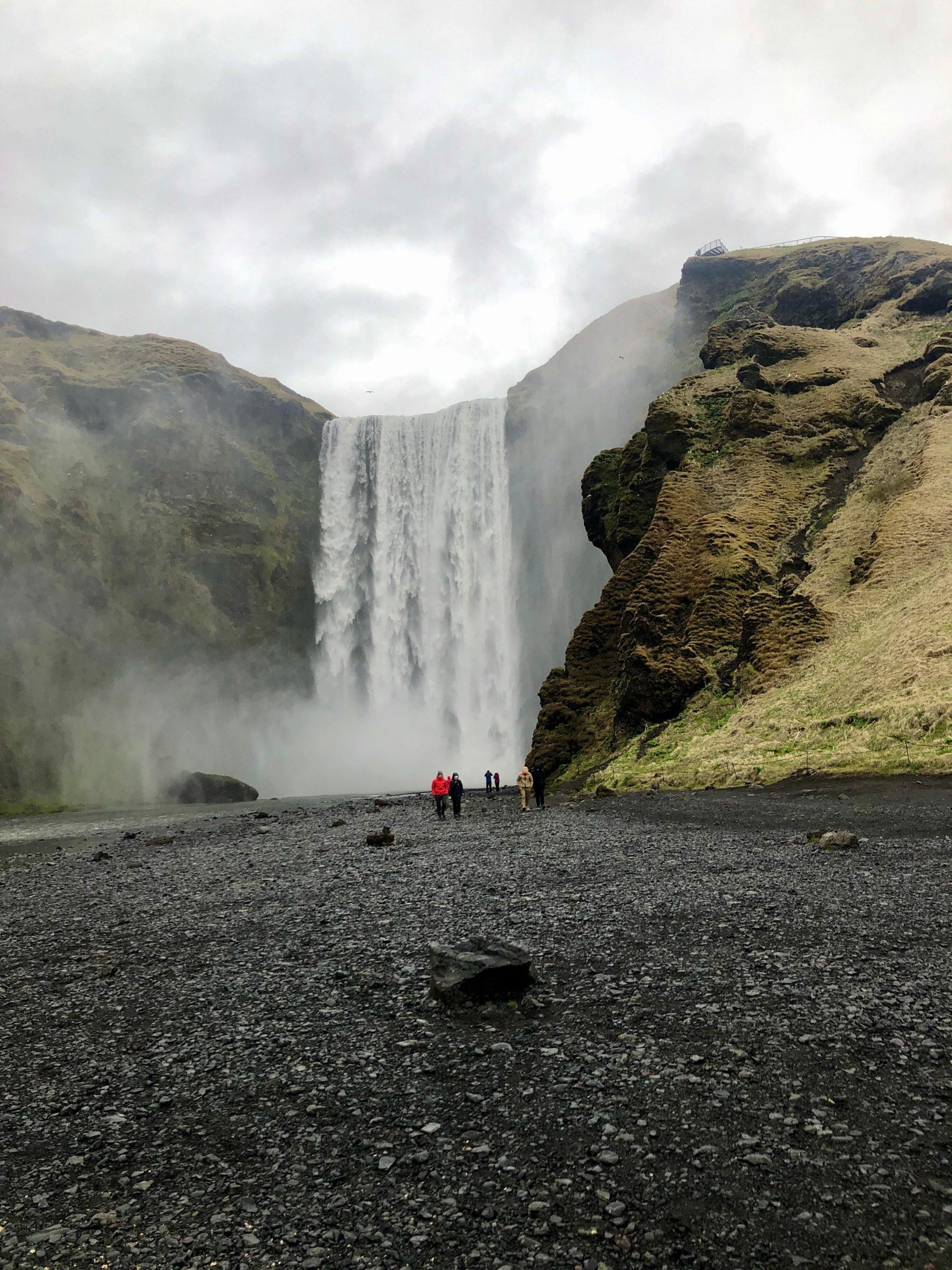 Even popular spots like the Blue Lagoon seem relatively empty these days. For many, that alone is a major selling point for a trip to Iceland.
Read More: How to Drive the Iceland Ring Road: Everything You Need to Know
Can I Visit the Volcano Erupting in Iceland?
Yes! And you absolutely should. Just look at this…
The Fagradalsfjall volcano began erupting in March, and it's still going to this day – in fact, it's expected to continue bleching steam and lava for months if not years to come.
The volcano is just 30 minutes from the airport or about an hour from Reykjavik, making it an easy and worthwhile day trip.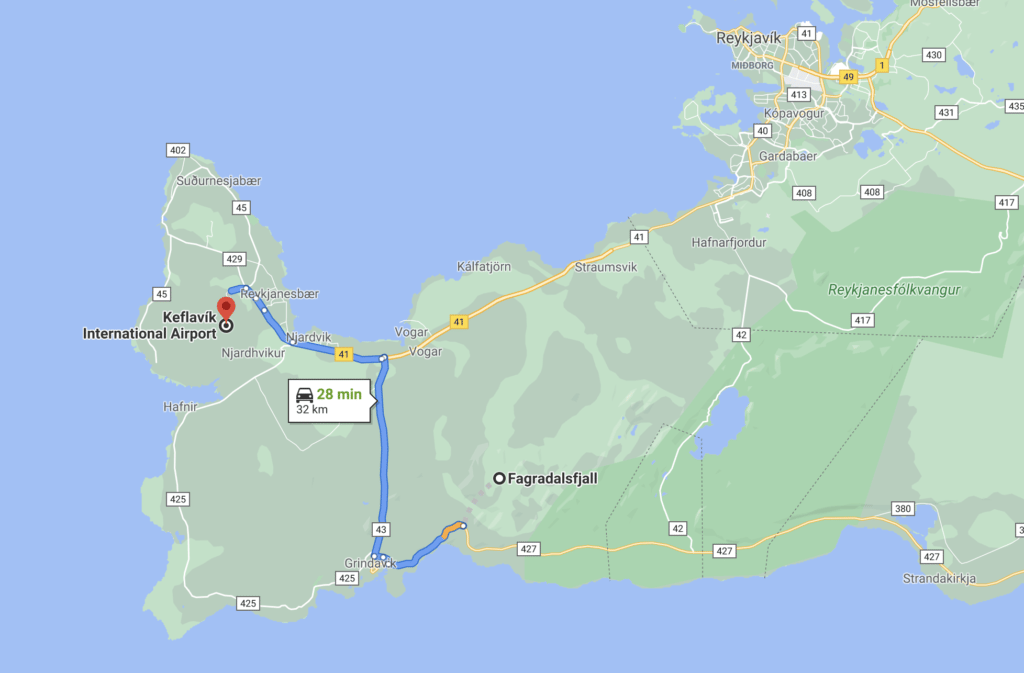 If your schedule is flexible, pick a day with the least amount of rain and less wind. Check this website for updates on the weather conditions for hiking. It's about a five-mile hike roundtrip from the large parking lot at the trailhead to the volcano, with some elevation changes. But it's easy enough for all age groups to tackle, taking about 50 minutes to climb to the top.
The volcano erupts every 10 to 15 minutes, so give yourself at least three hours total to watch this otherworldly feat – plus the hike there and back. And bring extra layers, as it's quite windy and cold at the peak.
Do I Have to Wear a Mask in Iceland?
Masks are required in the airport, on public transport, and in taxis. And that's pretty much it.
In almost any other setting, masks are not currently required. In restaurants and stores, we only ever saw one or two people wearing masks.
Are Restaurants and Bars Open in Iceland?
Most restaurants and bars are open in Iceland with little to no COVID-19 restrictions.
You're no longer required do not have to wear a mask inside. In our experience, some restaurants will ask for your name and phone number for COVID-19 contact tracing.
How is Iceland Handling COVID-19 Now?
To be honest, the entire COVID-19 pandemic felt like it no longer existed in Iceland.
On top of the lack of restrictions or mask requirements, Iceland has a very low rate of new COVID-19 infections: Just 11.5 cases out of 100,000 in the last 14 days and only one person hospitalized. The data is updated daily on the Icelandic COVID website.
What About Getting Tested Before Coming Home?
Regardless of your vaccination status, you still need to get a negative COVID-19 test before flying back to the U.S.
The U.S. still requires a negative COVID-19 test (PCR or rapid antigen test) no more than three days before your flight home. Despite the rapid vaccination campaign and travel restarting, the U.S. has not yet dropped this requirement for international travel.
Read more: 'What if I've Had Covid-19?' and More About the International Testing Requirement
And that means you'll have to find a place to get tested in Iceland in the middle of your trip.
Where Can I Get a COVID-19 Test in Iceland?
Fortunately, getting a COVID-19 test in Iceland is pretty easy.
But there's only one location to get a test easily, right in Reykjavik. You can find other locations outside Reykjavik, but it's far more complicated to get one set up.
You'll need to schedule and pay for you test online ahead of time. Each COVID-19 test costs about $60 USD and results should be received within 24 hours. But it's not a bad idea to get tested at least 48 hours before your flight home – just in case.
There was a line at the Reykjavik testing site, but it moved fairly quickly in our experience.
The process is much the same as the test arriving in Iceland. When you schedule and pay for your test, you will get a barcode. Present this barcode to get your vial for testing. After another set of nasal and throat swabs, you'll get your results via text and email with a PDF file. We received our results in just a few hours.
Get ready to show the PDF at the airport to get your boarding pass for your flight home. You can print the PDF or just show it on your phone.
FAQs About Traveling to Iceland
What time of the year should I travel to Iceland?
It depends on what you're interested in seeing and doing!
Icelandic winters are cold and dark almost all day, but you may be able to see the Northern Lights – plus, there are a ton of outdoor winter activities to do. The summer brings 22-plus hours of sunlight and warmer weather in the 50s.
What should I pack for Iceland?
No matter when you go, Iceland can get cold and wet, with unpredictable weather swings that can change hourly. You'll want lots of layers, a raincoat or waterproof jacket, and waterproof hiking shoes.
Skip the umbrella: It won't hold up with wind gusts of up to 50 miles per hour.
What kind of food does Iceland have?
You'll find lots of seafood and lamb in Iceland.
Classic Icelandic dishes include langoustine soup, lamb soup, and fish served with a sauce and vegetables.
Iceland is also famous for its lamb hot dogs. You can find them everywhere at hotdog stands – and they're a great option, as they're a rare cheap item in notoriously expensive Iceland.
Are there options for vegetarians in Iceland
Most restaurants have at least a few vegetarian options. In Reykjavik, you'll even find some vegetarian-only restaurants.
Is Iceland expensive?
Absolutely.
Food and alcohol are almost always expensive in Iceland. Expect to pay about $10 or more for a beer and $30 or more for a main course. But there are ways to save.
Save on food and alcohol by shopping at the grocery store. And watch for happy hour to grab much cheaper beers.
Read more: Our Top 10 Tips to Save Money Traveling in Iceland
Bottom Line
The pandemic has changed travel to Iceland. Travel may have resumed, but there's still a fraction of the normal amount of visitors heading for the island right now.
So while it's harder to get in (and get home), it can easily be worth the work. In fact, it didn't even like that much additional work or stress to jump through the extra hoops.