Despite its reputation, getting to Hawaii doesn't have to be expensive. Between frequent flyer mile sweet spots and cheap flights (hello, Southwest Airlines), there are some great ways to book flights for your next getaway to the islands.
There's just one problem: Many of these great deals are only available from the West Coast. So if you're in the Midwest or farther east, it can be much harder to pull off that dream trip for cheap.
That's what makes this workaround shine. While it can often cost a boatload of SkyMiles to fly Delta to Hawaii, you can book those same flights with Air France and KLM's Flying Blue program – some of the easiest miles to earn. And when you book with Air France/KLM miles, you can book flights on Delta from almost anywhere in the country to the four major Hawaiian islands … for just 35,000 miles round-trip. 
It's one of our favorite ways to get to Hawaii on points and miles. Here's how you can pull off your next trip to Hawaii for less, whether that's next month or next year.
Hawaii is open to travelers with COVID-19 testing requirements – but it may eventually replace those requirements with proof of vaccination!
How it Works
Much like Delta itself, Flying Blue doesn't publish an award chart – the cheat sheet that spells out exactly how many miles you need to book a given flight. And just as with Delta SkyMiles, that means rates when using Flying Blue miles can be all over the place.
But you can use Flying Blue miles to book seats on a Delta flight. And when you do that, it's much more predictable. And cheap.
Delta flights to Hawaii start at just 17,500 Flying Blue miles each way. That means you can fly from the continental U.S. to the Hawaiian islands and back for only 35,000 miles. And it's not just Honolulu (HNL) on Oahu. Whether you're flying to Kahului (OGG) on Maui, Lihue (LIH) on Kauai, or Kona (KOA) on the Big Island, you can find flights for 35,000 miles round trip.
There are some other great ways to get to Hawaii using miles, like using 26,000 British Airways Avios to fly American Airlines to Hawaii. Or fly with Alaska Airlines for 25,000 Singapore Airlines miles. But those options require you to get to the West Coast, so for many travelers, it won't be quite that cheap.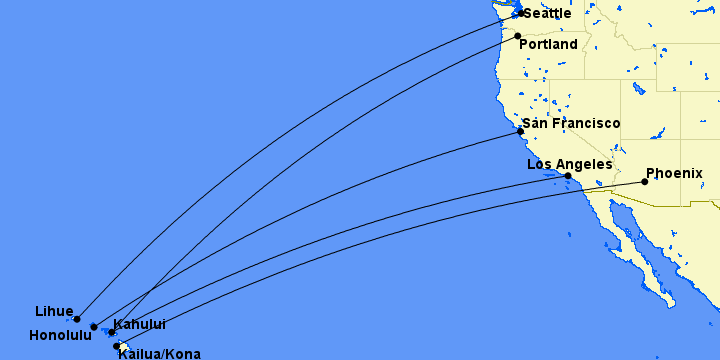 This Flying Blue sweet spot is far more expansive. You can get from almost anywhere in the U.S. with Delta service to Hawaii and back for 35,000 miles. 
Let's take a look.
The Flying Blue Sweet Spot in Action
So just how expansive and easy is it to get a flight to Hawaii for 35,000 miles using FlyingBlue?
That's true if you're on a nonstop from Los Angeles (LAX) …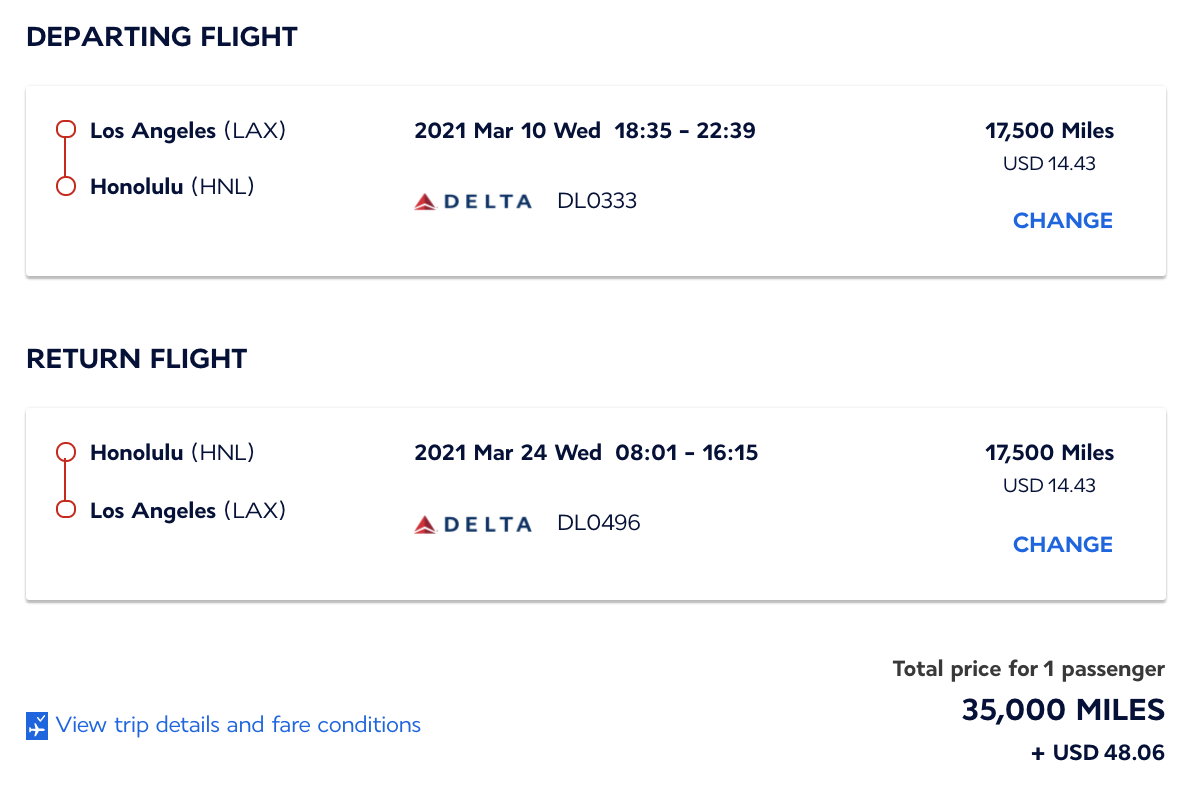 But also if you need to make it all the way from the East Coast in New York City-JFK (JFK).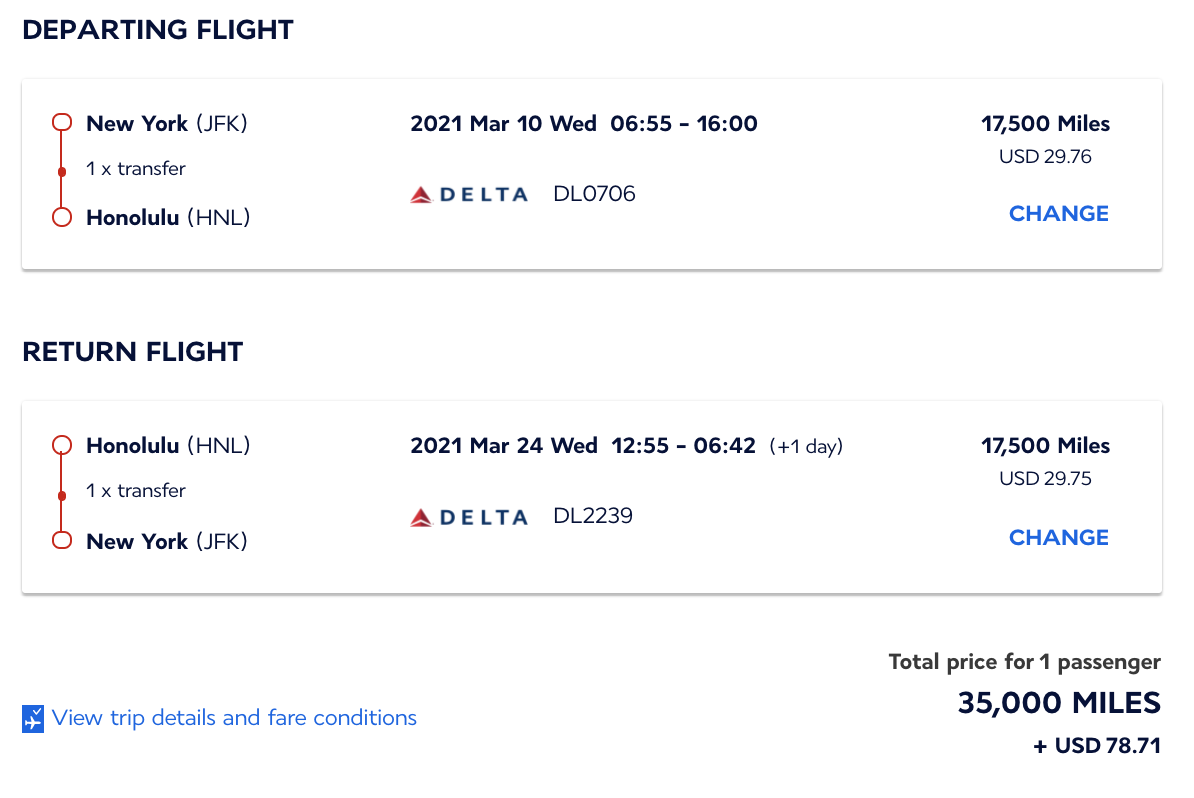 Considering Delta normally charges 50,000 SkyMiles or more for the exact same flights, this is no small thing. This workaround can pay off huge.

Travelers in the midwest are in luck, too. Whether you want to get to Maui (OGG), Kauai (LIH), Oahu (HNL) or the Big Island (KOA), it's still just 35,000 miles.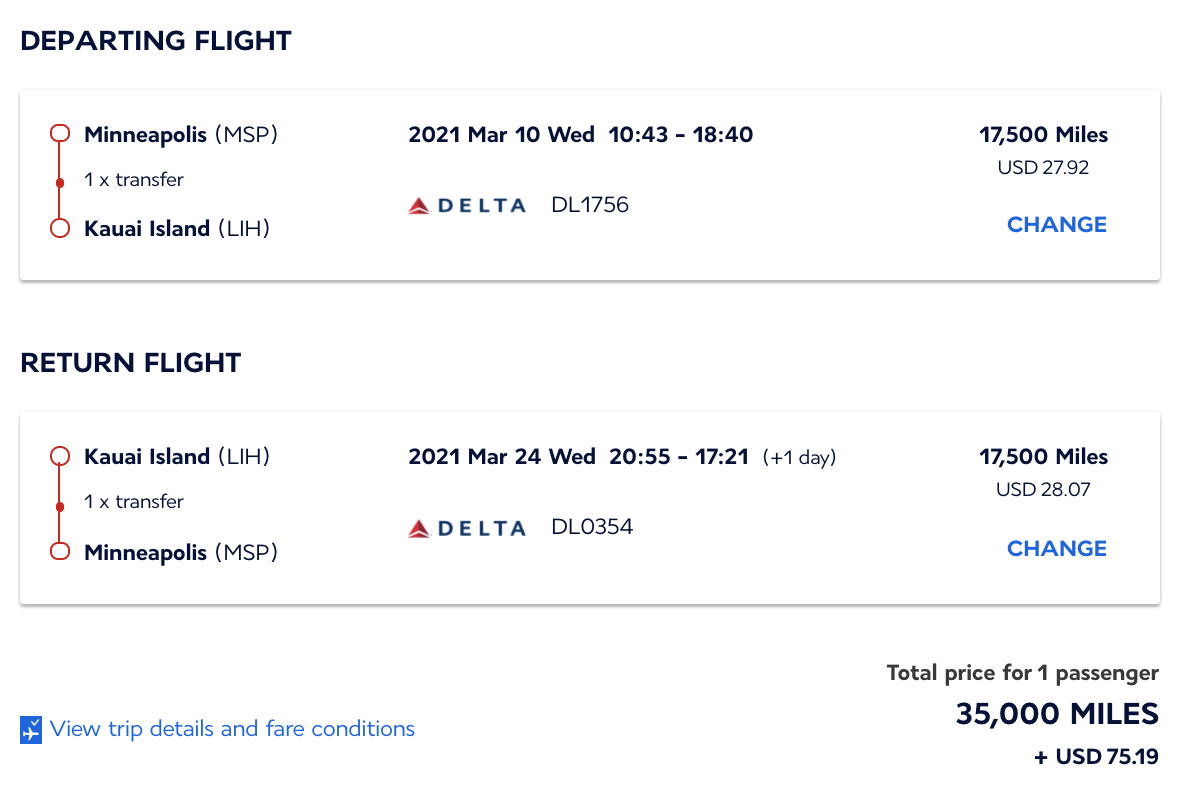 But what about much smaller airports that might require two connections each way to get to the Hawaiian islands? Even from airports like Fargo (FAR) in North Dakota, you can still find flights for just 35,000 total.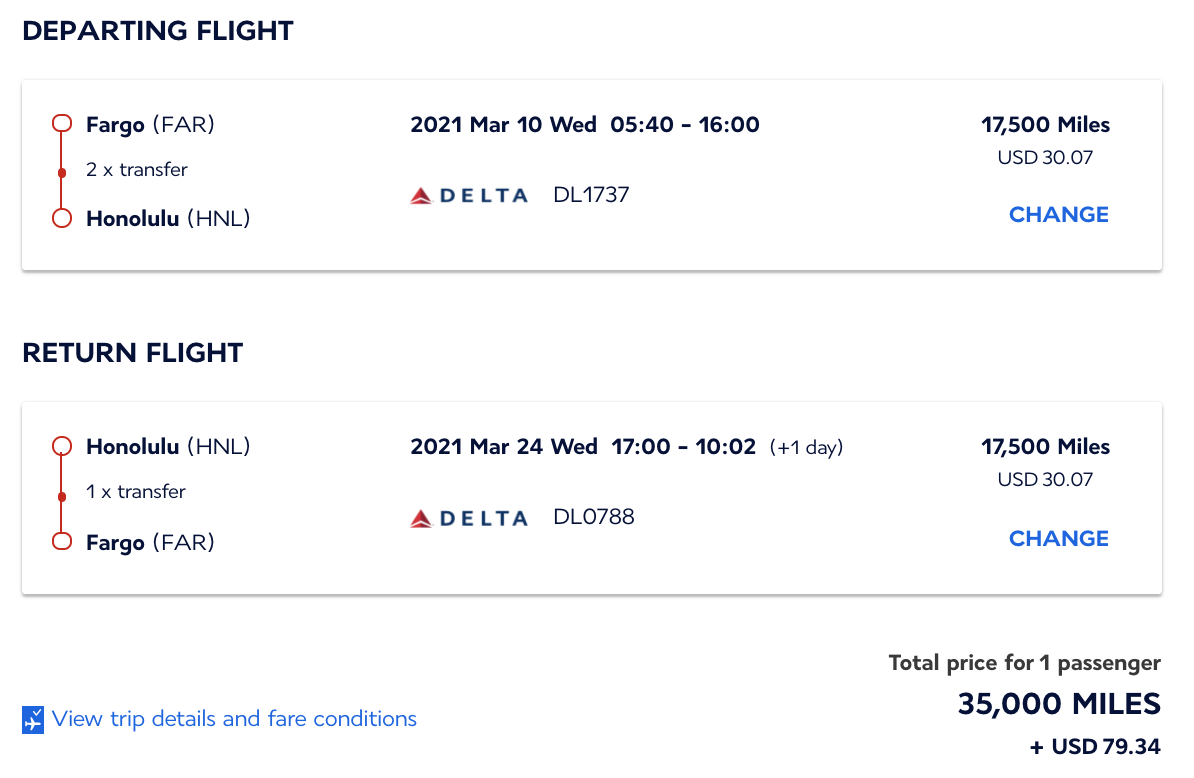 Especially on flights from these farther-flung airports, the savings can be enormous. These same Delta flights would normally cost more than $1,000 or a boatload of SkyMiles. Instead, you can pay 35,000 miles and some reasonable taxes and fees.
The trick is finding award availability through Flying Blue. And while it will take some flexibility and trial and error, you can see how big it can pay off.
How to Book Hawaii Flights through Flying Blue
Your patience will pay off, trust us.
First things first: Sign up for a Flying Blue account. Then head to either the Air France or KLM website and click "Use Your Miles."

Flying Blue has a handy calendar search that you can generally use to scroll through a month's worth of flights to find the best times and prices. There's just one problem: It doesn't work when you're searching for Delta flights. Every time you click "You are looking for a flight around these dates" for a flexible search, it will return nothing. Even if there are flights available on those dates, the site will give you this error:

So that means you need to manually search each date, one by one. Depending on what time you're traveling and what airports you're heading to and from, it could take some trial and error to find dates that work.
It helps to search the departing and return flights as separate one-way flights, rather than searching for a round-trip flight right off the bat. Find a departing date that works, then work on the return availability. Once you've found two dates that work, stitch them together in a round-trip booking.
One heads up: Flying Blue's website is notoriously glitchy. You might get your flights picked out only to try to book and get an error. Give Flying Blue a call at 1 (800) 375-8723 and get ready to feed them your flight information. In our experience, any flights that show up in your search are, in fact, bookable.
You could also hit two Hawaiian islands in one trip: Fly into Maui (OGG) using Flying Blue, then head home from Oahu (HNL) using Flying Blue miles on a separate one-way trip. Just book a cheap flight on Hawaiian Airlines or Southwest to get between the two islands. And if you're traveling anytime soon, keep in mind that travel restrictions on island hopping could make it a bit tricky.
How to Earn Flying Blue Miles
Although though you'll be flying Delta, Delta SkyMiles won't help you here. What you need are some Flying Blue miles. Luckily, they are some of the easiest to earn in the world of points and miles.
You can transfer credit card points to a Flying Blue account from Chase, American Express, Citi, and Capital One. You can even transfer a stash of Marriott Bonvoy points to become Flying Blue miles.
Bottom Line
This sweet spot is so good, it seems too good to be true. But this is real: You can hop on a Delta flight from almost anywhere in the U.S. and fly to the Hawaiian islands and back for just 35,000 miles. And you can thank Air France-KLM Flying Blue miles for that.