California is nearly synonymous with its two largest cities, San Francisco and Los Angeles – and maybe San Diego, too. But there's so much more to our nation's third-largest state than Hollywood or the Golden Gate Bridge.
From smaller beachside towns with a local vibe to the hidden gems scattered along the highways between Los Angeles and San Francisco, there are plenty of spots to break up a unique and memorable road trip. So when you're searching for the feeling of freedom driving down the open road, Central California is for you.
Or just hit a few of these highlights. And watch for tips for kids throughout – this was a trip for a family of four, including two young children.
Santa Barbara
Santa Barbara (SBA) has its own small airport northwest of Los Angeles, making it an easy jumping-off point if you're not up for a longer road trip. Or you can fly into Los Angeles (LAX) and grab a rental car to begin your drive north.
This city's trademark is the abundance of red-tiled roofs and whitewashed stucco buildings, reflecting its Spanish heritage. Spend time walking down the main road, State Street, to soak in the architecture.
Many hotels and businesses exude this style, with a trendy and upscale vibe. There is even a free self-guided red tile roof walking tour through the city, along with a free historical walking tour offered several times a week. Further inland you can visit the historic Old Mission.
Check out Franciscan Inn, Hotel Milo, Casa Del Mar Inn, Harbor House Inn, or The Eagle Inn for a local hotel option surrounded by the Spanish-inspired architecture in this neighborhood a block or two from the beach.
State Street has much of the restaurant and shopping scene. Head to McConnell's Fine Ice Creams for locally sourced and incredibly tasty treats. There are multiple taquerias, including the popular Lilly's Taqueria. Or opt for seaside dining atop the rooftop deck on Stearn's Wharf at Longboard's Grill (above Harbor Restaurant). Come morning, head to Renaud's Patisserie on State Street.
Tips for Kids: Check out the Santa Barbara Zoo or MOXI, an interactive arts and science museum right on State Street. You can also watch local fishermen at the end of the pier for free entertainment – you might even see them pull in a shark!
Solvang
A Danish town in California? A Danish town in California.
Solvang is quirky and understandably touristy, and it comes out of nowhere after driving through farmland and hills. It's like a whole little Christmas village set with shops and restaurants … set inside the steamy hills of California. If not for the heat, you'd swear you were in a small European village.
It's a fun stop on your way north from Santa Barbara to walk around and look in shops including some good toy stores for the kids, dotted with picturesque windmills. And just outside town, you'll find the Neverland Ranch of the late Michael Jackson.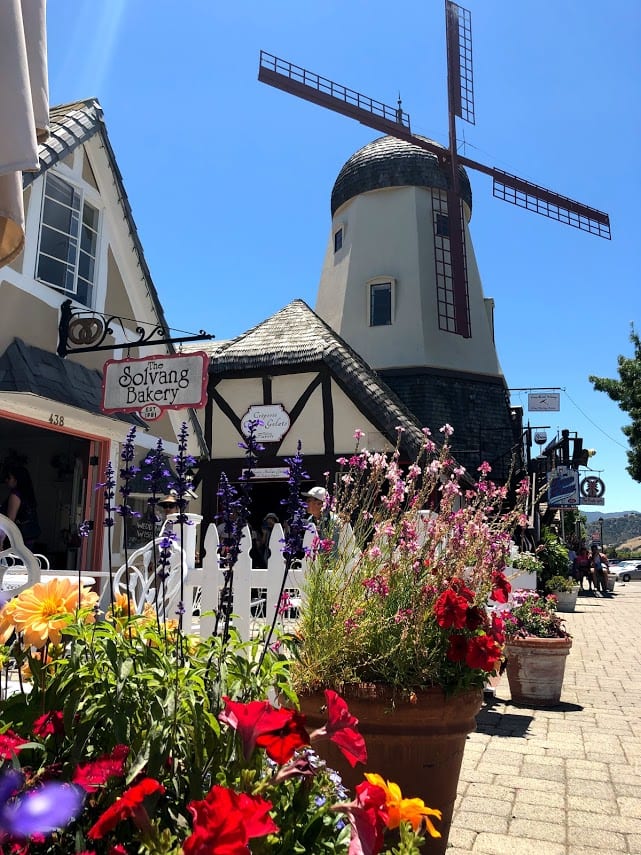 Pismo Beach
This is the classic old beach town of California that you're looking for.
Pismo has an old wooden pier, large wide sandy beach, and a few little main streets with shops and restaurants. If you're looking for that charm and laid back surf vibe, it's here.
Tips for Kids: Head out early in the morning to collect shells and even sand dollars along the beach. Only keep the dried out and grey ones, and throw back any that are purple and alive.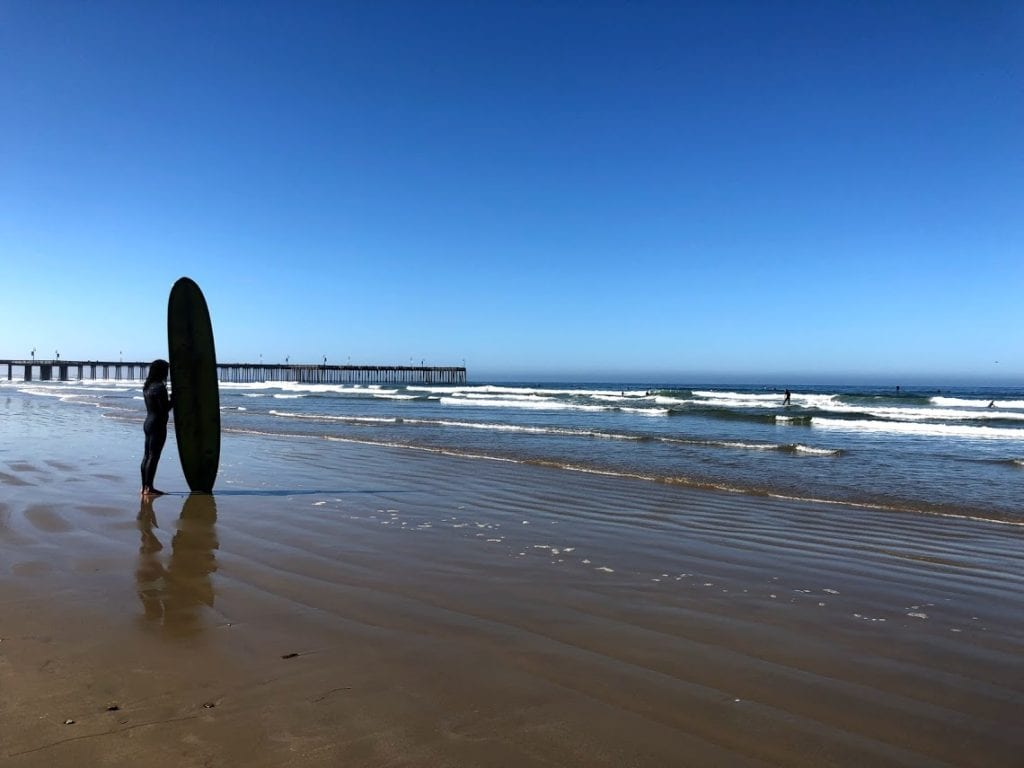 Spend time on the wide sandy beach and walk to the rock formations on the north end, taking in the surfers and body boarders. Then stroll down the main street and stop for famous clam chowder at Splash Cafe (don't be surprised to see lines out the door and around the corner). Hoagies is another local favorite. Just a few blocks down from Splash Cafe don't miss the old fashioned Old West Cinnamon Rolls.
You can also rent four-person bikes (or two-person plus a kid basket) and bike down the main road to the Monarch Butterfly Grove. Monarchs migrate here in the late fall through winter, filling the park's giant eucalyptus trees.
Just south of the butterfly grove, you can visit giant sand dunes at Oceano Dunes Natural Preserve. There are several rental places to take out dune buggies. Or just venture out and drive out on the wide flat beach – one of the few stretches of sand where that's possible. Just make sure you have the right kind of vehicle with 4WD and know the rules.

Looking to set up camp before continuing your road trip? You'll find camping beachside, too.
If you're looking for dining around Oceano, check out Rock and Roll Diner for a unique experience eating: inside of an old Amtrak train car. You'll have your pick between Mexican, comfort food, seafood, and Greek.
Thrifty Tip: Looking for a unique off-the-beaten-path stop? Check out the Luffa Farm near Nipoma, just inland and south of Pismo. It's a small quirky farm offering free tours of how they grow luffas (which are actually gourds – not sponges) open Wednesdays through Sundays for tours or shopping.
Avila Beach
Just 10 minutes north of Pismo you'll find a beach that looks straight out of a movie set.
Avila Beach has perfect, pastel beach buildings arranged around a shopping street that weaves through a non-pedestrian path to the beach. You'll find art shops, restaurants, touristy shops, coffee, and ice cream in this compact fishing and tourist town. There are beach gear rentals including boogie boards for cheap prices under the pier ($10 per day) and cheap parking in the main lot in town.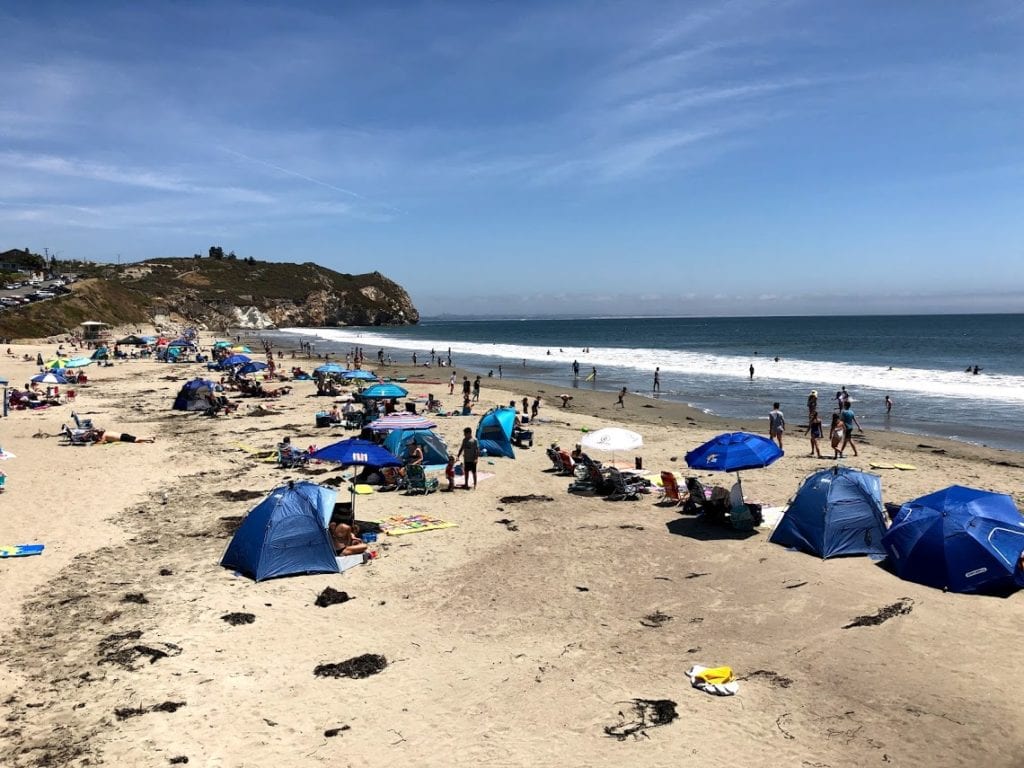 But this seemingly picture-perfect town has a deeper story under the surface. They received massive funding to rebuild the town after an enormous oil leak, years in the making, was discovered underground in the '90s.
For amazing dining scenery, check out Merseas Seafood Restaurant. Located just north of town, follow the beach road to the third pier, park in the lot, and walk out on the pier. The restaurant sits out on the pier with indoor and outdoor seating that showcases all the fishing boats floating in the bay. Or just watch sea lions jump around in the water under the pier and singing as you eat.
Tips for Kids: Just on the outskirts of town near the main highway you can visit Avila Valley Barn. They have farm animals including goats and chickens you can feed. It's a great stop for a local farm stand selling produce with country charm and character.
Just across the road, book a spa reservation in advance for the Sycamore Mineral Springs Resort & Spa – or stay here overnight. You can reserve private mineral spring hot tubs on balconies with wooded views by the hour.
On the north side of Avila you'll find a unique vineyard called Kelsey Sea Canyon Vineyards, with a relaxing country-vibe atmosphere complete with peacocks roaming wild around the grounds.
Montana De Oro State Park
Overlooked and uncrowded, Montana De Oro is just a short drive north of Pismo Beach. And bonus: It's completely free!
Enjoy the hiking trails throughout this rugged cliff terrain, or hit the wide and accessible beach. Check out the bluff trail just south of Spooner's Cove near the parking area. It's a wide dirt trail with an easy loop that leads down to a small hidden beach with tide pools brimming with anemones and shells.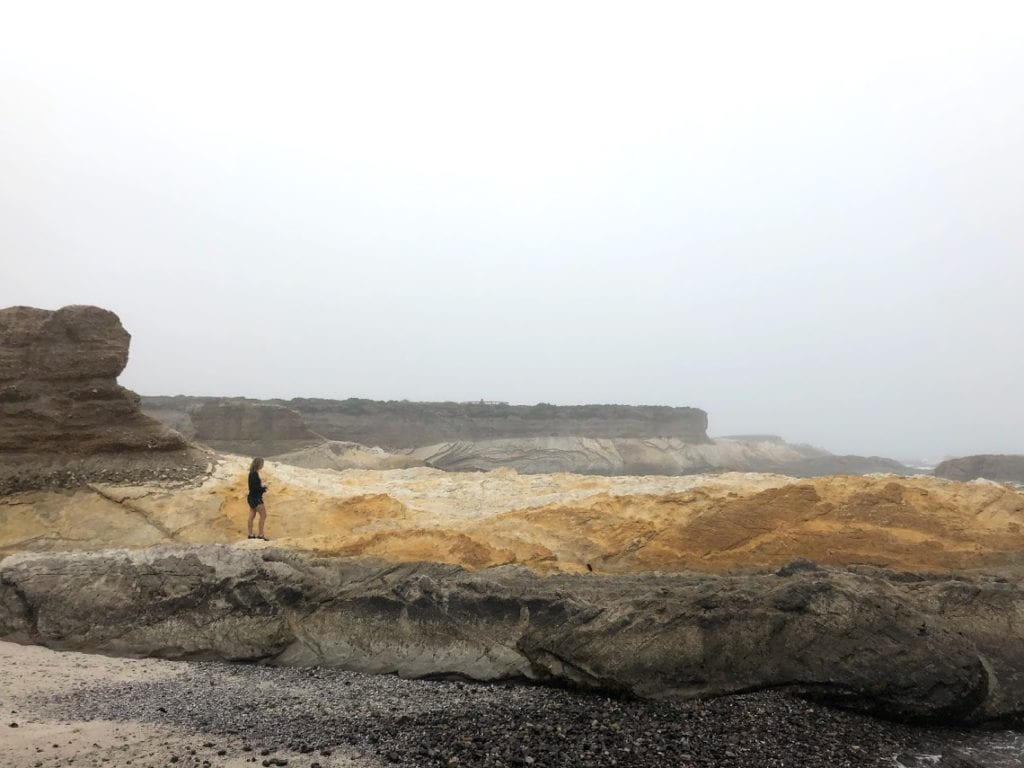 The tide pools are a perfect place for a picnic lunch before exploring the park. You'll find this state park is like a smaller version of the popular Big Sur park – without the crowds.
Just keep your eyes peeled for rattlesnakes and stay on the trails. There's a small park office and museum of an old ranch house with a souvenir shop. Behind the office, there's a small campground if you're looking for a place to overnight.
Tips for Kids: Definitely check out the tide pools: Our kids could have spent all day exploring there! The trails are called "bluff trails" and are high up on cliffs. But fear not! They are wide, flat, and safe – so long as you stay on the trail.
Paso Robles
If you want a trip to sip wine to Napa or Sonoma without the wine-loving crowds, you need to go to Paso Robles.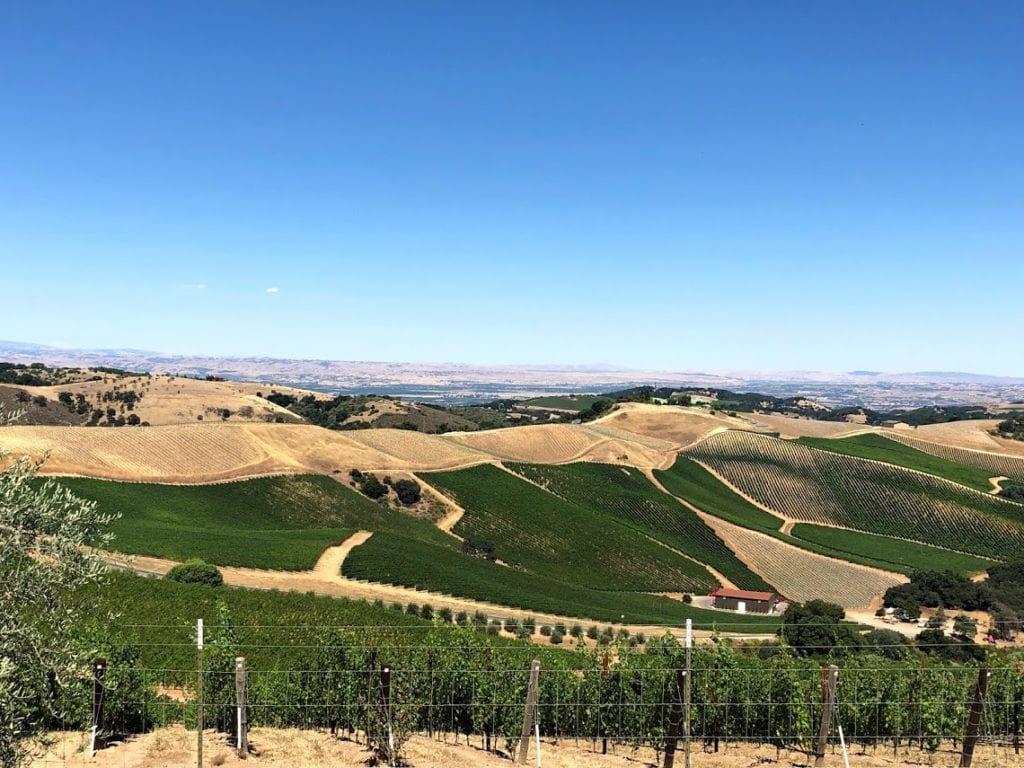 You'll need to leave the coast and head inland, but it's worth the trip for this unpretentious, small-town-vibe collection of hundreds of vineyards. Plus, you're on top of some amazing rolling hills with views of all those wineries.
Tips for Kids: Some Paso Robles vineyards have outdoor games or swing sets and allow you to bring in outside food.
Sequoia National Park
Calling all nature lovers: Exploring this area wouldn't be complete without a drive further inland to Sequoia National Park, sometimes overlooked by the more popular Yosemite National Park just north.
It's a longer drive, but well worth it if you have time – around 3 1/2 hours from Santa Barbara. Just make sure your gas tank is full, as even small-town stops are few and far between. Watch as the landscape transforms into a wide open, dry, and brownish yellow grassland with rolling arid hills.
Three Rivers is the closest town to one of the park's main entrances, or you can look for lodging in the larger city of Visalia. But even from the park entrance near Three Rivers, it's still a good 45-minute drive into the winding mountains before your first glimpse of sequoia trees.
Thrifty Tip: Get to the park early – especially on weekends. It's actually open around the clock, so you can enter anytime. During the summer, there are park shuttles operating between all the main parking lots and sites so you can park once and shuttle between sites.
The main attraction here is the General Sherman tree – the world's largest tree by volume (sequoias are the largest by volume, but Redwoods are actually taller). Park in the upper lot and walk down so you can wander among all the giants here, then take the shuttle bus back up or to the next site from the bottom lot. Or for more hiking in this area, explore the trail that loops around, The Congress Trail, and watch for small waterfalls along the way.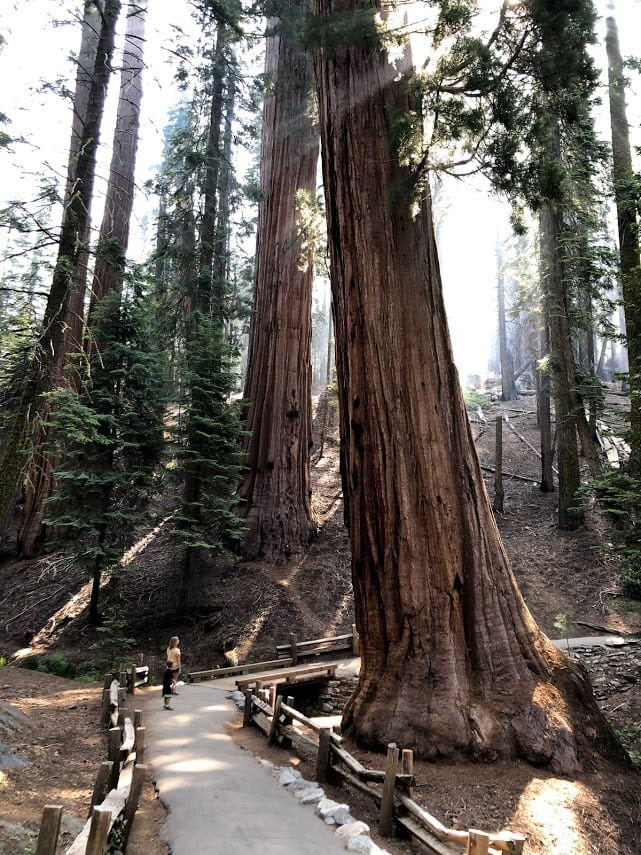 If you're looking for a more adventurous hike, try Moro Rock Trail. You hike up a stairway cut into the rock onto the dome summit of a large granite rock face. In the same area, you can drive (on weekdays) or walk through the tree tunnel.
If an easier hike among the sequoia trees is more your speed, try Crescent Meadow trail down the road from Moro Rock; just take a shuttle bus to both from the Giant Forest Museum. You can walk an easy loop here,  among sequoia trees, large meadows and view Tharp's log cabin, an old carved out sequoia tree home.
Tips for Kids: Check out the junior park ranger program at any of the visitor centers or museums, or do your own scavenger hunts to get them exploring.
For more information, museum displays, and gifts, check out the Giant Forest Museum and the Lodgepole Visitor Center. The Giant Forest Museum has more interactive and informative displays about the sequoia trees, while the Lodgepole Visitor Center has more around the wildlife and a larger selection of food and souvenirs.
You could also drive all the way through to the north park entrance and see the second largest tree in Grant Grove of sequoias.
Bottom Line
There are so many sites, local beaches and off the beaten path places to discover in central California, this is just a sampling!