Flying as far south as Argentina is rarely cheap. Paying cash, prepare to spend $800 or more, easily. Here's your chance to do it using Delta SkyMiles next year for a bargain.
We recently found an unpublished Delta SkyMiles flash sale with flights to Buenos Aires (EZE) starting as low as 30,000 SkyMiles – half the mileage Delta and most other airlines typically charge! Best of all, there's solid availability all the way through October 2021, by which point we hope Argentina is open to U.S. travelers.
Want more award alerts like this one? We send them to Thrifty Traveler Premium members first, along with dirt-cheap domestic and international flight deals. 
The real beauty of booking these cheap SkyMiles flash sales Delta is offering free change or cancellation on all flights booked by Dec. 31 – including all SkyMiles award tickets. That means you could book today, then decide later on to cancel if Argentina hasn't reopened in time and get your miles back free without paying the usual $150 redeposit fee.
Read more: Are Delta SkyMiles the best way to book flights right now?
Some of the lowest rates have disappeared since we first sent this flash sale to our Thrifty Traveler Premium members last week. And unfortunately, these flash sale rates were only available from a handful of major airports across North America like San Francisco (SFO), San Diego (SAN), Los Angeles (LAX), Las Vegas (LAS), Chicago-O'Hare (ORD), and more. Many major Delta hubs like Minneapolis-St. Paul (MSP) and Detroit (DTW) missed the cut.
But nonstop flights from Atlanta (ATL) are still bookable for 40,000 SkyMiles round-trip! As always, be sure to check from your home airport to see what you can find – Delta's SkyMiles rates are constantly changing.
Thrifty Tip #1: When booking with SkyMiles, make sure to select "Flexible Dates" and "Price Calendar" to maximize the dates viewable.
Thrifty Tip #2: Load up your SkyMiles balance for the next deal – and get airport lounge access, too. You can earn up a whopping 225,000 points (or even more!) with the Platinum Card from American Express, then transfer those points over to Delta.
You'll generally find the lowest rates from Canadian airports like Montreal (YUL) and Vancouver (YVR). And unfortunately, many of those trips are hit with more than $150 USD in taxes and fees. Taxes on flights starting from the U.S. are more reasonable at under $100 total.
In some cases, the lowest SkyMiles fares are basic economy awards. Delta began selling these no-frills fares even when using SkyMiles last year. If you want to pick your seat free and board earlier, you can upgrade to a main cabin fare for roughly 4,000 SkyMiles more. Yet in many cases, it's actually cheaper to book a main cabin fare.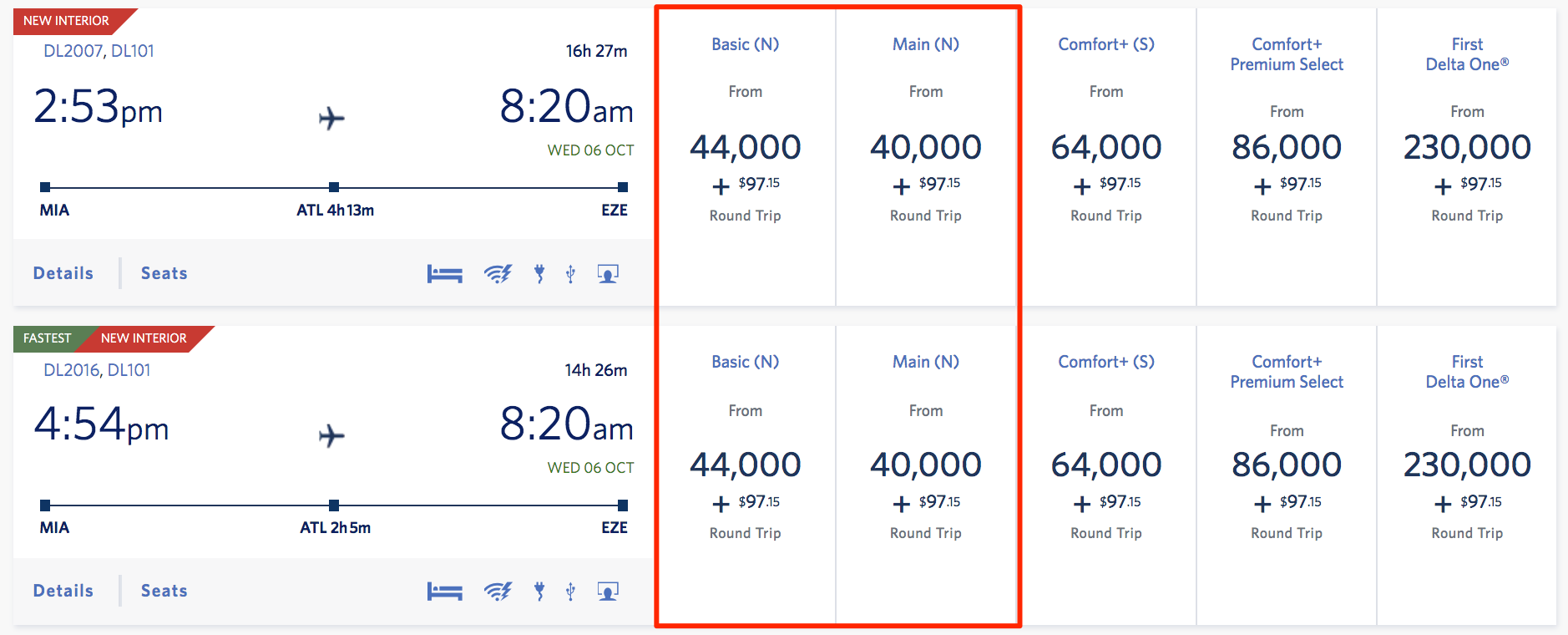 Getting more for less SkyMiles? Not bad.
Our Analysis
Hands down, these Delta SkyMiles flash sales are easily some of the best ways to use your Delta SkyMiles. And even through the coronavirus crisis, it seems they're getting better and better.
Thrifty Traveler Premium members always get first dibs on these sales. We're always searching for the best ways to use your Delta SkyMiles, and constantly finding these unadvertised flash sales.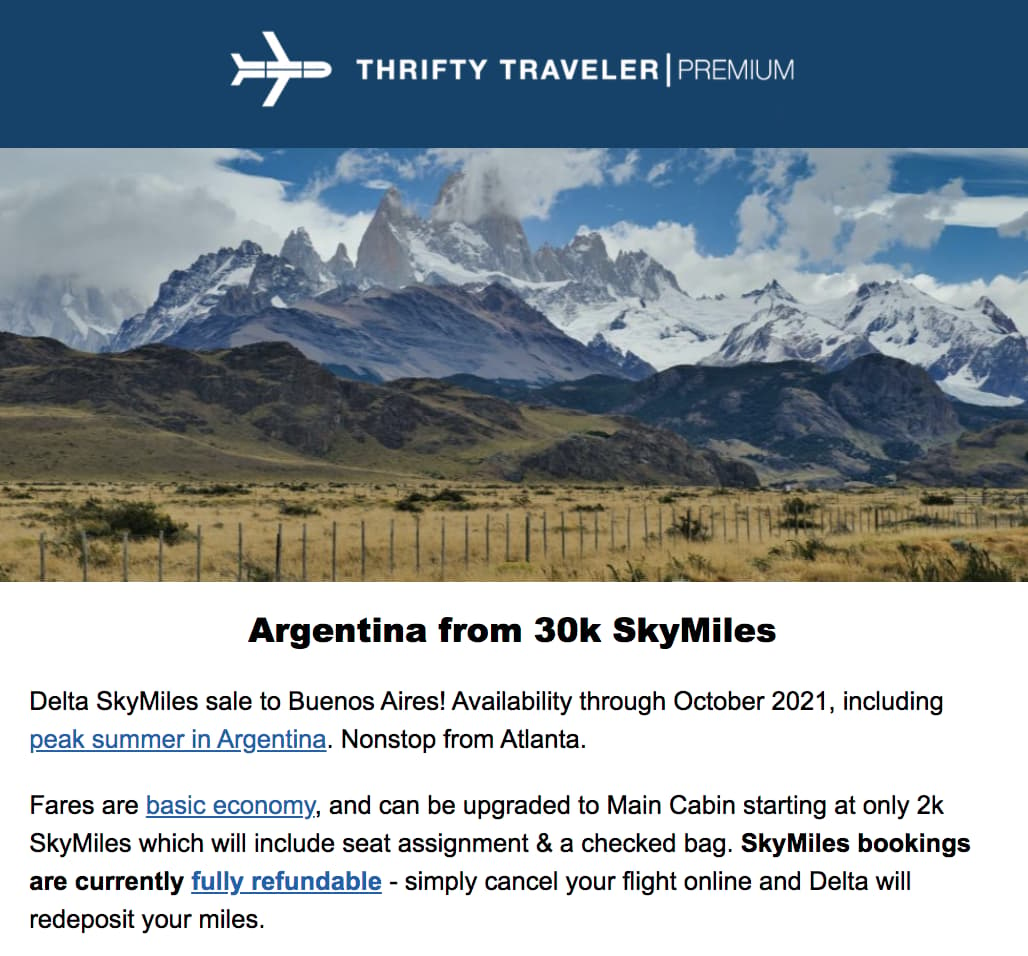 Of course, Argentina is still closed to nearly all travelers – and there's no certainty of when that may change. But part of the reason we love this SkyMiles flash sale is that it's risk-free. Book a trip to Argentina now for fewer miles, and you can easily cancel to get your miles back for free if things haven't improved in time.
Keep in mind that most airlines charge at least 30,000 miles each way to get down to Argentina. Getting there for 40,000 SkyMiles or less roundtrip is a darn good deal.

Bottom Line
We're looking ahead to better travel days in 2021 with our fingers firmly crossed.
The prospect of getting to Argentina for fewer Delta SkyMiles as far out as October 2021 is alluring. And considering you can book risk-free and cancel later on if need be, don't skip this SkyMiles flash sale if you've got Argentina on your wish list.