Picking a carry-on bag is like planning any vacation: It's tough to know where to start.
There are so many brands, each with dozens (or hundreds!) or different styles. Hardside or softshell? What size? Backpack or rolling suitcase? And what was that company your friend told you about, again?
If you're ready to make the switch to the carry-on lifestyle and stop checking bags on your next trip, we've got you covered.
These are seven of the absolute best pieces of carry-on luggage for every price point.
Read more: How to pack in a carry-on bag for every trip
For the budget travelers: AmazonBasics Hardside Spinner
Yes, the online retail behemoth even has the market cornered for cheap carry-on bags.
The AmazonBasics Hardside Spinner has everything you want at a more-than-friendly pricepoint. It's got a sturdy hardshell yet weighs less than 8 pounds. Inside you'll find dividers, compartments, and straps to stay organized.
In short: If you're looking to dip your toe into the world of hardside carry-ons, this is the perfect starting point.
Buy it on Amazon for $54.99

For the lightweight traveler: Travelpro Maxlite International Spinner
Weighing in at just 5.3 pounds, Travelpro's Maxlite International Spinner is one of the lightest carry-on luggage pieces out there. Reviewers rave about the durable handle, widely adjustable height options, as well as the quality of spinner wheels. The price for this piece, along with the quality, is the real selling point.
Travelpro was created by an ex-Northwest Airlines 747 pilot who thought there had to be a better option for carry-on luggage. They are the brand that essentially created the 4-wheeled spinner luggage that we all know and love and what makes wheeling your bag down the aisle of an aircraft so much easier.
The Travelpro Maxlite 5 international spinner suitcase comes with a limited lifetime warranty which will cover defects of materials or workmanship of the bag. It will not cover wear or damage caused by abuse, mishandling, accidental damage, inappropriate selection, or carelessness caused by an airline or other common carriers.
Buy it on Amazon for $118.97

For the Backpacker: eBags Mother Lode Travel Backpack
If you're looking to travel light but still need a week's worth of clothes and gear, you cannot beat the eBags Mother Lode Travel Backpack.
Our team swears by this pack. For starters, it's deceivingly large. You can easily pack a week's worth of clothes and gear, and there are plenty of separate compartments for shoes, toiletries, a laptop, and more. All that in a backpack that you can easily sling over your shoulder – or into the overhead compartment.
Buy it on eBags for $74.99

For the trendy travelers: Away Carry-On
Yes, you know Away Travel. You've seen these bags everywhere.
This luggage company founded by two former Warby Parker employees has nearly become a household name. Toting an Away carry-on through the airport is a millennial status symbol.
But it's not just marketing hype. These bags are sleek, durable, and functional. Each one has an unbreakable polycarbonate shell, TSA-approved locks, a hidden laundry bag, and a built-in power bank to keep your devices charged. Best of all, there's a lifetime warranty and a 100-day money-back guarantee.
It comes in a standard carry-on size as well as the Bigger Carry-On, which will still fly with most (but not all!) airlines. You can also spring for the versions with front pockets for a bit more.
Most members of the Thrifty Traveler team have an Away Carry-on in the closet, and they swear by them. If you're looking to put a little money towards a carry-on that can last you a lifetime without breaking the bank, look no further.
Buy it from Away from $225

For the baller on a budget: Calpak Ambeur Carry-On
Want one of those fancy metallic carry-on bags without spending a fortune?
Calpak may not have the same explosive brand power as Away, but their Ambeur luggage is just as stylish and sturdy. The internal organizing system is perfect for any trip, the wheels glide like butter, and the four aluminum corners on the suitcase make it look far more pricey than its actual cost.
The Ambeur carry-on comes in four colors: Rose Gold, Gold, Silver, and Black.
Buy it from Calpak for $165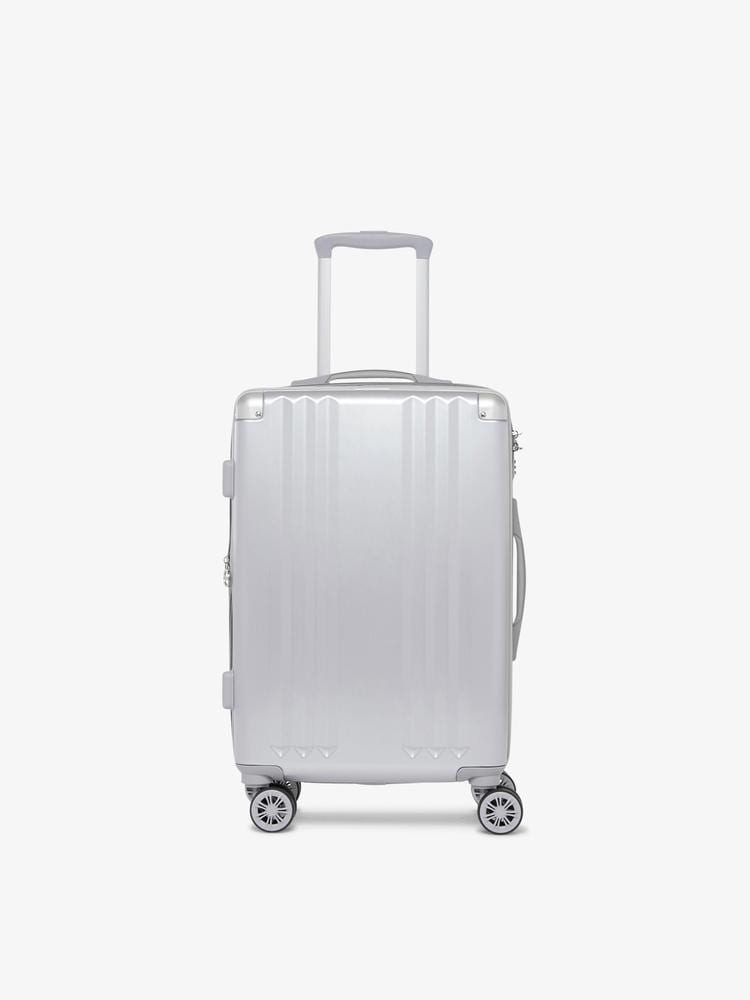 For the road warriors: Briggs & Riley Baseline Softside Carry-On
Looking to invest in a bag for life? Briggs & Riley is the answer.
Yes, this luggage is not cheap by any stretch. But Briggs & Riley has two main selling points and justifications for the high price. Their unconditional lifetime guarantee and their patented compression-expansion technology.
Yes, you may see other brands with a lifetime warranty, but Briggs & Reily sets themselves apart with their statement of "if your bag is ever broken or damaged, we will repair it free of charge, no proof of purchase needed, no questions asked." Basically, whether you damage your suitcase, or the airline does, it will be fixed free of charge.
Additionally, you don't even need to send the bag back to Briggs & Reily. You can bring it into any authorized Briggs & Riley dealer worldwide and they will fix it for free.
Another notable feature of Briggs & Riley is the patented compression-expansion technology. You pack your suitcase to overflowing, zip it up, and simply push down to compress all of the air out, drastically increasing the storage capacity of the bag. Lastly, the handle is on the outside of the bag, giving you even more room to pack.
Buy the 22-inch Carry-On from Amazon for $499.98

For the traveler with everything: Tumi Alpha 3 International Carry-On
Some people want the best, and they're willing to pay for it. That brings them to Tumi.
Tumi is known across the world for building bags with the highest detail to quality – and people pay for it. This is what million-milers who travel weekly for work are schlepping through the airport.
So that's why the Tumi Alpha 3 International Carry-On comes in at the highest price point on this list.
Two unique features for Tumi are their free personalization options as well as their Tumi tracer. Tumi tracer is a 20-digit unique individual product number that helps you find any lost and/or stolen items. Other features include a built-in suit compartment, hanger bracket, passport pocket, and ticket pocket.
Tumi products come with a five-year limited warranty for things like handles, zippers, and wheels. You can bring the bag into any Tumi store worldwide and they will fix it, no questions asked.
While this bag has the highest upfront cost of any bag on the list, you can often pick up Tumi products for 40% off by stacking a few deals. During their semi-annual sales, there are usually great opportunities to stack the sale with a cashback offer like the one we recently featured. If you can hold out until the next semi-annual sale, you might be able to grab this bag for $370 which is a much easier price point to digest for a quality bag.
Buy it from eBags for $725

Bottom Line
There are bags available for every budget and type of traveler out there. If you ask us, these are the best you'll find to suit your needs.