Japan Airlines First Class is like a fine wine. It seems like it's just gotten better with age.
There are some incredible and luxurious first class options out there, from the 50-square-foot suites on Singapore Airlines to the Apartments on Etihad's Airbus A380 to the incomparable new Emirates First Class suites. Add in the expensive champagne, caviar service, and top-notch service that are customary in first class, and it's no wonder travelers go gaga over them. And then there's Japan Airlines.
Japan Airlines First Class lacks the flash or opulence that has put other airlines front and center. Sure, Japan Airlines has some diehard fans, but it doesn't get near the amount of accolades and awards as other airlines. And that allows it to float under-the-radar as one of the best ways to fly, period.
It has everything you want from First Class: Out-of-this-world food and drinks, outstanding service, amazing amenities and a comfortable place to sit, work, and sleep. It's understated … and criminally underrated.
Read our full review of the flight from Tokyo-Narita (NRT) to Chicago-O'Hare (ORD) and you'll see why.

Booking Japan Airlines First Class
There are plenty of ways to book Japan Airlines first class, but let's get right to it: It's one of the best ways to use American AAdvantage miles.
American and Japan Airlines are partners, which mean you can use American miles to book this flight. A one-way in first class between the U.S. and Tokyo will cost 80,000 AAdvantage miles. While there are cheaper ways to book, including using 70,000 Alaska Mileage Plan miles, the ability to quickly earn AAdvantage miles makes it a fairly easy choice.
Finding the award availability to book these flights can be a challenge. Anytime you're trying to fly first class, it may require a healthy dose of patience and flexibility to find flights that work. That said, finding these flights on Japan Airlines can be much easier than most.
The biggest sweet spot for flying Japan Airlines First Class is by booking close to departure. There are almost always JAL first class awards available between Tokyo and the U.S in the final two or three weeks before that flight actually departs. In fact, JAL seems to add awards exactly 14 days in advance, give or take a few hours.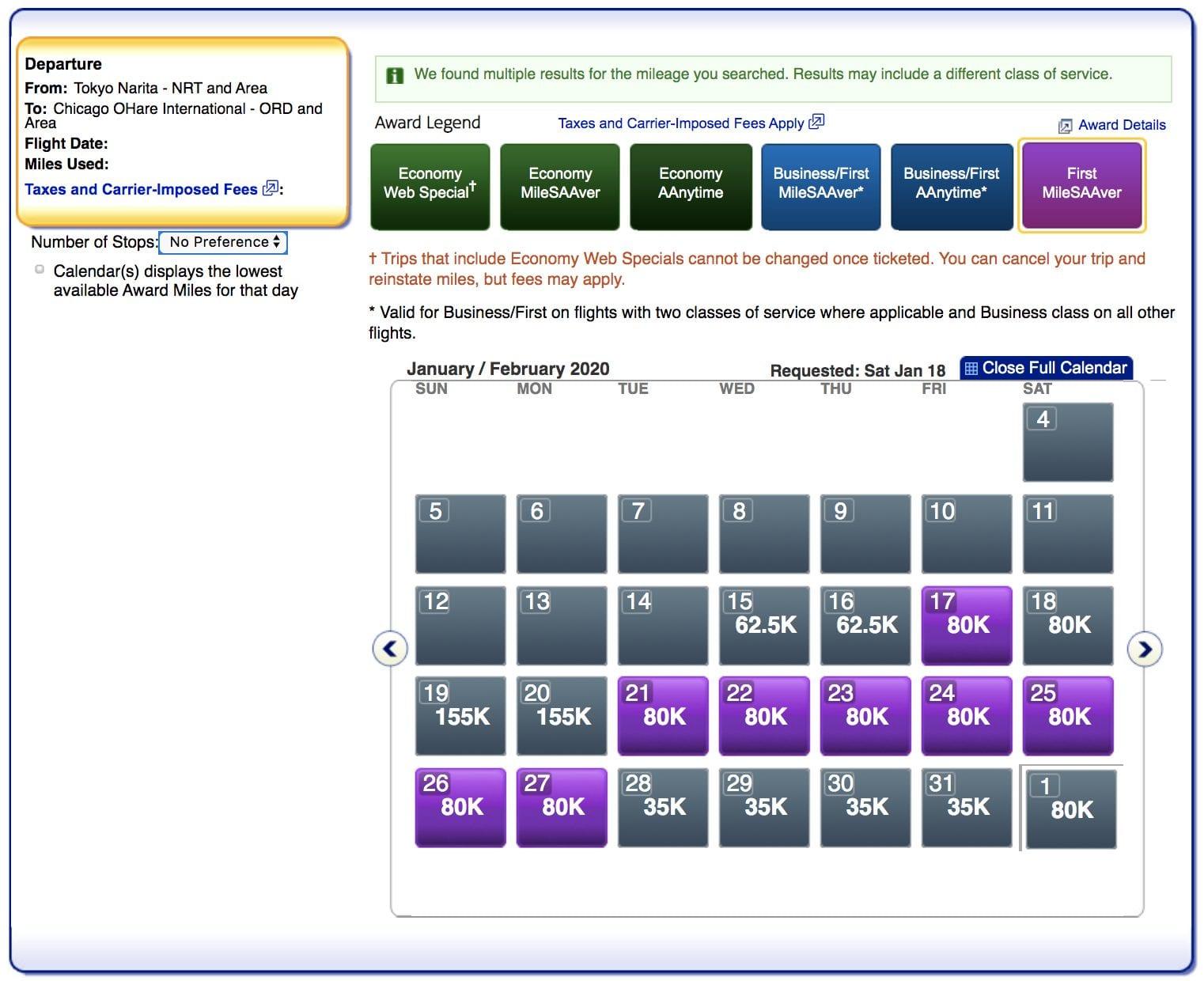 That's exactly how we booked this flight – just 13 days before the flight actually left. All in, we used 80,000 AAdvantage miles and about $130 in cash fees – thanks largely to American's $75 close-in booking fee for award tickets, which the airline has since eliminated.
Japan Airlines First Class Lounge Narita
While JAL's first class seats are on the older side, first class travelers are in for a treat departing Narita – a brand new lounge.
This lounge opened just in April 2019, and it definitely still has that new lounge smell. Everything from the tables to the decor looked positively untouched. You'll find it up the escalators from the main terminal floor just after getting through security.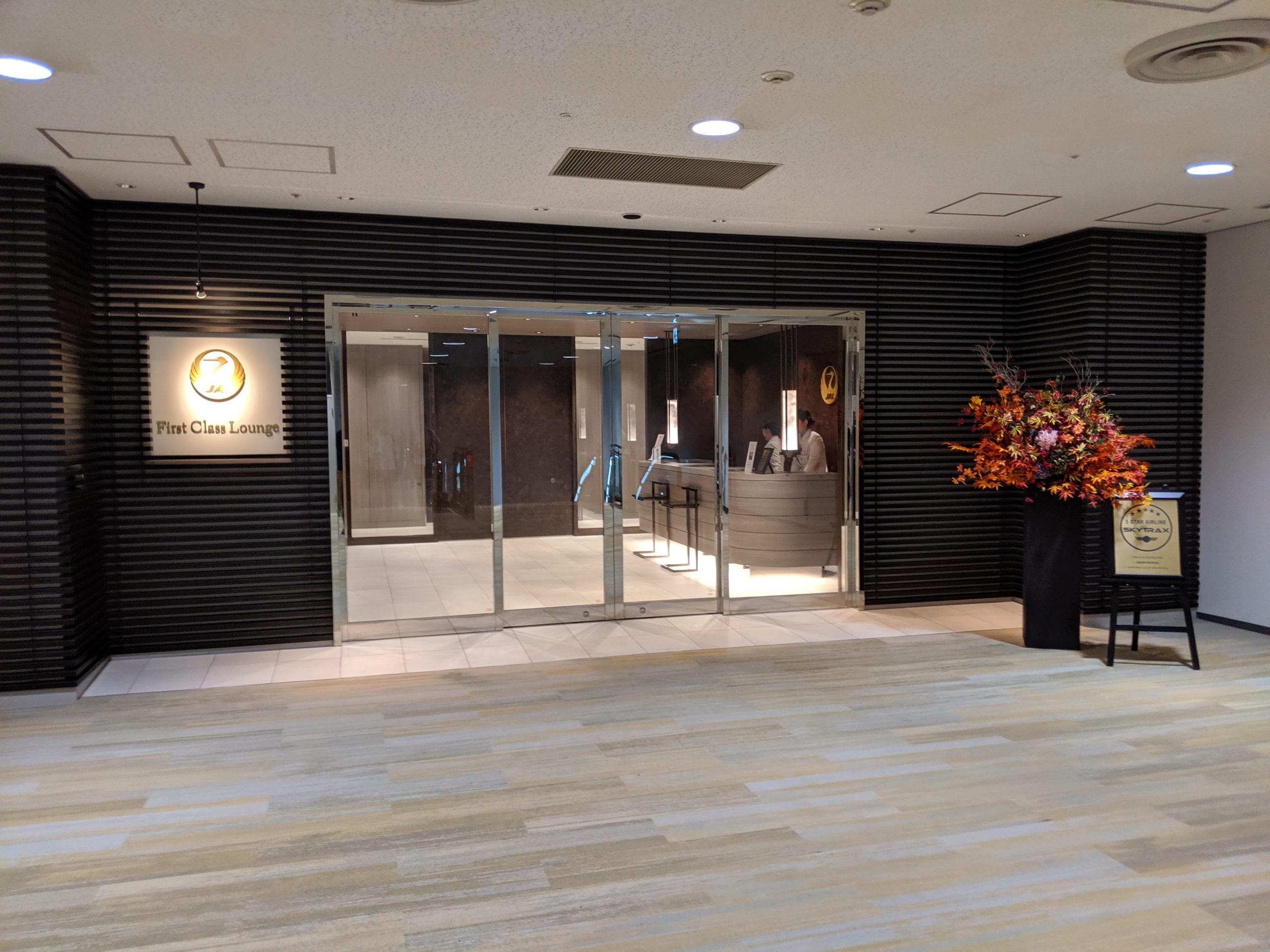 The lounge was quite large, with plenty of distinct areas to sit, eat, or relax. There were a handful of different unique features and art installations scattered throughout the spacious lounge, but some of the decor felt a bit … well, stiff. It's a great space, but certainly not among the world's best first class lounges in the looks department.

But it's the amenities that set this lounge apart. And none is better than the made-to-order sushi bar. A dedicated sushi chef – and sometimes two – are stationed here from 7:30 a.m. until 12:30 p.m., and again from 3 p.m. until 8 p.m.

You can order sets of three pieces of nigiri at a time, but feel free to keep going back. I certainly did.

The different cuts of tuna were excellent. So excellent, in fact, that I didn't bother with the other a la carte ramen options or buffet-style dining area of the lounge.
As luck would have it, there was a small champagne and wine bar just around the corner from the sushi bar, where you could pour yourself a glass of Laurent Perrier. Yes, thank you.

The dining areas of the lounge were quite large with plenty of seating, but the decor still felt a bit stiff – almost European minimalist – while still retaining a bit of Japanese flair.

One other great amenity in this lounge was a free professional shoe shine, something I've not seen in any other airport lounge. Just drop off a pair of shoes – don't worry, you'll get a pair of slippers to wear around – and come back in 15-20 minutes to grab your freshly shined pair of shoes.
Away from the bustle of the dining area you'll find a small sitting area, complete with two massage chairs. This was easily my favorite spot in the lounge. After a few servings of sushi and few hours relaxing here, it was time to board.

Japan Airlines First Class Cabin
It may not be flashy, but there's something warm and inviting about Japan Airlines first class cabin.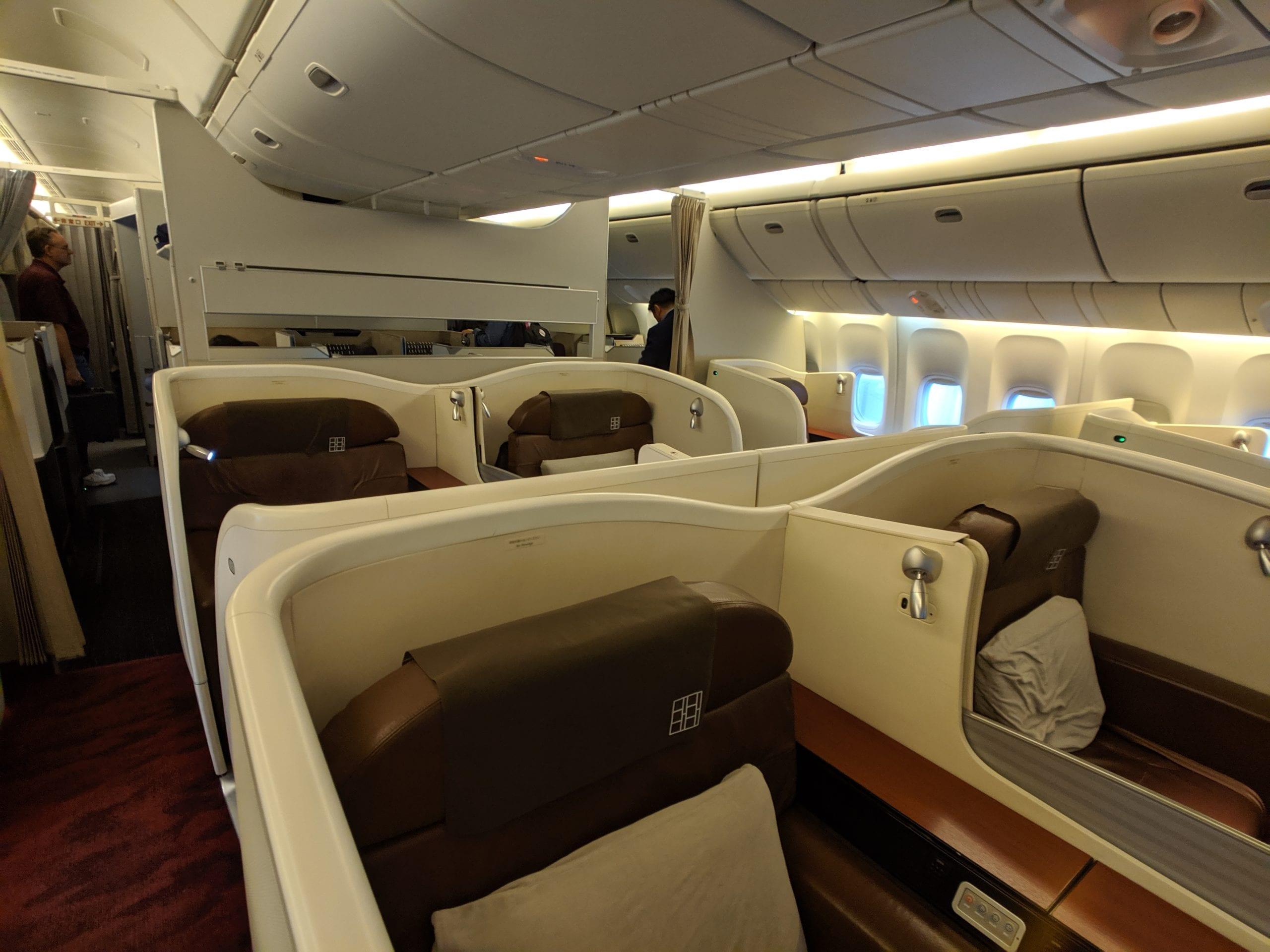 The cabin itself is a mixture of reds, browns, woodgrains and the whites that make up the seat shells. While not the most modern design, it looks and feels very Japanese – to me at least. Japan Airlines has started refurbishing some of its 777s to give the design a facelift, but my plane hadn't received that treatment yet.
There are just eight seats in Japan Airlines First Class cabin, and seats are laid out in a 1-2-1 fashion so everyone has direct aisle access. The center seats are great for couples or companions, but there's a tall divider that you can raise if you don't know your neighbor, too.

With just eight seats in the cabin, there's no need to worry about overhead luggage space. At the back of the cabin, there's just a thin wall separating the start of the business class cabin on these Boeing 777s.

You certainly won't confuse these first class seats with the likes of Emirates new first class or Singapore, but I still felt there was plenty of privacy in the cabin.
The plastic shells around the seats are large enough to keep you largely hidden from your neighbors unless if you lean far, far forward. Yet it still sticks out that the business class cabin is more private than sitting up in first class.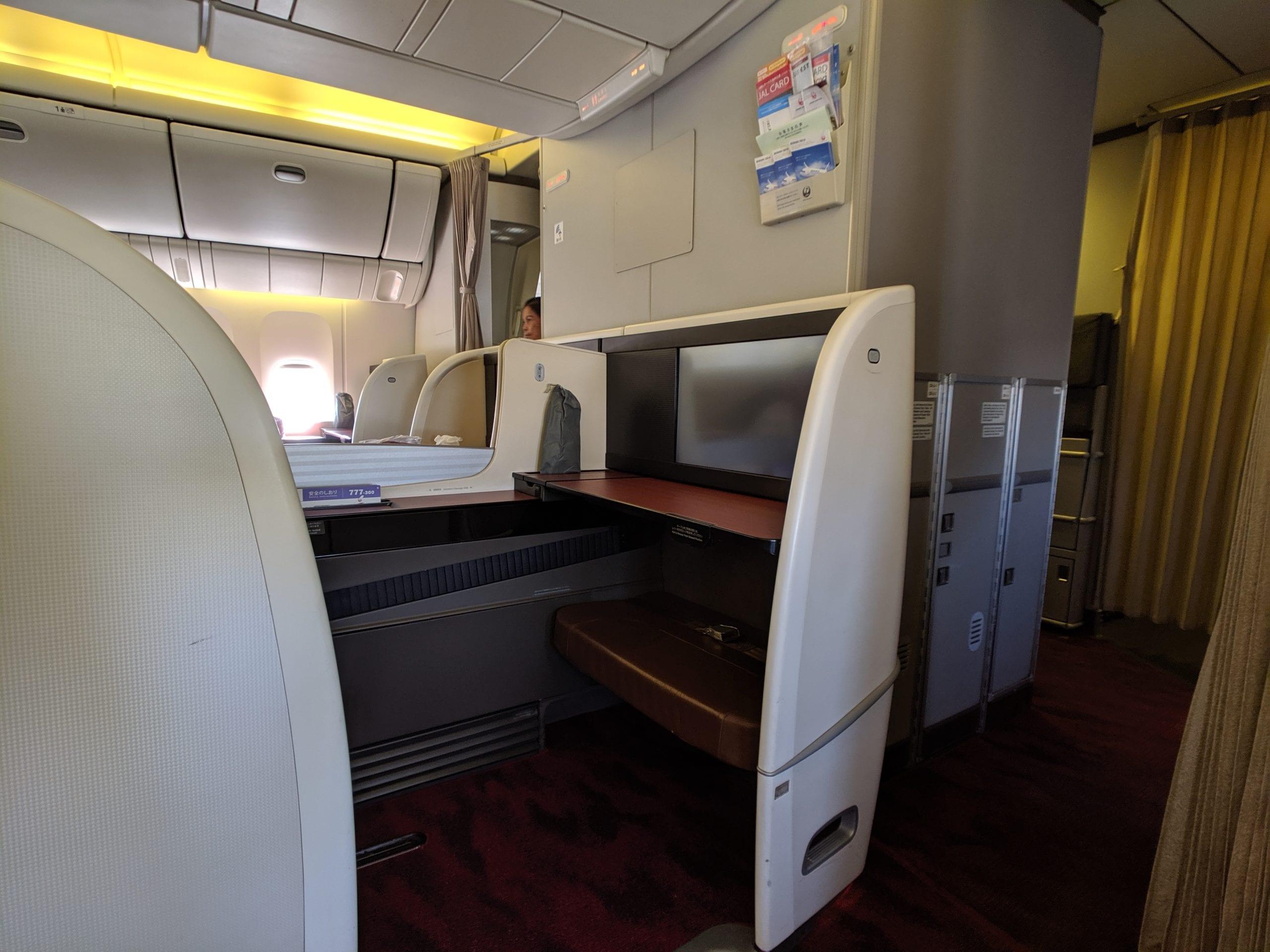 Up in the galley, there's a small bar with quick snacks and drinks available throughout most of the flight.

There are also two lavatories in the galley, including a larger bathroom closer to the cockpit. The bathrooms themselves are fairly old and basic, and even the larger bathroom isn't large, per se.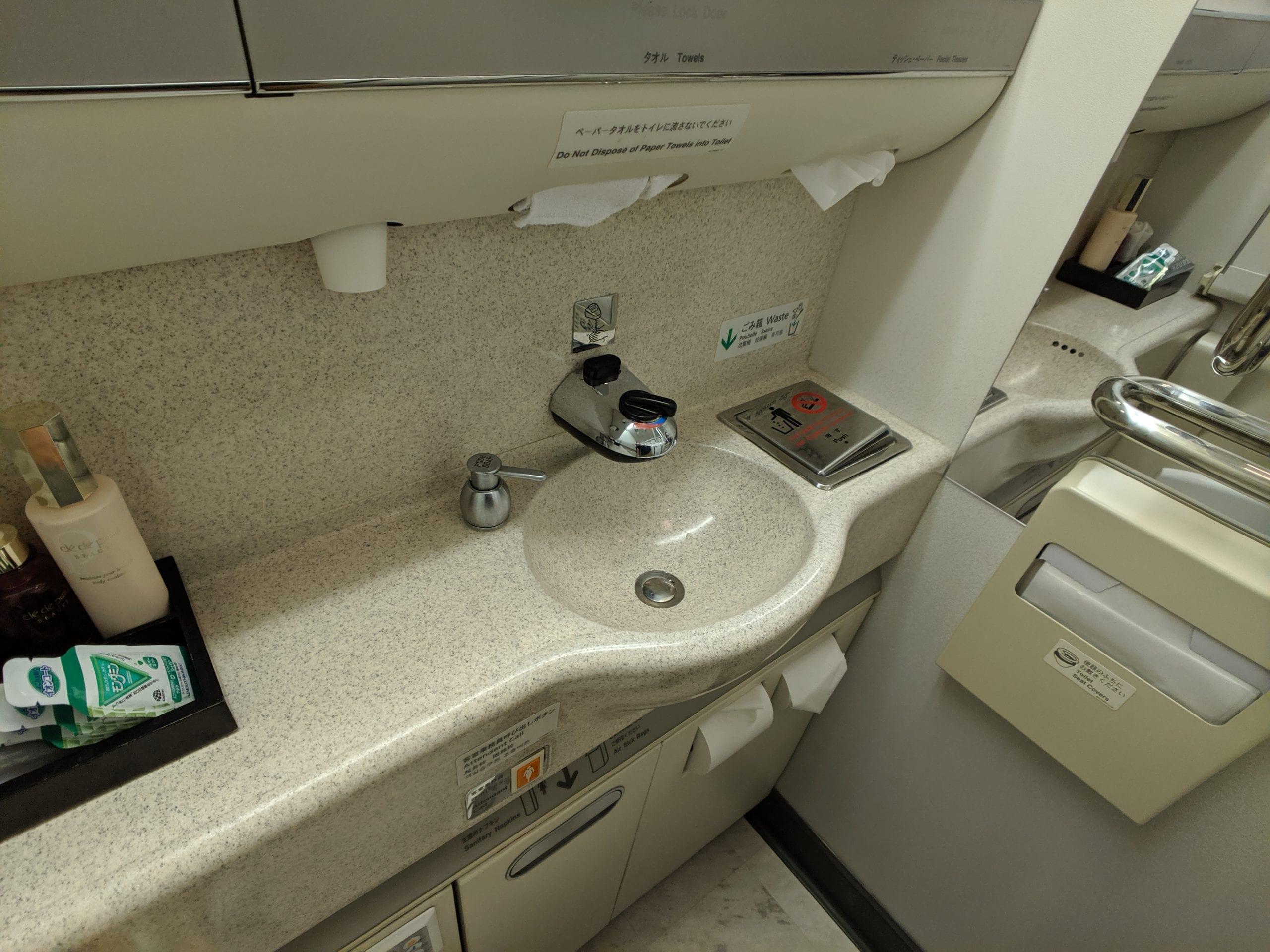 They're stocked with some great amenities, including toothbrushes, mouthwash, and lotions from Cle de Peau, the highest brand from Japan's renowned skincare company Shiseido.

You're on a Japanese airline, so of course these toilets are equipped with bidet functions!

But these lavatories also have a feature I haven't seen before: a fold-out bench and footrest. That comes in handy when you want to change clothes … but don't want to sit on the toilet to do so.

Japan Airlines First Class Seats
The eight-seat cabin was mostly full when I booked the flight, but I was able to sneak into 1K, a window-side seat in the first row of the cabin.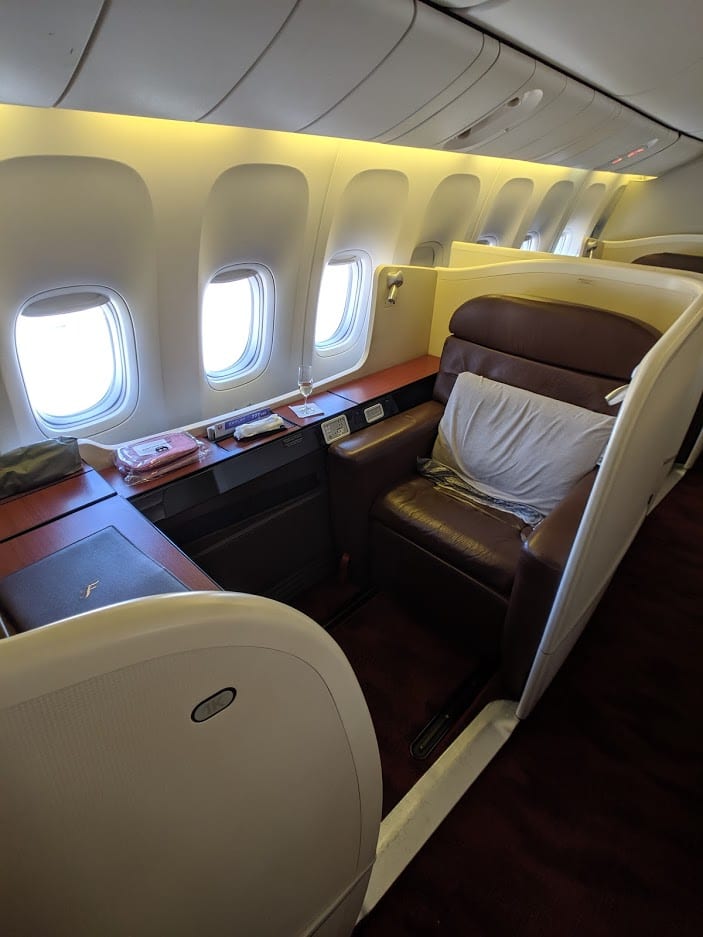 Every seat is more or less identical. And while the seat itself isn't the most fashionable in the world, I still think it looks great. That said, these seats are typically at least 10 years old, and were showing their age in some spots with scuffs along the leather and plastic. And while the woodgrain and brown leather works great, something about the color scheme sticks out. Maybe it's the red carpet?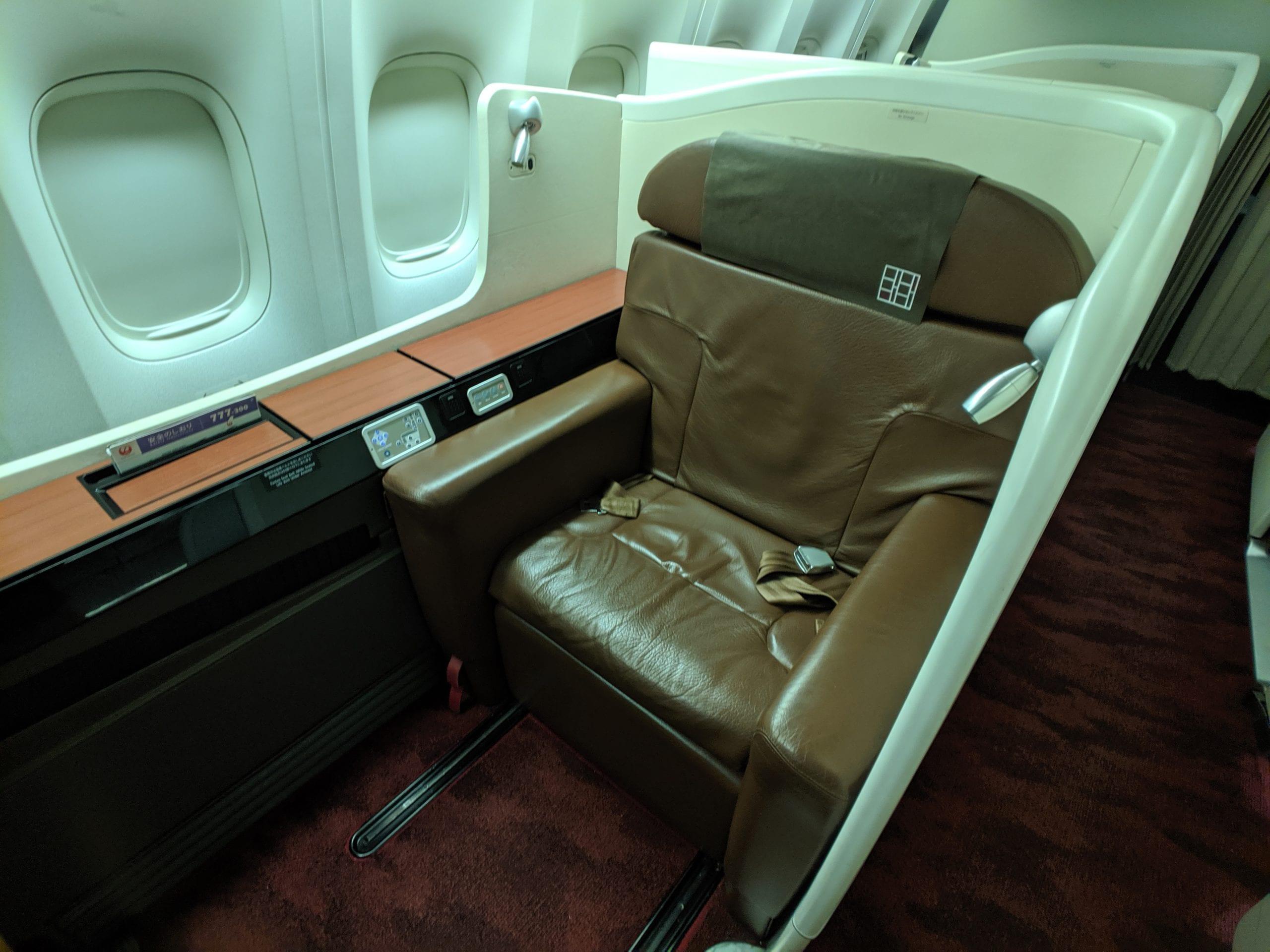 But more importantly, it's darn spacious and comfortable – some basics that even some of the flashiest first class seats miss. Each seat measures in at 33 inches wide, giving you tons of room to stretch out. The seat itself is made from a rich, soft brown leather, which makes it even more comfortable than some newer seating. As a bonus, those wide armrests sink as you recline into bed mode, making your sleeping surface even larger.

There's plenty of legroom too: You'll have 79 inches, meaning you'll likely have to stretch out to even reach the large ottoman in front.

Each seat is wrapped with a plastic shell, leaving about a two-foot gap to get in and out of your seat. It's far from a "fully enclosed suite with a door" level of privacy, but certainly sufficient.

Each seat is equipped with a fairly large tray table, which slides out from under the monitor in front of the seat. One fun feature of these seats is that there's enough room to dine face-to-face with a companion – they can sit on the ottoman, seatbelt and all.

On the window or in the center aisle, each seat has wood-grain counters running around the perimeter. That's where you'll find everything from safety literature to a dining menu in a leather portfolio to your seat controls. The small tray here is a great place to keep your phone throughout the flight.

Toward the front, there's a small cubby you can pop open and find both USB and power outlets. JAL was smart enough to leave a small gap to allow cords to run out.

Farther down this counter is where you'll find your seat controls – two sets of them, in fact. One gives you more simplistic controls to recline, sleep, or get upright, while the larger control panel allows you to dial in your preferences – including a (largely ineffective) massage function.

One of the most impressive aspects of this seat is the sheer amount of storage. You won't struggle to find places for all your things.
It starts at the front of the seat, where there's plenty of room underneath the ottoman for a backpack or even a full-size carry-on bag, if you don't want to stow it in an overhead bin.

Farther back on the counter, there are two more compartments. There's a small cubby that houses a wired touchscreen in-flight entertainment remote and a small mirror.

And then there's an absolutely massive compartment, at least a foot deep, where you can store headphones, an amenity kit, pajamas, a laptop, and more. There's also an older in-flight entertainment remote here as well.

While simple, I'm a big fan of the headrests on these seats. There are two reading lights on each side of your head, which you can turn on with a quick swivel.

At bedtime, Japan Airlines First Class is among the best. The seat is plenty wide as is, but gets even wider as you recline to lie-flat mode as the armrests become part of the sleeping surface. The seat is comfortable enough on its own, but JAL ups the ante with a choice between soft and firm airweave mattress pads. I went for the soft option, and it was great: I slept like a rock for nearly four hours during the flight.
The only complaint is that JAL doesn't provide some kind of mattress sheet, but rather you sleep directly on the mattress pad. In my case, that wasn't an issue – I used one of JAL's excellent duvet's as a cover sheet, and grabbed another from the empty seat across the aisle to sleep with.
There was already a soft, plush pillow at my seat – but a second one appeared at bedtime.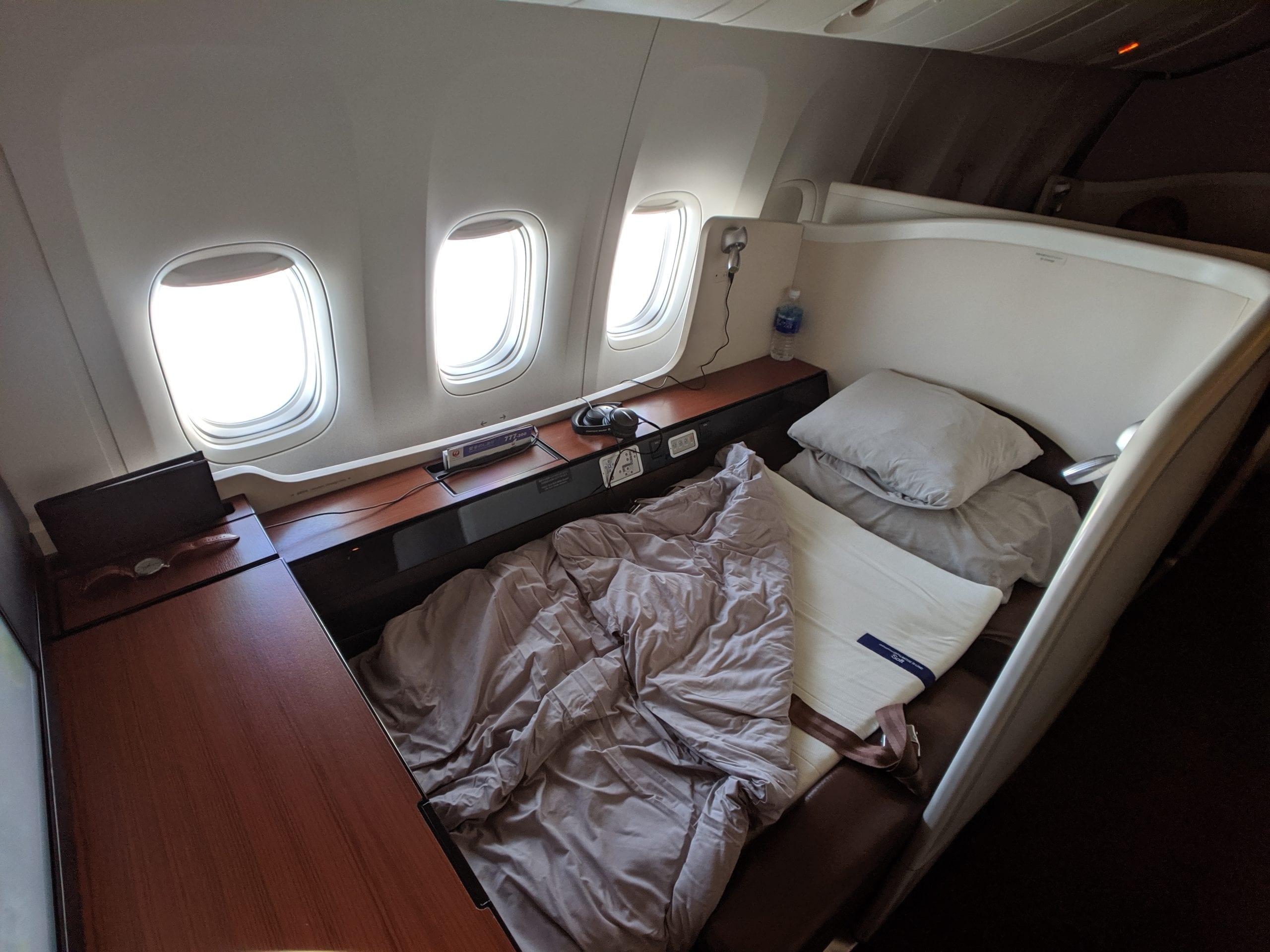 Top-Notch Amenities
Japan Airlines First Class takes its amenities seriously.
It starts with a chic amenity kit, an Etro-branded pouch that was waiting at my seat at boarding.


And the kit itself is well-stocked, with a moisturizing face mask, eyeshades, a dental kit with toothbrush and toothpaste, mouthwash, kleenexes, ear plugs, and some Etro body lotion, lip balm, and perfume.

Soon after takeoff, the flight attendant working my aisle, Sugiyama, came through and dropped off a set of pajamas for the flight. While fairly plain looking, they were exceptionally comfortable. There were also a pair of sturdy and comfortable slippers waiting at my seat.

Inside the massive storage compartment, I found a pair of Bose QuietComfort 25 noise-canceling headphones. These are among the best headphones you'll find provided by the airline – many carriers still use somewhat flimsy branded headphones even in first class. It was a great touch.

And then Japan Airlines took it even farther. With a few hours to go in the flight, Sugiyama came to my seat with a "gift": A choice between a box of Shiseido skincare products for men, and another box of products from Cle de Peau for women, with three face masks and some other products.

Service and Dining
This is where Japan Airlines First Class truly stands out. It's the reason why you can easily look past older, open seats and a slightly aging cabin.
And if you ask me, this is what flying first class is all about. It's the food, drinks, and dining that truly separates the world's best first class from the rest. And in that regard, Japan Airlines First Class hit an absolute home run.
It all hinges on JAL's exemplary service. Despite there being just six passengers in first class, there were still three flight attendants staffing the cabin: Sugiyama, another flight attendant working the opposite aisle, and a purser. And all three were lovely.
Flight attendants from Japanese airlines have a reputation for being professional to the point of being impersonal, focusing more on the task at hand than the interaction. But all three flight attendants were outstanding, providing service a league above anything else I've experienced. They were all engaging and warm while remaining professional and attentive.
Still, Sugiyama was the highlight. She was bright and energetic as she welcomed me on board, ecstatic to hear it was my first time in Japan Airlines first class, and enthralled with a brief story about my trip around the world. She volunteered to make my bed as I went to change after dinner service and asked if she could fold and store my clothes when I returned. After I awoke, she insisted I follow her to the galley to look out the window to see a faint trace of the Northern Lights.
As we began our descent, all three stopped by my seat with a bow, chocolates, and a request: One picture? How could I say no?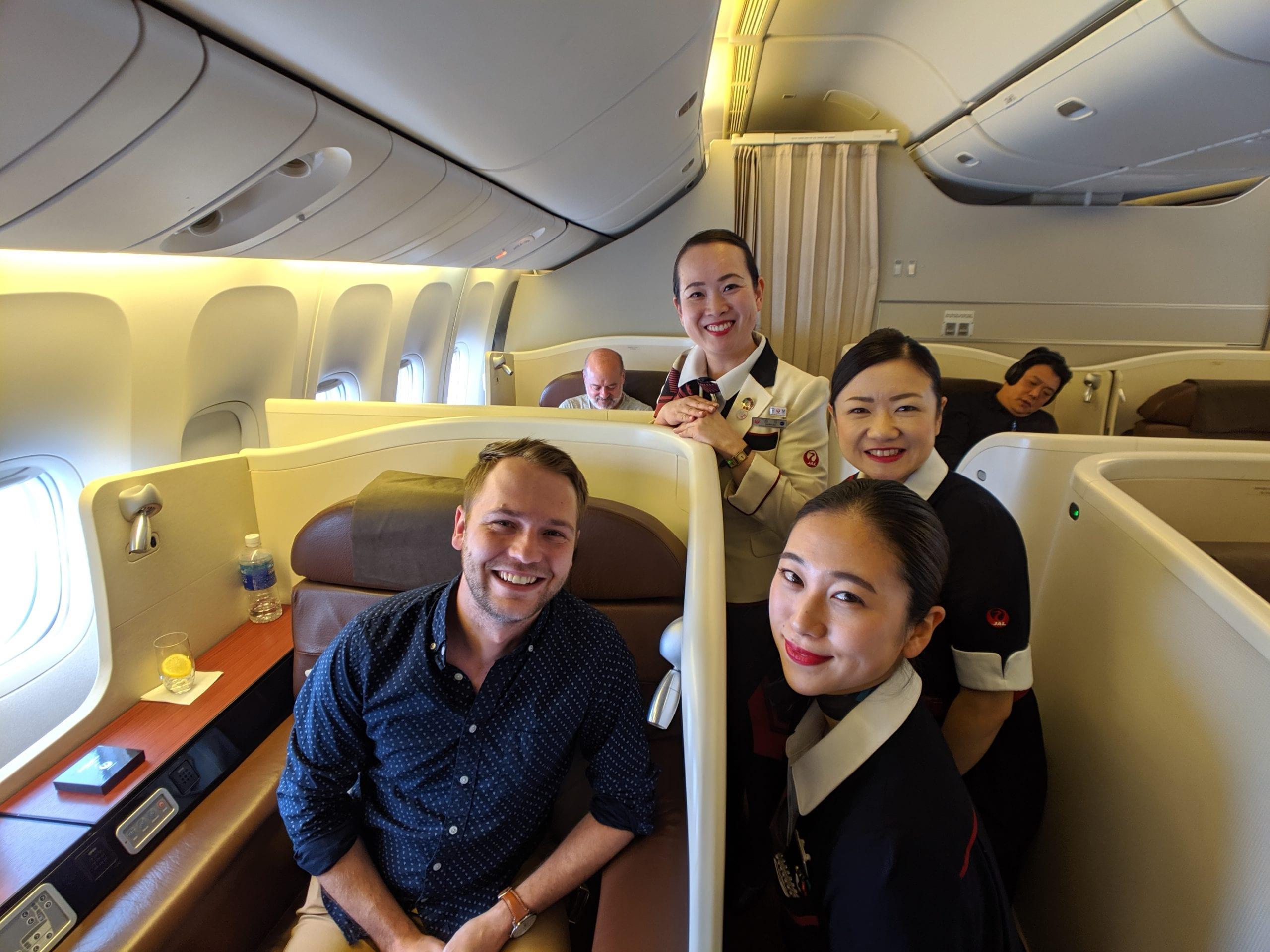 Service started within moments of boarding with a drink order. Champagne, please.

About 15 minutes after takeoff, Sugiyama came through the cabin to set my table for a second round of drink orders. And JAL First Class passengers are in for a treat: Salon 2006 champagne. And you better enjoy it, because it's one of the most expensive champagnes you'll find in the sky, selling for more than $600 a bottle. Japan Airlines typically only stocks one bottle, and it's generally only available on flights departing Japan.

When the Salon inevitably ran dry, there was still Cristal. Not bad for a backup, right?

Come mealtime, Japan Airlines has a choice between a Japanese set meal and several Western options. But you're flying Japan Airlines. Anything other than the Japanese menu is heresy. If you insist, scope out the entire menu on each and every flight at Japan Airline's website. The menus are held in a smart leather portfolio at the front of each seat.

But my choice was easy. I was eager to compare the Japanese meal in first class to my outstanding meal from Japan Airlines business class. How could it possibly get better?
It took everything – the flavors, the presentation, the depth, the quantity, and the quality – from my last JAL meal and elevated it.
The meal started with a spread of five Japanese delicacies. The blowfish with green onions and daikon on the bottom left was outstanding, as was the steamed freshwater eel at the 2 o'clock position. Somehow, the hint of yuzu managed to shine through in the chawanmushi (an egg custard) with caviar in the second dish from the left.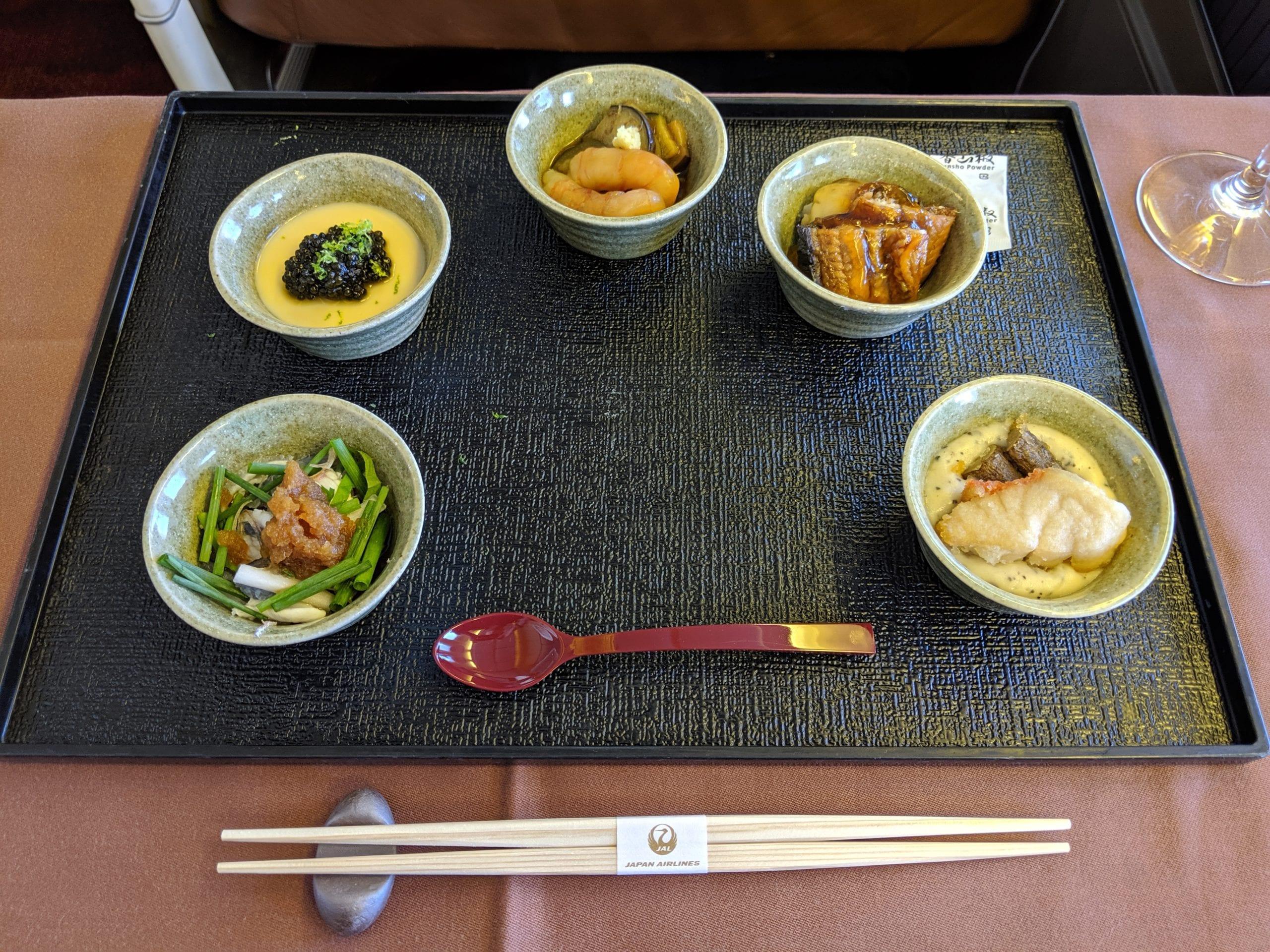 The journey continued with owan, a clear soup of prawn dumpling and turnip. It was fascinating, beautiful, and delicious.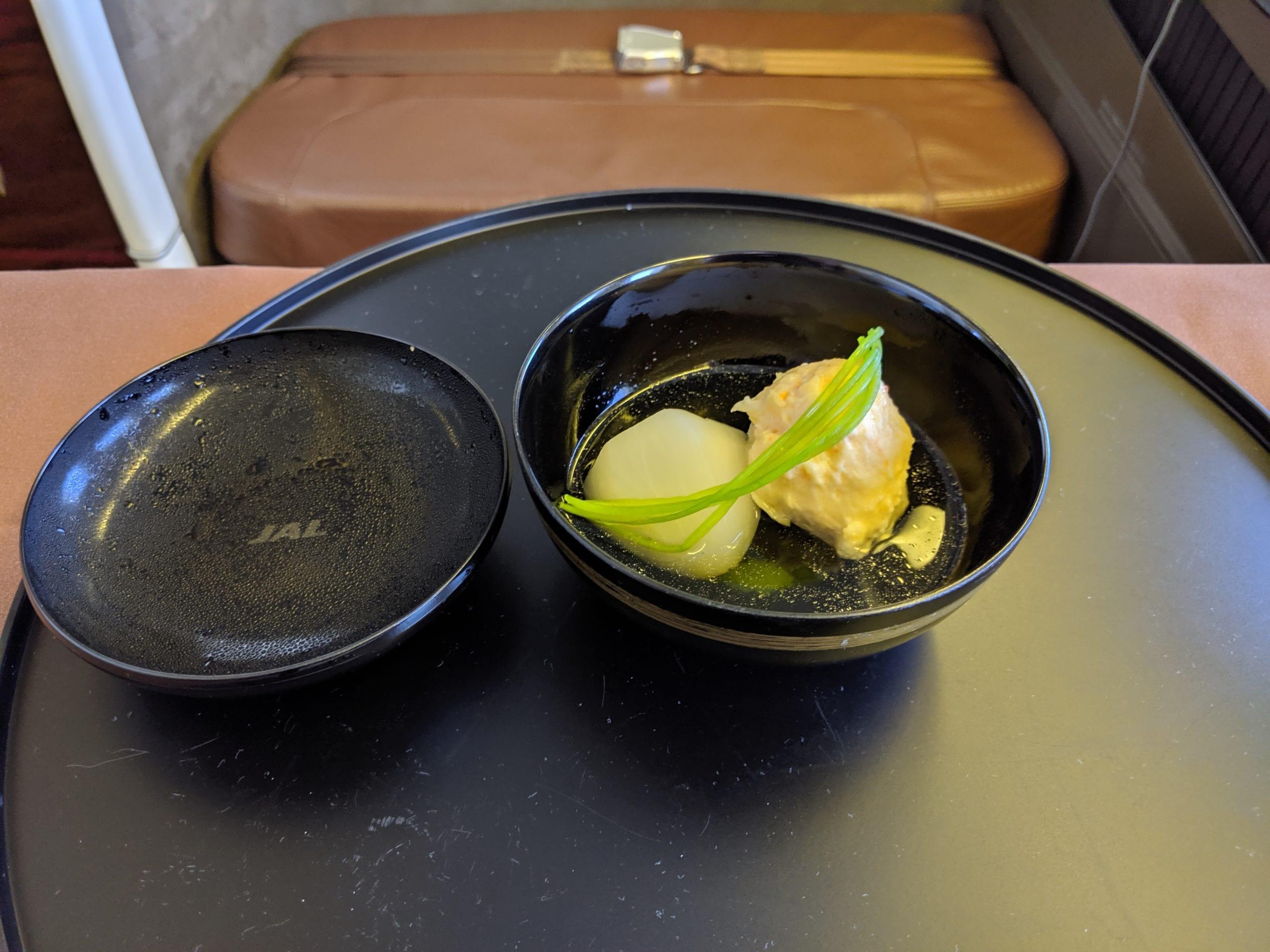 Next up is otsukuri, with two dishes: A mixture of salmon roe with crab, and another with lightly seared bonito, ginger, and sea urchin. Both were unbelievably fresh and flavorful. The sea urchin was nearly on par with some of the best I've had in Tokyo, which says a lot when you're 35,000-plus feet in the air.

Nearly stuffed at this point, I pushed forward for the main course. There are thin cuts of melt-in-your-mouth wagyu beef with mushroom, a fresh and perfectly cooked bowl of rice, some miso soup, and a small platter of pickles. It was absolutely divine. I loved the snap of the pickles, perfectly complementing the richness of the wagyu.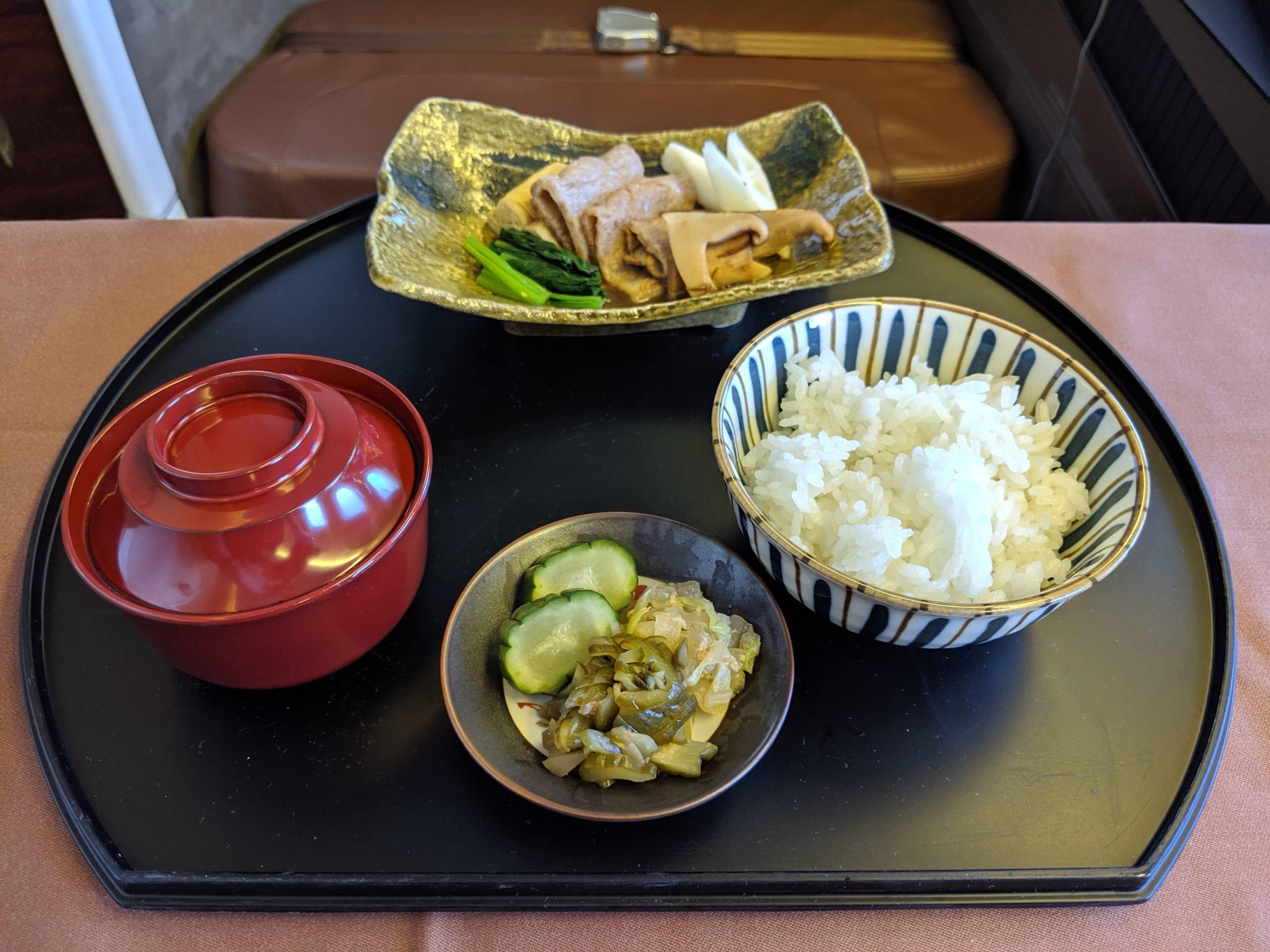 Finally, there's dessert. And of course, there's more than one here, too. Simmered red beans are a Japanese delicacy, though certainly not for everyone. The glass of custard with fig, caramel sauce, and rum jelly was absolutely delicious – I would have had three or four more. And a special Japanese truffle chocolate was every bit as earthy and delicious as you might expect.

I wrapped up dinner with a glass of special Japanese whisky: Hibiki Blender's Choice. Every Japan Airlines First Class flight has a special bottle on hand.

After sleeping off your food coma, you might be hungry again. Japan Airlines handles meal service a bit differently than most airlines. After the first set meal service, you can order at any time from an a la carte menu. There's no set second meal.

Shortly after waking up from a great sleep, I ordered an americano. I just love JAL's mugs.

I also ordered a bowl of ramen, which looked and tasted much like the ramen served in JAL business class – but that's not much of a complaint. It was excellent.

Japan Airlines has one more special drink in store: a bottle of "Queen of Blue" tea from Royal Blue tea. This is about as good as tea gets, and it's served much like wine. I'm no tea snob, but it was fantastic served chilled. And it's definitely a spectacle.

Shortly before beginning our descent a few hours later, I ordered JAL's signature chicken curry. I'm typically not a big fan of Japanese curries – hello, Thailand! – but this was definitely excellent.

Aside from a few bites that didn't quite do it for me, everything in Japan Airlines First Class was exemplary. They beat every other airline dish and meal I've had by a mile. Safe to say, Japan Airlines easily has some of the best in-flight dining in the sky – if not the best, period.
Entertainment
If there's one area where JAL first class stumbles, it's with its entertainment. But that's more of a reflection of how good everything else is.
Every seat is equipped with a 23-inch touchscreen monitor, which is on the smaller side by today's standards. It's also the same size as back in business class. And due to the age of these cabins, these screens aren't the most crisp you'll find. While they're touchscreen, your seat is so far away that it's largely pointless. Still, these screens get the job done.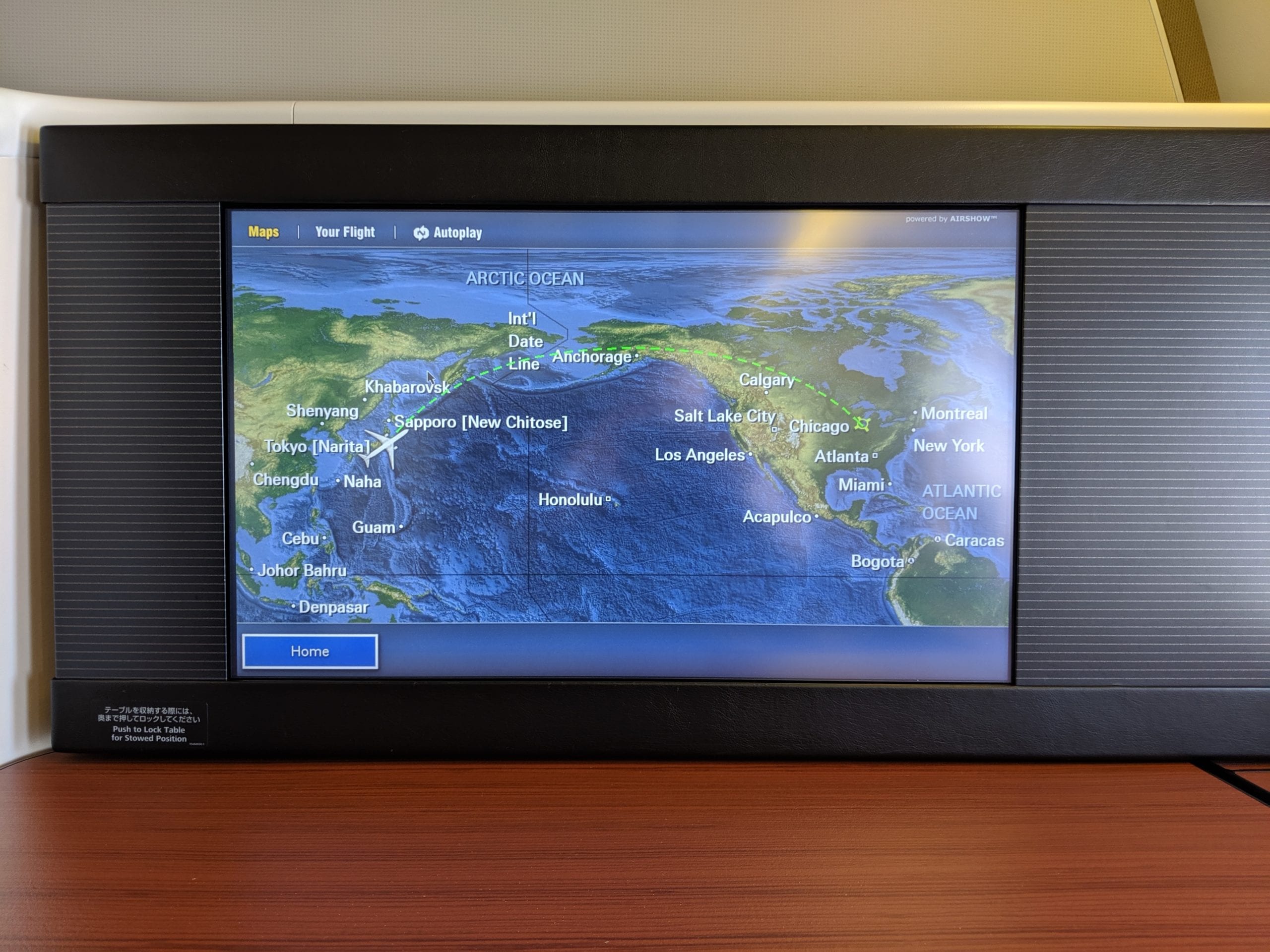 And beyond the touchscreen monitor itself, there are actually two remotes at your seat: An older analog remote and a much newer, touchscreen remote.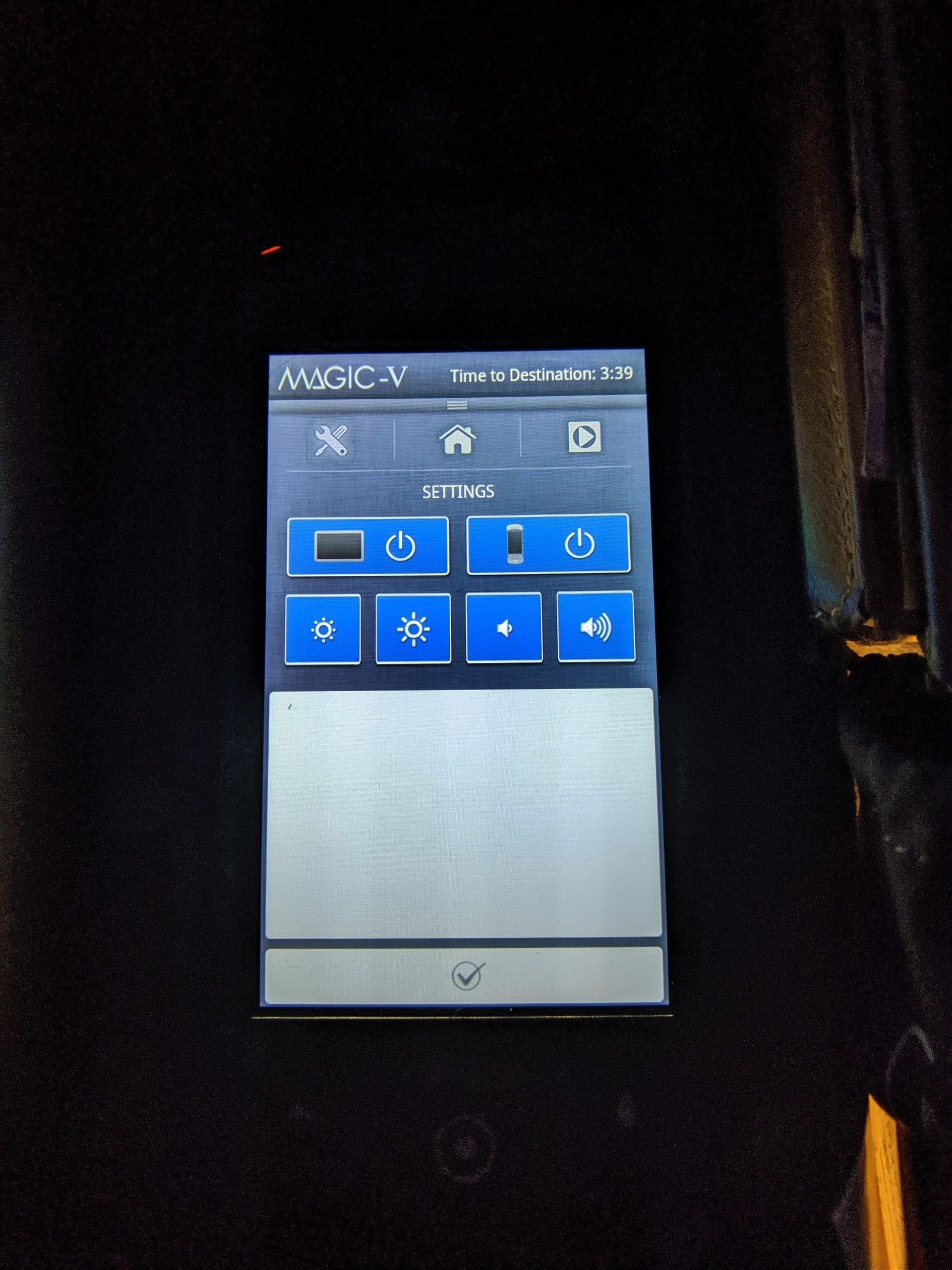 But the interface on these remotes is a bit clunky and confusing. Rather than simply tapping what you're looking for, you use your fingers on the remote as if it was a cursor on the screen.
And then there's the entertainment selection itself, which isn't up to par with some of the world's best airlines like Emirates, Qatar, or Singapore. I counted about 18 different new Hollywood releases and 20 or so older hits, along with plenty of Japanese movies. The TV selection wasn't great, either.
JAL gets some points back on the Wi-Fi front, as it's one of growing number of airlines that give first class passengers free Wi-Fi throughout the flight. And in my case, the internet was speedy throughout the entire flight.

Bottom Line
Japan Airlines First Class isn't perfect. The seats aren't state-of-the-art by any means, and the entertainment options aren't great.
But everything else, from the service to the food to the drinks and JAL's entire aura, is an absolute home run. Few airlines do it all better. And it all combines for a first class experience that is tough to beat overall.