This morning, SkyTrax announced their 2017 world airline award winners. The winners are selected by a public vote, so of course this is more of a subjective vote than anything else. Regardless, we use SkyTrax as a gauge for recommending airlines in many of our flight deals. The winner of the best overall airline for 2017 is Qatar Airways. We've made it no secret we love Qatar Airways for it's balance of price, and the quality of the soft (service) and hard product (aircraft/seats). Emirates is a close #2 for us.
Qatar Airways has one of the newest fleet of aircraft in the world and also offers solid first and business class lounges in Doha, Qatar. Hamad International Airport (DOH) in Doha is also a spacious and clean airport for a layover. We are going to spend this post covering Qatar Airways but make sure to view the full list of SkyTrax award winners.
SkyTrax World's Top 10 Airlines 2017 
Qatar Airways
Singapore Airlines
ANA All Nippon Airways
Emirates (Top airline 2016)
Cathay Pacific Airways
EVA Air
Lufthansa
Etihad Airways
Hainan Airlines
Garuda Indonesia
Qatar Airways
Qatar Airways is currently in the midst of a row with neighboring Middle Eastern countries, so I imagine this award comes as quite a relief for them. I've stated several times how big a fan I am of Qatar Airways overall and I'd like to cover the categories they won besides world's best airline: World's Best Business Class & Best First Class Lounge.
World's Best Business Class
The business reverse herringbone class seat on Qatar Airways 787 Dreamliner, A350, and A380 is one of the best in its class. I was able to snag a business class flight deal from New York to Singapore earlier this year, for only $1700 round-trip. If you have a pile of American Airlines AAdvantage miles, you can also book Qatar Airways flights. I recommend the Doha to London or Paris (flying the A380) in business or first class for 42.5k & 62.5k AAdvantage miles, respectively.
One of my favorite features of the A380 Business class is the onboard bar, which is accessible if you have a Business Class or First Class ticket.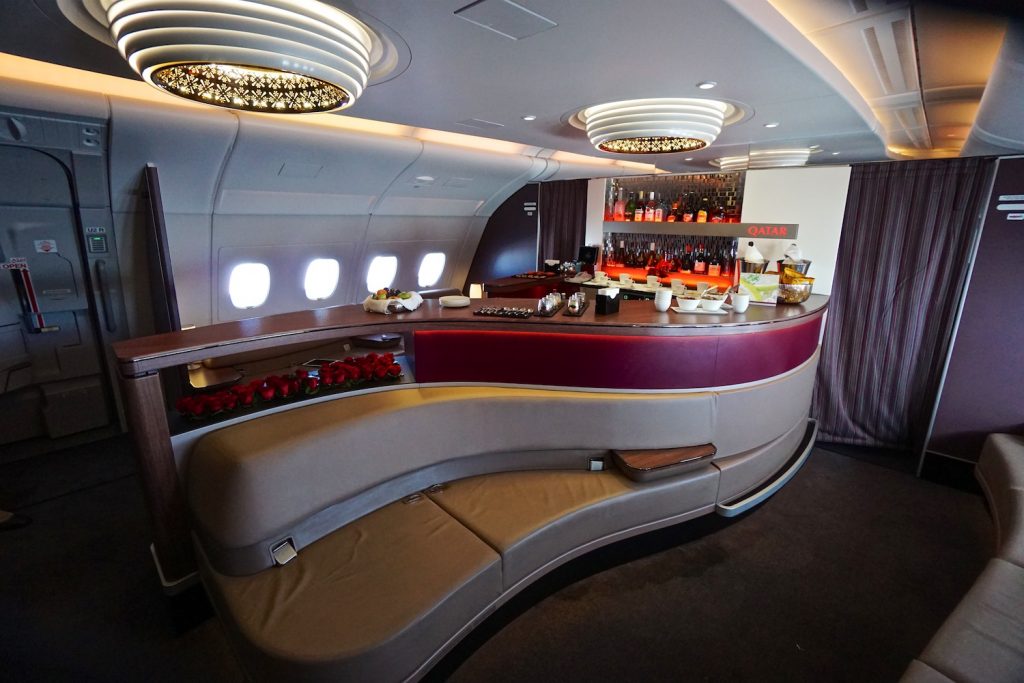 Best First Class Airline Lounge
I have not visited all of the best airline lounges in the world, but I will say I will say that the Al Safwa lounge in Doha, Qatar is my personal favorite. I was lucky enough to visit twice last fall (DOH – DXB & DOH – CDG) and this spring (DOH – AUH).
The lounge is massive and usually is pretty quiet. I've been there early in the morning with only 1-2 other people. There is plenty of seating as well as great dining options. If you have longer than a 8 hour connection, you can request a private room with bathroom and shower at no extra charge.
The easiest way to get access to the Al Safwa lounge would be to buy a first class ticket with points from Doha to Abu Dhabi or Dubai with Avios or Qmiles. This is no longer an option as flights are not operating between Qatar and the UAE. The next best option is to buy a First Class ticket from Doha to Paris or London on the Airbus A380 for 62.5k American Airlines AAdvantage miles. You will have to call in to book.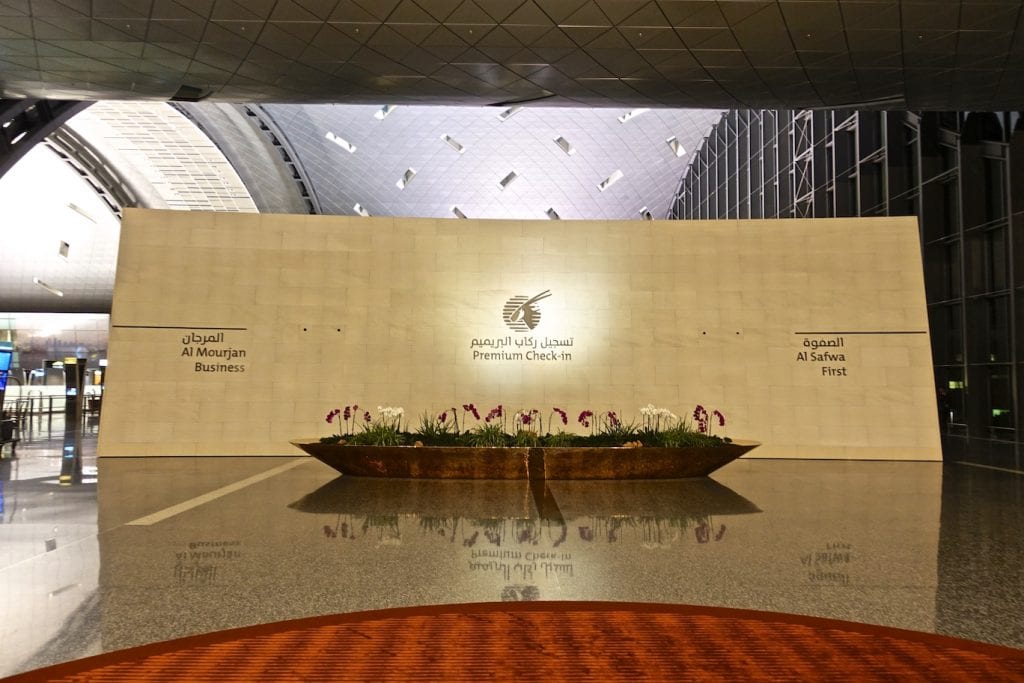 Bottom Line 
Congrats to Qatar Airways on their achievement. You will continue to see Thrifty Traveler post Economy & Business class flight deals on Qatar Airways as often as we can. You can't beat the value that Qatar Airways offers. Hopefully diplomatic issues between Qatar and it's neighbors will be resolved soon, and the region will be open for improved air travel in the near future. Make sure to check out the full list of SkyTrax award winners.
Subscribe to our Newsletter, like us on Facebook, and follow us on Twitter & Instagram
H/T: One Mile at a Time