Change is in the air at American Airlines: It's out with the dated (and fairly hard-to-find) Flagship First Class, in with a brand new business class suite – complete with a privacy door at every seat.
Well, that change isn't in the air yet. But American on Tuesday finally unveiled the long-anticipated new business class seats it aims to launch come 2024 on new Boeing 787-9 deliveries as well as on select transcontinental flights on new (and refurbished) Airbus A321s. By late 2024, American plans to start retrofitting its Boeing 777-300ER flight with these new business class suites, doing away with the eight-seat first class cabin altogether.
American also plans to introduce a new Premium Economy seat across its long-haul fleet. But the brand-new business class suite is the star of the show.

Whether you're on an American widebody plane flying somewhere far abroad or a new Airbus A321 flying cross-country, each new business seat is equipped with a fully-closing door and sharp new finishes, with soft wood grains, brown leather, and a pop of deep red. American is taking a page out of the book of Qatar Airways, which used an identical seat on its new Boeing 787-9s. Hawaiian Airlines is also planning to use the same seats on its own Dreamliners starting next year.
But this is a major fleet refresh in the works for American Airlines, finally putting the nail in the coffin of long-haul first class seating on the Dallas-based airline long after most other carriers ditched it in favor of flashier business class options.
"We are enhancing the customer experience across their entire journey with American," Julie Rath, American's vice president of customer experience, said in a statement. "The arrival of new long-haul aircraft and the customized seat design of the Flagship Suite seats will offer customers a truly private premium experience on our long-haul fleet."
On its 787 and 777-300ER, the new business class cabin will sport a 1-2-1 configuration, with seats in the middle section angled away from the aisle and direct aisle access for all passengers. American also says each seat will have "a chaise lounge seating option," which raises the prospect of dining face-to-face with a companion at 35,000 feet.
American will presumably remove the first class cabin on its long-haul 777s in order to install a whopping 70 business class seats onboard when refurbishing begins in late 2024. What does that mean for Flagship First Dining, exclusive a la carte restaurants available for first class passengers at lounges like the Dallas Flagship Lounge? We don't know yet.

It seems Flagship First Class is set to disappear from American's transcontinental routes, too. In its place, American is installing a nearly identical seat. Those new cabins will have 16 business class suites (or 20 on the Airbus A321XLR) arranged in a 1-1 fashion, meaning every passenger can step directly into the aisle, too.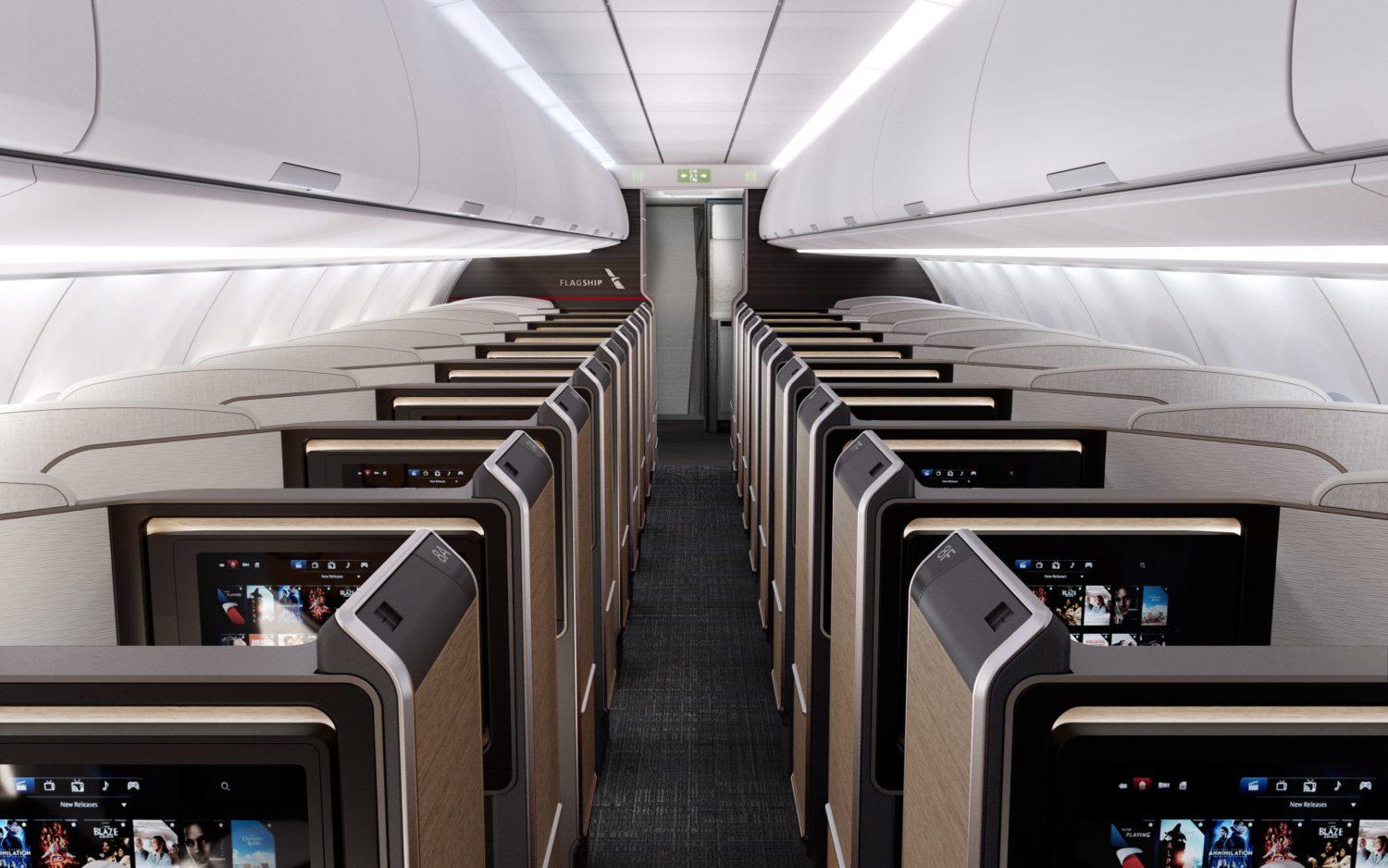 On all three planes, American also plans to introduce a brand new Premium Economy seat complete with wings on each side of the headrest for additional privacy. The airline said these new seats will have twice as much storage as what's available on the previous seat introduced back in 2016.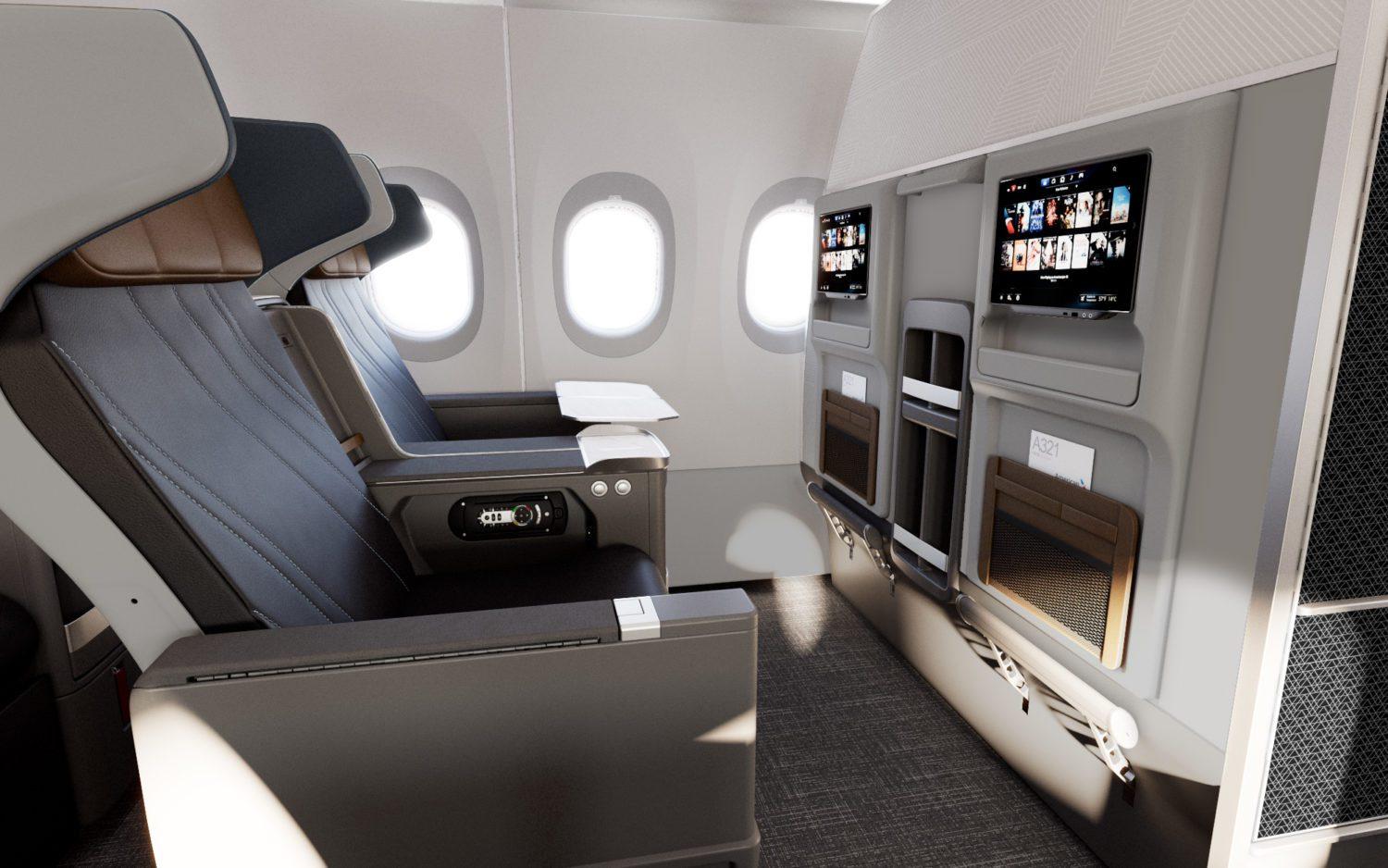 All told, American says it will increase its footprint of premium seats by 45 percent by 2026 – including installing a whopping 70 business class seats on its largest 777-300ER jets. That's a lot of business class seats on one plane, but it squares with the airline industry's newfound emphasis on catering to travelers willing to may more for a premium experience.
Bottom Line
After many, many months of rumors, American has officially pulled back the curtain on its newest business class and premium economy seats. While these won't take flight until 2024 at the earliest, it's a big step forward for the airline.
All images courtesy of American Airlines