You've seen the high-flying bloggers with dozens of credit cards in their wallets, promising to help you earn millions of miles to travel the world. This isn't one of those posts.
If you're just getting started with credit card points and miles, it can be overwhelming. Let's start simple: A single credit card sign-up bonus can net you 50,000 miles or more. And that can take you almost anywhere in the world.
With more than 100 international airlines and the ability to transfer credit card points to airlines, the possibilities of trips you can book are endless.
As you try to plan some trips for 2021 and beyond, here are five amazing flights you can book after earning just a single sign-up bonus.
Two Roundtrip Tickets to Hawaii
Getting to Hawaii can be expensive, but it doesn't have to be.
After unlocking a 50,000-points sign-up bonus from just one credit card, you'll have enough miles to book roundtrip flights for yourself and a companion. The trick is using … British Airways?
You read that right. Even though British Airways doesn't fly between the U.S. and Hawaii, it's partners with American Airlines through the Oneworld alliance. And that means you can use British Airways Avios to book American Airlines flights.
By doing it this way, you can book a round-trip flight from Los Angeles (LAX) or Phoenix (PHX) to any of the four major Hawaiian islands for just 26,000 miles. 

It's an American Airlines flight, so you could also use AAdvantage miles to book. But that would cost you 45,000 AAdvantage miles for the exact same flights. Same planes, same times. Now you see why British Airways is the way to go, and why it's one of our favorite ways to fly to Hawaii for cheap.
Credit Card to Use: 
Even if you never fly British Airways, their Avios are insanely easy to get.
That's because you can easily transfer points from Chase, American Express, and Citi directly to a British Airways account. And there are plenty of credit cards from those banks that will net you the 50,000 points you need to book a Hawaiian vacation for yourself and a pal.
One of our favorites is the Chase Sapphire Preferred® Card, which we think is the absolute best travel credit card in these times.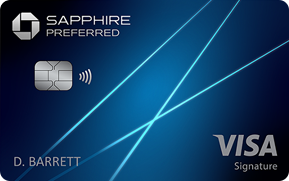 Click Here to get more information about the Chase Sapphire Preferred Card
Fly to Europe in Your Own Delta One Suite
If only you could score a cozy, lie-flat bed for the long flight across the Atlantic Ocean for cheap, right? How about your own private suite? And how's nearly free sound?
Delta One suites are one of the best business class seats in the world, with your own bed and a closing door. They're spacious, chic, and luxurious, and come with exemplary service and great meals. Read our review of Delta One from Tokyo-Haneda (HND) to Minneapolis (MSP).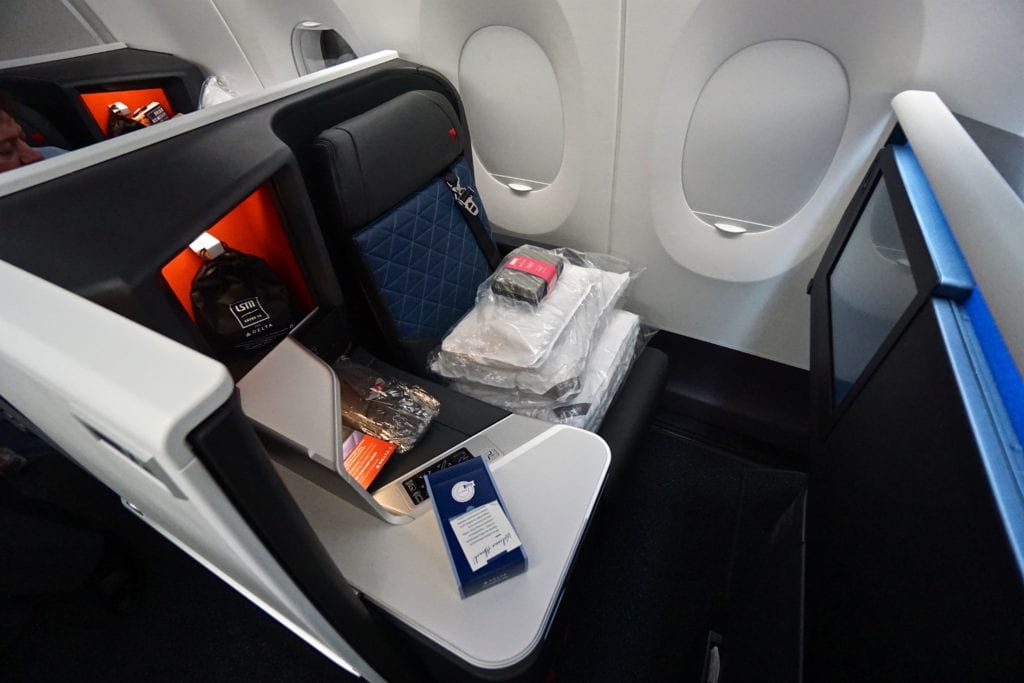 It's no wonder they cost thousands of dollars to book – and often hundreds of thousands of Delta SkyMiles. But there's a workaround that puts this spacious suite within reach after opening just a single credit card.
Thanks to their close partnership with Delta, you can use Virgin Atlantic miles to book Delta flights – often at a huge discount. So while it's not unusual to see Delta One suites going for 280,000 SkyMiles or more, you can find the exact same one-way flight to Europe in Delta One for just 50,000 Virgin Atlantic miles. 
It's gotten harder to find these planes flying to Europe these days as Delta downsized its fleet due to COVID-19. Your best bet is likely on the flight from Detroit (DTW) to Amsterdam (AMS). And trust us, it's worth booking a positioning flight to Detroit in order to fly in a Delta One suite. Zeroing in on these low rates can take some patience and practice, so read our guide to using Virgin Atlantic to book Delta flights.
It's much easier finding these suites on flights to Asia, as Delta deploys its Airbus A350s on many of those routes. You'll need 60,000 Virgin Atlantic miles for the long flights to Tokyo-Haneda (HND), Seoul-Incheon (ICN), Shanghai (PVG), or others.

Credit Card to Use: 
Much like British Airways, Virgin Atlantic miles are some of the easiest to pile up.
You can quickly get Virgin Atlantic miles by transferring them from Chase, American Express, Citi, and Marriott. And again, our favorite option might be the Chase Sapphire Preferred.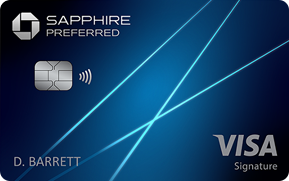 Click Here to get more information about the Chase Sapphire Preferred Card
But if you want to get some great travel perks for your luxurious trip to Europe next year, it's worth considering the Chase Sapphire Reserve. With a $550 annual fee, it's not for everyone. But it comes with a near-unbeatable set of benefits that can easily offset the sticker shock. You can get into 1,000 airport lounges worldwide with a Priority Pass membership, get a $100  credit for Global Entry or TSA PreCheck to speed through the airport, and instantly cover $300 in travel expenses every year.
Click Here to get more information on the Chase Sapphire Reserve®. 
A Round Trip to Europe with Miles to Spare
If you want to get to Europe and back, you won't find a cheaper way to do it using miles than this.
Most airlines charge at least 30,000 miles to get to Europe in economy, and another 30,000 to get home. But if you time it right, you can fly with a major international airline for just 34,000 miles round-trip.
The secret is to use Iberia, the flag carrier from Spain. This airline has the consistently lowest prices to get to Europe using miles. Iberia has even held limited-time promotions slashing even that bargain price in half – 17,000 miles round trip! You can't get to Las Vegas or Chicago one-way for that price. It's one of the best deals in points and miles.
You have to fly during "off-peak" times to snag that 34,000-mile rate. But Iberia is insanely generous with its rules – only July and August and a few weeks scattered throughout the year are typically considered peak-season travel. Check and see just how wide-open that schedule is. 
You can fly from Chicago-O'Hare (ORD), Boston (BOS), or New York City-JFK (JFK) at this price. Fly into Iberia's Madrid (MAD) hub and spend some time in Spain, or connect onward throughout Europe. The one small hitch is that you'll get hit with about $150 or so in fees by flying in and out of Madrid using Iberia miles. But that's largely unavoidable in Europe, where airports tack on massive fees. You'd likely pay triple that figure by flying into London-Heathrow (LHR) with most airlines.
Credit Card to Use:
Are you sensing a pattern yet?
There's a reason why the Chase Sapphire Preferred is our No. 1 card for beginners. It's so valuable and versatile. And the ability to transfer points to Iberia and capitalize on this deal just underscores that.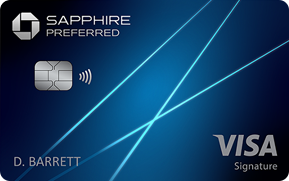 Click Here to get more information about the Chase Sapphire Preferred Card
Two Roundtrip Tickets to Mexico or the Caribbean – Or a Trip for One in Business Class
If you need a tropical getaway to escape next winter, here's a great option to do it with a single credit card bonus. And the best part is you don't need to spend $4,000 to get the points.
This one is yours after spending just $99. But more on that later.
Using American Airlines AAdvantage miles, you can book a round-trip ticket to most cities in Mexico, the Caribbean, or Central America for as low as 25,000 miles round-trip. Finding dates that work at that price can be tricky – you might need to settle for 30,000 round-trip, which is still a steal.
Or you could splurge a bit and fly business class to start off your winter getaway instead for 50,000 AAdvantage miles round-trip. If you pick the right route – like Chicago-O'Hare (ORD) to Cancun (CUN) – you may be able fly one of American's best business class seats on the Boeing 787. And as a bonus, you can connect from almost anywhere in the U.S. to get on that great plane and not pay an extra mile.
Much better than those old recliners you're used to seeing in First Class, right? If you feel bad about leaving your companion behind while you fly business class, tell them how to join you. As you'll see, it couldn't be easier.
Credit Card to Use: 
Most credit cards require you to spend $3,000 to $4,000 or more to get that big points bonus to book flights like this. But there's a card that can get you 60,00 AAdvantage miles with a single purchase – no matter how much (or little) you send.
Say hello to the Barclay AAdvantage Aviator Red World Elite Mastercard. It might be a mouthful, but it's one of the best-kept secrets in the world of miles and points. 
Pay the card's annual fee of $99 and make a single purchase, and these 60,000 miles are yours. And you've just seen how far that can get you.
This card also gets you free checked baggage on American Airlines flights within the U.S. And you'll earn 2x miles for every dollar you spend at AA.com.
Click Here to get more information about the Barclay AAdvantage Aviator Red World Elite Mastercard.
Fly Five-Star Business Class with ANA to Japan
If you're going to fly 13-plus hours to Asia, you want to do it comfortably. And while many airlines charge an arm and a leg to snag a seat (that turns into a bed) in business class, it doesn't have to be that way.
This is where ANA comes in. Get some miles with this airline (we'll show you how shortly), and you can fly business class to Japan in for the mileage most airlines charge for economy. You can get a 21-inch wide seat, 62-plus inches of legroom, catered meals and impeccable service for as low as 75,000 miles round-trip. 
Or better yet, snag a seat in ANA's brand new business class seats they've dubbed "The Room."
ANA's pricing varies by low, regular, and high season. So depending on when you travel, a business class ticket could cost you 75,000, 85,000 or 90,000 miles, respectively. But low-season is generous, and it generally includes cherry blossom season in early April – a perfect time to explore Tokyo.
For years, ANA passed on some considerable cash fees. But now is the perfect time to book a trip for 2021, as ANA has slashed those fees down from $250 or more to the point you'll pay just $58 or so for a round-trip business class award.
Credit Card to Use: 
You'll need a premier card to make this redemption happen in one shot. The Platinum Card® from American Express is up for the job.
With an annual fee of $695 each year, the Platinum card isn't cheap (see rates & fees). But it more than makes up for that high cost with the best travel perks and benefits you'll find. For starters, you'll get access to more airport lounges than any other card gives you, including Amex Centurion Lounges, Delta SkyClubs, Priority Pass lounges, and more. There's up to $200 in airline fee credits, along with up to $200 in Uber ride credits. Add in up to $100 each year to Saks Fifth Avenue and up to a $100 credit for Global Entry or TSA PreCheck, and it's easy to see why frequent travelers love this card (terms apply).
Bottom Line
You don't need to open a dozen or more credit cards to take an amazing trip using miles and points in 2021. These five examples are just a small slice of what's possible after opening just a single credit card – so long as you've got the right plan in place.