Over the years, The Platinum Card® from American Express has added extra travel benefits and money-saving statement credits that make it feel like a coupon book. The same generally goes for the business version of the card, The Business Platinum Card® from American Express. And making the most of these top-dollar travel cards means putting them all to use before they expire.
Many of those credits are tailored toward travel, like up to $200 a year to cover airline fees, up to $200 towards select hotel stays, and an annual $189 CLEAR Plus credit. But whichever Platinum Card you've got, there's a twice-a-year credit that has nothing to do with travel … and time is quickly running out to use either of them. 
The personal Platinum Card gets up to $100 per year in credits at Saks Fifth Avenue. Because that's doled out twice a year, you've got until June 30 to use the first $50 credit.
The Business Platinum Card comes with a variety of credits as well. And while many are annual credits, you'll get $200 every six months to use on Dell purchases. Make sure you have a plan to use up your Dell credit before it expires at the end of June!
Read on for everything you need to know about maximizing these credits and making sure they don't go to waste.
Don't have the Business Platinum Card? Check to see if you're targeted for a whopping 200,000-point welcome offer bonus. 
Up to $50 for Saks Fifth Avenue
Each year you hold the Platinum Card, you get up to $100 in credit to use at Saks Fifth Avenue. One $50 credit is available from Jan. 1 through June 30, with another $50 available from July 1 through Dec. 31.
Like the other credits available on the Platinum card, you will lose any remaining balance after the expiration date. And it's best not to wait until the last minute with these credits: Saks likely won't charge you for your purchase until it ships. Giving yourself a buffer of at least a couple of days can be the difference between cashing in on these credits and missing out altogether.
Enrollment is required beforehand in order to take advantage of these semi-annual credits. Head to the "Rewards & Benefits" page within your Amex account online.
Once you're on the "Benefits" page you'll see all the available credits and perks on your card. After you find the one for "Shop Saks with Platinum," just click "Enroll" and then you're good to go.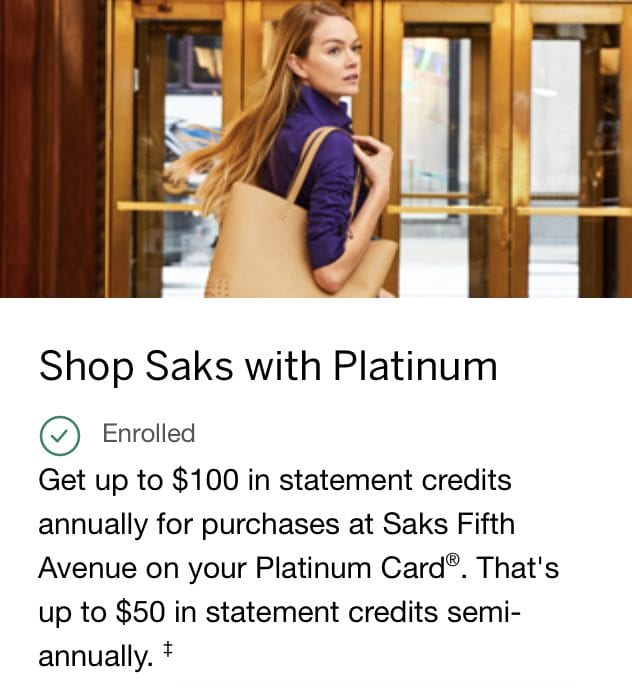 The offer can be used both in-store and online. Per the terms and conditions, it will not work for the purchase of gift cards.
Saks Fifth Avenue isn't the cheapest place to shop, but you should be able to find a few things each year to use your credit on. And make sure to stack any purchase you make with a shopping portal like Rakuten to earn additional cashback – or even American Express Membership Rewards points.
Thrifty Tip: If you purchase something with your credit and then later return it, you can choose to receive merchant credit instead of a refund. This will allow you to pool your credits together and buy something for more than $50 without spending additional money out of pocket.
Again, this is a use it or lose it credit. If you haven't used your first $50 so far this year, you have until June 30 to make a purchase – but it's best not to cut it that close.
Up to $200 for Purchases at Dell
If you have the Business Platinum Card from American Express, you'll get up to $200 back twice each year for purchases made at Dell.com.
Like the Saks credit on the personal Platinum Card, it's split into twice-yearly credits. Cardholders get up to a $200 statement credit to use from Jan. 1 through June 30, and another up to $200 credit to use from July 1 through Dec. 31.
In order to take advantage of the Dell credit on the Business Platinum, you'll need to first register before making a purchase. You'll do this the same way as registering for the Saks Fifth Avenue credit mentioned above. Upon completing enrollment you should see that the credit now shows up on your benefits page as "Enrolled" – confirming that you're ready to cash in.
Before you head to Dell.com to start shopping, make sure to first click through Rakuten on your way to the Dell website. While the current earning rate is 2% cash back, we've seen these rates go as high as 20% cash back in the past. And because Rakuten now allows you to earn Membership Rewards instead of cash back, you could earn a minimum of 2x additional American Express Membership Rewards points instead.
You might be seeing a pattern here, but this Dell credit is another use-it-or-lose-it benefit. So make sure to spend your $200 by the end of the month or it will be forfeited.
Stack These Credits With Amex Offers
Sometimes Amex sweetens the deal even further with these credits by putting out an Amex offer to earn additional points on your purchase – or in some cases, even more money back.
Right now, there's an Amex offer out for earning an additional 2x Membership Rewards points at Dell. If you were targeted for this offer on your Business Platinum card it can be a great way to get even more value out of your semi-annual $200 credit.
If you haven't used Amex Offers before, simply log into your American Express account and scroll down near the bottom of the screen and there should be a box called "Amex Offers & Benefits" (this is available through the Amex mobile app as well).
If you see an offer you like, just add the offer to the card and make a qualifying purchase at that business with your card. You should receive a statement credit for the offer within a few days of making a purchase – if not immediately.
Not familiar with Amex Offers? See our complete guide to using Amex Offers.
Bottom Line
If you hold either the Platinum Card or the Business Platinum from American Express, time is running out on using your first Saks Fifth Avenue and Dell credits before they expire at the end of the month.
If you haven't used them already, be sure to register and make a purchase before they expire. And because the credits may not kick in until your items ship, it's best not to leave it until the final day.
Learn more about *amex platinum*.