The Maldives are practically synonymous with the words "bucket list." But a big bucket list trip doesn't have to mean a big budget – especially if you fly to the Maldives using points and miles.
Let's be real: Getting to the Maldives by redeeming your credit card points or airline miles is much more involved than booking your typical domestic flight. No U.S. airlines fly direct to the islands, and many of the major international carriers only fly there seasonally.
But don't despair. There are some serious sweet spots and opportunities to get to the Maldives for cheap whether you're happy flying economy or want to fly to paradise in style. Here's how to get to the Maldives using points and miles … so you can save your money to splurge once you're there.
Read more: Are the Maldives Worth a Spot on Your Bucket List?

Make a Flight Deal Free Using Chase Points
There's only one way to fly to the Maldives for completely free. And it all starts with a cheap flight.
Using credit card points like Chase Ultimate Rewards to book flights is one of the simplest ways to book travel using points, and it's one of our favorites. Considering using airline miles will always incur some cash fees, this is the only way to do it for completely free – plus you'll earn airline miles on your flight, too.
While cheap cash flights from the U.S. to the Maldives can be rare, we're always on the hunt to send a great deal to our Thrifty Traveler Premium members. Flights typically cost $1,400 or more round-trip, but we've found flights as low as $597 roundtrip. 
Most recently, we found an amazing fare from Washington, D.C.-Dulles (IAD) all the way to the Maldives this fall for $884. Best of all, this great fare was flying the world's best airline: Qatar Airways.

Get cheap flight alerts like this one straight to your inbox with Thrifty Traveler Premium!
If you've got the Chase Sapphire Preferred® Card, you could book those same flights for 70,700 points through the Chase Ultimate Rewards travel portal. It's even cheaper with the Chase Sapphire Reserve®: You could book for just 58,900 points total!
Read our guide to booking flights through the Chase Travel Portal!
How to Do It: You can use other credit card points to book flight deals, like this but Chase should be your go-to here.
That's because of the bonus you get when booking flights directly through Chase. Every point from the Chase Sapphire Preferred® Card is worth 1.25 cents toward your flight.
That means the 60,000-point welcome bonus after spending $4,000 within three months is worth at least $750 toward airfare.

Click Here to get more information about the Chase Sapphire Preferred® Card. 

And with the Chase Sapphire Reserve®, every point is worth more at 1.5 cents apiece. That card also offers a 60,000-point sign-up bonus after spending $4,000 after three months. That's $900 toward your flights to the Maldives.
Fly Qatar Airways Economy with AA Miles
Flying Qatar Airways is one of our favorite ways to use American AAdvantage miles. And using AA miles is one of the few ways to use airline miles to fly economy to the Maldives for a bargain.
American's award chart spells it all out: It'll cost you 40,000 miles each way in economy on Qatar Airways – and Etihad, too. Paying 80,000 AAdvantage miles is about as good as it gets on any airline for a round-trip flight.
Plus, you can often fly from almost any airport in the U.S. to the Maldives at that price, thanks to how American sets award prices. Whether it's a one-stop flight from Dallas-Fort Worth (DFW) or a two-stop journey from Minneapolis-St. Paul (MSP), you'll pay just 40,000 AAdvantage miles each way.

And booking these Qatar Airways flights is a cinch, as you can easily search and book them online at AA.com.
How to Do It: No airline makes it easier to pile up miles fast than American Airlines. That's part of the reason why this is our go-to method to book flights to the Maldives using points and miles.
American Airlines has two major co-branded credit cards with different banks: Citi and Barclay's. And because you can earn the welcome bonuses on each card, it's an easy one-two punch to quickly earn 100,000 AAdvantage miles (or more).
For starters, there's the Citi® / AAdvantage® Platinum Select® World Elite Mastercard®, which is currently offering 50,000 AAdvantage Miles after spending $2,500 within the first three months. The card's $99 annual fee is waived in the first year. 
But there's another option, too – and it's even easier. Few credit cards offer a better, more lucrative welcome offer bonus than the AAdvantage Aviator Red World Elite Mastercard. Just for opening the card, making a single purchase, and paying the $99 annual fee, you can currently earn 70,000 American Airlines AAdvantage miles. 
This bonus is bigger than it's even been. And these are some of the easiest miles you will ever earn.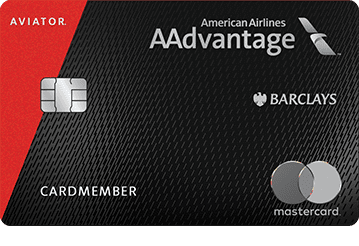 Apply Here (for full disclosure this is not an affiliate link).
Add them up, and you've got at least 120,000 AAdvantage miles to work with to get to the Maldives.
Read up on how to quickly earn 120K AAdvantage miles for your travels in 2023 and beyond!
Or Fly in Qsuites Using AAdvantage Miles
You're going to the Maldives. Why not fly in style?
There's no better way to fly than Qatar Airways' Qsuite business class. It's the best business class seat in the world. I mean, just look at this.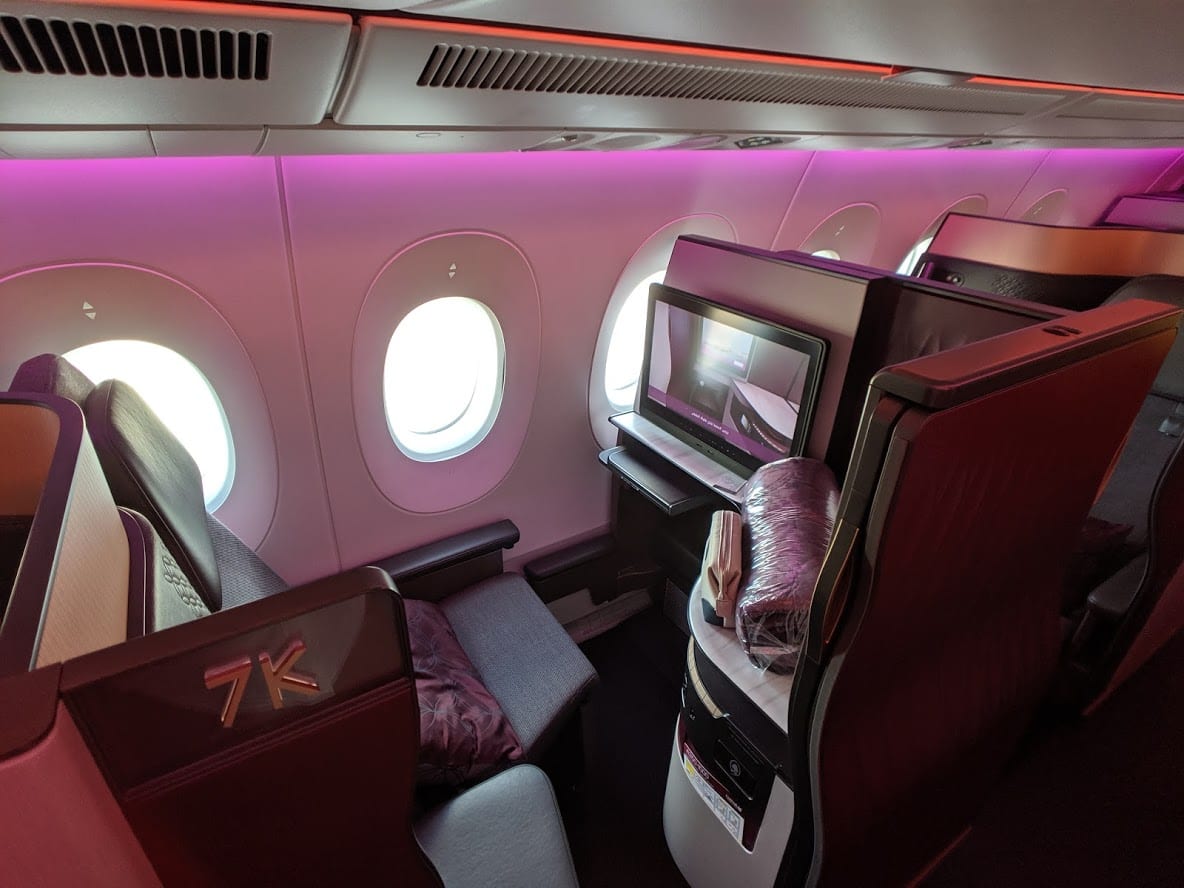 Read our full review flying Qsuites from Dallas-Fort Worth (DFW) to Doha (DOH)!
And once again, AAdvantage miles shine as the best way to get to the Maldives in business class. It'll cost you 70,000 miles each way – a fraction of what many other airlines charge.


But the trick is finding the award availability to actually book these amazing suites all the way to paradise. Don't worry, we've got you covered there: We've sent Thrifty Traveler Premium+ members several award alerts to book Qsuites to the Maldives.
That includes this recent gem from last month, when we tipped off travelers that they could book a trip for two to the Maldives next winter or spring!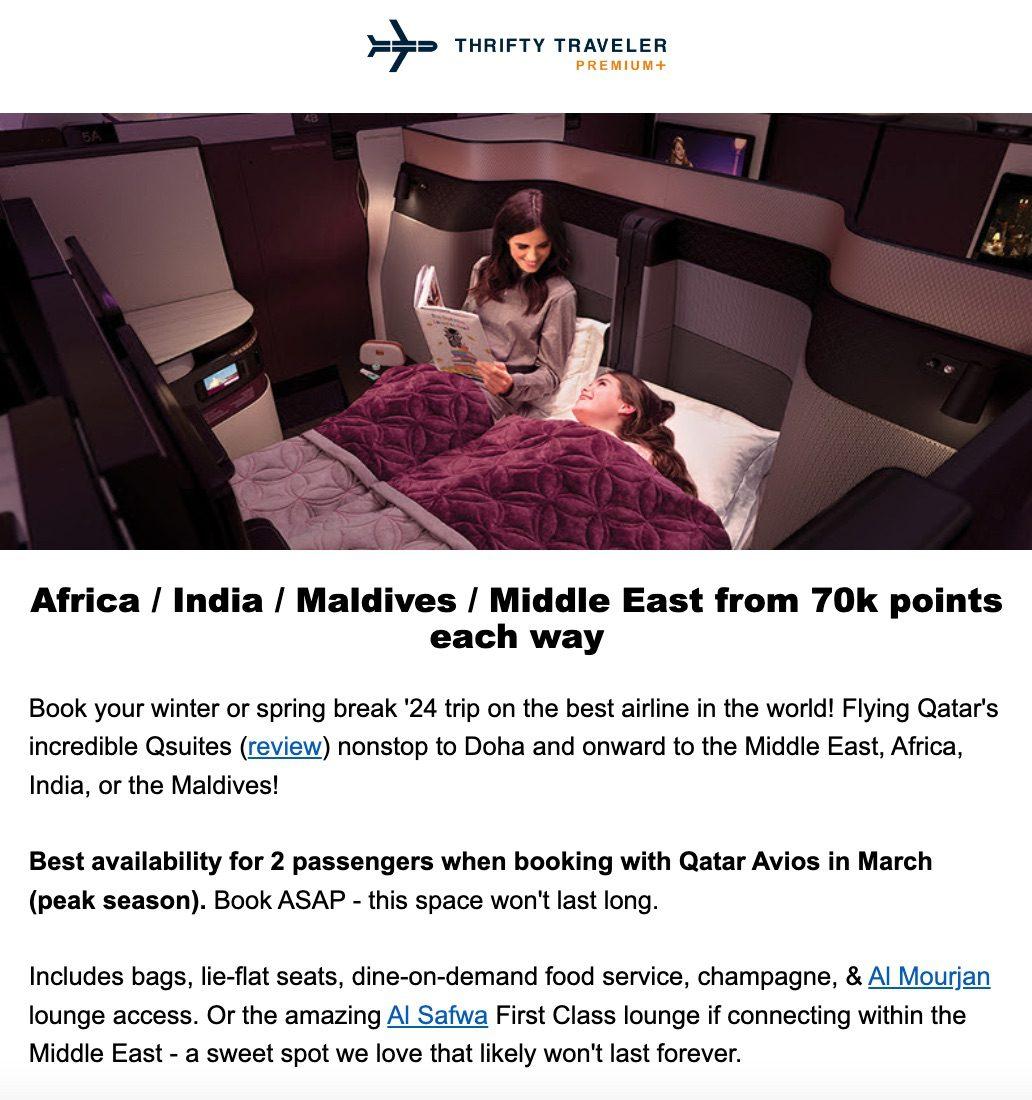 Only Thrifty Traveler Premium+ members get award alerts to use their points and miles!
How to Do It: Third verse, same as the second.
Once again, the ease of quickly earning 120,000-plus AAdvantage miles from two co-branded credit cards can put this in reach. If you're a few thousand miles short, you can also transfer points from Marriott to your AA account … or better yet, transfer Bilt Rewards to American if you're racking up points while paying rent.
Thrifty Tip: Can't afford to fly both ways in business class? Consider booking business class to arrive refreshed in the Maldives, then fly economy back home for a total of 110,000 AAdvantage miles. 
Don't have AAdvantage miles at all? If you've got transferrable points from cards like the the Capital One Venture X Rewards Credit Card, the Chase Sapphire Preferred® Card, or The Platinum Card® from American Express, you're in luck.
Thanks to some changes in the last year, you can now book Qsuites at great rates using Avios from British Airways, which is a Chase transfer partner, Amex transfer partner, and Capital One transfer partner. That means you can transfer 85,000 points and book a ride to the Maldives in Qsuites!

Read our full walkthrough on the best ways to book Qatar Qsuites!

Turkish Airlines Economy for 45K (or Biz for 67.5K)
No airline flies to more destinations around the globe than Turkish Airlines. It's one of the best carriers in the world, and that makes it one of your best bets to get to the Maldives on points.
Turkish charges 45,000 miles from its Turkish Miles & Smiles program for a one-way flight to the Maldives. That's not the best deal on the planet, but it's solid enough to make this list – especially when there are fewer and fewer options to make it to the Maldives using points and miles.

But wouldn't it be nice to fly in Turkish Airlines business class instead? It's one of the best ways to fly, period – especially if you snag a ride on one of their newer Airbus A350s or Boeing 787s with spiffy seats. But no matter what you're flying on, you'll get lie-flat seats all the way to the Maldives, some of the best onboard meals in the sky, and a pitstop at the airline's awesome lounge in Istanbul (IST).
Turkish charges 67,500 miles for a one-way business class flight from the U.S. to the Maldives. The trick is finding award availability to actually book at those low rates: Not just on the long-haul to Istanbul, but from Turkey down to the Maldives, too. That last segment is tough, so you might see rates more like
But if you get a Thrifty Traveler Premium+ alert like this one we sent members a few weeks back for a trip next winter, you could scope out whether you could make it all the way to the Maldives instead!

Get the heads up on amazing deals like this to use your points with Thrifty Traveler Premium+!
How to Do It: Don't worry about flying Turkish to rack up their miles. There's a better way.
Turkish Airlines is one of the best transfer partners of both Capital One and Citi. So if you've got points saved up on either the Capital One Venture X Rewards Credit Card or the Citi Premier® Card, you've got what you need.
The best part? These are instant transfers. And if you're earning points on rent, you can also transfer Bilt Rewards to your Turkish Airlines Miles & Smiles account.
Check out our full guide to redeeming through Turkish Miles & Smiles!

Fly Cathay Pacific First with Alaska Miles
This opportunity has disappeared for now. But we're keeping it on the list in hopes that it returns … because it might just be the best option on the whole list.
There's nothing quite like Cathay Pacific's first class, with ultra-wide and ultra-comfy seats that recline into one of the best beds in the sky, great food and impeccable service. And there's one great way to book it: Using Alaska Mileage Plan miles.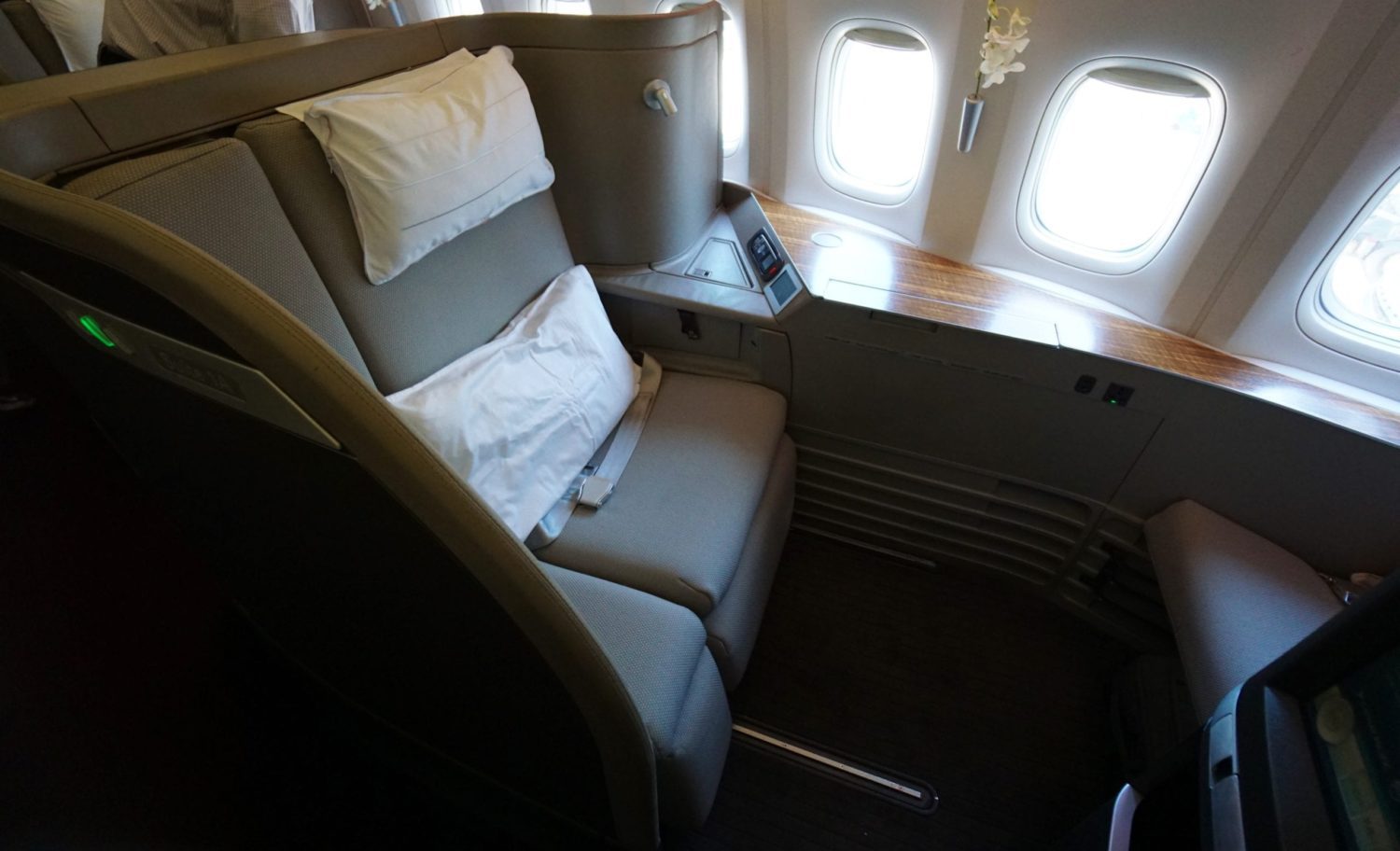 With Alaska Mileage Plan miles, you used to be able to fly from the U.S. to the Maldives in Cathay Pacific first class for just 70,000 miles. After making changes to its award chart, it's possible we may see a hike on Cathay Pacific redemptions – that's what they did for many routes flying partner carrier Japan Airlines.
Unfortunately, this isn't even bookable right now, period. Cathay Pacific scrapped flights to the Maldives altogether during the pandemic. We hope this route eventually returns as travel to and from Hong Kong ramps back up after recently reopening.
And if it does, you can pull this off for a bargain: Most airlines would charge double (or more) the miles for these flights.  Keep in mind that you may not get a first class seat all the way to the Maldives – Cathay Pacific previously flew older Airbus A330s from Hong Kong to Male (MLE), and those weren't equipped with first class seats.

How to Do It: There's no doubt about it. Earning a bunch of Alaska miles can be tough.
On the bright side, Alaska Airlines is one of the few that still bases mileage accrual on the distance you fly. That's an insanely lucrative setup for Alaska flyers, and it makes it fairly easy to rack up miles based on your flights – just be sure you don't buy an Alaska basic economy fare. You can also credit miles from flights on partner airlines like American, among many others.
Unfortunately, Alaska doesn't partner with any of the major banks that have transferrable points like Chase or American Express, so it's a little harder to earn Alaska miles compared to some other programs. But there are still a handful of ways to quickly earn a bunch of Alaska miles to get you started.
Hands down, the best path right now is with the Alaska Airlines Visa® credit card.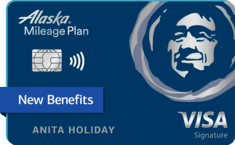 Learn more about the Alaska Airlines Visa® credit card

Beyond that, Alaska runs regular sales when purchasing miles, with bonuses of up to 60%. It's one of the few airlines where it could make sense to buy miles – especially if you're splurging for a first or business class flights.
Book Your Resort in the Maldives on Points, Too!
In a place as expensive as the Maldives, flights are just the start. With nightly rates that can easily start at $1,000 (if not double that or more), mandatory seaplane transfer fees, and pricey meals, it all adds up really fast.
So booking your hotel stay using points can be critical … and not just any resort will do. Trust us: Considering you'll be stuck on an island for your stay, the key to your Maldives trip is the resort you choose.
We've got a few favorites:
There's no better way to book an overwater bungalow on a budget than the Le Méridien Maldives. You can book this property using as low 49,000 Marriott Bonvoy points a night, and we recently spotted some great availability to book a stay later this year and into March 2024.
Want to splurge? You can't beat the St. Regis Maldives Vommuli, arguably the best resort in the region, period. It's pricier but well worth using the 85,000 Marriott Bonvoy points per night (or more) for a spot like this.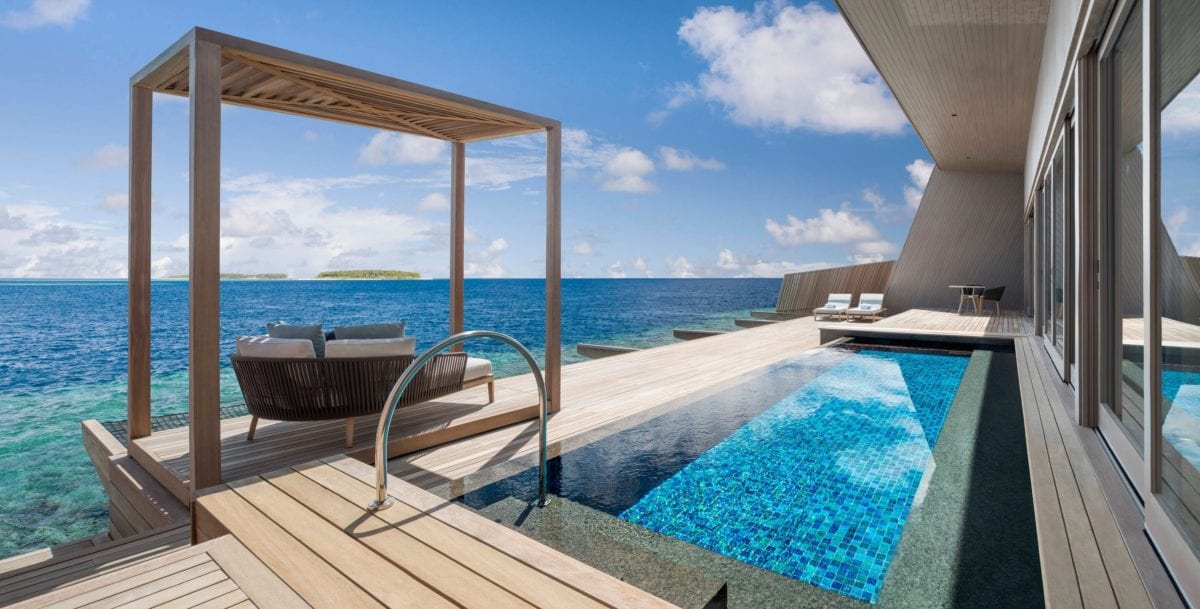 Got Hilton points or free night certificates? You can't beat the Conrad Maldives Rangali Island, a property that's typically fairly easy to book for 120,000 Hilton Honors points per night – or a fantastic use of Hilton free night certificates.
The Park Hyatt name may get all the attention, but we've got our eyes on the relatively new Alila Kothaifaru Maldives instead – especially since it's fairly easy to book for as low as 25,000 Hyatt points per night.
Bottom Line
Visiting the Maldives is expensive. There's no way around that. But flying there doesn't have to be.
Whether you utilize credit card points to make a cheap flight deal free or leverage an airline sweet spot, there are a few great ways to get to the Maldives using points and miles.