Already chiseled into many travelers' bucket lists, the pristine paradise of the Maldives is poised to vault even higher as people get revenge on 2020 by going bigger than ever for their next big trip. But a big bucket list trip doesn't have to mean a big bucket list budget – especially if you fly to the Maldives using points and miles.
Getting to the Maldives on credit card points or airline miles is the definition of "aspirational." So go figure it's easier said than done – for a destination with this kind of reputation, getting to the Maldives can be a challenge whether you're paying cash for flights or using miles. No U.S. airlines fly direct to the islands, and many of the major international carriers only fly there seasonally.
But don't despair. There are some serious sweet spots and opportunities to get to the Maldives for cheap whether you're happy flying economy or want to fly to paradise in style. Here's how to get to the Maldives using points and miles … so you can save your money to splurge once you're there.
Read more: Are the Maldives Worth a Spot on Your Bucket List?
Make a Flight Deal Free Using Chase Points
There's only one way to fly to the Maldives for completely free. And it all starts with a cheap flight.
Using credit card points like Chase Ultimate Rewards to book flights is one of the simplest ways to book travel using points, and it's one of our favorites. Considering using airline miles will always incur some cash fees, this is the only way to do it for completely free – plus you'll earn airline miles on your flight, too.
While cheap cash flights from the U.S. to the Maldives can be rare, we're always on the hunt to send a great deal to our Thrifty Traveler Premium members. Flights typically cost $1,200 or more round-trip, but we've found flights as low as $597 roundtrip. And best of all, this best-ever deal to the Maldives was flying the world's best airline: Qatar Airways.
If you've got the Chase Sapphire Preferred Card, you could book those same flights for just 47,700 points through the Chase Ultimate Rewards travel portal. It's even cheaper with the Chase Sapphire Reserve: You could book for 39,800 points total!
Read our guide to booking flights through the Chase Travel Portal!
How to Earn the Points You Need: You can use other credit card points to book flight deals, like this but Chase should be your go-to here.
That's because of the bonus you get when booking flights directly through Chase. Every point from the Chase Sapphire Preferred Card is worth 1.25 cents toward your flight. That means the 60,000-point welcome bonus after spending $4,000 within three months is worth at least $750 toward airfare.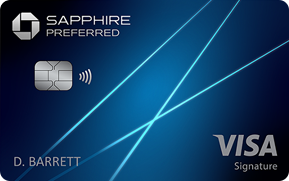 Click Here to get more information about the Chase Sapphire Preferred Card. 
And with the Chase Sapphire Reserve, every point is worth more at 1.5 cents apiece. But that card only offers a 60,000-point sign-up bonus after spending $4,000 after three months. That's $900 toward your flights to the Maldives.
Fly Qatar Airways Economy with AA Miles
Flying Qatar Airways is one of our favorite ways to use American AAdvantage miles. And using AA miles is one of the few ways to use airline miles to fly economy to the Maldives for a bargain.
American's award chart spells it all out: It'll cost you 40,000 miles each way in economy on Qatar Airways – and Etihad, too. Paying 80,000 AAdvantage miles is about as good as it gets on any airline for a round-trip flight.
Plus, you can fly from almost any airport in the U.S. to the Maldives at that price, thanks to how American sets award prices. Whether it's a one-stop flight from Dallas-Fort Worth (DFW) or a two-stop journey from Minneapolis-St. Paul (MSP), you'll pay just 40,000 AAdvantage miles each way.
And booking these Qatar Airways flights is a cinch, as you can easily search and book them online at AA.com.
How to Earn the Miles You Need: No airline makes it easier to pile up miles fast than American Airlines. That's part of the reason why this is our go-to method to book flights to the Maldives using points and miles.
American Airlines has two major co-branded credit cards with different banks: Citi and Barclay's. And because you can earn the welcome bonuses on each card, it's an easy one-two punch to quickly earn 100,000 AAdvantage miles (or more).
For starters, there's the Citi® / AAdvantage® Platinum Select® World Elite Mastercard®, which is currently offering 50,000 AAdvantage Miles after spending $2,500 within the first three months. The card's $99 annual fee is waived in the first year. 
Click Here to learn more about the Citi® / AAdvantage® Platinum Select® World Elite Mastercard®
But there's another option, too – and it's even easier. Few credit cards offer a better, more lucrative welcome offer bonus than the AAdvantage Aviator Red World Elite Mastercard. Just for opening the card, making a single purchase, and paying the $99 annual fee, you can earn 50,000 American Airlines AAdvantage miles. These are some of the easiest miles you will ever earn.
Click Here to apply for the AAdvantage Aviator Red World Elite Mastercard (this is not an affiliate link)
Add them up, and you've got at least 100,000 AAdvantage miles to work with to get to the Maldives.
Read up on how to quickly earn 100K AAdvantage miles for your travels in 2021 and beyond!
Or Fly in Qsuites Using AAdvantage Miles
You're going to the Maldives. Why not fly in style?
There's no better way to fly than Qatar Airways' Qsuite business class. It's the best business class seat in the world. I mean, just look at this.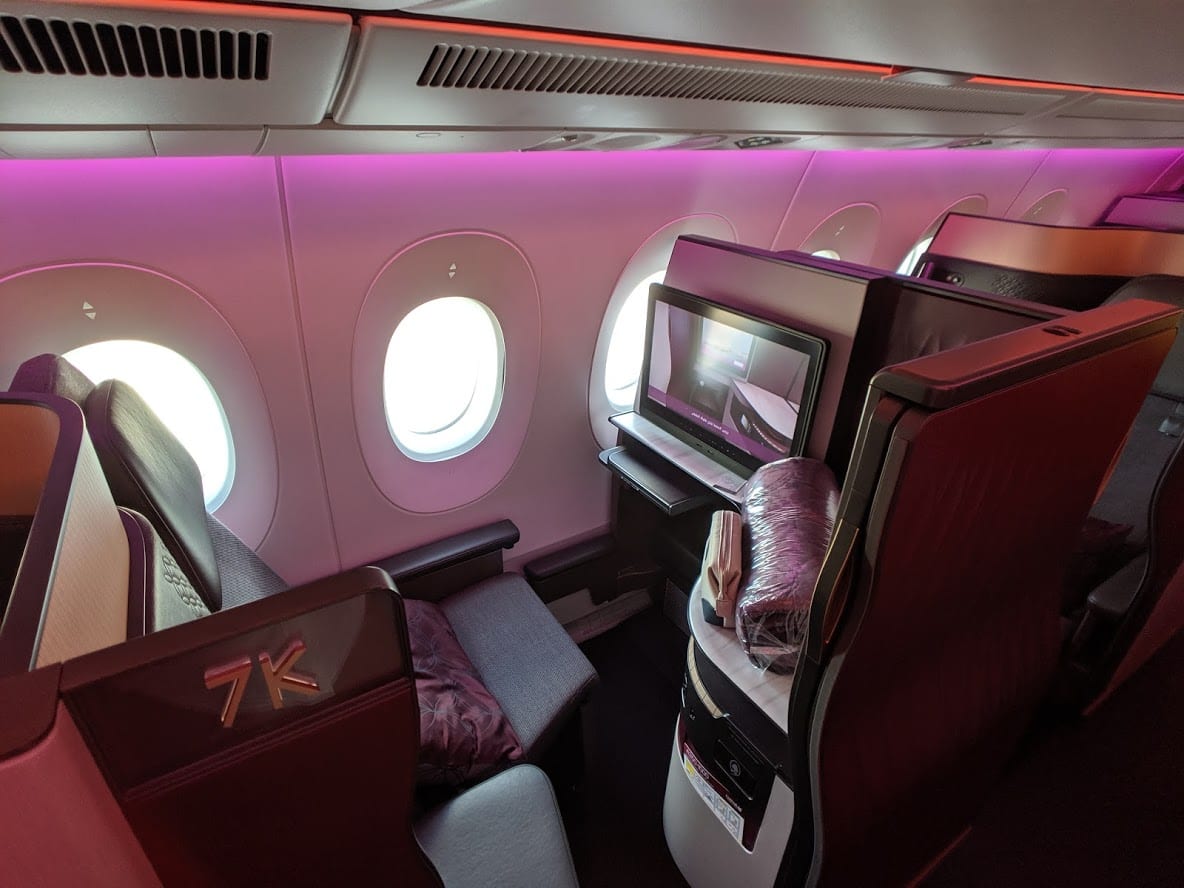 Read our full review flying Qsuites from Dallas-Fort Worth (DFW) to Doha (DOH)!
And once again, AAdvantage miles shine as the best way to get to the Maldives in business class. It'll cost you 70,000 miles each way – a fraction of what many other airlines charge. And we've even alerted Thrifty Traveler Premium members to some wide-open award space to get to the Maldives in Qsuites through late 2021.
How to Earn the Miles You Need: Third verse, same as the second.
Once again, the ease of quickly earning 100,000-plus AAdvantage miles from two co-branded credit cards can put this in reach. If you're a few thousand miles short, you can also transfer points from Marriott to your AA account. 
Thrifty Tip: Can't afford to fly both ways in business class? Consider booking business class to arrive refreshed in the Maldives – then fly economy back home for a total of 110,000 AAdvantage miles. 
Use Delta SkyMiles to Fly Air France
Got Delta SkyMiles to burn? While Delta doesn't fly to the Maldives, that doesn't mean your miles are useless.
Thanks to their partnership, you can use Delta SkyMiles to fly Air France from the U.S. to the Maldives with a quick pit-stop in Paris-Charles de Gaulle (CDG).
And the rates are reasonable: It's just 50,000 SkyMiles each way in economy. Doing it in business class will be tough, as the award space is borderline nonexistent.

You'll have to time it right, as Air France typically only flies to the Maldives in the peak winter season from November through April or so. And thanks to the pandemic, those flights may be constrained even further.
How to Earn the Miles You Need: You've got lots of options to pile up SkyMiles.
To start, there's a suite of Delta co-branded credit cards from American Express.
Read up on all the ways you can earn Delta SkyMiles in 2021!
But one of our favorite ways to earn Delta SkyMiles isn't through Delta at all. It's American Express's own Membership Rewards cards. With the Platinum Card® from American Express and the American Express® Gold Card, you can transfer your points straight to your Delta account.
The Platinum Card from American Express is one of our favorites for Delta flyers, period. And it can help you get to the Maldives using SkyMiles, as there's a 100,000-point welcome bonus after spending $6,000 within six months.
Fly Cathay Pacific First with Alaska Miles
This opportunity has disappeared for now. But we're keeping it on the list in hopes that it returns.
There's nothing quite like Cathay Pacific's first class, with ultra-wide and ultra-comfy seats that recline into one of the best beds in the sky, great food and impeccable service. And there's one great way to book it: Using Alaska Mileage Plan miles.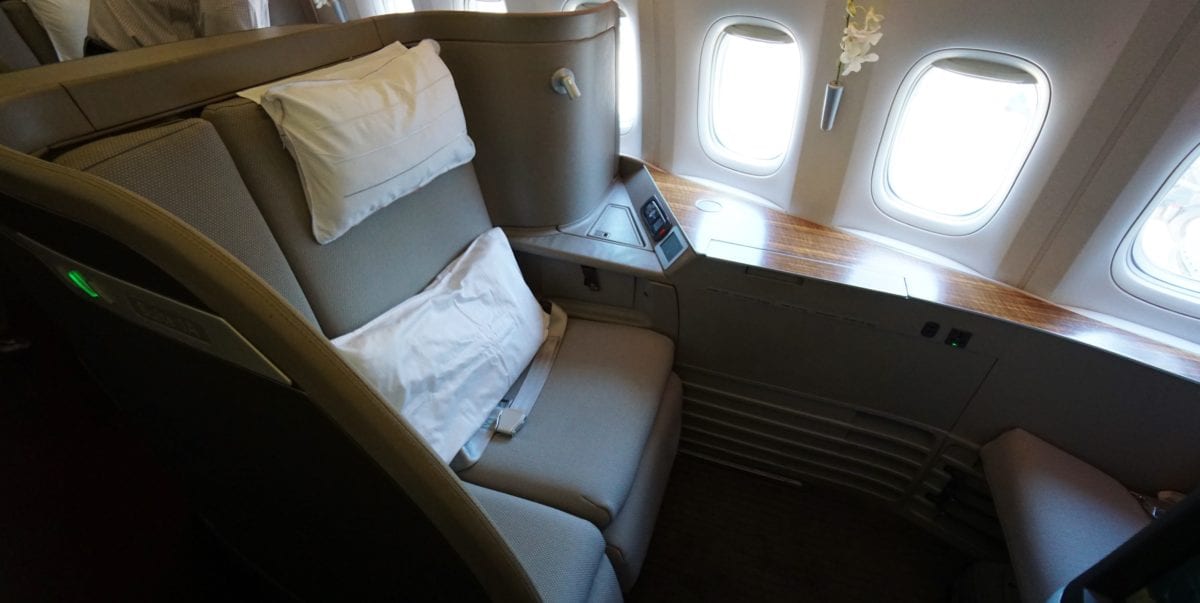 With Alaska, you'll need just 70,000 miles to fly from the U.S. to the Maldives in Cathay Pacific first class… at least in theory. Unfortunately, Cathay Pacific scrapped flights to the Maldives altogether during the pandemic. We hope this route eventually returns as travel resumes.
And if it does, you can pull this off for a bargain: Most airlines would charge double (or more) the miles for these flights.  Keep in mind that you may not get a first class seat all the way to the Maldives – Cathay Pacific previously flew older Airbus A330s from Hong Kong to Male (MLE), and those weren't equipped with first class seats.
One other hiccup: You can't book Cathay flights online with Alaska – you'll have to call in to get ticketed. So you'll want to search through another site like American Airlines or British Airways to ensure the award space you're looking for is available first.
How to Earn the Miles You Need: There's no doubt about it: Earning a bunch of Alaska miles has gotten tough.
On the bright side, Alaska Airlines is one of the few that still bases mileage accrual on the distance you fly. That's an insanely lucrative setup for Alaska flyers, and it makes it fairly easy to rack up miles based on your flights. You can also credit miles from flights on partner airlines like American and Emirates, among others.
But if you're not a frequent Alaska flyer, it's trickier. There's the Alaska Airlines Visa Signature card, which currently offers 40,000 Mileage Plan miles after spending $2,000 within the first three months. That card comes with a $75 annual fee, though that's waived in the first year.
Beyond that, Alaska runs regular sales when purchasing miles, with bonuses of up to 50%. It's one of the few airlines where it could make sense to buy miles – especially if you're splurging for a first or business class flights.
Bottom Line
Visiting the Maldives is expensive. There's no way around that. But flying there doesn't have to be.
Whether you utilize credit card points to make a cheap flight deal free or leverage an airline sweet spot, there are some great ways to get to the Maldives using points and miles.
This story has been updated to reflect that Cathay Pacific has scrapped its flights from Hong Kong to the Maldives