If your bucket list had a bucket list, the St. Regis Maldives Vommuli resort would be on it.
Tucked away on the Dhaalu Atoll in the northern stretch of the Maldives in the Indian Ocean, it offers everything you could want – and more you didn't know you would – from a trip to the Maldives.
The location is amazing, the design, thoughtful yet impeccable, and the food, while expensive, is high-quality and delicious. The St. Regis Maldives Vommuli offers personalized luxury service from the moment you step off the plane in Male (MLE) to the second you step through security to, sadly, make your way home.
Oh, and did we mention the personal butler?
Booking
This is one of the world's best resorts in the Maldives. It's not going to be cheap.
Paying cash, you can safely expect to spend at least $1,000 a night, and sometimes much more. If you're aiming for an iconic overwater villa, you can safely double (or sometimes triple) that price. Not exactly thrifty.
That's why you should be using Marriott Bonvoy points to stay at the St. Regis Maldives Vommuli. Currently, each night in one of the property's pristine Garden Villas starts at 85,000 points – though with the introduction of peak and off-peak pricing, that could drop as low as 70,000 points or as high as 100,000 points per night.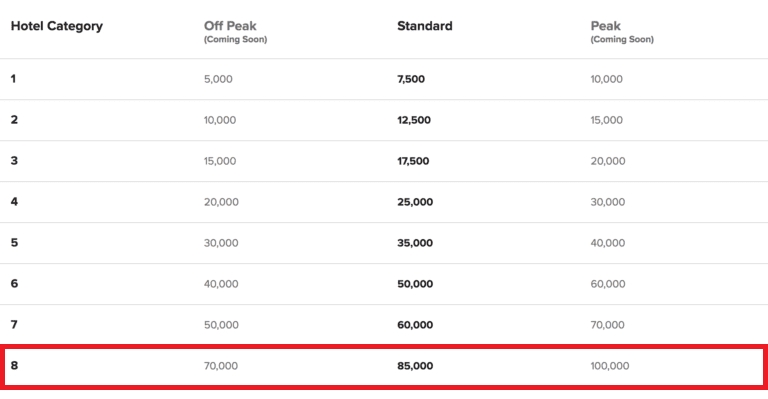 Thrifty Tip: If you've got Marriott status, you might be able to score a free upgrade to a Beach Villa after booking a Garden Villa.
But we booked our stay months ago, back when there was a loophole to secure top-tier Marriott resorts for a lower rate of 60,000 points per night. Unfortunately, that's no longer possible now that Marriott has introduced its top, 8th pricing tier.
And we made it even cheaper by using Marriot's "Stay for 5, Pay for 4" feature, which makes your fifth night free when staying on points.
All told, we booked our five-night stay at the St. Regis Maldives Vommuli for 240,000 Bonvoy points. And there were no cash fees or even resort fees. Straight points, homey.
While that's a lot of points, it's not impossible. And it's certainly better than paying a small fortune in cash. And you'll need that extra cash for everything else in the Maldives.
How to Get to the St. Regis Maldives
As with all resorts in the Maldives, it's not enough to fly to Male (MLE). You need to get on a seaplane to make it to your own private island.
A few weeks before your arrival at the St. Regis, you should get an email confirming your dates and requesting your flight time and arrival. The St. Regis will arrange your connecting seaplane flight from the Male airport to Vommuli Island via Trans Maldivian Airways.
This spendy round-trip seaplane transfer flight costs $695 per person and will be added to your final bill when you check out of the St. Regis. If you hold the Capital One Venture Rewards Credit Card, it is a great opportunity to use your Venture miles to eat some of that cost via the Purchase Eraser feature. Each Venture Mile redeems at one cent each so a $695 flight could be erased from your card statement with 69,500 Venture miles.
When you arrive at the MLE airport, look for someone holding a St. Regis sign as you exit customs. They will take your luggage and check it in for your flight to the resort. You will then be escorted to a luxury van that will take you to the St. Regis lounge as you wait for your flight. On the ride over, we were shown a video with an introduction to our personal butler. Each hotel room is assigned its own personal butler for the entire stay.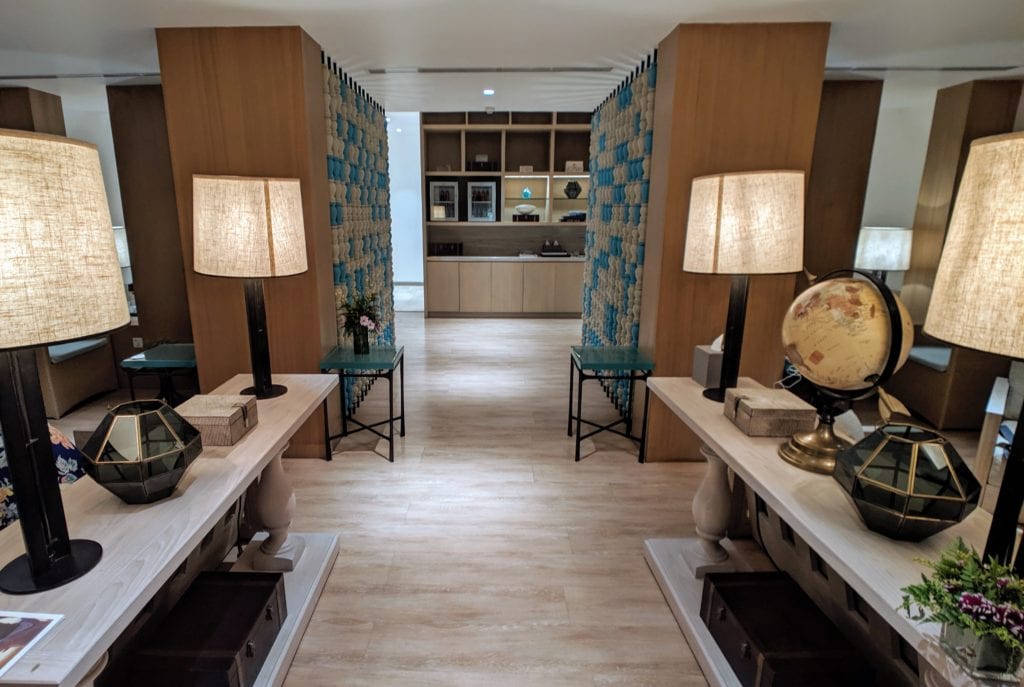 The lounge is very comfortable with TVs, fast WiFi, complimentary snacks, an extensive list of teas and non-alcoholic drinks. There is a shower if you want to freshen up after your flight. It's a great spot to wait until your flight.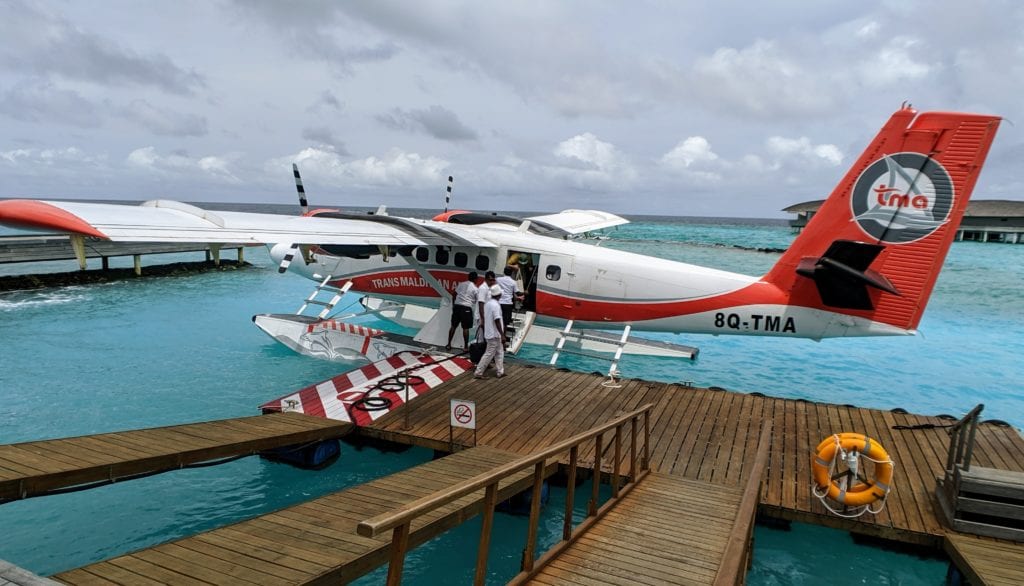 Arrival &  St. Regis Maldives Butler Service
After a quick 40-minute flight over several beautiful Maldivian islands, you will be greeted by your personal butler and seated in a waiting area. With your luggage off the plane, your butler will show you around the resort and bring you to your room via golf cart.
These butlers are typically at your beck and call, available to make dinner reservations, schedule excursions, classes, or spa treatments throughout your stay. They also offer two pressed clothing items per person each day, as was as an iced tea and snack delivery to your room daily.
You can contact your butler by resort telephone or through WhatsApp to book anything, ask questions, or request anything you need. And you'll need to: We didn't realize that you have to schedule absolutely everything except breakfast.
If you want to take advantage of free classes, any of the free activities at the Water Sports Center and make dinner reservations, your butler has to book it all for you in advance.
Our butler explained this to us after he had already booked our dinner reservations for the first night. While this could be helpful, we hadn't had the chance to even look at the menus or get a sense of the food. We knew it was going to be expensive and wanted to know what we were getting into.
And while having your own butler is pure luxury, it was a part of the resort we didn't fully embrace. Our butler would greet us at breakfast every morning to check in and see what we wanted to do for the day. For us, it was always an awkward exchange.
In our minds, it felt a bit like we were being pressured to spend more money. Coupled with the fact that our butler seemed to lost interest after a few days, we couldn't help but wonder if he believed we weren't spending as much money or tipping as other guests.
But it will no doubt vary by butler. Your experience might be entirely different.
St. Regis Maldives Rooms
They're not rooms. They're villas.
There are three standard types of villas at the St. Regis: Garden Villa, Beach Villa, and Overwater Villa. From there, there are different sizes of villas and suites to accommodate different price points and family sizes.
The base-level rooms are limited to only three Garden Villas. These are the cheapest rooms which you can book into with points. They don't offer beach access or any ocean views. We used points to book a garden villa with the hope of being upgraded or use cash to upgrade.
We found out the day before arriving that we were upgraded to a Beach Villa. We chose not to upgrade from the Beach Villa to the Overwater Villa, as it would have cost us close to $2750 for the five nights.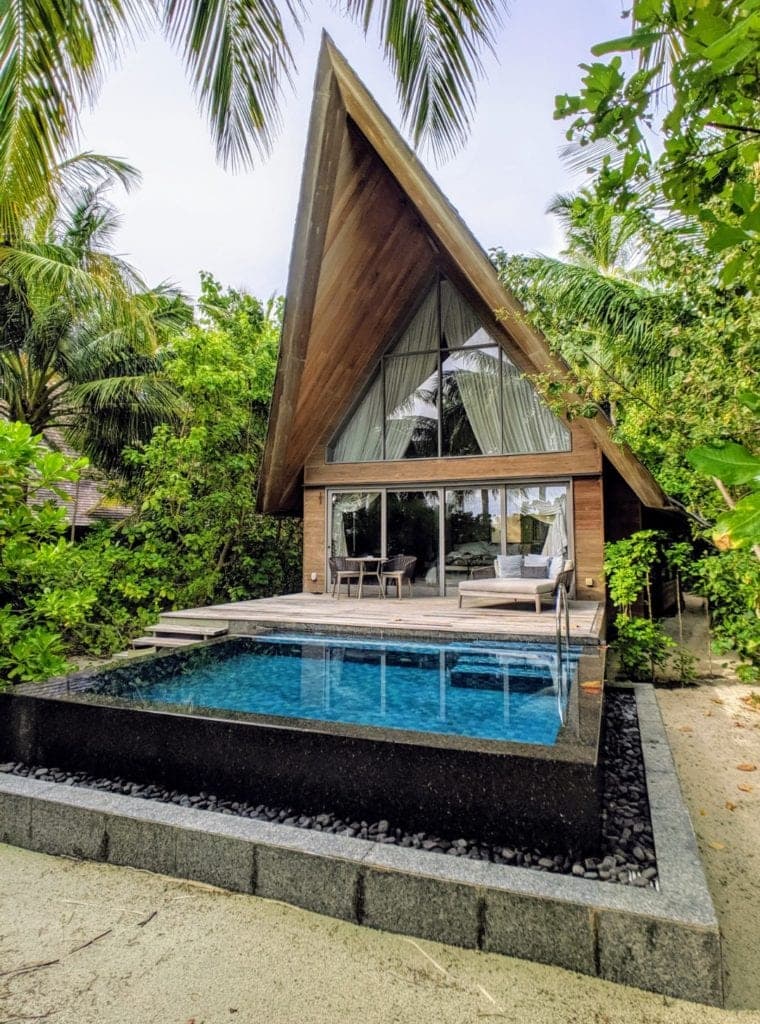 Our butler drove us by golf cart straight to our villa, and quickly took us on a tour of our room and explained all its features. Our luggage had already been delivered and placed in our own separate closet areas. For being a Marriott Bonvoy Platinum member, there was a bottle of champagne waiting in our room, which was a great touch. We also received a note and, later, cake for celebrating our wedding anniversary at the resort.
Thrifty Tip: Celebrating a birthday, anniversary, or something special? Let your hotel know before you arrive. You may just get something on the house or a fun surprise dessert or drinks in your room.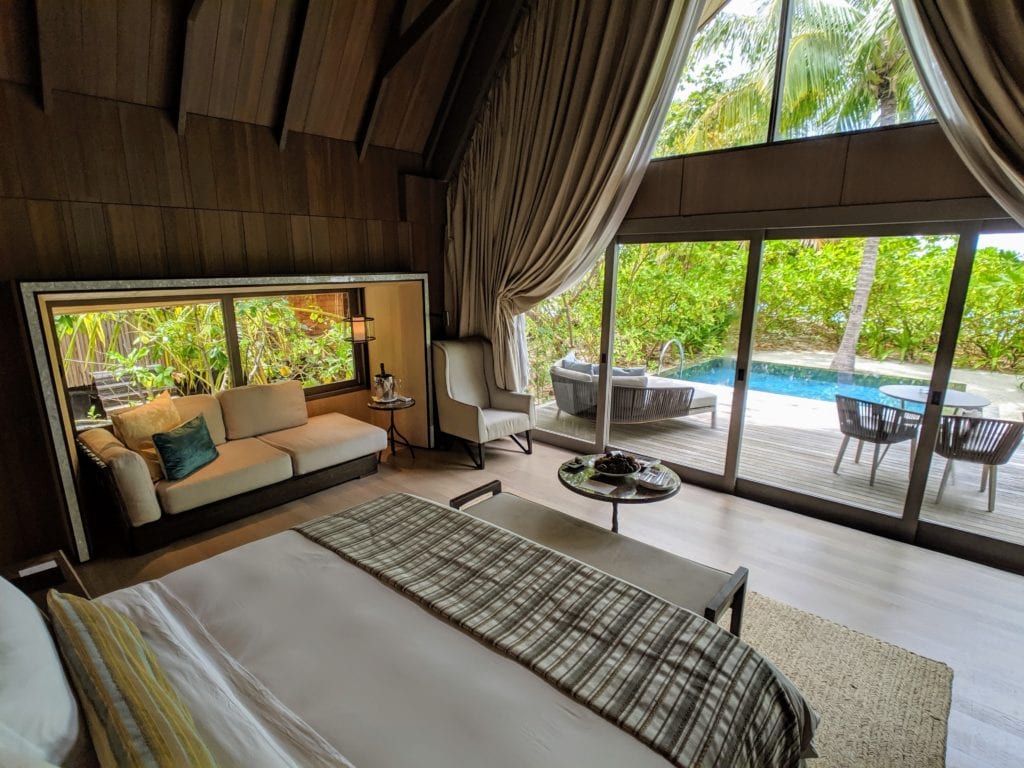 The St. Regis Maldives was constructed in 2016, so all rooms are fitted with every modern convenience – including a tablet that controls all of the lights and curtains including the large curtains in the front of the villa, over the daybed, and the large glass doors in the bathroom. The fancy TV even features Apple AirPlay.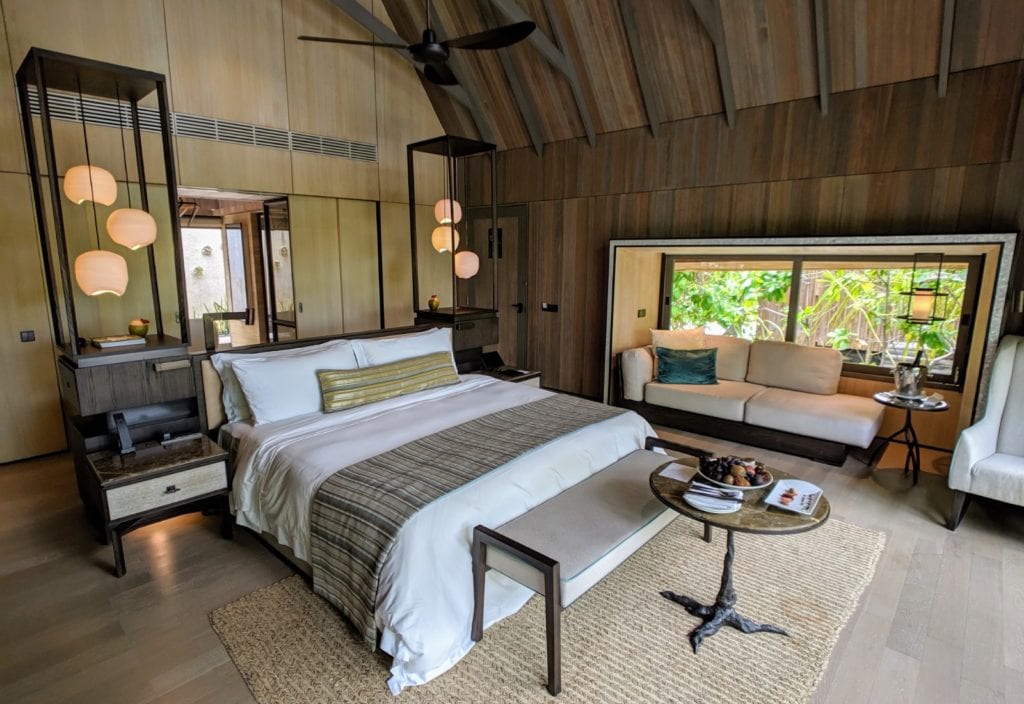 The bathroom is large with two sides each with a sink and closet. On one side is the toilet and the other side is the indoor shower. In the center is a large bathtub and glass doors to the garden area with the dual outdoor showers.
Our only complaint with the bathroom was that the toilet is in a glass room, with no curtain or tinting. There are, however, doors you can shut to the whole bathroom.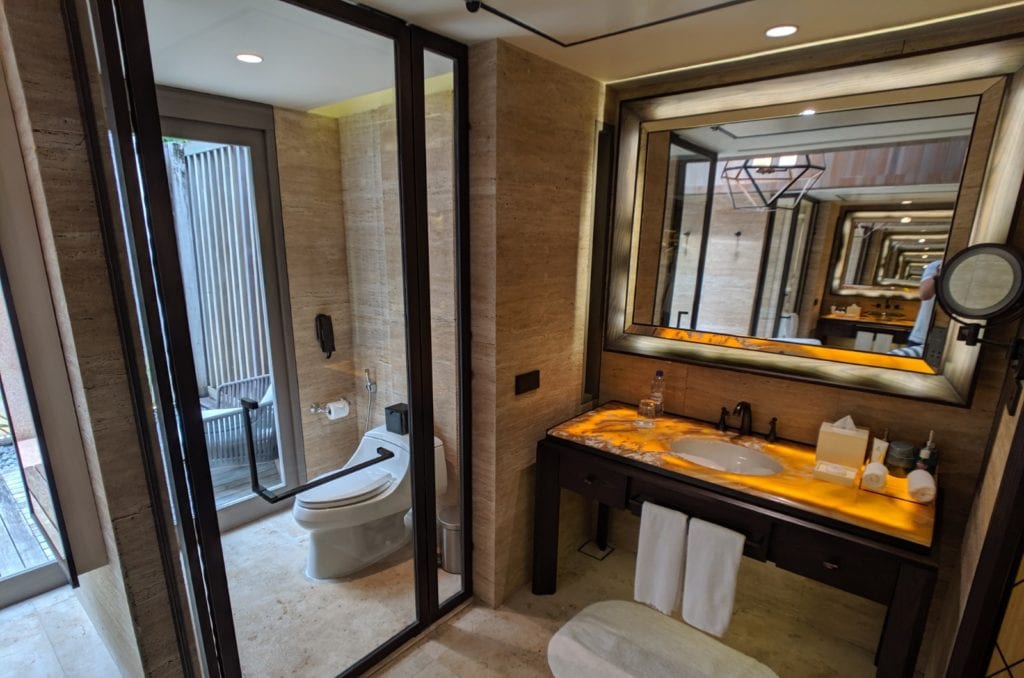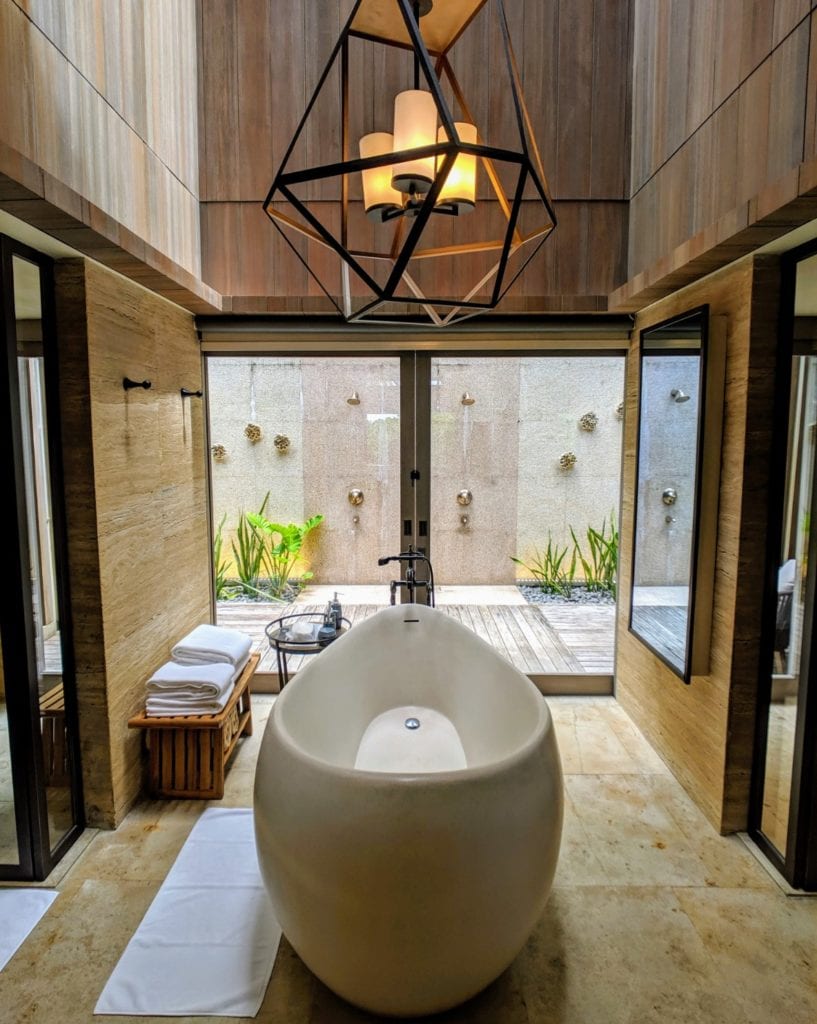 One of our favorite features of the bathroom was the double outdoor showers. Pictures don't do the bathroom or the outdoor showers justice. They are simply beautiful and well designed.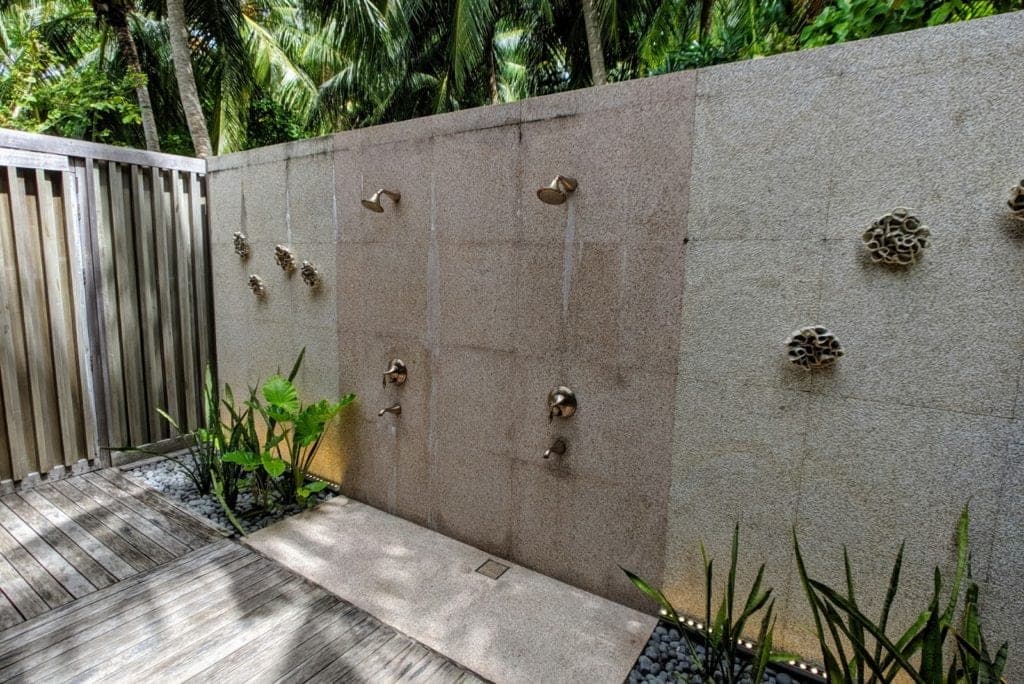 Despite its name, our beach villa didn't have much of a beach or ocean view. The enclosed feel did us some extra privacy when using our private pool or sitting on the deck. However, a better view would have been nice – and some other beach villas had a different outdoor setup. A majority had direct views of the ocean, which is a must in the Maldives.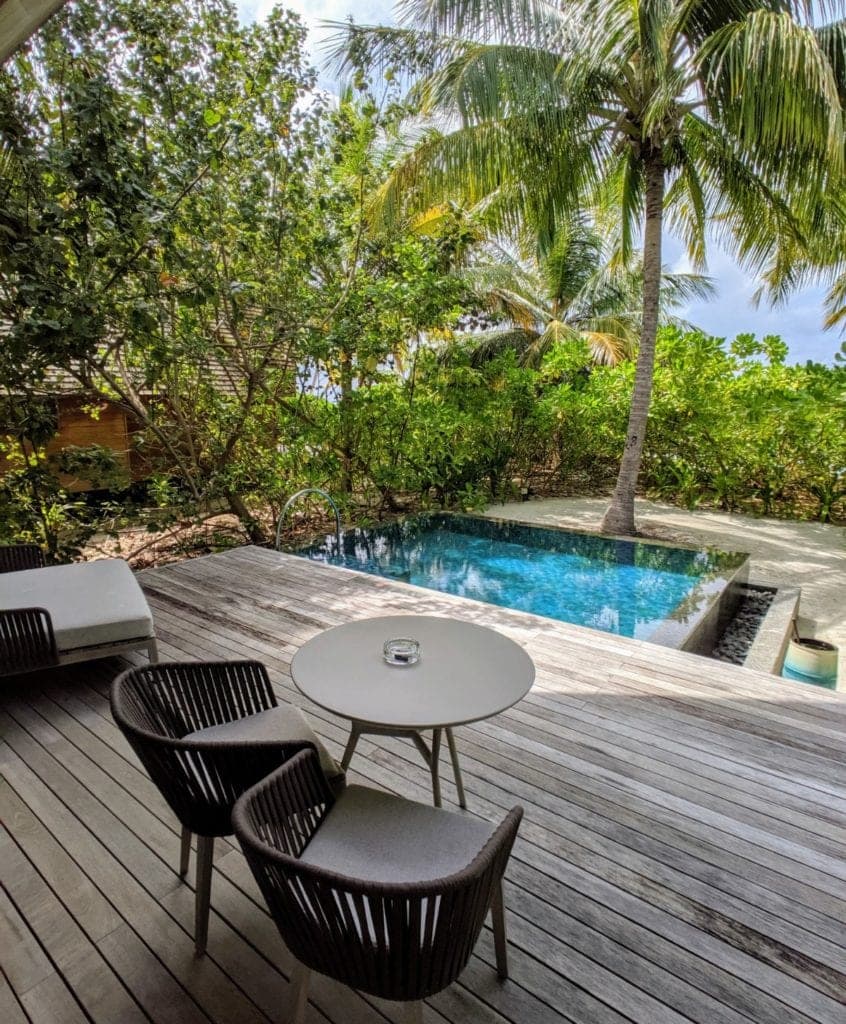 Still, we loved having easy access to the beach right in front of the villa. It was great to lay on the beach chairs, swim, and snorkel without really having to leave our room.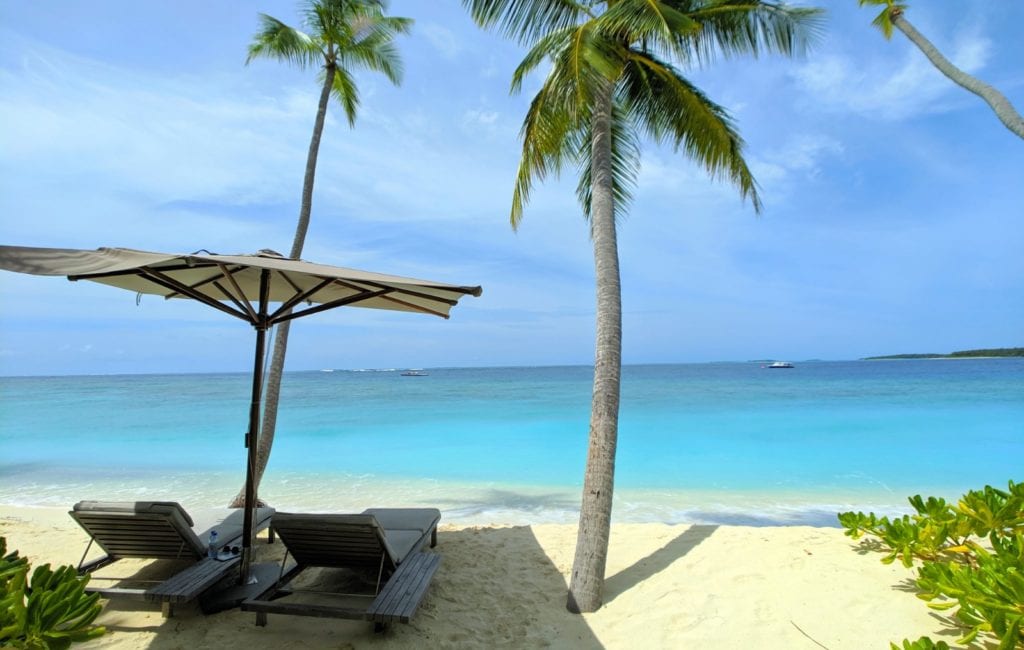 And then there are the overwater villas, which look absolutely amazing – but they simply didn't make sense to us financially. Each villa has a large outdoor deck with a small pool and a hammock over the water. And there's a ladder that goes right into the water.
The Property
The island itself is quite small, but it packs a big punch.
The St. Regis Maldives has a lot to offer guests, including a huge common-use pool, a large overwater spa, a water sports rental spot, a salon, five restaurants, an overwater bar, a boutique, a high-end jewelry store, a library,  fitness center, a game room, and a kids center.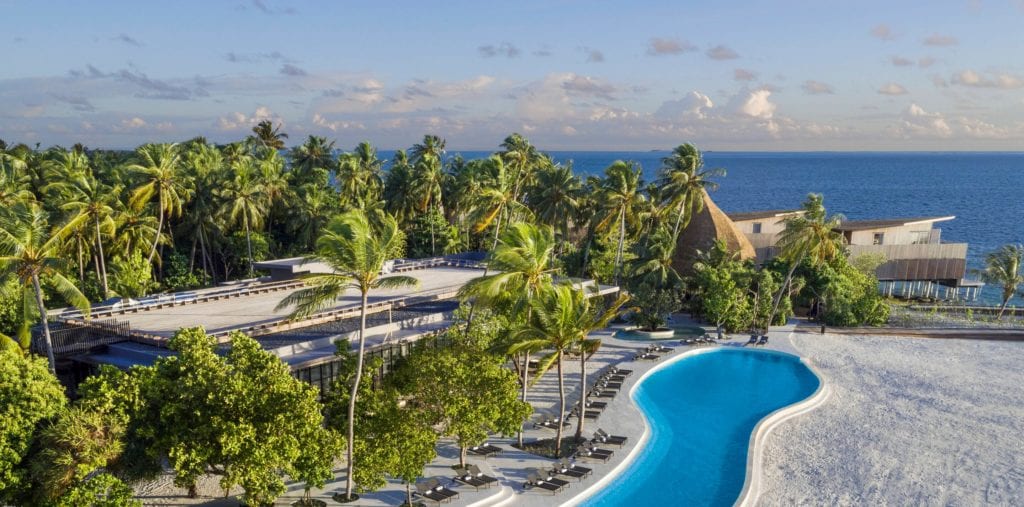 You can get around the property on bicycles that are labeled with each room number – or just request a pick up on a golf cart from your butler. We chose to bike everywhere.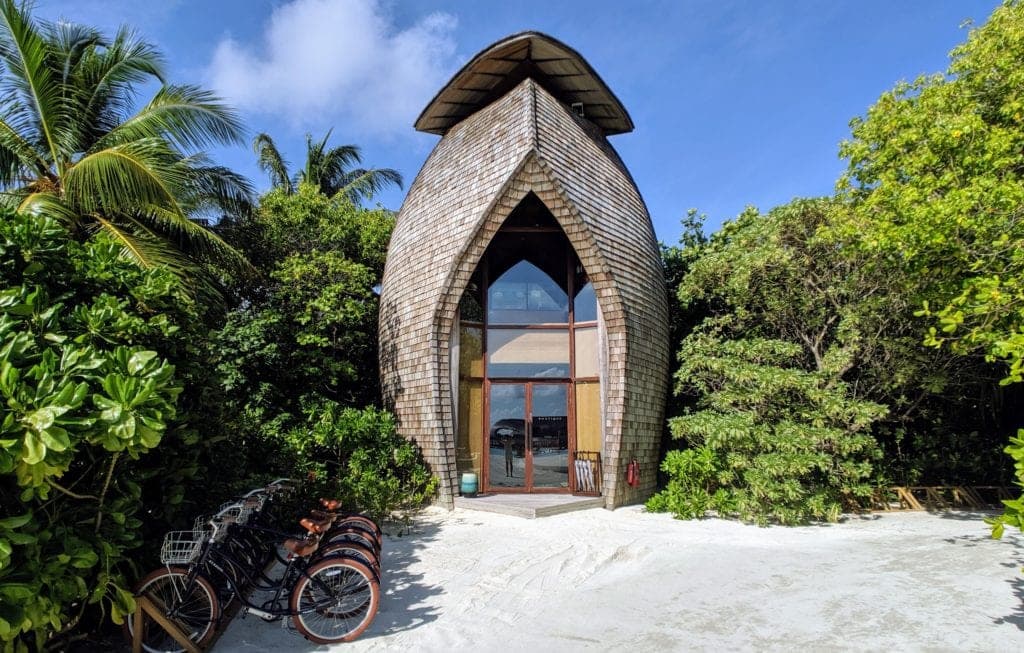 The boutique, right next to Alba restaurant and the pool, has a selection of expensive clothes (think $100-$500), swimsuits, and gifts/souvenirs. It also has an observation deck on the top floor that looks out over the pool and beach.
On the other side of the pool is a beautifully designed library … whose only use seems to be for photos. We didn't see a soul here during our stay.
You can also use the fitness center located in the Vommuli House, which is also where the salon and acupuncture services are located. While the equipment inside the fitness center is nice, it was quite small, with fewer machines and space than a resort this would typically have. Arriving before 7 a.m. seemed to be the best way to beat the crowds.
There is also a great indoor and outdoor space for kids with toys, books, and games around the Vommuli house.
Next door is Socialite, with games and a small spot to just hang out.
St. Regis Maldives Restaurants
It might not be cheap, but you won't go hungry at St. Regis Maldives Vommuli.
There are a handful of different dining options, representing a wide array of food styles. From pizza and tacos to Italian, middle-eastern, Japanese, Chinese, and Indian, it's all here.
You just won't find it on the in-room tablet, as you can only get minimal information about each restaurant. We could not find any hours or menus, so we requested it from the butler.
Thrifty Tip: Bring your own water bottles from the room for lunch and dinner. Those waters are complimentary but when they ask if you want to order still or sparkling water at your table it's a minimum of $14.
Alba
As far as we could tell, Alba is open for most of the day, aside from maybe an hour or so between services. This is where you'll head for the delicious breakfast each morning.
Lunch, meanwhile, offers a wide variety of options from burgers to curries starting at $30. And dinner is Italian-themed, with appetizers starting around $25, pasta at $30, and main courses starting at $40.
Each restaurant has tablets with drink menus that vary slightly with a few different cocktails depending on the theme of the restaurant. Non-alcoholic options start at $14. Beer starts at $9, cocktails at $20, and wine seemed to be mostly sold by the bottle, usually over $80.
We dinned at Alba every day for breakfast, once for lunch, and once for dinner. For dinner, we had four fresh oysters, lobster ravioli, mango and prawn risotto, with a beer and a cocktail for $160. We were also served complimentary bread with olive oil and balsamic vinegar.
The food was fantastic, both flavorful and wonderfully prepared along with excellent service. The prices were high, but we still left feeling happy and full.
Crust
Crust, a pizza and taco restaurant, is only open for lunch (until 6 p.m.) and only if it's not raining. Pizzas cost $30 and are big enough to share. We shared a late lunch here one day to save some money by not having an expensive dinner.
Eating a "late lunch" at Crust is great way to save on otherwise expensive dinners.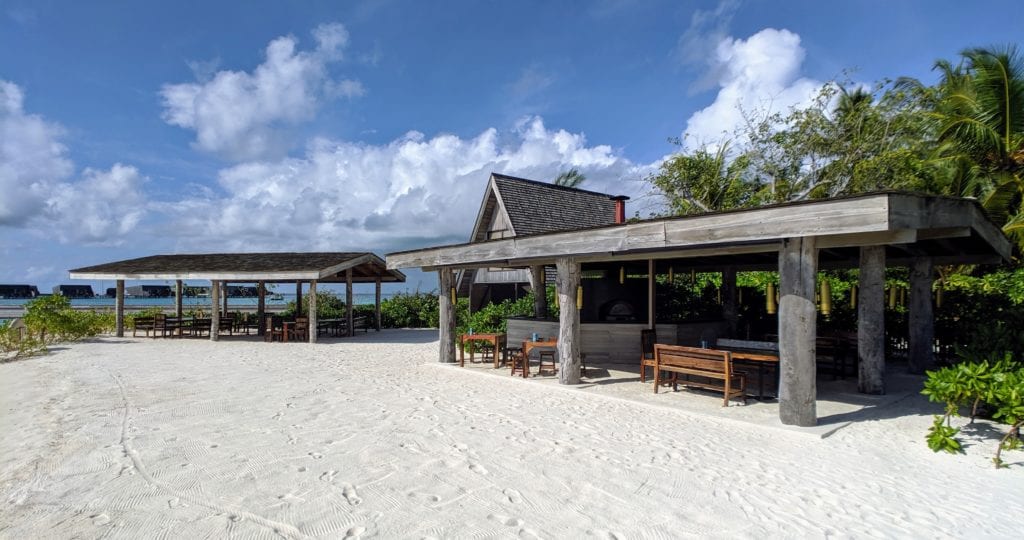 Cargo
Cargo is the only restaurant without a water view, as it's set back in the trees in the middle of the island. It serves food with a middle-eastern theme, with set menus and your choice of meat, seafood, vegetarian.
At $250 per couple, it's not cheap. And the high price tag didn't mean quality, as it was our least favorite restaurant at the resort.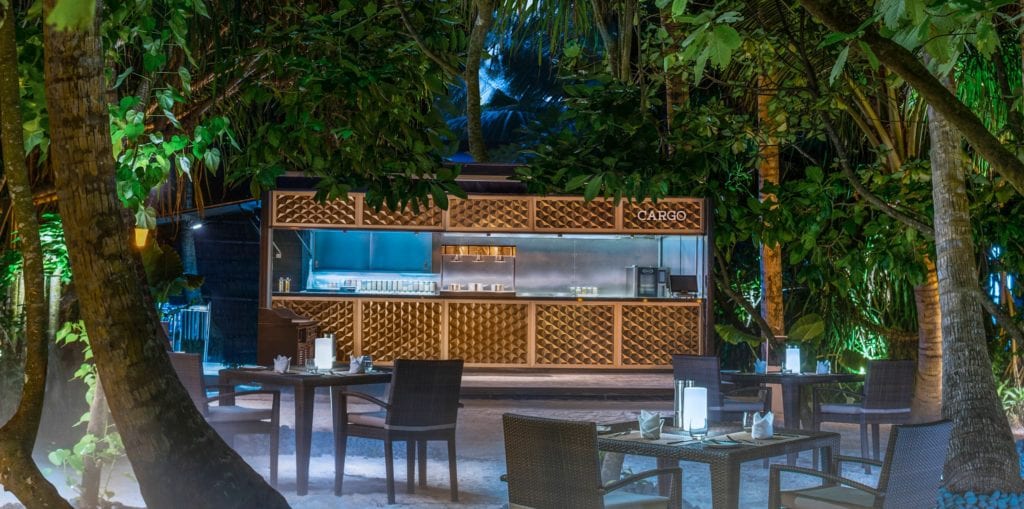 We ordered the seafood menu and found it just wasn't up to the level of other restaurants, despite the high price tag. Worse yet, the service was completely lacking and disappointing.
While waitstaff at other restaurants was attentive and kind, we felt rushed and ignored at Cargo. It was the only place on the island we felt we didn't get our money's worth.
Orientale
Orientale was our favorite restaurant at the St. Regis, featuring Chinese, Japanese, and Indian food cooked in three separate open kitchens in a stunning space. As with most things in the Maldives, the pictures simply do not do it justice.
We ordered two appetizers from the Chinese menu: shrimp dumplings and fried lobster spring rolls. For the main dish, we ordered a chicken masala with garlic naan from the Indian menu. Add in three cocktails at $25 each, and the total bill came to $206. The food was delicious and the service was outstanding.
Because it was our last night at the resort, the restaurant brought us some complimentary coconut ice cream for dessert to close out the meal.
Decanter
This is the only restaurant we didn't visit – and the price tag didn't help. Only open Wednesday or Saturday for 12 guests, Decanter offers a five-course menu with specially paired wine selections for about $900 per couple.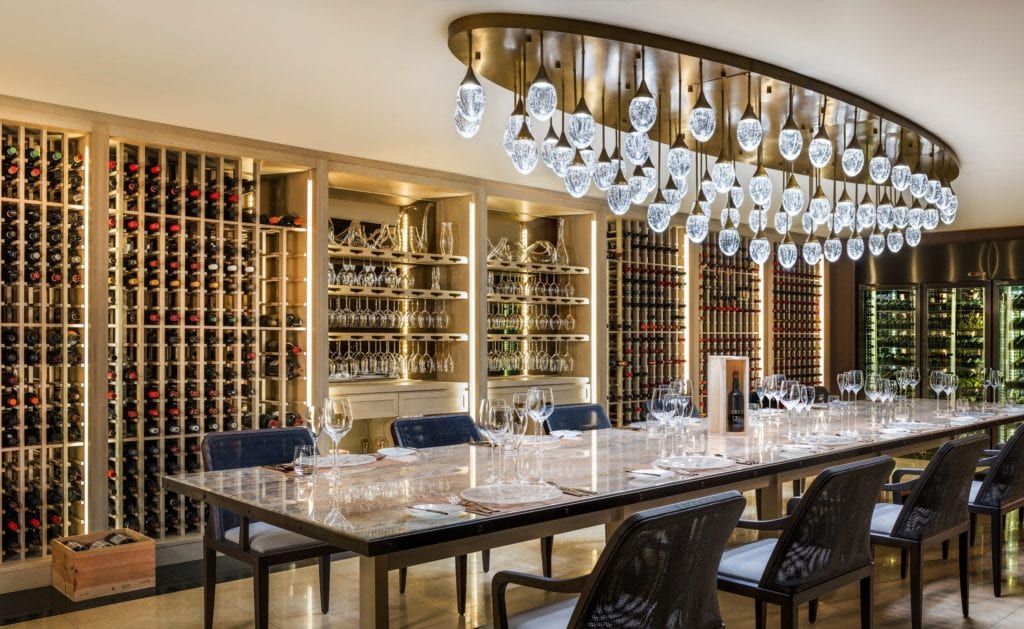 The wine list at the St. Regis is extensive and well-curated, with plenty of hard to come by bottlings. So I can imagine that these pairings are exceptional.
In-Room Dining
Room service dining is available 24 hours a day at the resort. And it appeared to be popular.
But we preferred to leave our room and enjoy the restaurants and views. There are a few cheaper items available for order, but once you add on a service charge of 10% and a VAT tax of 12%, you'll typically end up paying more.
Breakfast
You'll have breakfast each day at the Alba restaurant. And it's simply outstanding.
It starts at $55 per person. But with Marriott Platinum or Titanium status, it's free!
We took thorough advantage of our free breakfast and ordered from the a la carte menu and the extensive buffet. We both love to eat and honestly, the daily breakfast was one of the highlights of each day. We also had an attentive and friendly server daily which made the experience even better.
Mr. TT ordered the lobster, crab, and caviar omelet, with sushi and sashimi almost every day because he thought it was unbeatable. I tried new things every day including the duck confit with waffles. You can order any kind of egg, poached, scrambled, fried, benedict, seafood, sides of bacon, sausages, hashbrowns, fruit salad, smoothies, and juices. The list goes on and on!
Thrifty Tip: You can order off-menu. We ordered glasses of Prosecco and sliced mango almost every day, which was included with our breakfast.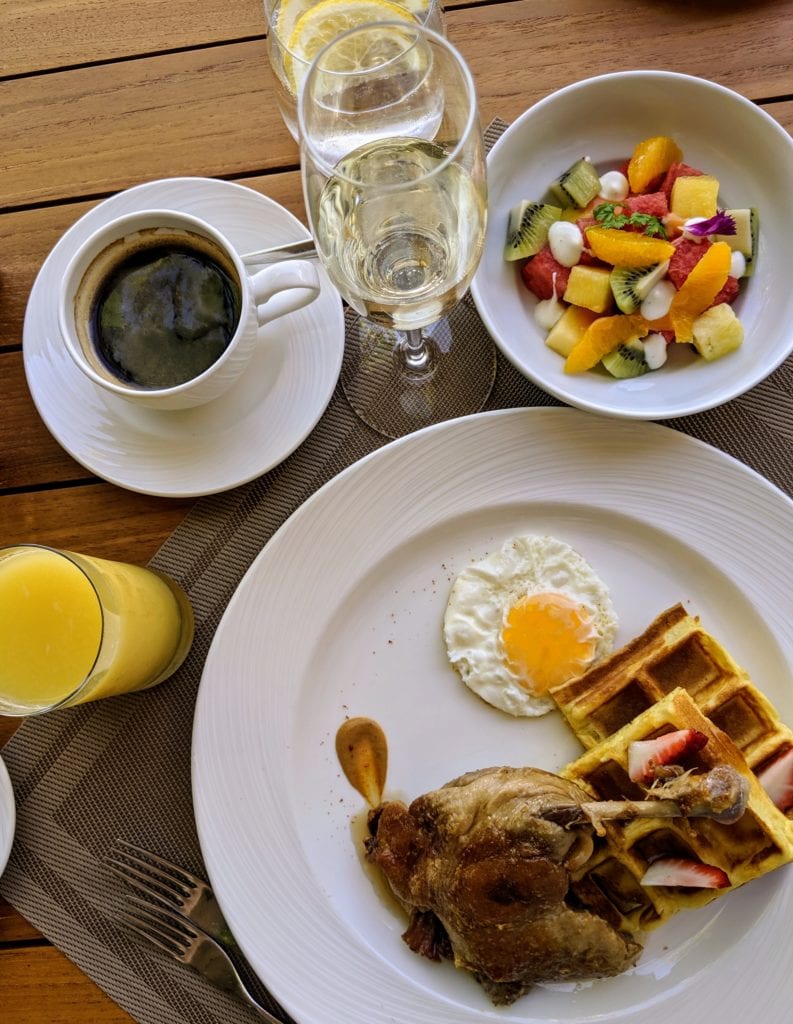 The buffet had a wide array of food. All of the baked goods you could want from donuts to bread, pastries, and rolls. You can have salad, fresh fruit, and smoothies. For hot options, there are curries and stir-fries, meat, and fish.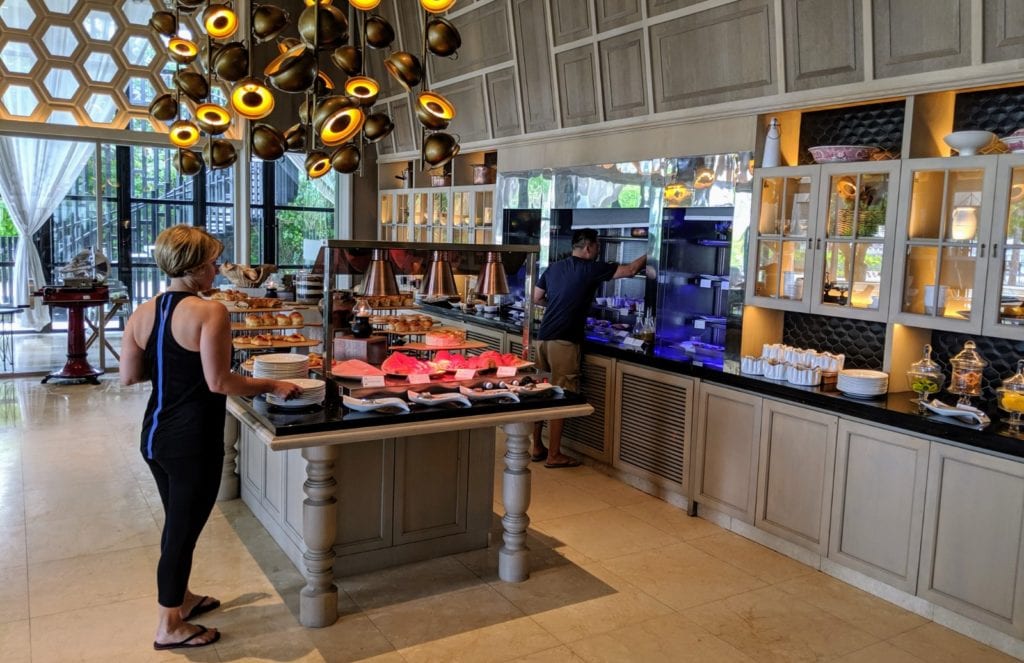 Mr. TT and I loved the fresh noodle soup bar. Pick the type of noodle, rice, wheat, or egg. Your server puts the noodles in a basket with veggies like bok choy and mushrooms and dunks it for a few seconds in boiling water before tossing it in a bowl and adding broth. From there, choose your toppings: scallions, red pepper flakes, Thai chilies, crispy onions, soy sauce, black vinegar and more.
The Whale Bar
The Whale Bar is, you guessed it, shaped like a whale, jutting out into the ocean.
No opening hours are listed, but it seems to open around 5 p.m. and stays open until 10:30 – 11 p.m.
Make sure you get there around 5:30 p.m. and snag the best spot you can. It's time for the Champagne sabering, when St. Regis staff slice open a bottle of champagne each day with a sword.
You'll have to order a drink to sit at The Whale Bar. They have non-alcoholic options like smoothies, juices, and mocktails (non-alcoholic cocktails) starting at $14. For harder drinks, there is a range of alcoholic options from beer starting at $9 for Carlsberg, cocktails starting at $20, spirits from $14 on up, and wine. Then enjoy the view of the sunset and wait for your free glass of Champagne.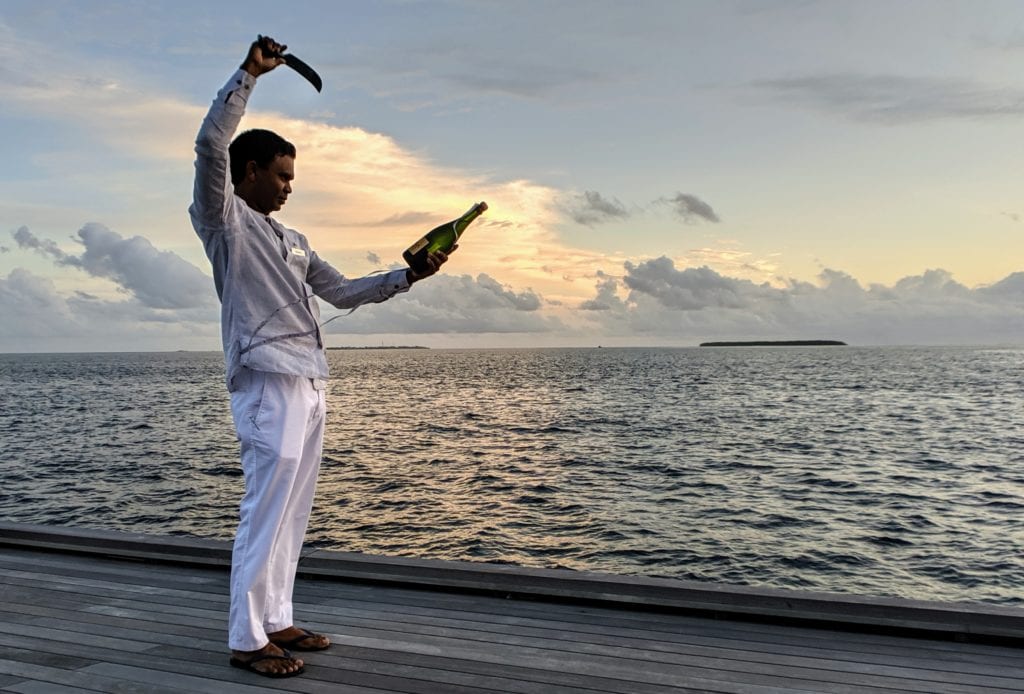 Sabering a bottle of Champagne at 6 p.m. is a tradition at every St. Regis hotel and resort worldwide. We had previously participated in the sabering event at the St. Regis in Washington, D.C. The views in the Maldives were just a bit better.
Iridium Spa
You'd be doing yourself a disservice if you didn't visit the spa at least once during your visit. It is one of the most comfortable, luxurious, and well-appointed spas I have ever visited.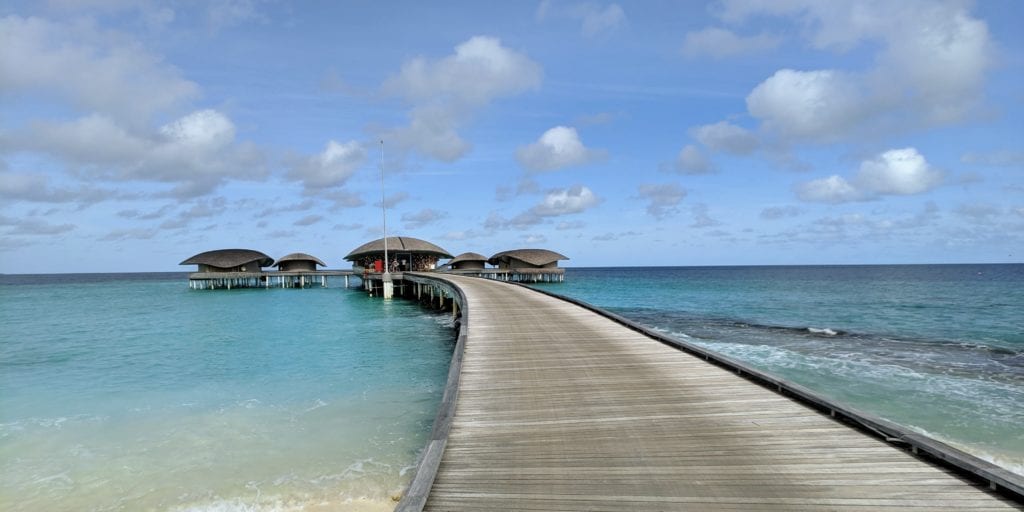 Treatments are expensive and start at $60 for a 30-minute foot or hand treatment. Massages start around $200. If you're looking to blow a fortune, you can secure four days worth of treatments for $1,500.
Mr. TT and I were offered a special massage for $125 due to our Platinum status with Marriot, which had to be booked and used within 48 hours of arrival. And I know why: They want you to get hooked immediately – and it's really hard not to.
Everything about the spa at St. Regis Maldives Vommuli screams "extra!"
You arrive by riding your bike up the bridge or by cart. Someone greets you by name at the door and brings you to an open-air seating area, where they bring you a glass of delicious iced ginger tea and some forms.
Your therapist will arrive shortly and bring you to your own building! It's set up for couples treatments, with two massage tables and a large changing room with double vanity and two showers. There is also a small open-air bathtub on a balcony over the ocean.
After changing into a robe and slippers (you could also choose a sarong) I went back into the large room for my massage. My warm shell, coconut-oil massage was fantastic. At the end (I didn't want it to end!) I changed back into my clothes and was brought to the seating area again. My masseuse served me more ginger tea and a chocolate cookie and a ginger cookie with my bill. I was told I could relax there as long as I liked. The service was outstanding.
Mr. TT and I later took advantage of a complimentary hour in the Blue Hole that we were offered to celebrate our anniversary. The Blue Hole is a large saltwater therapeutic whirlpool sitting over the water.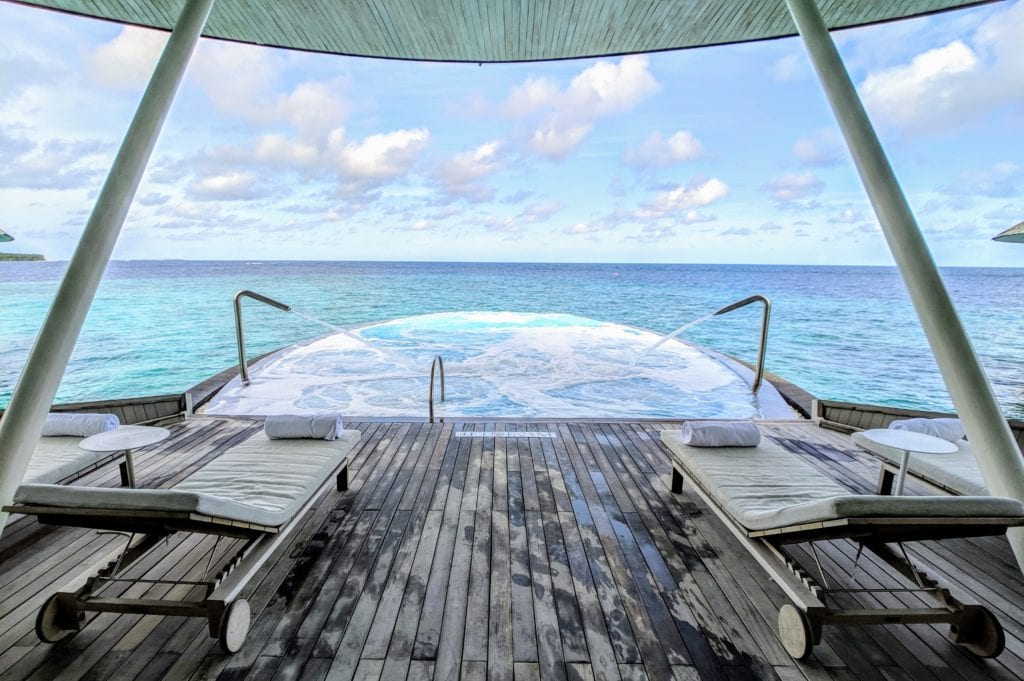 There was more ginger tea, of course, and we had access to a set of very large his and hers bathrooms. Inside each is a steam room, sauna, multiple showers, toilets, and large vanity with every toiletry available.
St. Regis Maldives Activities
There are plenty of things to do in the Maldives – both for free and a fee.
There is a daily schedule of activities for adults and children. I participated in the free daily 45-minute yoga class outside at the spa. There were also free exercise classes as well as fitness classes with a small charge of $30 including anti-gravity yoga.
There is an extensive menu of activities you can do through the Water Sports Center. You can paddleboard and kayak for free. Beyond that, there are activities ranging from parasailing, guided snorkeling adventures, scuba diving, speed boat trips, and more.
But our favorite activity was snorkeling. Free snorkeling gear was delivered right to our room just minutes after we arrived.
Unfortunately, the coral reefs in the Maldives mostly died in the 1990s due to extreme water temperatures from El Nino. The coral is slowly regrowing, and there are still plenty of colorful fish to see. From clownfish in anemones, surgeonfish, royal grammas, giant clams and more, you can spend hours exploring and watching the amazing creatures in crystal clear water. Don't skip snorkeling – especially as it's free!
A Few Things to Know
Money: While they have their own currency, the Maldives use U.S. Dollars. Bring enough cash with you for tips, as there is not an ATM on the island.
Tipping: You can tip your butler throughout your stay and add a final tip when you depart. We also recommend giving small tips ($5-$10) to your servers at breakfast or dinner. You will see many of the same people throughout your stay. We got friendlier service and some extra info by getting to know the servers.
It's Expensive: Come on, this is the Maldives. It's just going to be expensive. No matter what resort you're at, the food and drinks will be much pricier than normal. Brace yourself for an expensive trip, and it won't feel so bad.
Not a Ton of Info: From the butler to our in-room guide, we felt a bit in the dark when we got to the resort.
Restaurant menus were only available upon request and there were no restaurant hours posted anywhere. You need a reservation for dinner, but it would still be nice to reference breakfast and lunch hours.
And there was precious little information available about the island and surrounding area, too. When are the best times to snorkel, and what are the best spots? When do low and high tide come in? While we were told later by servers, it would have been nice to get some of this information upfront.
We booked paddle boarding free of charge for the afternoon and it was tougher due to the choppy ocean. After returning the woman at the Water Sports told us that it's much easier at low tide – the morning would have been better.
Some information about the reef and the fish and other animals and the area would be a nice addition for the guests.
Checking Out
Checking out is an equally seamless experience.
Our flight out of Male (MLE) wasn't until almost midnight. We were notified the day before check out of our flight leaving the resort at 3 p.m. the next day. Our butler came to the room an hour before the flight with the bill to check us out and then returned to pick us up right as the plane landed. This gave us the most possible time at our Beach Villa before leaving – a very thoughtful way of handling it.
When we landed in Male they took us back to the St. Regis Lounge. We were offered a choice of staying in the lounge or a complimentary guided tour of Male. We chose to stay at the lounge to get some work done.
The staff will bring you to the airport when your check-in counter has opened. They arrange airport staff to bring you and your luggage through the first security check, stand in line to check you in to your flight and then bring you to clear customs. This service was truly above and beyond.
St. Regis Maldives: Bottom Line
The St. Regis Maldives is almost perfect. And when you set yourself up for perfection, any flaw shows.
Our dinner at Cargo was a major disappointment. The butler could have been better, but when you have a personal butler, you can't complain – and it can vary by person. And some more information about the resort, its history, and amenities would have been nice.
Every other aspect of the St. Regis Maldives is a step above almost anywhere else in the world, and it made any misstep seem like a fluke.
Would we go back?! In a heartbeat – on points, of course. And more spa treatments.