There's nothing better than taking off from your home airport and landing at your destination – or vice versa.
No extra stops. No de-planing, no wrestling your bags between gates, no running through the airport to make a connection, and less cause for concern about delays and cancellations. That's the beauty of a nonstop flights. But there's a downside: Nonstop flights are often more expensive. A one- or two-stop itinerary on another airline can save travelers money compared to the nonstop flight on your home airport's dominant carrier.
But that doesn't mean airlines never slash prices on nonstop flights. Whether you're looking for a sub-$200 nonstop flight to Denver (DEN) for a quick weekend getaway or a long-haul Delta nonstop flight to South Africa for a bucket list adventure, nonstop flight deals aren't hard to find if you know where to look. And we do!
Attention, Thrifty Traveler Premium (or Premium+) members: You've likely already received these deals! If not, you might want to log into your Premium account and adjust your departure airport settings – or select "All Cities" to receive every deal!
How to Find Nonstop Flights From Your Airport
To fly nonstop, you have to book the nonstop … but it's not always obvious where and when you can fly nonstop from your home airport. Luckily, there are a few tricks to help you figure out your nonstop options.
The easiest way is through – cover your eyes, educators – Wikipedia. 
First, search for your airport in your browser, and then click the link for your airport's Wikipedia page. On the left hand side of the screen, click the link for "Airlines and Destinations" and it's all right there. Your airport's Wikipedia page will have a comprehensive, surprisingly reliable and accurate, and easy-to-read list of all the nonstop flights from you home airport.
Let's say you live in Pittsburgh, Pennsylvania. Here's what Pittsburgh's (PIT) nonstop routes look like.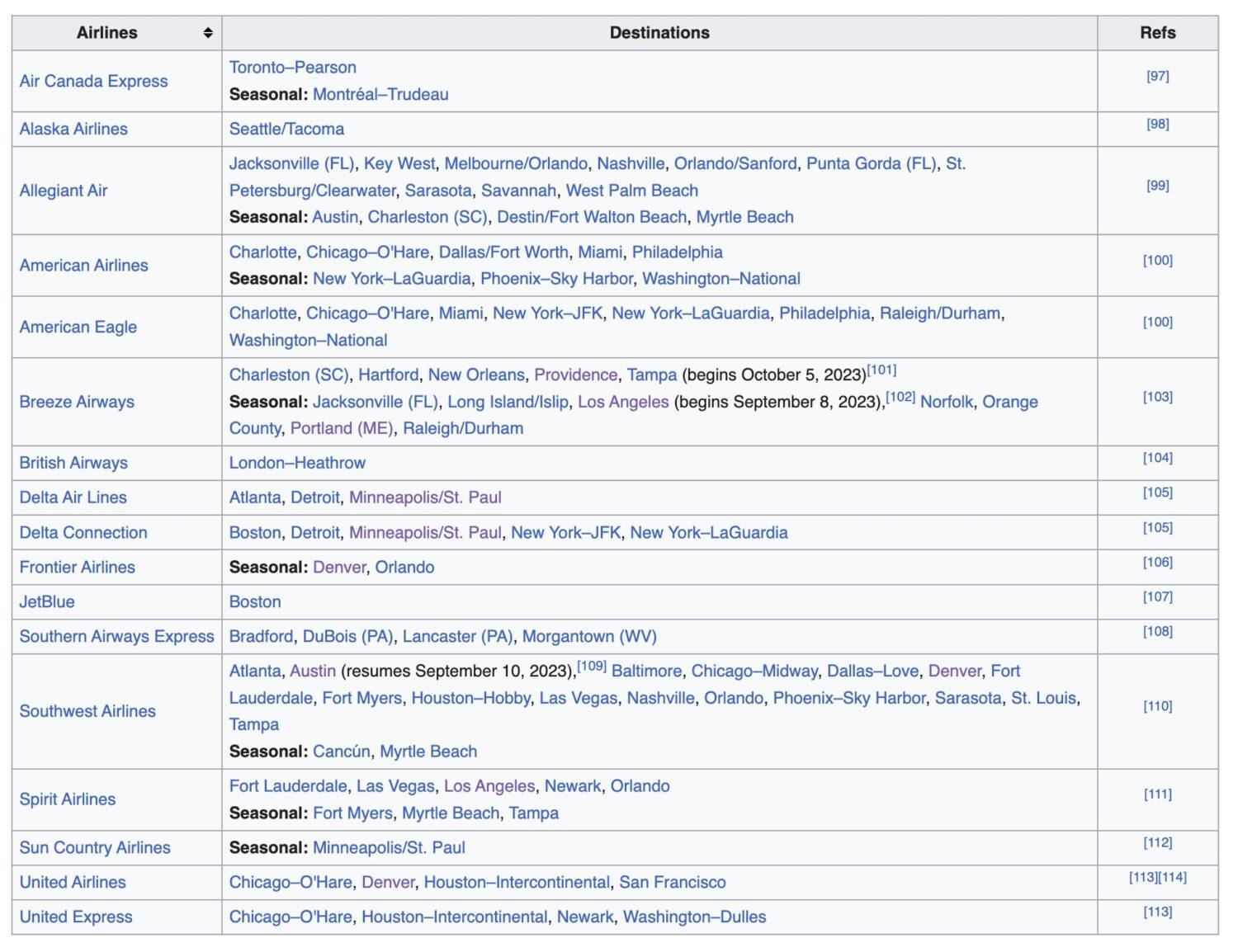 As you can see, Pittsburgh (PIT) has a surprisingly large list of nonstop flights. From quick hops to Philadelphia (PHL) on American Airlines to a long-haul route to London (LHR) on British Airways, Western Pennsylvania is well-connected.
Using Wikipedia like this is a good way to figure out the nonstop routes available to you, but there's a more comprehensive way to do it that requires slightly more work: Google Flights.  Google Flights is our favorite flight search tool for too many reasons to count, but the best part about it has to be the search filters. Among those filters is the choice to filter for nonstop flights. Here's how to do it:
First, put your departure city into the left-side search box, and then just click on the destination search box on the right. When you do that, an option to search "anywhere" will pop up like this.

Click "anywhere" and choose any dates to get started. That brings you to the Google Flights Explore screen, which will show a map of the world. Click the filter on the left side that says "Stops" and select "Nonstop only."

Then, click on the dates in the top left corner and select your desired dates of travel – or, better yet, click "flexible dates" to give you the most comprehensive list of nonstop flights.
Once you do that, you can see every nonstop flight from your home airport. In this search, I used Cincinnati (CVG) as your home airport. If I wanted to, say, fly to Europe, I could just click "Europe" instead of Anywhere in the destination search bar.

As you can see, Cincinnati (CVG) has two nonstop flights to Europe to London (LHR) and Paris (CDG). If either of those routes interests you, just click on the city on the map, and Google Flights will pull up your available flights.
Then, use the calendar feature (by clicking on the dates in the search results) to see when those flights operate. To get an even clearer picture, change your search to "one-way" instead of roundtrip.

As you can see, the Cincinnati to London-Heathrow flight operates four days a week – on Mondays, Wednesdays, Fridays, and Saturdays – which gives you an even better idea of when to travel and the cheapest days to book.
Google Flights will give you the best, up-to-the-minute data on nonstop flights on almost every single airline. It's the most powerful tool to find nonstop flights with one major exception: Southwest Airlines.
Southwest doesn't play ball with Google when it comes to sharing flight pricing information. That makes the nonstop search feature unhelpful for finding Southwest flights. Instead, head directly to Southwest's website and use Southwest's Interactive Route Map-List View to find where you can fly nonstop from your home airport.
Just select your airport from the list on the left side of the screen, and then select the "Nonstop only" box to see Southwest's nonstop offerings from airports like Minneapolis (MSP).

No matter where you're from or what airline you want to fly, finding your nonstop flight options on either Wikipedia, Google Flights, or Southwest should be a breeze.
But what about finding a cheap nonstop flight? For those, we're here to help.
Where to Look for Nonstop Flight Deals Close to Home
The easiest way to find a nonstop flight is by staying within the U.S., Mexico, and the Caribbean. The major airlines have extensive route networks flying to some of the best destinations on this continent, making finding a nonstop flight easy.
Lately, there's been no shortage of cheap domestic flights lately – often with nonstop options. That includes this flight deal to the Rockies featuring dozens of half-off fares. When we find fares like this, we send them straight to the inboxes of our Thrifty Traveler Premium members.
Here's what they look like.

A cheap nonstop flight to Denver (DEN) is perfect for planning a long weekend in the mountains or a quick getaway for a concert at Red Rocks Amphitheater.
And if a little bit of music is what you desire, these insanely cheap nonstop fares to Nashville (BNA) would probably be of interest, too.

Thanks to a hearty list of Southwest fares putting competitive pressure on the major airlines, flights to Nashville are so cheap that you can skip the connection.
Sometimes, airports just simply aren't big enough to find many nonstop fares. In many cases, you'll have to look to the nearest major international airports for nonstop availability. West Palm Beach (PBI) in Florida seems like it would fall into that category with Miami (MIA) and Fort Lauderdale (FLL) so close by, right? Right?
Wrong.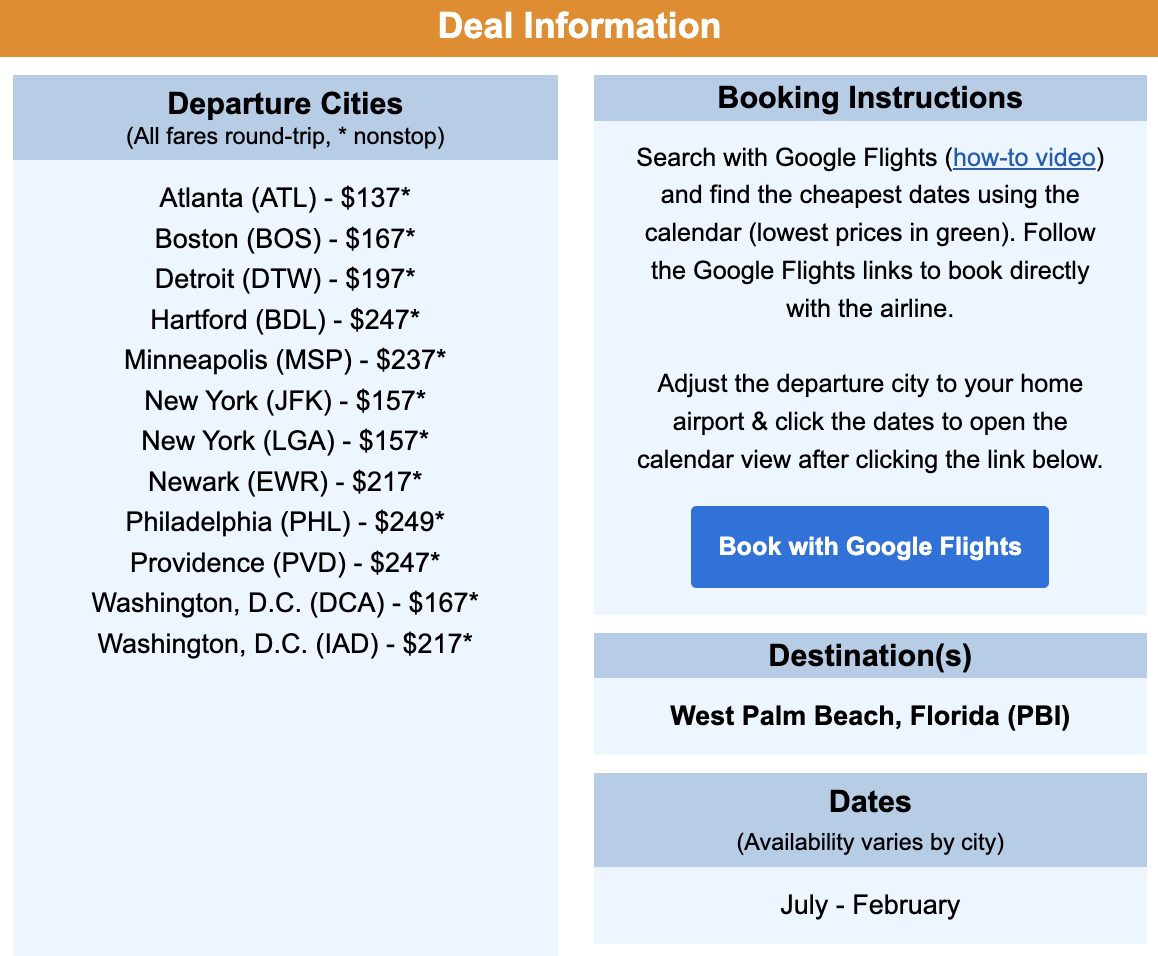 That's 12 different nonstop routes to West Palm Beach – from Minneapolis (MSP) to Boston (BOS) and over to Philadelphia (PHL) and back – all for under $250. Heck, many fares are under $200 roundtrip for nonstop flights.
A quick flight within the U.S. mainland almost demands a nonstop route. But when you look further away to, say, Maui (OGG), you almost just concede that a connection somewhere is required. "Not anymore!" said Delta.

This new upcoming route from Delta flying from MSP to OGG was a welcome sight for Upper Midwesterners looking for a convenient flight to paradise. At about half-off the cost of the flight now, this flight deal was a steal for Minnesotans.
Where to Find Nonstop Flight Deals to Europe
Just because you're crossing the Atlantic Ocean doesn't mean you need to connect. Nonstop flights to Europe do go on sale from time to time … so long as you know where to look.
This flight deal we sent Thrifty Traveler Premium members a few weeks ago is a great example. With no notice or even an email, airlines occasionally put their fares on steep sales … but we catch them. Many of these fares should be closer to $1,000 or more!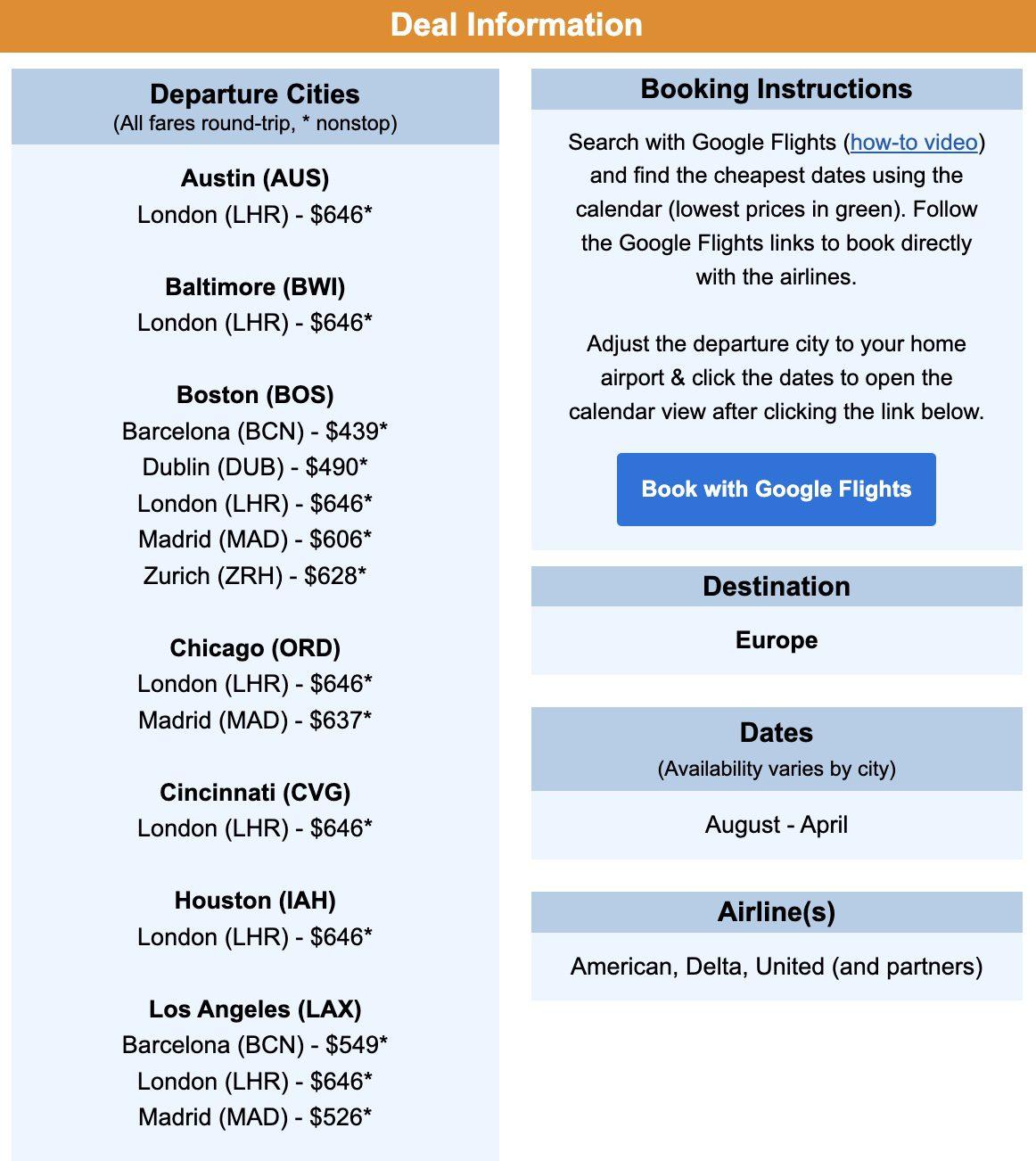 We're not just talking about New York City (JFK), Newark (EWR), and Washington, D.C.-Dulles (IAD) for nonstop options to Europe, either. Austin (AUS), Baltimore (BWI), and even Cincinnati (CVG) got in on this nonstop deal thanks to the major airlines' huge U.S. route networks.
If you want to find a super cheap nonstop flight to Europe, take a look at the European carriers, too. And if Ireland is where you're hoping to visit, you need to check out Aer Lingus, which offers an unparalleled amount of nonstop flights into Dublin (DUB) and even some of Ireland's smaller hubs.
Best of all, they regularly slash prices, too.

See what I mean? Roundtrip, nonstop fares in the $300s are insane. You won't find those prices often (or ever) on American, Delta, or United.
But where you'll often find discounts on the major carriers are to places like London (LHR, LGW), where tons of airlines operate nonstop flights. With all that competition, you see fares drop to lows like these.

The same goes for nearby Amsterdam (AMS) and Paris-Charles de Gaulle (CDG), where so many airplanes are flying back and forth each day that sales inevitably end up looking like this.

Finally, off the mainland of Europe is maybe the best example of where you can find nonstop flights at their cheapest: Iceland.
For some reason, nonstop flights to Reykjavik (KEF) are always the cheapest – and it's not even close most of the time. From just $434 roundtrip, nonstop, you could fly from the east coast to Iceland on Icelandair. The highest fare on this deal was still only in the $500s, too.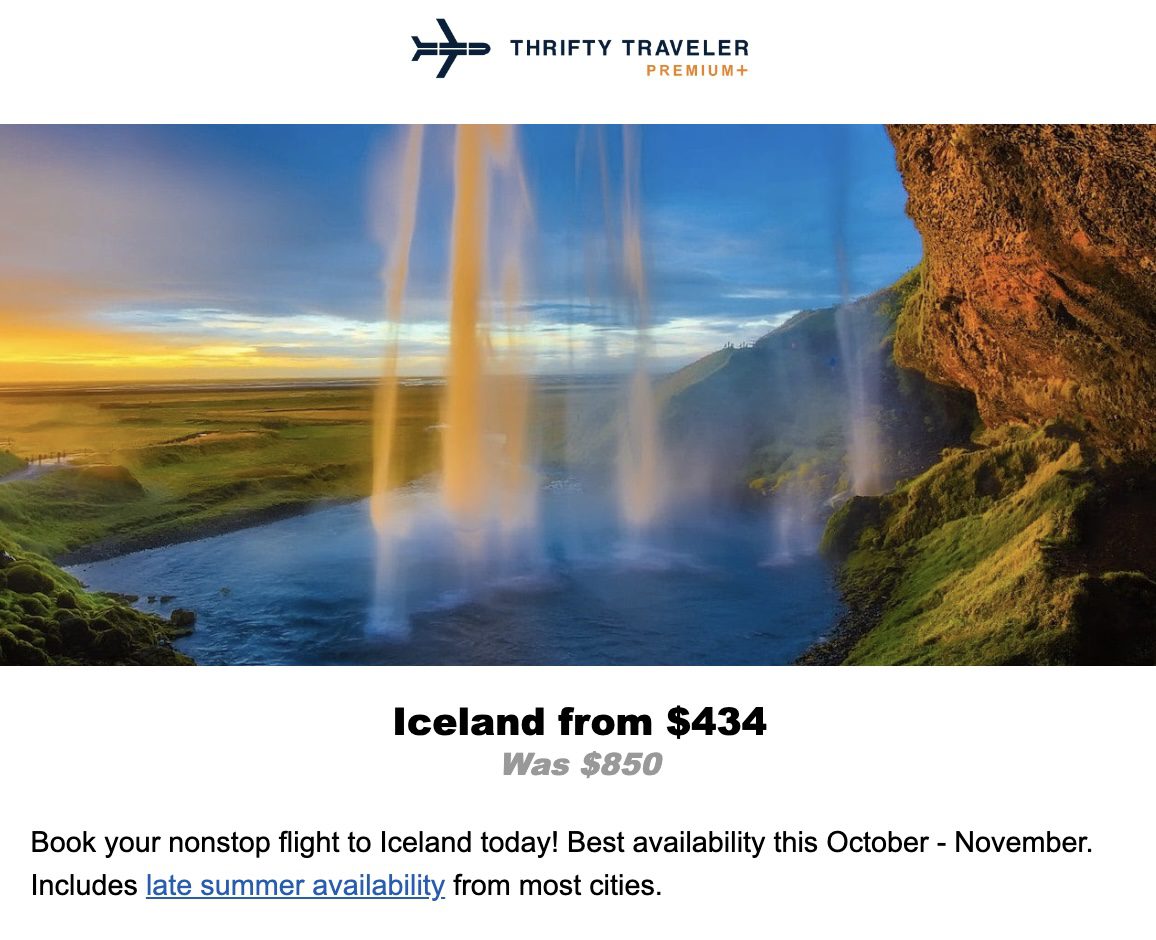 Get deals like this in your inbox with Thrifty Traveler Premium!
Where to Look for Nonstop Flight Deals All Over the World
You can even fly nonstop to some amazingly far-flung locations from the U.S.
Did you know, for instance, that you can fly nonstop from Atlanta (ATL) to both Cape Town (CPT) and Johannesburg (JNB) on Delta? Or United from Newark (EWR) to both South African cities? You do now.
Want to book these flights? Expect to pay a small fortune … unless you're using Virgin Atlantic points to fly Delta.

Only Thrifty Traveler Premium+ members get points and miles alerts!
That's right: Just 70,000 Virgin points can get you to and from South Africa nonstop this year or next. Looking the other way around the planet, a nonstop trip to Fiji sounds too good to be true, right?
Wrong.

For just $616 roundtrip, you could make it a reality thanks to Fiji Airways and this deal we sent recently to Thrifty Traveler Premium members. Nearby in the South Pacific, growing competition flying in and out of Tahiti (PPT) has made it easier to find a cheap fare to get to paradise.


You can even get as far away as Singapore (SIN) from the U.S. without making a long layover. This flight deal flying the best airline in the world – Singapore Airlines – could take you to Singapore from Seattle (SEA) and San Francisco (SFO) without a stop!

And we'll pull our Virgin Atlantic-to-book-Delta-flights arrow out of our quiver once again for this last one: Nonstop Delta flights to South America.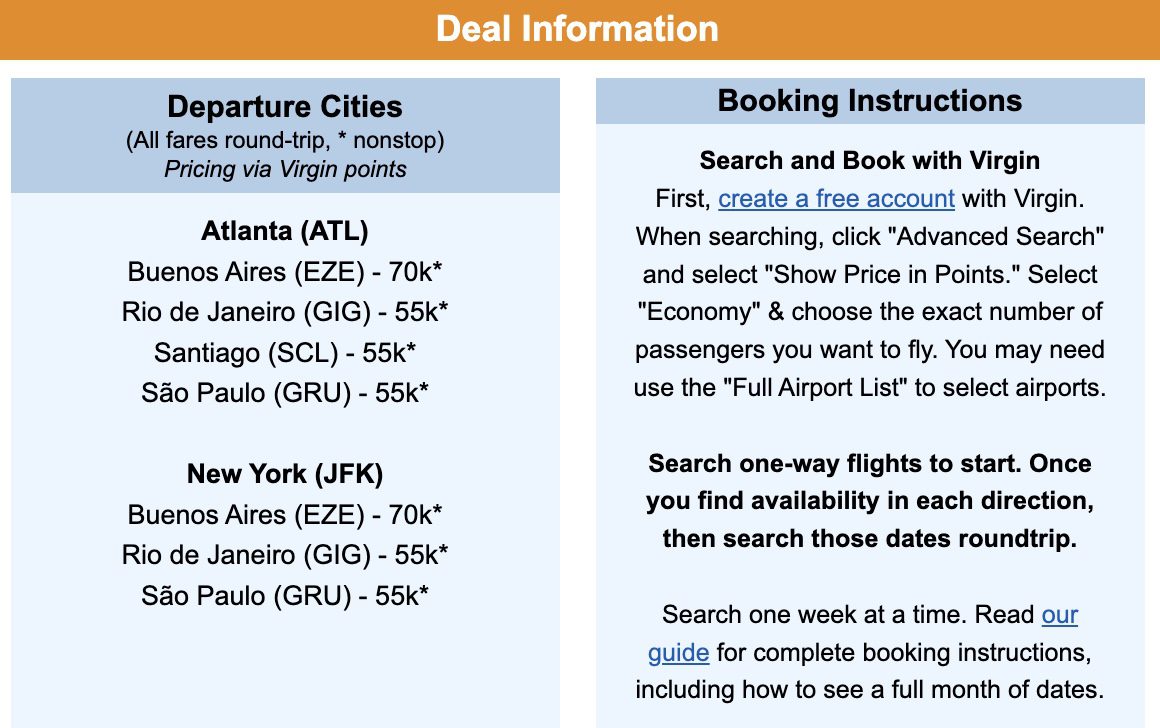 From just 55,000 points roundtrip, these Delta nonstops are well within your grasp!
Bottom Line
Skip the hassle of a layover and book the nonstop instead! While nonstop flights tend to be more expensive, you can find those flights at a steep discount if you know where to look.
We find and send cheap nonstop flights to our Thrifty Traveler Premium members every day, meaning you can skip the connection next time and fly from your home airport straight to your destination.