Editor's note: We're republishing our guide to on how to find cheap flights from Minneapolis-St. Paul (MSP), first published in January 2021, with updates. Stay tuned for more guides on how to find cheap flights from other cities!
Finding a great flight deal is more art than science: There's not one single trick or "hack," and that's true when it comes to finding cheap flights from Minneapolis-St. Paul (MSP), too. But take it from us: You can become an artist of finding cheap flights from MSP.
As a Minnesota-based company, we consider ourselves experts in finding the absolute best flight deals from Minneapolis. We spend all day, every day hunting for deals on airfare from our hometown (and 170 more). Now, we've compiled all the best tools, strategies, tips, and tricks as Minneapolis-based travelers look to travel again in 2022 and beyond. And with airfare on the rise as that travel demand explodes, these tips are more important than ever.
Whenever you're ready to start traveling more for less, use this as your guidebook to find cheap flights from MSP.
Basics of Minneapolis-St. Paul (MSP) Airport
Minneapolis-St. Paul (MSP) International Airport is one of the biggest airports in the Midwest, second only to Chicago-O'Hare (ORD), according to federal data. It's an important hub: not just for Minnesota-based travelers, but for anyone living in the region.
Nearly 20 airlines fly in and out of Minneapolis, offering nonstop flights across the U.S., down to Mexico and the Caribbean, over to Europe, and even to Asia. The airport is broken up into two terminals, which serve drastically different purposes.
Want to check out TSA wait times at the airport? Minneapolis airport displays up-to-the-minute checkpoint wait times online – otherwise use the MyTSA app.
Terminal 1
Terminal 1 is the largest at Minneapolis and is generally considered its "main" terminal. It's home to some of the largest airlines in the country – but a few budget carriers, too.
Air Canada
Air Choice One
Air France
Alaska Airlines
American Airlines
Boutique Air
Delta Air Lines
Denver Air Connection
KLM
Spirit Airlines
United Airlines
Delta is the biggest carrier in Minneapolis … and it's not even close, as Delta carries more than 70% of the passengers flying in and out of the airport. It's one of Delta's largest and most important hubs.
And that's both good and bad for travelers hunting for deals.
On the bright side, there are tons of nonstop Delta flights available out of Minneapolis, whether you're flying domestically or trying to head abroad. But with a near-monopoly on the airport, Delta can get away with charging higher airfare – and it often does. Heavy demand from both business travelers and everyday vacationers allows Delta to charge more than its competitors.
Because Delta controls the market, it has no incentive to slash fares. But American, United, and other airlines often try to drum up ticket sales and win over otherwise loyal Delta flyers by offering cheaper flights and connecting you through their hubs like Chicago-O'Hare (ORD), Denver (DEN), or Dallas-Fort Worth (DFW). It may seem counterintuitive, but that's why you'll often get the best deals flying out of Minneapolis with an airline other than Delta.
Luckily, competition from those two major carriers along with others like Southwest, Spirit, Sun Country, and JetBlue helps keep Delta in check when it comes to airfare.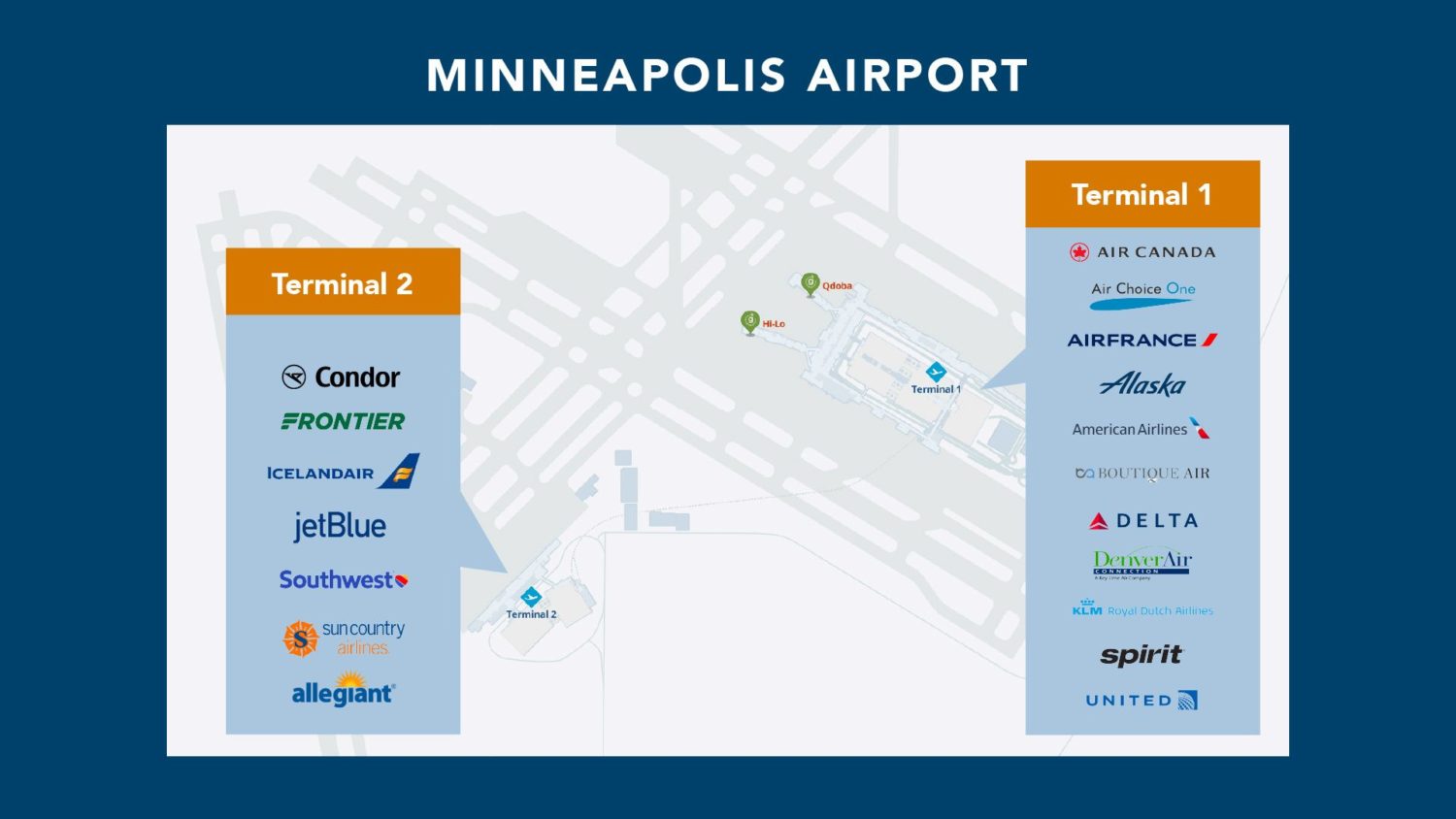 Terminal 2
Terminal 2 is considerably smaller than Terminal 1, but it still packs a punch if you're looking to fly on a tight budget. While some budget airlines call Terminal 1 home, Terminal 2 is home to many of the nation's biggest budget carriers.
Allegiant
Condor
Frontier
Icelandair
JetBlue
Southwest
Sun Country
If Delta is the king of Minneapolis' Terminal 1, Sun Country definitely reigns at Terminal 2.
Sun Country is Minnesota's longtime hometown airline turned ultra-low-cost carrier, competing with other budget airlines like Spirit and Frontier with low fares, high fees, and basic service. The airline specializes in flying to popular vacation destinations – especially in the winter when Minnesotans flee to escape the cold.
Whether you fly the likes of Sun Country, Frontier, and Spirit or not, these budget carriers play a pivotal role in pressuring major airlines to keep their prices lower. You can thank them later.
The Cheapest Domestic Destinations from MSP…
Airfare is constantly changing, and that's no exception when it comes to Minneapolis.
Airlines come and go. Some attack competitors' hubs and switch strategies for how to poach new travelers. And that means the destinations you can fly to on a reliably cheap fare change. And airfare is always fluctuating due to the time of year, date of departure, events going on in Minneapolis and at your destination, and other factors.
But after half a decade of finding the best cheap flights from Minneapolis, we've got a good sense of the reliably cheap domestic destinations you can fly to from Minneapolis. While the prices have definitely gone up lately as travel takes off in 2022, these are still some of the safest bets if you're looking for a better deal.
Boston (BOS): After JetBlue launched flights between Boston and MSP back in 2018, roundtrip fares under $100 were common. That's gotten higher lately, but you can still find fares closer to $200 roundtrip.
Chicago (ORD and MDW): After years of high fares, flying into Chicago for under $150 roundtrip isn't difficult these days if you time it right.
Dallas (DFW): For years, you could reliably snag a nonstop fare on American or Delta for around $130 roundtrip – or even under $100 at times. Those prices are higher now, but planning ahead you can still snag a deal for under $200 or so.
Denver (DEN): Thanks to cutthroat competition with almost every airline flying nonstop between Denver and MSP, a fare for less than $200 should be easy to find unless you're booking for peak summer.
Kansas City (MCI): Southwest and Delta continue to battle it out on this route, which puts fares regularly under $150 or so.
Las Vegas (LAS): Airfare to Las Vegas can fluctuate wildly – especially right now – but we regularly find fares for $150 roundtrip from Minneapolis – and sometimes even under $100.
Los Angeles (LAX): Thanks to Spirit and Sun Country driving down fares to get to LAX, the normal price of $250 roundtrip or more can easily fall below $200 if you time it right.
Miami (MIA): American and Delta are always jockeying for domination between their two hubs, leading fares to occasionally tumble down to $150 roundtrip – down from the norm of $250.
Orlando (MCO): Lots of airline competition often brings fares below $200 roundtrip, and occasionally as low as $150 roundtrip or less.
Phoenix (PHX): American, Delta, Spirit, and Sun Country all continue to knock down fares on this popular snowbird route. When fares normalize, you shouldn't pay more than $150 for these flights – and paying less than $100 roundtrip isn't unheard of.
…And Cheapest International Destinations from MSP
Once again, airfare is constantly changing. And while the price you pay for a domestic ticket can fluctuate by tens of dollars, you can regularly see swings of hundreds of dollars when buying flights for a trip abroad.
Flying internationally out of Minneapolis is no different. And airline flash sales – where an airline targets a competitor's hub or hubs with dirt-cheap fares – can make flight pricing even more unpredictable.
Still, there are a handful of reliably cheap international destinations if you're looking to leave Minneapolis for somewhere new.
Cancún, Mexico (CUN): It's one of the most popular beach destinations for many Americans, and it makes this a competitive route. With nonstop service on both Sun Country and Delta, we consistently see fares under $400 roundtrip – even now.
Dublin, Ireland (DUB): It's one of the cheapest destinations within Europe, with fares regularly under $500 roundtrip from MSP. But that may not continue if Aer Lingus doesn't return. 
Liberia, Costa Rica (LIR): An unheralded hotspot in Central America, getting to Costa Rica now regularly costs around $400 roundtrip if you time it right.
Reykjavík, Iceland (KEF): Icelandair and Delta Air Lines keep battling it out for low fares to Iceland, which results in fares easily under $500 – and sometimes closer to $300.
Vancouver, Canada (YVR): Minneapolis is one of the most important gateways for flights into Canada, and it shows with cheap fares to Vancouver around $300 to $350 or less on the nonstop Delta flight.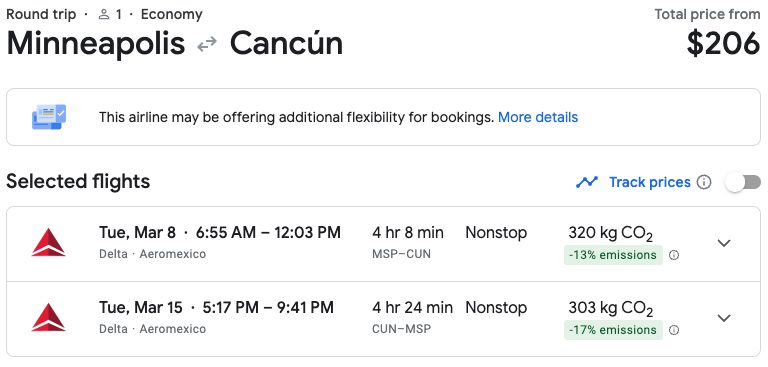 The 10 Best Flight Deals From MSP We've Ever Found
There are cheap flights, and then there are dirt-cheap flights. This is the latter.
We spend all day, every day looking for the cheapest flight deals to send to our Thrifty Traveler Premium members. And as a Minnesota-based company, we pay close attention to flights in and out of Minneapolis-St. Paul (MSP) along with other, smaller Midwestern cities.
So over the years, we've uncovered hundreds of that "No way, is this real?!" kind of cheap flights flying from Minneapolis – including some recent ones, even as flight prices climb. And keep in mind we don't publish flight deals on budget airlines that nickel-and-dime travelers with extra fees – these fares are all on major full-service airlines like Delta, American, United, and their international partners.
$267 RT to Honolulu (HNL): The cheapest fare we've ever found flying from Minneapolis to Hawaii, with a quick stop on the West Coast en route to paradise. But we've also found flights on Delta's nonstop route to Honolulu as low as $301. Not bad for flights that typically cost around $800 or more, right?
$274 RT to Zurich (ZRH): Dirt-cheap fares to get to a traditionally spendy country, and the lowest fares we've ever found to get from Minneapolis to Europe.
$187 RT to Santiago de Chile (SCL): At more than $900 off normal prices, this was one of a two-part Delta mistake fare in November 2020 that also saw flights from Minneapolis to Lima (LIMA) for just over $200 roundtrip.

Want cheap flights like this one sent straight to you? Try Thrifty Traveler Premium!
$332 RT to Tokyo (NRT): If visiting Tokyo is on your list, it doesn't get any cheaper than this record-low fare we found in early 2020 flying Air Canada from Minneapolis to Tokyo-Narita (NRT).
$61 RT to Boston (BOS): Yes, you read that right: a $61 trip to Boston and back. This shockingly low fare was the byproduct of a fare war between JetBlue and Delta after JetBlue launched nonstop service between the two cities.
$204 RT to Caribbean islands: The pandemic caused airlines to do some silly things, like sell roundtrip flights from Minneapolis to Nassau (NAS) in the Bahamas and other islands for as low as $204 roundtrip well into 2021.
$290 to Paris-Charles de Gaulle (CDG): Most flights from Minneapolis to Paris cost at least $800 – and sometimes more – so this one-stop flight to France flying United in 2019 easily cracks the top 10.
$282 RT to Anchorage (ANC): Yes, even Delta sometimes offers insane fares on their flights out of Minneapolis. In this case, getting to Alaska nonstop dropped to record lows last year.
$76 RT to Las Vegas (LAS): More than half-off flights to Sin City flying Delta nonstop? Most one-way flights aren't even this cheap!
$180 RT to Montreal (YUL), Calgary (YYC), and Vancouver (YVR): Easy one-stop trip to some of the best cities north of the border for under $200? Sign us up!
Our Top Tips to Find Cheap Flights from Minneapolis
Start with a Cheap Fare First
Whether you live in Minneapolis or Missoula, travelers often make one massive mistake that costs them hundreds of dollars when planning a trip. They follow this script: Set the dates, pick a spot, book a hotel or rental car, then book a flight.
Instead, you should flip that in reverse. Start by searching for flights, letting the price guide you to the cheapest dates possible. That flexibility can save you big bucks, even if it means shifting your travel dates by just a day or two to score a better deal. We call it The Flight First Rule

Here's an example of how much it can pay off. Let's say you're planning a trip to Iceland this summer and decide to leave Saturday, July 23 to Monday, Aug. 1. The best deal you can find on Delta nonstops is $889 – and honestly, that's not all that bad for a summer trip to Europe right now.
But if you leave just one day later and come back a day later, too, you can book the exact same Delta nonstop flights for only $494 – a savings of $395. Add that up for a family of four, and you saved almost $1,600 on airfare.
That's just one small example that showcases how important it is to be flexible when digging for cheap flights from Minneapolis. Whether you're heading abroad or staying close to home, starting your travel planning by searching for flight deals is the biggest change you can make to save on flights.
Use Google Flights (Not Online Travel Agencies)
There are plenty of search engines out there to find a cheap flight. Maybe you've got a favorite tool like Skyscanner, Hopper, Priceline, or Expedia. But one beats them all: Google Flights.
Google Flights is incredibly powerful, with tons of features that will help you zero in on the best price. It's got a bevy of filters you can use to narrow down to the flights you really want –  and avoid the ones you don't. It will help you find a great deal flying out of MSP, then book direct with the airline.
Need to fly on specific dates to a certain location? Use Google Flights price alerts to get a notification when flight prices go down!
Not sure where you want to go, just want to fly somewhere cheap? Google Flights Explore map is one of our favorite features!
Just start your flight search by visiting google.com/flights and follow our guide: How to Use Google Flights to Find Cheap Flights Like a Pro
Booking directly with the airline is more important now than ever. With travel restrictions still changing, flights getting rescheduled or canceled, and travel plans still constantly in flux booking directly with the airline is the best way to make sure you can easily change or cancel your flights, if necessary.
Consider Flying to Another Airport to Score a Bigger Deal
There's no question you can score a cheap flight from Minneapolis. But there's also no denying that you can get an even better deal from other, bigger airports … especially on long-haul trips to Europe, Asia, and beyond.
But how? Use positioning flights.
It works like this: Let's say you want to check out Bangkok but prices from Minneapolis are looking spendy, at more than $1,000 roundtrip. Rather than biting the bullet, check out some other major cities and see what prices are like. In this case, searching the West Coast may be your best bet.
Thrifty Tip: Google Flights allows you to search from up to seven departure cities and destination at once, making it much easier to find the best (and cheapest) city to depart from … and the best city to fly to for more savings.
It won't take much digging to see that flights from Los Angeles (LAX) to Bangkok (BKK) can go for under $500 roundtrip – less than half the cost of a journey departing from Minneapolis.

But you need to get to Los Angeles (LAX) to hop on that flight. Luckily, you can get there for fairly cheap, too: Just $159 roundtrip flying Delta nonstop, in this case.

That adds up to $635 total. In this one example, using positioning flights saved you more than $400!
Just keep in mind this isn't exactly risk-free. If something happens on your first flight and you miss the second, you may be out of luck. That's we recommend giving yourself at least a two- or three-hour layover between flights as you're departing the U.S., and preferably at least four hours between flights as you head back home.
Unfortunately, with domestic flight prices generally through the roof at the moment and mass cancellations a near-constant concern, now might not be the best time to use this tactic. But it's a good strategy to keep in your back pocket for another time.
We've rounded up a nice cheat sheet of some of the best major international airports to look into if you're on the hunt for a better deal.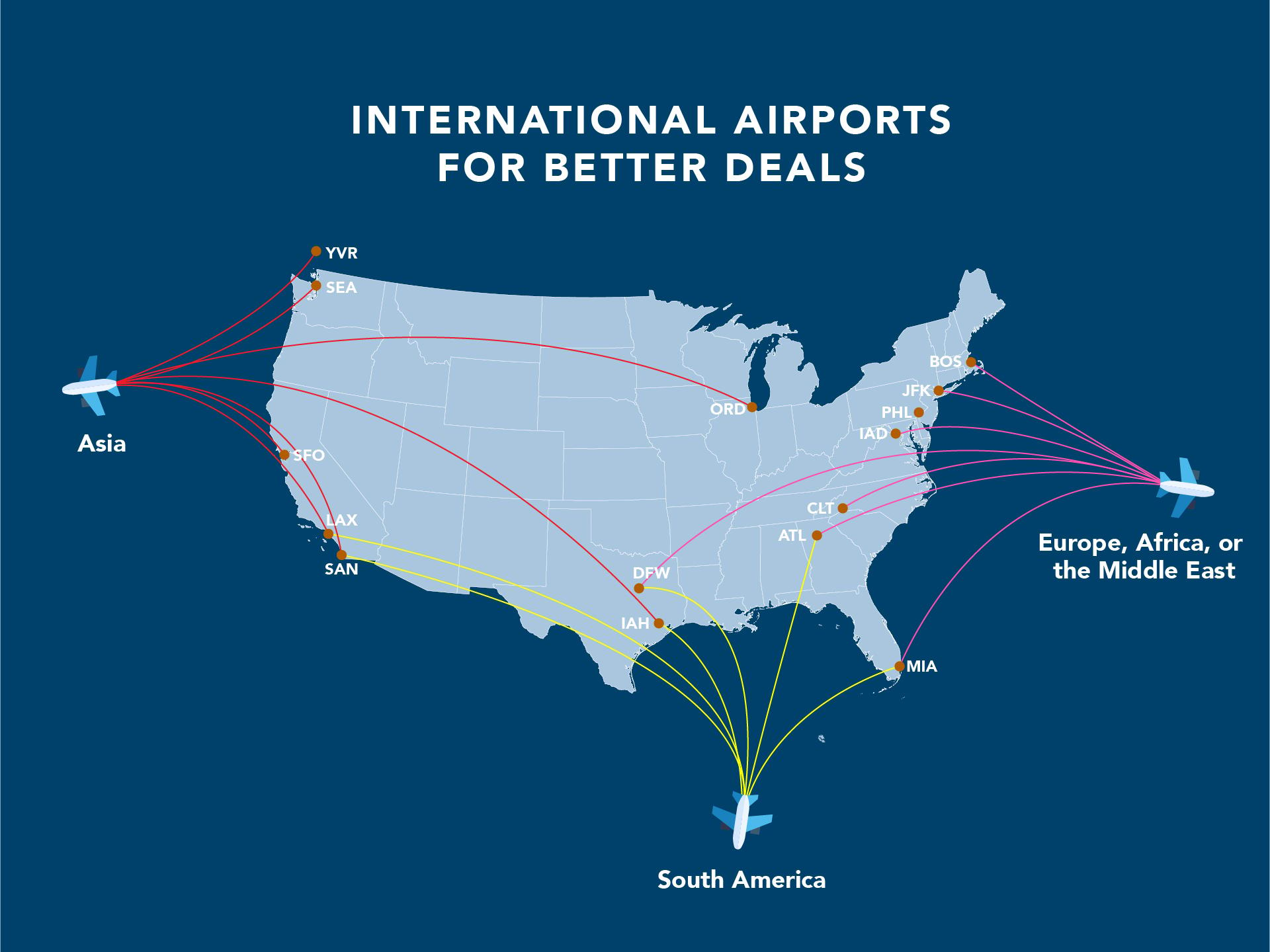 Some of the best airports to crosscheck for flights to Asia, Australia, and the South Pacific include: Los Angeles (LAX), San Francisco (SFO), San Diego (SAN), Seattle (SEA), Vancouver (YVR), and sometimes even Chicago-O'Hare (ORD) and Houston-Intercontinental (IAH).
Heading for Europe, Africa, or the Middle East? Check out fares from New York City (JFK), Boston (BOS), Charlotte (CLT), Washington, D.C.-Dulles (IAD), Philadelphia (PHL), Miami (MIA), Chicago-O'Hare (ORD), and Dallas (DFW).
Trying to get deep into South America? It's always worth checking Los Angeles (LAX), San Francisco (SFO), Houston-Intercontinental (IAH), Dallas-Fort Worth (DFW), Atlanta (ATL), and Miami (MIA).
Book Flights at the Right Time
We hate to break it to you, but there's no magical time to book a cheap flight from Minneapolis – or from anywhere, for that matter. And no, there is no best day to book flights either.
That thing you've heard about booking on Tuesdays is a myth. And flights deals on Black Friday, Cyber Monday or National Cheap Flight Day are more marketing gimmicks than reality.
The best time to book a flight is when you find a cheap deal. And the fact of the matter is that cheap flights can pop up at any hour, seven days a week. Yes, you can find cheap flights on Tuesdays. But you might get a better deal on a Wednesday. Or Thursday. Or any other day of the week.
What you've heard about Tuesdays is a convenient but outdated myth that ignores the fact that airfare pricing is constantly changing. Airlines tweak their pricing by the hour to try to win over more customers and undercut their competitors.
Take it from us: Our team of flight deal analysts spends all day, every day searching for the cheapest fares to send to Thrifty Traveler Premium members.
The best fares and sales don't happen on one day of week. In fact, we find crazy cheap flights, mistake fares, and unadvertised award sales every day of the year.
Fly at the Right Time, Too
Cheap flights are not about when you buy your ticket. It's more about when you actually get on the plane. 
That means flying on off-peak days: Tuesdays, Wednesdays and Saturdays are almost always the cheapest days to fly. Shifting your departure and return dates by just a day or two can save you hundreds of dollars. 
Avoiding peak travel seasons is key, too. Airfare during the middle of summer is typically much more expensive – and the same goes for major holidays. Traveling during shoulder seasons, from mid-April through early June and late August through early October is the key to saving more.
For many people, traveling during peak seasons or the summertime is unavoidable. Between having kids in school and limited time off, life can get in the way of a cheaper vacation. In that case, there are a few things you can do to help save money on flights.
Mix up things up by choosing a less-popular destination. Airlines know everyone wants to head for Orlando (MCO) or Phoenix (PHX) around Christmas or spring break – and they'll make you pay for it. Use Google Flights Explore to see where you can fly for cheap on your travel dates.
Remember to book your flights first, letting the cheap flights help set your travel dates. Shifting your travel dates by just a day or two from what you initially planned can help you save hundreds on airfare.
Don't Bother Clearing Your Cookies
Of the many myths that surround travel and airfare, one stands out. We hear it again and again and again, from beginners to even so-called travel experts:
"You should clear the cookies on your internet browser when searching for flights because the website will track what you're looking for and jack up the price."
Let us say it unequivocally: Clearing your cookies does nothing. Absolutely nothing. 
Airlines aren't tracking what you search. There's no need to use an incognito browser. But then what's the answer behind the constantly changing flight prices, then? Why did that ticket you were looking at suddenly jump in price?
The reality is that airfare pricing is fickle, and it's always changing. Airlines are constantly altering their prices as tickets sell and demand changes, or as airlines try to fill up seats on a flight.
One simple explanation behind a sudden change in price is something called fare classes. While you just see economy and first-class on the plane, airlines sell tickets by separate classifications called fare classes. Every fare class has its own price, and when the cheapest fare class sells out, the price will jump up to the next, higher-priced class.
Let Us Find the Best Deals for You
Stop spending hours hunting for the best deals from Minneapolis – or worrying you paid too much.
Our team of flight deal experts finds incredible fares that will save you hundreds of dollars on every flight, flying top-rated airlines from your home airport. And because we're based here, we put extra effort into finding dirt-cheap flights from Minneapolis. Selfish, we know.
All you have to do is join Thrifty Traveler Premium to start getting the best cheap flights from Minneapolis straight to your inbox. From there, just book a great deal directly with the airline for massive savings of $500 or more on international flights – and big savings on domestic fares, too.
This recent flight deal all the way down to Cape Town (CPT) in South Africa saved Minneapolis travelers big time, with more than 50% off usual fares for a bucket list trip. With more than $800 in savings on that flight deal alone, it will quickly offset Thrifty Traveler Premium's $59 annual fee.
Looking for a domestic destination? Premium members recently got this crazy deal to New York City with savings of more than $250.
When You See a Good Deal, Book ASAP
Whether you find a deal yourself or get an unbelievably cheap flight in your inbox from Thrifty Traveler Premium, it pays to be impulsive. The hotter the flight deal, the shorter it lasts … and you don't want to miss out on a deal by waiting too long.
And you've got an excuse to book now and ask questions later: It's called the 24-hour rule. This is a federal law that requires all airlines (foreign or domestic) to offer a full refund on any flight that touches U.S. soil within 24 hours of booking.
That should give you enough time to book that insanely cheap flight, then check into your work PTO situation or coordinate schedules with a spouse, friends, or family. Can't make it work? Just cancel your ticket and get your money back. It's that easy.
That said, there are a few exceptions and caveats to be aware of. So be sure to read our full guide on the 24-hour rule!
Other Money-Saving Tips Flying from Minneapolis
The savings don't have to stop on your flight. Here are some other quick ways to save on your next flight out of MSP.
Easy Ways to Save on Parking
Unless you're just making a day trip, parking at the airport isn't cheap. It starts at $28 a day in Terminal 1 parking ramps.
But you can park at Terminal 2 for a lower daily rate – just $21 a day. If you're flying out of Terminal 1, just take a free light-rail ride over to Terminal 1. Plus, you can shave $2 off your daily rates by prebooking parking through MSP airport.
Want to save even more? Park downtown Minneapolis for even less and ride the light-rail to the airport using the Ramp-Ride-Fly program! A three-day minimum stay starts at just $21, and each additional day of parking costs just $5!
Get Free Baggage Flying with Delta
Paying for bags is a drag. At $30 per checked bag each way, those costs can add up fast.
That's why thousands of Minnesota-based flyers have a Delta SkyMiles® Gold American Express Card in their wallet. This card gets you free baggage (plus a free bag for up to eight companions booked on your ticket) on every Delta flight. And you don't even need to pay for your flight with your Delta card to get a free bag – just make sure it's linked to your SkyMiles account.
Read more: Delta Baggage Fees (And 7 Ways to Avoid Them) in 2022
And given how popular Delta is in Minneapolis, those savings can add up fast. The card has a $0 introductory annual fee, and then just $99 each year after that (see rates & fees). You'll come out ahead after just two round-trip flights a year. This card also gets you other perks like priority boarding, earning 2x SkyMiles per dollar spent with Delta or at restaurants and U.S. supermarkets, and more.
Save on Food & Drinks with Lounge Access
Eating and drinking at the airport isn't cheap, either. But you can eat and drink for free in airport lounges, escaping the hustle and bustle of the airport terminal before your flight, too.
Long considered the domain of jet-setting corporate travelers, you can get into airport lounges in Minneapolis (and across the globe) just by holding the right credit card. And no card is better for getting into lounges at the Minneapolis airport than The Platinum Card® from American Express.
Holding the Platinum Card can get you into both of MSP's Delta Sky Clubs – and a third is on the way in 2023. There you'll find free snacks, coffee, and drinks. Two downsides: You have to be flying Delta that day to get in, and bringing a guest will cost you another $39.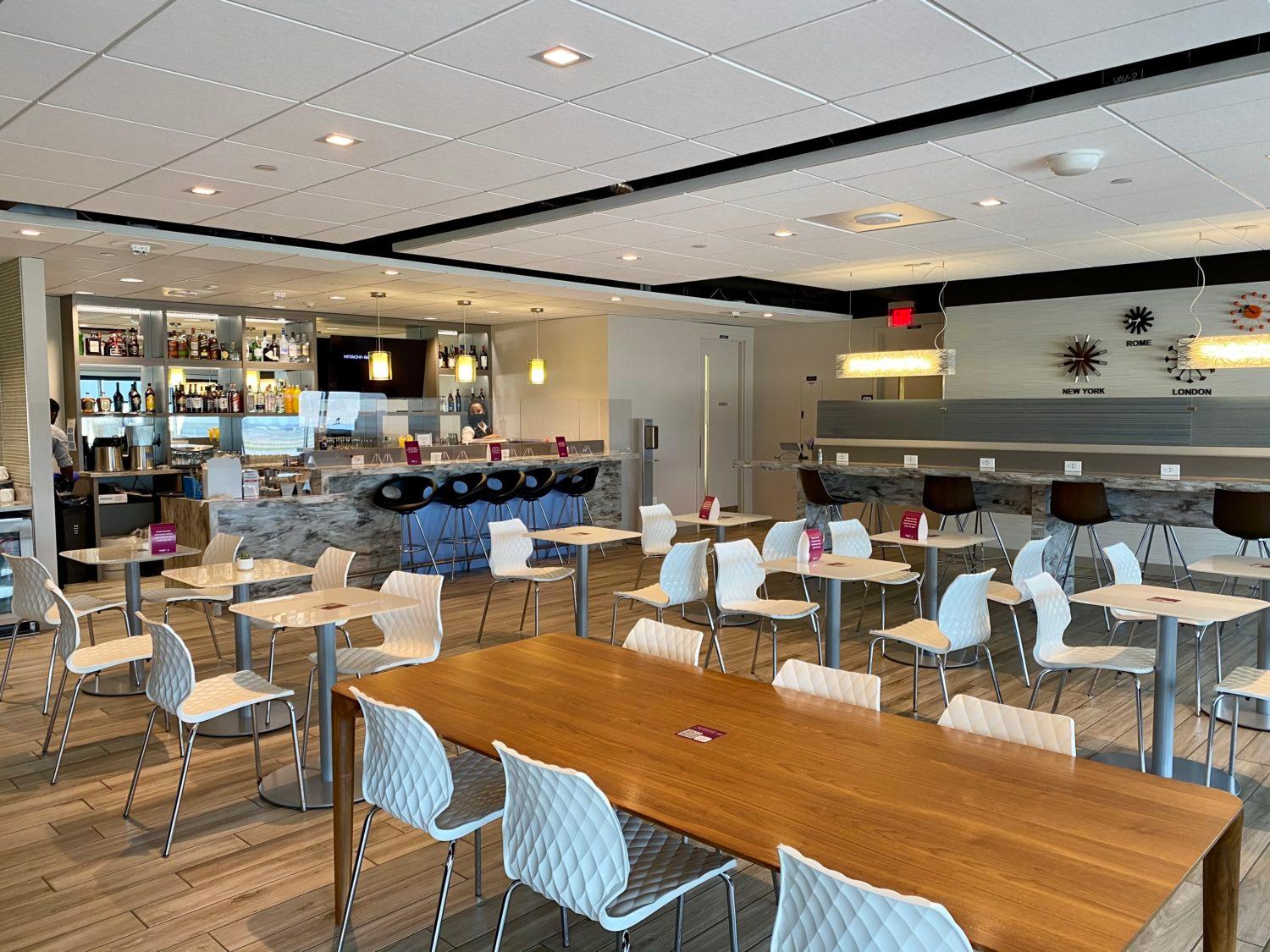 But you can also get into the Escape Lounge at MSP – and even bring two guests with you for free. The Escape Lounge is usually our favorite at Minneapolis by far. It's almost always quiet with plenty of seating options, power ports galore to stay charged, and some good food and drink options.
Read our full review of the Minneapolis Escape Lounge!
Let's state the obvious: Paying $695 a year for a credit card like the Platinum Card isn't cheap, and it won't make sense for everyone (see rates & fees). But if you plan to travel frequently in 2022 and beyond, lounge access and other card benefits like a $200 annual credit for airline fees and a way to get up to a $100 credit for TSA PreCheck or Global Entry can help you come out ahead.
Book Your Flights for Free (Or Nearly Free) Instead!
What's better than a cheap flight? Just one thing: A free flight. 
If you're ready to take things to the next level, there's no better way to travel more for less than by using points and miles to book your flights. Not sure where to start? Read our guide to getting started with credit cards, points, and miles to get up to speed.
There's no easier way to take a cheap flight and make it free than using points from credit cards like the Chase Sapphire Preferred® Card. All you need to do is find a good deal, search for it through the Chase travel portal, book it with your points, and poof – you're traveling for completely free. And you'll even earn miles on that flight you take, too!
Every Minneapolis-based flyer could use a stash of Delta SkyMiles. From cheap domestic awards starting at just 5,000 SkyMiles each way to frequent flash sales with discounted flights, there are plenty of great ways to use Delta SkyMiles. Check out the best ways to earn Delta SkyMiles!
Even if you're loyal to Delta, you might want to consider earning American AAdvantage miles – especially for booking international trips on top-rated airlines like Qatar Airways, Japan Airlines, or Cathay Pacific. See how you can quickly earn 100,000 (or more) AAdvantage miles!
Bottom Line
This guide should help you understand what's really a cheap flight from Minneapolis … and then find even crazier fares whenever you're ready to travel again.
Lead photo courtesy of Chris Lundberg via Flickr