Editor's note: This story has been updated to more accurately reflect fees, seating, and pricing on U.S. budget carriers. 
If you love following the flight deals we find each day and post to ThriftyTraveler.com, you may have noticed one thing: We don't post flight deals on budget airlines like Frontier, Spirit, Allegiant, or Sun Country.
There's no question these low-cost carriers can work well for many travelers, and you can even come out ahead over flying a major airline like American, Alaskan, or Delta. But the way budget carriers operate and sell fares, bags, and other extras makes it harder to give prospective traveler's a full picture of what they're in for.
Here's why.
The Costs Add Up Fast

You've probably gotten an email from a budget airline touting dirt-cheap fares. But if those low costs start to tempt you, remember that it's often not the full story.
First up: One-way pricing. While many airlines occasionally tease promotional prices for a one-way flight, it's a frequent strategy for budget carriers. So while the promise of a $49.99 ticket hooks you, you'll often only find more expensive flights for the way home.
And be wary not to select a "Spirit $9 Fare Club" (or the similar "Discount Den" with Frontier) unless you want to tack on a pricey subscription fee to your total cost. Worse yet, airlines like Frontier often show the cheap price for "Discount Den members" while searching to lure you in, then hit you with the much higher, standard price.
Want to take more than a purse or a backpack? On budget carriers, that'll cost you. Of course, the same is true of United basic economy fares. But baggage fees are a huge money-maker for budget airlines – it's the trade-off of those cheaper, upfront fares.
Here's a look at what four of the major budget airlines charge for carry-ons and a checked bag. And keep in mind that some of the costs can vary based on the route you're flying and time of year. And you can generally expect to pay more if you don't purchase your bags when you book.
Spirit Airlines: Carry-on bags typically range from $26 to $55 each way; one checked bag ranges from $21 to $50 each way
Frontier Airlines: Carry-on bags start at $35 each way; one checked bag starts at $30 each way
Allegiant: Carry-on bags range from $18 to $35; one checked bag ranges from $25 to $35 each way
Sun Country: Carry-on bags start at $30 each way; one checked bag starts at $20 each way.
Whether you're flying Spirit or Sun Country or Frontier, the baggage fees on these budget airlines can add up fast.
Thrifty Tip #1: Use the Google Flights' overhead bin access filter to only see flights that include a free carry-on. We never post flight deals that do not include at least a carry-on.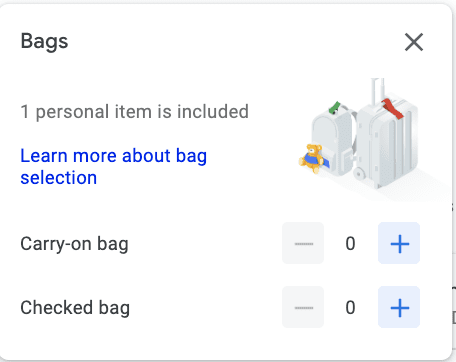 Oh, and then there are the seat fees. While paying to pick a seat isn't unique to budget airlines, it's particularly egregious. Don't want to get stuck in a middle seat with just 28 inches of legroom on Spirit. That will probably cost you $18 each way for a halfway decent seat.
Seat selection fees can vary widely by airline, route, time of year, and more. It just makes it even harder to give readers a sense of what their all-in travel costs might be.
As you click through the numerous up-sell pages on budget airlines' sites like Spirit, you'll get a "Special Offer" to get a checked bag, carry-on, and select your seat for $72 each way. Prices will vary by flight, but that's another $150 to your flight price.

And finally: the infamous Spirit check-in charge. I'm sure many of you check in online or use the terminal kiosks anyway, but $20 to have an agent check you in for your flights?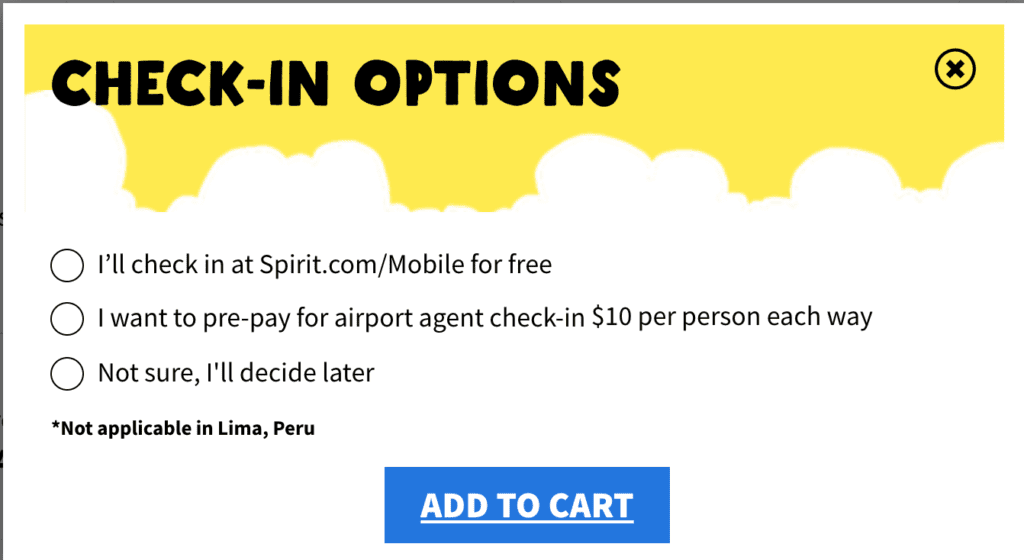 That cheap fare may not be looking nearly as cheap anymore.
Squeezing into Seats
We'd all probably endure some things to save a few bucks. But boarding a budget flight to spend hours in a cramped seat may not be worth it for everyone.
There's an easy way to see how much leg room you'll get in your flight searches. Use the Legroom Chrome Extension for Google Flights to see the seat pitch for every flight you search on Google Flights.
You'll see that it runs the gamut from a blissful 32 inches on some major carriers' planes, to the 31 inches on most domestic flights to the typical 30 inches you'll get with Sun Country or Allegiant. Then there are the worst offenders of all: Spirit and Frontier, which drop as low as 28 inches. Those extra 2 or more inches can make a big difference.
Customer Service Isn't, Well, Service
When everything goes smoothly, a budget carrier can be a great experience. And there's no denying budget airlines like Spirit and Frontier are getting better at running well and on-time. They've steadily climbed the ranks of airline on-time performance.
But then there are the horror stories: bags lost for months, canceled flights with no hope of getting rescheduled for days, stranding passengers in Mexico. The list goes on and on.
One of the ways that budget carriers cut down on costs is through customer service … or lack thereof. And while traditional airlines may not be perfect, you can call customer service or shoot them a message on social media and usually get the situation handled.
With budget carriers, you pay for what you get in that department.
Bottom Line
If you swear by flying Spirit or Frontier or similar airlines, that's great! These carriers can work for many travelers. But at Thrifty Traveler, we're committed to posting flight deals that are easy to understand and access for every traveler.