Black Friday is coming. And like clockwork, we get messages from fellow travelers asking about finding cheap Black Friday flight deals.
But here's the truth: Whether it's Black Friday to Cyber Monday, Travel Tuesday, or any old Tuesday … there's no best day to book flights. In fact, the best deals aren't the ones you'll see advertised next week on Black Friday.
Sure, some airlines have promos or offer some decent discount codes, maybe even $39 one-way fares or something like that. Scan the list of travel deals from last year's Black Friday, and you'll see some solid savings. We expect some more decent deals this year, too.

Want to actually save on flights? Get cheap flights sent to your inbox with Thrifty Traveler Premium … and save 30% on your first year with promo code CYBER if you sign up today, Nov. 28!
But they won't be the best flight deals possible. Just like "flights are cheapest on Tuesdays," you can add it to the pile of misleading advice, marketing gimmicks, and myths that somehow take hold in travel.
This is what it comes down to: You can find cheap flights every day of the year. Thanks to the unpredictable, constantly changing nature of airfare pricing and the occasional mistake fare, the next amazing flight deal is always just around the corner. If you follow us or subscribe to our flight deal alert service, you know that the cheapest flights are just as likely to pop up on any old Wednesday or Saturday.
To break the myth of amazing Black Friday flight deals, these are our best tips for getting a cheap flight no matter when you're looking.
Use Google Flights to Start Your Search
Ditch Expedia, Hopper, and Kayak and come to the light. Allow us to introduce you to our good friend: Google Flights.
Google Flights is the most powerful search engine when it comes to finding cheap flights, bar none. It's packed with powerful features and filters that can help you zero in on the best deal. It's an airfare price aggregator – not an online travel agency like many other popular flight search engines.

It's one of our favorite tools we use to find cheap flights. While you're hunting for other deals, it's only right you make the switch! At the very least, start your search with Google Flights and use it to point you in the right direction, then head to your favorite online travel agency to see if you can snag an even better deal.
But Google Flights has a handful of features that make it our go-to, including:
Book directly with the airline: Google Flights provides links to book straight with the airline, cutting out the middleman and making it easier to get a refund if your flight gets canceled or scrap your travel plans and get a voucher
A handy two-month calendar that helps you zero in on the cheapest days to fly as well as pop-up notifications when shifting by a day or two can save you money
Tons of filters to fine-tune your results by airline or alliance, nonstops or one-stop itineraries, departure and arrival times, and many more
Search to and from up to seven airports at once to maximize your results and hone in on the best deals
Use the Google Flights Explore map for those times when you just need a getaway to anywhere a cheap flight will take you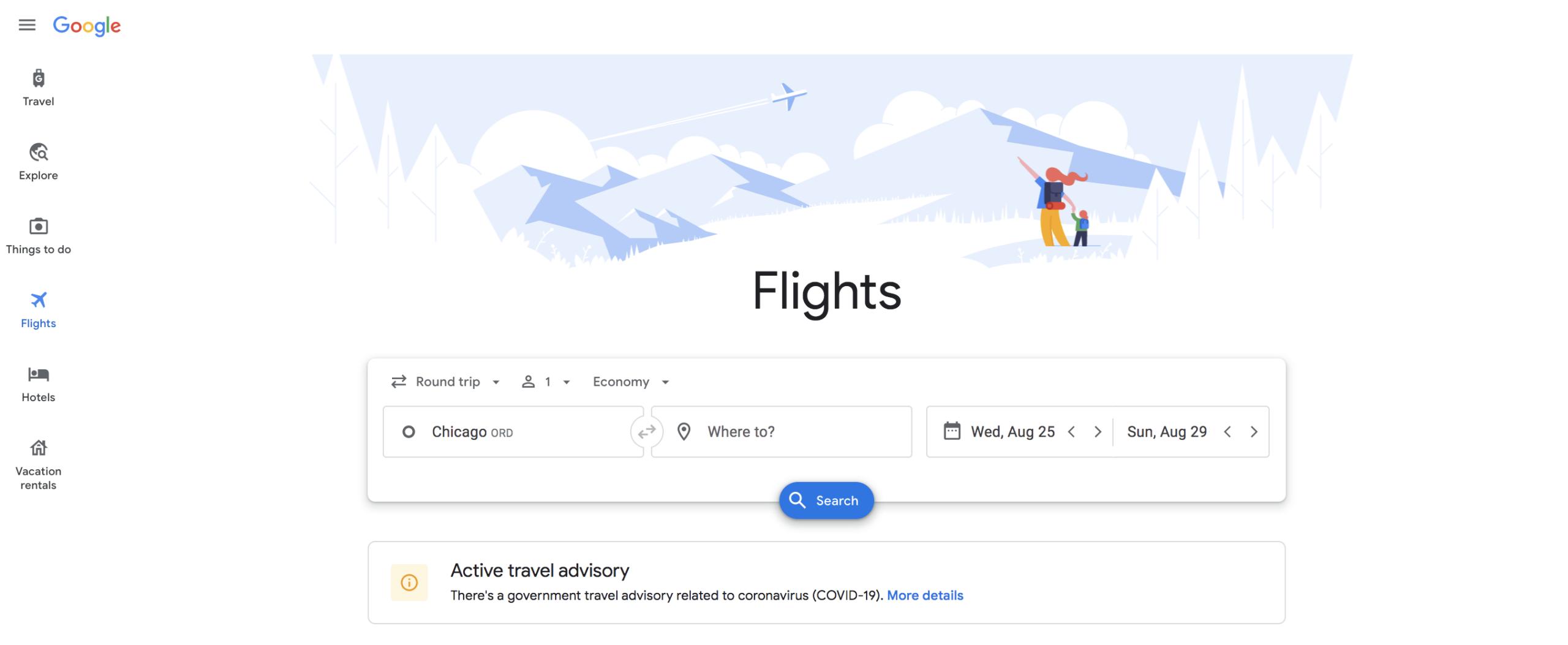 Read our in-depth guide to using Google Flights!
Get Flight Deal Alerts Year-Round
Looking for cheap flights for a trip in 2023 and beyond? You're in the right place.
We hunt for the cheapest domestic and international flight deals each day and instantly alert our Thrifty Traveler Premium+ members to the best deals we find. That even includes award alerts to use your points and miles!
We're talking roundtrip fares to Patagonia in Chile for $63, domestic flights under $100, Mexico under $200, Hawaii under $250, European hotspots under $300, and more for travel through fall 2023. Then there are great points and miles deals like flying to Tokyo in Japan Airlines business class for 60,000 miles or Delta One to Europe for 50,000 points.
Some of these examples are more than 50% off the normal prices. In some cases, it's more like 90%. You won't find those savings on Black Friday sales from the airlines.

We'll alert you to the best domestic and international flight deals from your home airport (yes, even from small regional airports!) Plus, Thrifty Traveler Premium+ membership comes with tons of other benefits – more on that later.
The best part? We find flight deals up to 11 months in advance: we're already seeing awesome deals for travel through summer and fall 2023.

Other benefits of Thrifty Traveler Premium+ membership include:
Domestic and international flight deal alerts
Award alerts to use your points and miles like deeply discounted Delta SkyMiles flash sales and rare business class award space
Deals for travel into October 2023
Links to book directly with the airline & fares that can be changed/canceled fee-free
Select your home airport(s) from 200+ departure cities 
Price lock for life! Once you've signed up for Premium+, your annual price will never increase!
One-on-one consulting with our experts to help pick the right travel credit card
Join our Premium-only Facebook travel community of 20,000+ members helping each other travel smarter!
Want to make sure you don't miss the next mistake fare or unadvertised flash sale? Join Thrifty Traveler Premium+!
Rethink the Way You Book Travel
Looking to save big bucks on airfare? Some simple changes in the way you book flights can save you much more than any Black Friday flight deals.
Follow The Flight First Rule. Search for your flights first, letting the cheapest dates guide you. Whether you've got a wide-open calendar or can only travel at certain times of the year, being flexible and searching for flights first can save you hundreds of dollars every time.
Fly on off-peak days: Flight prices are unpredictable, and there isn't a best day to book a cheap flight (no, we don't only find cheap fares on Tuesdays at midnight). The cheapest flights typically depart and return on Tuesday, Wednesday, or Saturday. Make a long weekend trip from Wednesday to Saturday, or fly in and out on Saturdays instead of Sundays. These small changes can save you a ton. Read the rest of our travel-timing tips to save on airfare!
Book directly with the airline: Now more than ever, we urge you to skip the third-party online travel agencies like CheapOair, Expedia, or Kayak and book directly with the airline via Google Flights instead. You'll get better service if something goes wrong, and every major U.S. airline is currently offering fee-free changes or cancellation so long as you don't book the cheapest basic economy fares.
Change the way you search: And finally, stop searching incognito for flights. Seriously – it doesn't change anything.
Bottom Line
There may be some decent discounts on flights floating around in the days to come. But we want to break the myth that cheap flights only come around once a year. Here's the truth: You can find cheap flights any day of the year.
With the right tools and tips, cheap travel for 2023 is a real possibility. Use these tips above to score unbelievable flights on this commercial holiday … or any day of the year.
Want to get instant alerts for the best flight deals we find 365 days a year? Get Thrifty Traveler Premium flight deal alerts … and save 30% on your first year with promo code CYBER if you sign up today, Nov. 28!