"Do I need to arrive two hours before my flight? Or is that even enough? How long will it take to get through security this time?"
We've all been there. The guessing game is a constant when it comes to clearing airport security, whether you're a novice or a seasoned traveler. The TSA has a mobile app that can help.
It's called MyTSA, and it will give you a sense of how long you may have to wait to clear security at your airport before an upcoming flight.
How to Check TSA Security Checkpoint Wait Times 
To get started, download the MyTSA app on either the App Store or Google Play. 
Once you've downloaded the app, go to the "My Airports" tab and click on the magnifying glass in the upper right corner to search for and add any airports you'd like to follow. Click on the airport for additional details, and here's what you'll see.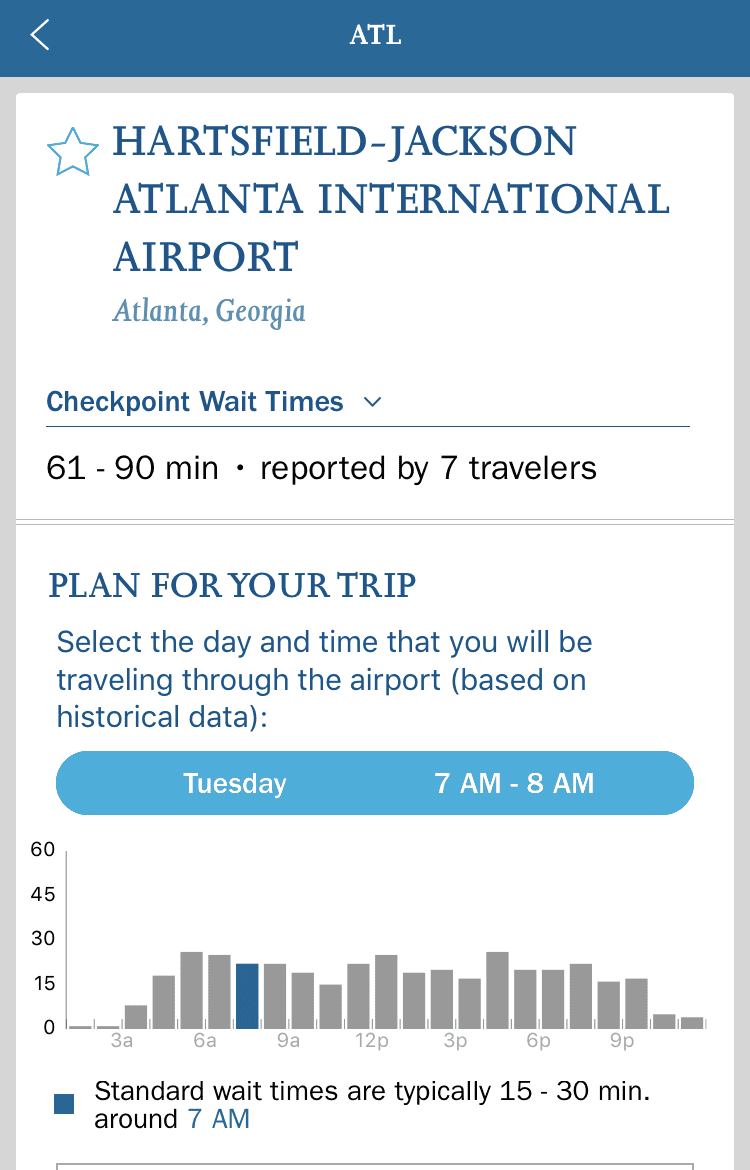 While this won't give you up-to-the-minute data on security checkpoint wait times, it can give a good estimate of how much time you may need to get through security – and warn you of major backups. It's important to note that these wait times are submitted by fellow smartphone users, so take them with a grain of salt. 
Note that you can also use the "Plan for your Trip" feature to plan ahead. Click the date and time above the graph, and you can enter the day and time you'll be heading to the airport. It will spit out a handy breakdown of average wait times throughout that day, allowing you to get a better sense of what airport traffic might be like.
Additional Features of the MyTSA App
The MyTSA App does more than just give you wait times. Here are some additional features the app provides. 
Allows you to quickly search which items you can bring with you through the security checkpoint and onto the airplane.

Provides airport and flight delay information with current weather conditions at airports nationwide.

Provides information on how to prepare for and get through the security checkpoints in no time.

Discover which airports and airlines support TSA PreCheck

, with information on how to sign up.

Request live assistance from TSA through the AskTSA social media integration.
Other Ways to Learn TSA Wait Times
Some airports have their own security wait time websites with up-to-date information. And in many cases, these sites have far more reliable – and comprehensive – data than the MyTSA app.
For example, our home airport, Minneapolis-St. Paul (MSP), has its own site that provides up-to-date security information with a more accurate estimate of security wait times. Unfortunately, that feature was put on hold during a problematic construction project that backed up security lines for months.
Check the website for your home airport to see if it provides this information.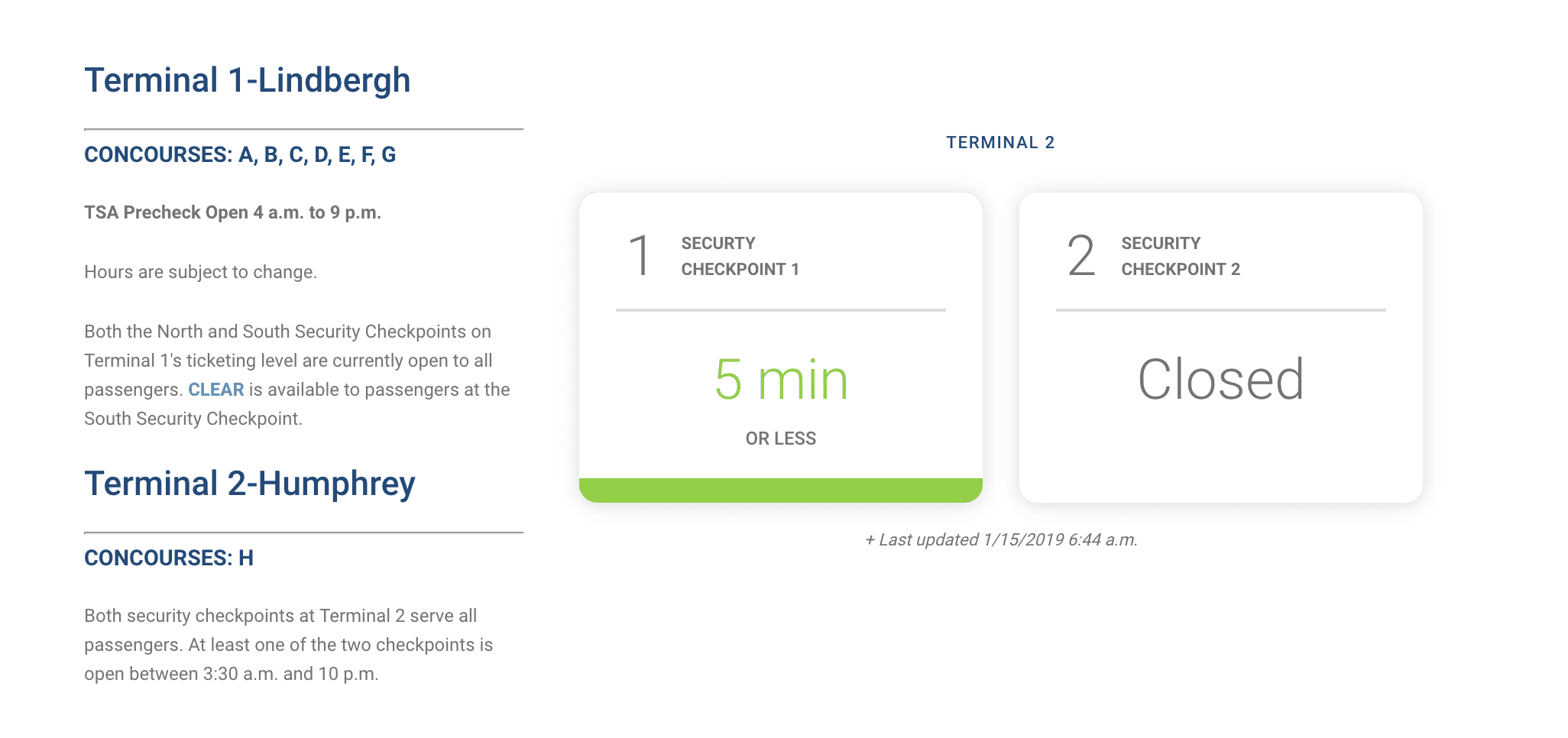 How to Save Time in Security Lines 
Whether your airport is suffering from the shutdown or not, no one likes to spend time in the security line.
The easiest way get through security faster is by having TSA PreCheck and/or CLEAR. CLEAR is a third-party program that moves you to the front of the line in just a few easy steps, while TSA PreCheck gets you in a shorter, designated line and allows you to keep liquids, electronics, and more inside your bag. 
Both can be huge time-savers. And even though the government is currently partially shut down, applications for both programs are still being approved. PreCheck is $85 for a five-year membership, while CLEAR comes with an annual fee that starts at $179 – though there are ways to save.
Thrifty Tip #1: Many credit cards offer free Global Entry or TSA PreCheck just for being a cardholder. Check out some of the best cards offering this perk.
Bottom Line
TSA wait times can be unpredictable even on a good day. Use the MyTSA app and some of these tips to get ahead of the curve. It's one of the easiest ways to save time and remove some of the stress that comes with traveling.