On May 3rd, Mr. TT and I took the jetBlue inaugural flight from Minneapolis / St. Paul International airport (MSP). The aircraft was welcomed to MSP with the standard water cannon salute for inaugural flights (pictured above).
Initially, the airline will only offer daily service from Minneapolis to Boston (the route will run three times daily), but I imagine they will expand into their other focus cities (JFK, FLL, MCO) in the very near future. Before the airline's arrival, MSP was the largest airport in the country jetBlue was not yet serving.
Surprisingly, neither of us had flown on a jetBlue flight before, so we were both excited to try out the airline and see what they had to offer. Having another airline in the market adds competition that will ultimately drive down fares.
Why We Love jetBlue
The airline offers free gate to gate high-speed WiFi on all of their flights.
Every main cabin ticket includes advance seat assignment and a free carry-on bag
Each seat offers free in-flight entertainment (IFE) with DirecTV live satellite television (on their new retrofitted aircraft).
jetBlue has the most legroom of any US carrier throughout the entire cabin at 32″-34″ (1-3″ more than Delta)
jetBlue Minneapolis Airport Location
jetBlue will offer service from Minneapolis / St. Paul International Airport (MSP) out of Terminal 2. If you are not familiar with Terminal 2 at MSP, it's much quieter than Terminal 1 and getting through security is almost always a breeze.
A recent addition was done to the terminal offering more gate space. This addition is what allowed jetBlue to finally make the move into the Minneapolis / St. Paul market. A move they claimed was ten years in the making.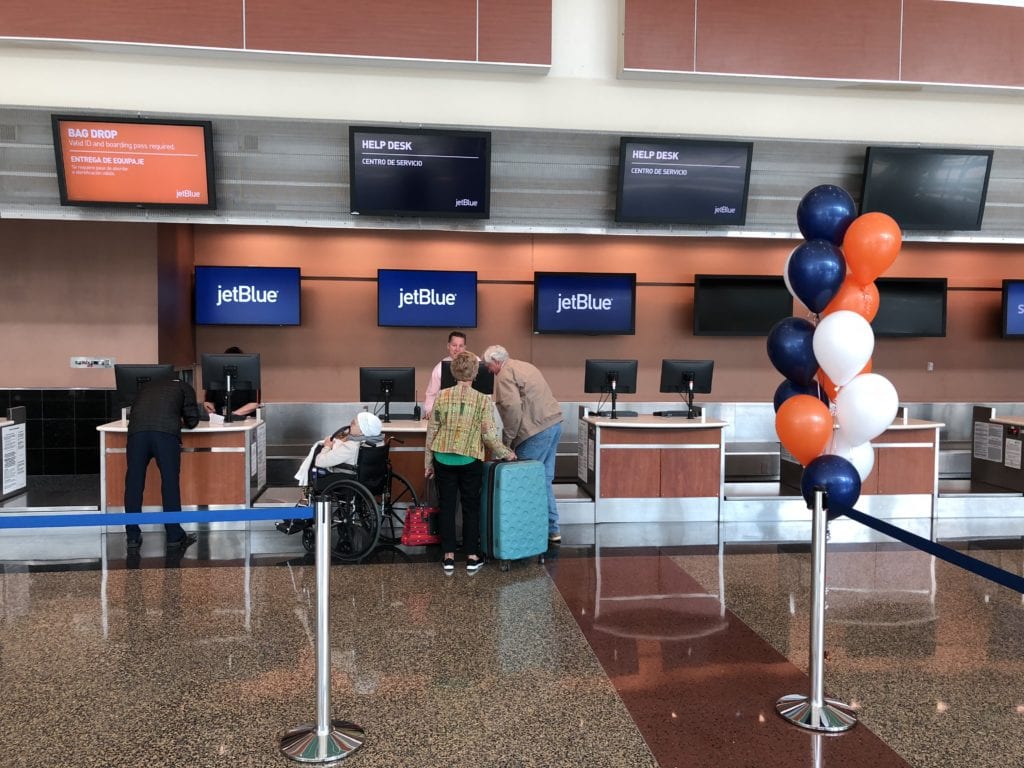 Pre-Flight Experience
This was my first experience on an inaugural flight and I think both jetBlue and the MSP airport did a great job with the pre-flight festivities. There were speeches from executives at both jetBlue and the MSP airport, free Dunkin' Donuts coffee and donuts (a Boston staple) and a colonial-era marching band playing music.
After a speech from jetBlue Executive Vice President of Commerical & Planning, Marty St. George, there was a ribbon-cutting ceremony with the crew members from our flight.
At the gate, Dunkin' Donuts coffee and donuts were offered to all passengers.
There was also a cake to commemorate the inaugural flight that was quite intricate. It contained many things specific to the Boston area with a jetBlue aircraft cake topper.
As we boarded the aircraft, all ticketed passengers were given a swag bag in honor of the inaugural flight. Inside the bags were a pair of MSP branded sunglasses, a jetBlue branded picnic blanket, a $5 Dunkin' Donuts gift card, a Boston area visitors guide, and an 8″X10″ picture of Minneapolis to commemorate the inaugural flight.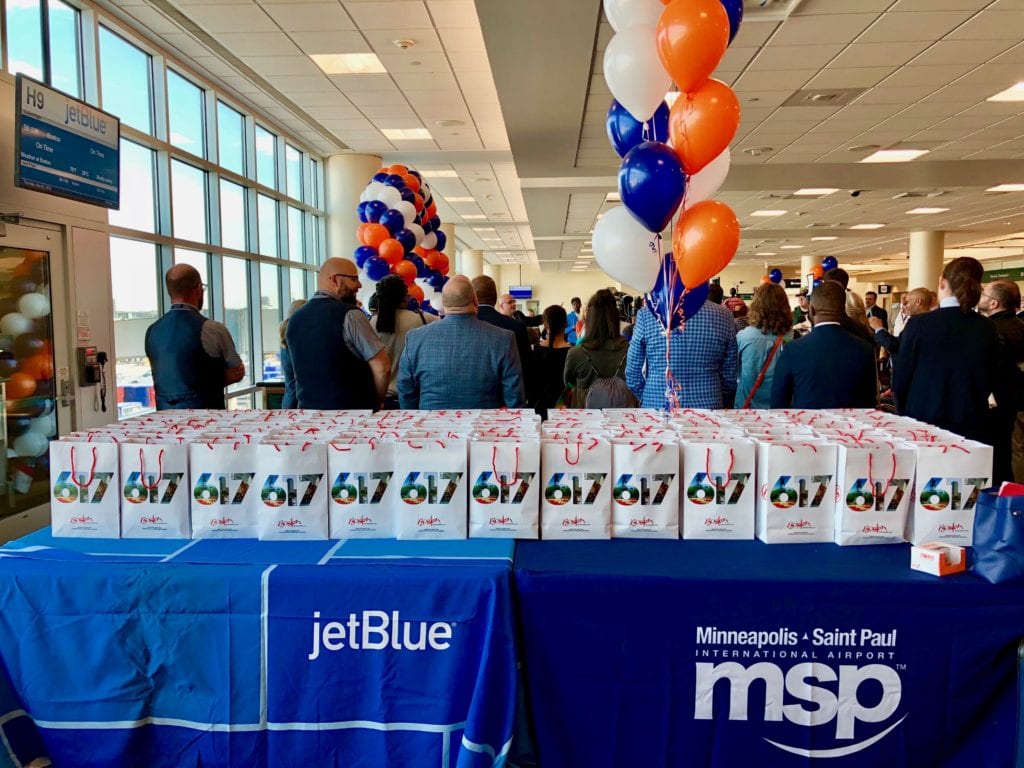 Onboard Experience
On May 2nd, jetBlue launched their new interior for their A320 aircraft. This was the first major cabin overhaul of the carrier's fleet since the airline launched 18 years ago. The airline expects their entire fleet to be retrofitted with the new interior within three years.
As we boarded the aircraft, the flight attendant informed us that the aircraft interior was indeed brand new and that this was only the 4th flight since it had been retrofitted.
The new interior features the widest seat available on an A320 at 18 inches and also promises the most leg-room in coach of any U.S. airline. While their aircraft currently boasts 34″ of legroom, the new update will cut this back by 2 inches to 32″ total. For reference, Delta, United, American, and Alaska all offer between 31″ and 32″ of leg room. I am 6′ tall and found the legroom and new low profile seats to be sufficient.
Each seat includes a 10.1″ HD display with picture-in-picture capability. You are able to watch over 100 TV channels via DirecTV, play games or watch a movie from their extensive on-demand offering. You will eventually be able to pair your personal devices into remotes or gaming controllers via NFC technology as well.
One of the only negative things I can say about my experience is the location of the seat back entertainment remote control. As you can see from the photo below, each seat contains a remote control on the armrest. I found the location to be less than ideal and actually on two different occasions changed the channel on the TV by resting my forearm on my armrest.
The couple in the row with me agreed that the location of the remote control seemed questionable as it doesn't really allow you to use your armrest if you are watching TV, and I definitely changed the channel and volume on my neighbors IFE several times during the flight (oops).
Every seat contains a power port with a USB plugin. This makes it easy to charge your phone or laptop while on board.
The high-speed WiFi onboard the aircraft was great when it worked. jetBlue offers high-speed internet service in which they have dubbed Fly-Fi on board all of their aircraft. When it was working, it was decent but still comparable to Gogo internet, or "stop stop" as jetBlue Executive VP Marty St. George affectionately referred to it as.
Several times during the flight, both the internet service and satellite TV offering didn't work. The flight crew reset the system but for whatever reason, there were a lot of issues with it.
There were a lot of jetBlue executives on board the flight with us, so having these products not working was less than ideal. One of them stood up to make an announcement that everybody onboard would be receiving a $15 credit because of the trouble. He claimed that this credit is valid for up to a year and can be used for future travel with jetBlue. I thought this was a nice gesture that helped make up for the techinical issues.
He claimed that we wouldn't need to do anything to receive the credit and they would automatically load them into our trueBlue accounts. Sure enough, within 24 hours of deboarding the plane, I received an email informing me of the credit that was applied to my account.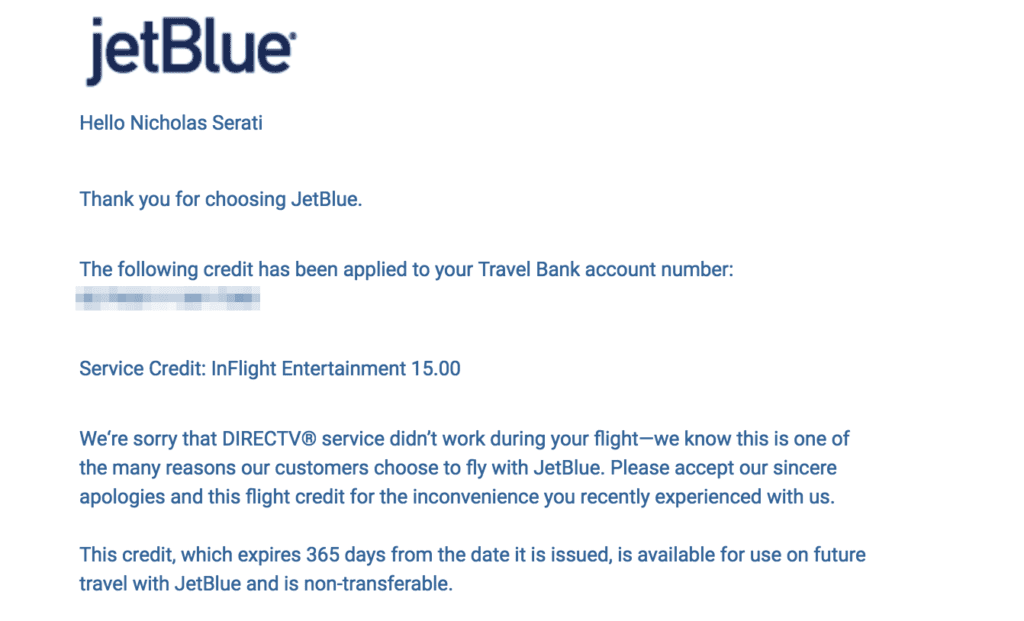 I found the in-flight snack and drink offering to be better than expected. They had a good variety of snacks and allowed each passenger to select two. However, my favorite part of the service was how I received my coffee. I order a coffee on almost every flight and I don't recall ever receiving it with a lid on it. Needless to say, this has resulted in many spills over the years.
The jetBlue inflight coffee offering is from Dunkin' Donuts and they serve it with a lid that can be opened and closed. This is something I don't think any other US carrier is doing. While offering the lid adds cost (and time), not having to clean up as many coffee spills certainly reduces it.
Overall, the jetBlue inaugural flight was great and we arrived in Boston ahead of schedule. jetBlue seems to know what customers want. Despite the in-flight entertainment issues, I was very impressed with the many free amenities such as free advanced seat assignment, carry-on, gate to gate wifi, and satellite TV (to name a few).
Bottom Line
The jetBlue inaugural flight was a great experience. More competition out of Minneapolis / St. Paul ultimately benefits the consumer. While the airline is only offering service from Minneapolis to Boston at the moment, we expect them to expand into other jetBlue focus cities soon. Since the launch of this new route, fare prices from Minneapolis to Boston have been extremely competitive (as low as $92 R/T) which is a trend we can all support.