Aer Lingus finally confirmed Thursday it will resume nonstop service from Minneapolis-St. Paul (MSP) to Dublin (DUB) in April 2024 while also putting Denver (DEN) on the map for next year. Hours later, Delta announced it would defend its Minneapolis hub with its own nonstop route to Dublin over the summer.
The Irish carrier made the Minneapolis route official more than a week after it first bubbled up, thanks to schedule filings showing Aer Lingus planned to resume a route it halted back in 2020. But the airline refused to respond to requests for information and even removed the supposed route from its scheduling, leaving us wondering whether it was a mistake … or if Aer Lingus had simply jumped the gun.
Now, it's all systems go: Minneapolis and Denver to Dublin are happening next year. In fact, there will be two airlines to choose from flying out of Minneapolis.
Aer Lingus will start service to Minneapolis on April 29, 2024, running four flights a week – on Mondays, Wednesdays, Fridays, and Saturdays – before ramping up to daily service next October. The airline will fly a sizable Airbus A330-200 between Dublin and Minneapolis, though the carrier plans to swap in a narrowbody A321XLR on the route come winter 2024 once those ultra-fuel-efficient planes get delivered.
The new Denver route will fly four days a week on Sundays, Mondays, Wednesdays, and Fridays starting May 17. The airline will fly an Airbus A330-200 between Denver and Dublin.
And tickets are already on sale, though you'll only find them directly through AerLingus.com as of publication – not on Google Flights or third-party travel agencies. Award seats bookable with Avios or other airline mileage programs aren't yet available.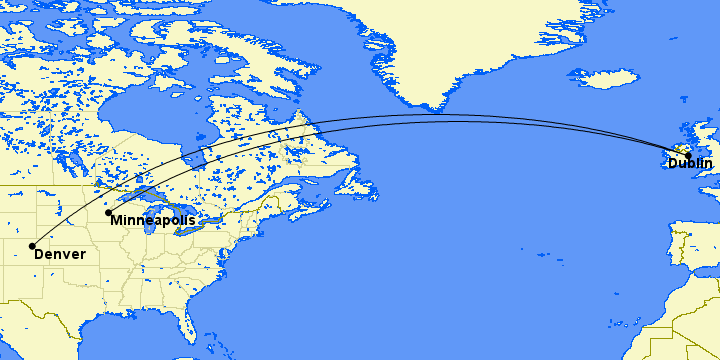 "Denver and Minneapolis-St Paul are significant business destinations within the US and the new Aer Lingus routes facilitate corporate links and connectivity between Europe and North America, through our Dublin Hub," Aer Lingus CEO Lynne Embleton said in a statement. "We are confident in our growth strategy and look forward to welcoming customers onboard these two new routes next year."
Dublin is one of a handful of international destinations that has a U.S. customs preclearance facility. That means you can clear customs and immigration before boarding the flight home.
Reviving the Minneapolis Route
It's a relief for Minneapolis airport officials who have pushed for Aer Lingus's return for years. And it's a win for many Midwestern travelers on the hunt for cheaper fares to Europe – with the fun option of adding a free stopover in Dublin to break up a trip.
The Minneapolis-to-Dublin route first launched in summer 2019 to great fanfare, fueled in large part by data from the state's business community showing lots of unmet demand for a nonstop flight to the Emerald Isle. By all accounts, the route was a smash hit.
The pandemic derailed it just months later.
With international travel demand at zero by the spring of 2020, Aer Lingus shelved the route indefinitely. And even as international travel roared back and Aer Lingus resumed many of its U.S. routes, Minneapolis repeatedly missed the cut. The airport's hopes of Aer Lingus returning in 2022 or 2023 were dashed.
But 2024 will be different. It's a big piece of a puzzle: the final major international route from the Minneapolis airport to return after the pandemic.

In Minneapolis, Dublin has been the source of speculation for years – and that extends beyond Aer Lingus coming back.
Last year, Delta made waves with regulatory filings that showed it was eyeing its own nonstop from Minneapolis to Dublin this summer, perhaps swooping in before Aer Lingus had the chance. But the route never materialized, and Delta never publicly commented on its plans for connecting its Minneapolis hub and Ireland.
That changed Thursday: Delta will also launch nonstop flights from Minneapolis to Dublin starting May 9, with five flights a week through the summer. Delta flights are expected to go on sale Saturday.
The competition between those two carriers could be a big win for flyers hoping for cheap tickets abroad next year – especially from Aer Lingus.
It's not quite a low-cost carrier, but Aer Lingus has made a name for itself with cheap transatlantic fares and a free stopover program, allowing flyers to stop in Dublin for up to seven days on their way to (or back from) somewhere else in Europe. We've seen nonstop Aer Lingus fares to Dublin tumble as low as $320 roundtrip for our Thrifty Traveler Premium members.

Those lower prices could put some much-needed pressure on Delta and its partners KLM and Air France, which dominate the transatlantic market out of Minneapolis. And the widebody plane Aer Lingus intends to initially fly to Minneapolis – an A330-200 – has a lot of seats for the airline to fill … in both economy and business class, too.
At the front of the plane, Aer Lingus business class is a top-notch way to get to Dublin nonstop, especially if you can snag one of its private "throne seats." Once flights are bookable, these business class seats should be bookable for 60,000 Avios each way via British Airways or Aer Lingus itself.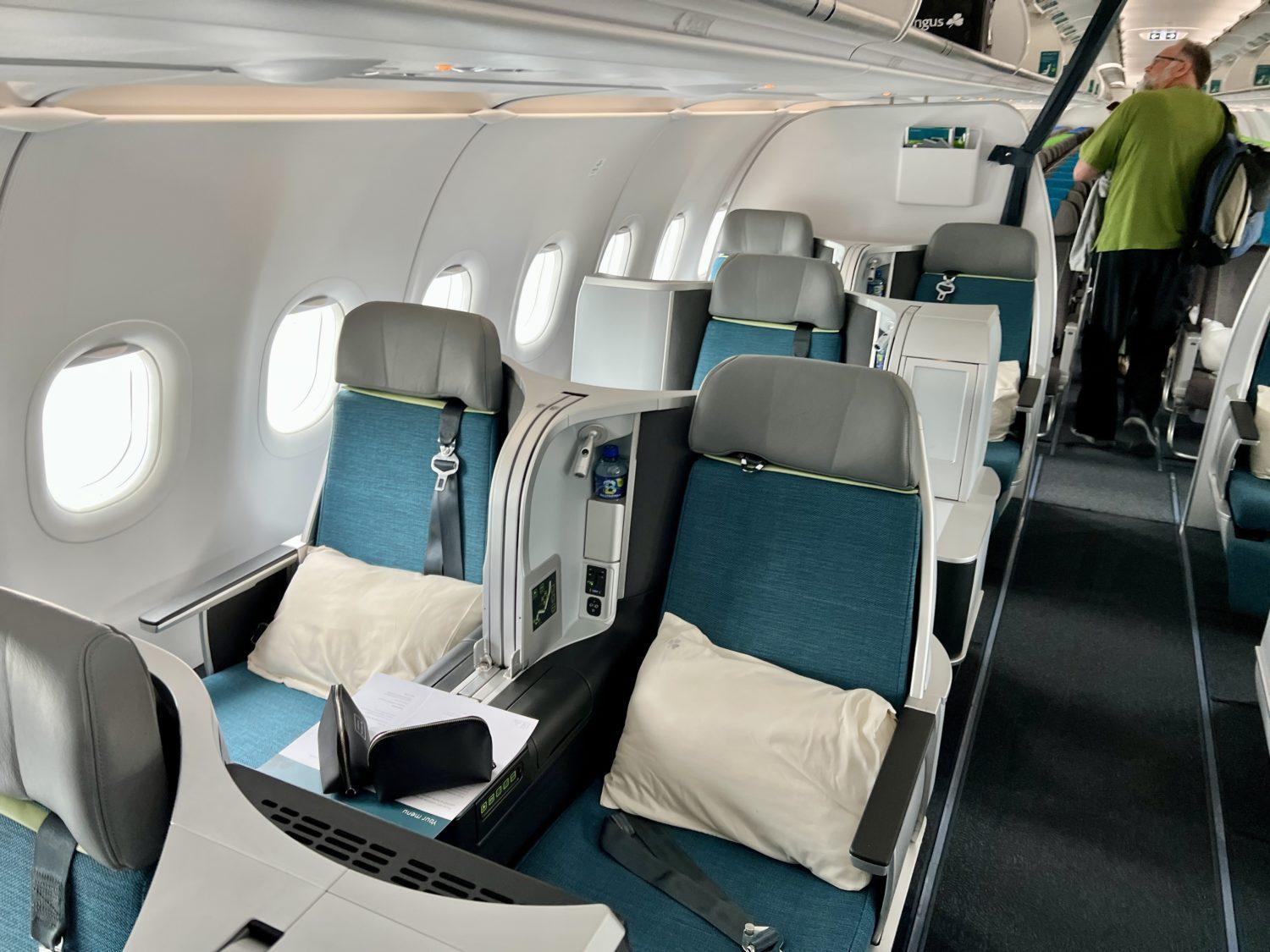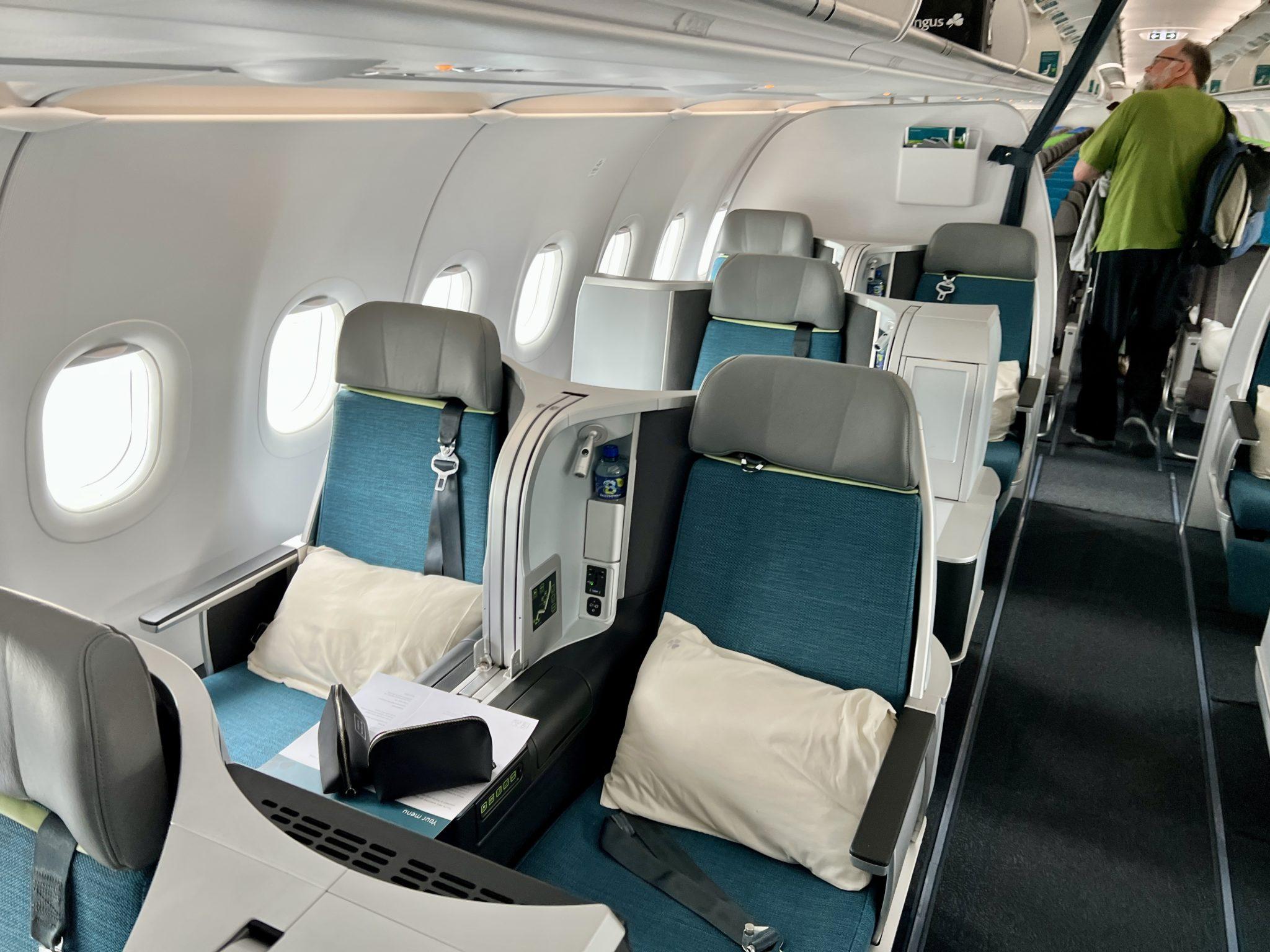 Read our full review of Aer Lingus business class! 
Bottom Line
It's happening. It's really happening.
After a four-year absence, Aer Lingus will resume flights between Minneapolis and Dublin in late April 2024. Weeks later, the airline will start flying from Denver to Dublin for the first time.