We know, we know: That headline seems counterintuitive. How could you earn Delta status without flying the airline itself? But stick with us and you'll see that flyers chasing Delta Medallion Status might be better off focusing on other airlines.
Status with Delta – or with any airline, for that matter – doesn't make sense for everyone. Earning even the lowest levels of status requires a lot of travel and hefty spending every year, all for an increasingly slim shot at complimentary upgrades and other perks that may not be worth the effort. But if you can minimize the effort, it could be a different story.
With Delta, every mile you fly and (almost) every dollar you spend with Delta inches you closer to Silver, Gold, Platinum and beyond. But that system works differently when flying with Delta's partner airlines in the SkyTeam alliance like Air France, KLM, Korean Air, and others. Plus, Delta credit cards offer avenues to building status … without even setting foot on a Delta jet.
Those are the keys to fast-track your way to Delta elite status. We'll walk through just how to earn status and how Delta credit cards and their partner airlines can put you over the top.
The Basics of Earning Delta Medallion Status
There's no doubt about it: Even the lowest levels of Delta status require a fair amount of travel. And after a recent increase, it's gotten even more expensive.
Average travelers are unlikely to even scratch the surface of hitting Silver Medallion status, the airline's lowest tier. If you travel a fair amount for work – or fly international long-haul with Delta or a partner – that could do the trick. But for the rest of us, it may be out of reach.
That's because there are two critical pieces to earn Medallion status with Delta: flying and spending. You have to rack up a certain amount of miles on Delta flights (called Medallion Qualification Miles or MQMs, which are different than SkyMiles) or a sheer number of flight segments. Then, there's also a spending requirement, called Medallion Qualifying Dollars (MQDs).

One important hitch: Delta basic economy tickets no longer earn either MQMs nor MQDs. The airline made that brutal change in late 2021.
Once you unlock your status, you'll have it for the rest of that year and the following calendar year. So earning status in 2023 would get you Delta Medallion status through January of 2025.
What are Delta Medallion Qualification Miles (MQMs)?
Medallion Qualification Miles – or MQMs as they are better known – are one of the two key ingredients to earning elite status with Delta Air Lines. These aren't SkyMiles you can use to book a flight for (nearly free).
You earn and use SkyMiles by flying. But Delta MQMs have zero value … except for tracking your progress toward Delta's Medallion elite status. MQMs are based on the actual distance flown. And you will generally earn 1 MQM for every mile you fly with Delta, though premium cabin flyers can earn 25% or 50% more, depending on the fare.
Each calendar year, you'll need to earn:
25,000 MQMs to earn (or keep) Silver status
50,000 MQMs to earn (or keep) Gold status
75,000 MQMs to earn (or keep) Platinum status
125,000 MQMs to earn (or keep) top-tier Diamond Medallion Status.
While Delta increased annual spending requirements starting in 2023, these distance requirements remain untouched.
Are you flying close to 25,000 miles or more per year with Delta? That's more than five round-trip, cross-country flights from Los Angeles (LAX) to New York City (JFK), or two round trips from Minneapolis-St. Paul (MSP) all the way to Seoul (ICN). All that flying just for Silver status.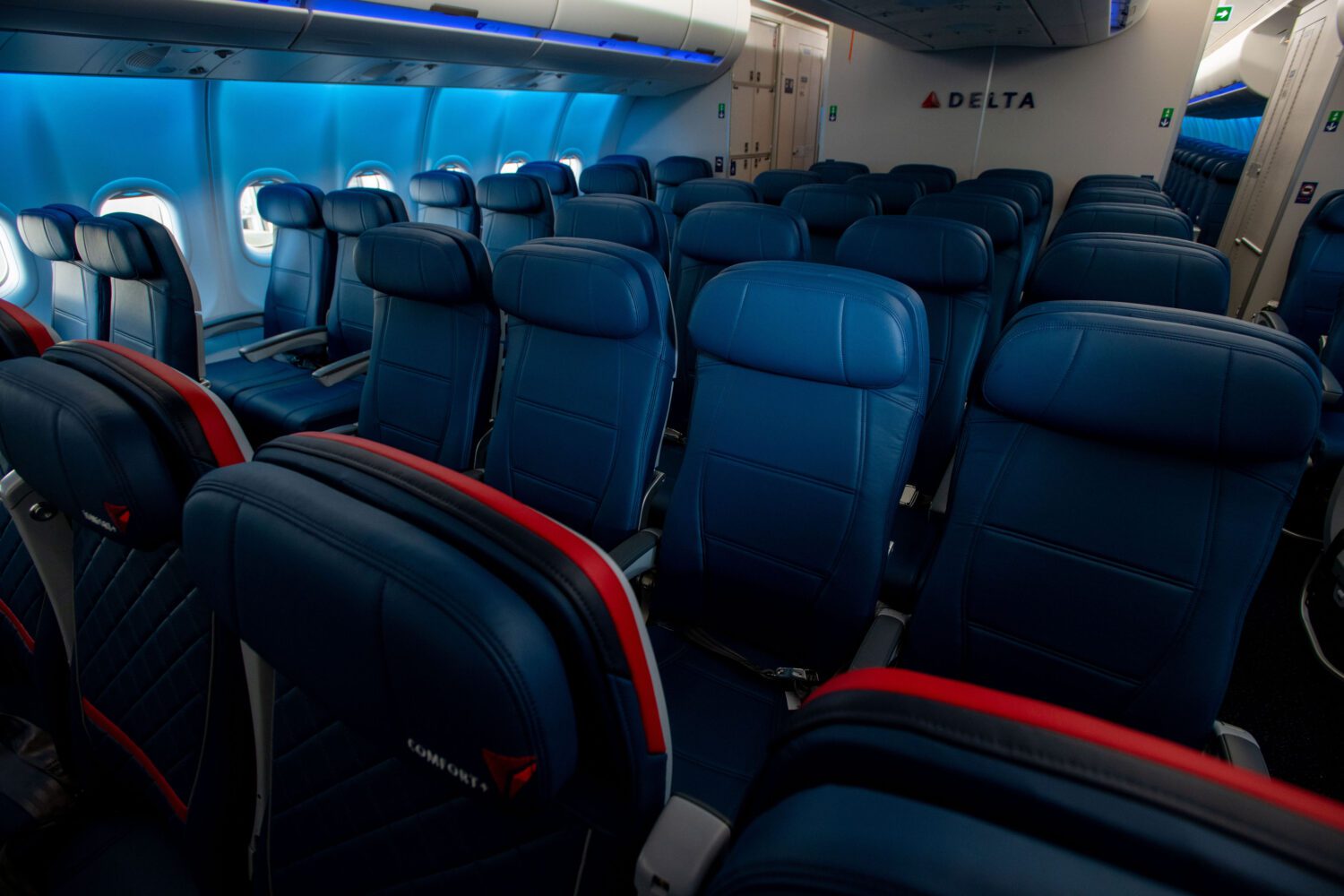 Or do you take a lot of Delta flights with connections that can pad your Medallion Qualifying Segment (MQS) totals? That's another way to satisfy Delta's flying requirement, though it's not one that many travelers use.
When the calendar year ends, you start back at zero on your quest to earn Delta status again … kind of. Fortunately, it's a bit easier because Delta rolls over any MQMs you've earned above your current status to give you a head start in the following year.
Another plus? Delta now permanently counts award tickets booked using SkyMiles toward status. So while booking an insane SkyMiles flash sale from Los Angeles (LAX) to Auckland (AKL) for just 37,000 SkyMiles previously wouldn't net you a single MQM, you'll now get more than 13,000 MQMs for that trip!
Earning Delta MQMs with Credit Cards
Outside of actually getting on a plane, there's only one other way to earn Delta MQMs: Delta co-branded credit cards. And even though Delta a full suite different co-branded credit cards, only two of them will help you attain status through earning MQMs.
Both the *delta skymiles platinum* and the *delta skymiles reserve* allow you to earn MQMs each year by meeting certain spending requirements. With the Delta SkyMiles Platinum Card, you will earn 10,000 MQMs after you spend $25,000 on purchases within a calendar year. You can earn another 10,000 MQMs (20,000 total) by spending a total of $50,000 in a calendar year.
It's even better with the Delta SkyMiles Reserve Card: You earn 15,000 Medallion Qualifying Miles (MQMs) by spending $30,000 throughout the year. That's almost enough to automatically get Delta Silver Medallion Status without taking a single flight. And you can do that up to four times, meaning you can earn 60,000 MQMs each year … assuming you spend $120,000 on your Reserve Card.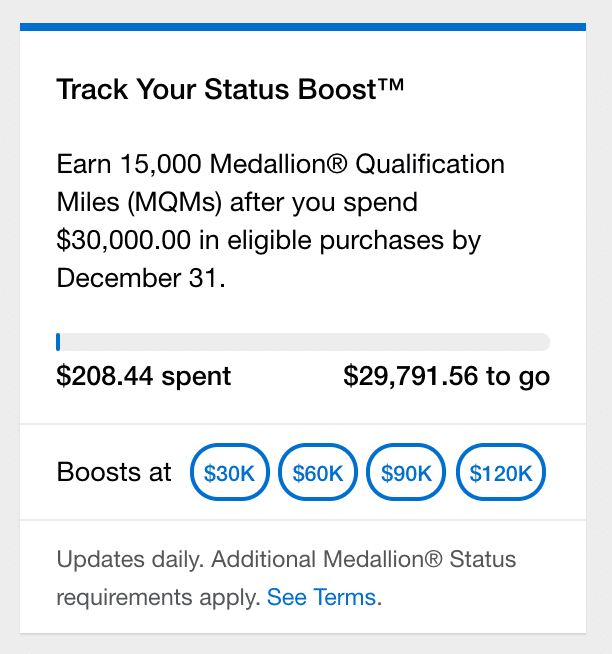 It's a big reason we've included both of these cards on the list of the best credit cards for Delta flyers.
Learn more about the *delta skymiles platinum*
Learn more about the *delta skymiles reserve*
What About Delta Medallion Qualification Dollars (MQDs)?
The other building block of Delta elite status is Medallion Qualification Dollars (MQDs).
It's essentially a measurement of how much money you spend with Delta each year, not counting the mandatory government taxes and fees you pay for plane tickets as those don't count toward MQDs. And this is the component of earning Delta's elite status that makes us question its value for many.
Airline loyalty is expensive. In our opinion, trying to attain status on one airline makes little sense for the average traveler. It's a different story for frequent business travelers whose companies are footing the bill – status and the benefits that can come with it are nice when you're not paying for it!
But no matter who you are, Delta retooled the requirements for earning elite status late last year. Now, it requires even more spending with Delta to earn all but the lowest Silver elite status.
Here's a breakdown of how many MQMs or MQSs and MQDs are required to achieve each tier of Delta Medallion status as of Jan. 1, 2023:
Silver Medallion Status: 25,000 MQMs OR 30 MQSs AND $3,000 in spending on Delta or partner flights
Gold Medallion Status: 50,000 MQMs OR 60 MQSs AND $8,000 in spending on Delta or partner flights (up from $6,000)
Platinum Medallion Status: 75,000 MQMs OR 100 MQSs AND $12,000 in spending on Delta or partner flights (up from $9,000)
Diamond Medallion Status: 125,000 MQMs OR 140 MQSs AND $20,000 in spending on Delta or partner flights (up from $15,000)
Earning an MQD Waiver with Credit Cards
There's a way to bypass some of these lofty spending requirements for select Delta credit cardholders, too.
Both the *delta skymiles platinum* and the *delta skymiles reserve* allow you to earn an MQD waiver for Silver, Gold, and Platinum status by spending at least $25,000 on any and all purchases with the card in a calendar year. The waiver allows you to satisfy the MQD portion of the status earning requirement – no matter how many actual MQDs you have earned.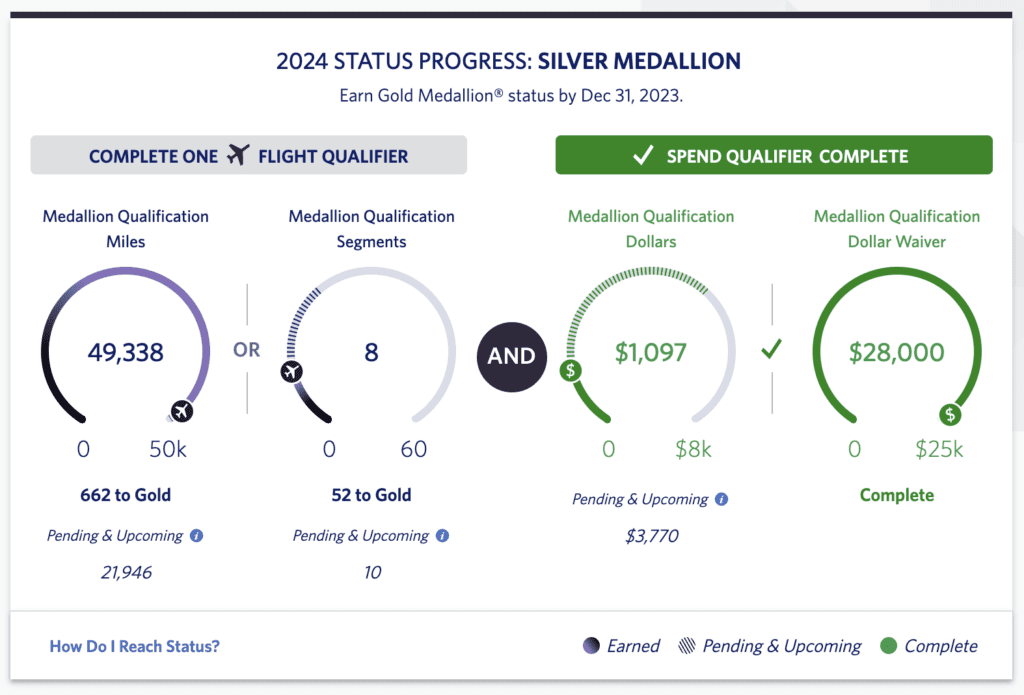 As you can see, I have already met the MQD waiver requirement this year by spending $25,000 on my Delta SkyMiles Platinum card. I have met the MQM requirement for Silver Medallion status and I am currently 662 MQMs short of qualifying for Gold status in 2024.
But Delta's dashboard now shows your upcoming flights, too – and that means I'm set. With the MQD waiver in hand and plenty of flights coming up, I've got Gold Status locked in through at least January 2025 and will be close to hitting Platinum, too.
Fast Track Earning Elite Status with Delta Partner Airlines
When you book a flight with Delta, every $1 you spend gets you 1 MQD towards earning Medallion elite status. But that's not how it works with Delta's partner airlines.
You can fly on Air France or KLM, Virgin Atlantic, Korean Air, AeroMexico, China Eastern and more to keep earning Delta SkyMiles – and build on status. One of the benefits of airline alliances like SkyTeam is that these partnerships allow flyers to choose where they want to earn miles and status. Just because you're flying with Korean Air doesn't mean you have to earn Korean SkyPass miles and status – you can credit those flights to Delta instead.
Booking through Delta, the MQDs you earn is based on the cash price. But when you book a partner airline – using that airline's website – the MQDs you earn are instead calculated by distance flown multiplied by something called a fare class multiplier – a higher fare class means a larger multiplier.
That's a critical difference. And while you'll still have to spend some money, these partnerships mean you can spend far less and still build Delta status by earning a ton more MQDs, especially on long-haul flights.
Let's take AeroMexico as an example. Back in 2018, I booked a round trip business class ticket on Aeromexico from New York (JFK) to Santiago, Chile (SCL) with a stop in Mexico City (MEX) for $992 dollars – a great deal we sent to our Thrifty Traveler Premium members.
Here's how Delta determines how many miles, MQMs, and MQDs you'll earn through AeroMexico.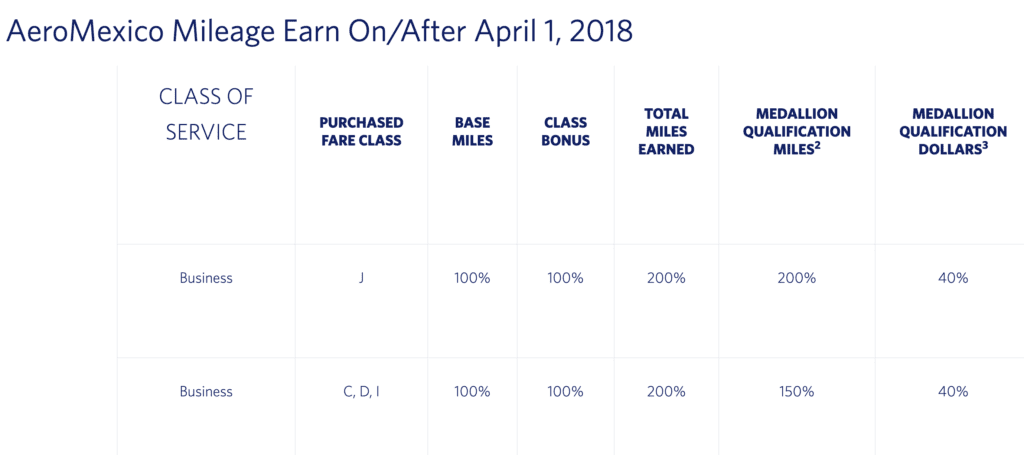 If this flight was booked on a Delta plane, I would have only earned about 900 Medallion Qualifying Dollars (MQDs) towards Delta status, since government taxes and fees don't count toward MQDs. But because I was flying AeroMexico, MQMs were earned in an entirely different way: AeroMexico fares earn MQDs at a 40% multiplier for all business class fares.
That multiplier is based on the distance you actually fly – not the price you paid for your ticket. The roundtrip flights from New York to Santiago (with a pitstop in Mexico City) measure in at 12,349 miles total. Multiply that by 40% and you get 4,940 after rounding up.
That's right: I earned 4,940 MQDs – a heckuva lot better than the 992 MQDs I would have earned on a Delta flight … or by booking these exact same flights through Delta.com.
It's not just business class fares where you can come out ahead – it works even when flying economy, especially on ultra-long-haul journeys. For example, this $958 roundtrip fare to Taipei (TPE) would earn less than 900 MQDs through Delta.
But by booking through China Airlines itself and crediting the flight to Delta, you earn 20% of the distance of the flight. And since this long trip measures in at 15,616, that works out to 3,123 MQDs – more than triple the MQDs!
MQD earning rates vary from partner airline to partner airline, so make sure to check Delta's partner airlines page which will have information about each partner.
Earn Delta MQMs with Partner Airlines, Too
Earning MQMs on Delta's partner airlines generally works the same way it does on Delta-operated flights. Using the AeroMexico example above, I earned 200% of the distance flown in MQMs.
That means I earned 24,700 MQMs towards status, and this trip alone was nearly enough to qualify me for Silver Medallion Elite status. Not bad for a $992 fare!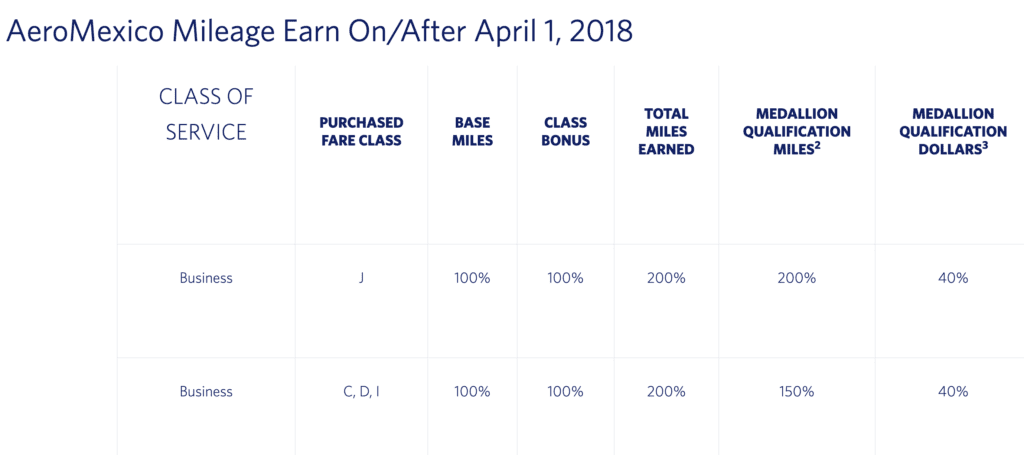 When you book a higher fare class, you'll earn more MQMs. Full fare First and Business Class tickets (F, J fares) are eligible for a 100% MQM bonus. Discounted First, Delta Premium Select, Business, and Premium Main Cabin tickets (P, A, G, C, D, I, Z, Y, and B fares) are eligible for a 50% MQM bonus. And purchased upgrades are eligible for bonus MQMs based on the class of service flown.
Bottom Line
Because of the way you earn Medallion Qualifying Dollars (MQDs) on Delta partner airlines, you can really fast track earning Delta status by taking flights with other SkyTeam airlines.
So long as you book through that partner airline's website and credit your flight to Delta, it can be a surefire strategy to work your way toward Delta status much faster. Combined with the valuable ways you can earn toward Medallion Status with Delta credit cards, it could be far easier to hit that next tier with Delta.