Iceland has become one of the hottest travel destinations, and for good reason. The country is home to some of the most spectacular natural scenes in the world, including hot springs, geysers, and waterfalls. And Iceland is open to travelers!
But why stop in just Iceland? One of our favorite budget airlines, Icelandair, allows you to easily add a stopover in Iceland for up to seven days on your departure or return flights between the U.S. and Europe. Taking advantage of an Icelandair stopover allows you to visit two countries for the price of one.
Stopovers are one of the best ways to maximize your money to travel more, and few airlines make it easier to book a stopover for cheap than Icelandair.
Here's how to easily book an Icelandair stopover.
Read up on what it's like to travel to Iceland right now!
How to Book an Icelandair Stopover
A handful of airlines allow you to add stopovers to your trip for cheap, but few make it easier than Icelandair.
Step #1: Find a cheap roundtrip flight
The best way to begin this process is to start with a roundtrip fare to your European destination of choice.
Begin your search in Google Flights with the destination and rough dates you're interested in. Let's take Minneapolis-St. Paul (MSP) to Dublin, Ireland (DUB) in November, for example.
Not familiar with Google Flights? Read our full guide on how to use Google Flights to find cheap flights.
To find the departure and return dates at the best price, look at the calendar options and select the cheapest dates in green (or regularly priced dates that work for you).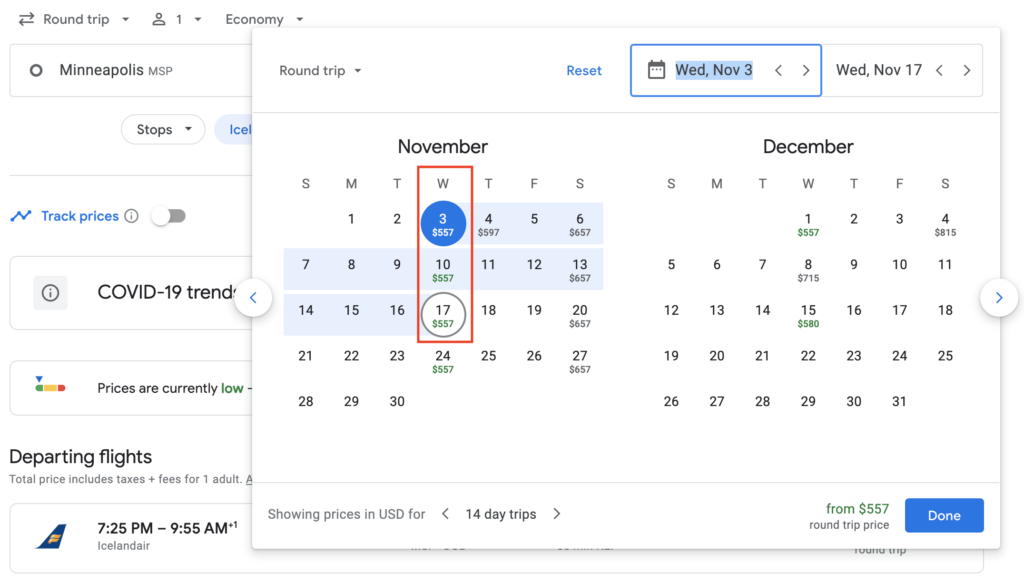 When using Google Flights to search for an Icelandair stopover, remember to use the airline filter option to select only Icelandair.
Once you've selected the travel dates that work for you, select your departure and return flights for this roundtrip fare. Google Flights will then give you options to book. You need to book directly with Icelandair.

Step #2: Build in an Icelandair stopover
Once you've been redirected to Icelandair.com, close any pop-ups that come up and you'll see this screen. From here, all you need to do to add a stopover to your roundtrip flight is click the "Add Stopover" button.

From here, you can choose whether to add your stopover on the departure or return. There are two primary restrictions to keep in mind: Your total trip must be less than 14 days and the Iceland stopover must be seven days or less.

For some routes and dates, not all stopover times will be available. For example, this itinerary can only add a three-night stopover.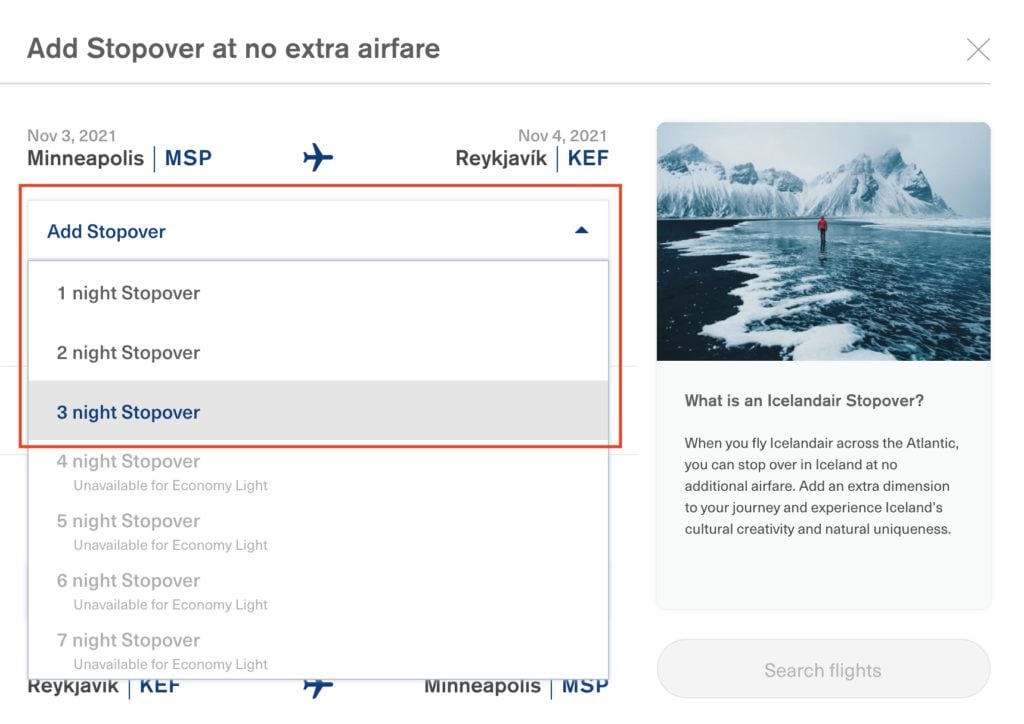 Once you've added your stopover and selected the flights in and out of Reykjavik (KEF) for your stopover, your itinerary will look like this on Icelandair:

Note that adding a stopover may add a nominal extra cost. In this case, the three-day Icelandair stopover (flights in and out of KEF) added $12 total. This is a steal for seeing two countries for the price of one!
Read our review of what it's like to fly Icelandair!
How to Search Directly on Icelandair.com
We recommend starting with Google Flights so you can adjust your roundtrip travel dates to book on the cheapest dates. However, you can always search directly on Icelandair's website as well.
The Icelandair website makes it easy to add a stopover. It isn't as easy to compare prices on Icelandair's website as it is on Google Flights, but if your dates are not flexible, using the Icelandair website can work well.
To search, go to Icelandair.com and select "Icelandair Stopover" instead of "Roundtrip" on the Book Flights page. From here, you can select how many days you'd like to stopover on either the departure or return.

From here, you'll select your flights and book as normal.
The Basics of Booking an Icelandair Stopover
Before booking an Icelandair stopover, keep these things in mind:
You can stopover in Iceland on any roundtrip flight between the U.S. and Europe.
Choose to stopover in Iceland either on your way to Europe or on your way back.
The maximum total trip length is 14 days total.
The maximum stopover time in Iceland is seven days.
You must have a roundtrip ticket to book a stopover – this won't work on a one-way ticket.
Bottom Line
If visiting Iceland is on your bucket list, kill two birds with one stone and add an Icelandair stopover onto your European vacation. Adding an Iceland stopover for up to seven days is an easy way to see two countries for the price of one.
Icelandair makes it easy (and nearly free) to spend some time in Iceland on either side of your trip.

Lead photo courtesy of Chris Lundberg via Flickr