After rumors swirled for weeks about looming changes to the Delta SkyMiles program and Sky Club access, it's now official.
Beginning Jan. 1, 2024, the way in which you will qualify for Delta SkyMiles Medallion Status is getting a major overhaul. And if you hold a co-branded Delta SkyMiles American Express credit card, big changes are coming to your Delta Sky Club access.
Delta was set to announce the changes tomorrow, Sept. 14, but a notice of the changes appeared on Delta's corporate travel website, Delta Professional, late Wednesday afternoon. The post was swiftly taken down, but The Points Guy has since confirmed the news.
Read on for a breakdown of the upcoming changes.
Changes Coming to Delta Medallion Elite Status
As it stands today, there are two building blocks to earning Delta status: Medallion Qualification Miles (MQMs) and Medallion Qualification Dollars (MQDs). You need to earn a certain amount of each to reach every level of Delta status from Silver to Diamond Medallion.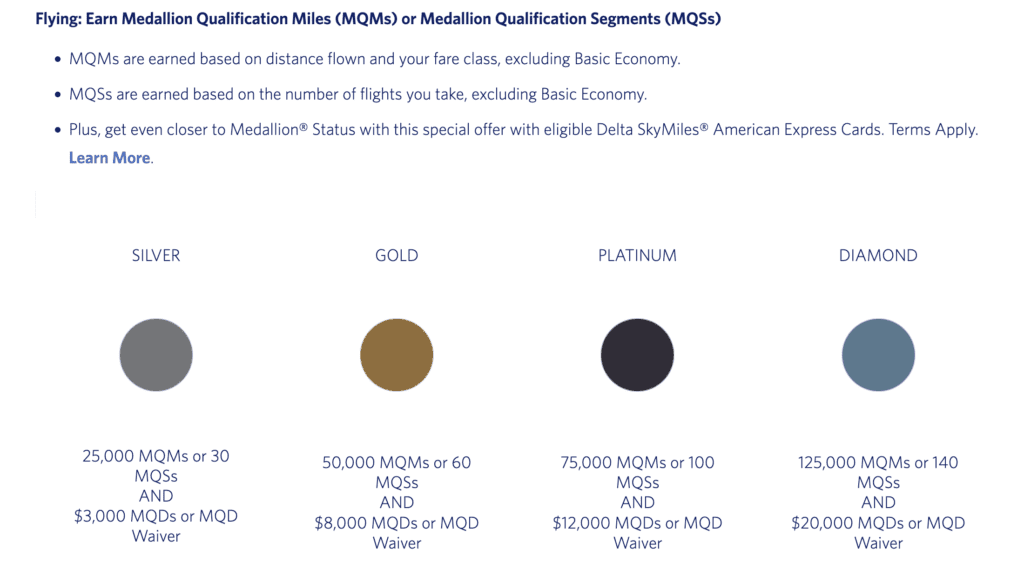 But starting on January 1, 2024, to earn Delta status, both frequent Delta flyers and SkyMiles cardholders only have to worry about one metric: Medallion Qualifying Dollars, or MQDs.
For the status year 2025, starting on Jan. 1, 2024, Delta flyers will earn only MQDs, and will no longer earn Medallion Qualifying Miles (MQMs) or Medallion Qualifying Segments (MQSs) – a measure of how many miles you've flown or how many flight segments you've taken.
According to The Points Guy, you'll earn 1 MQD per $1 spent on the ticket price for a Delta-marketed flight operated by Delta or a Delta partner airline.
In addition to booking Delta flights to earn MQDs, travelers will soon be able to earn MQDs through purchases on their Delta SkyMiles American Express Cards. Here's how spending will earn MQDs.
If you hold the *delta reserve card* or the Delta SkyMiles Reserve Business American Express card, you'll earn 1 MQD for every $10 you spend.
If you hold the *delta skymiles platinum card* or the Delta SkyMiles Business Platinum card, you'll earn 1 MQD for every $20 spent.
You'll earn 1 MQD per $1 spent on completed car rentals booked through Delta.
You'll earn 1 MQD per $1 spent on completed hotel stays booked through Delta.
There will be no path to earning MQDs for spending with the *delta skymiles gold card*.
Existing Rollover MQMs
For years, Delta has allowed SkyMiles members to roll over any MQMs that were above and beyond the highest level of status they had achieved. So for example, if you earned 60,000 MQMs – enough for Gold status and also met the MQD requirement, you could roll over 10,000 MQMs towards achieving status for the following year.
But starting with the new Medallion year on Jan. 1, 2024, travelers with rollover MQMs from 2023 for the 2024 Medallion year will be able to convert those MQMs into MQDs or into SkyMiles. The airline says that process will happen in early next year, and sadly, rollovers will be phased out starting next year.
If you want to turn those existing MQMs into SkyMiles you'll be able to do so at a rate of 2:1. Meaning 200,000 rollover MQMs would get you 100,000 SkyMiles. Converting MQMs into MQDs can be done at an abysmal rate of 20:1. Those same 200,000 MQMs would get you 10,000 MQDs. That isn't even enough to earn Gold status with the new requirements.
If you want to do some combination of both when you covert these, you'll be able to do so in the following amounts:
100% redeemable miles, 0% MQDs.
75% redeemable miles, 25% MQDs.
50% redeemable miles, 50% MQDs.
25% redeemable miles, 75% MQDs.
0% redeemable miles, 100% MQDs.
New MQD Requirements for Earning Status
How many MQDs will you need to earn for each level of status? Starting with the 2025 Medallion status year, Silver status can be earned with 6,000 MQDs, Gold with 12,000 MQDs, Platinum with 18,000 MQDs, and Diamond with 35,000 MQDs.
Here's how that stacks up to the MQD requirements that currently exist today:
| Medallion Tiers | 2023 MQD Thresholds | 2024 MQD Thresholds |
| --- | --- | --- |
| Silver | 3,000 MQDs | 6,000 MQDs |
| Gold | 8,000 MQDs | 12,000 MQDs |
| Platinum | 12,000 MQDs | 18,000 MQDs |
| Diamond | 20,000 MQDs | 35,000 MQDs |
As you can see, MQD requirements are going up substantially. Technically it's now possible to earn Delta status just from spending on a credit card, but it's going to require a ton of spending with both Delta and on Delta American Express credit cards.
For example, a Delta SkyMiles Platinum cardholder would need to spend $120,000 on non-Delta spending each year for Silver status. That's assuming they didn't earn any MQDs from spending money with Delta. A Delta SkyMiles Reserve cardholder would need to spend $60,000 on non-Delta purchases for the same Silver status.
Delta is calling this a "simplified path to earning status." While that may be true in the sense there is only one metric to now focus on (MQDs), the path to actually earning it is going to get much more difficult.
Sky Club Access Changes for Cardholders
Along with the changes to earning Medallion status Delta is also restricting Sky Club lounge access for Delta SkyMiles American Express credit cardholders.
Starting on February 1, 2025, *delta skymiles reserve* cardholders will be capped at 10 Sky Club visits per Medallion year (Feb. 1 to Jan. 31). The same goes for Delta SkyMiles Reserve business cardholders.
Currently, travelers with either of those cards or *amex platinum card* were given unlimited Sky Club access. But according to reporting from The Points Guy, Amex Platinum cardholders will be restricted to just six Sky Club visits per year starting in 2025, a huge hit for the credit card with an annual fee of $695 (see rates & fees) that boasts unparalleled lounge access worldwide.
Both cards currently provide unlimited access to the Delta Sky Club.
If you have more than one of these cards – like the Delta Reserve and the Amex Platinum, for example – your annual visits will be added together, meaning you'd get 16 total trips to the Sky Club in a given year.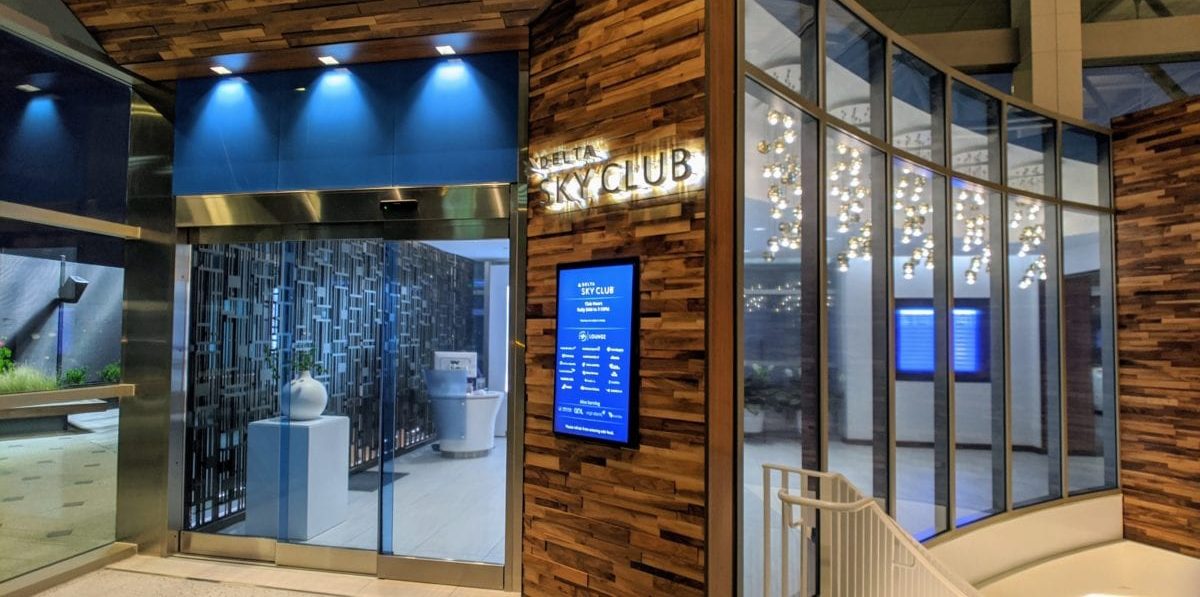 With either of those cards, you can earn unlimited Sky Club access when you spend at least $75,000 in a year on that card. Doing so will give you unlimited Sky Club visits for the rest of that year and the following status year.
One Delta SkyMiles card is getting shut out of Sky Clubs completely, too. If you have the *delta skymiles platinum card*, you'll no longer be able to access the Sky Club. Right now, Delta Platinum cardholders can buy their way into clubs for $50 per visit, but that opportunity will evaporate in the new year.
There are new restrictions for basic economy flyers as well. Starting next year, you'll no longer be able to get into Delta Sky Clubs if you're flying on a Delta basic economy ticket – even if you have a credit card that grants you access.
Bottom Line
Delta is making huge changes to both its SkyMiles Medallion Program and Sky Club access starting early next year.
Thrifty Traveler reporter Gunnar Olson also contributed to this story.