If you are visiting the beautiful U.S. wine regions of the west coast, you might want to consider flying Alaska Airlines to get there.
Through their Wine Flies Free program, the airline lets you check the bottles you purchase during your trip for free on your return flight from 30 cities in California, Oregon, Idaho & Washington!
Here is how you can bring back your delicious wines at no extra cost.
Become an Alaska Mileage Plan Member
You must be a member of Alaska's Mileage Plan program to check your wine for free. And if you don't already have an account, you can become a Mileage Plan member for free on Alaska's website. This will also allow you to earn miles for flights on Alaska Airlines.
How the Alaska Wine Flies Free Program Works
After you join the Alaska Airlines Mileage Plan program, add your Mileage Plan account number to your flight reservation.
You will then receive a $25 fee waiver to check one case of wine (12 bottles) on an Alaska Airlines flight departing from one of the West Coast cities listed below.
Note that this fee waiver will not work for flights to international destinations. You can bring wine home with you free of charge on flights from the following vino-loving destinations:
California
Burbank (BUR)
Fresno (FAT)
Los Angeles (LAX)
Monterey (MRY)
Oakland (OAK)
Ontario (ONT)
Orange County (SNA)
Palm Springs (PSP)
Sacramento (SMF)
San Diego (SAN)
San Francisco (SFO)
San Jose (SJC)
San Luis Obispo (SBP)
Santa Barbara (SBA)
Sonoma County (STS)
Idaho
Boise (BOI)
Sun Valley (SUN)
Oregon
Eugene (EUG)
Medford (MFR)
Portland (PDX)
Redmond (RDM)
Washington
Bellingham (BLI)
Everett (PAE)
Pasco (PSC)
Pullman (PUW)
Seattle (SEA)
Spokane (GEG)
Walla Walla (ALW)
Wenatchee (EAT)
Yakima (YKM)
How To Pack Your Wine
According to Alaska's website, to pack your 12 bottles of wine securely for the flight, pack and seal in a shipping container, like a cardboard box. Let the Alaska service agent know you're checking wine so they can label it Fragile. Wine packaged in cardboard boxes are covered in case of loss but are checked at your own risk for damage.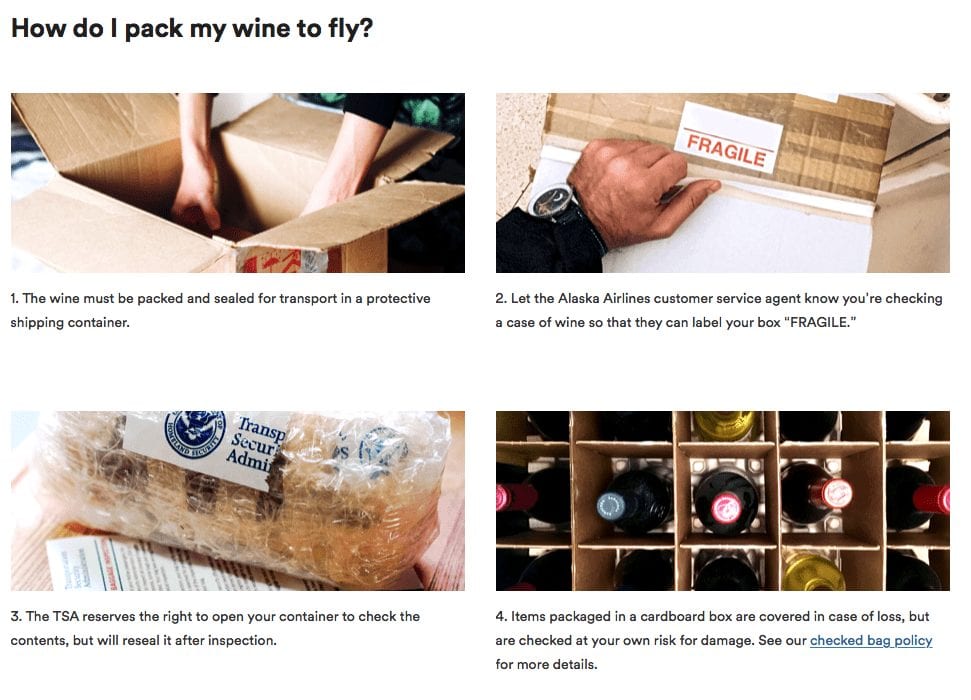 Bottom Line
The Alaska
Wine Flies Free program
is a neat perk of flying the airline to the west coast wine regions of the United States. If you are planning an upcoming trip, you may want to consider Alaska Airlines for your travel arrangements.