Qatar Qsuites are the world's best business class, and that means finding the award space to book it using miles can be a challenge. Not this time.
We alerted our Thrifty Traveler Premium members earlier this week to a massive amount of Qatar Qsuites award space late this year and early next, with two (or more!) seats available many days. From Chicago-O'Hare (ORD) to Washington, D.C.-Dulles (IAD) and Dallas-Fort Worth (DFW) up to New York City (JFK) and many places in between, there are plenty of business class seats available from most of Qatar Airways' U.S. outposts.
Some of the best availability later this year has dried up since we first sent an award alert to Thrifty Traveler Premium members a few days ago, though you can still find scattered dates that work throughout 2022. But there's still wide-open availability in January 2023 on many U.S. routes to Qatar's hub in Doha (DOH). For example, there's award space for two or more flying Qsuites from Chicago-O'Hare (ORD) every single day next January. And the same is true of most U.S. gateways.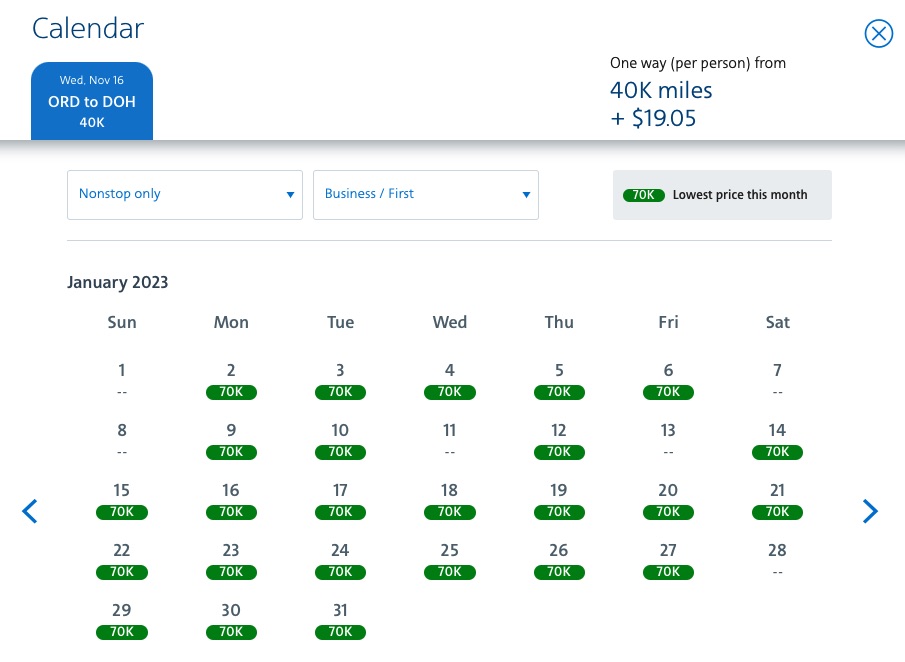 Want more award alerts like this one? We send them to Thrifty Traveler Premium members first, along with dirt-cheap domestic and international flight deals. 
You could use this glut of award space to fly nonstop to Doha (DOH), of course. But you could also continue elsewhere in the Middle East like wonderful Muscat, Oman or Jordan – and that's a wise move, as you'll get into the incomparable Al Safwa first class lounge during your layover. Or head to paradise and make your way to the Maldives in 2022 or 2023, where officials recently lifted the requirement for a negative PCR COVID-19 test so long as you're fully vaccinated.
Either way, the best way to book is with just 70,000 American AAdvantage miles each way – including to get to the Maldives or Seychelles. Or you could cash in on one of the best deals in the world of points and miles by continuing all the way down to South Africa for just 75,000 AAdvantage miles apiece.
You can also book these flights with Qatar's own Qmiles, which are transferrable from Citi ThankYou Points, or using Alaska Mileage Plan miles. Keep reading for more in-depth booking instructions on how to find your flight in Qsuites.
But the best part is that this works nationwide. Just start your search from your home airport with AA service, and you should be able to connect in domestic first-class before cozying up in your Qsuite across the ocean – all for just 70,000 AAdvantage miles.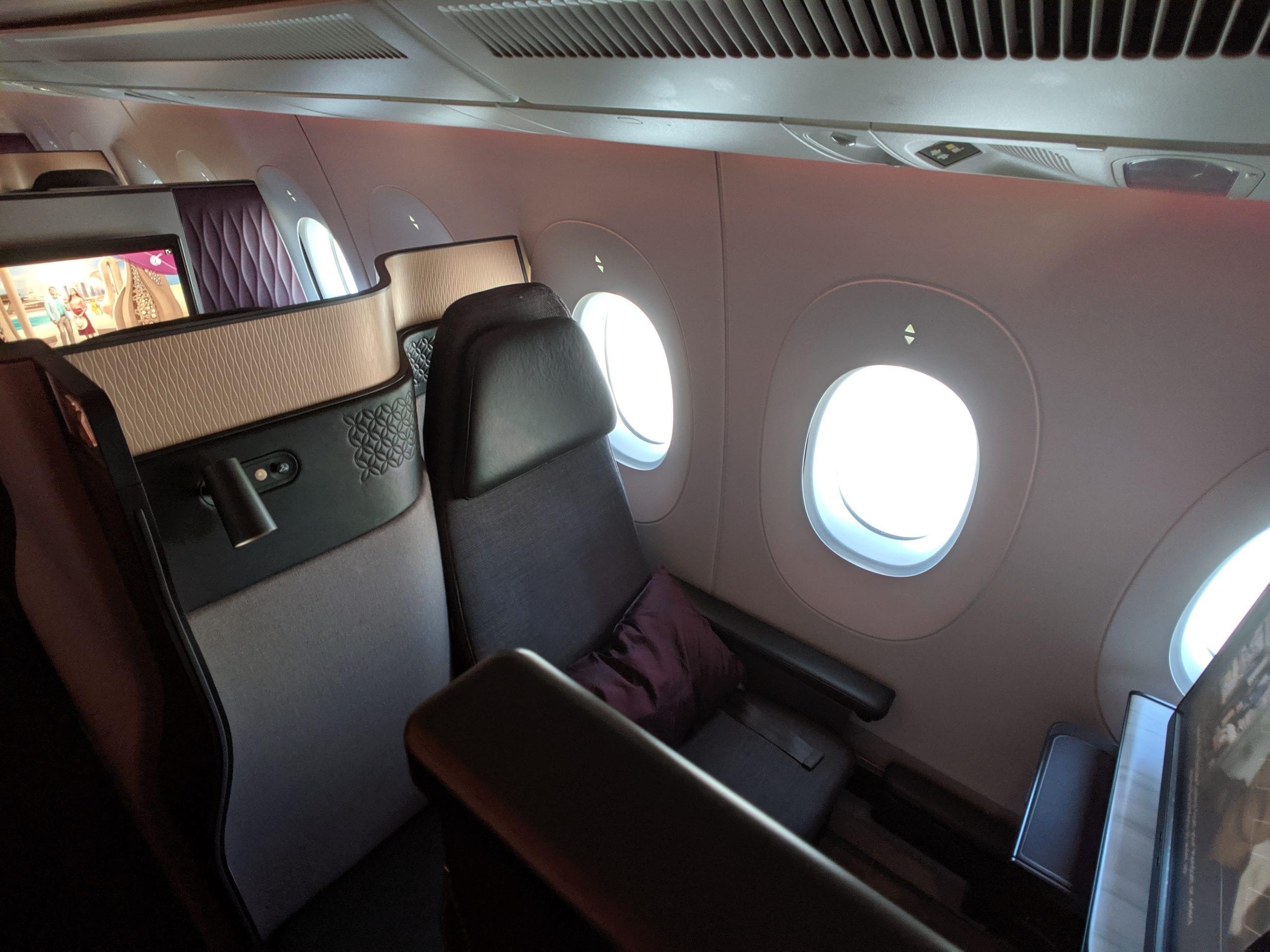 Read our Qatar Qsuite review from Dallas-Fort Worth (DFW) to Doha (DOH)!
Booking a big international trip may still feel uncertain, but using your miles is the way to go. That's because American now allows free cancellation to get your miles back on all award tickets! That means you can lock in this award space risk-free and cancel down the road if necessary.
Why let the savings stop on just your business class flights? Staying in a bucket-list location like the Maldives can easily break the budget, but you can cover nearly all the cost with a stay at the new Le Méridien Maldives Resort & Spa using Marriott Bonvoy Points. This private island resort costs just 35,000 points per night – or 45,000 points for an iconic overwater villa, give or take a few thousand if you stay during a peak period.

We found tons of availability to book this property using Marriott points through February 2023. But you'll want to book sooner rather than later, as this award rates at the Le Méridien Maldives are set to increase come March 30 when Marriott begins its transition to dynamic award pricing.
How to Find Flights & Book
This is easily one of the best uses of American AAdvantage miles you'll ever find. And that's exactly what you should do.
With this much award availability, it shouldn't be hard to find the flights you want – whether you're going straight to Doha, elsewhere in the Middle East, the Maldives, or beyond. Most of Qatar's U.S. gateways have solid availability for at least two travelers – and in many cases, four or more. Return availability in Qsuites is solid, too.
For your pick of the litter, January 2023 has the most dates available flying Qsuites from the U.S. – with some decent availability still remaining in the fall of 2022.
Qatar generally flies Qsuites on all its U.S. routes, including Atlanta (ATL), Boston (BOS), Houston-Intercontinental (IAH), Philadelphia (PHL), Washington, D.C.-Dulles (IAD), and others. Unfortunately, Qatar Airways has a knack for unannounced plane swaps that could leave you on a Qsuite-less plane. Dallas-Fort Worth (DFW), Chicago-O'Hare (ORD), New York City (JFK), and Washington, D.C.-Dulles (IAD) might be the safest bets to ensure you fly a Qsuite.
Finding the flights you want shouldn't be a challenge. You can get an easy view of all this availability by simply searching for award tickets at AA.com. It's best to start by searching for a nonstop Qatar Airways' from one of its U.S. hubs to find the date(s) that work. Use the calendar function to get a monthlong look at award space, then filter for nonstop business class flights.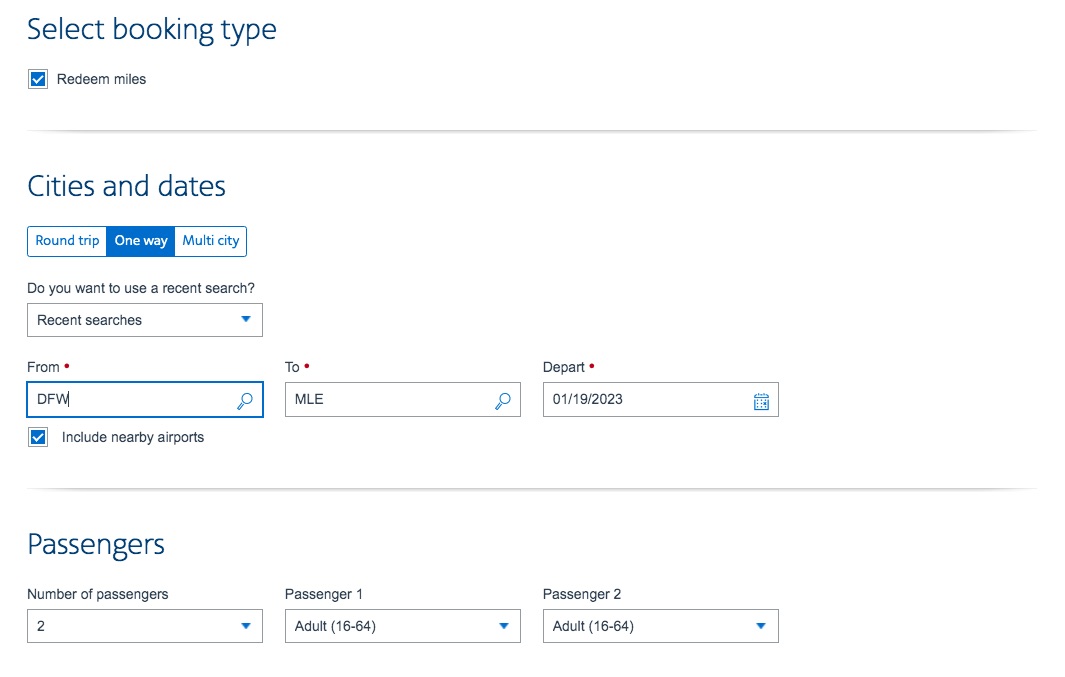 Once you've done that, just string it together in a one-way search with the date that works: JFK to Male (MLE), for example. And if you don't live in one of Qatar's U.S. hubs, just start your search from your hometown airport, like Minneapolis-St. Paul (MSP) or Cincinnati (CVG) to Male or Muscat.
It's still just 70,000 AAdvantage miles for all three segments all the way to the Maldives! And in most cases, you'll even fly up in first class on the domestic U.S. flight before getting in your Qsuite.

One thing to beware of: American is planning to start up its own nonstop flights from New York City (JFK) to Doha (DOH) later this year. That means American may try to put you one of its own, far inferior, flights rather than sticking you in Qsuites for the ultra-long haul journey. Trust us: You don't want that. Here's what to watch for.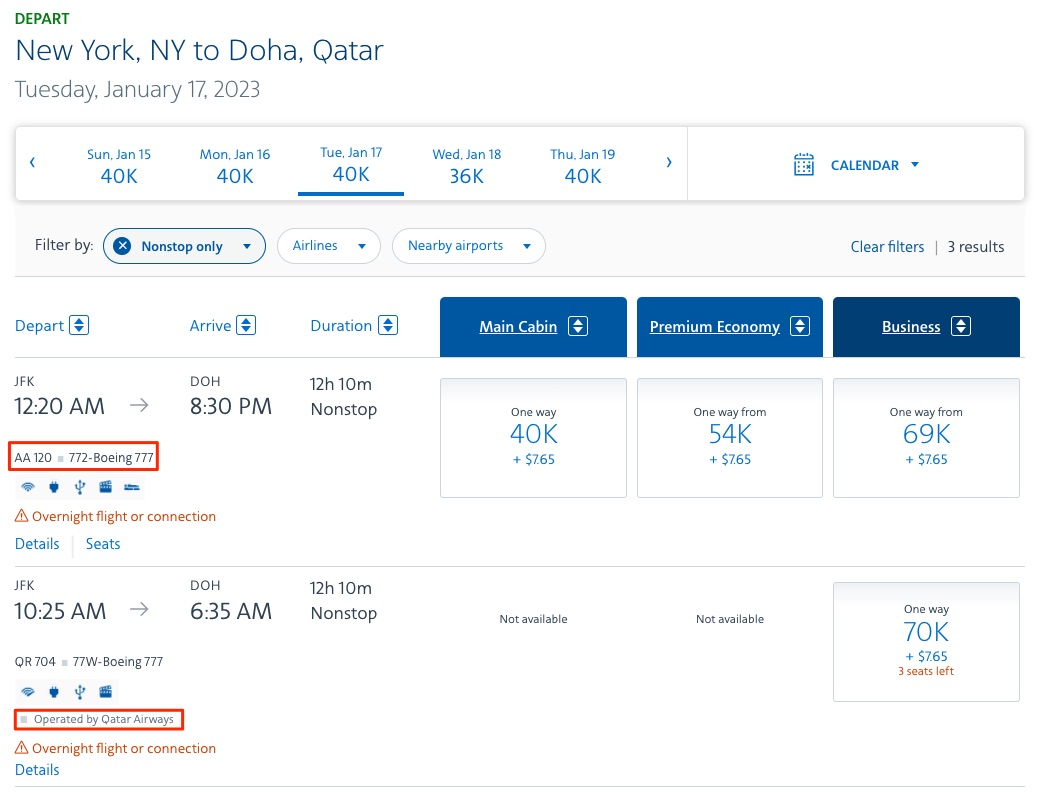 While American AAdvantage miles are easily the best way to book these flights, there are some other solid ways to book Qatar Qsuites using points and miles.
Using Qatar Avios is a strong option starting at just 70,000 miles or 85,000 miles to the Maldives and reasonable fees. You can currently only transfer to Qatar from Citi ThankYou Points … but you can now combine miles between British Airways and Qatar, which means you can book Qsuites using Chase Ultimate Rewards and Amex Membership Rewards, too.
Got a big stash of Alaska miles? Thanks to a recent partnership, you can book for as low as 85,000 miles to Doha, elsewhere in the Middle East, or even the Maldives – though you may also see other Qsuites options for a whopping 200,000 Mileage Plan miles.
You can also book these flights using Cathay Pacific's AsiaMiles, which is an Amex transfer partner. Expect to use 75,000 to 85,000 miles – but you'll also be on the hook for roughly $500 in taxes and fees.
How to Earn American Airlines Miles
Few credit cards offer a better, more lucrative welcome offer bonus than the AAdvantage Aviator Red World Elite Mastercard. Just for opening the card, making a single purchase, you can earn 60,000 American Airlines AAdvantage miles. These are some of the easiest miles you will ever earn – and you don't even have to pay the $99 annual fee for the first year.
Click Here to apply for the AAdvantage Aviator Red World Elite Mastercard (this is not an affiliate link)
But American Airlines is unique in the fact that they have co-branded credit card relationships with both Citi and Barclays thanks to the merger of American and U.S. Airways years ago. For now, American has made the decision to continue the relationship with both banks. That means you can also apply for the Citi® / AAdvantage® Platinum Select® World Elite Mastercard®, which is currently offering 50,000 AAdvantage Miles after spending $2,500 within the first three months. The card's $99 annual fee is also waived in the first year. 
Click Here to apply for the Citi® / AAdvantage® Platinum Select® World Elite Mastercard®
This is significant because you can earn the welcome offer bonus on each card, netting you at least 110,000 American Airlines miles after paying one annual fee (the Barclays AAdvantage Red Aviator Card) and spending $2,500 on the Citi AAdvantage Platinum Select Card in the first three months of card membership. And that's enough to get you to the Middle East or Maldives with this Qsuites availability.
Bottom Line
We'll never say no to a big batch of Qatar Qsuites availability. The ability to fly two or more in Qsuites this year or early next is unbeatable  – especially when it costs just 70,000 miles apiece.
You can book a future trip nearly later this year or early next knowing you'll have one of the best rides across the Atlantic Ocean available. And you'll have the flexibility to change plans for free down the line if need be.