For the past three years, we've all put off trips to Japan time and time again. But it's time to change that: Japan is finally back open for travel. And most importantly, great award availability and low rates to use your miles to get there mean your 2023 trip is a go!
Over the past few weeks, our Thrifty Traveler Premium+ team has found some incredible award space to fly to Tokyo using points and miles. Our members are getting first dibs on some of the best points and miles deals we've ever seen for Japan, from low-priced economy seats to incredibly hard-to-find flights like ANA First Class to Japan and back.
But wait: If everyone's been waiting to book their Japan trip for three years, why is it so much easier to book right now? While Japan reopened last fall and international travel demand is soaring, airline executives have said that travelers still aren't booking those transpacific flights as often as they did before the pandemic. That has opened the door wider than ever to put some points and miles to use.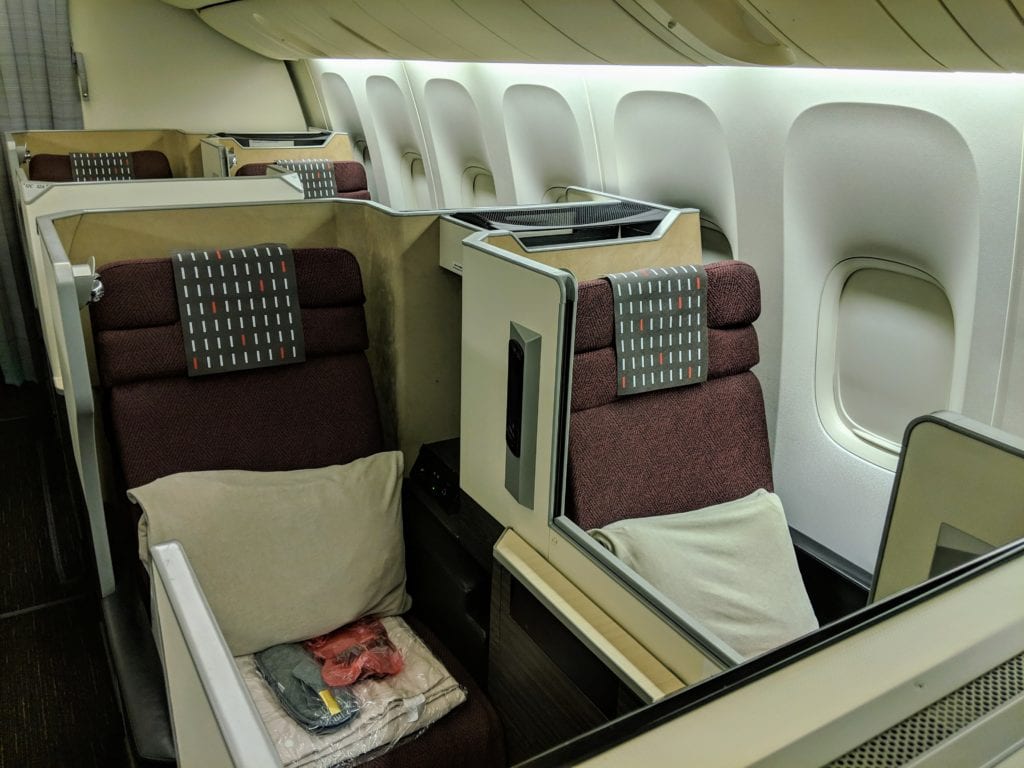 Let's look at three ways to get to Japan this year using your miles from first class at the front of the plane to economy at the back.
Attention, Thrifty Traveler Premium (or Premium+) members: You've likely already received these deals! If not, you might want to log into your Premium account and adjust your departure airport settings – or select "All Cities" to see every deal!
First Class Award Flights to Japan from 45K Points
Flying first class on a long-haul flight to Japan never felt real to me, and I can't be the only one who feels that way. Business class already feels like enough of a reach, but first class seems way out of my league.
But my mindset shifted after seeing this award space alert from our Thrifty Traveler Premium+ team.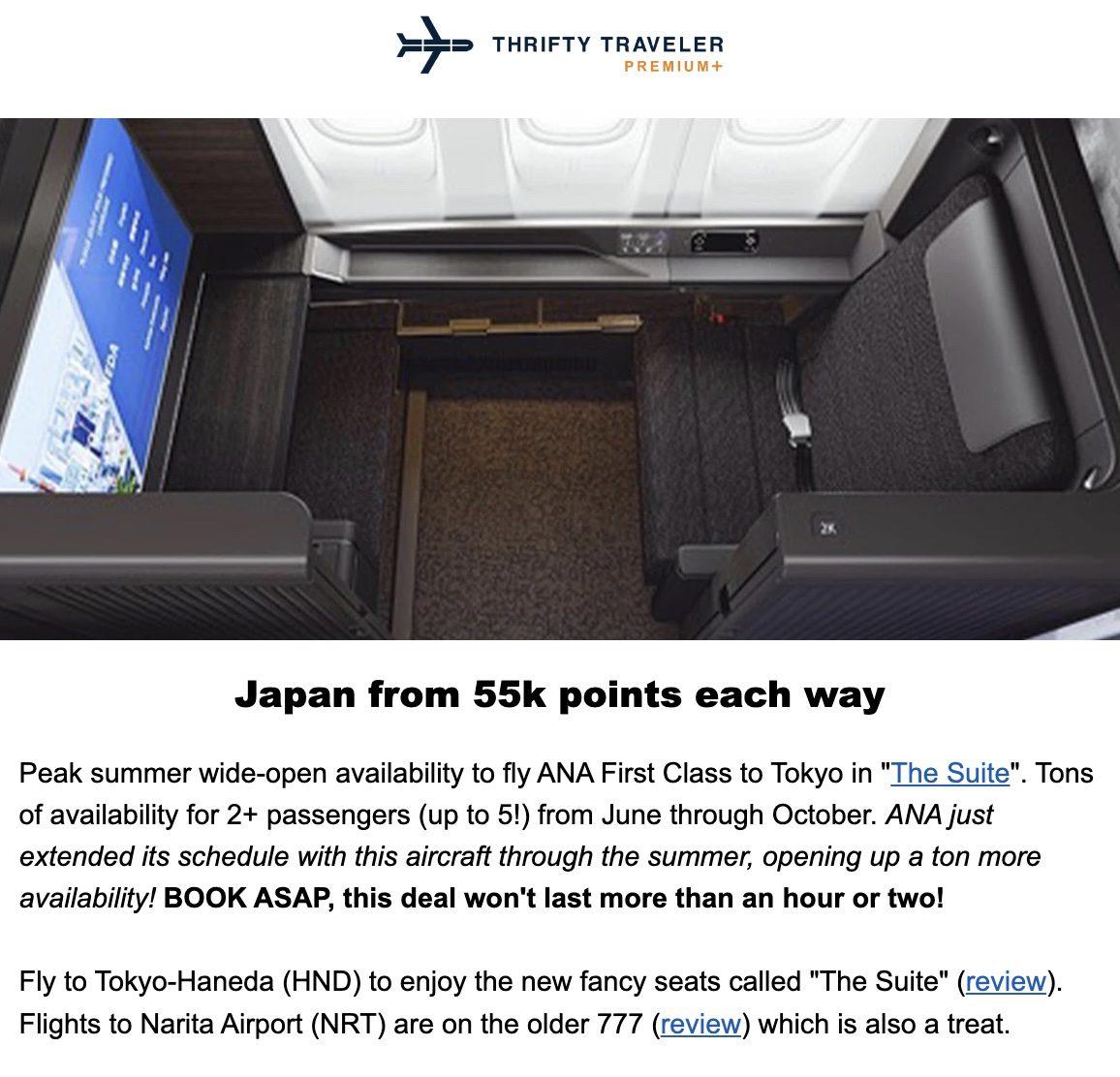 That's ANA First Class, bookable for as low as 55,000 points each way from the continental U.S. to Tokyo. It's one of the best deals in the world of points and miles but also one of the hardest to actually book, as award availability is tough (if not impossible) to find. You can go through an entire year's worth of flights without finding a single seat – especially if you're looking to fly ANA's latest and greatest first class seat dubbed "The Suite."
But that has changed recently. Over the course of a few days last month, we were the first to unearth that ANA had released hundreds of these first class award seats in and out of San Francisco (SFO) all spring, summer, and into the fall of 2023. The craziest part? There was availability for up to five passengers to book these once-in-a-lifetime flights.
These ANA first class flights were bookable for just 55,000 points through Virgin Atlantic and a few hundred dollars in taxes and fees each way. But it got even cheaper flying from Honolulu (HNL) in summer 2023: Just 45,000 points each way. Those Virgin Atlantic points are incredibly easy to earn as they're an Amex transfer partner, a Chase transfer partner, Capital One transfer partner, Citi transfer partner, and even an option if you've got Bilt Rewards points.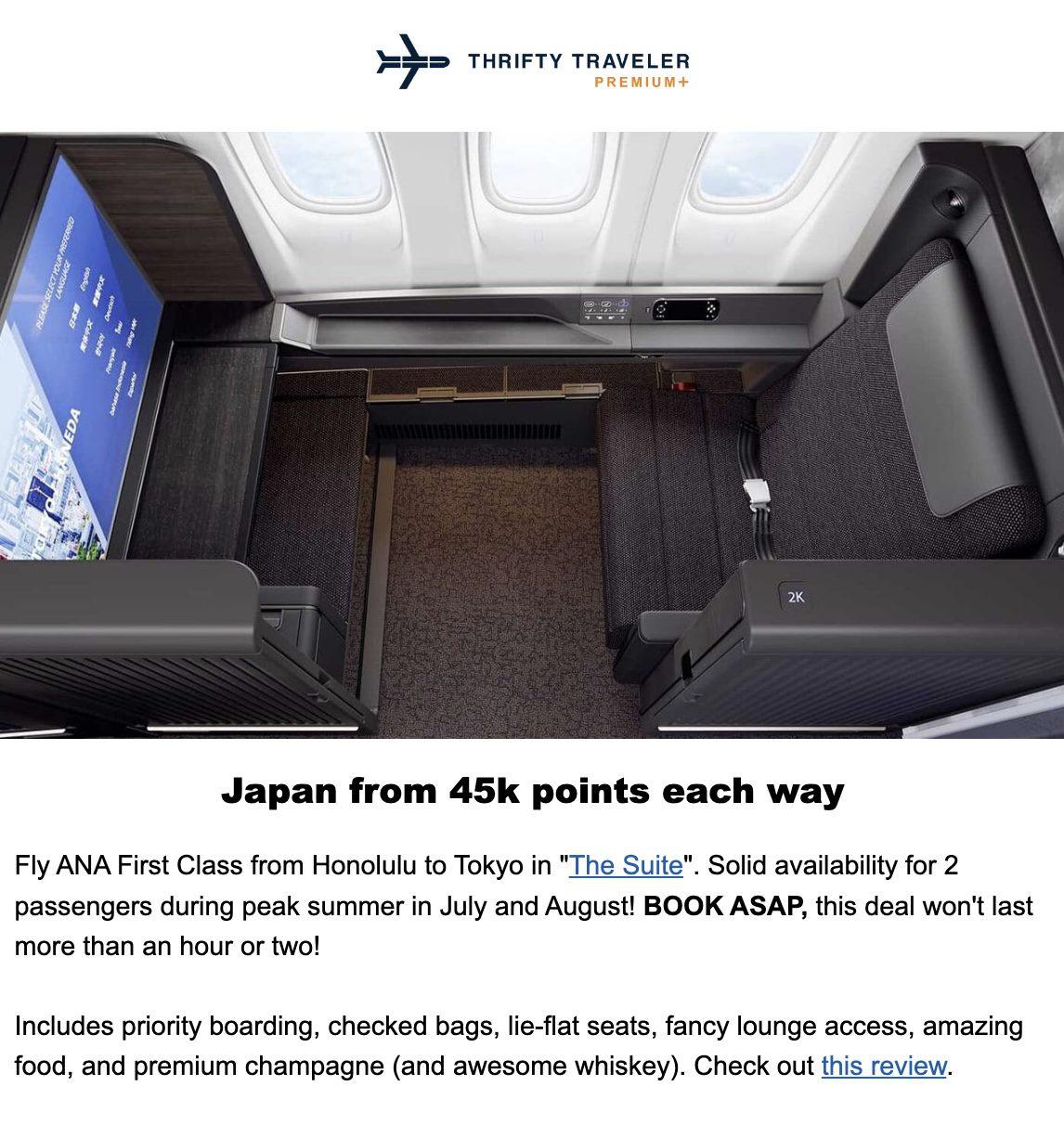 These first class seats are long gone – get the next alert in your inbox with Thrifty Traveler Premium+!
You're looking at 45,000 points each way or 55,000 points each way to get from the U.S. to Tokyo in a truly epic airplane seat. On the other hand, you could also book for 110,000 Air Canada Aeroplan points.

We don't know whether this new approach to first class availability from ANA is here to stay or just a flash in the pan. But if you want to ride in style to Japan this year or next, I'd start looking now.
Business Class Deals to Japan from 45K Points
Business class award deals to Tokyo are typically easier to find, but it's still no sure thing. That's especially true if you're looking to fly the new (and incredible) ANA "The Room" business class seat later this year.
But that's just what we sent Thrifty Traveler Premium+ members last month.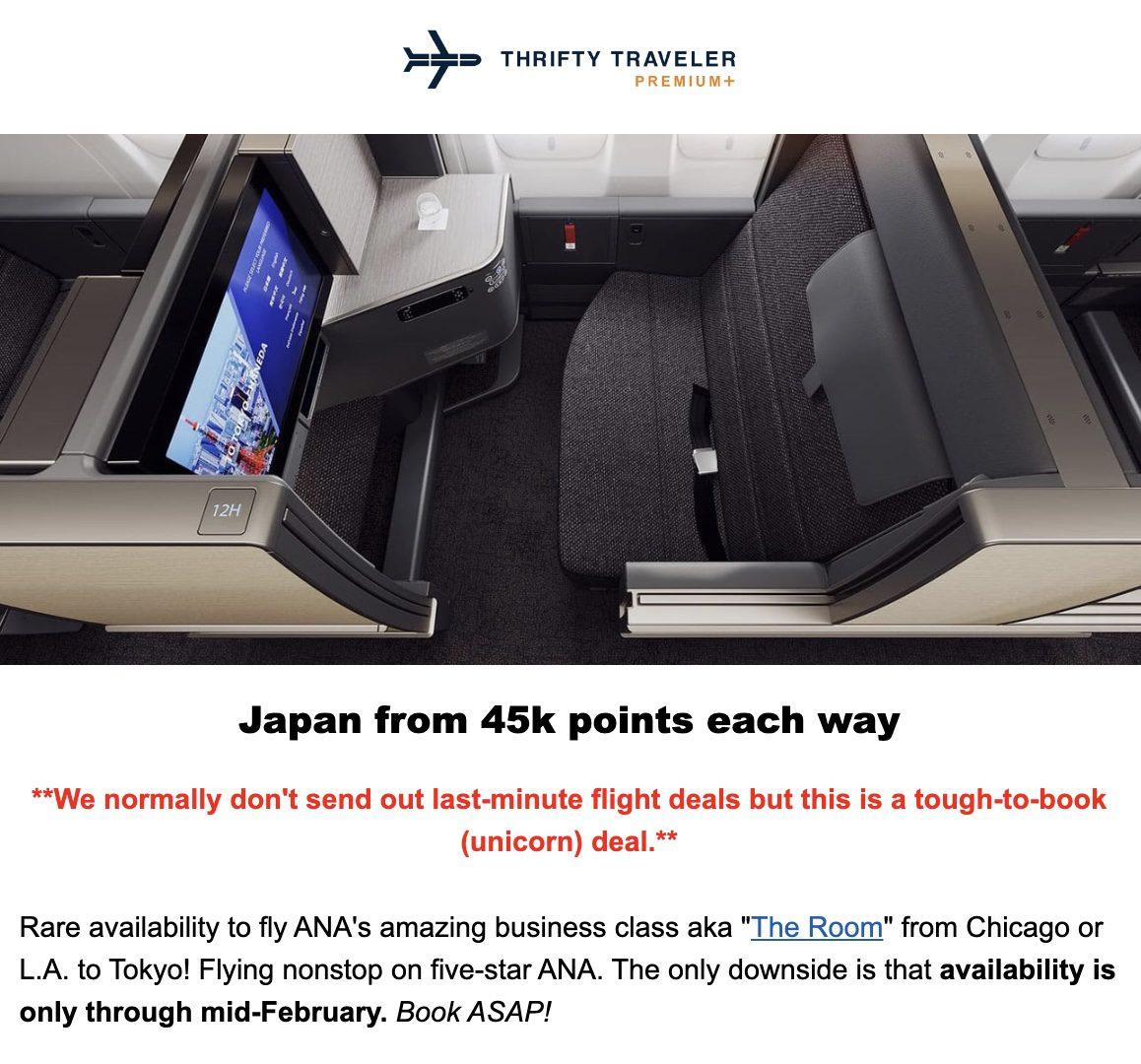 As you can see, The Room looks insanely comfortable. It's one of the most sought-after ways to fly to Japan. Availability can be tough to find, so we alerted our members to wide-open seats for a last-minute trip this winter from seven different cities in the U.S. and Canada – and we're constantly on the lookout for more opportunities.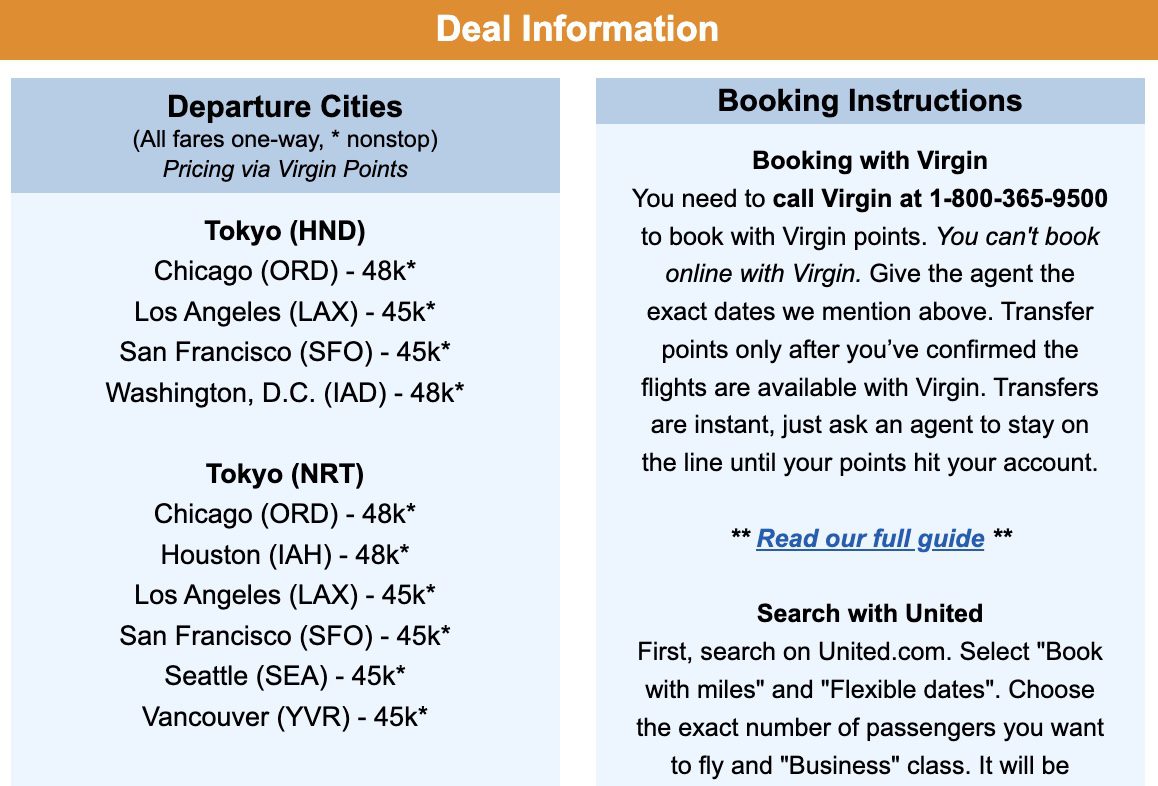 If you've got AAdvantage miles to spare, you can't beat booking Japan Airlines business class for just 60,000 miles each way. The airline has a ton of business class seats flying across the Pacific Ocean to Tokyo, so we're regularly finding stellar availability to book these seats.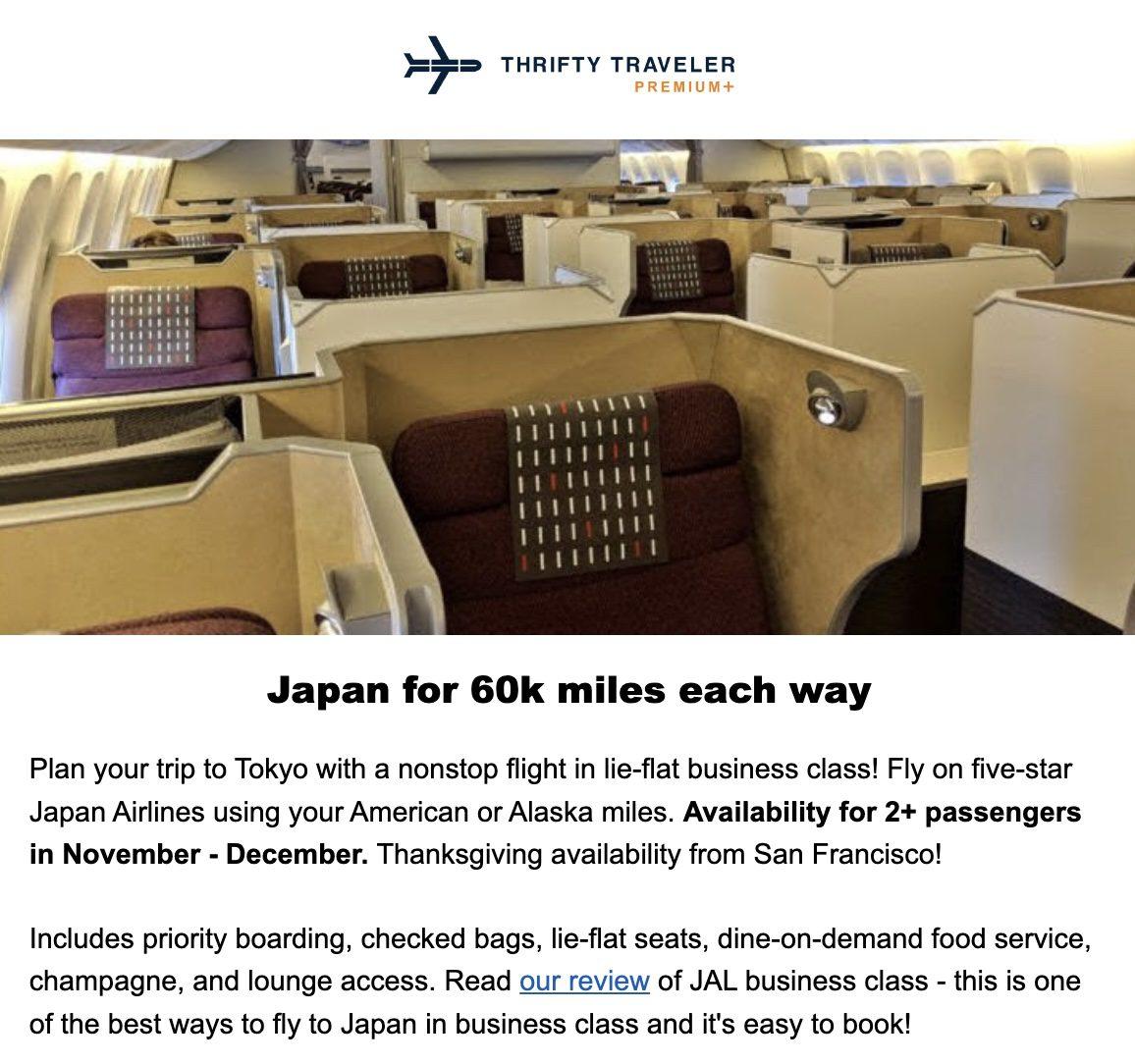 JAL also services nearly 10 airports in North America, giving more and more travelers a good crack at these lie-flat seats in 2023.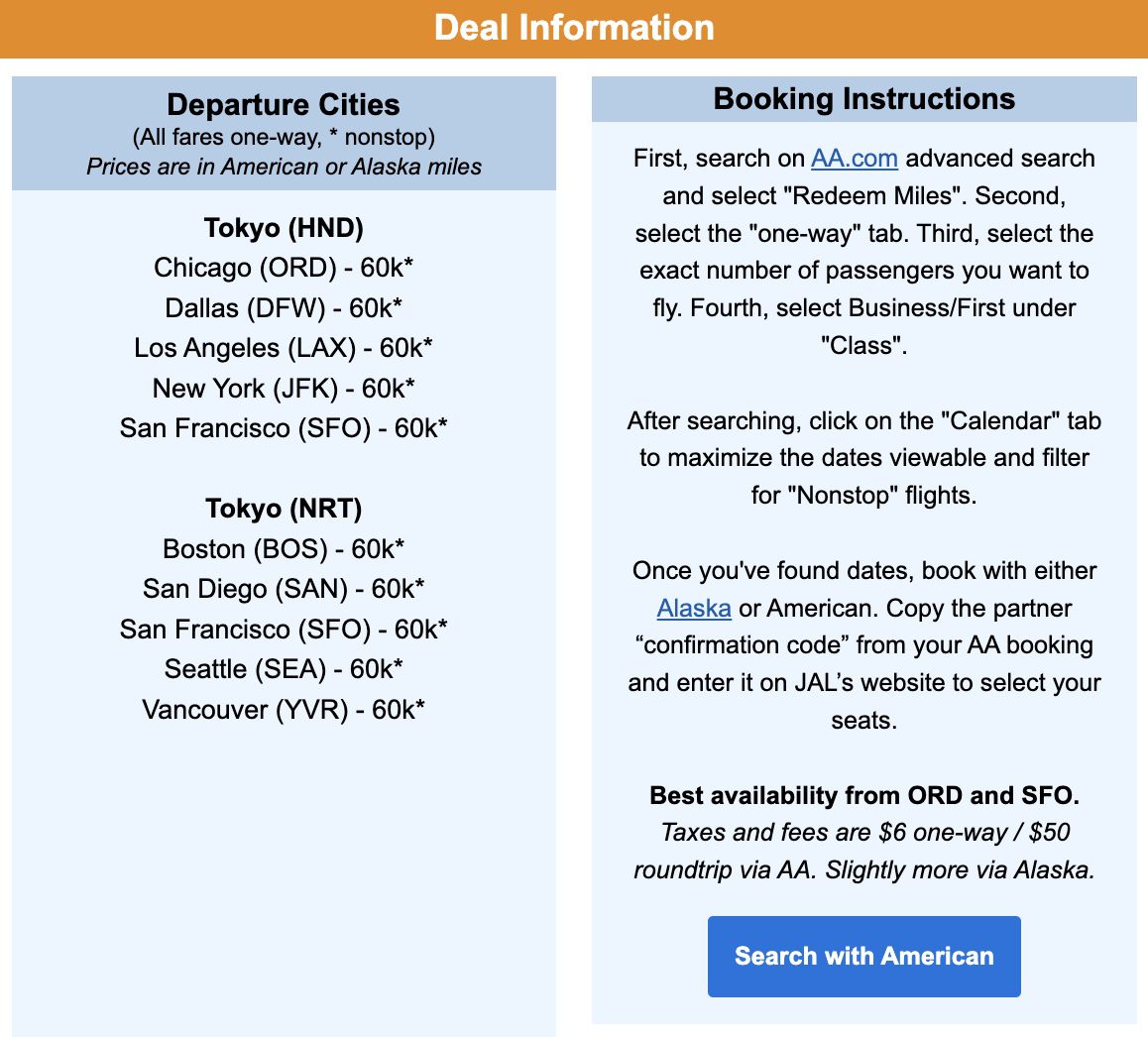 Finally, we'll head back to United and the Star Alliance, and this time we'll fly United Airlines itself. United Polaris business class is a great way to fly halfway around the world. When you can book those seats for as low as 66,000 points each way, we'd recommend you book fast.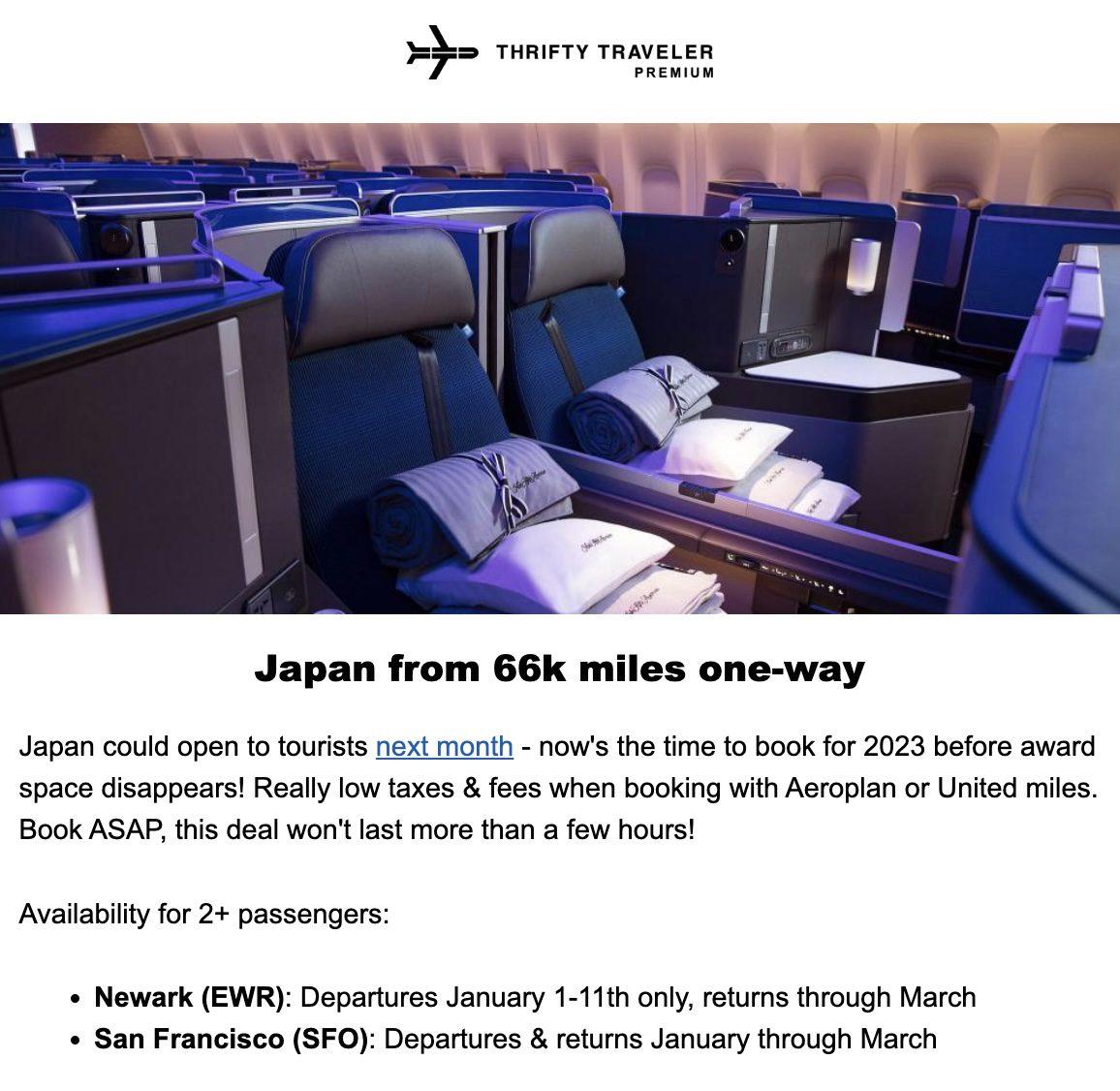 Economy to Japan from 43K Points Roundtrip
Nothing beats flying lie-flat to Japan on points and miles. Still, some of us are on an economy budget. For a whole lot less, you can still book your ticket to Japan flying economy in 2023.
How about a Delta SkyMiles flash sale to Tokyo and back for as low as 60,000 SkyMiles total?

A few months ago, we unearthed this Delta deal to Tokyo with discounted flights from almost every airport in the country with Delta service.
Read more: How to Find the Best Delta SkyMiles Flash Sales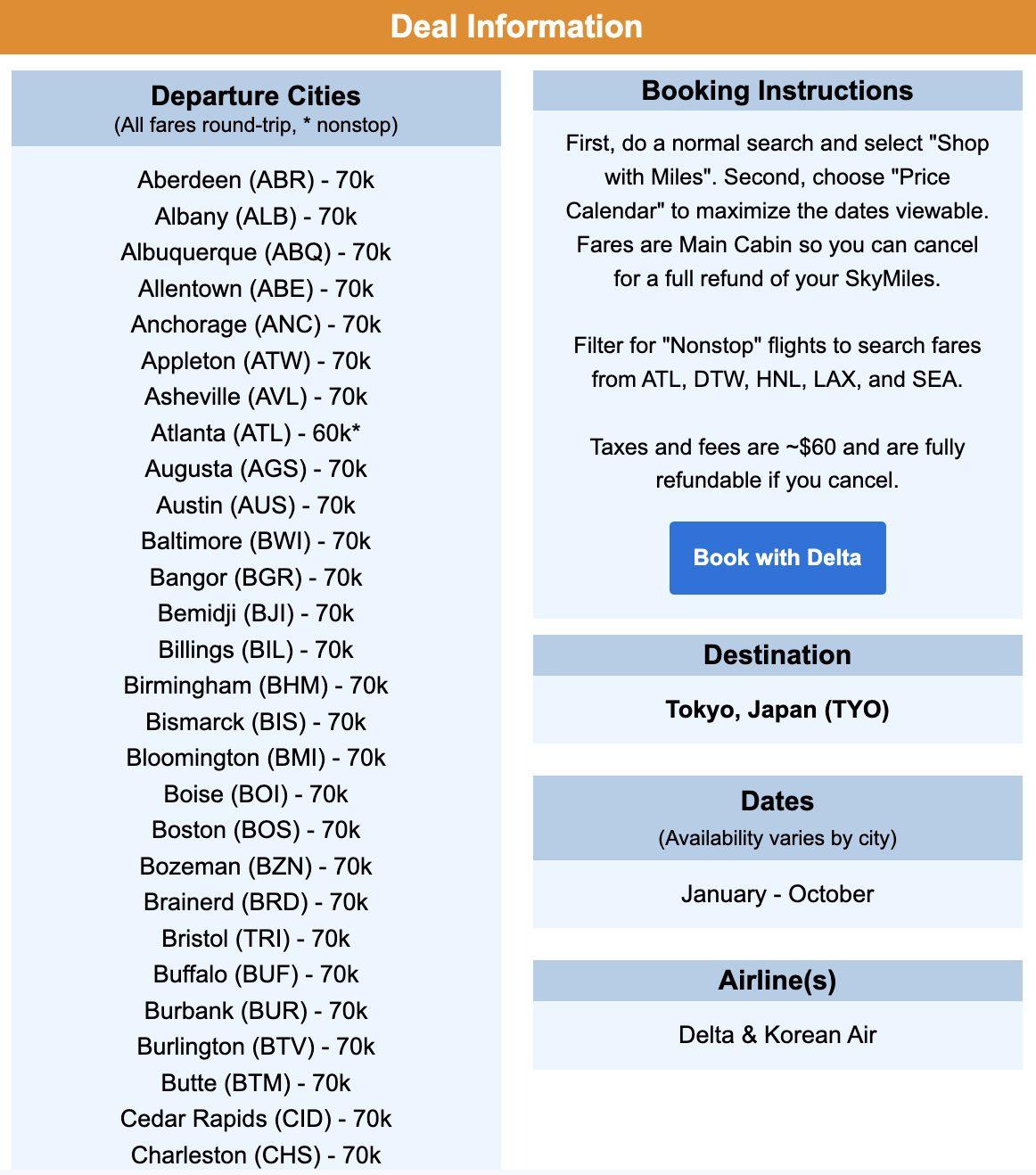 That's a pretty long list of departure cities, from airports big and small. The people of Aberdeen, South Dakota (ABR) and Bangor, Maine (BGR) probably aren't used to seeing fares this low for a trip to Japan and back, but Delta made it happen right after Japan reopened to travelers last year.
Some of our Thrifty Traveler Premium+ members got a stab at booking some of these same Delta flights for even fewer points, too.

Just as Japan reopened, Delta opened up a ton of award space bookable with Virgin points flying to Japan starting at just 43,000 points roundtrip. It was one of the lowest fares to Japan we've ever seen – I suspect we have a few Premium members walking the streets of Tokyo today as a result.
Bottom Line
Thrifty Traveler Premium+ members eyeing a trip to Japan in 2023 might just have their pick of booking first, business, or economy on points and miles right now.
Award deals to Tokyo have been abundant lately as travel demand between North America and Asia has been slower to bounce back. Don't worry: We're watching award availability on these routes like a hawk so you don't have to.