Flying business class for the cost of economy is one of our favorite ways to travel, but getting a great deal on business class flights is often restricted to departures from major airports only.
Whether you're paying in cash or points and miles, when it comes to getting a lie-flat seat, not all airports are created equal. If your home airport is New York (JFK), Newark (EWR), San Francisco (SFO), or Los Angeles (LAX), there are hundreds of business class seats departing your home airport every day. That hugely increases the likelihood of finding one at an affordable rate.
If your home airport is Pittsburgh (PIT), however, you only have a few long-haul international flights departing per day, with only about 20 business class seats on board. The odds of you finding one of those seats on sale is much, much worse. Take it one step further and say your home airport is Fargo, North Dakota (FAR). From Fargo, there are exactly zero business class seats departing per day, meaning you have to connect in order to find a lie-flat seat no matter what.
If you want to fly lie-flat this year or next, you need to be strategic about what airports you're targeting and likely re-adjust your expectations about your home airport.
What To Do If Your Airport Doesn't Have Good (or Cheap) Business Class Availability
Just because you live in Aberdeen, South Dakota (ABR), Pasco, Washington (PSC), or Gainesville, Florida (GNV) doesn't mean business class isn't an option for you. It does mean you have to work a little bit harder though.
Smaller airports without major international routes don't have lie-flat seats flying from them. So in order to get one of those coveted business class seats flying abroad, you'll have to find a business class fare with a connection to one of those major international routes. While most of those connections are in comfy domestic first class seats, affordable connecting itineraries like these are tough to find.
But not impossible!
Take this cash business class flight deal we sent to our Thrifty Traveler Premium+ subscribers a few months ago, for example. Flying United and SWISS business classes across the Atlantic is a pretty sweet deal but is almost always reserved for those flying from hubs like Chicago (ORD), or Newark (EWR). Not this time, though!
Sure, folks in hubs like Atlanta (ATL), Boston (BOS), and Chicago have access to these fares, too, but the likes of Akron (CAK), Appleton (ATW), Bangor (BGR), and Cedar Rapids (CID) also could book these business class fares for less than $2,400 roundtrip. That's at least half off the normal fares you can expect from smaller cities like that!
Sales like these come around every now and then, but it's hard to predict when they'll arrive and if your airport will be involved. For that reason, I don't recommend you wait around for your lucky day. Instead, expand your search parameters to include nearby or easy-to-connect-to major airports and employ the art of booking positioning flights. 
Positioning flights are cheap, domestic flights between your home airport and the major airport from which you'll fly internationally.
Here's how it works: Let's say you want to fly United Polaris business class to London and you live in Louisville, Kentucky (SDF). Unfortunately, there aren't any business class seats flying to London (LHR) from Louisville … but there are hundreds of Polaris business class seats flying from Newark (EWR) to London every single day.
You can book one of those lie-flat seats from EWR to LHR using points or cash, then search for cheap flights from SDF to EWR to build your own connection. Lucky for you, United gives you plenty of options.

Strangely, buying a positioning flight like this one and building your own connection is often cheaper than booking the straight-through fare from SDF to LHR. With positioning flights, no business class deal is out of reach.
If one of the following airports is your home airport, consider yourself lucky! If not, this is where you should start your search for a business class flight this year or next.
The Best Northeast Airports for Cheap Business Class Flights
Boston (BOS)
If your goal is to fly across the Atlantic Ocean, keep an eye out for business class availability from Boston (BOS). The Northeast hub has tons of transatlantic offerings, including these JetBlue Mint business class seats.
We loved this deal because of the low cash rate, but also because the availability on these fares included Thanksgiving, Christmas, and New Year's Eve availability on flights to London (LGW).
Another comfortable way to cross the ocean to London, but flying into Heathrow (LHR) instead, is on British Airways business class.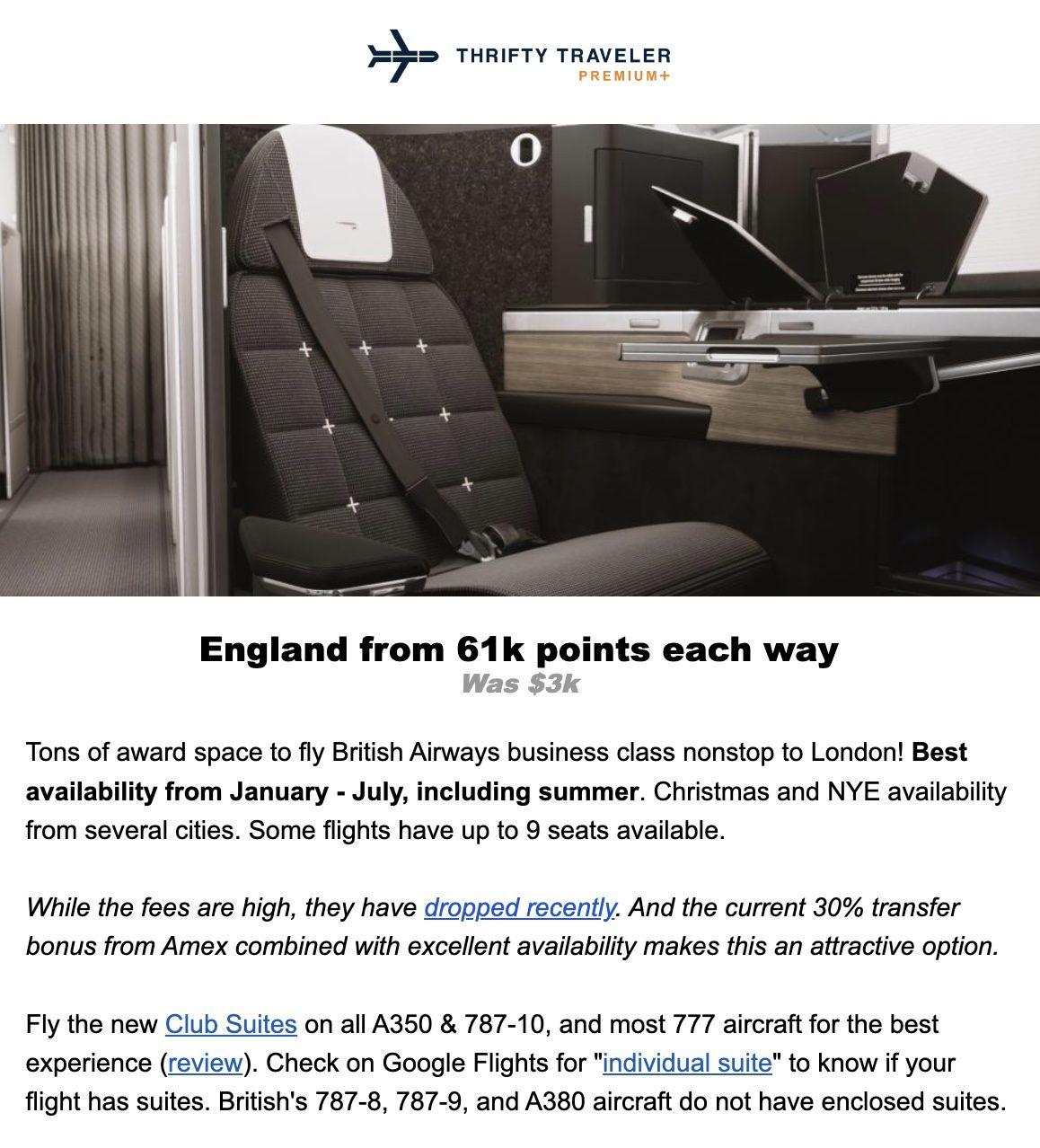 This stylish seat was just 80,000 British Airways Avios from Boston when we sent this flight deal to our subscribers a few weeks ago, but if you booked with Cathay Pacific Asia Miles instead, the price was just 61,000 one way!
New York (JFK)
New York's John F. Kennedy International Airport (JFK) is top of the list when it comes to finding business class availability, and that's because JFK has an unbelievably large international network of flights. From Singapore (SIN) to New Delhi (DEL) and almost every European city, too, the number of international flights and lie-flat business class seats is incomparable.
As of January, Simply Flying calculated that there are 32 daily flights between JFK and London. That's a lot of beautiful business class seats like these flying across the ocean.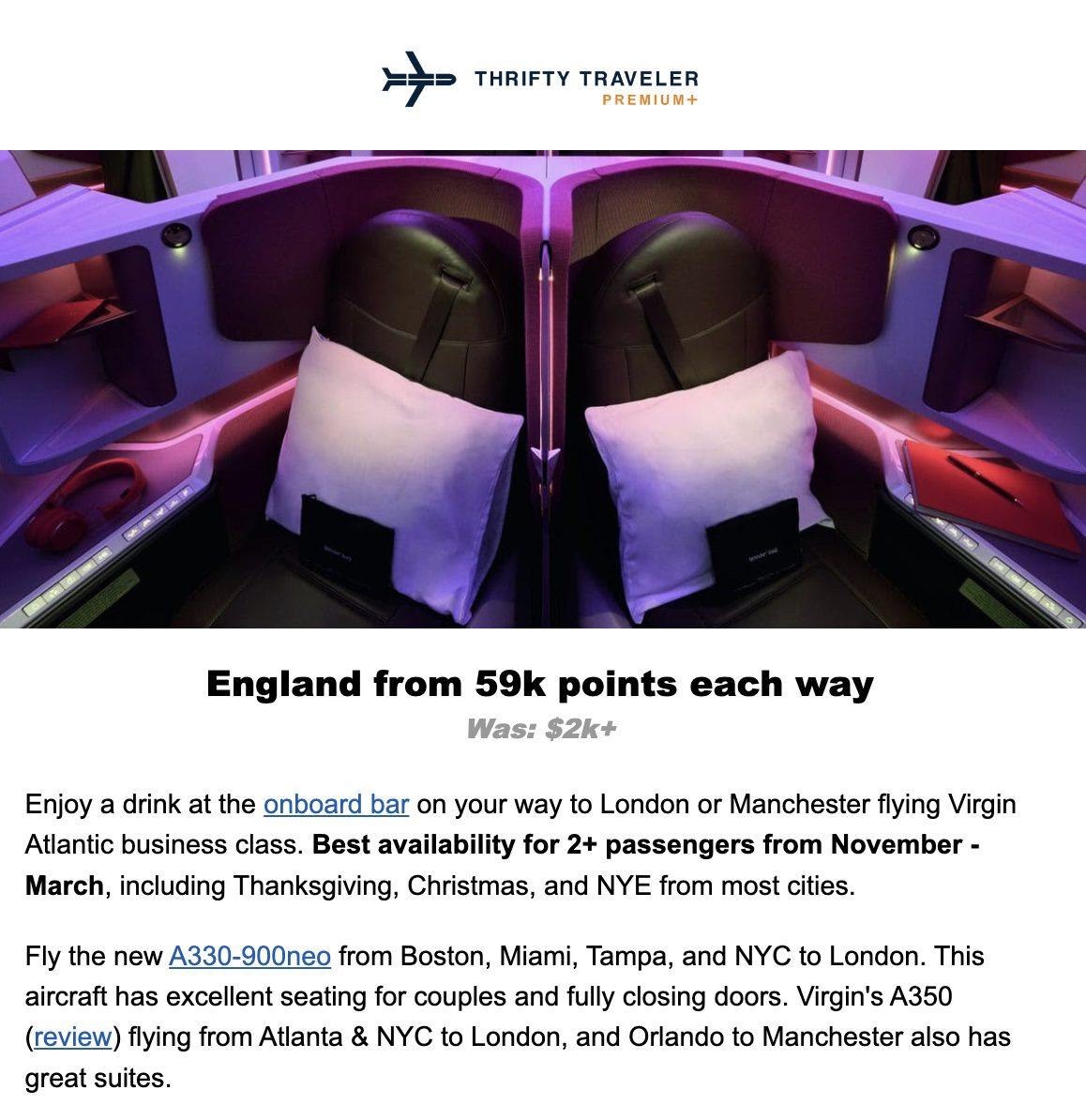 That volume makes it much easier to find a business class award like this Virgin Atlantic Upper Class deal we sent to subscribers. JFK fares were just 75,000 points one-way for this experience, but you could have booked them for as low as 59,000 points by taking advantage of Capital One's transfer bonus to Flying Blue last month.
But you can fly around the world in the opposite direction from JFK in business class, too. Look at this Japan Airlines business class deal from JFK to Tokyo (HND) for just 60,000 American Airlines points!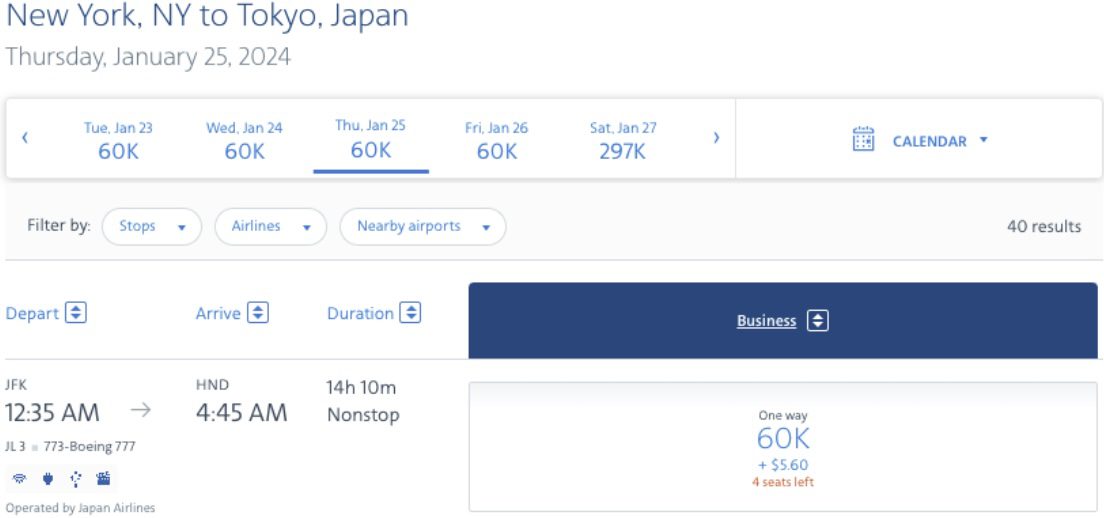 Newark (EWR)
Just across the river, Newark-Liberty International Airport (EWR) also has an impressive roster of transatlantic flight options. Many of those flights are on Star Alliance partners like Austrian Airlines, for instance.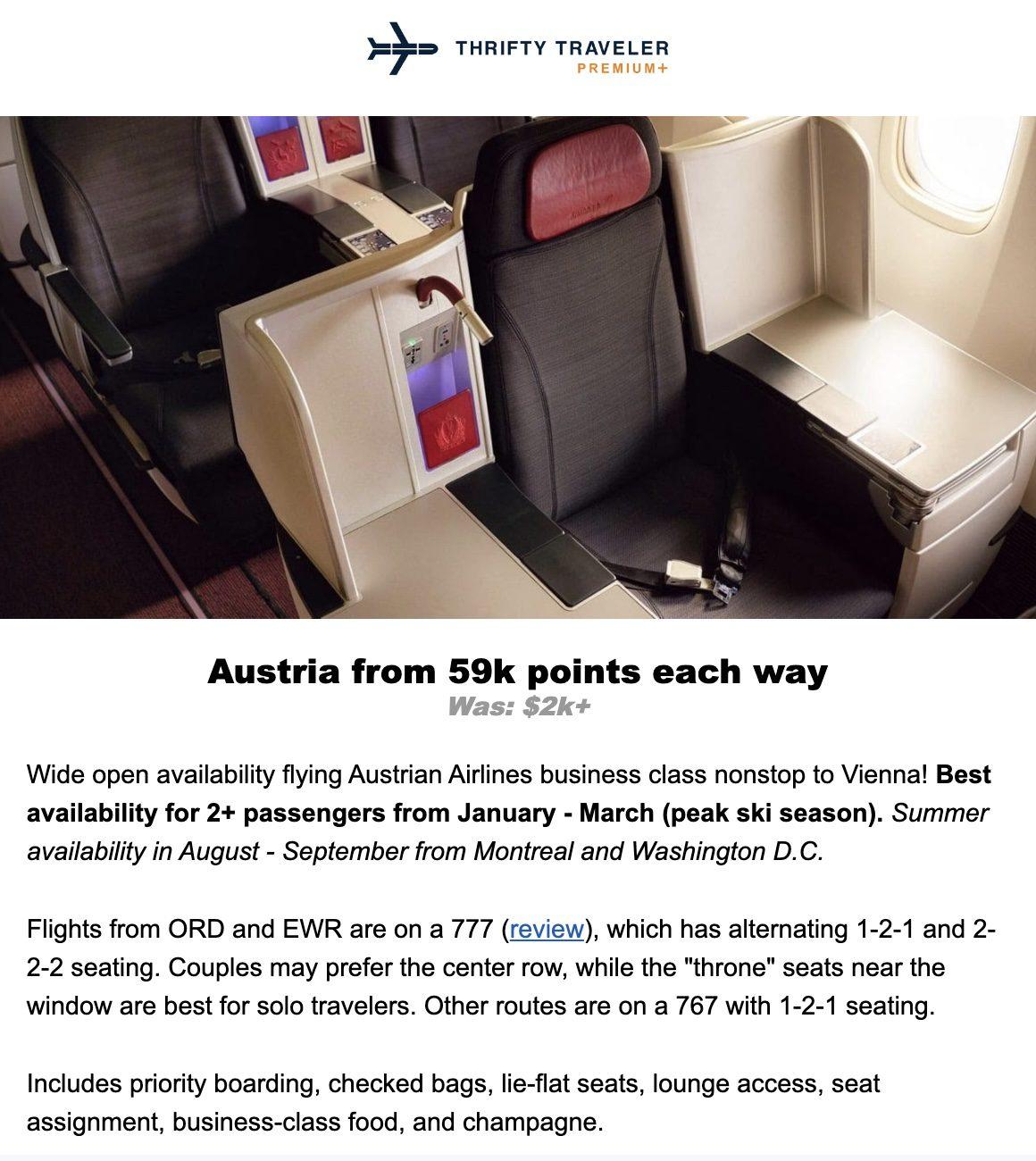 Just 70,000 Air Canada Aeroplan points could put you in one of those comfy seats flying to Vienna, Austria (VIE) in 2024.
And to get to Zurich, Switzerland (ZRH) on SWISS Business Class, you'd only need 60,000 points flying from Newark.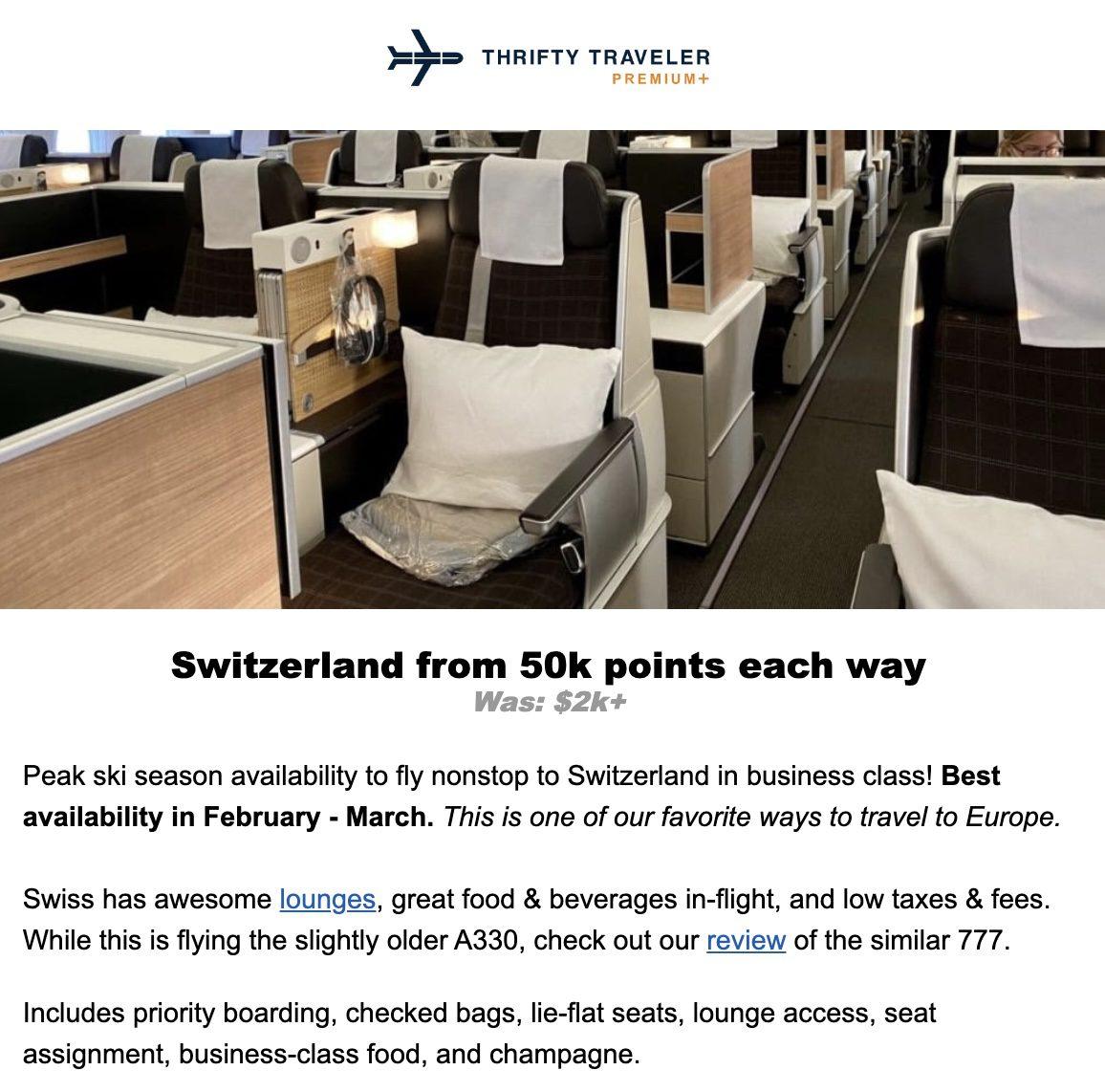 Newark is definitely one of the airports you should target if flying lie-flat on United or one of its partners is your goal.
Honorable Mention: Philadelphia (PHL)
Business class availability from nearby Philadelphia (PHL) isn't impossible to find, either. It doesn't come close to the likes of JFK and EWR or even most of the other airports on this list, but Philadelphia has a pretty impressive network of lie-flat options if you know where to look.
This Qatar Airways QSuites deal from Philadelphia is a great example. Just 75,000 American Airlines miles could put you in one of these seats flying to Doha (DOH) and onto Cape Town, South Africa (CPT) in the world's best business class.
The Best Southeast Airports for Cheap Business Class Flights
Washington, D.C. (IAD)
Washington, D.C.'s Dulles Airport (IAD) is another well-connected international hub, and with seats flying all around the world that look like these, you're going to want to put it on your list, too.
This Turkish Airlines business class seat is only 45,000 miles! The plush 787 Dreamliner seats are one of the best ways to cross the Atlantic into Istanbul's gorgeous, brand-new airport.
A much shorter transatlantic flight is to Lisbon, Portugal (LIS) where TAP Air Portugal operates a major hub. TAP also has a lie-flat seat that you'll love.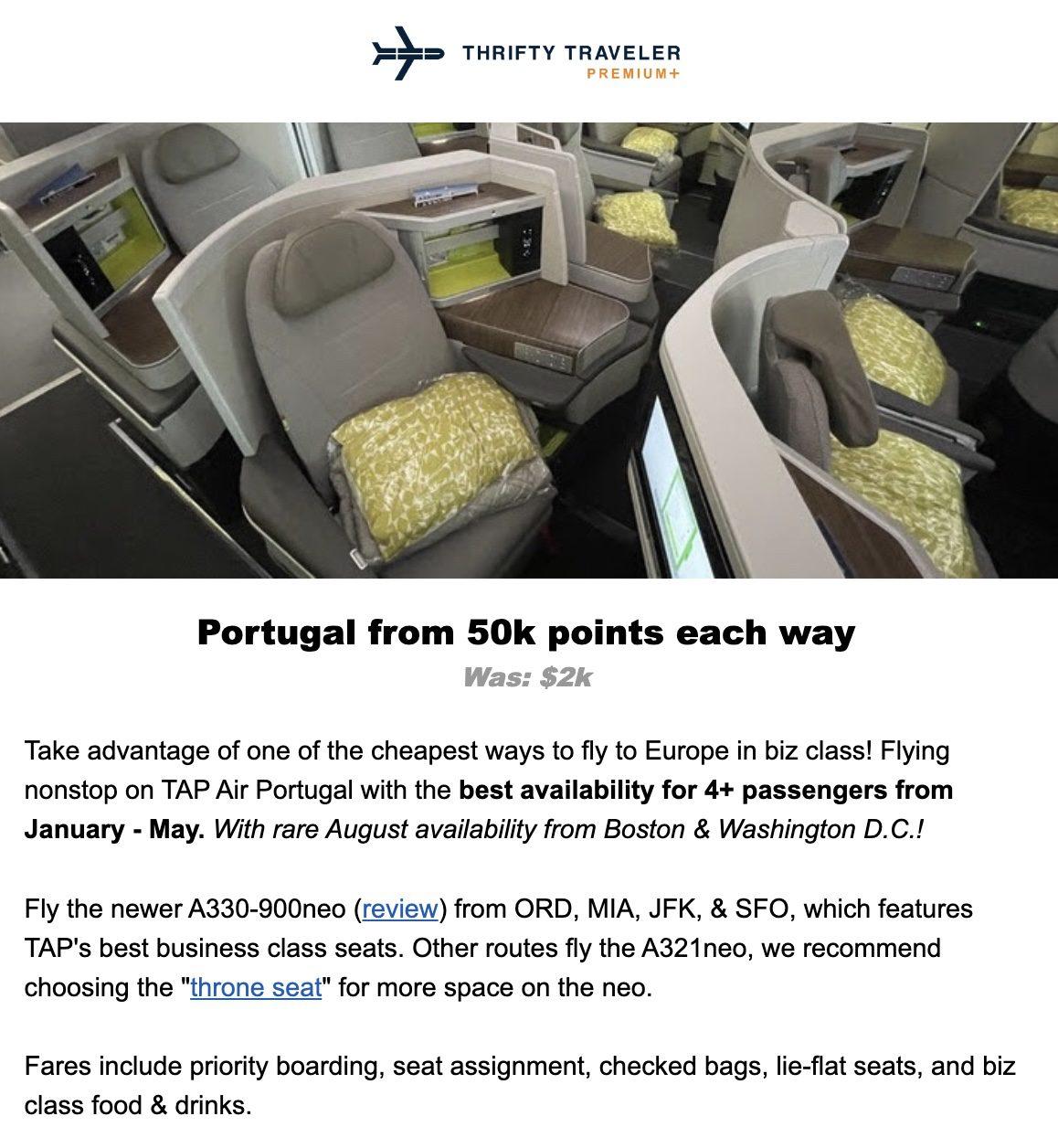 Depending on what points you use to book these seats, they'll cost you anywhere between 60,000 and 70,000 points each way, but if you take advantage of a transfer bonus, you can get that number down to 50,000 points when flying TAP business class.
Miami (MIA)
It's known for its enormous network to the Caribbean, but don't overlook Miami (MIA) as a good option for crossing the ocean in business class either.
Award availability for business class seats is not terribly hard to find from the Florida hub, especially on flights to Madrid (MAD) on Iberia business class.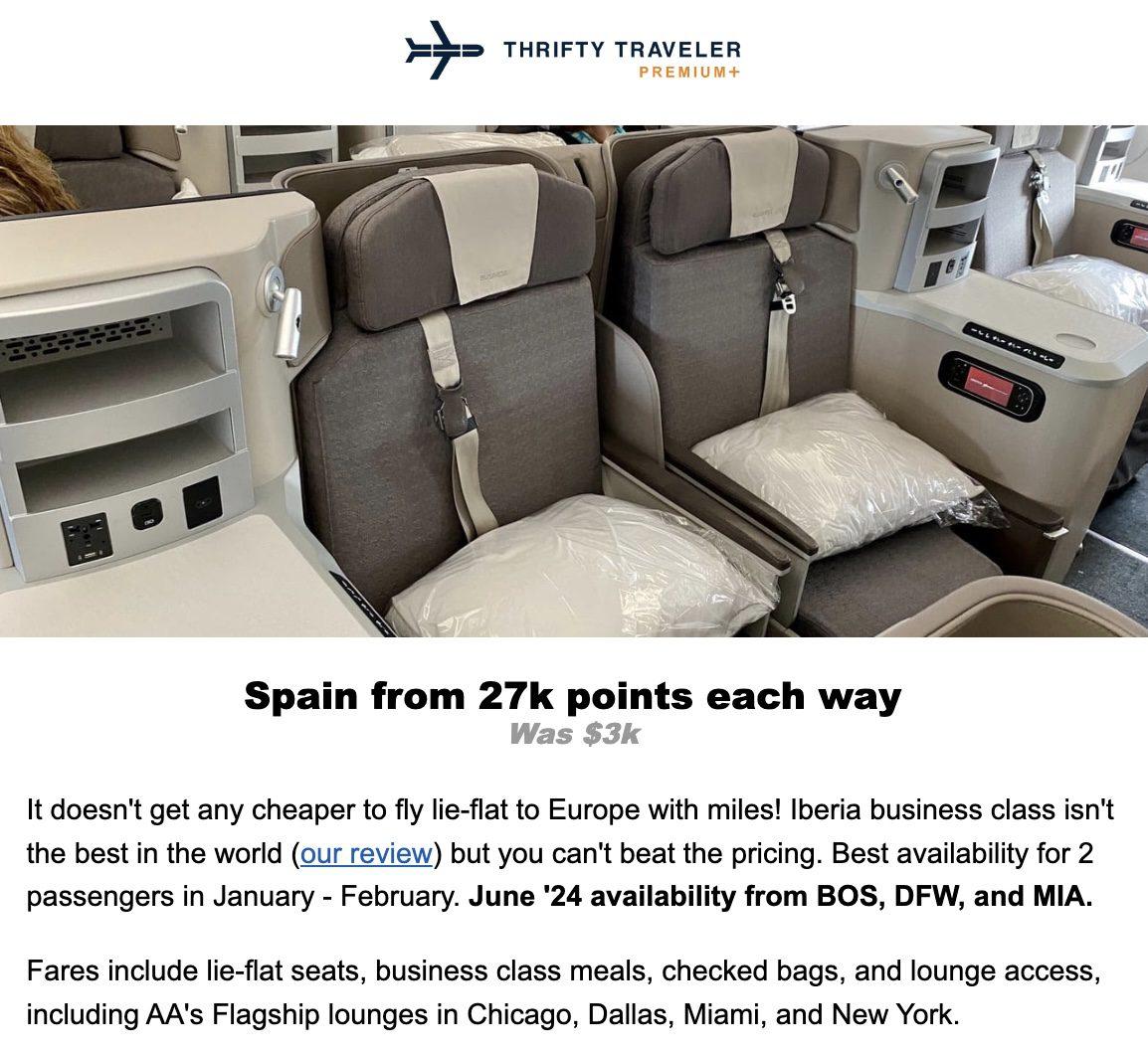 Normally, you can book Iberia business class awards for 34,000 points, but a transfer bonus last month knocked that rate down to a record low 27,000 points one-way! It's the cheapest way to cross the Atlantic in a lie-flat seat.
Delta One business class isn't the first thing you'd think about when you consider flying from the American Airlines and OneWorld Alliance-heavy Miami International Airport, but every once in a while, competitors like Delta will target Miami customers and try to get them to fly on their planes instead. Thus, this sizzling business class fare to Iceland (KEF) for just $1,204 roundtrip!
Honorable Mention: Orlando (MCO)
It's not all mouse ears and rollercoasters in Orlando. The resort town is also home to a pretty big and growing number of international flights with lie-flat business class seats.
This flight deal featured tons of cash business class fares to Europe including Orlando at just $2,399 roundtrip!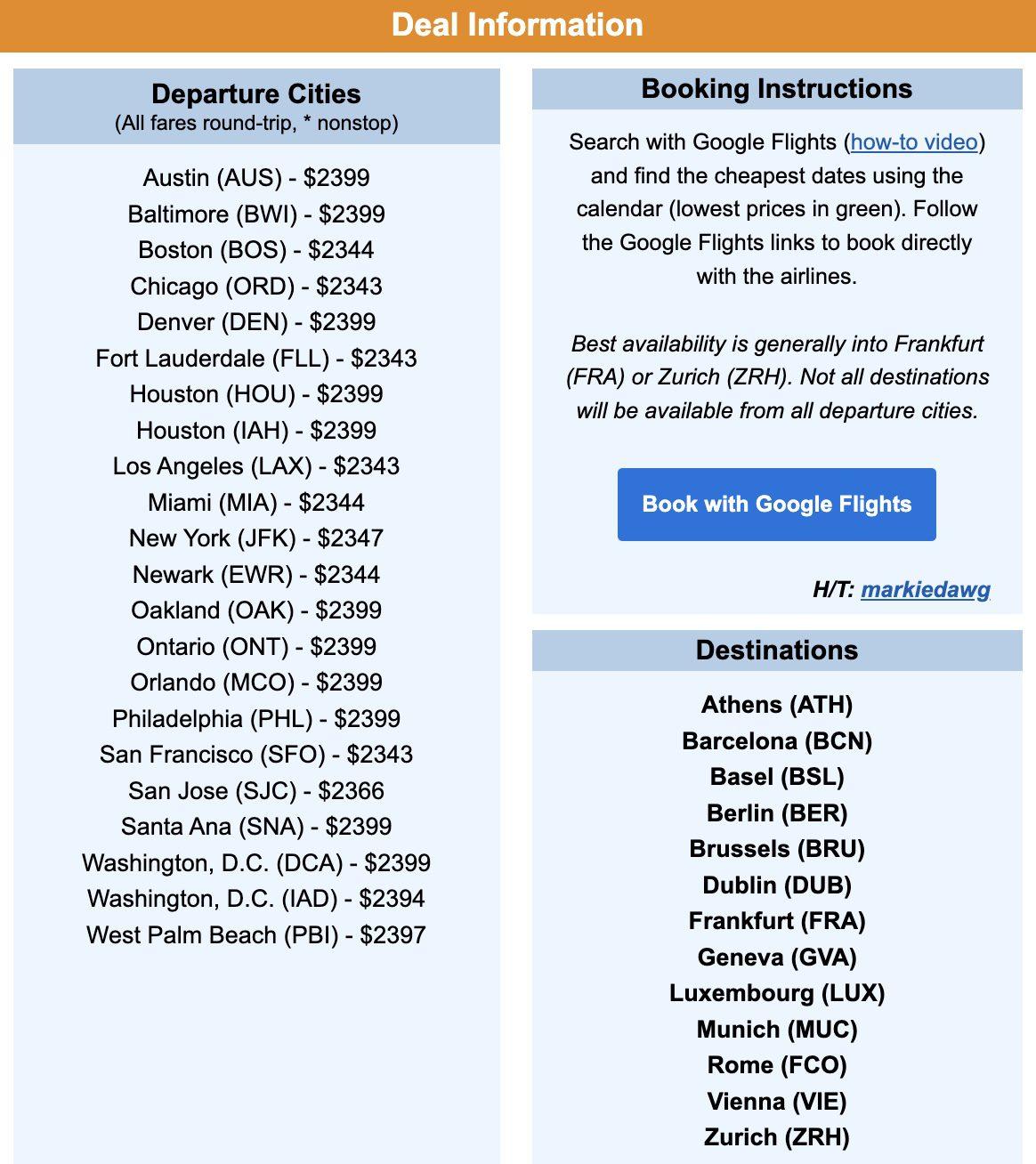 While it's not the most fertile business class environment, if you're based near Orlando, it's worth checking MCO business class availability this year or next.
The Best West Coast Airports for Cheap Business Class Flights
Los Angeles (LAX)
Tom Bradley International Terminal is as busy a terminal as you'll find almost anywhere in the world. From LAX, you can fly almost anywhere, and that means hundreds of business class seats are wooshing in and out every day.
That includes this new business class offering from Starlux Airlines flying to Taiwan (TPE). Just a few days ago, we dug out this amazing award availability for just 60,000 Alaska Airlines miles each way.
Another popular Asia route is to Singapore (SIN), where Singapore Airlines offers a few daily nonstop flights from LAX, too. 88,000 Air Canada Aeroplan miles will put you in this impressive seat!
San Francisco (SFO)
Northern California's San Francisco Airport (SFO) is certainly the next best option when it comes to business class availability. Its transpacific network is also huge, offering nonstop flights to places like Hong Kong (HKG) on Hong Kong's flag carrier Cathay Pacific.

As you can see, 50,000 Alaska Airlines miles could get you in Cathay's business class flying to HKG this year.
SFO is best known as a United hub, and as you can probably figure out by now, United flights mean United Polaris business class!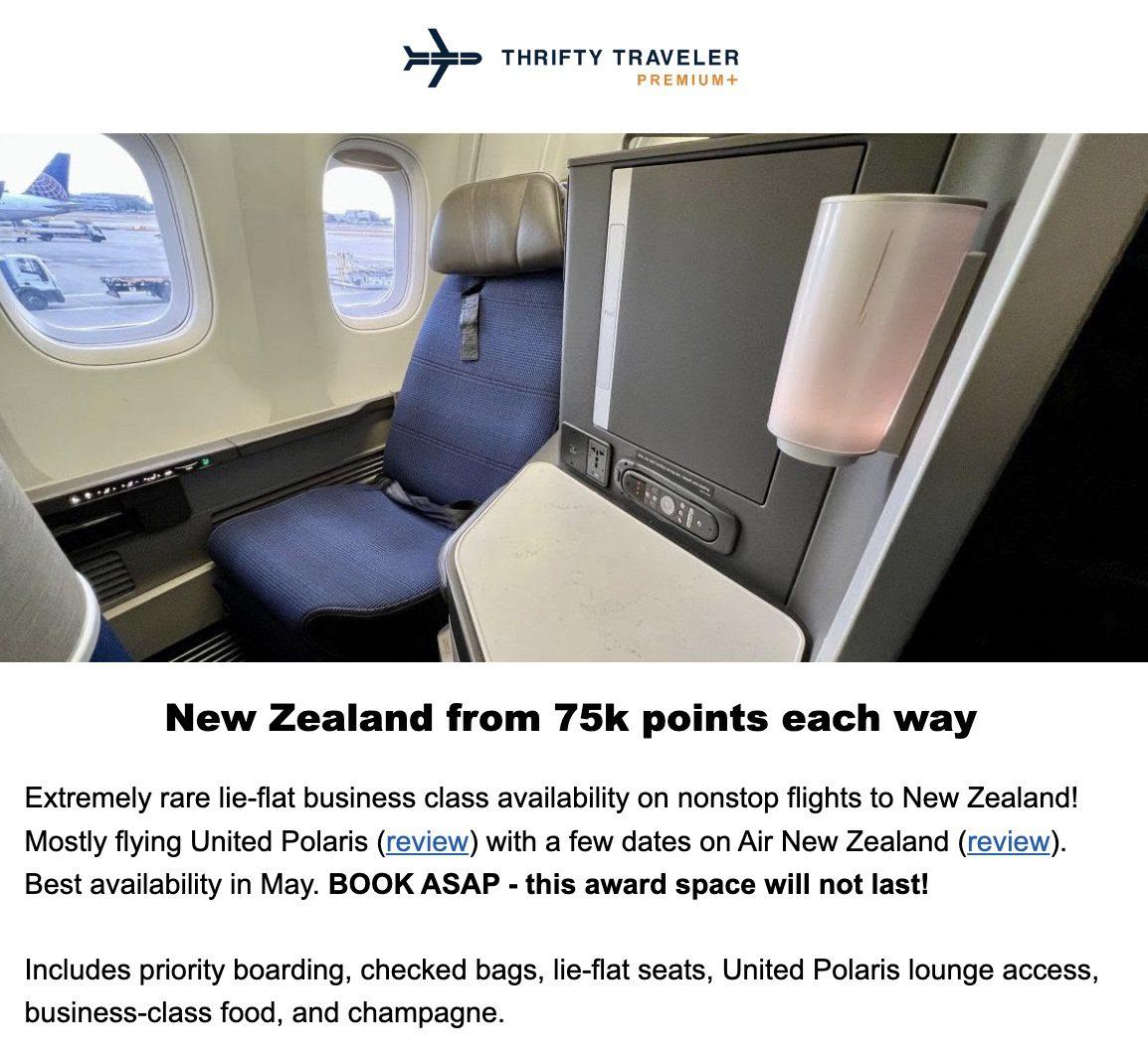 For 75,000 Air Canada miles you could fly lie-flat to Auckland (AKL) this year or next. This rare availability to New Zealand was one of our favorite SFO-based business class deals of the last year.
Honorable Mention: Seattle (SEA)
A little further up the coast is Seattle, Washington (SEA). And while Sea-Tac Airport isn't the best-connected hub on the Pacific, there's tons of business class value to be found.
This one-stop itinerary on Condor Airlines business class from SEA to the Indian Ocean island of Mauritius (MRU) is a crazy deal.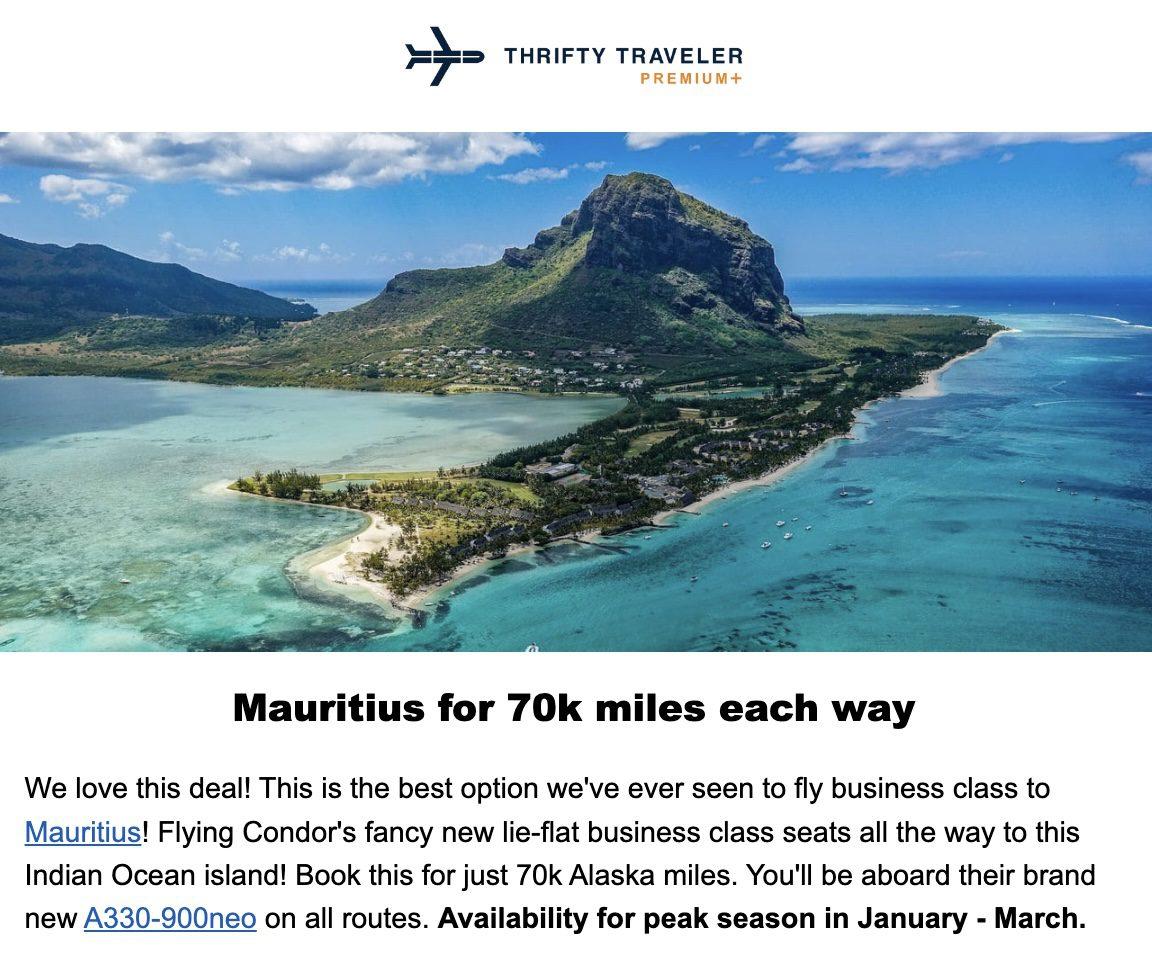 Just 70,000 Alaska miles is a spectacular fare for what is close to 24 hours of flying. You'll want (and need) a business class seat for that journey!
The Best Non-Coastal Airports for Cheap Business Class Flights
Chicago (ORD)
Why should the coastal cities have all the fun? What about middle-of-the-country folks? For everyone in flyover country, there are two options that are better than the rest for finding business class flight deals: Chicago and Dallas.
Chicago's O'Hare International Airport (ORD) is one of the best airports for business class deals in the country. Does a nonstop flight to Ireland (DUB) in a lie-flat seat sound good to you? Of course, it does.
These Aer Lingus business class seats start at just 60,000 Aer Lingus Avios each way.
But O'Hare is known best for being a prolific United Airlines hub, and that means United Polaris Business Class seats are leaving runways in Chicago constantly.
This latest United Polaris business class deal we sent subscribers could connect travelers to Belgium, Germany, and Switzerland next winter, letting you fly lie-flat to Europe in peak ski season!
Dallas (DFW)
To the south, Dallas-Fort Worth International Airport (DFW) is another amazing option for travelers looking for a lie-flat, champagne-soaked journey across either ocean.
Emirates Airlines and its crazy comfortable business class flies from DFW to Dubai (DXB) every day, and 118,000 points will put you in one of those seats. If you take advantage of a transfer bonus, you could even book these for as low as 99,000 points.
Heading the other way, this transpacific flight from Dallas to Melbourne, Australia (MEL) is a gem of Qantas' international network. Because it's such a unique route, business class availability is tough to come by, but not impossible…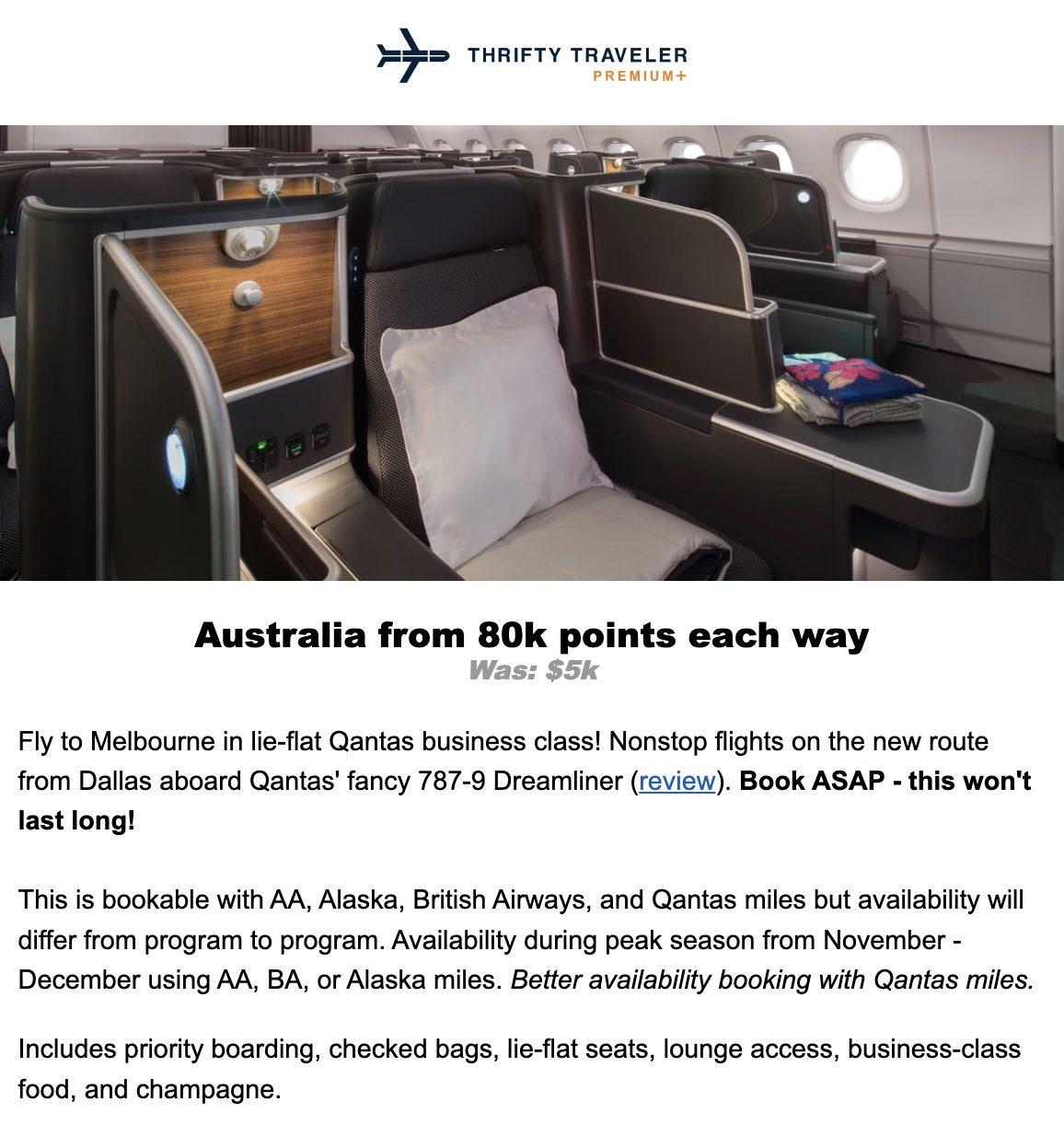 Honorable Mention: Houston (IAH)
Houston (IAH) is a huge international gateway, no doubt. But business class availability isn't as robust as it is compared to its northern neighbor in Dallas.
Still, Houston can be a great place to check for award availability, especially on this wacky fifth freedom route on Singapore Airlines from Houston to Manchester, England (MAN).
You could snag a business class seat on the world's best airline for just 81,000 points.
The Best Canadian Airports for Cheap Business Class Flights
Toronto (YYZ)
For our readers and subscribers in Canada, business class awards are best found at the country's two most prominent eastern airports. The best one is surely Toronto (YYZ), where hundreds of business class seats depart every day.
And one of the best business class seats flying over the Atlantic from Toronto is on Condor Airlines.
This beautiful airplane seat can be booked with cash for less than $2,000 in some cases, like when we sent this deal to our subscribers.
Like New York, Toronto's network goes the other way as well. This memorable EVA Air business class deal featured almost all of EVA's North American gateways, including YYZ.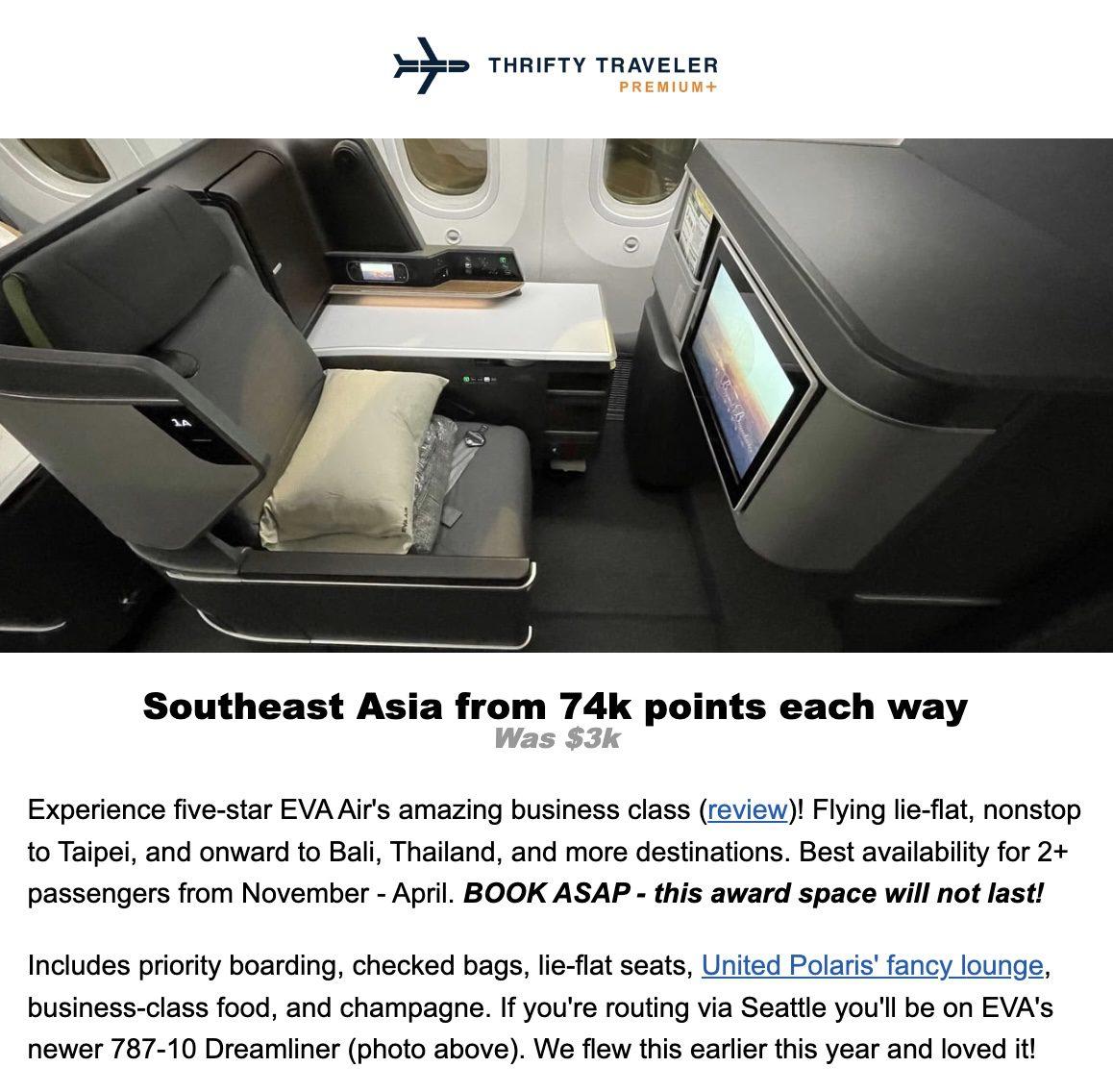 Only 88,000 Air Canada Aeroplan miles were required to make this seat yours for the long, long transpacific journey.
Montréal (YUL)
Montréal (YUL) is a close second when it comes to business class availability from Canada. It also has a pretty robust international network, including Qatar Airways service. And you know what that means…QSuites!
You can find these seats to Doha (DOH) for 70,000 American Airlines AAdvantage miles. But the best part is you can tack on connections to the Middle East for 75,000 total, to Africa for 85,000 total, and South Africa for 90,000 total.
Montréal also has unique routes like this one to Morocco (CMN) on Royal Air Maroc business class, which is sometimes bookable roundtrip for just $1,580.
Bottom Line
When it comes to getting a lie-flat seat, whether you're paying in cash or in points and miles, not all airports are created equal.
Your best bet is to search for flights from one of these airports where business class deals are most common and use strategies like booking positioning flights to get yourself horizontal in an airplane seat this year or next.