You have a few points and you want to book a Mexican beach vacation. Let us handle the rest.
Cheap flights to Mexico aren't that hard to find if you know where to look, but using points and miles to fly to Mexico can save you cash that would be better used on hotels, taxis, tacos, and frozen margaritas instead.
Lately, Delta SkyMiles flash sales to Mexico have been easier than usual to find as Delta looks to fill empty seats heading south this fall and winter. But the other airlines aren't letting Delta have all the fun to themselves. With a few American miles, British Airways Avios, United miles, or Virgin Atlantic miles, you could book yourself a roundtrip down to Mexico for just a handful of points. And that includes comfy seats in first and business class, too!
Let's take a look at some of our recent favorite Thrifty Traveler Premium flight deals flying to Mexico and see if we can't find the perfect use for your points to fuel your winter escape.
Delta SkyMiles Deals to Mexico
Delta SkyMiles are the trickiest airline miles out there. They're easy to earn thanks to Delta's points-earning partners and their co-branded American Express credit cards, and they're easy to use because you can use your SkyMiles to book any Delta flight if the seat is available. But SkyMiles rates aren't tied to a traditional award chart, meaning the airline can pretty much charge whatever they want for the flight you might want to book.
While that might sting if you're looking to fly Delta One Business Class, it also leads to some tremendous value in the form of Delta SkyMiles Flash Sales.
Read Next: The Best Ways to Earn Delta SkyMiles in 2023
Delta often slashes SkyMiles rates to its Mexican destinations, and when those prices drop, we catch them in our daily searches and alert our Premium members right away. The end result…this:
Many of these flights will cost you $400 or more roundtrip, so if you want to travel with two or more peopl, you're quickly getting close to $1,000 on flights alone for your trip! All of a sudden 16,000 SkyMiles is looking like couch cushion change.
More often than not, Delta's putting its nonstop flights on sale. Delta flies to Cancún (CUN), Cozumel (CZM), Puerto Vallarta (PVR), and San Jose del Cabo (SJD) among others.
If you see a roundtrip, nonstop Delta flight to Mexico for less than 10,000 miles, run – don't walk – to book it!
This wasn't the only time fares like this popped up, either.
Just a few weeks earlier, we dug up this widespread sale on SkyMiles fares to PVR and SJD on the west coast of Mexico. Not only was that same 9,000 SkyMiles fare for LAX-SJD there, but for just a few SkyMiles more, you could get there from places like Baltimore (BWI) for 11,000 SkyMiles, Fargo (FAR) from 16,000 SkyMiles, and all the way up to Idaho Falls (IDA) from 15,000 SkyMiles.
And if you live in a place like Idaho Falls, it's hard to overestimate how huge these peak season savings are. Otherwise, you could be looking at fares like this:

If only sales like this became available to Cancún, too…
Oh wait, of course they do! SkyMiles flash sales to Cancún come about a few times a year, and our Premium members always get the chance to take advantage.
This sale was just as widespread as the PVR and SJD one, featuring departure cities like Aberdeen, South Dakota (ABR), Boise, Idaho (BOI), and Butte, Montana (BTM).
If you have Delta SkyMiles, you have a way to book that escape to Mexico this fall or winter. And with Thrifty Traveler Premium, all you have to do is watch your inbox!
Use American, British Airways, United, or Virgin Miles, Too!
Want to fly Delta, but cash or SkyMiles fares are too high? We have a workaround.
Virgin Atlantic is a close partner of Delta, meaning you can use Virgin points (transferable if you have credit cards points from Chase, Capital One, and American Express) to book nonstop Delta flights.
Look at all of these routes that you could book with Virgin points! And the best part about booking Delta flights through Virgin Atlantic is you're always booking at least Main Cabin, meaning you can pick your seats the second you book, too.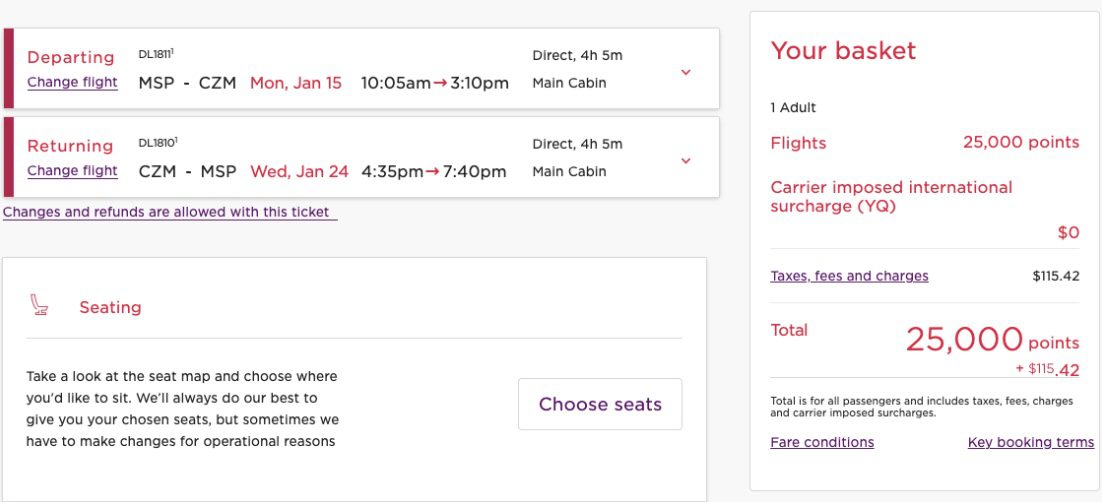 The Minneapolis (MSP) to Cozumel (CZM) route was just added by Delta, and Virgin had it available for just 25,000 points roundtrip just a few months ago. It's an amazing use of points to book a flight that would otherwise cost you upwards of 50,000 Delta SkyMiles.
Another Mexican locale that many travelers have circled on the map is North America's largest city: Mexico City.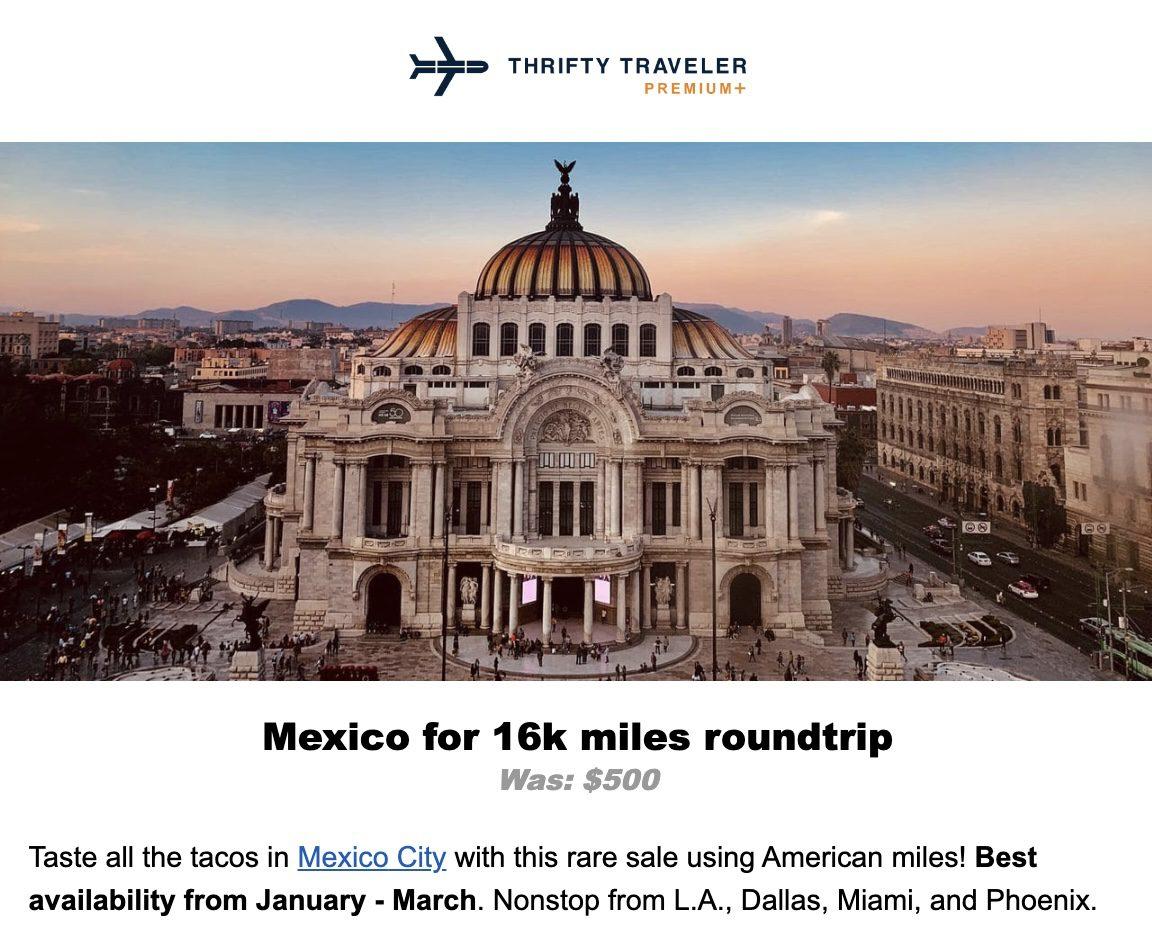 American Airlines flies to Mexico City (MEX) from many of its hubs, and from time to time, they put those flights on sale using your American Airlines AAdvantage points, too!
Just 16,000 AAdvantage miles is enough for a roundtrip flight to Mexico City this fall or winter, meaning you could save hundreds of dollars and use those points instead.
But we can do even better. Don't you hate walking down the aisle past the first class seats and resenting the people sitting up there sipping champagne? You could be one of the resented ones!
This business class flight deal on nonstop flights to Mexico flying American Airlines is a phenomenal value. Just look at all these nonstop routes and the rates you could book to fly in the comfy seats.
Plus, you can book with American AAdvantage miles or use British Airways Avios, which you can transfer to from American Express, Bilt, Capital One, or Chase.
Finally, there is a comically comfortable way to fly nonstop to Cancún (CUN) and that's in a United lie-flat seat. We're not joking…
For 20,000 United MilelagePlus miles each way, you can fly lie-flat to Mexico from Houston (IAH). It's just a 2.5-hour flight, which is hilariously short for a lie-flat seat, but if you want to experience extra comfort for a special occasion, or just experience a lie-flat seat for kicks, this is an amazing opportunity to do so.
Bottom Line
Save your cash and use your miles to book your next flights to Mexico. Delta SkyMiles flash sales have been more prevalent for flights to places like Cancún, Puerto Vallarta, and Cabo San Lucas, and other airlines like American and United have started offering points and miles flash sales on their own flights, too.
If a trip to Mexico is in your sights, make sure to dig into the best ways to use points and miles to fly there instead. Or subscribe to Thrifty Traveler Premium and get alerted to the best deals as soon as we find them.