Starting today, Capital One cardholders can now transfer points from the Venture card and a few others directly to 15 different airline partners. It's a big change for one of the simplest ways to redeem points, but one that can add some extra value for cardholders.
Capital One shook up the points and miles world when it first announced this change last month. They're taking a page out of the books of Chase, American Express, and Citi – banks that give users the option of booking fares directly with points or transferring them to travel partners.
After weeks of preparing and analyzing, cardholders can now make these transfers. What's more, Capital One added two more transfer partners in time for the launch date: Singapore Airlines and Emirates. You can transfer points to most of these partners at a 2:1.5 ratio, though these two new additions transfer at a poorer 2:1 ratio.
We've cooked up a separate guide on how to actually transfer Capital One points. But here's a refresher on how it all works and what to be aware of.
Falling Short of Chase and the Other Competition
There's no question that this will be a big improvement for Capital One Venture points. The ability to transfer points or book directly is what makes bank points so valuable.
But while the added flexibility to Capital One points is great, the value isn't nearly as good as Chase and other competitors. That's because of a comparatively poor transfer ratio. Every 2 Capital One points will transfer to 1.5 airline miles to 12 transfer partners. It's worse for newcomers Singapore and Emirates – every 2 points transfers to just 1 airline mile.
Take the Capital One Venture Card's 50,000-point sign-up bonus which can be earned after spending $3,000 in the first 3 months. Transfer it to most airline partners, and you'll have 37,500 miles. Compared to the 1:1 ratio you get with most transfers through Chase, American Express and Citi, it's disappointing as far as utilizing a sign-up bonus is concerned.
Long-term, it could be a different story. Because this card earns 2x points for every dollar spent, you can use this new transfer feature and get 1.5 airline mile for every dollar spent. That's great, and it makes a mainstay in many travelers' wallets far more valuable.
One thing really stands out about this new transfer function. While you have to transfer at least 1,000 points, after that you can tack on increments of just 100 points. That's different than American Express or Chase, which require transfers in increments of 1,000. That could make Capital One your best option if you need to top off an account in order to finish off a redemption.
We're anxious to see whether Capital One will offer occasional bonuses when transferring to specific partners. Capital One hasn't commented on whether transfer bonuses would be available. We see this all the time with both Citi and American Express, such as recent promotions to get a 30% bonus on transfers to Virgin Atlantic.
Which Transfer Partners are Best? 
Not all airlines are created equally, and neither are their frequent flyer miles.
That means that there are just a handful of partners among this crop of 15 options that are worth considering. Capital One says these transfers will take up to five business days, though many should post within the same day. Here's the full list of options.
| Program | Type | Ratio | Transfer Time |
| --- | --- | --- | --- |
| Aeromexico | Airline | 1:1 | Same day |
| Air Canada Aeroplan | Airline | 1:1 | Same day |
| Air France/KLM | Airline | 1:1 | Same day |
| Avianca LifeMiles | Airline | 1:1 | Same day |
| British Airways | Airline | 1:1 | Same day |
| Cathay Pacific AsiaMiles | Airline | 1:1 | Up to five business days |
| Emirates | Airline | 1:1 | Same day |
| Etihad | Airline | 1:1 | Same day |
| EVA Air | Airline | 2:1.5 | Up to five business days |
| Finnair | Airline | 1:1 | Same day |
| Qantas | Airline | 1:1 | Up to five business days |
| Singapore | Airline | 1:1 | Up to five business days |
| TAP Air Portugal | Airline | 1:1 | Same day |
| Turkish Airlines | Airline | 1:1 | Same day |
| Virgin Red | Other | 1:1 | Same day |
| Accor | Hotel | 2:1 | Up to two business days |
| Wyndham | Hotel | 1:1 | Same day |
| Choice Hotels | Hotel | 1:1 | Same day |
Avianca Lifemiles is a favorite, with a good award chart for domestic flights in the U.S. as well as international trips. But better yet, they pass on few fees and no fuel surcharges, so the cash price on an award ticket booked through Avianca will be low. A long-time transfer partner with Citi, Lifemiles was recently added as a transfer partner of American Express. Adding Capital One to the fold just makes it easier to pile up Lifemiles. Read our guide to using LifeMiles.
FlyingBlue is the combined mileage program for Air France and KLM, and it's another program worth keeping in mind. That's due in large part to the fact that it's already transfer partners of all the major banks: Chase, Citi, and American Express, as well as Marriott Rewards. That makes FlyingBlue miles insanely easy to earn. FlyingBlue recently followed Delta's lead and axed its award chart, implementing variable pricing for award flights. But it offers monthly promo rewards flights, with big discounts on traveling between the U.S. and Europe and elsewhere.
Aeroplan is another solid transfer partner. As the airline program for Air Canada with a strong award chart, it's a great way to book Star Alliance flights globally. The catch is that Aeroplan tends to pass on heavy fees on many flights to and from Europe. Aeroplan is already a transfer partner of American Express, so the addition of Capital One will make it even easier to earn Aeroplan miles.
And finally, there's Singapore Airlines. The world's #1 airline, it's got one of the best business class and first class cabins – and the only way to book them is with Singapore miles. But with a 2:1 transfer ratio, it's not the best option. And because you can already get Singapore miles by transferring from Chase, Citi, and Amex, we'd consider transferring Capital One points that way only as a last resort.
Getting Capital One Points
The number one way to get some Capital One points is with the Capital One Venture card. It's a mainstay in travelers' wallets for a reason, and it's only gotten better.
In August, Capital One added a credit to receive up to a $100 Global Entry or TSA PreCheck once every four years. And yet the annual fee remains just $95 – and that's waived in the first year.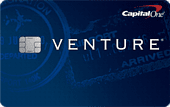 Click Here to learn more about current offers for the Capital One Venture card. 
But the Venture Rewards card isn't the only card that can transfer points. You can also transfer points from the no-annual-fee Capital One VentureOne Rewards card and the Capital One Spark Miles Select for business cards. The VentureOne card earns 1.25x miles per dollar spent on all purchases and the Spark Miles Select card earns 1.5x miles per dollar on all purchases.
Click Here to learn more about the no-annual-fee Capital One VentureOne card. 
Bottom Line
This move was unexpected, but it's finally here. The ability to transfer points to airlines is an exciting addition for Capital One cardholders. Just make sure you're doing the math to ensure it's the best use of those points. And use the right partners to get the best bang for your buck.