Millions of Americans have returned to travel thanks to cheap airfare, but booking a future trip can feel dicey given the continued uncertainty surrounding travel. That's why you should turn to a stash of Delta SkyMiles to book your next getaway instead.
We've seen airlines cut prices on flights as far out as November 2023, making it a great time to book your future travels. Yet some of the best deals we've sent to our Thrifty Traveler Premium members in recent months have been Delta SkyMiles flash sales, with deeply discounted award rates to fly somewhere near and far.
We're talking just 6,000 to 9,000 SkyMiles roundtrip to fly to great domestic destinations like Denver (DEN) or Las Vegas (LAS). How about a beach getaway to Jamaica's Montego Bay (MBJ) for 11,000 SkyMiles apiece – or a trip to London next year for 32,000 SkyMiles roundtrip? And even an amazing redemption to fly business class to Tel Aviv (TLV) for just 85,000 SkyMiles.
But it goes beyond savings. Best of all, booking with SkyMiles is the perfect way to future-proof your travels with flexibility, especially as travel restrictions and rules continue to shift worldwide.
Booking With Flexibility
One of the few silver linings of the pandemic's impact on travel is that it forced airlines to give travelers more flexibility.
For all but the cheapest basic economy tickets, airlines have done away with change fees … for good. That means you can buy a flight now, then change your dates without paying $200-plus in additional fees – though you'd be on the hook for a fare difference. Better yet, you can cancel your ticket and get a voucher for the value to use later on.
But booking with miles can be even better. And that's especially true of Delta SkyMiles.
When it kicked changed fees to the curb, Delta also ditched the $150 redeposit fee to cancel a SkyMiles award ticket to get your miles – plus the taxes and fees – back to your account. For travel through the end of 2023, any ticket booked with SkyMiles (including Delta's basic economy awards). From 2022 onward, all main cabin fares still get free cancellation, which could easily make it worth spending a few more SkyMiles.
And that's a huge deal. It means there's no need to worry about using a voucher or fighting the airline for a refund. Just book your flights with SkyMiles, monitor the situation as COVID-19 continues to unfold, and cancel it to get your miles back free of charge if necessary. 
Typically, only top Medallion status holders got that treatment. But now it works for all SkyMiles members. That's a big win for travelers and flexibility.
Canceling these SkyMiles award tickets is simple, too. You can easily cancel the ticket online by navigating through "My Trips" and choose to modify your flight. So long as your flight meets the waiver criteria, you can cancel it and get your miles back immediately – though in some cases it may take a few days. Any taxes and fees you paid will be refunded to your credit card, too.
Read our guide on the best ways to earn Delta SkyMiles!
Delta's policy is among the most generous you'll find for booking award tickets with miles. But some of the incredible sales lately we've seen take the advantages of using SkyMiles to another level.
Great Rates on SkyMiles Fares
Flexibility to cancel and get your miles back is one thing. But when award fares are cheap, it's even better.
Delta uses dynamic award pricing, which is a fancy way of saying "we charge you whatever we want." That can sometimes mean sky-high award rates – especially when cash prices for a flight are high. But as airlines have slashed prices to try to drum up ticket sales, we've seen some unbelievable Delta SkyMiles flash sales come back. This is Delta's way of discounting award rates on its own flights, with steep discounts you won't find using other carriers.
Just take a look at some of the recent sales we've sent to Thrifty Traveler Premium members for domestic and international flights as far out as fall 2023!
Domestic SkyMiles Deals
SkyMiles continue to be one of the best values for domestic flights. In fact, we've seen lower
Recently, we found this SkyMiles deal to Los Angeles (LAX). While the example we found for just 5,000 SkyMiles roundtrip, but this deal included availability all the way through August 2022! And in this case, you could opt up to a cancellable main cabin award for just 2,000 to 3,000 SkyMiles more – easily worth it for more flexibility.
Want the best SkyMiles deals sent straight to you? We send award alerts like this one to Thrifty Traveler Premium members!
If you'd rather trade the beach for the bright lights and a show, Las Vegas is another great destination. This deal we found to Sin City included some single-digit SkyMiles roundtrip fares through the winter season from all of Delta's hubs. Save those dollars for the blackjack table and use just a handful of your SkyMiles instead.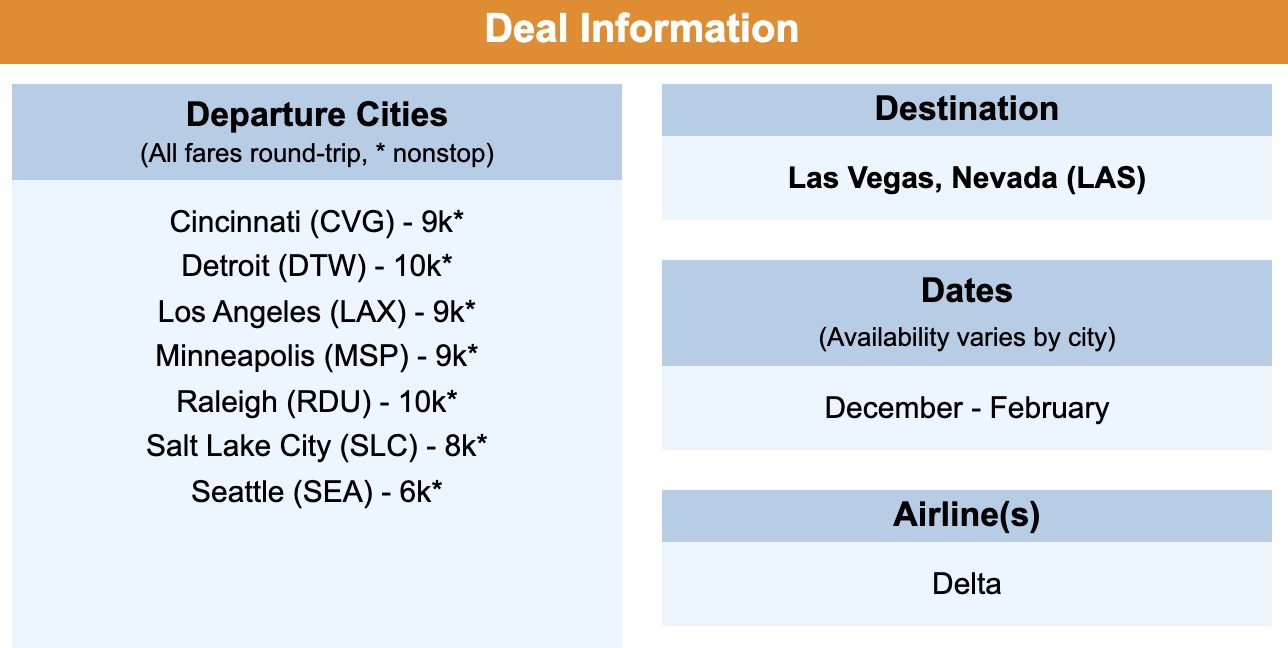 Heading a little further east, you can use your Delta SkyMiles to head to the mountains of Colorado, too. For just 6,000 SkyMiles roundtrip, you could head to the slopes from a bunch of Delta hubs around the country.
While you'll find the lowest rates on basic economy tickets, spending another 3,000 SkyMiles for a main cabin fare is easily worth it so you can change or cancel a trip to the mountains in 2022, if need be.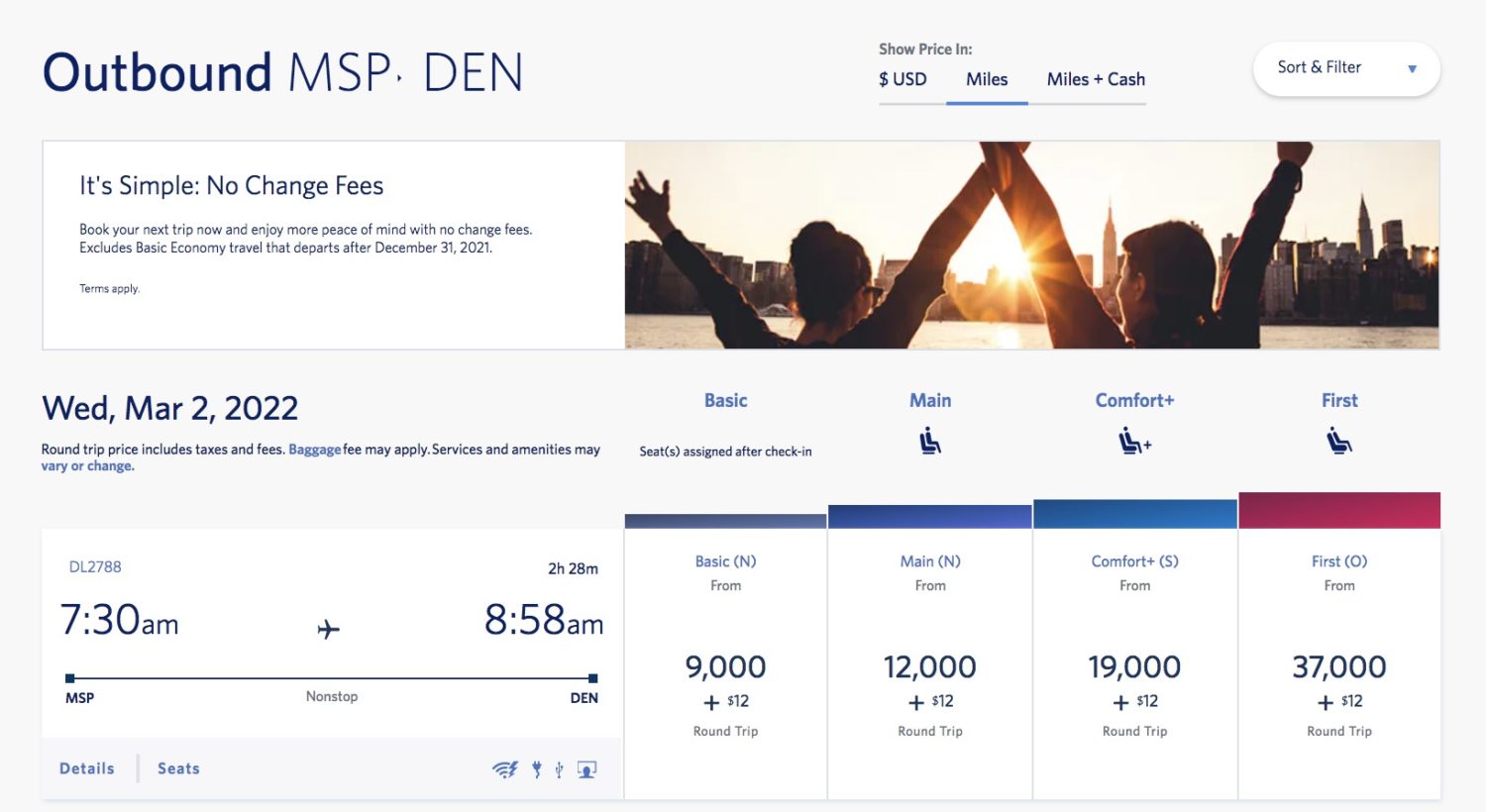 International SkyMiles Deals
If you're looking to really get out of dodge, your Delta SkyMiles can get you to some fantastic destinations all over the world, too.
If heading to the U.K. is on your list for 2022, this SkyMiles flash sale to London was a great reason to cross it off using your stash of miles. It featured availability all the way through April 2022 from just 32,000 SkyMiles roundtrip – all fully refundable main cabin fares, to boot!
Flying in fancy business class seats using SkyMiles can cost you an arm and a leg, but there's one sweet spot that shines: Flying to the Middle East for just 85,000 SkyMiles each way. We found tons of availability to do it in the swanky new Virgin Atlantic Upper Class suites from several U.S. cities to Tel Aviv (TLV) through fall 2022.
And yes, these award fares are fully refundable, too.
Those aren't the only deals we found using SkyMiles to get across the pond next year, either. In between an economy and business class fare were these stellar Delta Premium Select fares for 90,000 SkyMiles roundtrip to more than a dozen European cities through April 2022.

That's a steal for Premium Economy seats that typically cost 150,000 SkyMiles or more. It's another great value and perfect way to use that ever-growing stash of SkyMiles to book a luxurious trip across the Atlantic and back in 2022.
You can cross the Atlantic, you can stay in the States, or you can hop down to the Caribbean using Delta SkyMiles. Jamaica could be the perfect getaway for someone with just a handful of SkyMiles, including this low, low 11,000-SkyMile roundtrip fare to Montego Bay (MBJ) from New York (JFK).

And there are many, many more. As airlines try to chart their course to recovering from the pandemic, we expect to see more cheap flights spring up for travel through 2022. And that will almost certainly mean more dirt-cheap SkyMiles deals.
Need more ideas? Check out our list of the absolute best ways to use Delta SkyMiles.
How to Earn Delta SkyMiles
It's never too late to earn more SkyMiles for the next great flash sale around the corner. And given the flexibility of booking with SkyMiles, that's a wise move.
From the entry-level Delta SkyMiles® Gold American Express Card to the top-tier Delta SkyMiles® Reserve American Express Card, Delta's suite of co-branded Amex cards is a solid option. But we've seen even bigger bonuses on these cards than what's currently available, so it may be worth waiting.
Instead, look to the non-Delta Amex cards that earn Membership Rewards Points. You can easily transfer Amex points from the Platinum Card® from American Express or the American Express® Gold Card straight to your Delta SkyMiles account.
Take a hard look at the American Express® Gold Card, which we think is one of the best all-around credit cards, period. That's because it earns 4x points per dollar at restaurants worldwide and U.S. supermarkets (up to $25,000 spent, then 1x), as well as 3x points per dollar on travel. It starts with a 60,000-point bonus after spending $6,000 within six months – but check to see if you're eligible for a whopping 75,000-point bonus via CardMatch!
Best of all, you can instantly transfer these points straight to your Delta SkyMiles account to hop on any great deal using SkyMiles.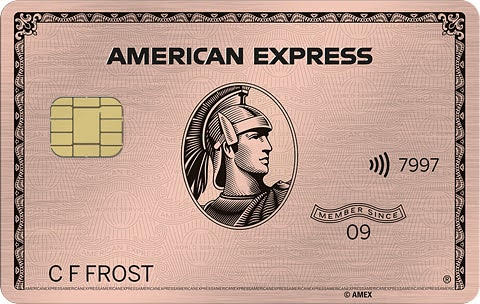 Click Here to learn more about the American Express Gold Card.
If you want a huge stash of points plus other perks like lounge access (including the Delta Sky Club, Amex Centurion Lounges, and thousands more), the Platinum Card® from American Express is for you. It starts with a standard, 80,000-point welcome bonus after spending $8,000 in six months. But be sure to check and see if you qualify for a 150,000-point bonus for the same spending requirement.
In addition to that bigger welcome bonus, you'll also earn 10x points for every dollar you spend at restaurants worldwide and at small businesses in the U.S. on up to $25,000 during the first six months of card membership! Earn the welcome bonus and maximize that 10x multiplier and you can earn as much as 350,000 points. That is unbeatable.
This card carries a hefty fee, at $695 annually (see rates & fees). But with that comes an incredible suite of perks like $200 in travel credits, up to $200 toward free Uber rides, airport lounge access, up to a $100 credit for Global Entry or PreCheck, and more. Those benefits can easily outweigh the annual fee.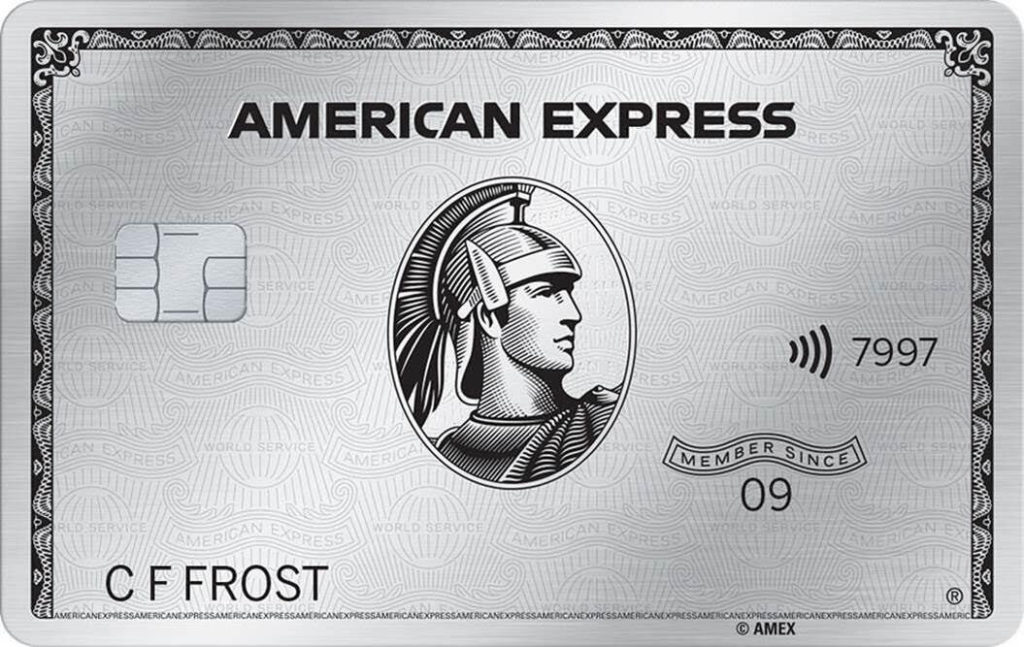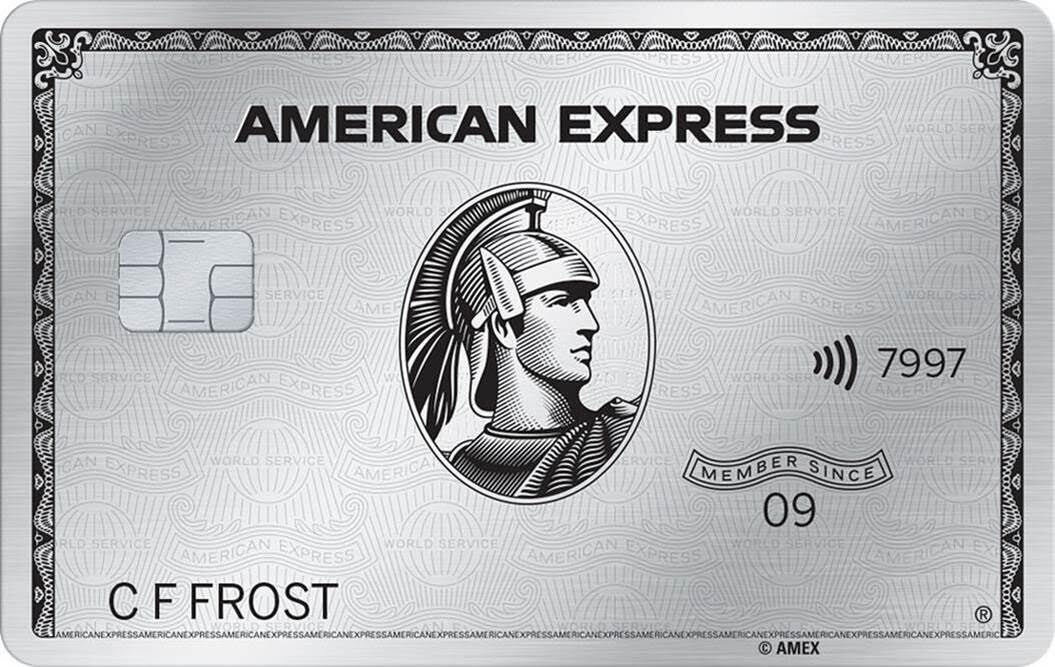 Click Here to learn more about the Platinum Card from American Express. 
Bottom Line
The flexibility and value of using Delta SkyMiles to book a future trip is unbeatable.
With all of the SkyMiles deals we are sending to our Thrifty Traveler Premium members, you can use them to travel further for less in 2023 as well. But most importantly, the ability to cancel your flights booked with SkyMiles and get those miles straight back to your account gives you some unmatched flexibility to plan travel smarter.