Booking Finnair flights to Helsinki (HEL) or elsewhere in Europe using points and miles could get easier (and cheaper) next year … maybe.
Finland's flag carrier announced Wednesday it will soon adopt Avios as its frequent flyer currency. It will join a long list of international airlines allowing travelers to earn and redeem Avios including British Airways, Iberia, and the latest addition, Qatar Airways.
That change will make it easier to pile up miles with Finnair: You'll be able combine Avios between airlines, opening an avenue to transfer points from cards like the *chase sapphire preferred* or the *amex gold* to the Finnish airline. Currently, you can only transfer Capital One miles to Finnair.
It's part of a slew of upcoming changes to the Finnair Plus loyalty program, all of which will be implemented sometime in "early 2024." And there's good news and bad news.
On the bright side for travelers, Finnair says it will increase the number of award seats available on its flights in all cabins, from economy to premium economy to business class. That's welcome news for travelers looking to book one of these plush new Finnair business class seats with points and miles, which have been notoriously difficult to book for more than one passenger.

Finnair says it will guarantee at least eight seats on its long-haul international flights are bookable with points and miles, including two business class and two premium economy seats – at least so long as the plane is outfitted with all those cabins.

While Finnair's own points have been more difficult to earn, you can also book Finnair flights using miles from other Oneworld partner airlines like American Airlines, British Airways, and Qantas. Lower award rates make it an appealing option … but you can typically only book just one seat on the long-haul flights between the U.S. and Finland through an airline like American.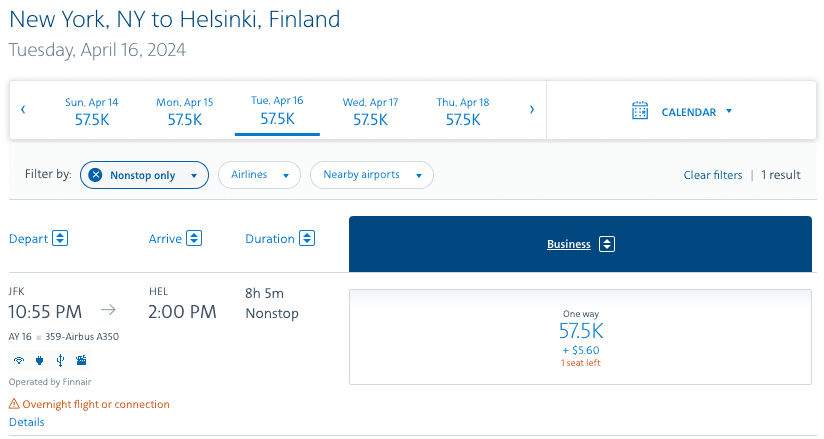 There's no guarantee Finnair will allow flyers with American AAdvantage miles to book two seats. Even so, it'll be much easier to book two lie-flat seats using credit card points through Finnair itself – not leaving your companion back in coach.
That's because Finnair confirms you'll be able to transfer Avios between Finnair and British Airways. That means you could transfer points to British Airways from American Express, Chase, Capital One, and even Bilt Rewards, then kick them over to Finnair. It's an extra step, but it's a new way to easily earn points with Finnair.


Plus, a change to Finnair's award chart – the cheat sheet determining how many miles you need to fly from point A to point B – will make these awards cheaper. Finnair says it will adjust its current award rates on a 3:2 basis. That means a Finnair business class seat that you can currently book for 95,000 points each way will cost 63,333 points after the changeover.
Here's Finnair's current award chart.


Anyone have Finnair Plus award points currently? Those will also be converted to Avios on a 3:2 basis, an even changeover.
But the big downside of these looming changes is how you'll earn Avios with Finnair going forward. The airline plans to move away from its current system that awards miles (and elite status) based on how far you fly, instead crediting miles based on the price of a ticket. That's a negative change that many major airlines in the U.S. and abroad have made over the last decade.
Exactly when Finnair will officially adopt Avios and move over to its new award chart isn't clear. Finnair says it announce a date for these changes later this year.
Bottom Line
Finnair plans to make some big changes to its frequent flyer program, adopting Avios as the points and miles currency travelers can use to book flights while promising to increase the number of award seats you can actually book using miles.
Right now, there are more questions than answers about these changes and what they might mean for travelers. But it's not happening anytime soon anyways: Finnair says these changes won't go into effect until early next year.