Chase shook things up on Monday by announcing a 30% bonus on transfers to British Airways, the first time the bank has offered such a bonus.
And while getting a 30% boost when transferring miles to British Airways opens up some great travel opportunities, this news is bigger than just one bonus.
It's a signal that, after years of slipping behind other banks like American Express and Citi in offering these bonuses, Chase is taking it seriously. It seems safe to say that this won't be the only transfer bonus we'll see from Chase.
And that matters. These transfer bonuses are essentially free miles, giving you an easy way to book travel for fewer points. 
How Transfer Bonuses Work
First, let's cover some basics.
The ability to transfer credit card points like Chase to specific airline and hotel is what sets these bank cards apart from traditional airline miles.
And with Chase, every Ultimate Rewards point you transfer becomes 1 airline mile or hotel point – no matter which account you send it to. That 1:1 transfer ratio has been both a blessing and a shortcoming.
| Program | Type | Transfer Ratio | Transfer Time |
| --- | --- | --- | --- |
| Aer Lingus | Airline | 1:1 | Instant |
| Air Canada Aeroplan | Airline | 1:1 | Instant |
| Air France/KLM | Airline | 1:1 | Instant |
| British Airways | Airline | 1:1 | Instant |
| Emirates | Airline | 1:1 | Instant |
| Iberia Plus | Airline | 1:1 | Instant |
| JetBlue | Airline | 1:1 | Instant |
| Singapore Air | Airline | 1:1 | 12-24 hours |
| Southwest Airlines | Airline | 1:1 | Instant |
| United Airlines | Airline | 1:1 | Instant |
| Virgin Atlantic | Airline | 1:1 | Instant |
| World of Hyatt | Hotel | 1:1 | Instant |
| IHG | Hotel | 1:1 | 1 day |
| Marriott Rewards | Hotel | 1:1 | 2 days |
American Express and Citi have led the way in sweetening the deal with transfer bonuses. Every few months, both credit card companies have come out with these targeted bonuses when transferring points to a specific airline. They typically range from 10% to as high as 40%, and last a few weeks to a month or more.
But Chase has resisted following suit. Until now.
The Next Frontier in the Fight for Your Wallet
Credit cards are big business for banks, and the competition between the likes of Chase, American Express, Capital One, and Citi is cutthroat. And that's especially true for travel rewards credit cards.
That's why we see banks constantly adding perks like credits to cover Global Entry or TSA PreCheck. It's why banks ratchet up welcome bonuses, like Chase's recent move to offer 60,000 points on the Chase Sapphire Preferred after spending $4,000 within the first three months.
Each bank is doing all it can to convince you that its card is worth more than its competitors'. 
And there can be enormous value in these transfer bonuses – again, they're basically free airline miles. The ability to get some extra airline miles for free was one of the primary reasons why we said we thought American Express points were worth more than Chase.
Let's look at a recent example to hammer this home. Two of our team members capitalized on a 30% bonus when transferring American Express points to Virgin Atlantic. Why? Because Virgin Atlantic offers one of the cheapest ways to fly First Class on the outstanding Japanese airline ANA.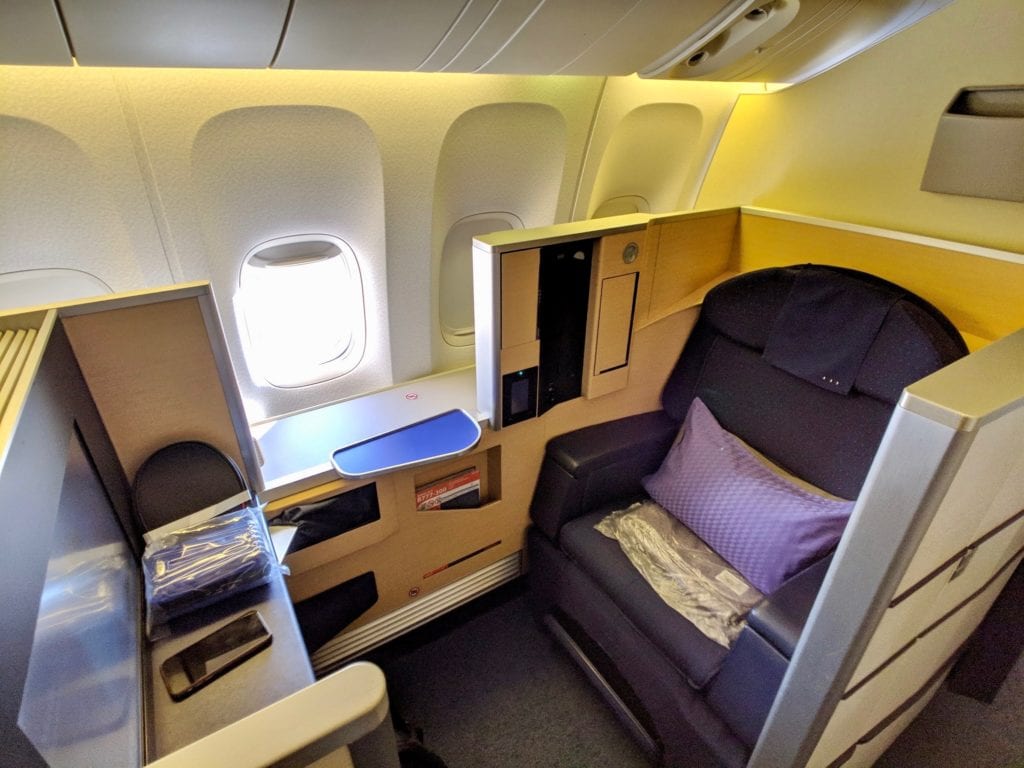 Tickets for these spacious suites typically cost $20,000 or more round-trip. And while other airlines like United charge 110,000 miles for a one-way flight, Virgin Atlantic charges as low as 110,000 roundtrip. 
With that 30% transfer bonus, 85,000 American Express points became more than 110,000 Virgin Atlantic miles. And needless to say, booking a $22,000 flight for 85,000 points is an absolute steal. It's one of the best deals in the world of miles and points, made possible by a transfer bonus. 
What Partners Will See Transfer Bonuses?
We know British Airways will be the first beneficiary of Chase's new transfer bonus. But what will come next – if anything?
These transfer bonuses are a two-way street. The airline or hotel chain and the bank need to agree to make it happen.
So that said, it's safe to assume that some of the usual suspects we've seen from both American Express and Citi are the most likely candidates to crop up with Chase, as the three big banks share several airlines as transfer partners. Capital One recently launched the ability to transfer points, though its first transfer bonus to Emirates was lackluster.
Here are some of the transfer partners where we've seen other banks offer transfer bonuses:
We've seen both Citi and American Express offer transfer bonuses three times in the last year to Virgin Atlantic as high as 30%.

Air France/KLM's Flying Blue mileage program is a frequent benefactor of transfer bonuses that is also a transfer partner of Chase.
Though Chase started with British Airways alone, we saw an outstanding 40% transfer bonus to British Airways, Iberia, and Aer Lingus – all part of the same parent company – from American Express last year.
As for Chase's other travel partners, it's tough to say for sure whether the bank will ever step it up with transfer bonuses. Bonus miles when sending points to Singapore Airlines would be a welcome way to reduce the cost of booking the airline's amazing business class seats. But that may be a tall order.
As United transitions to dynamic pricing after axing its award chart, a transfer bonus isn't unthinkable. But Chase and United's relationship is a tad rocky.
Bottom Line
There's a lot to love with these new Chase transfer bonuses. We're hopeful – and all but certain – that this bonus when sending points to British Airways is just the first of many such bonuses to come.