Since its launch last fall, we've written almost nonstop about the Capital One Venture X Rewards Credit Card. And there's a reason for that: We're convinced it's the single-best travel credit card on the market.
There's no one-size-fits-all answer when it comes to travel credit cards – the perfect card for one traveler could be useless for the next. Which credit card is right for you depends upon your travel goals, spending patterns, and personal financial situation.
But after more than a decade immersed in the travel credit card landscape, we can't think of a single card that ticks more boxes for our readers and our Thrifty Traveler Premium members than the Capital One Venture X Rewards Credit Card.
It offers premium travel perks like lounge access at a fraction of the annual fee cost of its competitors. It has a solid welcome offer bonus of 75,000 Venture Miles after spending $4,000 in three months, and most importantly, it offers the simplest avenue to book cheap flights for free … while also allowing travelers to dive deeper into points and miles with Capital One transfer partners to maximize the value of their miles.
Read on for five reasons why we think Venture X is such a great option for travelers.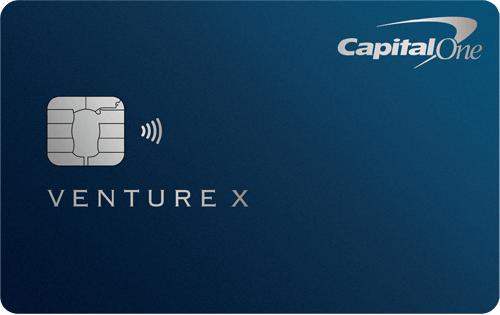 Click Here to learn more about the Capital One Venture X Rewards Credit Card
A Solid Welcome Bonus Offer
The first reason to look at any new credit card almost always starts with a welcome bonus – that's what all travelers want, right? And that's exactly what Capital One did with the new Venture X Card.
You can earn a massive 75,000-mile welcome offer bonus after spending $4,000 in the first three months of card membership.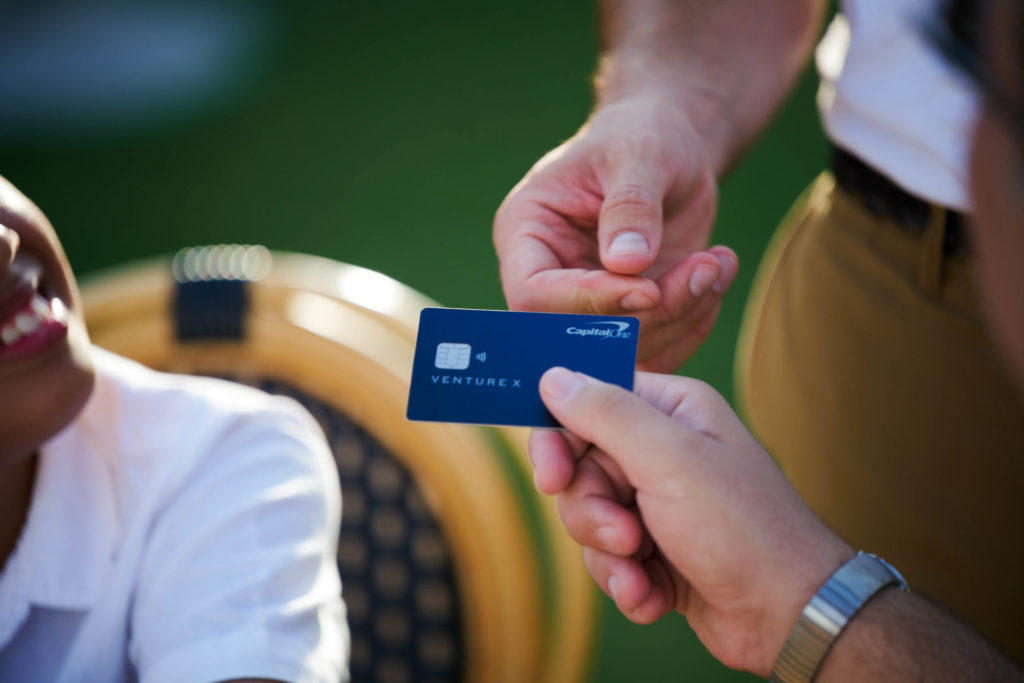 Considering you'll earn 2x Venture Miles on every dollar you spend, you'll end up with a minimum of 83,000 miles once you complete the spending requirement.
Those miles are worth at least $830 towards any travel expense, easily making it one of the best welcome bonus offers available right now.
Credit cards are serious business, and no one should open a credit card and spend thousands of dollars they don't have just for the sake of earning points. But if you have the financial means and responsibility to open a new credit card without spending money you don't actually have, now is a great time to apply.
The Easiest Way to Redeem Miles Toward Travel
Forget searching airline sites, messing with travel portals, or trying to decipher airline award charts or how airlines set how many miles they charge for a flight. You won't find an easier way to use points and miles on your travel than covering travel purchases with miles with a Venture X Card.
It works like this: Book any travel expense with your Venture X Card – a cheap flight you see here or through your Thrifty Traveler Premium membership, a hotel, a rental car, or a cruise – then go back to cover your purchase using your Venture Miles. Every mile is worth 1 cent, which means you can cover a $500 travel purchase using 50,000 Venture Miles.
You won't find an easier way to redeem miles – period. It means you can search for a flight using Google Flights, book direct with the airline, then cover the entire cost using your miles to make it free.
Plus, Capital One gives you some incredible versatility to use miles to cover travel purchase that you can't otherwise cover with points and miles. Capital One's definition of "travel costs" is incredibly broad, from the basics like flights and hotels to Airbnb stays and Uber rides, to flight and hotel purchases, tours, and even cruises – all of these count as travel.
Read more: 9 Unique Ways to Use Capital One Miles for Travel
That's some unbeatable flexibility to use miles for travel purchases. It's a great option for our Thrifty Traveler Premium members as it allows you to use Capital One Venture Miles to book every dirt-cheap deal we send – and that's a big part of why we love this card so much.
Capital One Transfer Partners Open Up More
The simplicity is great. But do you want to take things to the next level to maximize the value of your points – maybe even book a business or first class flight? Capital One is a genuine double threat: You can do both.
A few years back, Capital One added the ability to transfer Venture Miles to a handful of different Capital One transfer partners, sending them straight to different airline or hotel programs. But with poor transfer ratios, those Capital One transfer partners weren't a great option … until recently. After a major improvement last year and new partner additions, Venture Miles now transfer to almost all of its nearly 20 airline and hotel partners on a 1:1 basis.
That adds some incredibly valuable ways to use your Capital One miles beyond the easy-to-use option of covering travel purchases with miles – including some niche options you won't find among Chase transfer partners or Amex transfer partners. But these transfers are also a major point of confusion. Are these transfers really worth it? How do they work? And when should you transfer Capital One miles?
The short answer is … yes, absolutely. Let's take a look.
Currently, you can transfer points from your Capital One Venture X Rewards Credit Card from your account straight to 18 different airline and hotel programs. And just last week, Capital One announced that Virgin Red, the loyalty program of the Virgin Group, will be another transfer option starting later this month.
| Program | Type | Ratio | Transfer Time |
| --- | --- | --- | --- |
| Aeromexico | Airline | 1:1 | Instant |
| Air Canada Aeroplan | Airline | 1:1 | Instant |
| Air France/KLM | Airline | 1:1 | Instant |
| Avianca LifeMiles | Airline | 1:1 | Instant |
| British Airways | Airline | 1:1 | Instant |
| Cathay Pacific AsiaMiles | Airline | 1:1 | Up to five business days |
| Emirates | Airline | 1:1 | Instant |
| Etihad | Airline | 1:1 | Up to 1 day |
| EVA Air | Airline | 2:1.5 | Up to five business days |
| Finnair | Airline | 1:1 | Instant |
| Qantas | Airline | 1:1 | Instant |
| Singapore | Airline | 1:1 | Instant |
| TAP Air Portugal | Airline | 1:1 | Same day |
| Turkish Airlines | Airline | 1:1 | Same day |
| Virgin Red | Other | 1:1 | Same day |
| Accor | Hotel | 2:1 | Up to two business days |
| Wyndham | Hotel | 1:1 | Same day |
| Choice Hotels | Hotel | 1:1 | Same day |
The Best Capital One Transfer Partners
With nearly 20 airline and hotel programs at your disposal, there are plenty of options to use your Capital One miles. Some are far better than others … and some aren't really worth considering at all.
Here's a quick glance at what we consider the best of the best.
Aeroplan is the airline program for Air Canada with a strong award chart, and it's a great way to book Star Alliance flights globally. That includes United flights from the West Coast to Hawaii, business class flights from the U.S. to Asia on excellent airlines like EVA Air and ANA for as low as 75,000 miles each way, and many more.
You can use Avianca Lifemiles to book Star Alliance partners like United, Lufthansa, ANA, and many more. It has a good award chart for domestic flights in the U.S. as well as international trips. But better yet, they pass on few fees and no fuel surcharges, so the cash price on an award ticket booked through Avianca will be low. For example, you can book Lufthansa First Class between the U.S. and Europe for just 87,000 miles each way!
FlyingBlue is the combined mileage program for Air France and KLM, and it's another program worth keeping in mind. FlyingBlue recently followed Delta's lead and axed its award chart, implementing variable pricing for award flights. Keep an eye out for promo rewards flights, with big discounts on flying between the U.S. and Europe.
And then there's Singapore Airlines. The world's #2 airline, it's got one of the best business class and first-class cabins – and the only way to book them is with Singapore miles.
Turkish Miles & Smiles is a real hidden gem here – and transferring Capital One miles is one of the few easy ways to earn them. You won't find a cheaper way to get to Hawaii, as the program charges just 15,000 miles roundtrip to fly United out to the islands and back – or 25,000 to do it in business class. It's also got one of the cheapest options to get to Europe in business class, with flights that cost just 45,000 miles each way. Just beware: Turkish's website is not so easy to navigate. Booking these stellar rewards may require a phone call.
You can use Virgin Atlantic miles to book one-way Delta business class award tickets from the U.S. to Europe for only 50,000 miles each way. Delta itself often charges 250,000 SkyMiles or more to book one of these seats. Don't do that.
Other mileage programs like British Airways, Cathay Pacific, and Emirates have their place, too. Many of the other options – especially the hotel programs Wyndham and Accor – are fairly weak and generally not worth considering except in niche situations.
Read more: The Best Ways to Use Capital One Venture Miles
Travel Credits & Bonuses Offset the Cost
At $395 a year, the Venture X is automatically a far cheaper alternative than almost any premium travel credit card on the market.
But even that $395 annual fee is a mirage. Thanks to some valuable annual benefits on the Venture X Card, it's actually much cheaper in practice … so much so that it could be a no-brainer to hold.
At the top of that list is the $300 travel credit, which you get each and every year you hold the Venture X Card. The only hitch is that it only works for bookings made through the Capital One Travel Portal. Still, that's easy enough to put to use every year you keep the card open.
So as long as you plan to spend $300 a year on flights, hotels, or rental cars, it really makes the $395 annual fee on the card look more like $95.
It works like this: Book a flight, hotel or rental car through the Capital One travel portal and Capital One will automatically reimburse you for those charges up to $300 each year. The only requirement is that you make the booking through their travel portal.
Many people have been (rightfully) wary of using travel portals and online travel agencies (OTAs) to book flights and hotels during the pandemic, and rightfully so. But in some ways, this new Capital One Travel portal was designed to counter the stress of the pandemic. It's got a handful of unique features like automatic refunds if prices drop after booking, the ability to freeze pricing before booking, an option to buy cancel for any reason travel insurance, price alerts, and more.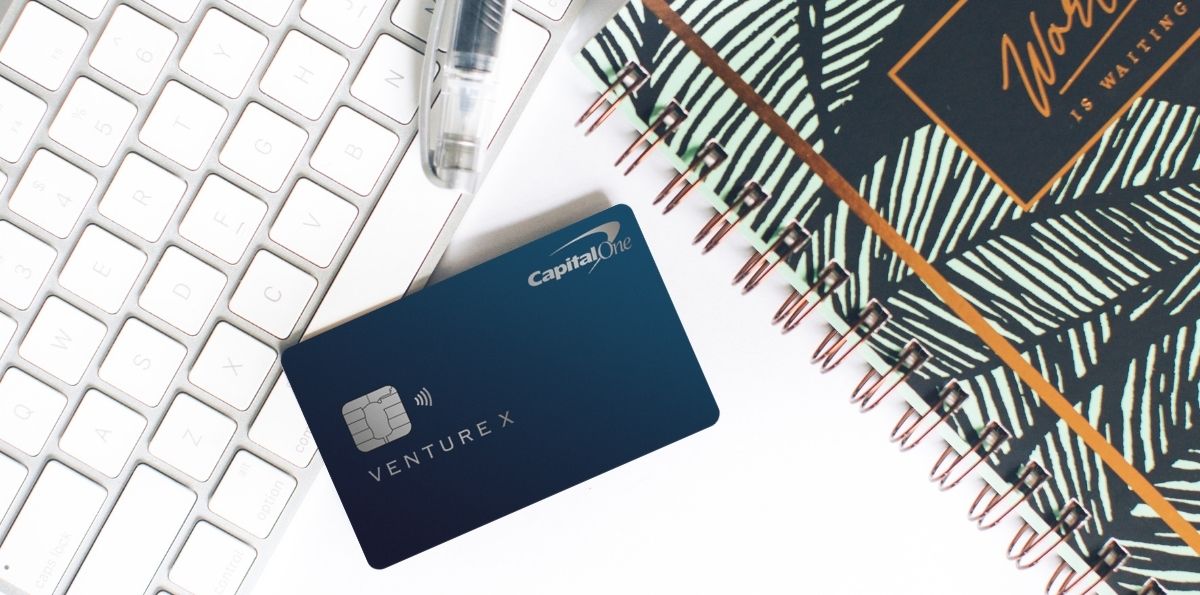 But starting in year 2 with the card, it gets even better. The Venture X will give you 10,000 bonus Venture Miles starting in your second year every time you renew your card. Since Venture miles are worth a minimum of 1 cent each when using them to cover travel purchases or booking through the travel portal, those miles are worth at least $100 – if not much more.
So take the $300 travel credit and the 10,000 mile bonus starting in year two and that's at least $400 in travel each and every year you hold the card. Consider that the card's annual fee is only $395,  you can easily come out $5 (or more) ahead each year you hold it.
No other travel card makes it this easy to come out ahead.
Read more: How the Venture X Card Actually Pays You $5 Each Year (Or More)
Lounge Access You Can Share … For Free
Before the launch of Venture X, there were two primary credit cards to get the best airport lounge access: The Platinum Card® from American Express and the Chase Sapphire Reserve®.
With the Amex Platinum Card, you'll get access to their Amex Centurion Lounges, a Priority Pass Select Membership, and access to the Delta Sky Club when flying with Delta. But all that comes with an annual fee of $695 each year (see rates & fees). On the Chase Sapphire Reserve, you'll get the same Priority Pass Select membership along with access to a growing list of Priority Pass airport restaurants where you will get credits to eat for free. The annual fee on the Sapphire Reserve is $550.
Enter the Capital One Venture X. Not only do you get the same Priority Pass membership as the Chase Sapphire Reserve to get into 1,200 airport lounges nationwide, plus the same access to airport restaurants. But on top of that, you'll also have access to the brand new Capital One Lounges, the first of which just opened inDallas-Ft. Worth (DFW) last fall and it is incredible. If you ask us, it's easily the nicest airport lounge in the United States right now.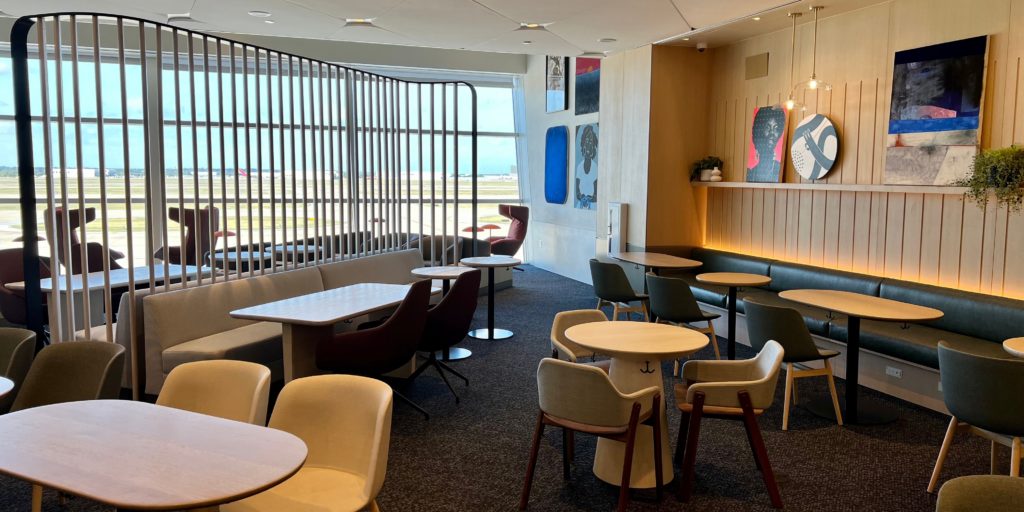 Read: A Full Review of the Capital One Lounge in Dallas-Fort Worth (DFW)
And Capital One isn't stopping with just one location. They will open their second and third lounges in Denver (DEN) and Washington D.C. – Dulles (IAD) later this year. The bank has said they will continue to expand their lounge footprint as opportunities and airport real estate become available.
Want to share lounge access with your loved ones when they're traveling? Capital One has every other bank beat.
Capital One allows you to bring up to two free guests with you on any visit to a Capital One or Priority Pass Lounge. But perhaps one of the most underrated features of the Venture X card is that you can add up to four authorized users to your card account at no additional cost! And all those users will get their own lounge access with the ability to bring two of their own guests.
Read More: How to Add Capital One Venture X Authorized Users for Free!
Consider this: You can add up to three authorized users to the Amex Platinum Card … but it costs another $175 a year, bumping the total cost in annual fees up to $870. With the Reserve, each additional authorized user costs $75 to share lounge access.
So with an annual fee of $395, the Venture X is an incredible value if lounge access is important. In fact, it's a big reason why we think Venture X is the best credit card for traveling families.
Bottom Line
There is no one size fits all answer when it comes to travel rewards credit cards. But if you ask us, The Capital One Venture X is as close as it gets. It's easily the best premium travel rewards credit card we have seen in years. But maybe the best feature is that it doesn't have a premium price tag.
At just $395 each year, you should easily be able to get more value than it is costing you to hold it each and every year.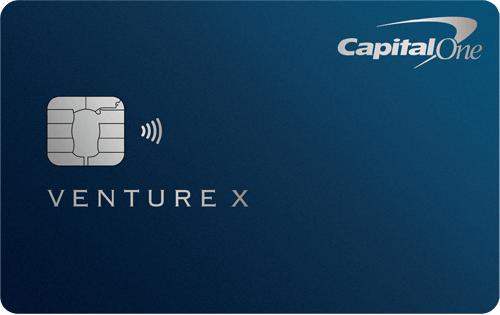 Click Here to learn more about the Capital One Venture X Rewards Credit Card