Just yesterday, we posed the question: Is earning Delta Medallion Status worth it? Today, Delta changed the calculus.
The Atlanta-based airline on Thursday unveiled its biggest shakeup in how travelers earn and use Delta status in nearly a decade. Starting next year, Delta will require flyers to spend much more with the airline each year to level up their Medallion Status – in some cases, $5,000 more a year. At the same time, Delta is adding new perks for top elites and also making it easier to use precious upgrade certificates.
The goal is clear: Years of status extensions and promotions have made it easier than ever to earn Delta status, leading to lengthy upgrade lists that often leave even the top Delta elites in the back of the cabin. Looking ahead, it's time to clamp down while also giving something more to their most loyal frequent flyers.
"We hope to preserve the exclusivity and experience for our most loyal Members with these changes that include the debut of expanded and enhanced Choice Benefits," the airline said on its dedicated page.
If you're currently hot on the chase to earn Delta status for next year, don't worry: These changes won't affect you just yet. But starting right on Jan. 1, the quest to earn Medallion Status for 2024 will get harder.
Read our complete guide to earning and using Delta status!
Earning Delta Medallion Status Will Require More Spending
Earning status with Delta has two basic ingredients: Flying with Delta a lot plus spending with Delta a lot. Starting next year, climbing the ranks of Delta Medallion status is going to cost you even more.
For the first time since 2015, Delta is bumping up the Medallion Qualifying Dollar (MQD) requirements for nearly all its elite status tiers, forcing frequent flyer to spend even more with Delta to keep or earn their benefits. The one exception is the Delta Silver Medallion, which won't see an increase. And no matter which  tier you're aiming for, the amount you'll need to fly with Delta – through earning either Medallion Qualifying Miles (MQMs) or Medallion Qualifying Segments (MQSs) – won't change.
Here's a look at the new requirements in place as of Jan. 1, 2023:
Silver Medallion Status: 25,000 MQMs OR 30 MQSs AND $3,000 in spending on Delta or partner flights
Gold Medallion Status: 50,000 MQMs OR 60 MQSs AND $8,000 in spending on Delta or partner flights (up from $6,000)
Platinum Medallion Status: 75,000 MQMs OR 100 MQSs AND $12,000 in spending on Delta or partner flights (up from $9,000)
Diamond Medallion Status: 125,000 MQMs OR 140 MQSs AND $20,000 in spending on Delta or partner flights (up from $15,000)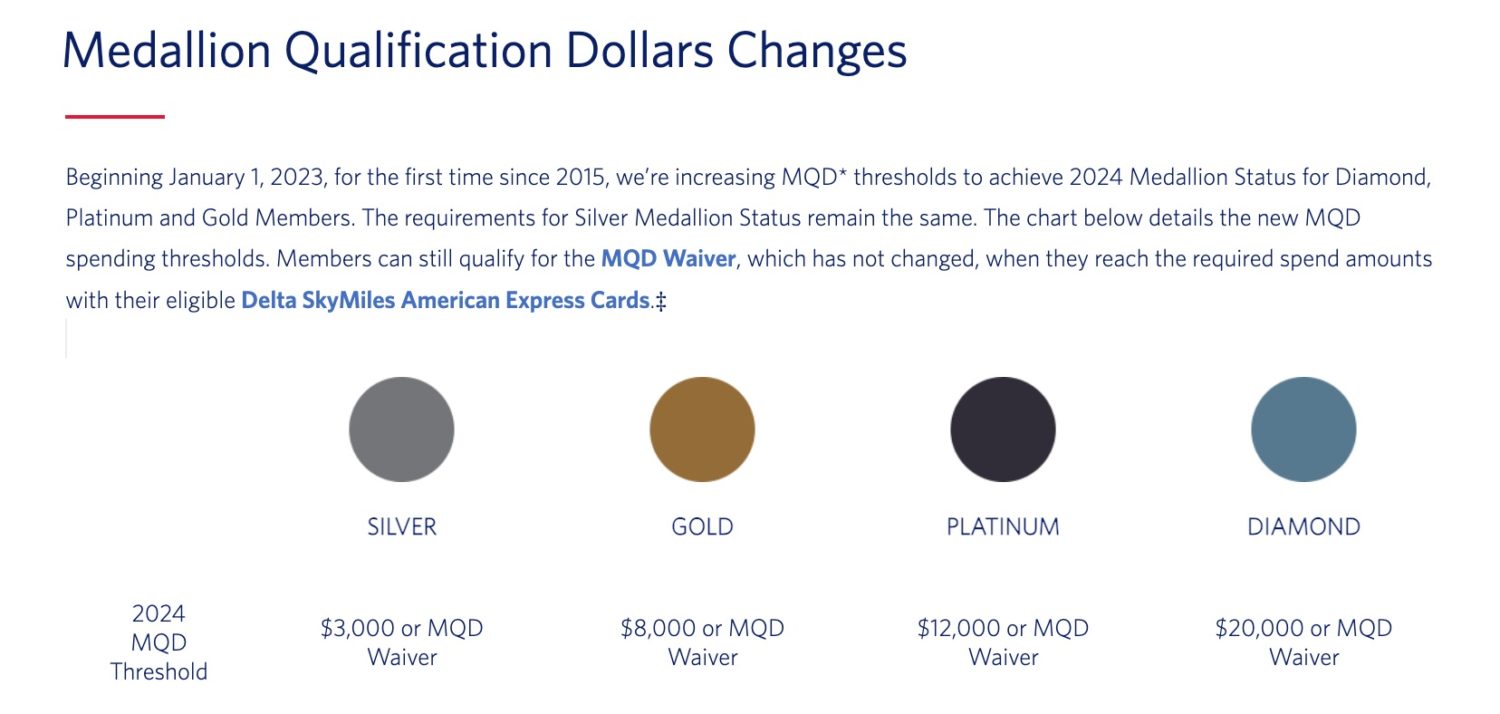 As you can see, these are some sizable increases in spending requirements. Earning even middle-tier Gold Medallion Status will require spending an additional $2,000 each year. Reaching or requalifying for Platinum Status next year will cost you another $3,000 than this year. And getting all the way to Diamond Medallion Status will require spending another $5,000 with Delta or partners. Government taxes and fees, which are part of all airfare, don't count toward these thresholds.
Fortunately, there's a workaround called an MQD Waiver – and that's not going anywhere. You can keep putting $25,000 on either your Delta SkyMiles® Platinum American Express Card and the Delta SkyMiles® Reserve American Express Card in a year, and Delta will waive the MQD requirements for your status. That works for all but Delta's highest Diamond Medallion Status, which still requires an absurd $250,000 in card spend to get the waiver.
Exactly how current Delta elite flyers feel about these changes will likely hinge on what level of status they have – and how they earned it.
On one hand, this should significantly winnow the bloated ranks of current Delta Medallion members. Years of automatic extensions and special promos through the pandemic have put more status-holding flyers in the skies than ever, making your odds of a free upgrade to first class (or even Delta Comfort Plus) slim. Raising the spending requirements to climb the rungs of Medallion status will start to right-size those numbers and normalize the free upgrade lottery.
On the other hand, there's no question these are some hefty increases. Being required to spend a whopping $20,000 a year on Delta or partner flights to earn top-tier Diamond status is a tall, tall task for all but the highest-paying road warriors in the country. Maybe that's a good thing, but it'll feel like a slap in the face to those for whom it'll be a stretch.
This all just reinforces the fact that for the everyday, average traveler, earning airline status isn't worth it. If you can't fathom spending more than spending $12,000 or $20,000 a year on Delta flights, don't worry – you're not alone.
New & Improved Choice Benefits
Some of the best perks available to top Delta Platinum and Diamond members are Choice Benefits, a smorgasbord of additional perks to choose from. Platinum members get one pick each year, while Diamond flyers get to choose three annually.
Starting next year, they'll have a lot more to choose from.
Currently, Platinum members have a choice to make between the four regional upgrade certificates, a $200 Delta travel voucher, 20,000 bonus SkyMiles, or gifting Silver status to a companion.
Diamond members, meanwhile, can pick from a mix of regional and/or global upgrade certificates, a few options for annual lounge memberships to unlock Delta Sky Club access, gifting Gold status to a companion, 25,000 SkyMiles, or the same $200 gift card.
Here's a quick look at what Delta is adding to the fold in 2023 (for flyers' 2024 elite status year).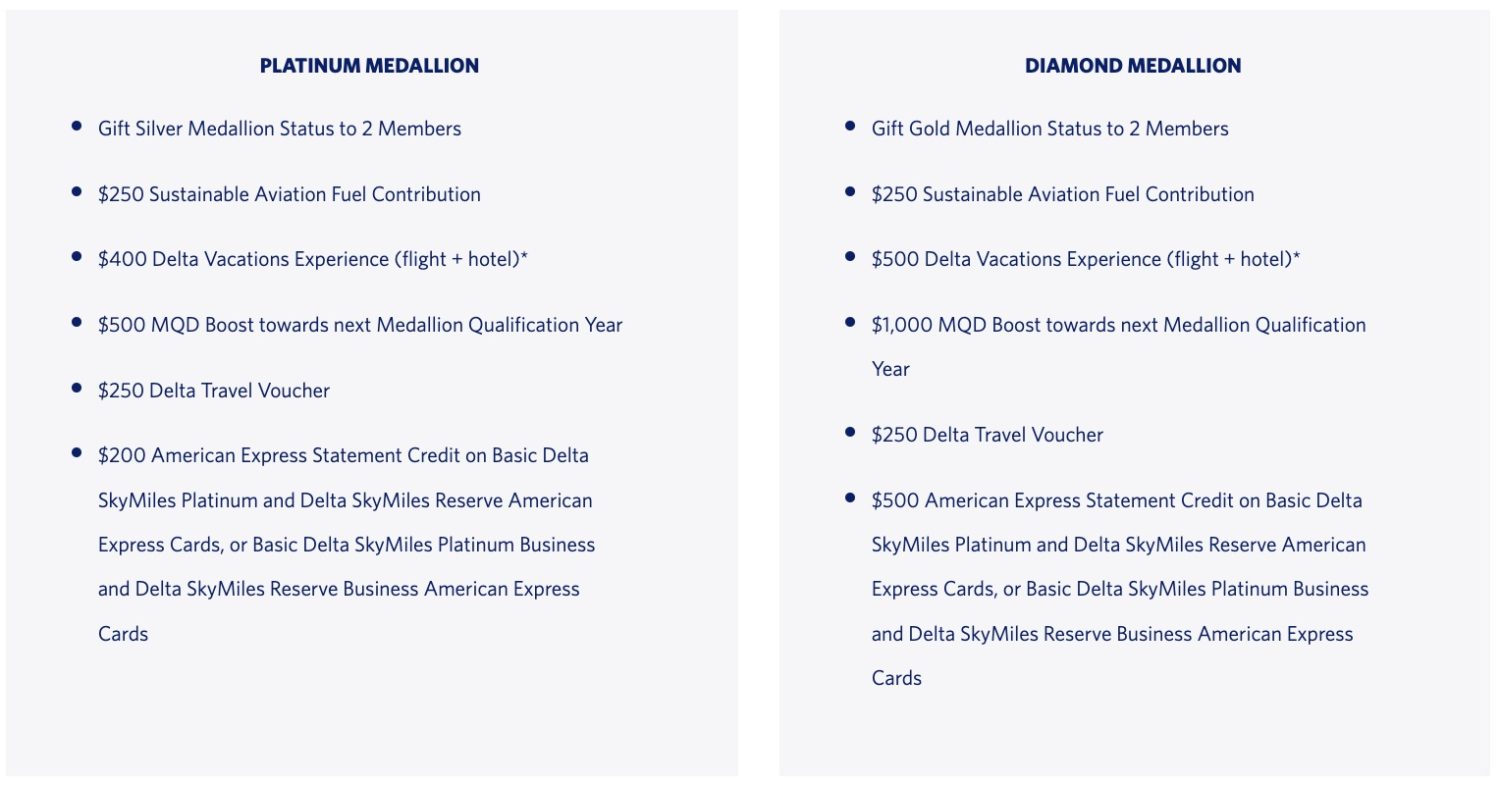 Some quick takeaways:
Delta is upping the ante when gifting status, allowing both Platinum and Diamond members to give status to two companions – not just one
They're also increasing the size of a Delta travel voucher from $200 to $250, available to both Platinums and Diamonds while also offering
The $500 and $1,000 MQD Boost for the following year is an interesting option for Diamond members who might have a hard time hitting the new $20,000 spending requirements
$200 and $500 statement credits on top Delta SkyMiles credit cards for Platinum and Diamond members, respectively, is a great option.
More is always better, right? But at the end of the day, the existing regional and global upgrade certificates will likely reign supreme for most top Delta elites. And there's one big reason why…
Redeeming Upgrade Certificates Will Get Much Easier
It's long overdue, but it's finally coming: Delta elite flyers with upgrade certificates will soon be able to skip a phone call and apply those certificates online at check out.
Delta says in "early 2023," travelers will be able to easily apply these upgrade certificates on Delta.com at the time of booking, or by managing your reservation through "My Trips" online if you've already got a flight booked and want to upgrade.


Platinum Medallions can use their single Choice Benefit on four regional upgrade certificates. Diamond Medallion members have options: You can opt for eight regional upgrades, four global upgrades, or split the difference and get a package deal of two global upgrades and four regional certificates.
This is a long-awaited change … and it's come in phases.
While upgrade certificates are great in theory, you can't just hand one over and hop up to first class on any Delta flight – there needs to be upgrade space available. Delta made that much easier early last year by rolling out a new option to see if there was confirmable space available for using either a global or regional upgrade certificates. As you can see, Delta will notify travelers who have a certificate to use whether or not an upgrade is available.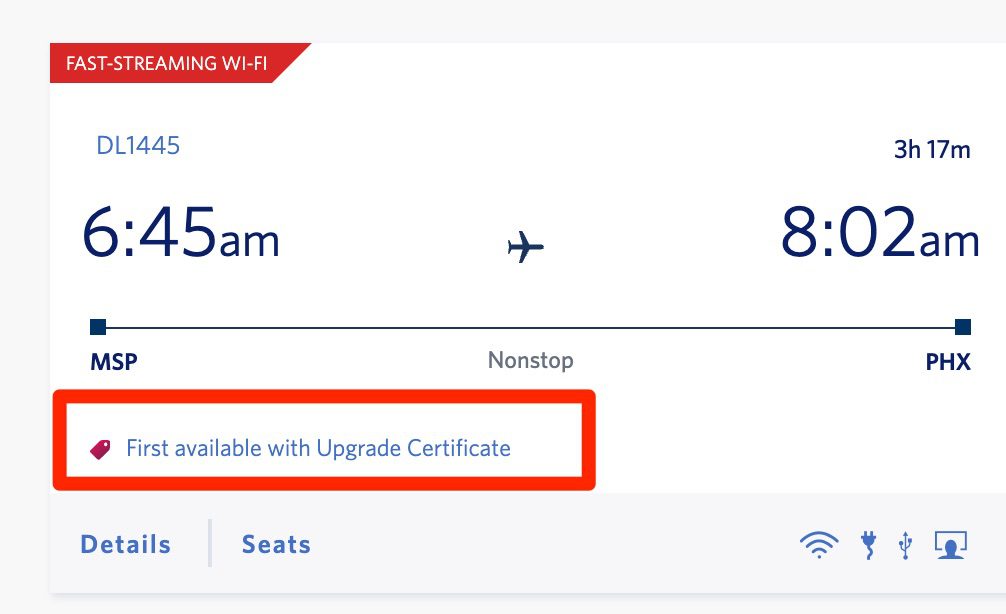 While that was a big improvement, there was still no way to apply the certificate yourself. It still required a phone call, which could be a time-consuming process.. Adding the ability for self-service on regional and global upgrade certificates for Platinum and Diamond Medallions should help alleviate some of the pressure on Delta phone and chat agents as well.
But is that enough to offset a painful downgrade to global upgrade certificates? That seems doubtful.
This time last year, Delta dealt those certificates a blow with a new rule that you can only upgrade by one cabin at a time. That means, in most cases, Diamond Medallions can no longer book a main cabin economy seat and then use an upgrade to hop into Delta One suites – they'd instead move up to Delta Premium Select.
Still, this is a massive (and much-needed) improvement.
Bottom Line
Climbing the Delta Medallion Status pyramid is about to cost you more. Much more.
Earning status with any airline has long been a costly endeavor – and a foolish one for most everyday travelers who aren't racking up miles (and spending small fortunes) on their companies' dime. That's clearer than ever after these changes set in.
On the bright side, this should eventually winnow the ranks of Delta flyers with status, making the quest for upgrades a bit easier. And Delta is pairing this move with some new perks and worthwhile enhancements that should make upgrade certificates easier to use.