If you've never heard of the Faroe Islands, you should make some room your bucket list. And now, you can book the very-first nonstop route from the U.S. to these North Atlantic islands.
Less than a month after announcing its plan to start nonstop flights from New York area's Stewart Airport (SWF) and Vágar (FAE), little-known Atlantic Airways put those flights on sale Wednesday: You can now book roundtrip flights to the Faroe Islands on the Atlantic Airways website starting at $878 roundtrip. You can also search and find this route in Google Flights, clicking through to book directly with the airline as well as third-party online travel agencies.
The unexpected route kicks off in late August, with the first flight leaving the Faroe Islands for the U.S. on Aug. 22 and heads back to the islands for the first time on Aug. 23. These flights to Vágar – the only airport on the Faroe Islands – operate just once a week, with eastbound flights running on Wednesdays and return flights to the states flying on Tuesdays. That means you'll need to plan at least a six-night stay on the Faroe Islands if you want to fly nonstop.
And it's a limited-time opportunity: This brand new route is currently only scheduled to run from late August until Oct. 5.

Though short-lived, it finally puts nonstop flights to the Faroe Islands on the map. Currently, travelers from the U.S. have to make an inconvenient connection in Copenhagen (CPH) flying Scandinavian Airlines (SAS) to get to the Faroes. It'll still be a trek on the front end: Stewart Airport is located roughly 70 miles north of New York City.
The flights will depart New York's Stewart at 10:45 a.m. and land in the Faroe Islands at 10:05 p.m., a rare daytime U.S. to Europe flight. The return flight leaves the Faroe Islands at 4:30 p.m. and lands back in New York at 6:50 p.m.

Don't confuse Atlantic Airways with Norse Atlantic, the ultra-low-cost carrier flying a dozen-plus transatlantic routes. Atlantic Airways is the only commercial airline based in the Faroe Islands, running flights to a handful of cities throughout Scandinavia and Western Europe. Come August, the U.S. will join that list.
Atlantic plans to operate the roughly 3,000-mile route to New York on an Airbus A320neo. The eastbound flight is slotted at 6 hours and 20 minutes. The return is an hour longer.

A 17-pound carry-on bag and a checked bag are included with even Atlantic Airways' lowest fare classes. Seat selection starts at $13 each way and meals are $21 each way.
In addition to its network of commercial flights, Atlantic Airways runs domestic helicopter service within the Faroe Islands – the preferred method of transportation around the mountainous and hard-to-navigate destinations. As if their business wasn't complicated enough, the airline also runs charters and search and rescue operations for the Faroe Islands region.
Interestingly, Atlantic Airways has a codeshare partnership with Air France and KLM. That means travelers will be able to earn Air France/KLM Flying Blue miles when they take Atlantic Airways flights. Atlantic Airways also has its own loyalty program called "Súlubonus" if you think you'll be frequenting the new route.
The Faroe Islands
Perfectly triangulated between Iceland, Scotland, and Norway, the Faroe Islands are an increasingly popular travel destination for those looking for a lesser-tread, scenic spot.
I haven't been myself. But from photos and descriptions, the islands look like a moody mix between its neighbors … without the swelling crowds you might find in places like the Norwegian Fjords or around Iceland's Ring Road.

According to Visit Faroe Islands, the territory's tourism authority, the nation has a very Icelandic-type landscape. The country promises lots of cliffs, moors, waterfalls, and 18 different volcanoes. Visit Faroe Islands also says to watch out for hobbit-like turf-covered houses and shaggy sheep. The website also boasts, "unimaginable beauty, mysteriously hidden like a child's fantasy world."
Part of the charm of the Faroe Islands, like its neighboring Iceland, is that the weather is … well, not great!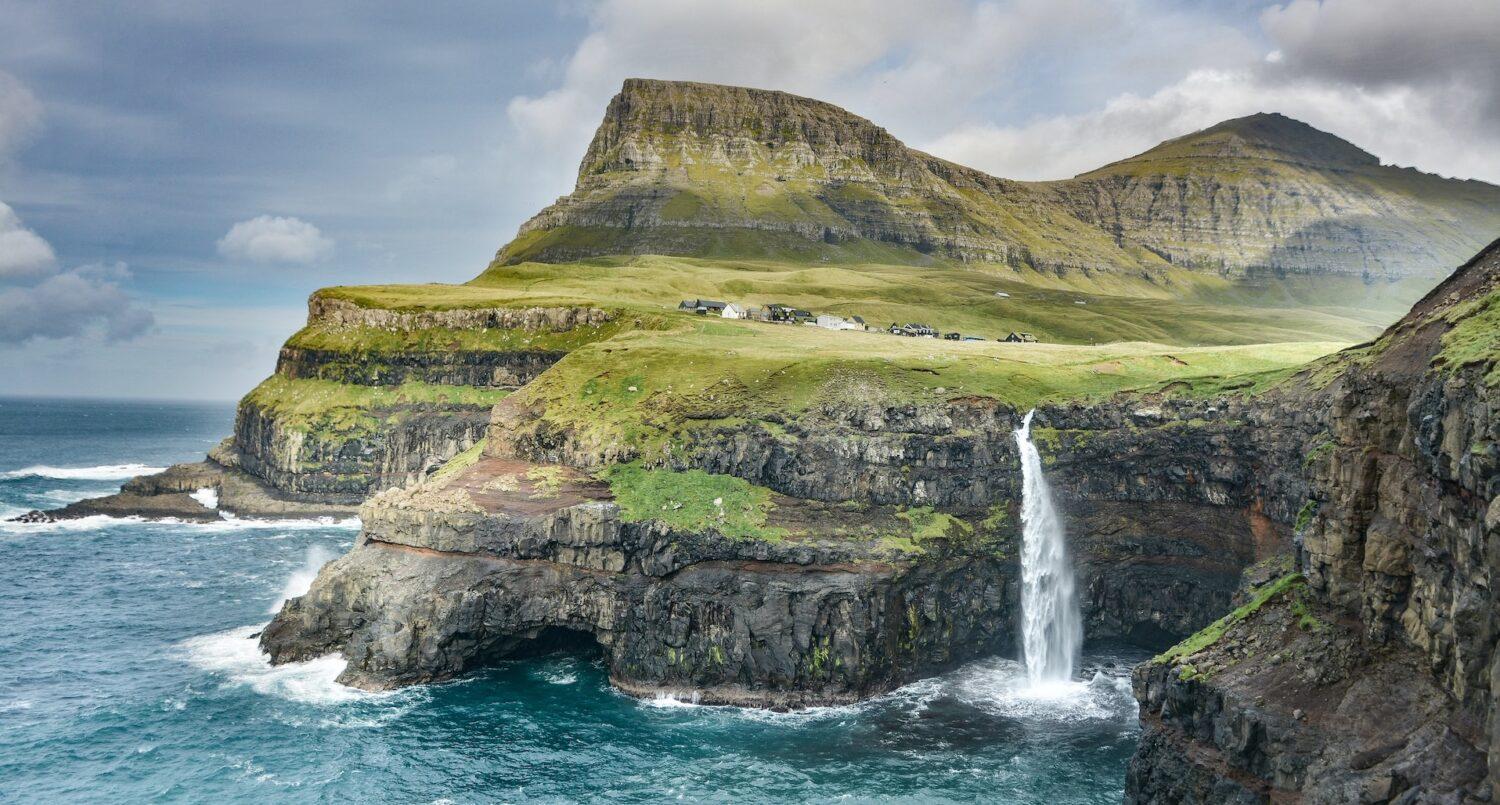 The average high temperature usually falls in August at around 55 degrees. The record high temperature for the islands was a comfortable 71 degrees. The daily mean temperatures on the islands hover between 39 and 51 degrees depending on the time of year, so you can probably leave your shorts and swim trunks at home on this adventure.
Because of its northern, seaside climate and ever-changing weather patterns, the island is a bucket list destination for birders, fishermen, climbers, mountain bikers, and even scuba divers, according to Visit Faroe Islands.
New York-Stewart International Airport
The news of the first-ever nonstop flight from the Faroe Islands to the United States is a boon for U.S. travelers hoping to pay the remote islands a visit in the coming years. But don't expect to hop on a plane to the Faroe Islands not far from Manhattan.
Stewart Airport is located in New Windsor, New York, about 70 miles from New York City. The airport is about 78 miles from New York City-LaGuardia (LGA) and 75 miles from Newark (EWR). That means making connecting flights between the NYC airports and Stewart is a multi-hour, multiple-train-and-bus-ride endeavor.
In its release, the Port Authority pointed to specific Coach USA bus service that connects Stewart with the Midtown Manhattan Bus Terminal. The Manhattan Bus Terminal is still another bus ride or train ride away from all of New York City's airports for connecting passengers.
There are some definite upsides for using Stewart Airport, however. Currently, Stewart only operates one international flight on PLAY Airlines between SWF and Reykjavik (KEF) each day, meaning customs and immigration lines will be virtually nonexistent unlike the bigger New York metro airports. On top of that, Stewart flyers are only competing with four Allegiant routes and one Frontier Airlines route in and out of the airport.
So once you get there, the travel experience should be relatively smooth sailing.
Bottom Line
Atlantic Airways is launching the first-ever nonstop service between the U.S. and the Faroe Islands, putting the flights on sale as of today starting at $878 roundtrip. The once-weekly service between New York-Stewart (SWF) and Vágar (FAE) is set to begin Aug. 23.
Flights are on sale now through Atlantic Airways, finally allowing Americans can skip the European connections to fly to this increasingly-popular adventure travel destination this year.