In the eyes of some Minnesota travelers, Sun Country forfeited decades of goodwill with its rapid transition to a budget airline: Goodbye first class seats and onboard cheeseburgers, hello higher fees and narrower seats. But for its CEO, that change was a necessity.
"I just don't know what would have happened to this company if we had not changed the way we did business," Jude Bricker told Thrifty Traveler in an interview last week. "I don't know if we'd be here today."
Along with taking the airline public last year, it's one of two critical decisions made in the last half-decade that have drastically re-charted the Minnesota-based airline's course. After struggling to break even financially even during the best of times, Sun Country has been churning out steady profits, growing fast, and thinking bigger than ever before.
"This is the tradeoff," Bricker said. "It was a tough communication … to the Twin Cities, but also to our own employees. But I think we're beyond that now."
Through a pandemic that hammered airlines, Sun Country is on track to grow its fleet to 54 planes by the end of the year – well ahead of the goal of 50 jets by the end of 2023 that the airline set when it filed the paperwork to go public. As the latest surge in travel pushes carriers big and small to their limits, Bricker and the airline are currently focused on staffing up to meet that demand and expanding the vacation-heavy routes that are their bread and butter.
But Sun Country is thinking longer-term, too. Bricker laid out goals to keep building out the cargo-flying business that was a lifeline for the airline in 2020, thinking about how they could bring on more government-subsidized routes to small Midwestern towns as soon as next year, and eventually bring on widebody planes – and fly them to Europe.
Sun Country 2.0?
Bricker said Sun Country's transition to a budget carrier more in the vein of Spirit and Frontier "put this airline on a sustainable financial path." That doesn't mean it was easy.
Travelers balked at paying for seats, luggage and even carry-on bags that were once free. Above all, Sun Country's reputation is still hurting from a 2018 episode in which it stranded hundreds of travelers in Mexico as a winter storm hammered its Minneapolis-St. Paul (MSP) hub.
"We should have just been a lot more aggressive right from the beginning," Bricker said recently of the airline's response at the time.
Every subsequent computer outage and scheduling snafu triggers comments tying back to that saga, lamenting Sun Country's pivot to an ultra-low-cost carrier. But from the start, the airline has tried to split the difference between full-service legacy carriers like Delta and ultra-low-cost carriers like Frontier or Allegiant.
First class seats are gone and legroom on its refurbished planes is tighter than it once was, but the airline went with better-padded seats than the slimline seats you'll find on its low-cost competitors. They offer more service onboard with a Minnesota flair, offering locally made products like Fulton beer and Dot's Pretzels.
"We still had ashtrays in almost all the seats," Chief Marketing Officer Brian Davis said of the airline's older interiors. "The current onboard product … is far superior. It's much better."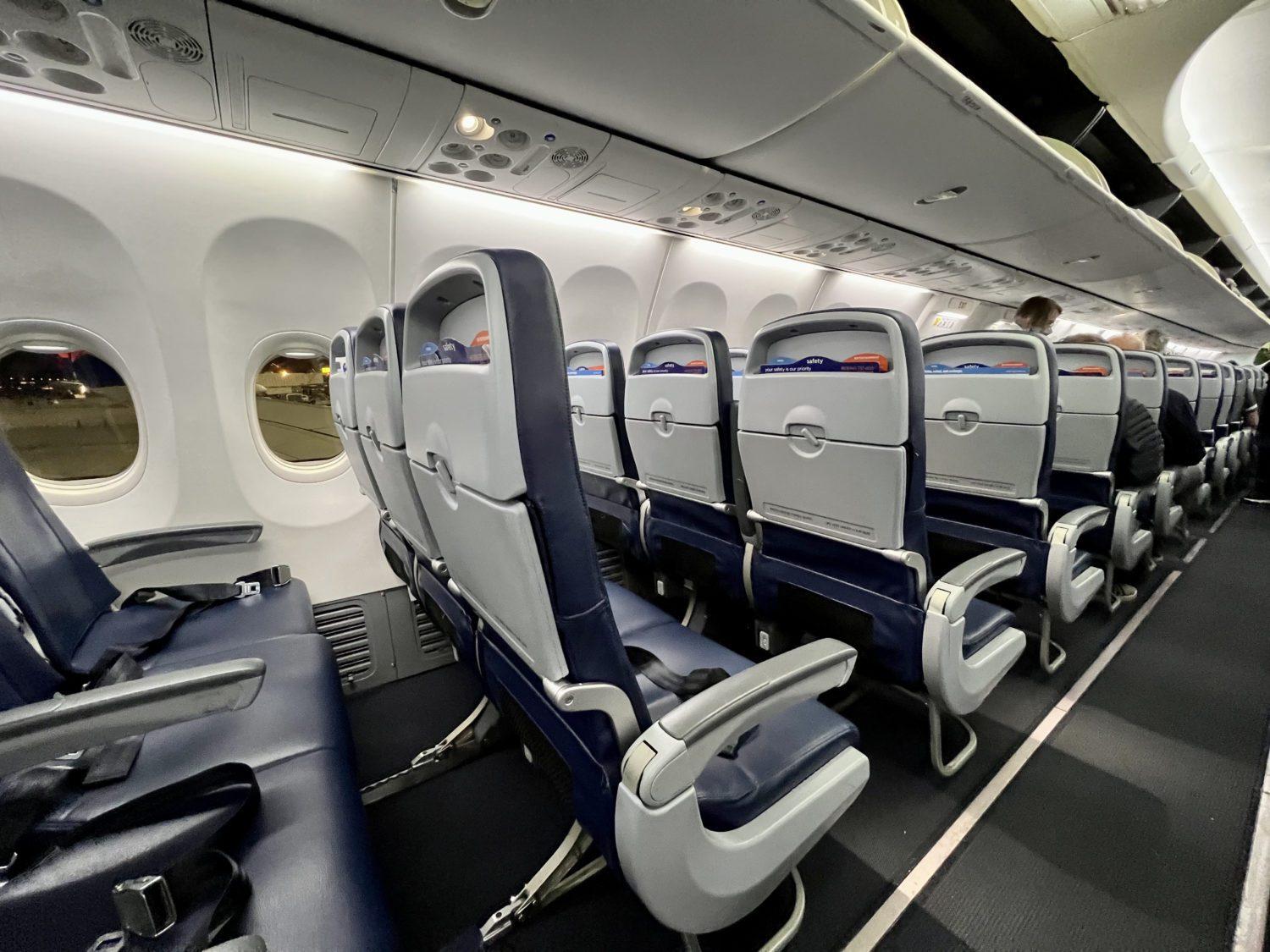 Sun Country has taken that model and put it on steroids after going public. While its stock has struggled lately along with the rest of the industry, shares soared during the airline's initial public offering last year as investors gave its new business model a vote of confidence.
Bricker called going public an opportunity "to leverage into this recovery in travel." And they have: Sun Country has gone from having just $80 million or so in its bank accounts to more than $320 million.
"We probably had about $80 million in the bank, which is about two months of operating expenses. That's rough, man. It's hard to make investments, it's hard to survive," Bricker said. "We're just in a dramatically different place because of our access to the capital markets."
The airline is using that money to bring in more planes, train more pilots, and do more of what it already does most: Fly Minnesotans for a vacation, especially somewhere warm in the winter. Almost a year and a half ahead of schedule, Sun Country already has 50-plus planes in its fleet and counting – up from less than 40 before the pandemic.
In the short-term, Sun Country will keep doubling down on the tried-and-true destinations like Phoenix (PHX), Las Vegas (LAS), and throughout California and Florida while trying out a new route here and there. Bricker said the airline plans to launch nonstop service from Minneapolis to Grand Cayman (GCM) this coming winter.
But longer term, Bricker and his team are thinking even bigger.
Widebody Planes? To Europe?
Sun Country raised some eyebrows among eagle-eyed aviation watchers with its newest pilot contract late last year. Not only did it raise pay for the pilots flying its all-Boeing 737 fleet, but it also added pay rates for two much-bigger jets that Sun Country doesn't even own: Boeing 767s and Airbus A330s.
Airlines regularly put these "what-if" provisions in contracts, whether they really intend to bring new planes into operation or not. But it's not just a theoretical exercise: Bricker thinks there's a future for twin-aisle jets at Sun Country … flying both cargo and passengers.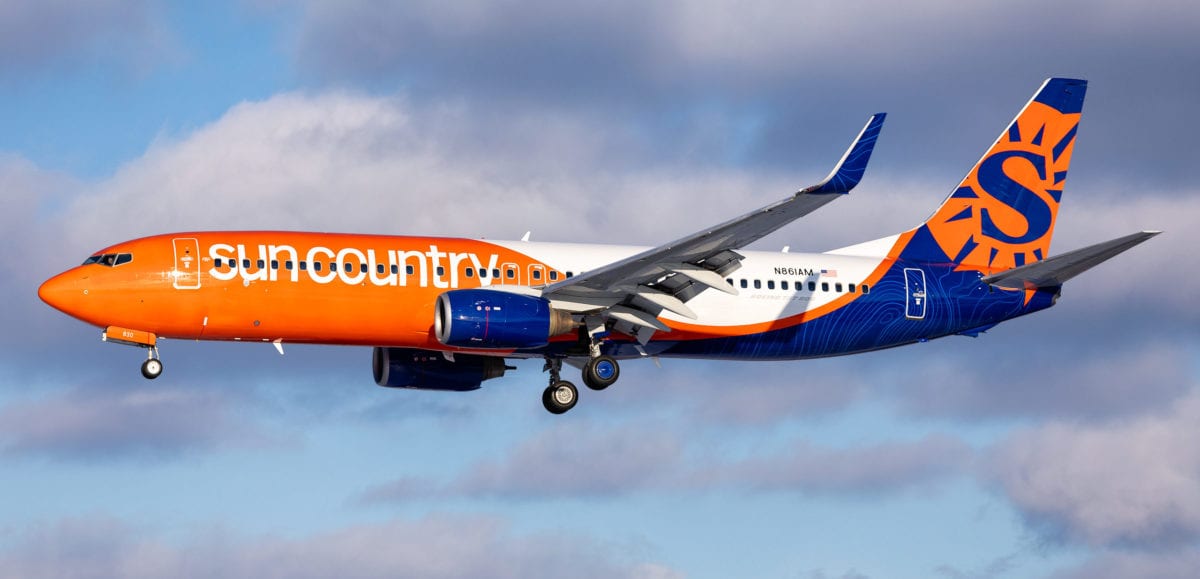 Let's back up. For airlines, simplicity (like Sun Country's fleet of all Boeing 737s, for instance) has some huge advantages. You need only look at Southwest Airlines and its massive fleet of 700-plus Boeing 737s as evidence. One plane type means lower costs for everything from training pilots to providing maintenance to securing spare parts.
And for Sun Country, in particular, it's been all about buying used Boeing planes on the cheap. That's not changing anytime soon, Bricker said – though they might entertain a new 737 Max someday … if Boeing were to "get real serious about what they charge."
But a widebody plane in Sun Country orange-white-and-blue paint could become a reality. Bricker said it would likely start with cargo operations, building on the airline's successful partnership flying packages for Amazon or pairing up with another cargo operator like DHL.
"I think that can combine really well with a passenger operation in the same aircraft type, with long-haul options for Minnesota travelers to … Europe or the Deep South or wherever the opportunity is," Bricker said, later adding Hawaii as an option ripe for widebody flying. "It's just not practical right now at the moment. But three years from now? Four years from now?"
With another 50-plus seats on board compared to their 737-800s, a bigger Boeing 767 or Airbus A330 would help in the winter when Sun Country simply needs more seats to fly south. Bricker also raised the prospect of flying charters for big college football teams or even the NFL – a natural next step after inking a leaguewide deal to fly Major League Soccer teams last year.
Flying passengers to Europe is no sure thing. Bricker didn't mention any particular destinations they'd consider, and said it may not even be nonstop service from Minneapolis if it materializes. But Sun Country's steady cargo operations and flying those big jets south in the winters could help the airline succeed where other transatlantic budget airlines like WOW Air and Norwegian Air have failed.
It wouldn't even be Sun Country's first foray into Europe. The airline briefly flew from Minneapolis to London-Stansted (STN) with a refueling stop in Newfoundland more than a decade ago. And they wouldn't be Sun Country's first widebody planes, either: The airline once operated McDonnell Douglas DC-10s, though those haven't flown for more than two decades.
But Bricker was practically giddy about the prospect of flying to Europe someday.
"The truth is, Europe is the best thing in the summertime for a widebody airplane to be doing," he said. "Flying the Atlantic is where all the demand is in the summer months."
A New Opportunity
While Bricker contemplates flying 3,000-plus miles across the pond, the airline is set to launch its shortest flight yet: an 85-mile hop from Minneapolis to Eau Claire (EAU) in Wisconsin.
Announced earlier this month, that route is part of Sun Country's first Essential Air Service (EAS) routes in and out of Eau Claire's Chippewa Valley Regional Airport. These EAS routes are federally subsidized to communities that otherwise couldn't support regular flights. The plans call for two roundtrip flights a week between Minneapolis and Eau Claire, plus two more roundtrip flights straight from Eau Claire to Orlando (MCO), Las Vegas (LAS), or Fort Myers (RSW), flying to one or the other based on seasonal demand.
A budget airline like Sun Country is a novelty on these government-subsidized routes, which are typically operated by regional carriers under the banner of Delta Connection, American Eagle, and United Express to and from each airlines' big hubs. But Sun Country saw an opportunity to swoop in as those airlines exit smaller towns amid a pilot shortage – United is dropping service between Eau Claire and Chicago-O'Hare (ORD) later this year.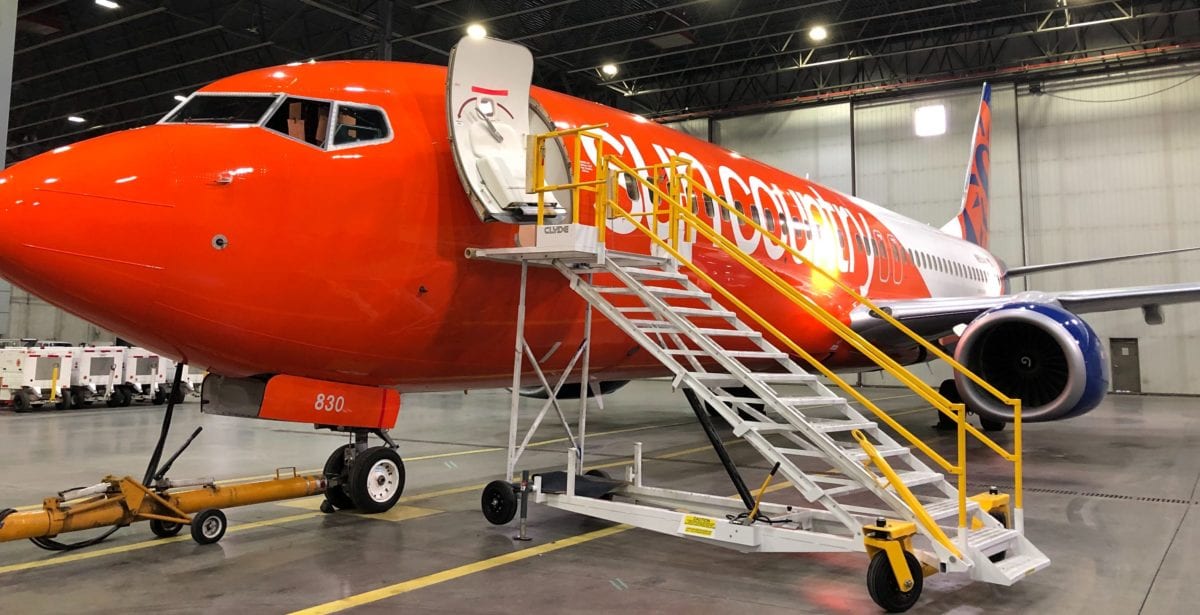 With a few connecting flights to Minneapolis and a few more direct flights to sunny destinations, Sun Country is flipping the script on how these flights typically operate.
"We hope that it's a model for replacing some of the Essential Air Service that's going to be lost over the next couple of years," Bricker said.
Beyond the subsidies and new customers, Sun Country plans to use the Eau Claire airport as an overflow for its Minneapolis home base, storing some planes overnight and also performing maintenance there. Sun Country flights from Eau Claire are set to begin this winter, and Bricker said the airline will see how it goes before looking to expand its portfolio of these smaller-town routes elsewhere in the Midwest.
"We need to see how Eau Claire goes. We need to make sure it's a good strategy," he said.
Lead photo courtesy of Sun Country