There's so much of the world to see, but for many travelers just getting started, it's daunting to head abroad to a foreign country.
Between language barriers, new currencies, different cultures, and unfamiliar food, there is a lot that can scare would-be foreign travelers away. Don't let it.
If you're looking to dip your toes into international travel, these are some great places to start.
Navigating the Language Barrier
With technology and English as a second language in even far-flung pockets of the world, it's easier than ever to communicate with others wherever you go. However, if navigating a language barrier for your first international trip has you stressing, perhaps a trip to these destinations is a great first trip.
England
If you're looking for an introduction to international travel without worrying about communication barriers, London is a great place to start. The London Underground subway system is easy to navigate, and there is plenty to do in Britain's capital city.
If you're looking to start somewhere you know the signs will be in English and can ask anyone for directions, this is a great no-stress first international destination. Read our guide to London and start planning your itinerary!
Thrifty Tip #1: Want to make a few stops on your exploration of the United Kingdom? Check out Edinburgh, Scotland and the Scottish Highlands!
Ireland
Ireland is also a great option if you want to acclimate to international travel in a city that speaks English (though some Irish accents sound like a different language!) Dublin has so much charm and character and quite the up-and-coming foodie scene.
There are lots of amazing towns to visit in Ireland. Just remember: Much like England, the Irish also drive on the opposite side of the road from the U.S.
Australia and New Zealand
OK so a 15-hour flight may not be your idea of fun if you're not used to spending more than a few hours on a plane. But Australia and New Zealand are amazing to start your international travels without a language barrier.
Check out our guide to Sydney, and even visit Hamilton Island to experience the Great Barrier Reef!
An Introduction to Europe
We notice fellow travelers often recommend Europe as a great place to start your international adventuring. Flights aren't too far, many locals understand English, and the culture shock isn't overwhelming. These are some great places to begin your European adventures.
Canada
You probably weren't expecting to see Canada in this category, were you? Get a taste of Europe for half the cost (and a quarter of the flight time) in beautiful Québec City.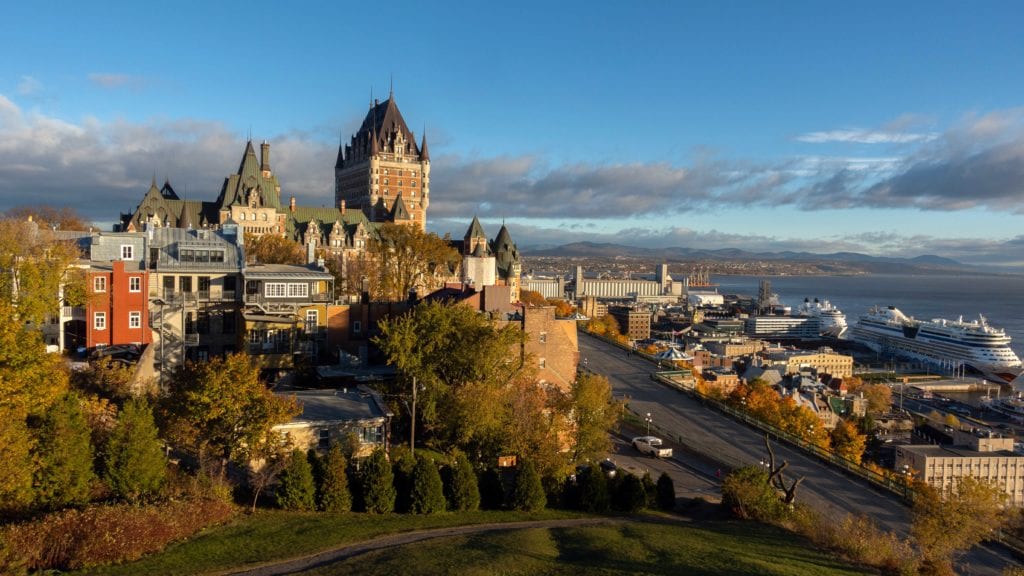 Vancouver, Toronto, and Montreal are also all great options for exploring outside the U.S. without a long flight or major language barrier. Though, many say they encounter less English being spoken in Québec City than major European cities!
Amsterdam
If it's your first time out of the U.S., Amsterdam is a great city to start in! The city is small and walkable, with bikes and trams that make getting around even easier. There is plenty to see and do here, from Rijksmuseum to the Anne Frank Huis and so much more.
You'll have no trouble communicating with locals and getting around this city full of history and attractions.
Thrifty Tip #2: Thinking about visiting Amsterdam? Read our guide to must-dos in Amsterdam, and how to save while you're there.
Germany
Another great country to visit for an introduction to Europe is Germany. Germany is orderly and clean, the food is familiar, locals' English is impeccable, and they are kind to visitors. The trains are wonderful and, if you're planning to drive, the highways are easy to navigate and well-kept.
Plus, there's so much to see and do in Germany! It's a great country to dive into European history and culture. Read about the must-dos in Munich and how to spend three days in Berlin.
Italy
For many, a trip to Italy is all you need to catch the travel bug. Chances are, a first-time visitor to Europe will fall head over heels in love with Italy.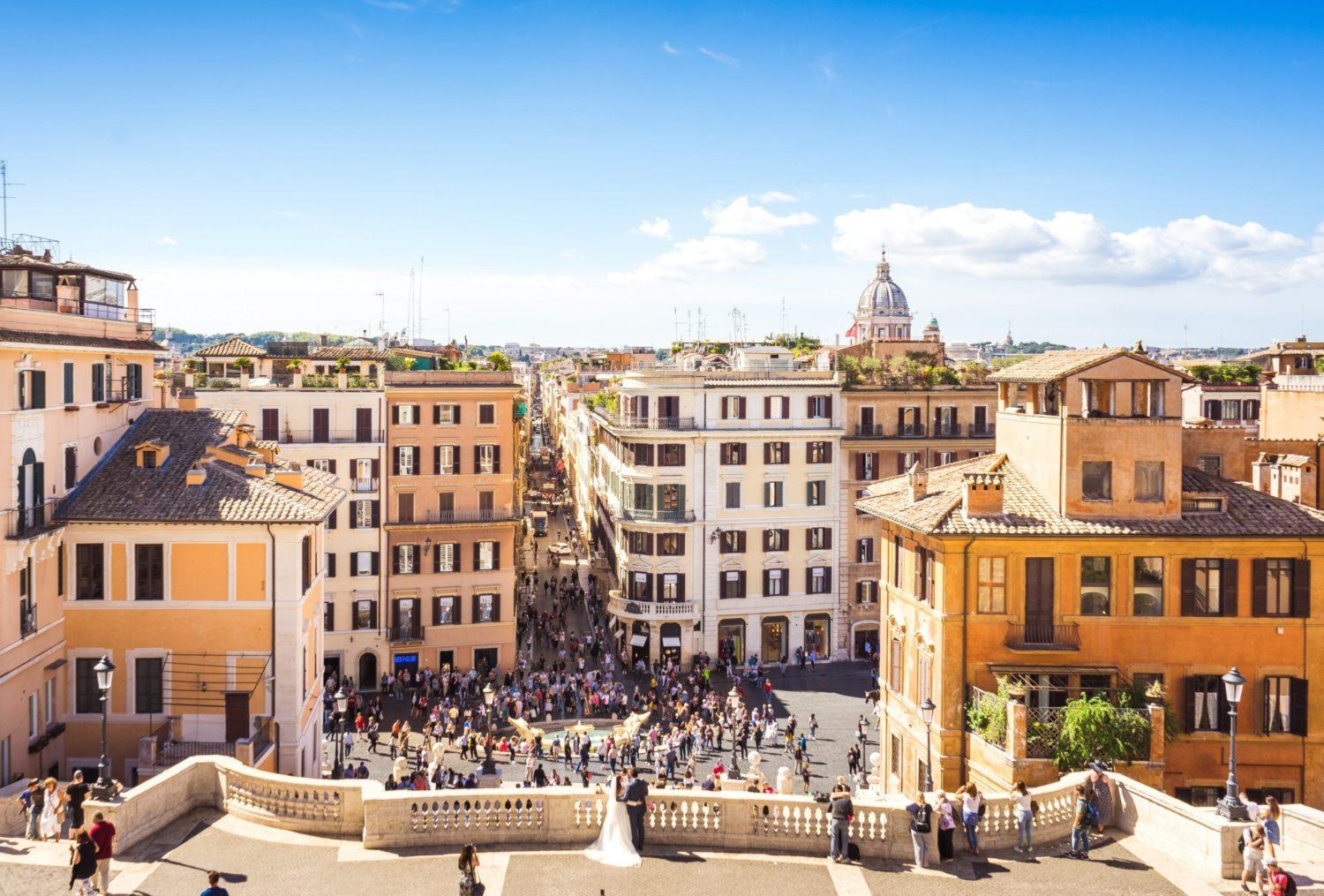 The food, wine, architecture, language, and sights to see all make Italy a great destination for the first-time traveler. The hardest part will be trying to leave. 
Thrifty Tip #3: Save on dining out with The Fork: the must-have app in Europe to get the best prices at restaurants and bars.
European Cruise
If you're not quite ready to plan a trip to Europe yourself, or are unsure of what cities to see first, a European cruise can be a great option. Though it likely won't be the cheapest, this can be a great way to see several European cities and get a taste of different cities and catch that travel bug.
Getting Tropical for Beginners
We all need a tropical getaway sometimes, and if it's your first time out of the U.S. for a winter getaway, you're in for a treat. Here are some of our favorites.
All-Inclusive Resorts in Mexico, the Dominican Republic, and Jamaica
If you're looking for a more relaxed, beachy vacation for your first trip out of the U.S., head south! Booking an all-inclusive resort in Mexico, the Dominican Republic, or Jamaica (just to name a few favorites) is one of the easiest ways to venture outside of the U.S. for the first time.
Thrifty Tip #4: Did you know you can book all-inclusive resorts with points? Learn how, and check out our favorite all-inclusive resorts to book with points. There's no greater satisfaction than booking both your flight and an all-inclusive resort with points and enjoying a vacation that was totally free.
Puerto Rico
Yes, I know what you're thinking: Puerto Rico isn't outside of the U.S. Still, it's a great destination for those looking for a tropical getaway outside of the continental U.S. You don't need a passport to visit Puerto Rico, and after the devastating 2017 hurricanes, they need our tourism dollars.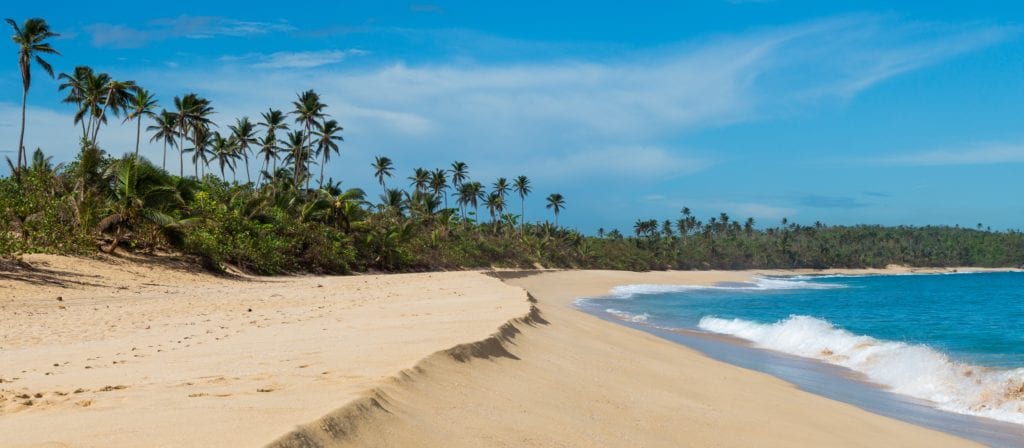 It's one of the cheapest tropical destinations to visit, and there's so much to see on this island! Check out our guide to San Juan.
Asia for Beginners
If you're looking for something a little further from home and aren't afraid of a little culture shock, begin in these awesome spots in Asia.
Singapore
Singapore has been nicknamed "Asia for beginners," and it's a great gateway city to explore other spots in Southeast Asia! You won't have trouble finding locals who can speak English and help you out. In Singapore, you'll get the full experience of Asian culture, food, and hospitality.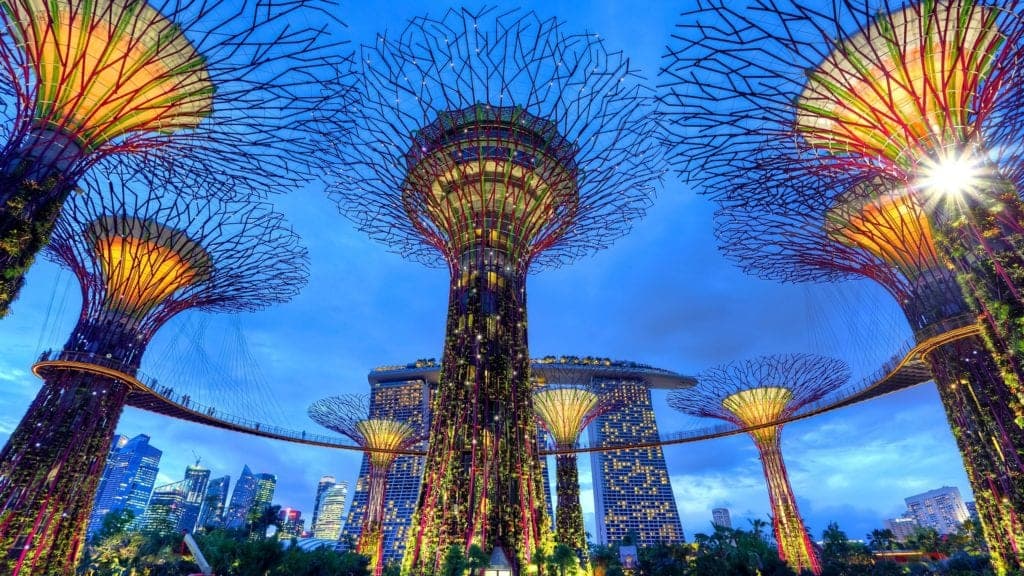 Thrifty Tip #5: You'll see that once you're in Asia, flights to nearby countries are very affordable. If Bali is on your bucket list, add this to your Asia adventure. You can easily find nonstop and roundtrip flights from Singapore to Bali for under $100. Read our guide to visiting Bali, and start daydreaming!
Thailand
If you're looking to branch out and travel to Asia, Thailand is another great introduction to Asia. Food and accommodations are crazy cheap, and locals are very kind and helpful. Chiang Mai, Krabi, and Phuket are great cities for the novice traveler to visit, with plenty to do and see. Check out our beginner's guide to Thailand and how to plan your Thailand trip.
A trip to Thailand is a bucket list item: this country offers just the right amount of culture shock to challenge yet awe you. The beauty of Thailand will have you planning your return to Asia before you even leave.
Bottom Line
Any new city is a great place to start your travels abroad, but some places make it easier to get around and catch the travel bug. Once you've got that first international trip under your belt, the world will be your oyster!
What was the first international city you visited?